Emmemobili Tables
Posted on 12 August in Italian Home Design
Italian Design, Italian Furniture Guide, Italian interior design, furniture design, Italian Furniture Prices, Luxury Dining Room Design, High End Dining Room Furniture, Modern Dining Room Design, Italian Dining Room, Best Italian Designer, mix&match, Best Italian Tables, Best Italian Designer tables, Best Italian Table Brands, Design Inspirations, Interior Design Inspirations, moodboard interior design, Emmemobili, Emmemobili Furniture, Emmemobili Dining Tables, Emmemobili inspirations, Emmemobili compositions
A symphony of shapes and precious materials. Craftsmanship that generates beauty and refinement. This is what characterizes Emmemobili tables, timeless pieces that are able to make any type of environment unique thanks to their design. Esperiri proposes three new spaces where you can find refinement, high quality materials and furniture elements among the most iconic in the history of Italian design.
Mix&Match: Emmemobili Tables
A passion for wood that has been nurtured for five generations within the Tagliabue family. Masters in woodworking, Emmemobili's craftsmen combine complex handcrafted production techniques with the imagination of contemporary designers. Art, design and uniqueness thanks to refined materials that can satisfy the infinite creative possibilities of Emmemobili tables.
Designed by Ferruccio Laviani, Ufo table is an oval or round table whose essential shapes recall a flying object. Totally customizable thanks to the rich variety of woods and marbles or accessories such as the integrated Lazy Susan.
Fatty table with its silhouette takes center stage in a chic room with timeless style. The three sinuously shaped legs are reminiscent of monoliths, also thanks to the polychromatic finish with layered texture.
A demonstration of the preciousness of wood and Italian craftsmanship, Birignao table designed by Ferruccio Laviani, is a unique sculpture with geometric volumes that blend to form a harmonious succession of curved elements.
For each of the three Emmemobili tables, we made a careful selection of materials, textures and estimated a final price. Moreover, with the aim of showing you possible compositions with other design products of Italian brands, we have developed three illustrations that tell three different styles of dining rooms, but the variety of compositions is endless and Esperiri is here to help you create the right Mix&Match according to your taste.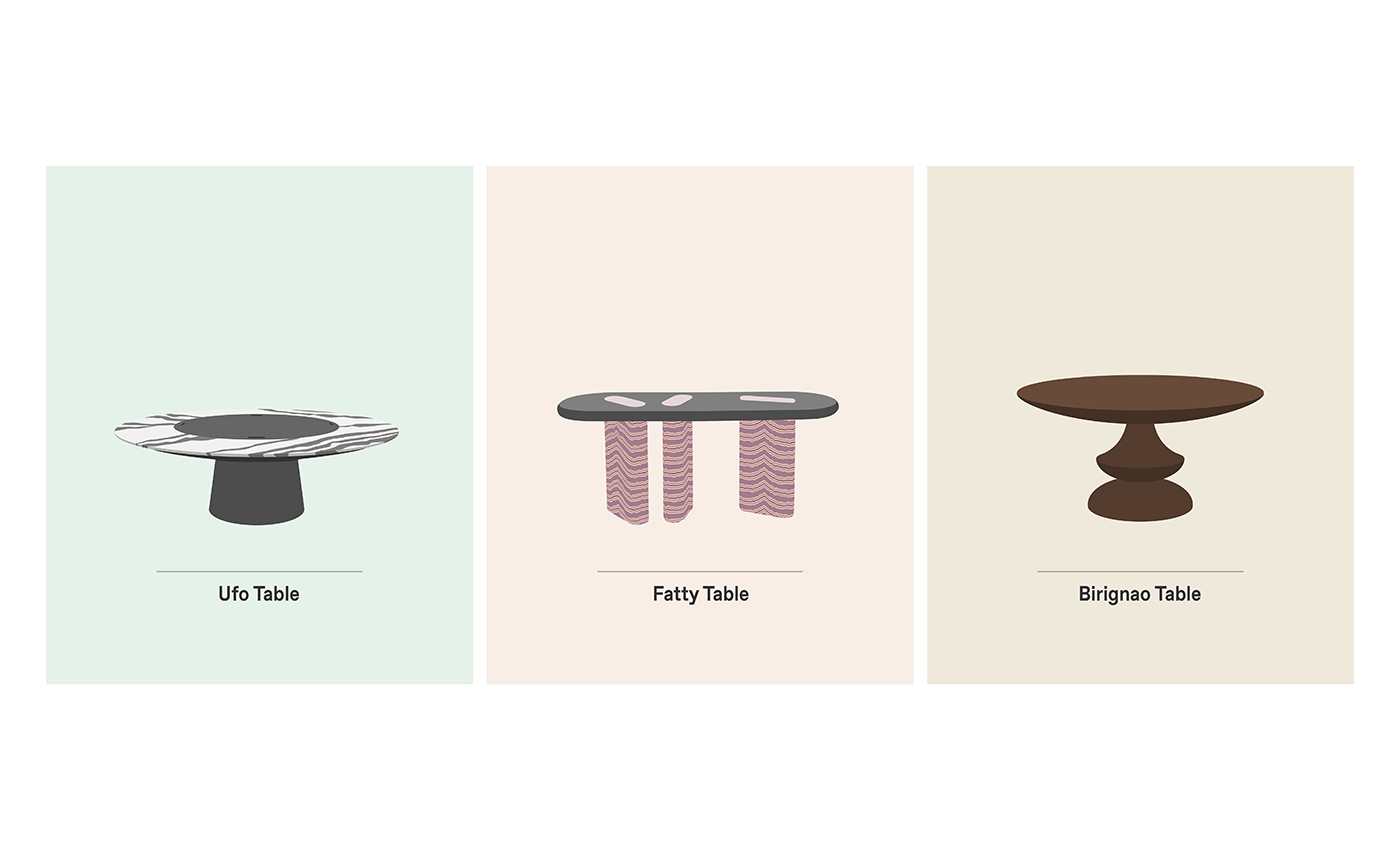 UFO Emmemobili Table
With breathtaking curves and a huge variety of finishes, Ufo table can be as understated or as eccentric as you want it to be. Its bold shapes are reminiscent of a flying object, essential in form but sharp and imposing. Its conformation allows it to be accessorized with elements such as a Lazy Susan motorized or recessed in the top. The rich range of finishes allows us to aim for and reach the highest levels of refinement.
We have chosen the model UFO Full Marble 180×74 with heat-treated oak base, top in Panda marble and accessory Lazy Susan in back-lacquered glass, arriving at a total price of 26,480 euros.
The sculptural imprint of this table is embellished by an armchair soft in form and lively in color, the Get Lucky by Patricia Urquiola for Moroso, illuminated from above by an elegant hanging lamp like the Ellisse Triple designed by Federico Palazzari for Nemo. And to separate the dining room from the rest of the house, we opted for a dividing element such as the Infinito double-sided bookcase designed by maestro Franco Albini in 1956 and produced by Cassina.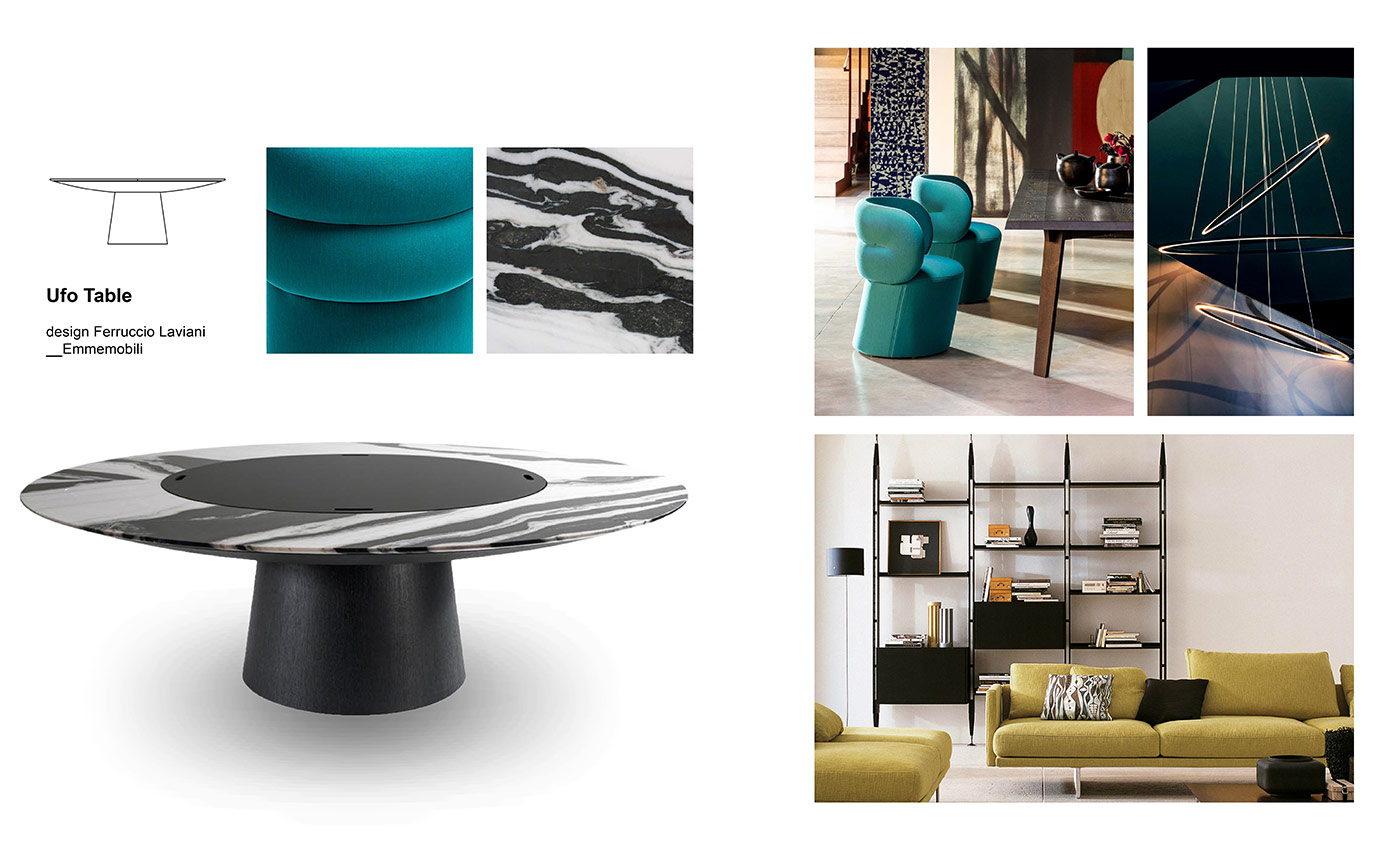 An environment with bright colors and furnishings with a modern style and impact. The surfaces are designed to further embellish the dining room: a wall in Carrara marble frames the dining table, while the blue walls with three-dimensional textures and the walnut wood parquet are intended to accentuate the contrasts and dynamic shapes of this first room even more.
An ambitious Mix&Match that suits a person with a taste for luxury and precious materials and who is not ready to give up the quality of an entirely Italian project, from the designer to the craftsman to the producer.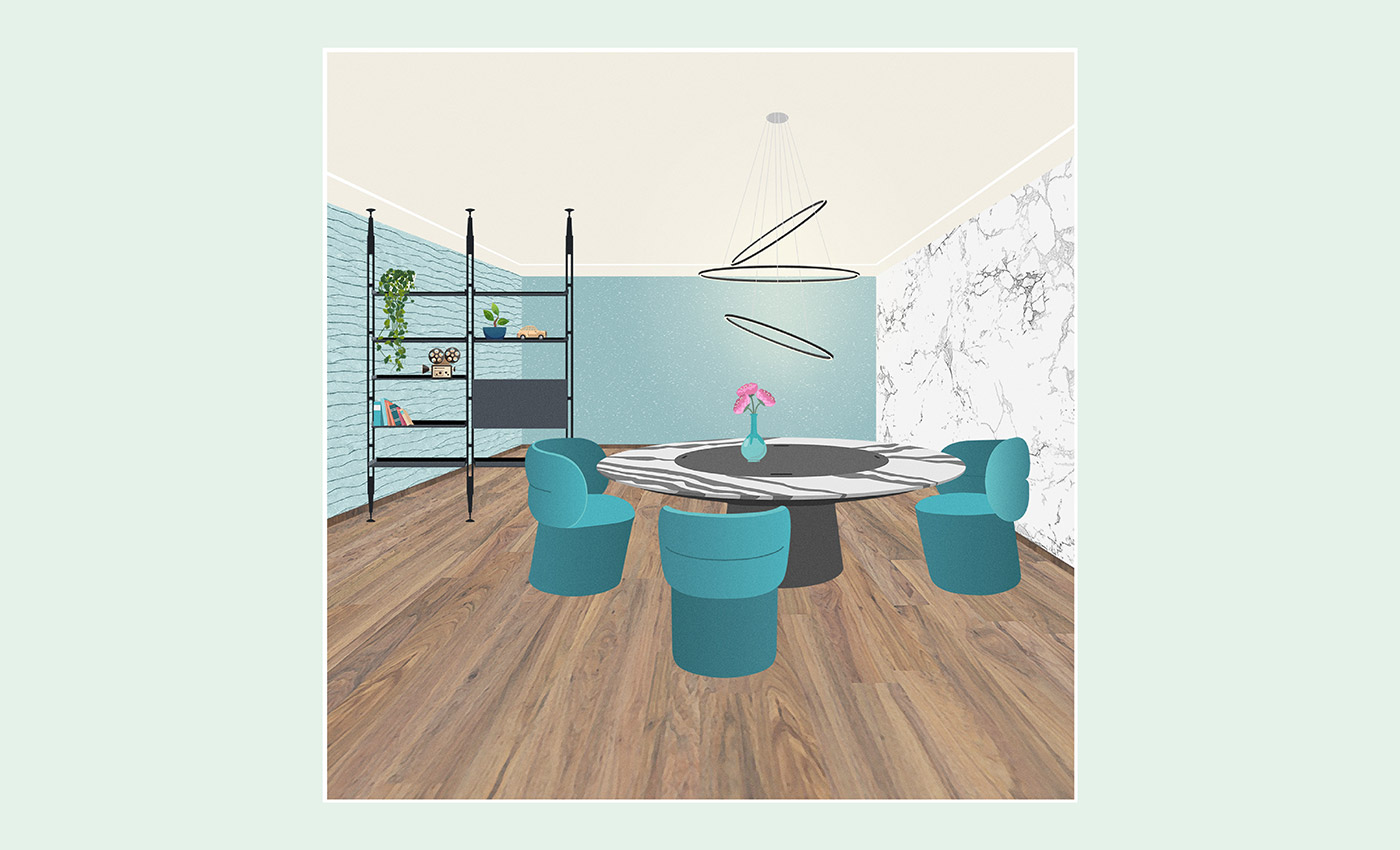 FATTY Emmemobili Table
Fatty table, like many other Emmemobili tables, was designed by Ferruccio Laviani, who explores a new way of conceiving minimalism, visible in this table in the essentiality and cleanliness of its forms. A new and unusual harmony that adapts to an equally visionary and dreamy personality.
The asymmetry and the special finish of the legs in polychrome recomposed do not go unnoticed but rather are matched by the top that looks as if dissected by this pinkish wood. This particular table with a glossy top and polychrome recomposed wood legs reaches a price of 10,740 euros.
To accompany this dreamy table we have selected the iconic Botolo chair by architect Cini Boeri for Arflex. These elements are illuminated by three lamps from the Bon Ton collection designed by Cristina Celestino for Il fanale. The space is divided by a bookcase from the 2021 collection by Moroso, the Frame Shift, designed by the couple Oscar and Gabriele Buratti.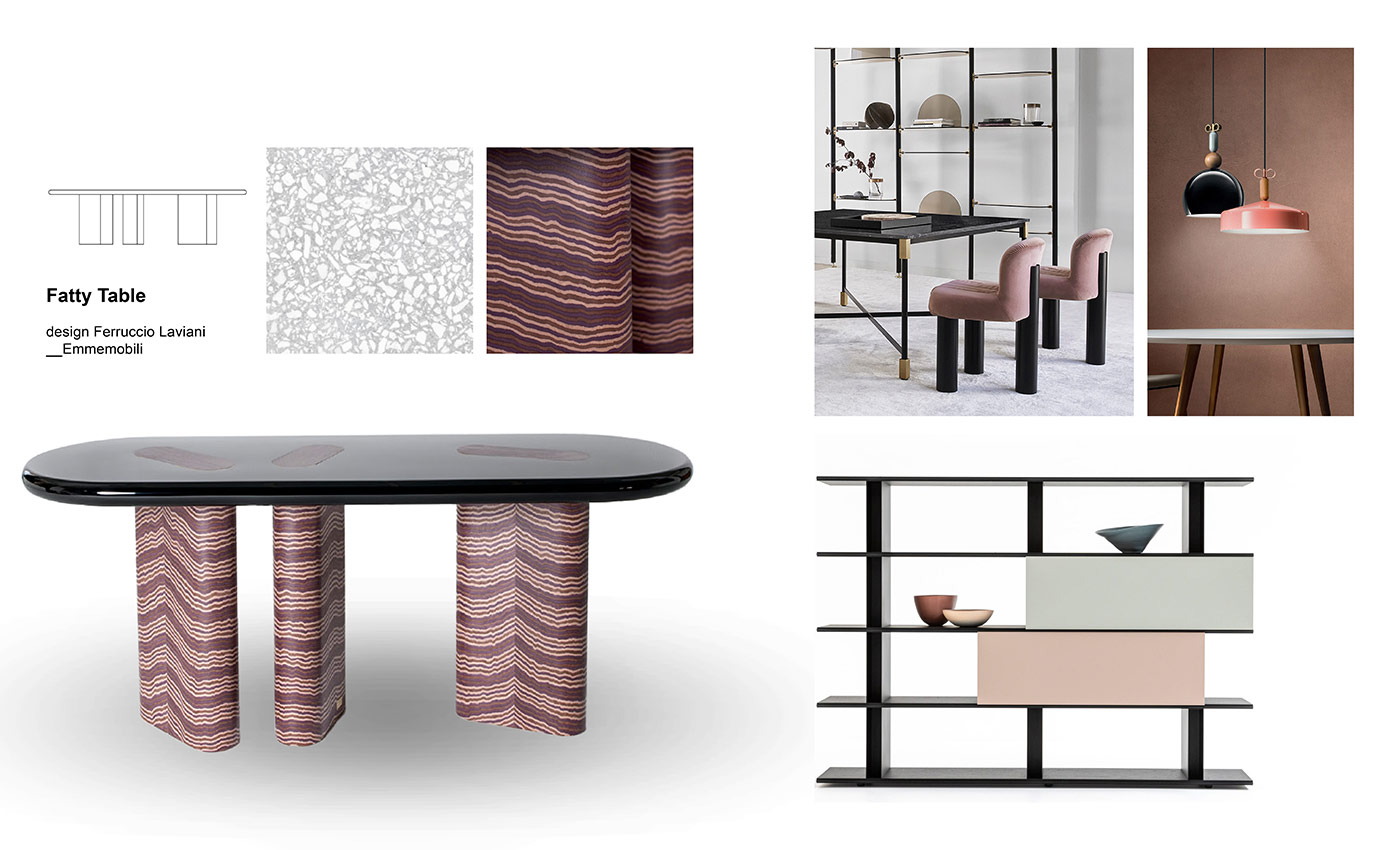 This second room, with its contemporary and fashionable style, is the ideal place to welcome friends for a glamorous aperitif. A terrazzo floor reminiscent of the Italian tradition but revisited in a modern key with cold tones, in contrast with furniture and walls in soft pastel colors with shades of pink and water green.
An environment with graceful shapes able to accommodate a confident and dreamy woman with a passion for fashion and Italian design.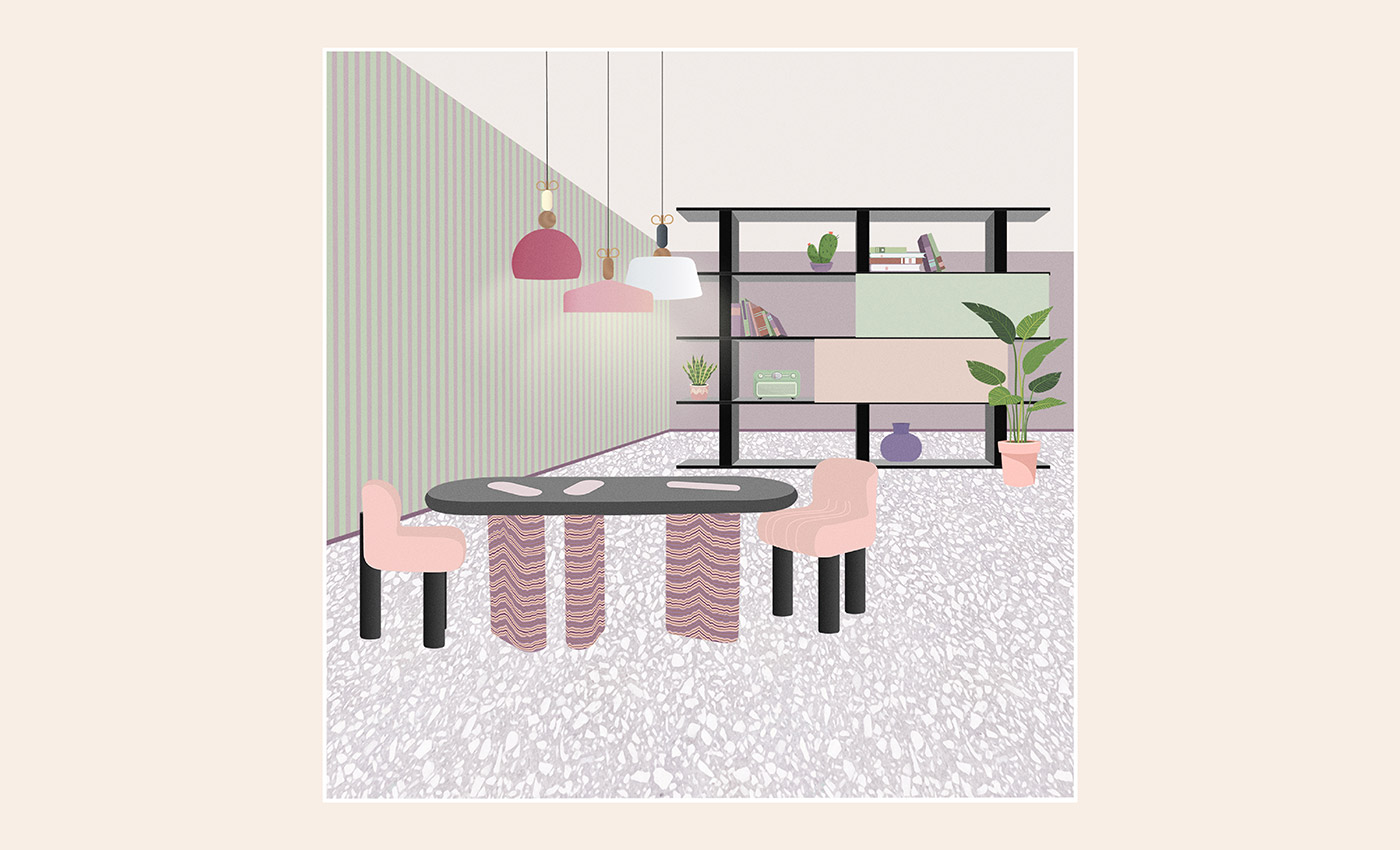 BIRIGNAO Emmemobili Table
Pure geometries follow one another to form a unique table both in its design and in the refinement of wood. Birignao table comes in different shapes, circular, square or rectangular and in different finishes. Reminiscent of the shape of a chess pawn, Birignao table has a timeless aesthetic and thanks to simple and linear forms it always manages to be the center of attention.
The uniqueness of this table, with a stained sandblasted fir solid wood finish, can be obtained at a total price of 13,660 euros.
To further enhance this product, we have combined a chair with clean lines like the Caratos designed by Antonio Citterio for Maxalto and a hanging lamp that continues the concept of sculptural design, Viscontea designed by masters Achille and Pier Giacomo Castiglioni for Flos in 1960. To accompany the dining table, we selected the Gap wall bookcase designed by Carlo Tamborini for Porro.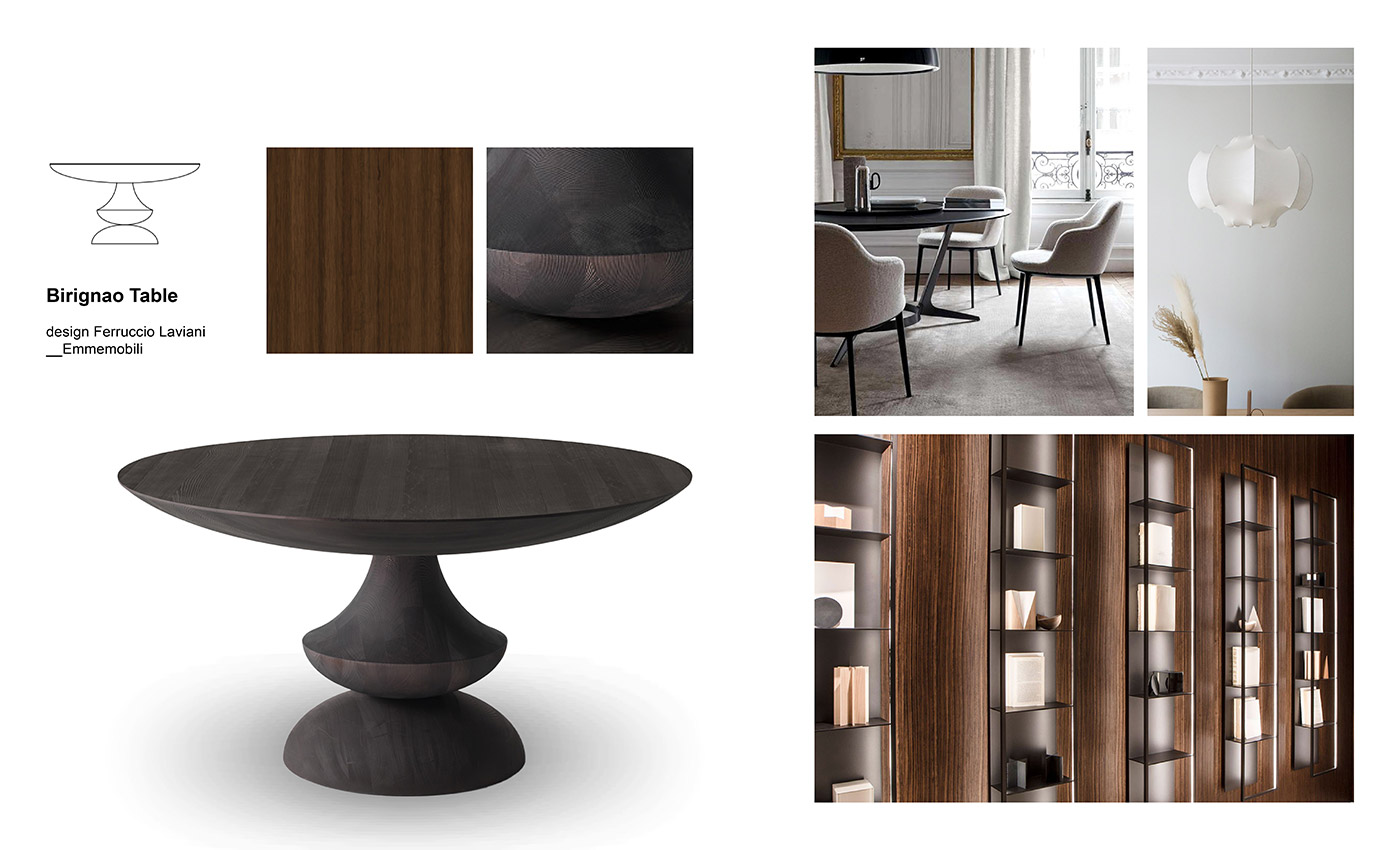 This last dining room is marked by luxuriousness and vintage tones. For a table with a strong character but at the same time with a refined and elegant style, we framed a modern yet classic setting.
The bookcase illuminates the walnut wood paneling behind, embellishing this corner of the house and further enhancing the central element of the room, while a terrazzo floor in soft tones is able to highlight the natural essences. A scenic suspended lamp manages to focus the attention on the table and so the room comes to life and is ready to welcome the first guests.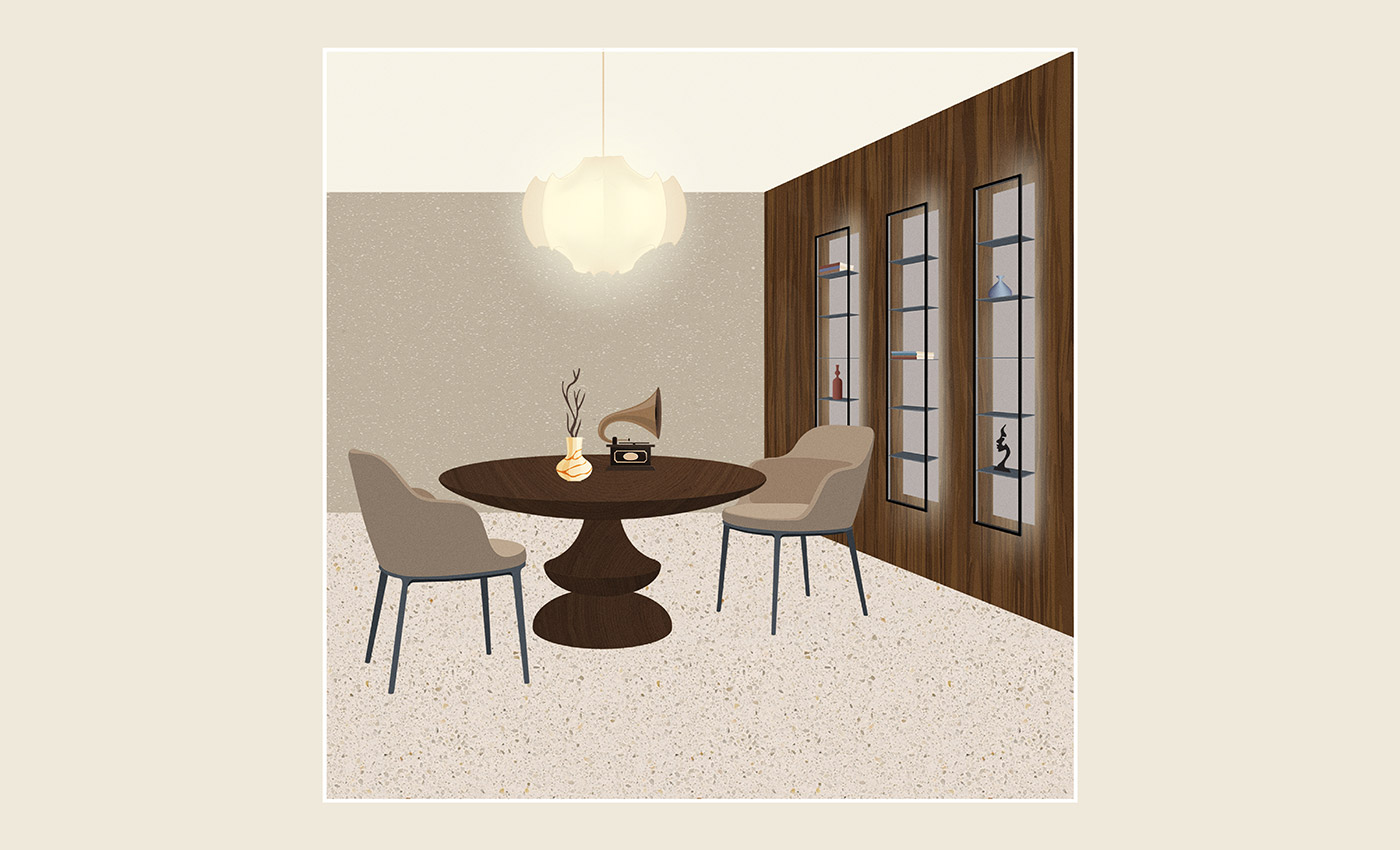 Discover Emmemobili Tables
Discover the true Italian design by consulting our catalog of Italian designer furniture and our careful selection of Italian designer tables: together with us you will find the right inspirations and the most suitable furniture for your needs.
If you are looking for new ideas for your home, discover our proposals for Italian dining room style. You will find many tips, images and suggestions created by our designers to show you how to furnish the rooms of your home in an original and unique way.
Rely on our services of Italian Interior Design, Italian Furniture Supply and Online Interior design to build the home of your dreams.
Your unique Interior Design Project developed by Italian Professionals.
Discover and shop Made in Italy while living the Italian lifestyle in Milano.