Is hiring an Italian Interior Designer Online possible?
Posted on 09 April in Italian Interior Design
Italian interior designers online, Italian interior designers, Designer online, Italian Design, Interior Design, Italian Furniture Guide, Italian interior design, Italian design brand
Find out if Hiring Interior Designers Online is indeed possible. Look to Italian Interior Designers Online and bring Made in Italy style and design to your home.
How to hire an Interior Designer Online
If you think the time has come to renovate your home or if you need to build the interior of your residence from scratch, but cannot leave your house to connect with a design studio, follow our guide. Today's technology allows you to hire an interior designer online. Here we will explain how to do it.
On the web, you can find more than one interior design platform ready to offer this service. Our design studio also offers an online design service. It is aimed at lovers of Made in Italy design, designed to export Italian know-how thanks to the support of expert Italian interior designers online.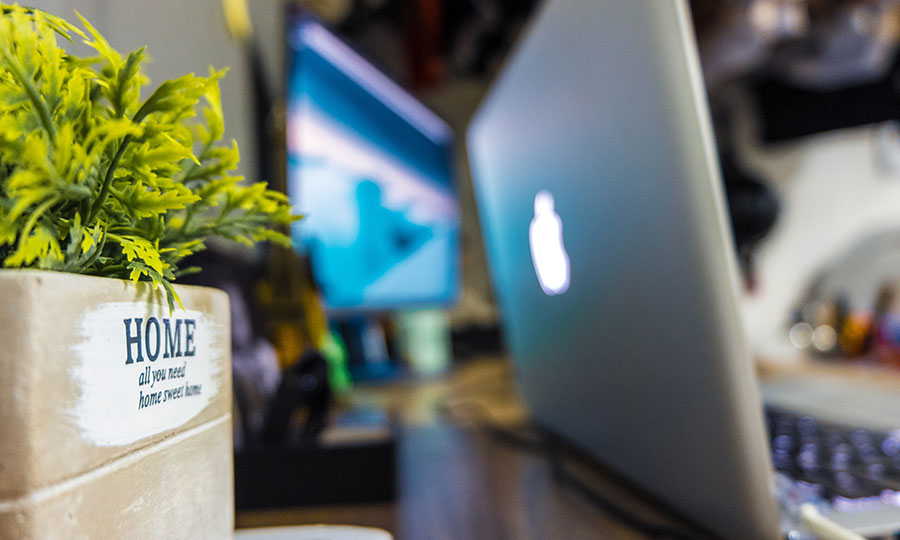 The Advice of our Italian interior designers for your Online design service choice
The first step that those looking for interior design services online must take is to choose the designer. But to assign the project, you will need to know the style of the designer and his main works. If you love Italian design and are looking for Italian Interior designers online, step one is to view the interior designer's portfolio to evaluate his experience and compatibility with what you want. It is important to know what type of work the designer has already done, for example, villas and luxury apartments. Find out whether it was a renovation or a new project, and the size of the project.
Initially, it would be better to have a clear idea about the type of professional support you need because this helps you understand if that designer can meet your expectations. Consider that an online consultation can be a classic package and only concern the choice and arrangement of the furnishings, even of a single room such as your living room. Alternatively, it can be a multi-room design package, which includes activities such as the selection of materials and the design of electrical and plumbing plans. Or you could opt for an even more complete intervention that goes as far as the choice of furniture finishes, decorations, and collectible art pieces.
If you decide to hire interior designers online, the relationship you will establish with him or her will have to be trustful, because whoever designs your home designs the spaces you will live in. It is also essential that the designer gets his or her personality across. If you are far away, you can organize a video call to get to know each other better. Transparency is important in this work, and for this reason, knowing the network of suppliers and companies that revolve around an online interior design studio is also a significant factor. The presence of a consolidated team is a sign of its professionalism, so if you are looking for Italian interior designers online, having a network of craftsmen and manufacturers specialized in Made in Italy design is certainly a distinctive element.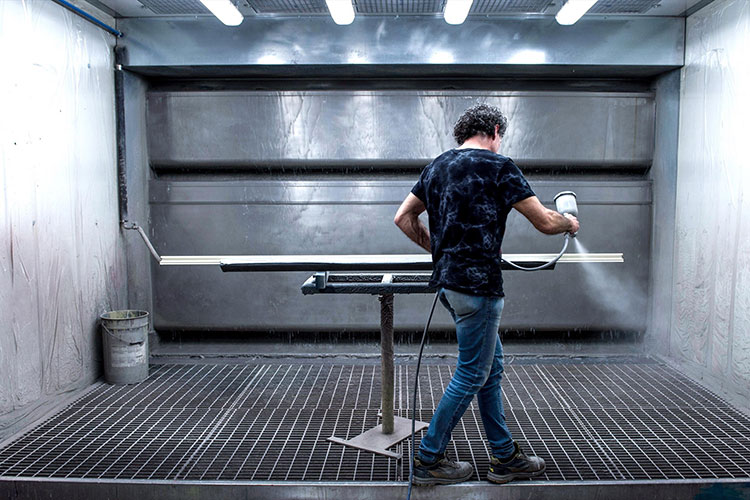 Project kick-off: efficient information collection
Once the designer to be hired as an interior designer online has been chosen, the planning begins. The first phase is the exchange of useful information for creating the customer and project profile. It is good to share as much information as possible to help the designer start the creative work according to your expectations. In our industry, style and taste are important, so tell us what you like and how you would like to experience the spaces of your future home. To simplify the collection of information, technology such as an online style quiz is often used, like our Home Style Form.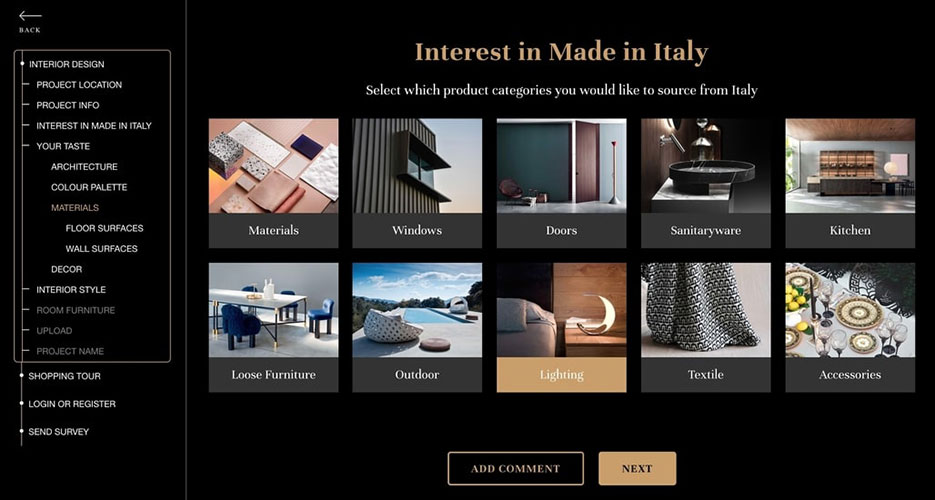 All the information collected is used to learn as much as possible about the project, including the look and available budget. For existing spaces, it is essential to know the state of affairs. For this, you will be asked to upload photos of the house's architecture or a photo of the room to be worked on and the floorplan of the house. It may also be helpful to prepare a personal Pinterest board that is representative of your taste to help the professional create the concept board of your project. Once all the elements are gathered, the designers work on the first proposals. Thus, the actual project begins.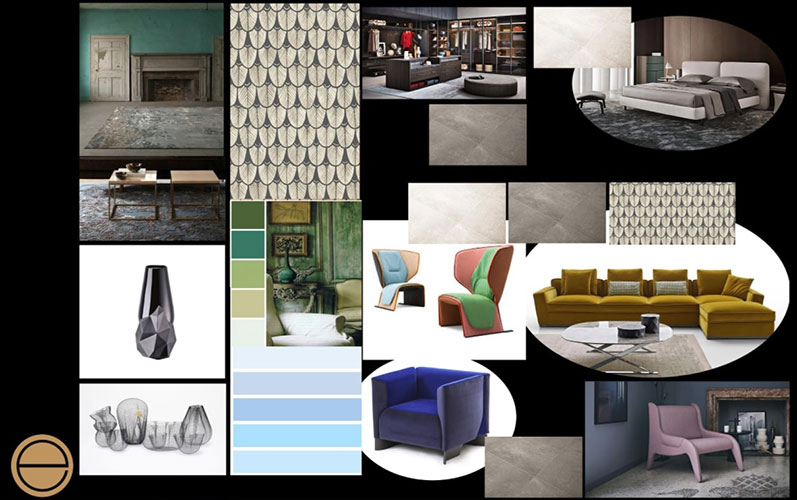 The Communication role in the Online Interior Design process
a. Strengthening the client-designer relationship
To prepare the next steps, the information collected must be organized and discussed by the designer and the customer. Daily update calls will be fundamental and also help build the relationship. There should be a continuous dialogue between the client and the interior designer. Designing the interiors of a residence can be a very long process that goes through many stages. Moments of great satisfaction can arise from resolving problematic situations in which trust between the client and the designer is essential.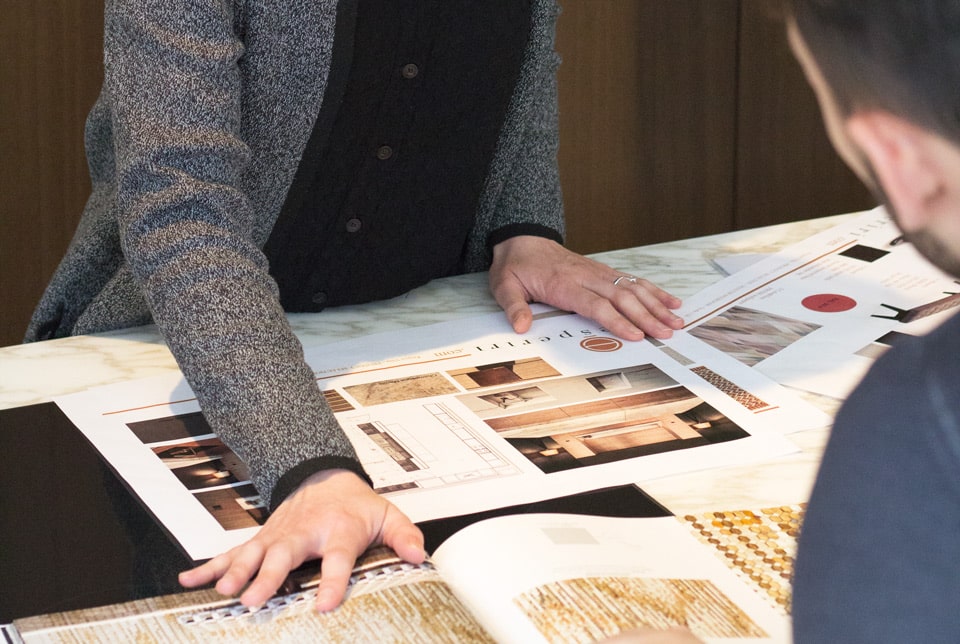 Not only that, but the house also is an intimate and private space, and for this reason, it is best to rely on professionals in the industry whom you admire, and with whom, in many cases, a relationship is born that will stay with you for life.
"An interior design project is almost like a marriage.

Better finding the right partner."
Today, communicating daily for any reason is not a problem. In addition to the traditional telephone call, a video call also helps to shorten distances and build the relationship between the designer and customer.
b. Sharing the interior design project progress
Once the client has approved the project concept, the project starts, whether it is a restyling of the interior or designing for a newly built residence.
In both cases, the proposals are submitted to the customer who reviews them. The client discusses it with the designer who, if necessary, makes changes. By deciding to hire an interior designer online, the progress of the work, and any new proposal can be communicated promptly. Thanks to the support of the latest communication applications, group chats or live screen sharing sessions can be organized to show drawings and 3D Renderings.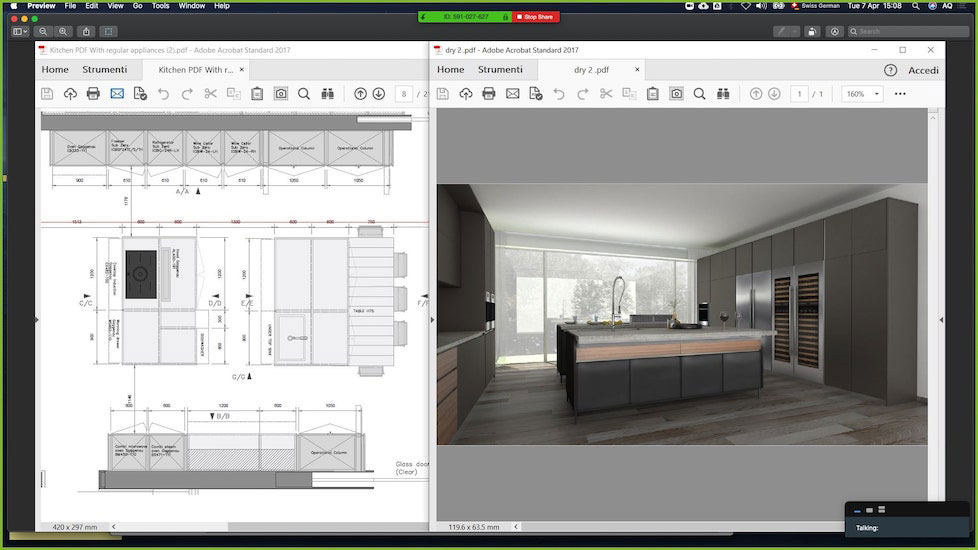 They are all simple communication tools that our interior designers routinely use with our customers online to speed up the exchange of information.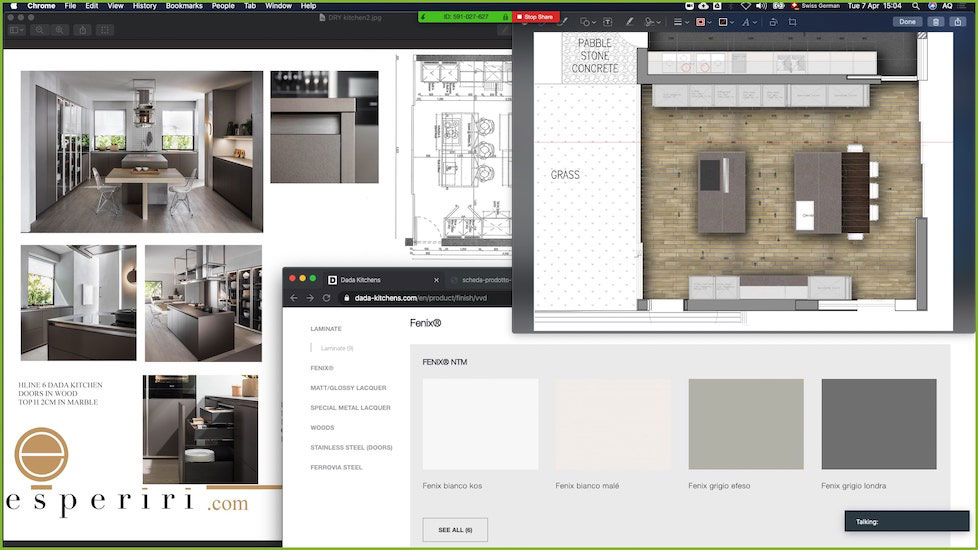 Project confirmation: site measurements
Whether you rely on an on-site designer or an Italian interior designer online, when working on an interior project, precision and attention to details are always very important.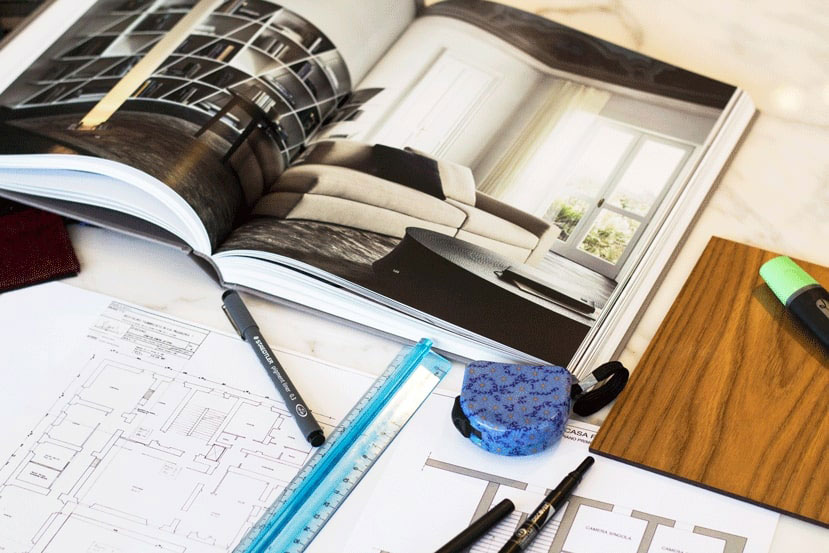 To guarantee all this, an online design service must be well-organized because before moving from the confirmation of the project to the production, the correctness of the measurements must be verified. There are several ways to do this. For more straight forward project requests, in which only the arrangement of loose furniture pieces is foreseen, the floor plans are sufficient. If they do not exist because the house has been built for many years, the customer himself can measure the width and length of the rooms in question. For more complex solutions or for larger projects, where fit out solutions are provided, you can proceed as our staff does, sending a member of our team of interior designers on-site or assigning professional measurement experts on-site.
Who will carry out the project when you hire an interior designer online?
The transition from the project to its realization is a critical phase when you decide to hire interior designers online. The role of the network of professionals who work alongside the designer is decisive. After completing the work of the online designers, some customers entrust everything to local suppliers, while others who appreciate Made in Italy, rely on Italian suppliers.
We at Esperiri offer you a complete service. Our online Italian interior designers take care of all the phases of the project, including its realization. Thanks to our expert craftsmen and the know-how gained over the years, we can provide a turnkey project.
Our interior designers take care to follow both the production by the most famous Italian manufacturers and the creation of custom-designed products, which of course is done in Italy. Finally, once all the furnishing accessories have been made, our craftsmen also deal with on-site installation anywhere in the world. Our teams deliver and install wherever you are.
When to contact a digital Italian interior designer?
For the success of your interior design project, if you decide to hire interior designers online, get them involved as soon as possible. If you are building your new residence, the interior designer can support you starting from when the architect begins designing the structure or the foundations of the house are built. In this way, the interior designer can have greater design freedom. The designer will also be able to deal with the architect and contractor helping them to respect the drawings of the plumbing and electrical plans.
Time and Budget Management: the role of the Project Manager
Many steps must be taken to create an interior project that balances style and budget. If you are thinking of hiring interior designers online, you will probably ask yourself who manages the costs and timing.
In our online interior design consultancy experience, we have introduced the figure of the projectmanager – a person who works alongside the interior designer in all phases of the project. The project manager handles the deadlines, agrees on the general budget with the customer, and ensures that it is respected.
You still don't know who to trust? Consider us!
If you entrust your project to us at Esperiri, you will have an expert and up-to-date team of Italian interior designers online who will accompany you step by step in the realization of your project. Our design studio has been in Milan for more than 40 years, handed down from generation to generation, and we launched our online service in 2016. We appeal to an international audience of customers who are looking for the best Italian luxury design for their interior design projects.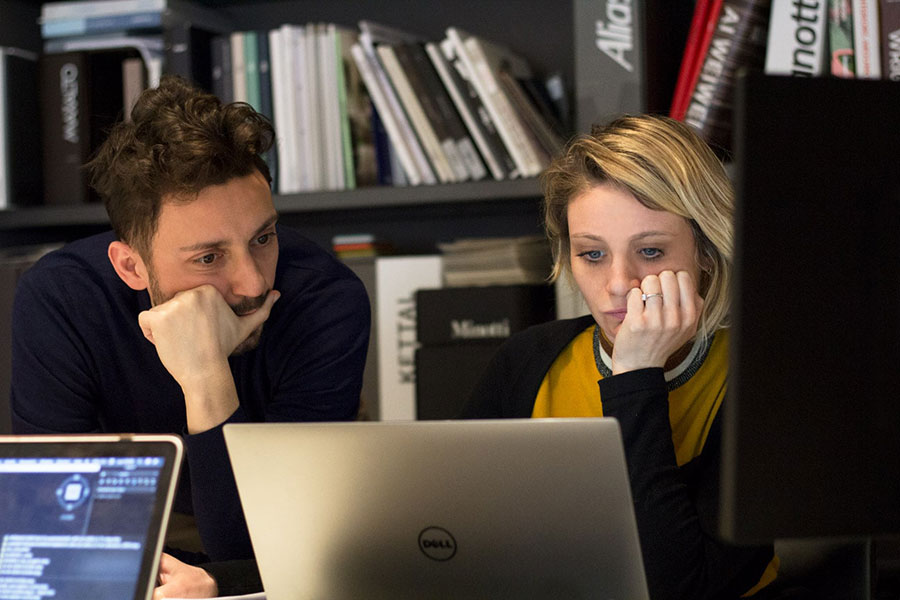 Our goal is to share Italian know-how and Made in Italy with the world. This is why we have added Italian interior design online to our service offering, thanks to which we have been able to carry out interior projects in places like Jeddah, Singapore, and New York. In addition to hiring interior designers online, with Esperiri you can have a real Italian design experience by taking part in an exclusive furniture shopping tour planned for you by our staff. You can come to Italy to visit the design companies and personally choose your furniture right here where the best Italian design is born.

Your unique Interior Design Project developed by Italian Professionals.
Discover and shop Made in Italy while living the Italian lifestyle in Milano.