The Grand Tour and the Best Milan Luxury Spa Destinations
Posted on 23 June in Milan Design Guide
Luxury Spa Hotels, Italian Design, Exclusive Spa Italy, Exclusive Thermal Spa Milan, Italian Lifestyle, Luxury Lakes Spa Italy, Milan Design Week, Milan Luxury Spa Experience, Fuorisalone Milano, Milan Spa Tour, Italian interior designers, Luxury Hotels in Milan, Milan Design City, Milan Furniture Fair, luxury shopping milan
The grand tour continues with the best Milan luxury spa experiences and the luxury lake spa locations surrounding the city.
Discover the Best Luxury SPA destinations in Milan and surroundings
In a city known for its style and decadence, Milan's luxury spas redefine the meaning of both. Inside some of the city's most exclusive 5 star hotels you will find tranquil oases with some of the best treatments, breathtaking pools and turkish baths.
Spa therapy has had a place in Italian culture since the Roman times, which explains why there's ample opportunity in this "Bel Paese" (that means beautiful country) to pamper yourself from head-to-toe.
A moment to rejuvenate in a city as vibrant as Milan is necessary to make the most of its enviable selection of chic restaurants, fashion boutiques, unique museums and the world's best furniture shops. And, when the city gets too hot and you need to escape, the Lombardy region has some of the finest spa days and wellness experiences.
Taking an Italian furniture shopping tour with Esperiri is an opportunity to explore the Italian dream in all of these aspects, which is why we've put together a list of the best luxury spa destinations in Milan and the lake spa locations surrounding the city…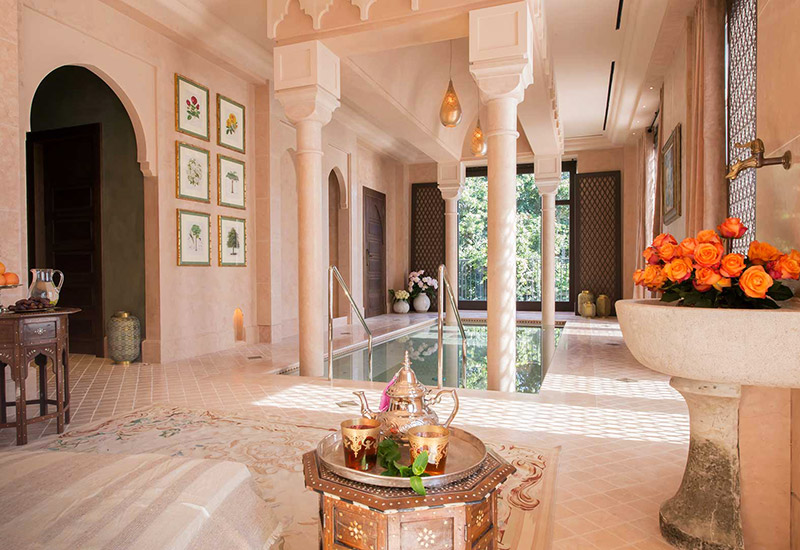 Wellness Experience: the Top 10 Most Luxury Spas in Milan
Grand Spa – Palazzo Parigi
Described as an "exclusive oasis of relaxation", inside Palazzo Parigi's grand villa is a spacious spa that draws inspiration from all over the world. Located in the heart of Milan's fashion district you'll find seven therapy rooms variously styled as Moroccan, Indian and Swedish havens, a luxurious pool flanked by Moorish doors, a Finnish sauna, steam bath, icefall and a panoramic relaxing room.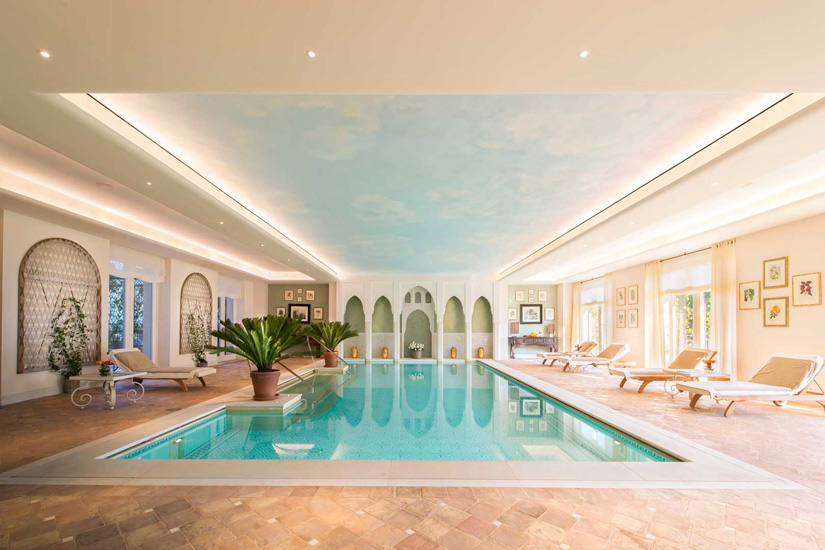 Four Seasons Hotel
The Four Seasons SPA is a paragon of luxury in the centre of Milan's Montenapoleone Fashion District that blends historic architectural details with contemporary Italian design. Designed by Patricia Urquiola, it is set in a renovated 15th-century convent awash with frescoes. The spa preserves the vaulted ceiling (dating from a later period, the 19th century), while adding to the facility seven treatment rooms, a swimming pool, a Turkish bath and a sauna. Immerse yourself in a ritual of pure relaxation surrounded by the refreshing scents of the Mediterranean Sea.
Mandarin Oriental Milan
Also located in the prestigious Montenapoleone area, the Mandarin Oriental has one of the best spas in the city, with interiors that incorporate the five key elements of feng shui – water, metal, wood, earth and fire. Relax in the spa's six private treatment rooms (including two couple's suites and a spacious VIP suite), an indoor swimming pool, state of the art fitness center, and a hair salon by celebrity stylist Massimo Serini.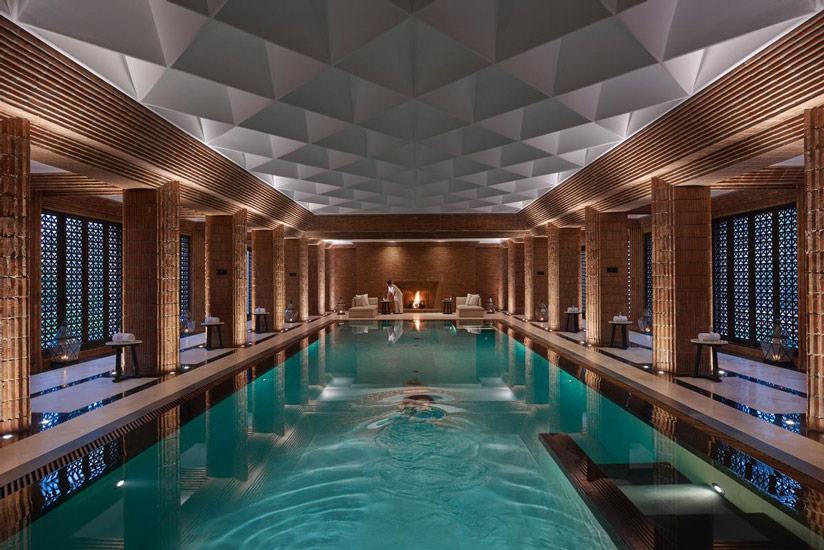 Armani / SPA
The Armani Hotel Milano is situated in the city's world-renowned fashion district known as the Quadrilatero della Moda. Inside is the Armani/Spa, which offers a level of sophistication you would expect from the Armani brand. Featuring marble, brass detailing and low lighting, sleek and luxurious interiors are designed to soothe guests. A highlight feature of the spa is its rooftop relaxation area, from where you can watch the city of Milan as you relax on furnishings designed by the Italian fashion house.
QC Terme Milano
Whirlpools, saunas, relaxation rooms and steam baths form a peaceful sanctuary in Porta Romana. Occupying a sprawling Art Nouveau-era tram depot, QC Terme is home to Milan's most extensive facilities, which also include two outdoor pools surrounded by the 16th-century walls of the city. At the spas in Milan you will find water in all its forms: from the warmth of saunas and hammams to the bio-sauna located inside a disused tram outside and whirlpools of all kinds.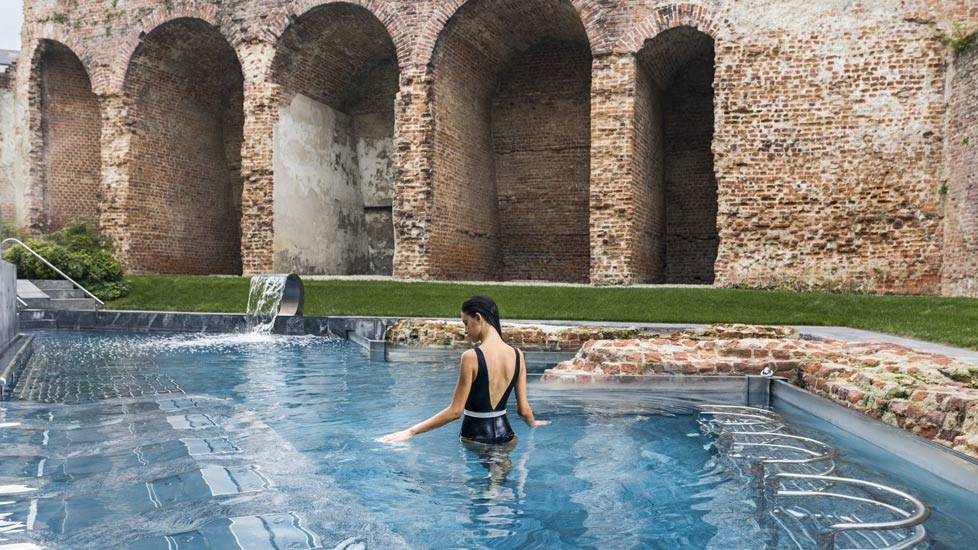 Let's Continue our Milan Luxury SPA Tour with some Faraway Locations
A must-visit destination on the bucket list of most discerning travelers are the world-famous Italian Lakes for their more natural beauty. From Lake Como's star-studded shores to the hospital charm of Lake Maggiore, here is our selection of the best luxury lake spa destinations…

Villa e Palazzo Aminta
Set on the shores of Lake Maggiore just 1½ hours from Milan, Villa & Palazzo Aminta Hotel welcomes guests inside opulent interiors featuring marble columns, stuccos and glittering Murano chandeliers alongside a melange of objects d'art that the owning Zanetta family have collected over the years. The spa is one of the most attractive on the lake, with a grotto-style steam room, ice waterfall, aromarium, sensory showers and a hydro chromotherapy whirlpool bath.
Mandarin Oriental Lake Como
Inspired by the pristine water of Lake Como, The SPA at Mandarin Oriental is a wellness destination offering rituals and treatments that blend Oriental philosophy with a Western approach, with the aim of achieving the perfect balance of mind, body and soul. Did you know that Lake Como is just a one-hour drive North of Milan? Discover our one-day itinerary for the perfect day trip to one of Italy's most glamorous lakes appeals to you.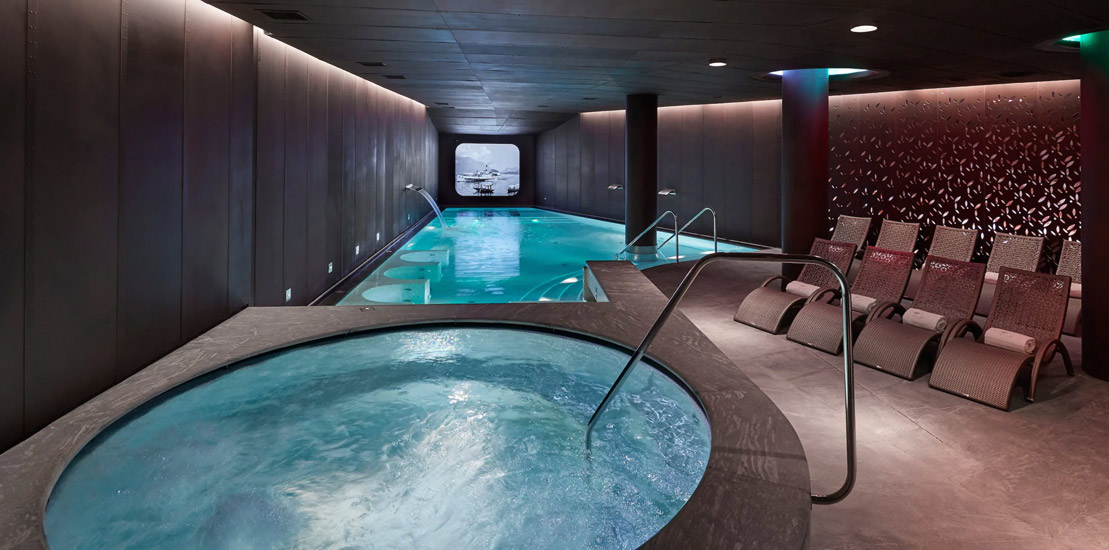 Il Sereno SPA
Also situated on the luxurious shores of Lake Como is the Hotel Il Sereno, which showcases a contemporary "Made in Italy" concept by Spanish designer Patricia Urquiola. A Michelin-starred restaurant and freshwater infinity pool are just two standout features of this luxury hotel. The other is a fantastic spa in the property's century-old bathhouse with a sauna and a steam room finished with Italian tiles.
Grand Hotel Tremezzo – T Spa
Set across from the lovely village of Bellagio, the Grand Hotel Tremezzo is a highlight of Lake Como with its mountainous backdrop and lovely art nouveau facade. Next door the 18th century Villa Emilia houses the Tremezzo's T-Spa, which features all the wellness trappings you'd expect from an exclusive luxury collection hotel. There's an infinity pool overlooking the lake, saunas and steam rooms, 'emotional showers', an ice fountain and a standalone spa suite complete with a private whirlpool tub, sauna, steam bath and couples massage beds.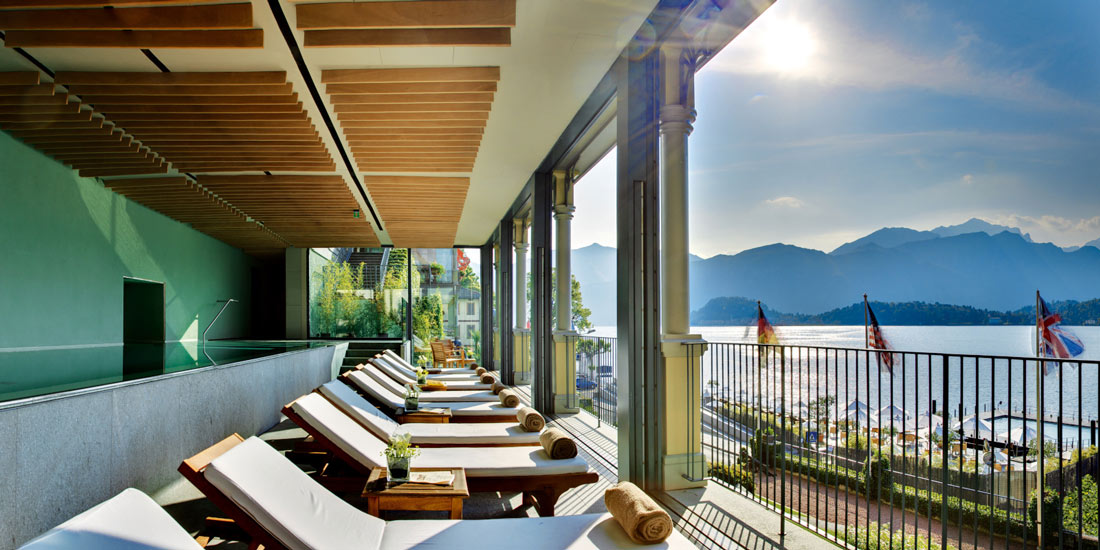 Grand Hotel Victoria
The Grand Hotel Victoria is a lakeside hotel that started life as a 19th century neoclassical villa. Located in Menaggio, a paradise corner on lake Como, it's a modern retreat imbued with charming heritage – imagine ornate chandeliers and classical columns contrast beautifully with contemporary furniture and lighting. The hotel's Erre Spa is just as serene and stylish, with two pools, a sauna, and signature massages.
QC Terme Bagni Vecchi
A sister venue to QC Terme in Milan that's perfect when you want to escape the rush of the city, QC Terme Bagni Vecchi invites you to experience the renowned thermal baths of Bormio, right in the heart of the Alps. Take a dive into a history over two thousand years old, which also includes one-hundred year old caves that lead to one of the ancient thermal water springs.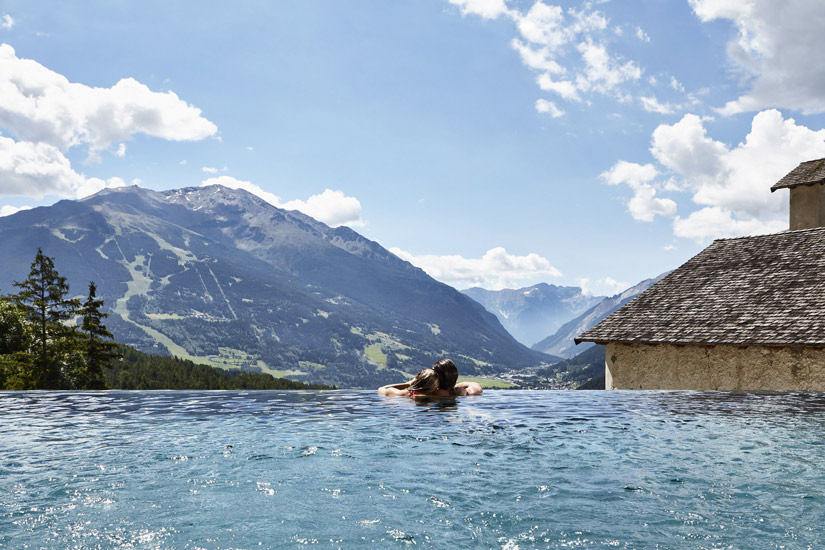 Explore Italy for Yourself
If you feel inspired by the luxury spa destinations in Milan that we've explored and want to discover the best 'Made in Italy' has to offer in person, we invite you to take part in a customized furniture shopping tour.
We can organise a tailored experience including visits to Italian laboratories and ateliers to choose the products for your home, as well as in depth recommendations when it comes to boutique and design hotels in Italy if you wish to extend your stay.
If you have already visited Italy and understand the draw of its beauty, why not indulge in a luxurious second home nearby one of the amazing locations listed above. Buying or building property in Italy is a lifelong dream for many and with a little planning and know-how it's possible to make this dream a reality.
We can provide luxury home renovation and contractor services giving you trusted professionals at your fingertips who are able to perform the most diverse tasks in any architectural and design project. We can guarantee the complete realization of your own little corner of paradise.
Your unique Interior Design Project developed by Italian Professionals.
Discover and shop Made in Italy while living the Italian lifestyle in Milano.