The Best 5 Star Hotels in Milan's most Exclusive Districts
Posted on 04 June in Milan Design Guide
Milan Design City, Italian interior design, Milan Furniture Fair, Italian Furniture, luxury shopping milan, luxury design, best design hotels, interior designer, best design hotels italy, Italian interior designers, luxury tour italy, luxury hotels, shopping tour italy, Italian Design, luxury design hotel, best boutique hotels, Luxury Hotels in Milan, best boutique hotels italy, Italian Lifestyle, Best Hotels in Milano, Milan Design Week, Top 10 Luxury Hotels in Milan, Fuorisalone Milano
Plan with us your City Trip and Luxury Furniture Shopping Tour in Milan staying in One of the Most Prestigious 5 Star Hotels in Milan we have chosen for you.
Discover the Best 5 Star hotels in Milan
The second biggest city in Italy, Milan is a cultural hub known for its sophisticated mix of fashion, architecture, art and design. With an enviable selection of chic restaurants, unique museums and the best furniture shops, it pays to know where to stay and where to go so you can make the most of what the city has to offer.
That's why we put together bespoke Italian furniture shopping tours, walking you through the streets of Milan and the best Italian districts. During your visit you'll also want a place as beautiful to rest your head. So, we've put together a list of the finest 5 star hotels in Milan…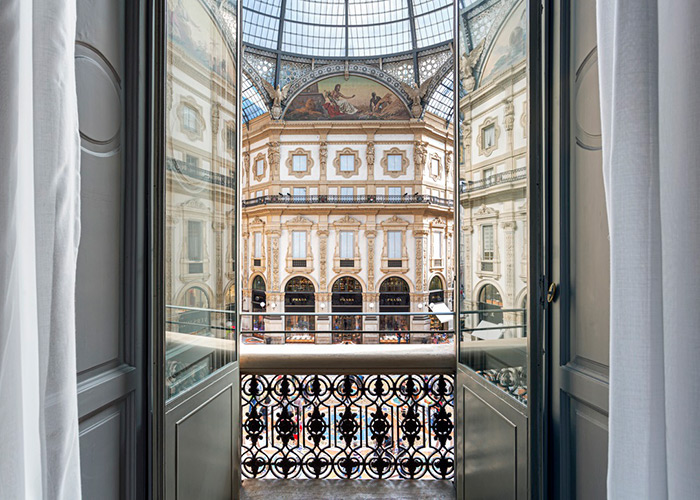 Italian Design: the Top 10 Most Glamorous hotels in Milan
Mandarin Oriental
The Mandarin Oriental is one of Milan's most luxurious accommodations located just minutes away from the world-renowned Teatro alla Scala and the Gallerie d'Italia. The hotel is housed in an emblematic 18th Century edifice with interiors that fuse contemporary elegance with classic Italian brands.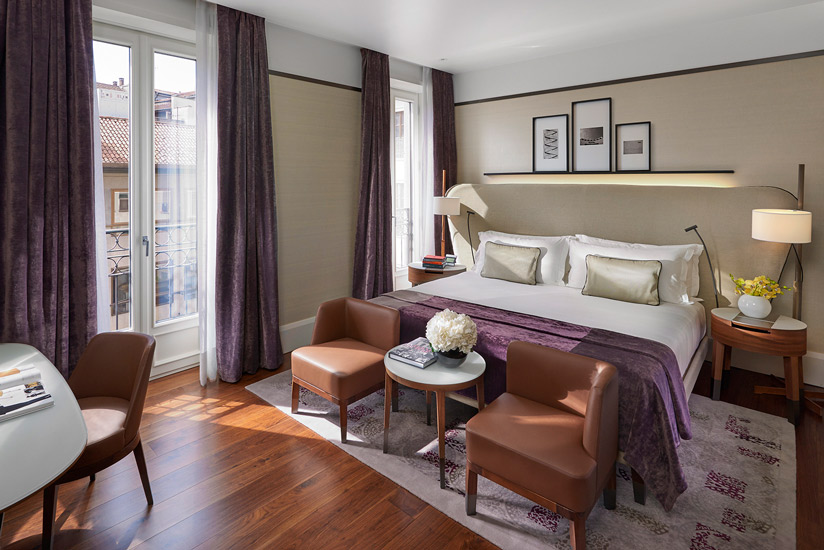 During your stay you will find custom-made furnishings by Antonio Citterio for B&B Italia, alongside other classic Italian brands like Maxalto, Flexform and Poltrona Frau, for a stay that truly delivers on design inspiration. The hotel even has two specialty suites inspired by Piero Fornasetti and Gio Ponti.
Four Seasons Hotel
Next in our list of the best five star hotels in Milan is the Four Seasons Hotel Milano, a 15th-century convent turned sophisticated garden retreat. The Four Seasons is a haven in the centre of Milan's Montenapoleone Fashion District, an urban resort that invites you to stay within guest rooms blending historic architectural details with contemporary Italian design.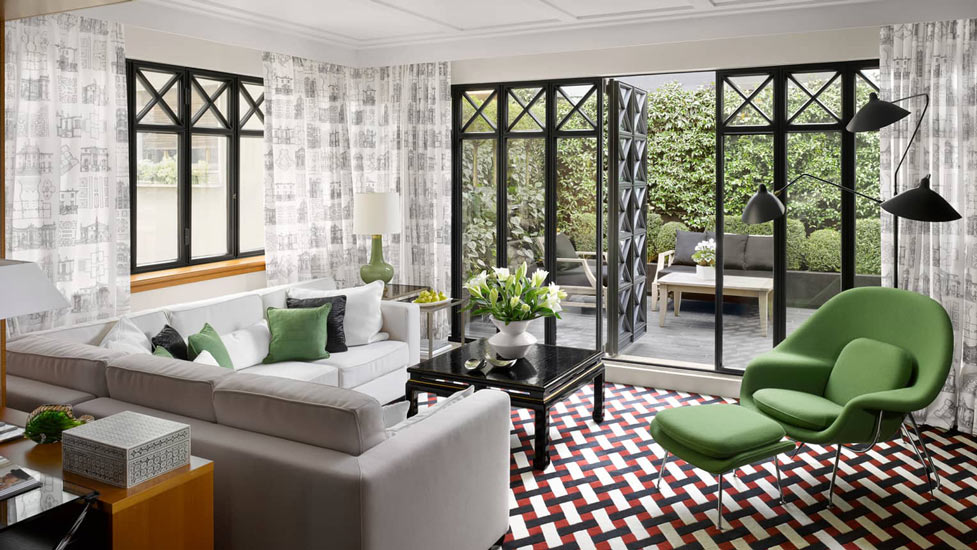 Its interiors range in designs from American studio BAMO, French interior designer Pierre Yves Rochon, and architect Patricia Urquiola, who has also designed a spa that sits inside a former wine cellar. When you're not seeking refuge there you might find time to explore some of the city's best designed fashion boutiques that surround the Four Seasons.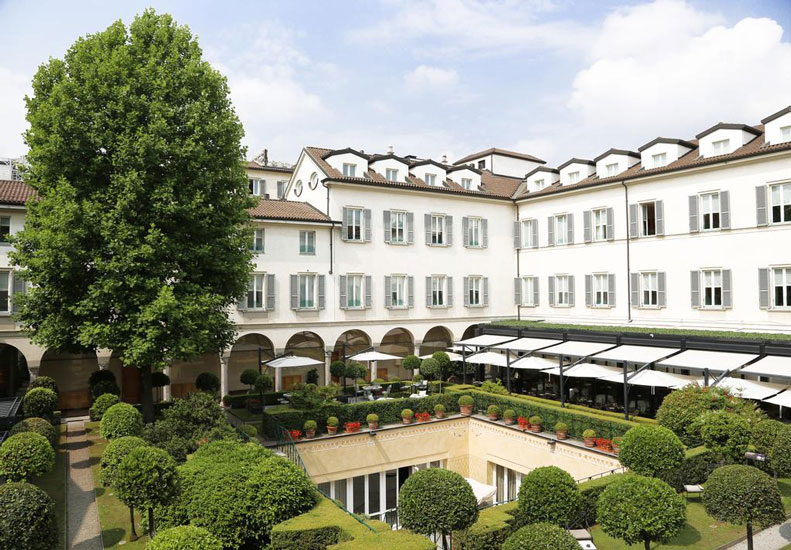 Bulgari Hotel
Situated in Via Gabba and set in the center of a luxurious private garden, the Bulgari Hotel finds itself in one of the most prestigious and culturally rich Milanese locations. It's located in the Brera design district, which was chosen as one of our Top 5 Milan Design Districts not merely because it's home to a beautiful Botanical Garden, and the Pinacoteca Art Gallery.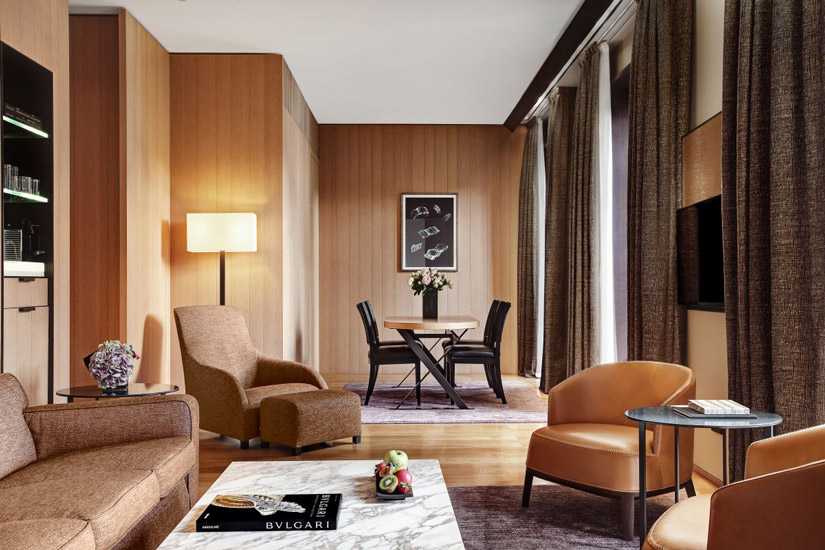 The hotel is reason enough however, featuring rare and precious materials that give a richness to its interiors: Vicenza stone and Turkish Aphyon in the Spa; solid teak, durmast and oak in the rooms and suites. All spaces feature contemporary Italian furniture and details including pieces from Citterio's Flexform Collection, Maxalto, and B&B Italia module libraries.
Palazzo Parigi Hotel & Grand Spa
You'll find Palazzo Parigi in Milan's city centre, right at the heart of the most refined, cultures and trends area of the city. The hotel is walking distance from the city's iconic Castello Sforzesco, a 15th century castle housing several museums. If you prefer something more up to date just next door is the Triennale di Milano, Italy's foremost institution for design and contemporary culture.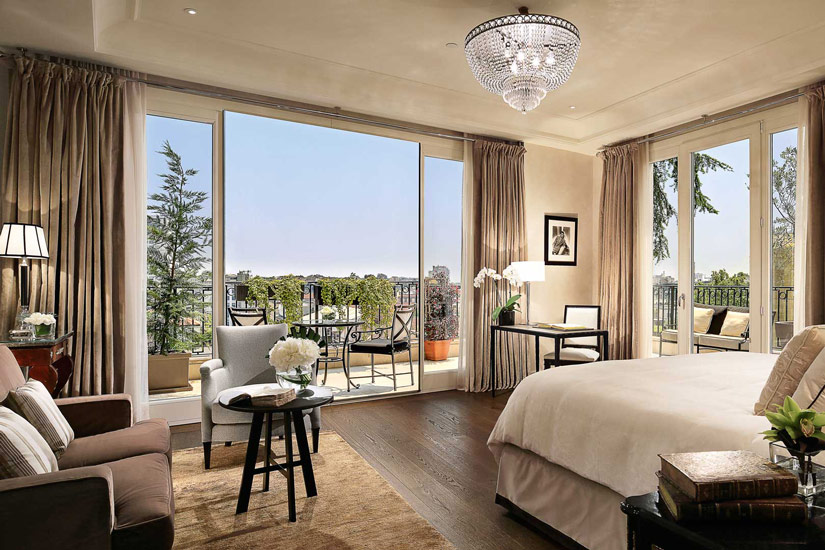 Upon your return to Palazzo Parigi, a winding Carrara marble staircase and a crystal chandelier welcome you into a string of interiors featuring typical neoclassical Milanese style designed by Pierre-Yves Rochon. This theme continues into the lounge bar, where warm wood paneling is decorated with antique paintings and post-Deco inspired furniture, merging Parisian finesse with Milanese taste.
Park Hyatt
Facing the entrance of the Galleria Vittorio Emanuele, Park Hyatt is set in the heart of Milan's fashion and shopping district, and just a few steps away from the Duomo. It's also in a prime location for visiting the city's beautiful Basilicas that surround its central location.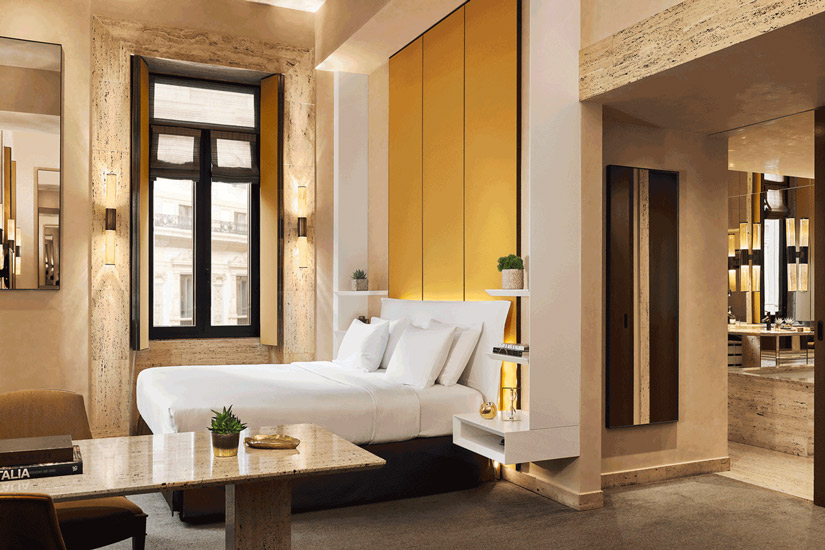 In harmony with Milan's refreshing mix of period features and modern aesthetic, this boutique hotel houses interiors that are elegantly styled with high ceilings, expensive dark woods and rich wool carpets. The Park Hyatt Milan also has a relaxing spa and a lobby lounge with a standout 30-foot glass dome that illuminates a rotating collection of artworks.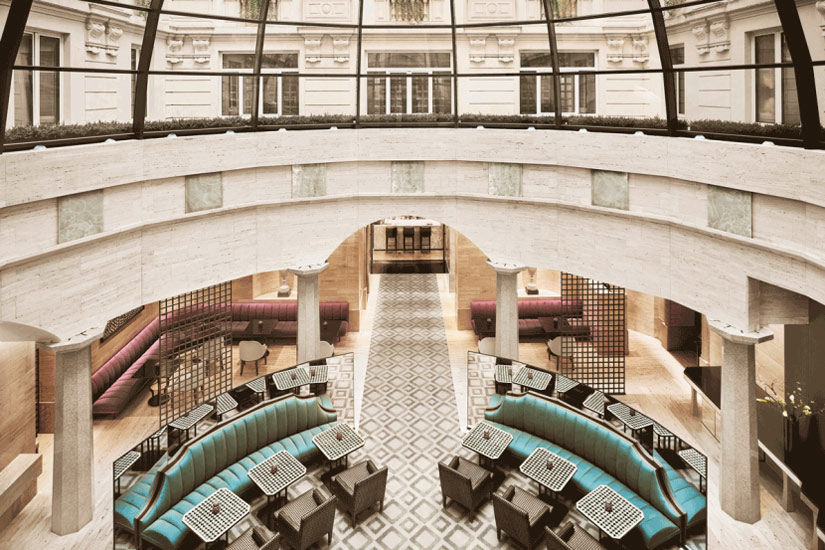 Hotel Principe di Savoia
With a rooftop spa and spacious rooms decorated with luxurious furnishings, Hotel Principe Di Savoia is a peaceful retreat that's perfect for art and history lovers. A short walk through the luscious Indro Montanelli Public Gardens takes you to Villa Reale, Milan's Gallery of Modern Art, which boasts paintings by Italian and international artists such as Boccioni, Cezanne, Picasso, and van Gogh.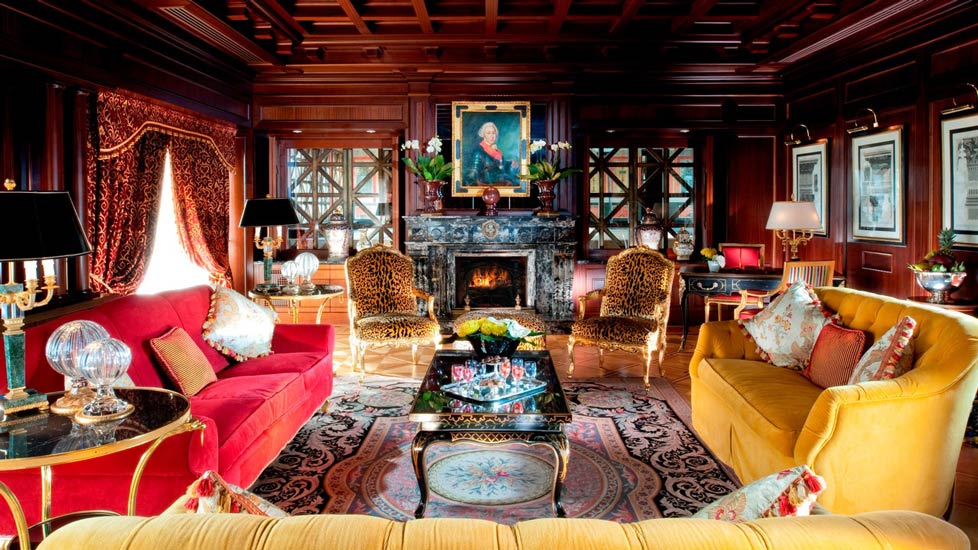 Back at the hotel, lavish suites and guest rooms feature Art Deco appeal that captures a uniquely classic Italian glamour. The hotel was renovated back in 2009, tapping the talents of Thierry Despont, Francesca Basu, and Celeste Dell'Anna, who were inspired by Milan's La Scala Opera house.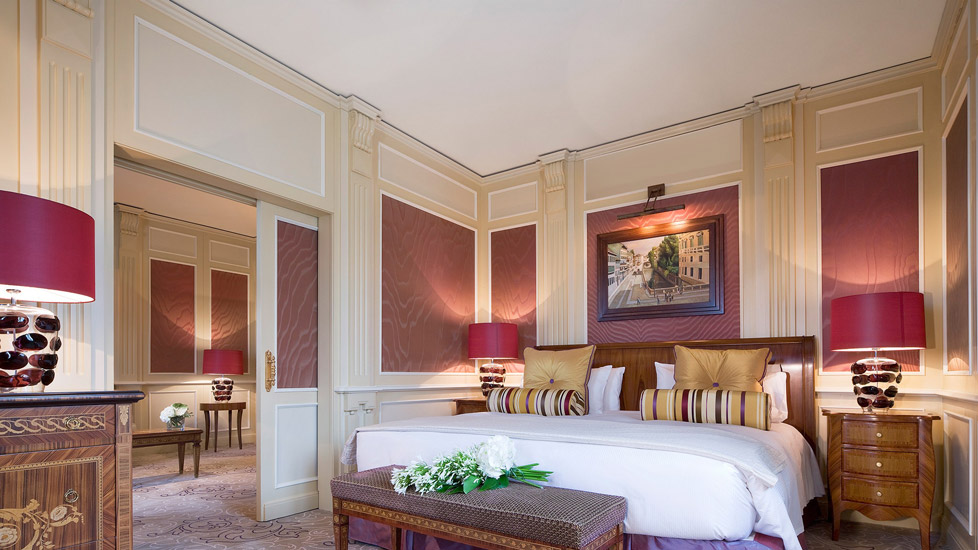 Galleria Vik
If stepping out of your hotel into one of Milan's luxurious shopping locations sounds like a dream, then Galleria Vik can make it your reality. It's one of only two luxury hotels actually located inside the Galleria Vittorio Emanuele II, which means an abundance of cultural attractions are nearby including the Prada Foundation's Osservatorio exhibition space just next door.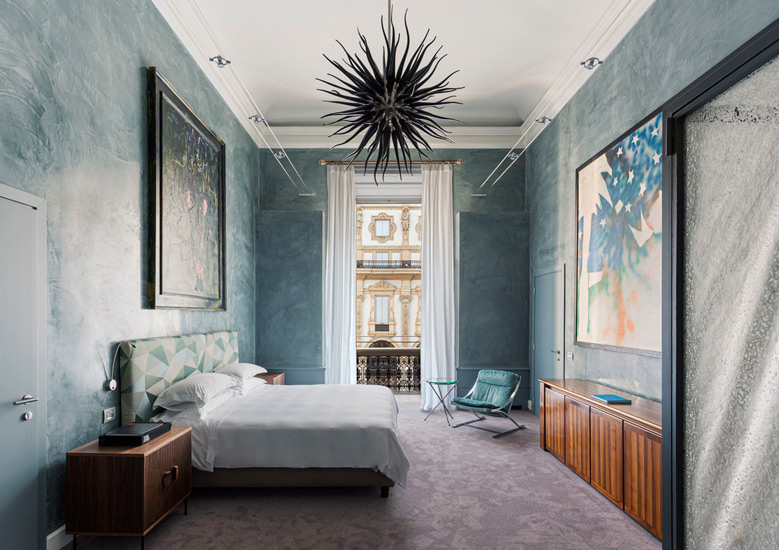 Museo del Novecento is also only a few steps away where you'll find important collections of Italian and international 20th-century art spanning Futurism, Spatialism and Arte Povera. It's a unique amenity that no doubt inspires the hotel's unique interiors. No two of Galleria Vik's 89 rooms and suites are the same but are instead tailored to the artist it celebrates.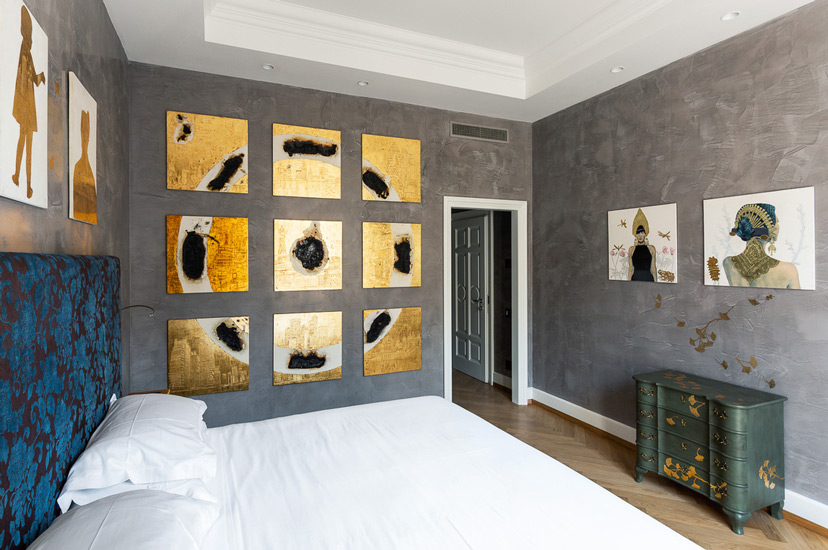 Each room has its own character, the result of collaborations with artists from Europe, South America and beyond. The furnishings are a considered selection with pieces by the likes of Gio Ponti, Franco Albini, and Ico Parisi.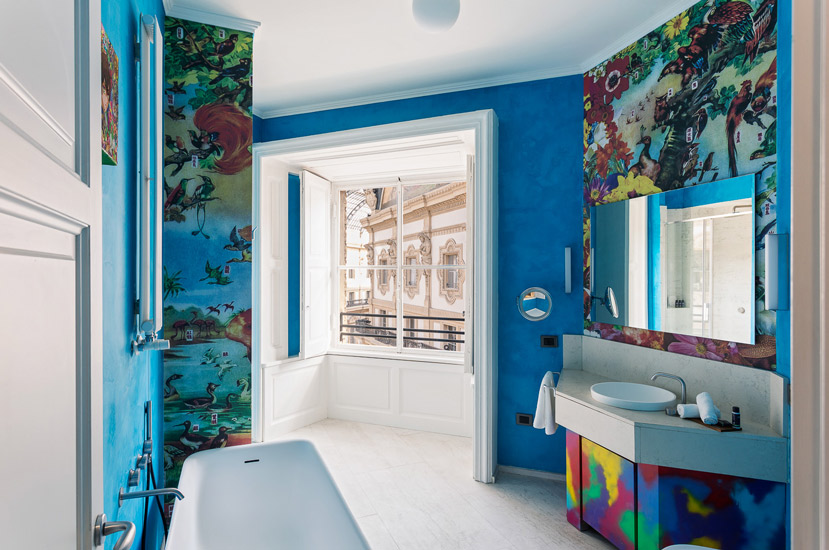 Let's Continue with the Last but not Least Best 5 Star hotels in Milan
Magna Pars L'Hotel a Parfum
Magna Pars is located in the heart of Via Tortona and the trendy Tortona design district—Milan's mecca for fashion and design lined with showrooms and ateliers. It's also the perfect spot for experiencing the lively Navigli neighbourhood known for its twin canals and its cobblestone streets packed with contemporary art galleries, vintage stores and vibrant bars and restaurants.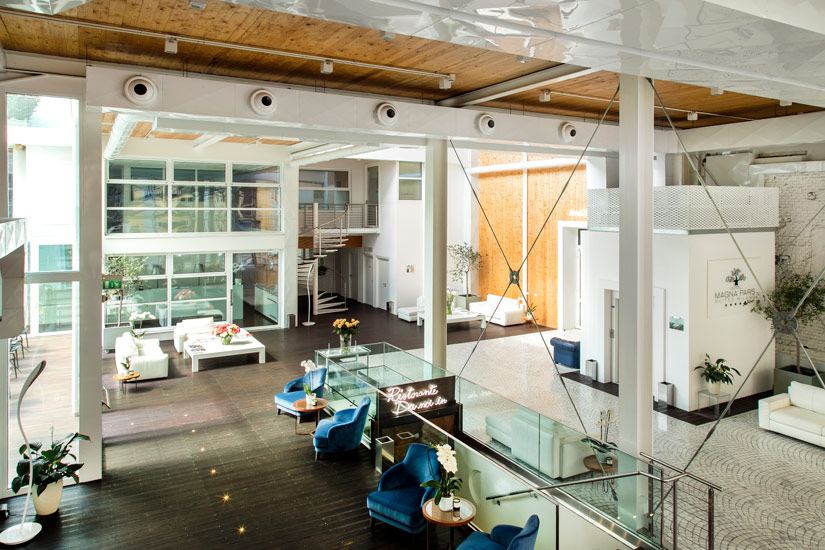 Perfect to retreat to after, the hotel is tucked away in a quiet, little street housed in a former perfume factory, which has been transformed into a modern architectural gem. Inside, a blend of steel, aluminium and glass creates a powerful impact that feeds off of space and light. Meanwhile, sleek white furniture, oak floors and artworks from Milan's Brera Academy, define each suite, all with their own signature fragrance crafted by some of the most gifted 'noses' in the industry.
Armani Hotel
The Armani Hotel Milano is situated in the world-renowned fashion district of Milan known as the Quadrilatero della Moda, housed within an extraordinary Palazzo designed in 1937 by Italian architect Enrico Griffini. Inside, clean lines and a soothing palette of precious materials define the interiors with a sense of harmony throughout the 1930s Rationalist building.
Meanwhile, large floor-to-ceiling windows allow for plenty of light and spectacular views of the city skyline. For a panoramic experience, the hotel's Bamboo Bar is one of the most exclusive and fashionable rooftop bars in Milano, featuring louvre windows and backlit onyx details.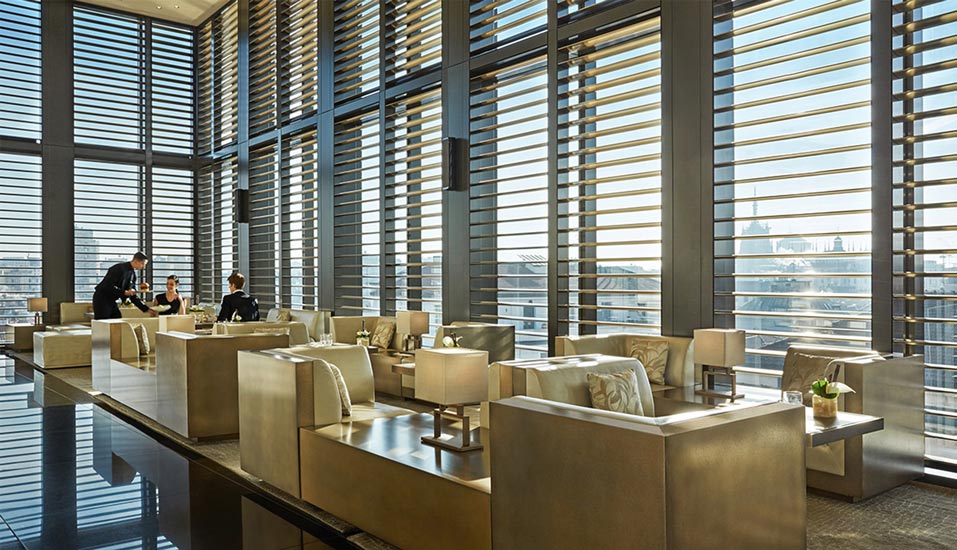 Excelsior Hotel Gallia
Opposite Centrale Station, Excelsior Hotel Gallia is an historical mainstay of the city that recently underwent a full makeover that invited some of Italy's most-loved furniture makers. Rooms and public spaces are fitted with custom pieces by Milanese design houses—among them B&B Italia, Fendi Casa, Poltrona Frau and Cassina—and five specialty suites are devoted to icons like Gio Ponti, Castiglioni and Franco Albini.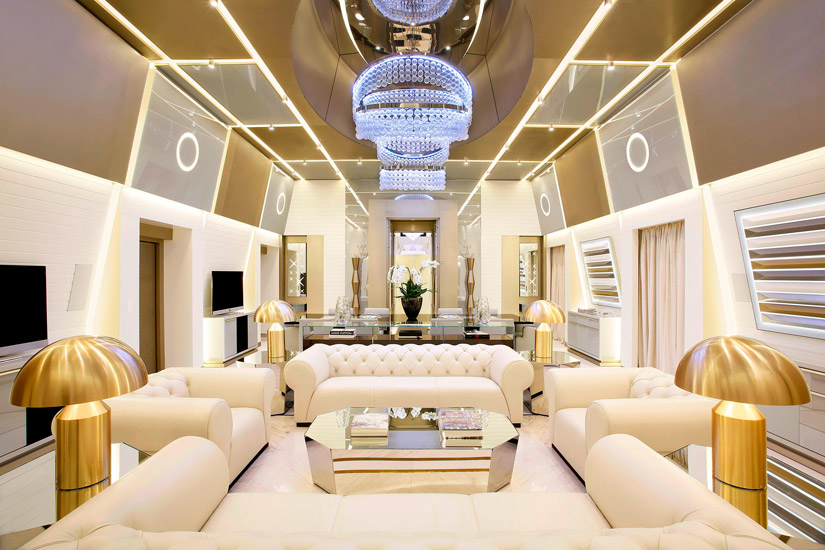 In addition to the five star services, the hotel facilitates a royal suite, a private cinema, a conference centre, a covered swimming pool and a spa. The hotel also hosts one of the city's trendiest bars, with a panoramic terrace overlooking the breathtaking view of the Pirelli skyscraper by Ponti and those overlooking the Garibaldi district below.
Explore Italy for Yourself
If you're inspired by the design we've explored and want to discover the best 'Made in Italy' has to offer in person, we invite you to take part in a customized furniture shopping tour. We can organise a tailored experience including visits to Italian laboratories and ateliers to choose the products for your home, as well as in depth recommendations when it comes to five star hotels in Milan.
If you have already visited Milan and understand the draw of its beauty, why not indulge in a luxurious trip somewhere else? We've plotted the best design hotels in Italy from Venice in the North to Sicily in the South. If not, perhaps all you need is a little detour to end your weekend exploring the Milanese cultural scene… Did you know that Lake Como is just a one-hour drive North of Milan? We've put together a one-day itinerary if the perfect day trip at the most glamorous of Italy's lakes appeals to you.
With our luxury home renovation and contractor services you'll have trusted professionals at your fingertips who are able to perform the most diverse tasks in any architectural and design project. We can guarantee the complete realization of your own little corner of paradise.
Your unique Interior Design Project developed by Italian Professionals.
Discover and shop Made in Italy while living the Italian lifestyle in Milano.