A typical day Shopping Italian Furniture in Milan and surroundings
Posted on 18 July in Italian Interior Design

Discover the Best of Italian Design with our Customized Shopping Tour! Buying Furniture in Italy in the best Furniture Shops in Milan and Surroundings!
Discovering the best furniture shops in Milan
The quality of Italian design is renowned all over the world. On the one hand, there is the creativity of the great masters of design, and on the other the excellence of the artisanal workshops across the country, which together have made "Made in Italy" an unmistakable brand. 
If you are looking for the best of contemporary Italian design, then our shopping tour is for you. We will lead you on the discovery of the production sites where the projects are born, the ateliers of the artisans, and the furniture stores in Milan and surrounding areas, because the most beautiful and unique items require some know-how to find.

Design professionals to help you buying furniture in Italy
In recent years, Milan has been confirmed as one of the main design capitals. In fact, numerous design showrooms, antique and contemporary galleries showcasing collectible objects, and ateliers offering materials and accessories are concentrated here. Surely the worldwide known Milan Design Week has strongly contributed to Milan leading position in the design industry. 

Our shopping tour will be customized to you depending on the type of project you would like to create. We will stop by furniture shops in Milan and various design districts, or we can also visit the outskirts of the city where artisanal production and manufacturing sites are concentrated. For the enthusiasts out there, the tour can be extended to cover all of Italy and the local crafts of different regions, such as stone, glass, ceramic, leather, and marble processing.

The shopping tour is a unique experience, an exclusive itinerary to design and architecture, from magnificent historic buildings to authentic workshops, immersing oneself in art, culture, and good food, all the best of Made in Italy.
Did you know that there are flamingos in the center of Milan?
Our professional Italian interior designers organize the shopping tour. They will work with you to structure your visit to Milan or surrounding areas. They will set with you the primary stops in order to bring you to the right locations for realizing your project adapted to your own personal style. The tour is a unique and inimitable experience for both shopping for furniture in Italy and for visiting our architectural and cultural heritage sites.
Destinations on the Italian furniture shopping tour in Milan
Buying furniture in Italy, must be a real Italian experience so besides great design, in Milan, you can also find many historic pastry shops and cafes— unique locations from which we will start our tour. One of these is the celebrated Pasticceria Marchesi which has been in its historic location in via Santa Maria alla Porta since 1824. Recently, two new locations have opened in via Monte Napoleone 9 and in the Galleria Vittorio Emanuele II. Then there is Pasticceria Cucchi on Corso Genova, a star of the Milan Design Week 2019 for a restyling of the interior by designer Cristina Celestino.
We move now to our studio in Brera design district to lay out all the details of the shopping tour before beginning to visit furniture shops in Milan. At the Boffi showroom in via Solferino, for example, you can find all the new collections from designers such as Piero Lissoni, Norbert Wangen, Gamfratesi, Paul Mc Cobb, Jens Risom, and Lucidi Pevere. We can then move to MEMPHIS MILANO in their showroom in via della Moscova where famous works from the artists of the group Memphis are exhibited, such as Ettore Sottsass, Andrea Branzi, Nathalie Du Pasquier, Peter Shire, etc.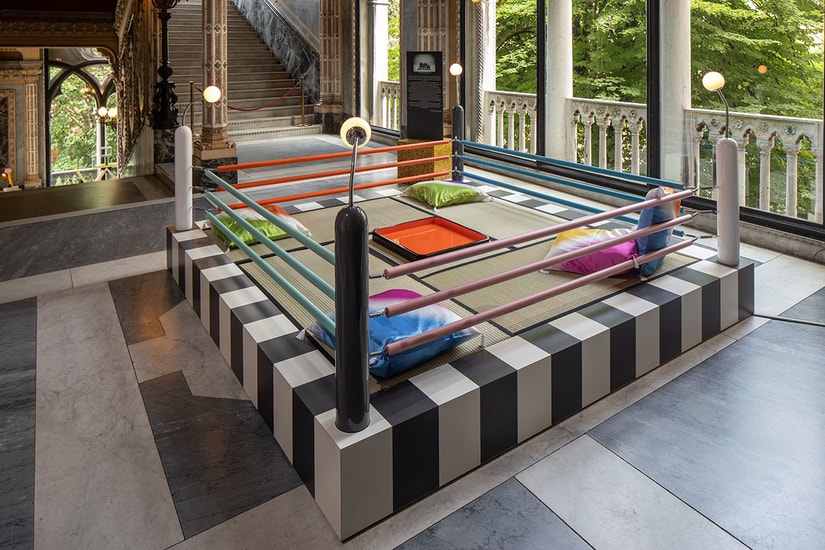 Buy furniture in Italy immersed in millennia-old Italian art: a singular experience
For lunch, the ideal location might be Caffè Fernanda, located inside the Pinacoteca di Brera and recently restructured by rgastudio. The name of the cafe is an homage to Fernanda Wittgens, the visionary director of the gallery who was responsible for its reopening in 1950.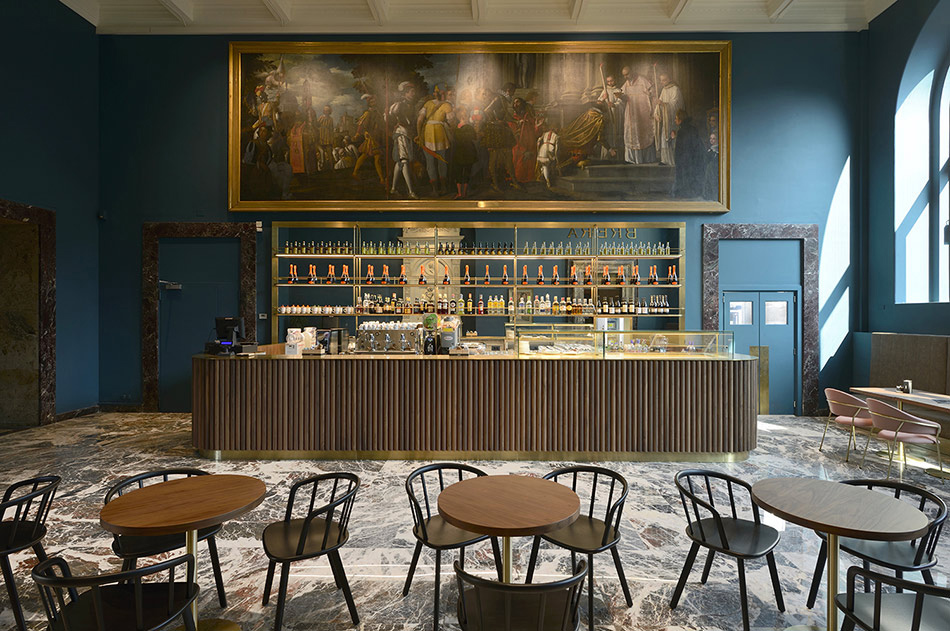 While you are there, it is worth visiting the Pinacoteca di Brera, one of the most celebrated collections of paintings in Italy, especially of the Venetian and Lombardian schools. Sposalizio della Vergine by Raphael and Pala Montefeltro by Piero della Francesca are among the works exhibited.
After this artistic stop, we can begin the second part of our tour discovering the authentic furniture shops in Milan. We will move to Via Manzoni to visit the Poltrona Frau showroom and then to the design district of via Durini where we will first visit B&B Italia and Cassina Milano Showroom, recently re-designed by Patricia Urquiola, to discover the new offerings from Rodolfo Dordoni and Ronan & Erwan Bouroullec.

Now we direct ourselves to Molteni&C | Dada flagship store located in Corso Europa to view the furniture design of the historical Italian manufacturer for the kitchen, living room, and bedroom.
For the final touch of Italian Home Decor: Art galleries for collector furnishings
If there is time, we can also discover collector's design by visiting the Nilufar gallery in via della Spiga 32 or Nilufar Depot to see collections from historic and contemporary designers like Martino Gamper, Angelo Mangiarotti, Kiki Van Eijk, and Pierre Paulin.
Or alternatively, we can move to the San Vittore neighborhood to visit the Milanese gallery of Rossana Orlandi. This is a must-visit destination for design enthusiasts, especially those who are looking for unique and limited-edition pieces.

The ideal location to conclude our Milanese day is the Terrazza della Triennale, an evocative spot that reigns over the city. It is positioned at the last floor of the Palazzo dell'Arte, the historic building built on commission by Giovanni Muzio in 1933 to hold exhibitions for the Triennale di Milano.
Obviously, you can also visit the Triennale Design Museum with its permanent collection dedicated to Italian design and various other temporary exhibits.

We can then relax and commit ourselves to planning the appointments for the following day.
Discovering the excellence of Italian design step by step
This is just a taste of the possible furniture shops in Milan you will visit when you are with us. There are many other locations dedicated to design that we can visit for buying furniture in Italy, but these gems we reserve for the true connoisseurs.
If you want, it can be possible to extend the Milan furniture shopping tour outside the city center and spend a day in Brianza where furniture from the biggest brands of Italian design is produced and where the biggest companies in the wood and furniture production industry are found.
As an alternative, the shopping tour can bring you to visit also other Italian excellencies that work with the finest furniture and lighting materials. Tuscany is well-known for its specific companies active in the stone processing industry, in particular, Carrara marble, and Veneto for its important companies specialized in glass-blowing. Therefore, our guide to the grand tour of Italy can be useful by staying in the best design hotels on the peninsula.

Why buying furniture in Italy?
You will have surely understood that developing your home project with our professionals in Italy will be a unique experience and make for a thrilling story, but there is more. Buying directly in the country of origin has other benefits as well: taking advantage of the advanced know-how of Italian professionals, greater choice, and personalization of products and materials. But it doesn't stop there. There is also the economic convenience, which will repay greatly the cost of your Italian trip and will anyway remain a life-enriching experience.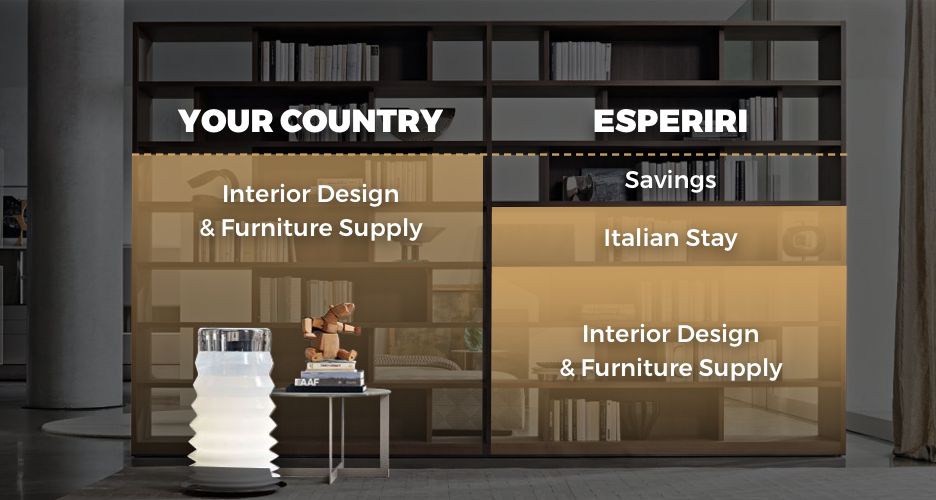 If you are thinking of buying furniture in Italy for your home and you are willing to travel, contact us. Our team of experts and interior designers will plan a custom shopping tour in Milan and surrounding areas.

If you are thinking about entrusting us with furnishing the home of your dreams, a great starting point is our HOME DECOR STYLE FORM that will help us understand your favorite home style!