Moroso Armchairs
Posted on 20 May in Italian Home Design
Italian Furniture Prices, italian armchair moroso, moodboard interior design, Italian armchairs, best italian designer armchairs, Armchairs Design, best italian armchair brands, Italian armchairs design, moroso inspiration, Moroso, mix&match, Italian Design, Design Inspirations, Italian Furniture Guide, Interior Design Inspirations, Italian interior design, best armchairs, furniture design, best designer armchairs
Sinuous shapes and unforgettable silhouettes that revolutionise any environment in which they are placed. Moroso armchairs are the centrepieces of our new interior design solutions. Capable of enhancing any setting, here are three solutions that tell the story of Italian design and will make you experience a thousand different emotions.
Mix&Match: Moroso Armchairs
A synonym for continuous stylistic and formal research, Moroso has been passionately creating upholstered furniture and chairs for high-end furnishings since 1952, in collaboration with top designers.
A company that, through the exquisite craftsmanship and tailoring know-how intrinsic to the Italian tradition, has been able to look ahead and create solutions that are always innovative and in step with the times. Contemporary art, design and fashion are the generative flow that carries forward every Moroso project.
Gogan Armchair, a soft, sculptural form in perfect balance. Patricia Urquiola is inspired by the culture of distant lands, creating a harmonious composition of smooth, irregular shapes that resemble stones.
To evoke the luxurious capitonné upholstery, Patricia Urquiola has designed an armchair that speaks of contemporaneity, the Bohemian Armchair.
Like a shell, the Redondo Armchair is made up of just two soft, enveloping volumes. The refinement of the fabric with its quilted decoration establishes its undisputed elegance.
For each of these Moroso Armchairs, we have chosen materials, textures and estimated a final price. And with the aim of showing you possible compositions with other Italian brands, we have created three different style solutions for you. But the variety of compositions is infinite and Esperiri is here to help you create the right Mix&Match according to your taste.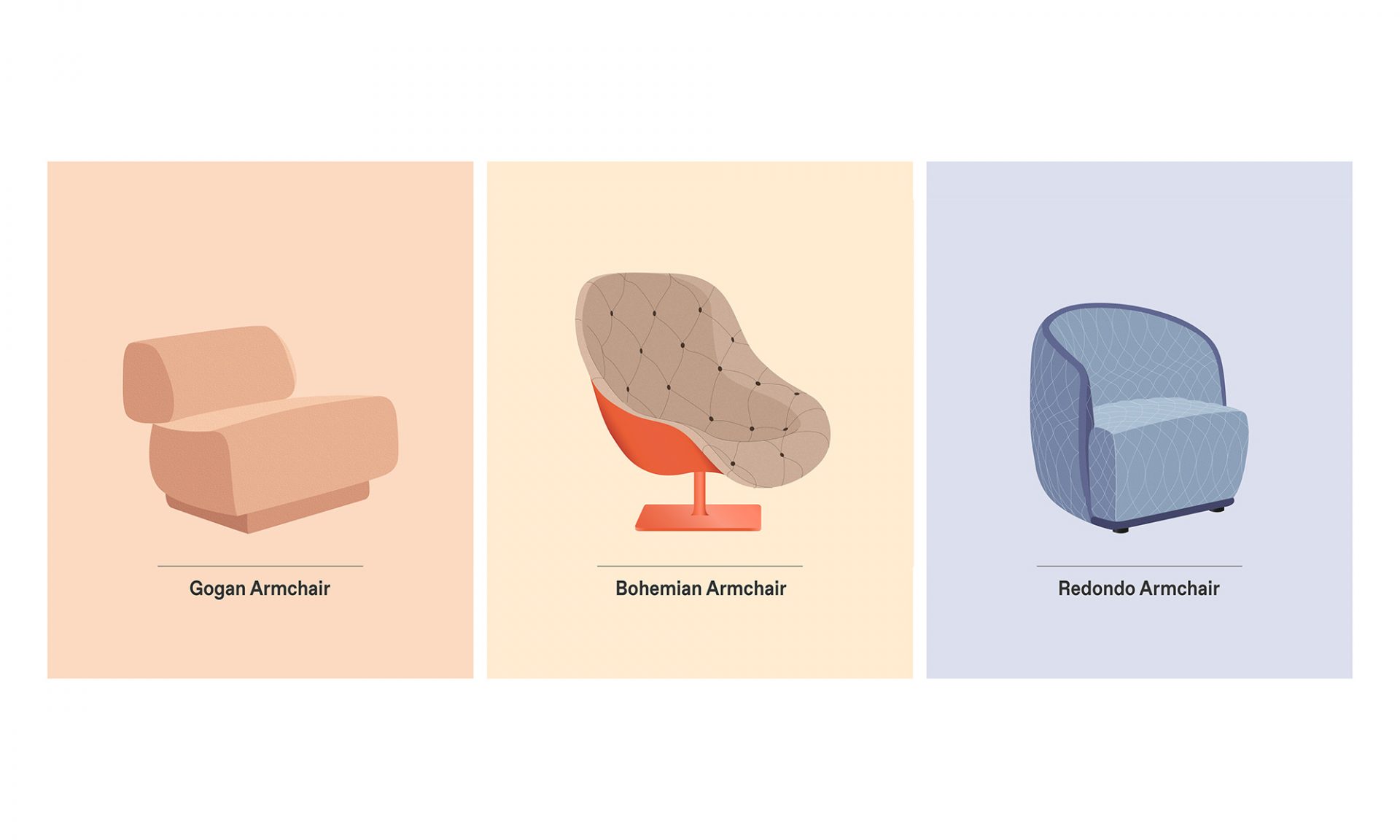 GOGAN Moroso armchair
A sculptural composition of stones carved by water and wind where you can lie down gently for a pleasant rest. The Gogan Armchair, in a continuous play of balances between soft and irregular shapes, recalls the Japanese tradition and the symbolic value attributed to these precious stones placed along the river banks.
The Gogan Armchair, designed by Patricia Urquiola, in a peach-coloured mohair wool upholstery, dominates the scene and comes at a price of € 3,170.
The sculptural quality is further enhanced by a selection of furnishings using Italian marble. First is the Colonnata bookcase designed by Piero Lissoni for Salvatori, followed by Angelo Mangiarotti's Eros coffee table, one of the most iconic in Italian design, and finally, Carrara, a floor lamp by Luceplan.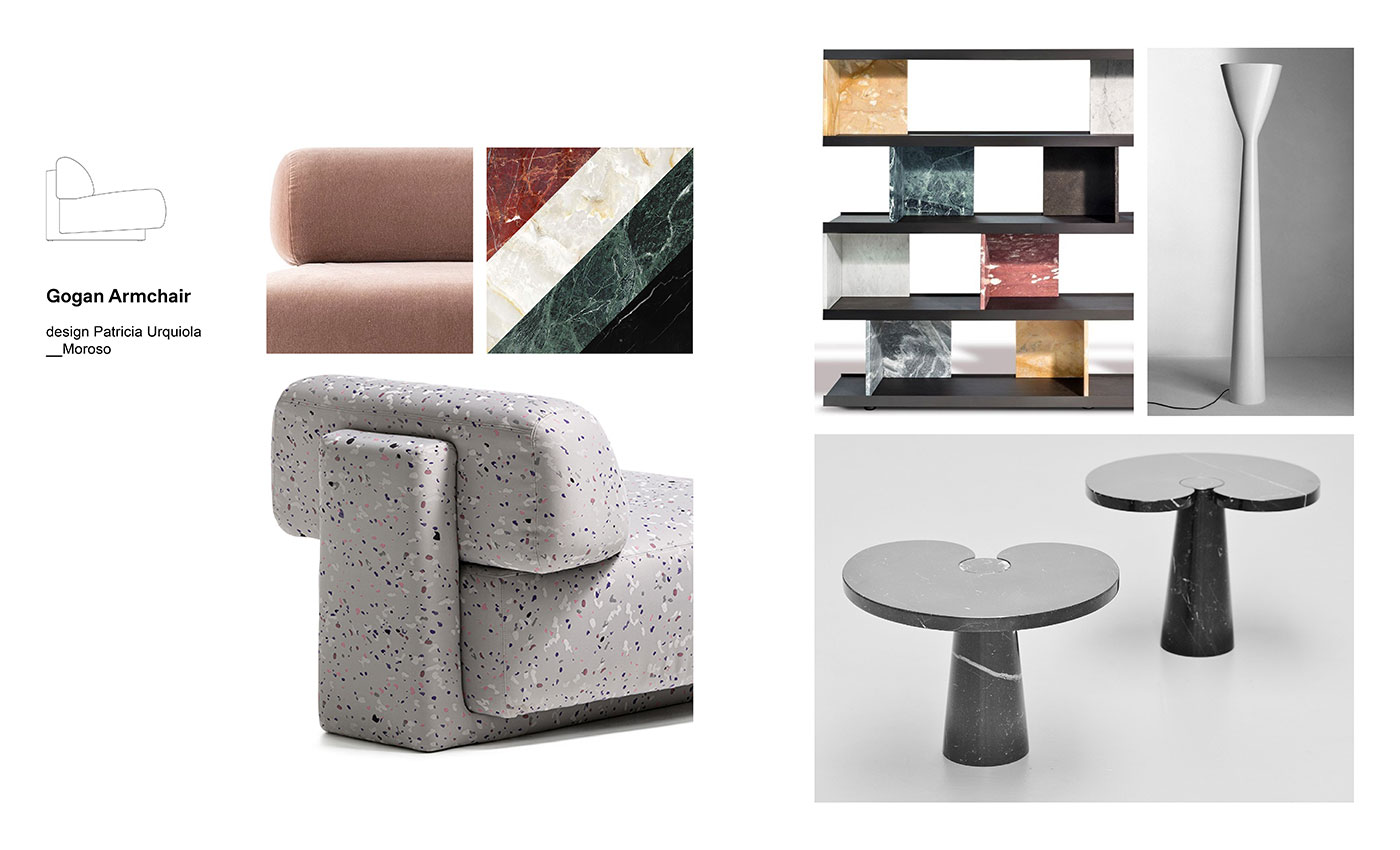 The first luxury room tells a story of precious stones and Italian design. A representative space that hardly camouflages within the walls, but on the contrary, it is itself predominant and welcoming.
The cold, solid qualities that characterise marble are lightened by the warm colours of the walls and by a continuous play of balancing solids and voids, for an elegant, high-impact final effect.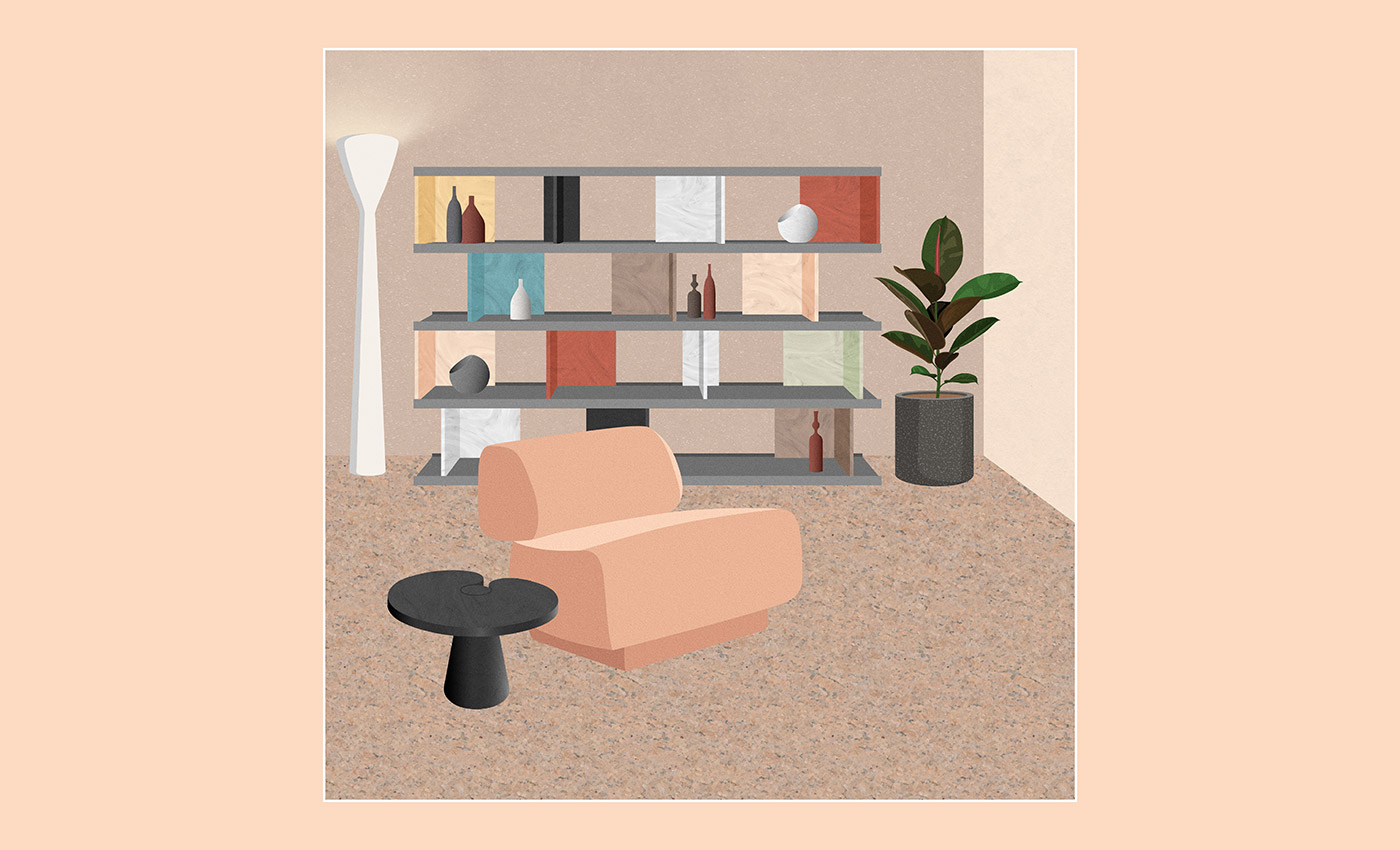 BOHEMIAN Moroso armchair
A re-adaptation of a great classic which made the history of decorative upholstery from 1800 until the advent of modern style. Capitonné is revolutionised in a contemporary key on an armchair with fluid, sinuous shapes that envelop the body of the user who is welcomed with open arms.
Precisely in order to celebrate this combination of imperial classicism and modern design, we have chosen a traditional beige leather upholstery in contrast with an orange/red colour for the base and back of the Bohemian Armchair. All this at a total price of 5,580 euros.
The contrasting colours of the armchair are echoed in the iconic Accordo coffee table by Charlotte Perriand for Cassina, while the sinuous qualities can be found in the DNA vertical bookcase by Cattelan Italia. Finally, to illuminate the reading area we have the Nota lamp by DePadova, designed by the talented Italian designer Elisa Ossino.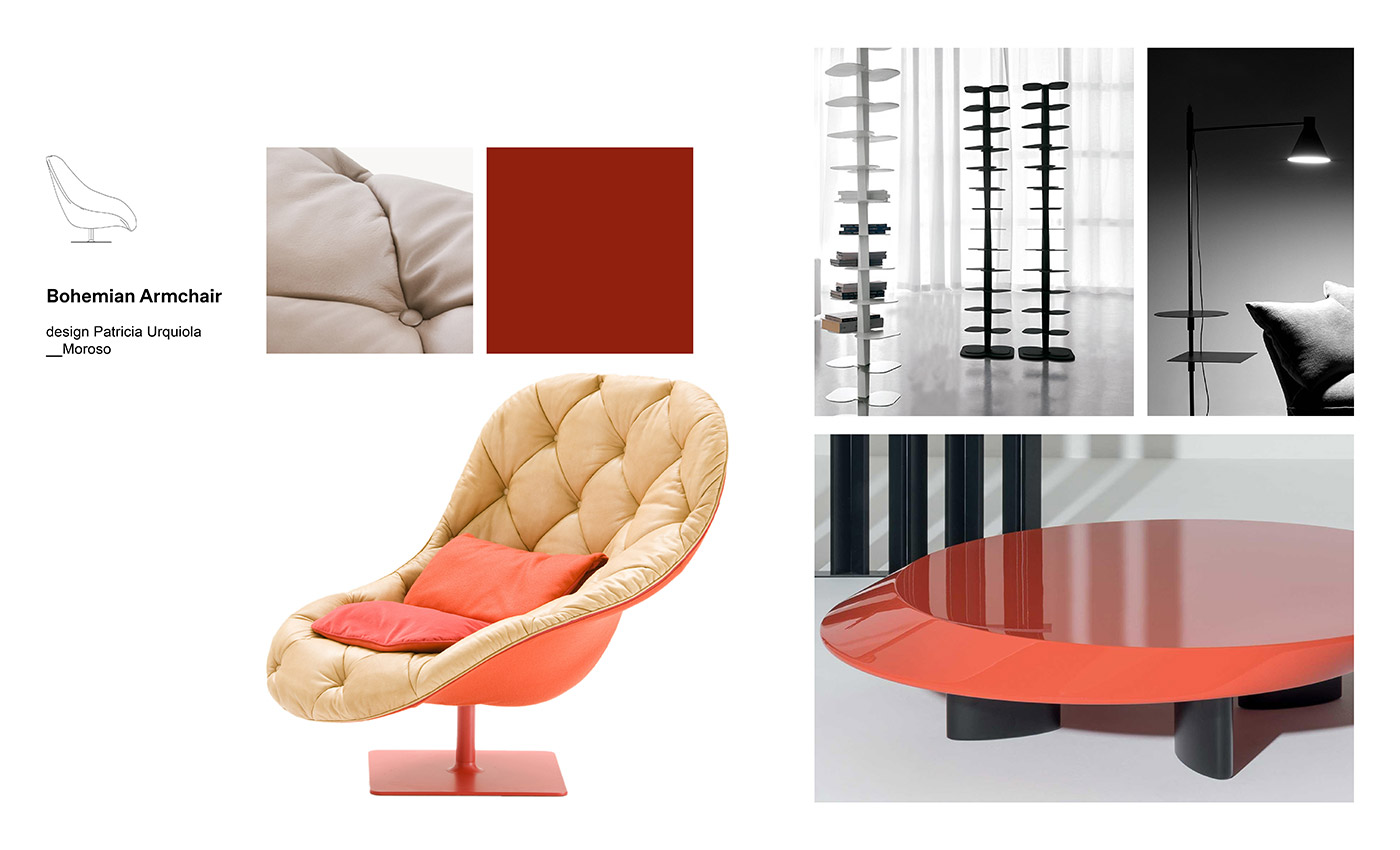 This second room, bright and timeless in style, is the ideal place to relax with an engaging book and a glass of wine. It is incredible how the self-supporting bookcase with its strong dynamism and the irregularity of both the Bohemian armchair and the coffee table manage to give so much character and fluidity to a room that would be anonymous without them.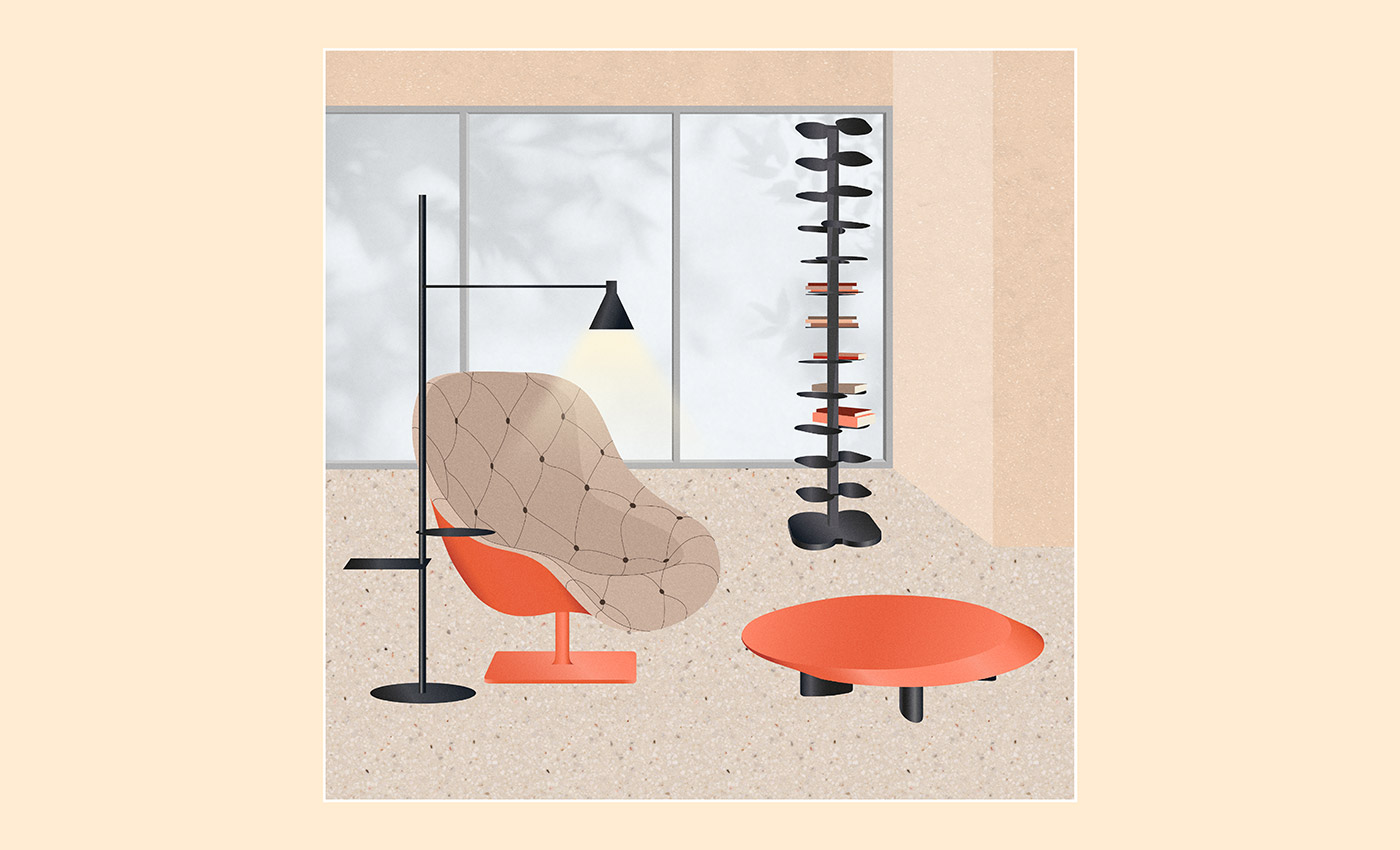 REDONDO Moroso armchair
Two volumes forming an enveloping seat that resembles a shell. The thread of the quilted decoration draws elegant three dimensional geometries that perfectly match the soft lines of the armchair. The Redondo Armchair recalls the 50s and 60s style of American cars, with their padded interiors and on-road comfort for long journeys from coast to coast.
To enhance the elegance of the Redondo Armchair, we chose an arctic blue upholstery with a quilted pattern designed by Patricia Urquiola, resulting in a total price of € 2,140.
These delicate shades of arctic blue direct us towards a selection of furnishings in auburn colours, the Talea bookcase, combined with Drops coffee tables, both by De Castelli. Two Artemide Gople descend from the ceiling to delicately illuminate the reading room.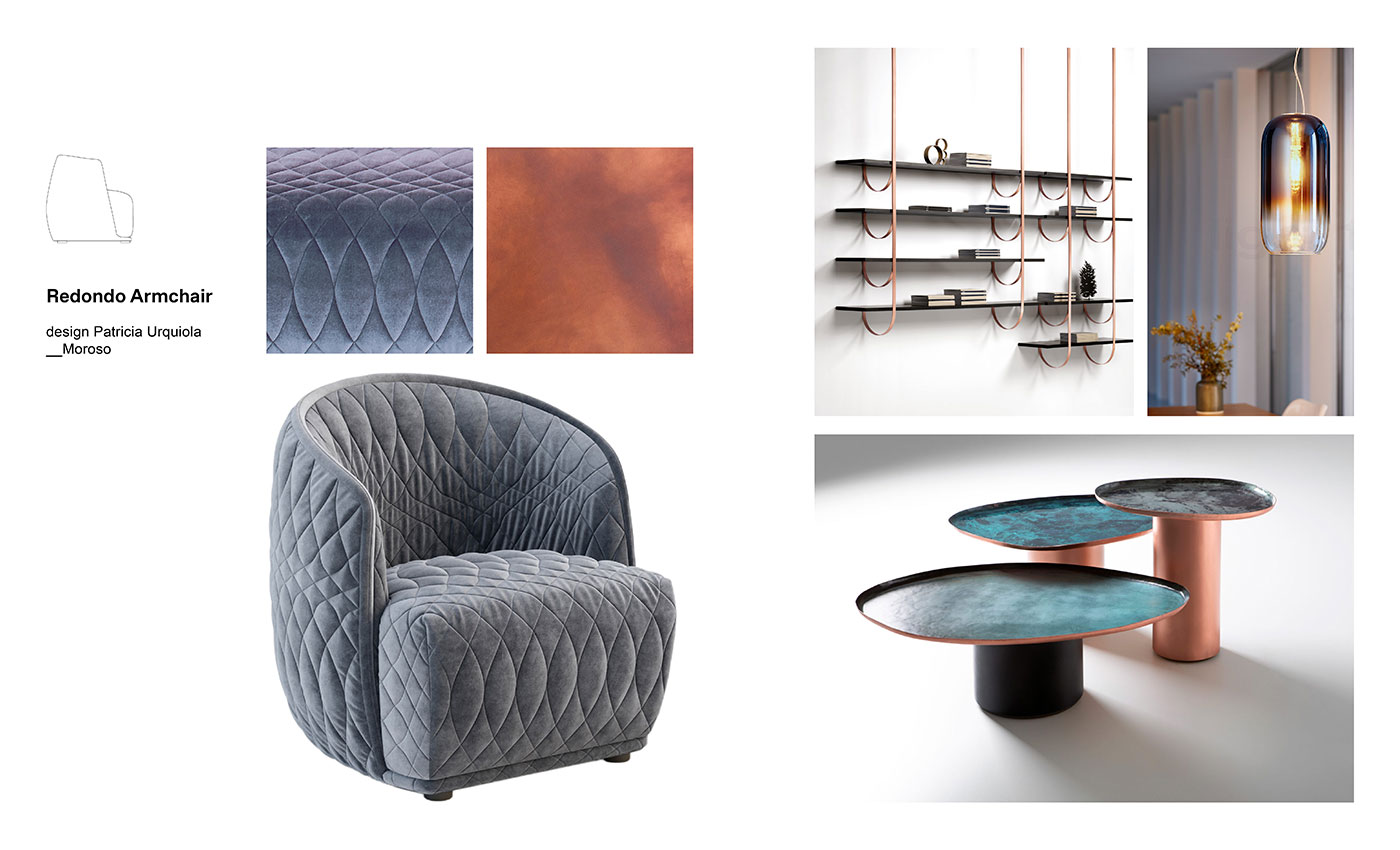 The last composition is dominated by a palette of blue nuances, contrasting with the metallic hues of copper. Contributing to this chromatic and sensorial dualism is a terrazzo floor with a strong character and warm tones, contrasting with a delicate blue curtain which softens the walls.
This harmony of parts contributes to a cosy ambience and offers a feeling of peace and tranquillity, perfect for relaxing with a pleasant read after a stressful working day in the hectic city.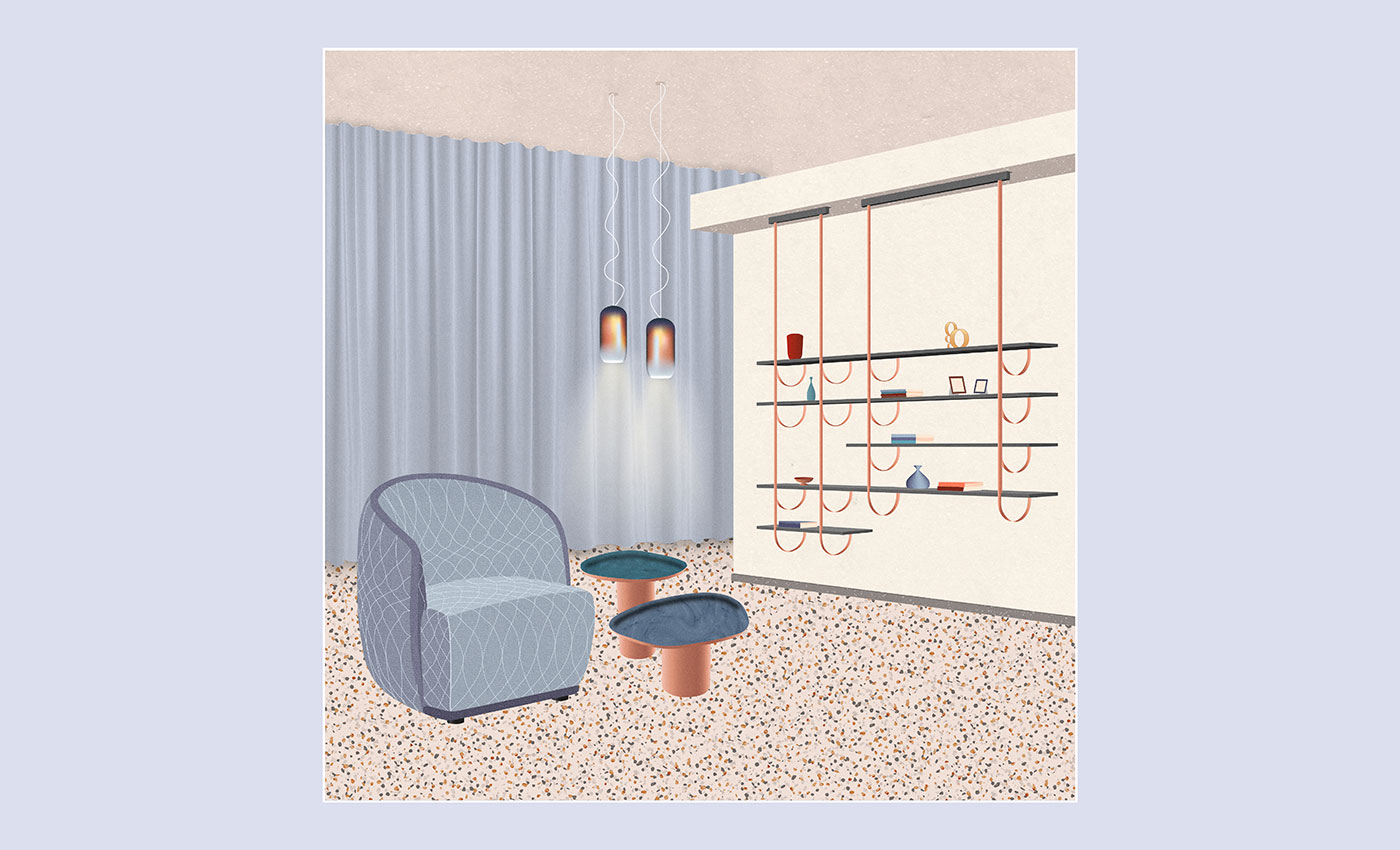 Discover Moroso Armchairs
If you are looking for something news for your home, browse our Italian designer furniture catalogue and our careful selection of Italian designer armchairs to find the right inspirations and the most suitable furniture for your needs.
Immerse yourself in the world of interior design and discover our proposals of Italian living room style: elements with a unique and authentic Italian design, precious textures and high quality materials are just some of the features you will find in the solutions that our interior designers have created to help you furnish the rooms of your home in a unique way.
With us your interior design project will have no limits! Rely on our services of Italian Interior Design, Italian Furniture Supply and Online Interior Design to create the home of your dreams.
Your unique Interior Design Project developed by Italian Professionals.
Discover and shop Made in Italy while living the Italian lifestyle in Milano.