How to Design the Best Modern Italian Kitchens
Posted on 03 January in Italian Furniture Online
Italian Design, Kitchen Design, Italian Furniture Guide, Italian Brands, Italian Furniture, italian kitchen brands, modern Italian kitchen, Italian kitchen, Italian modular kitchen brands, kitchen brands, modular kitchen
What should be the Focus when Designing the Best Modern Italian Kitchens? Discover the different Solutions offered by the best Italian Modular Kitchen brands!

Modern Italian kitchens in step with the times
The kitchen is a space where numerous activities take place, and this requires careful planning. Over the years, the way of utilizing this domestic space has changed. It is increasingly evident how much people want a kitchen suited to their way of life. Many models of modern Italian kitchen systems are designed to meet these needs.
A kitchen must be comfortable, pleasant, and work correctly without neglecting its primary function. This means that you must include appliances that combine efficiency with aesthetics. The kitchen must have sufficient space for storing food. Equal space must be devoted to food preparation, anticipating the movements of those who cook and improving the efficiency of those movements. Finally, it must be adequately lit.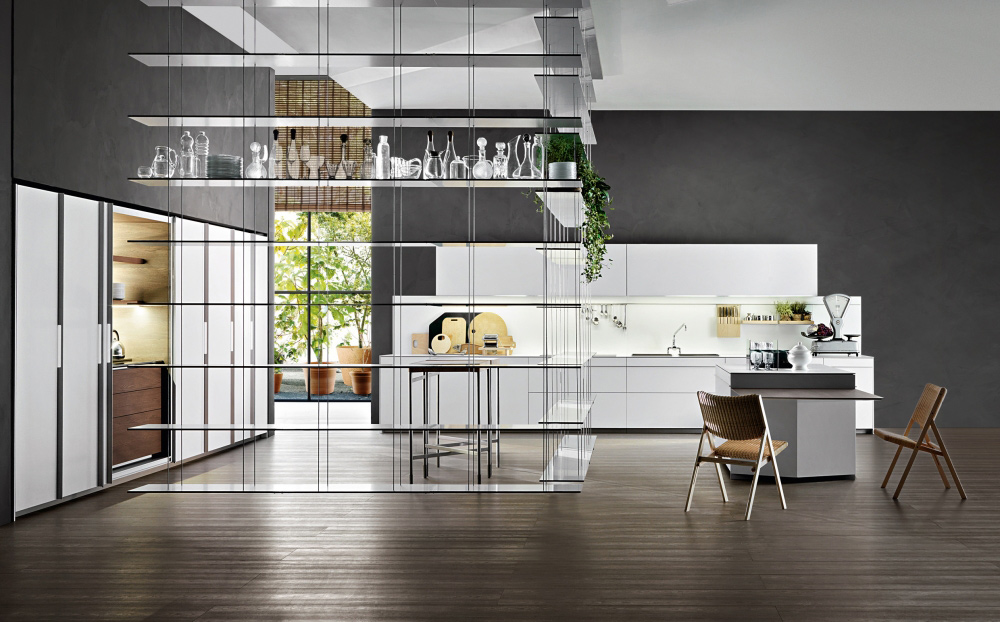 The characteristics of modern Italian modular kitchens
The idea of a kitchen as a closed space has long been surpassed by the concept of a spacious modern kitchen. Many daily activities have moved to the kitchen, which first began as a part of the dining area and then gradually became part of the living area. These changes have helped to develop the widespread concept of open-space and multifunctional kitchens. Today, meals are prepared as well as eaten in the kitchen, but this space is more than that. It is also a place for relaxation or work. The frenetic rhythms of contemporary life can help explain the flexible nature of the modern kitchens that famous Italian modular kitchen brands are offering.
The Composition of the Household: Dimensions and Configuration
Keeping your lifestyle in mind helps guide your choice of kitchen model. This room is a daily space and represents the heart of the home, so the needs of a large family will be different from those of a young couple.
These are essential aspects to consider when buying a new kitchen. Oftentimes the choice of the kitchen furniture rests on aesthetics, but most of the time, logistical and practical aspects determine the final configuration.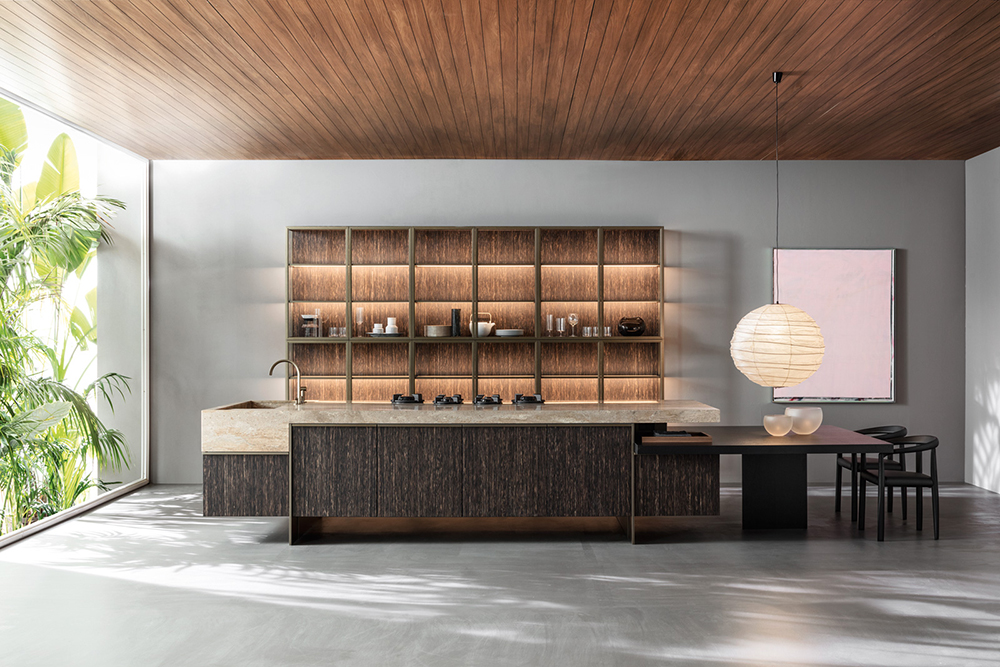 Organizing the kitchen space
The efficient use of space depends on how it is organized during the design phase. You can have different spatial configurations in kitchens. From wall solutions to "L" solutions to double islands with opposing stations, ideal for very large spaces. This solution has two work surfaces facing each other so that all operations can be carried out with ease.
But the most requested solution today is the island kitchen characterized by a single central block separated from the rest of the kitchen and equipped with a sink, stove with hood, and storage compartments.
The island configuration, like the peninsula, is suitable for open space environments but must be carefully designed to avoid unnecessary movements for cooks.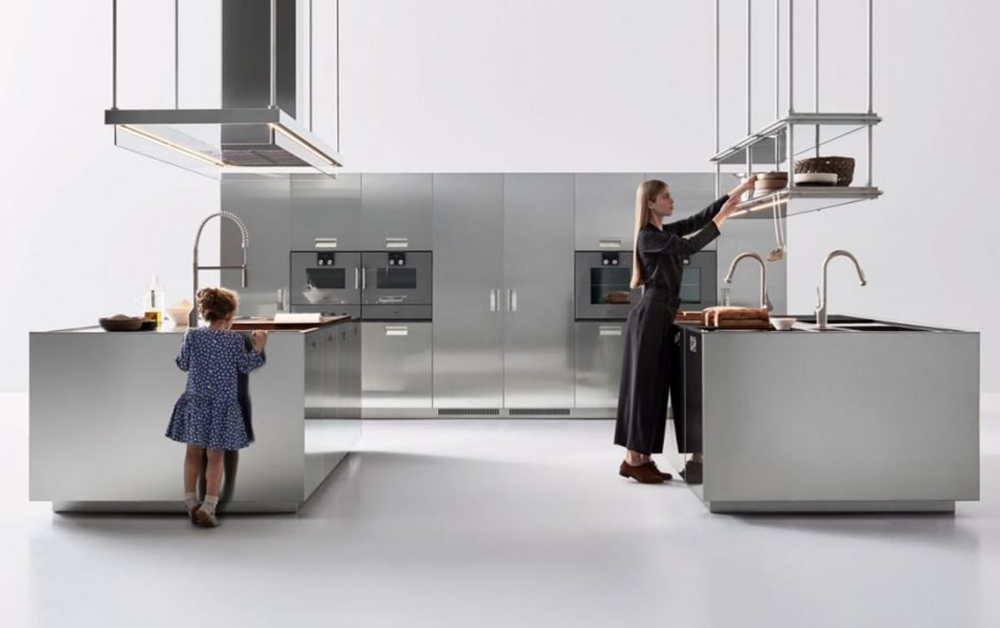 The Apr 60 kitchen, designed by Piero Lissoni for Boffi, one of the best Italian Kitchen Brands, is an example of an island or peninsula kitchen designed to be efficient in any of the various configurations.
This Boffi kitchen model is just one of many offered by Italian modular kitchen brands that can meet the needs of anyone who wants to customize their kitchen.

Suspended or Standing Kitchen: Aesthetics and Hygiene
Another aspect linked to space is opting for a suspended or standing kitchen. The footed versions allow for easy cleaning under the furniture and improve floor heating performance. Dada is an Italian company that offers high-quality kitchen models like these, such as the VVD model. VVD can be designed as a suspended island solution with closed or open units. Alternatively, you can choose the traditional model with the plinth and you can opt for a painted aluminum base that contrasts with the door finish.
High Technology and Customization: Household Appliances
Household appliances are one of the other critical elements for the configuration of a new kitchen, as they determine its dimensions and needs.
Given its significant dimensions, one of the main appliances is the fridge. Current models are very focused on design, and so you can decide to keep them within view. Otherwise, the refrigerator can also be recessed, integrating perfectly with the style of the kitchen. There are many models on the market from single-column solutions to large side-by-side refrigerators or four-door models, high-capacity models that require a lot of kitchen space.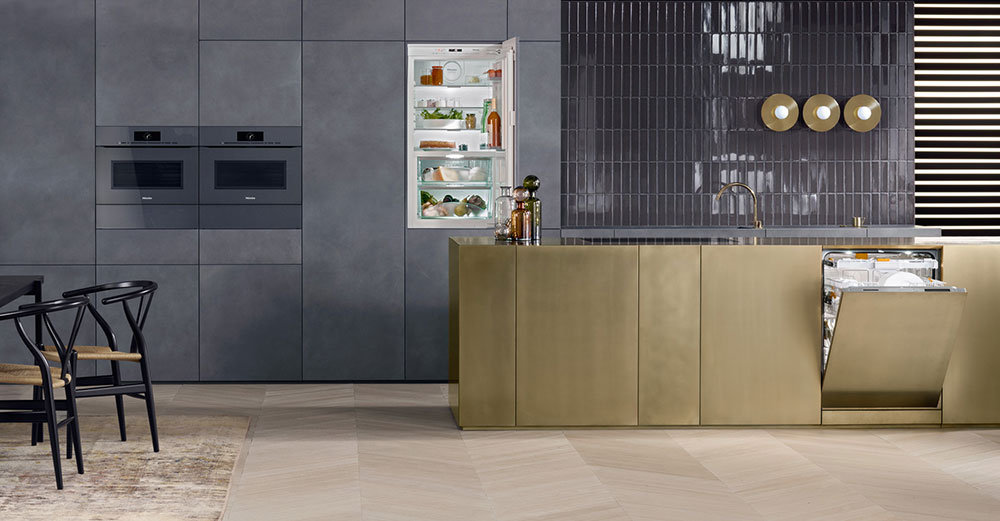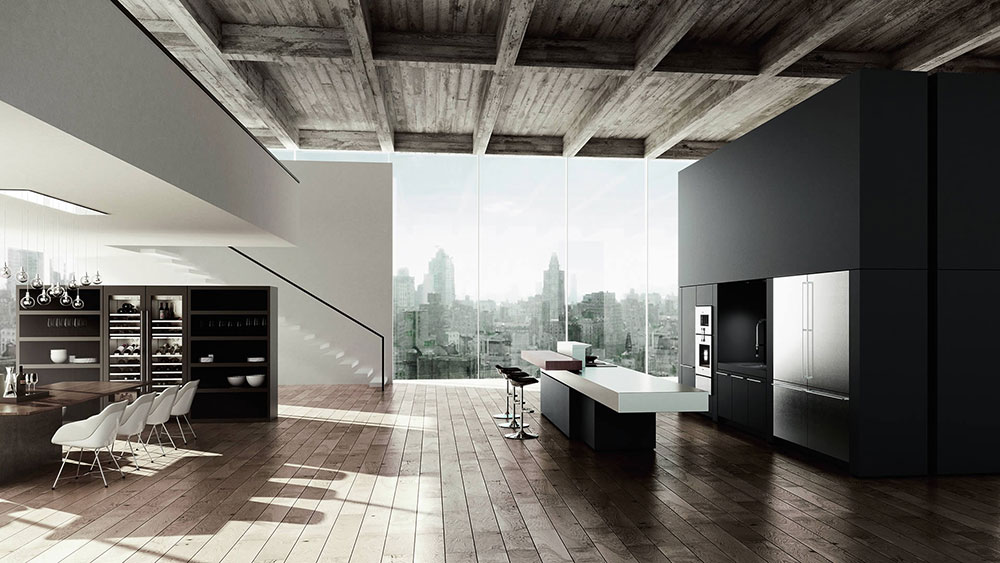 The hood is another appliance that has become increasingly important in the design of a kitchen space in recent years. From its start as a technical element, it has become a piece of furniture, especially regarding open space kitchens.
There are many hood models which, due to their shape, can be transformed into a focal point of the kitchen. For example, consider ceiling solutions that can integrate lighting and storage areas.
For those looking for a more discreet and minimal solution, in recent years, hoods that are built into the cooktop have been launched on the market. These are innovative and convenient hoods for practical island or peninsula kitchens in the case a suspended hood cannot be installed for structural reasons.
It is a solution that keeps the hood completely hidden while maintaining all its functions. This is something that Bora, a brand specialized in the production of integrated hoods, knows best. The market also offers retractable hoods equipped with a sliding-down system.
Speaking of appliances, cooktops can also come in different types. There are traditional gas-powered models, electric models, or modern induction stoves. In some kitchens, the cooktop can be in a single-block version available in different sizes also with a teppanyaki top or integrated grill, or in modular solutions as with Vario by Gaggenau.
Then there are ovens. For this appliance, you can choose between a single oven or multifunction double oven, a solution suitable for kitchen experts. In these cases, it is generally a traditional oven plus a microwave or steam oven. The ovens can be exposed or integrated into the doored operating columns. This solution is proposed by some of the best Italian modular kitchen brands to give more order and cleanliness to the kitchen's composition.
Also, you can outfit your kitchen with warming drawers, vacuum drawers, and built-in coffee machines, according to your needs.
Modern Italian Kitchens: Status Symbol of Luxury and Design
Our choice of the kitchen speaks to our lifestyle. For those who love cooking, there are models inspired by professional kitchens.
In general, these are high-performance models equipped with everything you need to cook in a fast, practical way. These kitchens are mainly in steel with details and finishes in wood, lacquered or laminate, as proposed by one of the best known Italian modular kitchens brands, Arclinea, with the Artusi model by Antonio Citterio.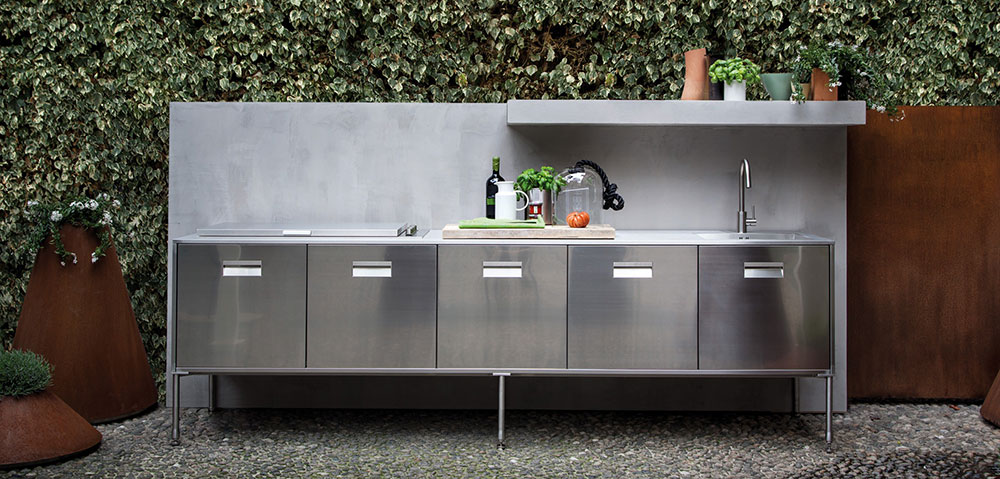 The space intended for the kitchen is increasingly open to the living area, and so if work commitments keep you away from home for a long time, the kitchen ends up having above all a representative role. In these cases, the best solution is the one that favors details and finishes in harmony with the design of the living area. In these contexts, solutions with marble or stone tops and other features that recall the living room furnishings become more alluring.
In some cases, you may decide to have a kitchen to be used only on special occasions and another for everyday life.
As a representative solution, Checkers designed by Armani and produced by Dada an Italian Kitchen manufacturer, is ideal as it is an exquisite open kitchen. Here, the natural stone top combines with precious natural wood, exclusive lacquers, and back-painted, ridged, textured glass. An LED light in the base of the wall units and countertop emphasizes the exquisiteness of the materials and enhances their variegated textures.
Aesthetics and Functionality as a Characteristic of Modern Italian Kitchens
In the kitchen, food is prepared and consumed. If the table was fundamental for these purposes in the past, alternative solutions have since been introduced. One example is the snack counter, an alternative to the table in step with the needs of modern life. It is suitable for those who like to enjoy the lunch break as a casual dining moment. This does not exclude the presence of the dining table, which can be placed in another location and intended for dinners with guests.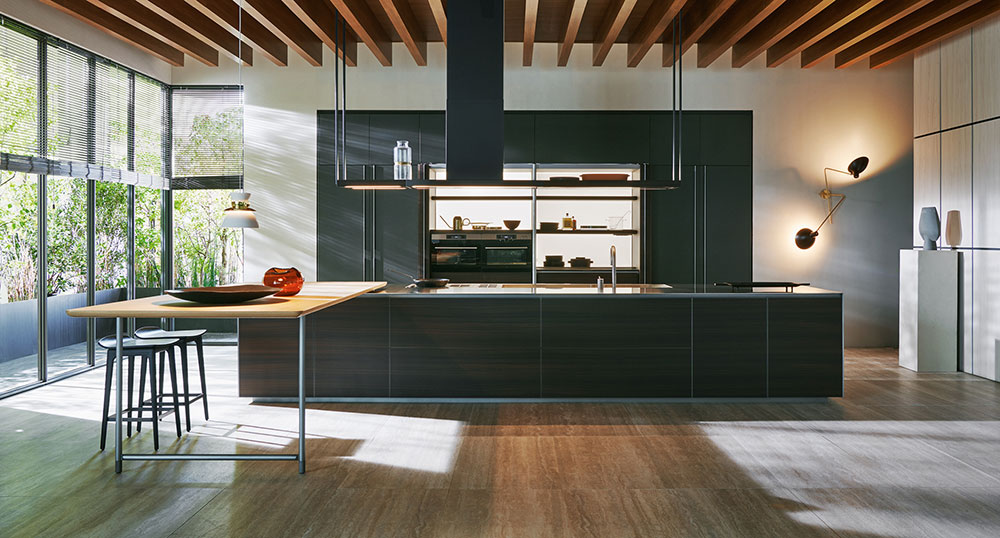 The Importance of Materials and Opening Systems
When choosing a kitchen, every detail is essential. One of the first questions to address when it comes to finishes is the choice of countertop. This surface can be in stainless steel, natural stone, such as marble or quartz, or artificial stone. The latter includes very resistant materials of the latest generation and used to make kitchen worktops such as Dekton, Corian, or Silestone.
The material chosen will contribute to shaping an image of your kitchen idea. It is vital to select resistant materials for the countertop and, if you use your kitchen frequently, favor materials that are easy to clean.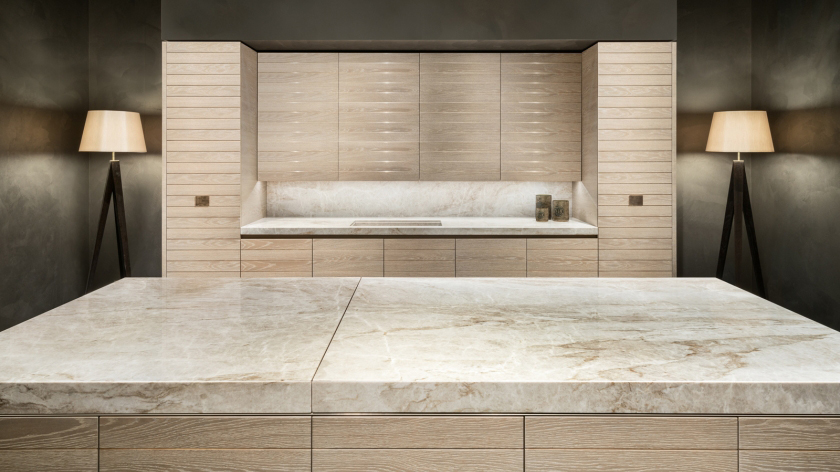 The materials for the doors are chosen alongside the countertop and often either recall the countertop's color or play with chromatic and material contrast. The doors can be in steel, glass, laminate, lacquered or solid wood with particular relief and prominence of the veining.
Last but not least, the type of door is a detail that is crucial in determining the design of your kitchen. The door can be handleless, with the so-called groove, with handles, or with the cabinet doors overlapping the countertop as in the K21 kitchen of Boffi K21. In this model, the doors rise slightly above the plane of the countertop, creating a small piece that you can grasp to open the door with ease.
From Macro to Micro: Internal Compartments and Their Accessories
Order in the kitchen is essential. For this purpose, column cabinets come in handy, a solution that allows you to take advantage of the overhead space. The operating column system makes everything accessible by using practical, extractable elements that are sometimes equipped with electrical sockets and lighting systems.
There are models such as Hide by Boffi, one of the best Italian furniture brands, that redefine the space thanks to these clever systems, creating a perfectly functional and fully-equipped retractable kitchen. Tivali by Dada is also a kitchen box with large sliding doors that appear and disappear when needed with a light, fluid movement. A column can be open or closed, equipped with a rotating unit to take maximum advantage of corner modules or be an operating system. Each solution responds to the need to organize spaces and appliances in the kitchen.
A kitchen is a place where we keep large amounts of different items, so maintaining order is very important. Therefore, it is essential to understand what to display and what to hide. With a closed kitchen whose materials and finishes blend perfectly, everything is at hand but neatly stored.
In most cases, the elements inside the columns can be arranged as you wish. The vertical modules of the columns can be equipped with shelves, baskets, drawers, and containers.
But a column can also be customized with accessories such as spice racks and jars, shelves with dividers for bottles and supports for glasses, pouches, and removable containers. Nothing is left to chance. Even the drawers can be organized in practical compartments to separate tools, cutlery and accessories.
With a proper kitchen design, you can obtain a kitchen that meets your aesthetic point of view and adapts to your way of living .
If you like a minimalism, discover our proposals of contemporary Italian kitchen designs or if you prefer a richer look browse three concepts of luxury Italian kitchens developed by our team of Italian designers.
With our interior design service, you can get the designer kitchen that best suits your needs. If you want to see all the models in person and discover the wide Italian Furniture industry, our personal Italian furniture shopping tour will take you to visit factories and ateliers offering exclusive proposals for the best Designer Italian kitchens. After choosing the right solution, our craftsmen will then install it for you.
Your unique Interior Design Project developed by Italian Professionals.
Discover and shop Made in Italy while living the Italian lifestyle in Milano.