Italian Luxury Surfaces: the perfect choice for Interiors Customization
Posted on 02 July in Italian Furniture Online
Made in Italy, Italian interior design, Italian Luxury Surfaces, Italian Materials
Among new furnishing trends, Italian luxury surfaces stand out. Diverse materials for unique solutions with Italian wallcoverings and Italian decorative wall tiles.
Italian Luxury surfaces: here are the main brands and materials to choose from
We have selected the best of Italian Luxury Surfaces because there are numerous solutions on the market thanks to the abundance of high-quality materials made in Italy. You can use wood, metal, ceramic and more with great creative liberty because they offer continually varying expressive solutions for a multitude of spaces.
Decorative wall panels originate in the Boiseries. This type of wall decoration dates back to the 17th and 18th centuries and was widespread, especially in France. It consisted of decoration made from wood panels, variously inlaid, engraved, and carved that covered the walls of large historic buildings.

This type of wall paneling has come back in vogue in recent years with new frameworks and shapes, thanks to which it is possible to give a contemporary look to an ancient technique.
Italian Wooden and Metal modular wall panels
One example can be found in the proposals of Emmemobili, a historic Italian company, which since its inception has dedicated itself to the production of high-quality custom-made furniture and multilayer panels. Today the company creates unique products, applying its natural inclination for sartorial design. As a standard bearer in the field of Italian Luxury surfaces, Emmemobili has collaborated with leading names in Italian design, such as Ferruccio Laviani, who designed Modular Boiserie for the company, a creation with which to build evocative and dynamic wall surfaces punctuated by 3D volumes.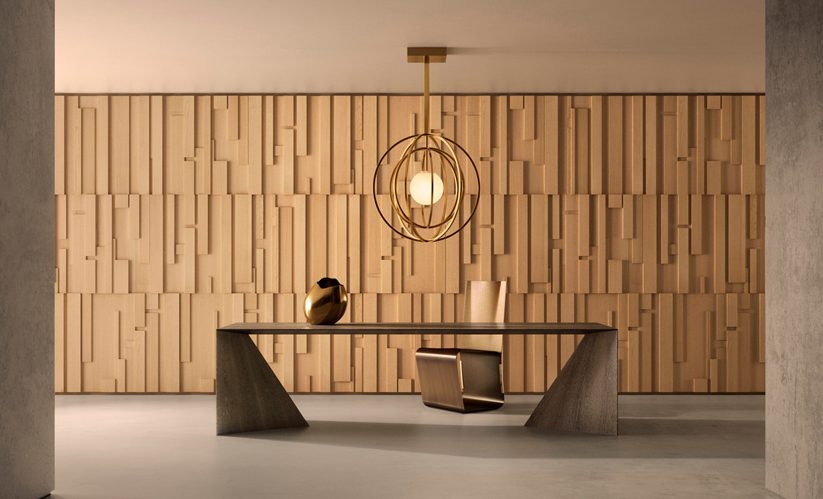 Another standard bearer for wood paneling is Laurameroni. A company that makes custom-designed finishes its core business. The result is products and textures that are representative of Italian excellence. In their catalog, they offer proposals for wallcoverings that use various materials in an original way, from wood to metal. Like the Boiserie Terre collection, a project by Bartoli Design, composed of custom-made panels and slabs of wood, metal or marble crafted individually and assembled in horizontal bands, which, thanks to the modular design, can be used to cover large surfaces without visible interruptions.

Regarding metal processing, the Italian company that stands out from the rest is DeCastelli, a brand that combines artisan know-how with great innovative and creative ability. De Castelli has for some time combined the creation of furnishing accessories with a refined understanding of surfaces, intended to enhance the characteristics of metals and amplify their expressive potential.
This way, in addition to design furnishings, interesting solutions for interior finishes can also be found in the DeCastelli portfolio. Like Marea, created through superimposing oxidation processes on brass, copper, and iron or Circle Wall, a spectacular overlapping of round modules that become a wallcovering system that plays on the warm nuances of brass.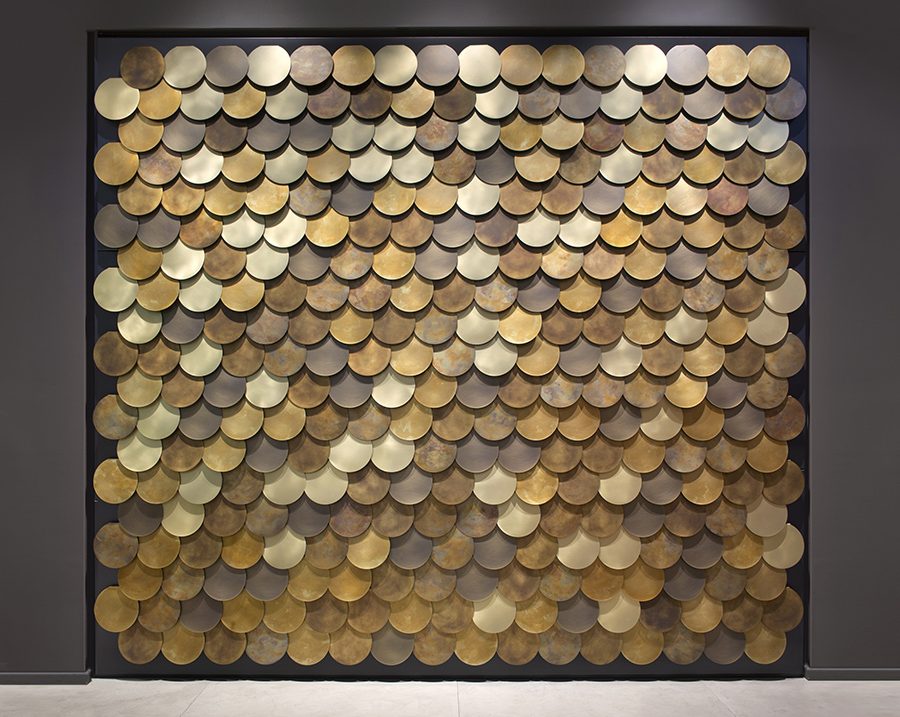 Then there are functional and decorative proposals like DecoDe, which is a collection of hexagonal sound-absorbing modules made in metal by DeCastelli: really valuable for the special range of finishes and unique for materiality and colors.
Applied research in the Italian decorative wall tiles industry
Despite the new trends and experiments, ceramics still remain one of the main materials for wall finishes. Mutina, who has been collaborating for a long time with famous names in contemporary design such as Patricia Urquiola, Edward Barber, and Jay Osgerby, Ronan and Erwan Bouroullec, Tokujin Yoshioka and many others, is one of those Italian companies who through its proposals contributed to giving a new look to the ceramics Italian scene. This led to the creation of collections that were able to reinterpret the subject of Italian ceramic tiles, designed to create spaces with different styles.

From graphic and geometric patterns to minimalist solutions, there are many possibilities through taking advantage of the expressive potential offered by new technologies, like the digital printer that allows us to have products like Tratti by Inga Sempè or Azulej by Patricia Urquiola. Ceramics can also be used as a three-dimensional element, as proposed by the Celesia collection by Patricia Urquiola.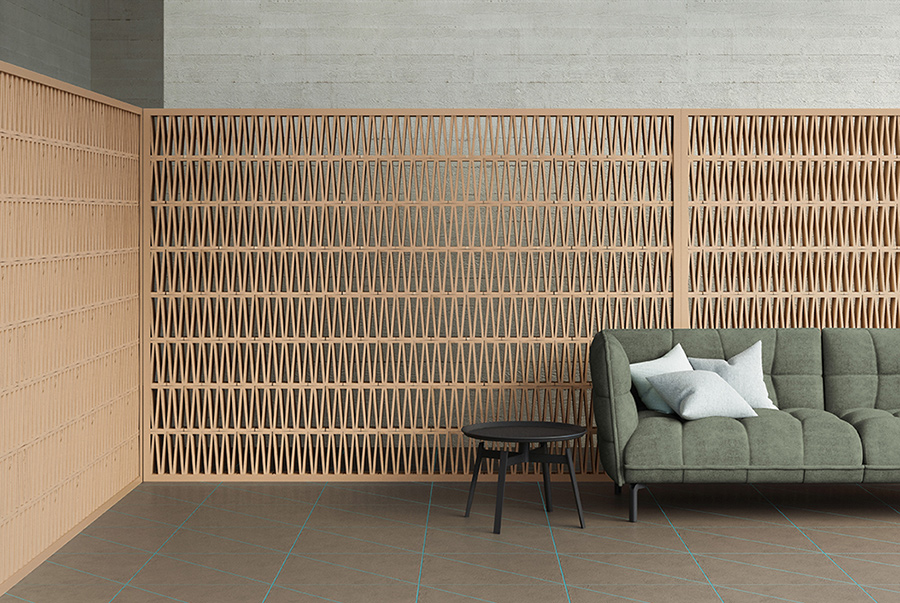 Ceramics also allow for customization of spaces, thanks to Bardelli's ceramic collections that offer some of the most original Italian decorative wall tiles. That is the LINES collection in porcelain stoneware designed by Storagemilano. Among the various versions, we also find one hand painted with artisan techniques where a satin brass or steel strip is inserted by hand inside the glazed surface, making every single tile unique.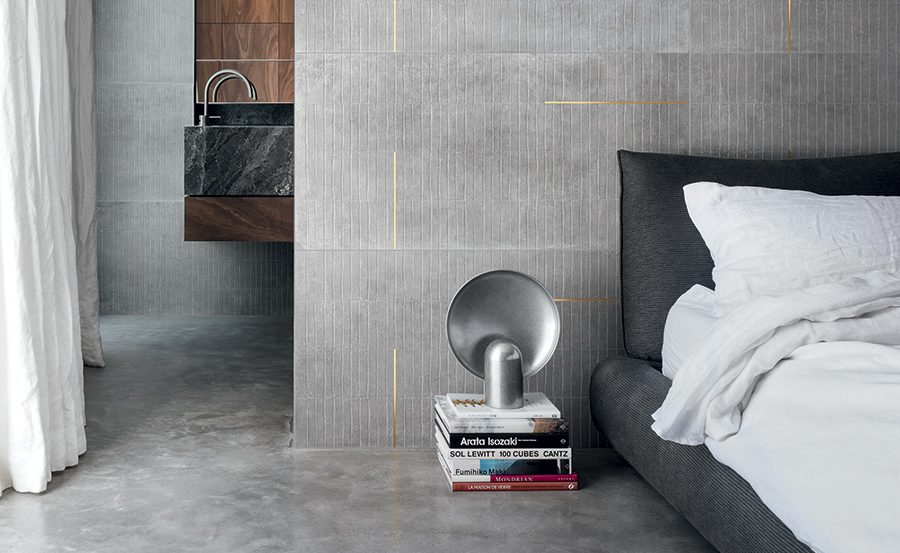 Italian Wallcoverings: geometric or floreal patterns?
If ceramic production is to be considered an area of reference for Italian Luxury surfaces, then Italian wallcoverings are no less so.
Back in fashion over the past few years, wallpaper allows you to customize environments thanks to computer graphics as well as digital printing.
Wall & Decò is one of the quintessential brands among Italian decorative wallcoverings producers which makes research a strong point of their business. This is evidenced by catalog proposals such as Bronzage®, the innovative wallpaper developed by Wall & Decò that gives the walls an unprecedented expression of color and luminescence. But research does not only concern the visual effects but also the areas of application of wallpaper, which today no longer have limits. In fact, OUT SYSTEM™ by Wall & Decò is a wallcovering for exterior surfaces and facades, and WET SYSTEM™ is a covering for wet rooms such as the bathroom and shower.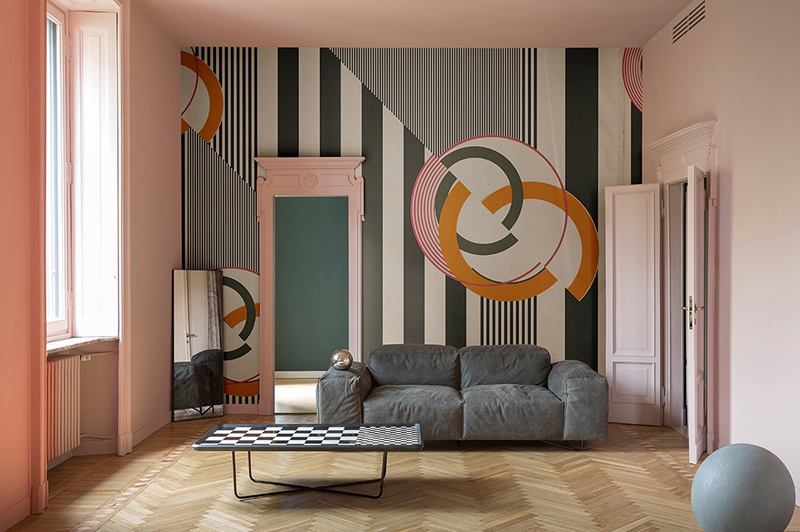 Glamora, a young Italian brand among the wallpaper producers, also finds research to be a strong point. The collection offers innovative materials designed to meet specific needs. From GlamMetal, which gives the surfaces the iridescent reflections to GlamAcoustic designed to improve the acoustic quality of the rooms, to GlamFusionTM, the pre-finished waterproof wallpaper.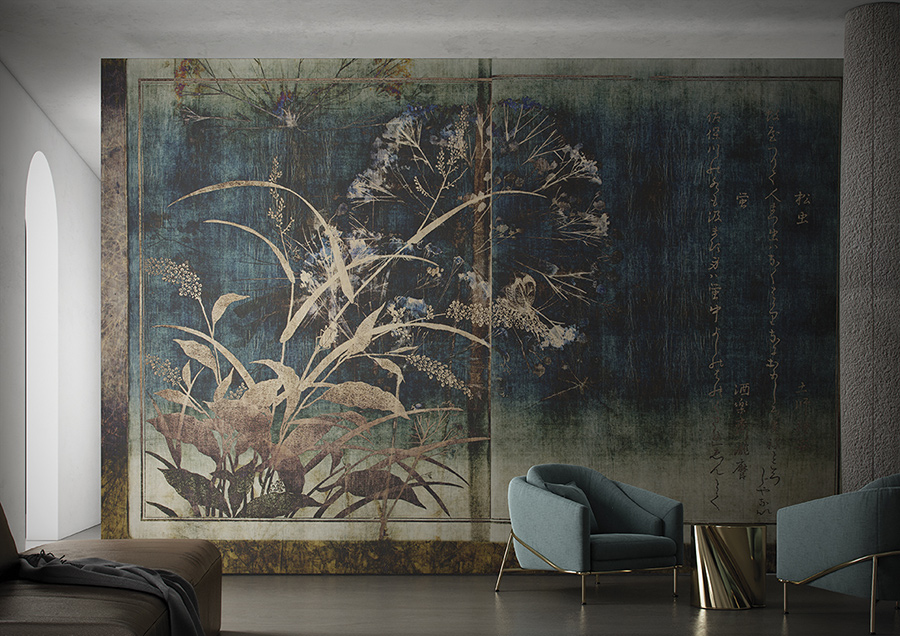 Italian Stone and Marble tiles give a precious touch to walls
In the field of highly sought-after interior finishes, natural materials such as stone are still in demand. In particular, Italian luxury and elegance are combined with marble finishes. This precious material has always found expression in the artistic field, and lately also in design, albeit confirming its natural calling in the finishes field, as is true historically for the most celebrated architecture.

Salvatori is one of the producers of Italian luxury surfaces and one of the leading companies specializing in the processing of natural stone. The company, founded in 1946, is recognized for its elegant and innovative products made in Tuscany, not far from the Carrara marble quarries. From wall and floor coverings to bathroom furnishings, to home design accessories including tables, lighting, mirrors and decorative objects, Salvatori is recognized as the undisputed baseline in the field of "design applied to natural stone".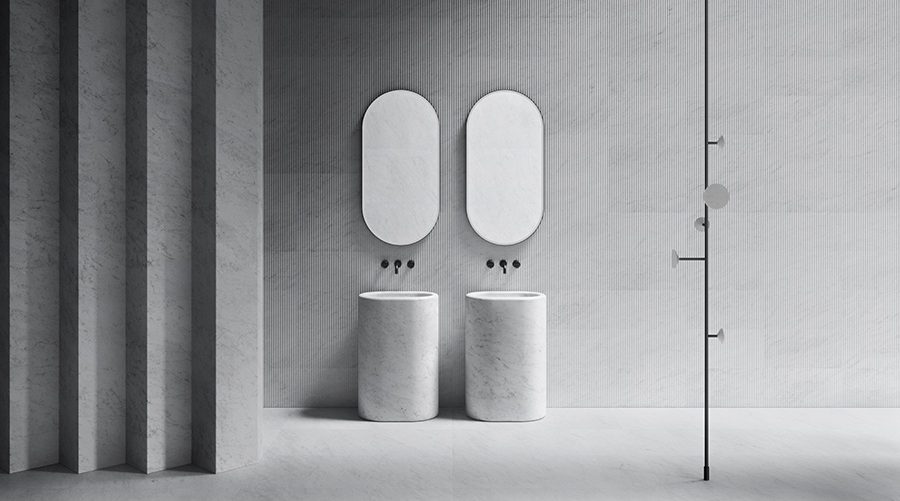 Innovation is also fundamental in the field of stone processing. In 2010 Salvatori developed Lithoverde®, the first recycled stone in the world, made up of 99% waste material and recognized worldwide for its contribution to architectural sustainability.
Another name that stands out for its potential contributions to the interior design business is Antolini, whose proposals find use in luxury and scenographic spaces. The Precioustone Collection, for example, is perfect for creating effects and patterns on unexpected surfaces thanks to the 100 varieties of precious gems such as amethysts, quartzes, jaspers, and agates. These stones, the translucent varieties in particular, can also be backlit, thus creating inimitable and original chromatic atmospheres.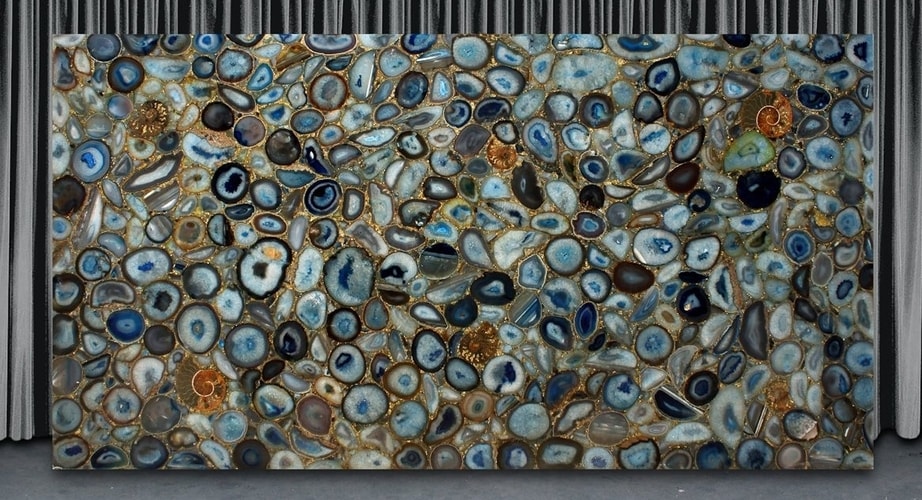 Italian Mosaic: the most luxurious and customizable surface
From the historical artistic and architectural tradition comes also the use of mosaic for interior finishes. A technique of very ancient pictorial composition that in interior design allows the creation of very particular finishes for which a specific level of skill is required. Bisazza is the leading company for Italian Luxury Surfaces in terms of glass mosaic and has collaborated for years alongside international designers such as Fratelli Campana, Alessandro Mendini, and Marcel Wanders.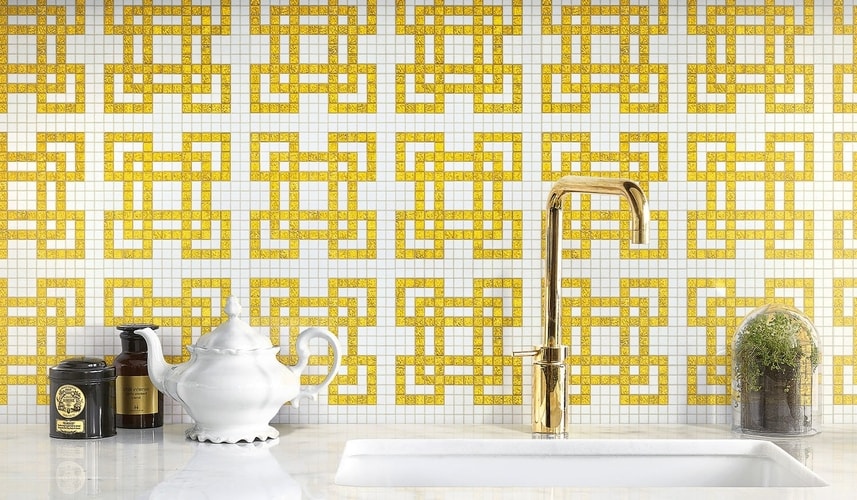 Among the new brands that explore the subject of mosaic is Mutaforma, a brand that works in the field of augmented materials, starting from glass, thanks to the use of nanotechnologies. Metallic particles and nanometric pigments with specific chemical-physical properties that, deposited on glass matrices, change their optical properties – that is, the way in which light is transmitted, absorbed, and reflected – and therefore also its aesthetic value. The coloring is controlled by the chemical-physical nature of the particles transformed on the glass, such as silver, copper, titanium, and other oxides deposited at the molecular level. It is therefore not a simple glass paste, but a new stratified, composite, and intelligent material.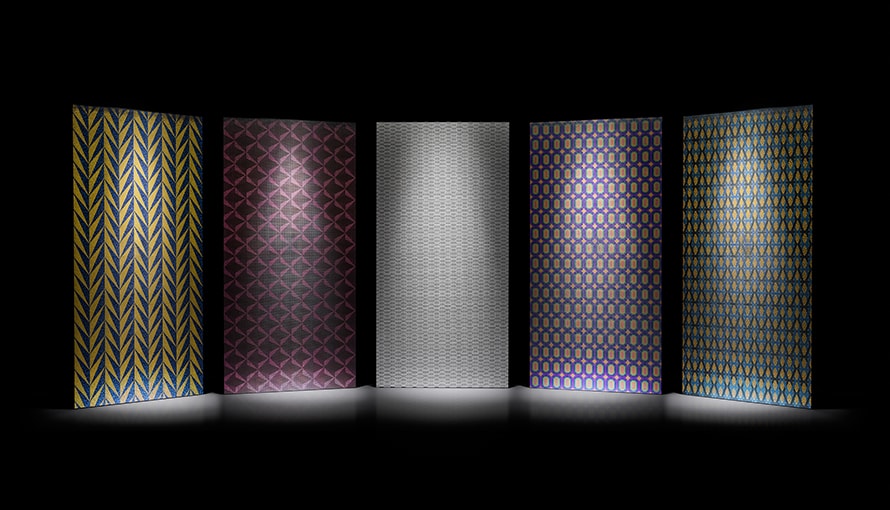 TILLA® is the smallest picotessera in the world, made possible by the exclusive technology developed by the brand. The production plant, all Italian, applies an internationally patented process: from the treatment of the single unit to the assembly on guaranteed and highly technological supports.
In interior design, every simple element contributes to creating unique and personalized spaces and in this, the Italian style stands out. The choice of all these elements leads to a high-quality final result. Rely on our professionals for your rooms' design and with our furniture shopping tour service in Italy, we can help you discover the excellence of Italian design.
Your unique Interior Design Project developed by Italian Professionals.
Discover and shop Made in Italy while living the Italian lifestyle in Milano.