The Grand Tour and the Best Design Hotels in Italy
Posted on 21 April in Milan Design Guide
interior designer, Italian interior designers, luxury hotels, luxury design hotel, best design hotels, Italian Design, best design hotels italy, grand tour italy, Italian Lifestyle, luxury tour italy, Italian interior design, shopping tour italy, Italian Furniture, best boutique hotels, luxury design, best boutique hotels italy
The Grand Tour starts here with the Best Design Hotels Italy has to Offer and Spectacular Boutique Hotels in Italy to inspire your Designer Eye.
Discover the Best Design Hotels Italy has to Offer
Descending from the Dolomites and continuing all the way down to Sicily, exclusive design hotels in inspiring locations are in abundance across Italy. Boutique Hotels and luxury accommodation map the entire country, plotting a series of perfect adventures with which to discover Italy's rich history of Design, masterful Artisans and one-of-a-kind Shopping destinations.
Having an Italian furniture Shopping Tour with Esperiri means exploring the Italian dream in all its aspects, which is why we've put together 10 of the best design hotels in Italy. The Grand Tour starts here and ends with your Dream Project becoming a reality. But first, some visual escapism to inspire you…
Italian Design: The Grand Tour From the Dolomites to Sicily
1. Dolomiti – The Best Mountains
Arua Private Spa Villa, Merano, South Tyrol, Italy
The first Boutique Hotel in Italy features an exclusive selection of accommodation. The Arua Private Spa Villas, of which there are six in total, are set high above the Alpine town of Merano, each one with contemporary interiors by Milanese designer Nicola Gallizia and furnished by Molteni&C|Dada.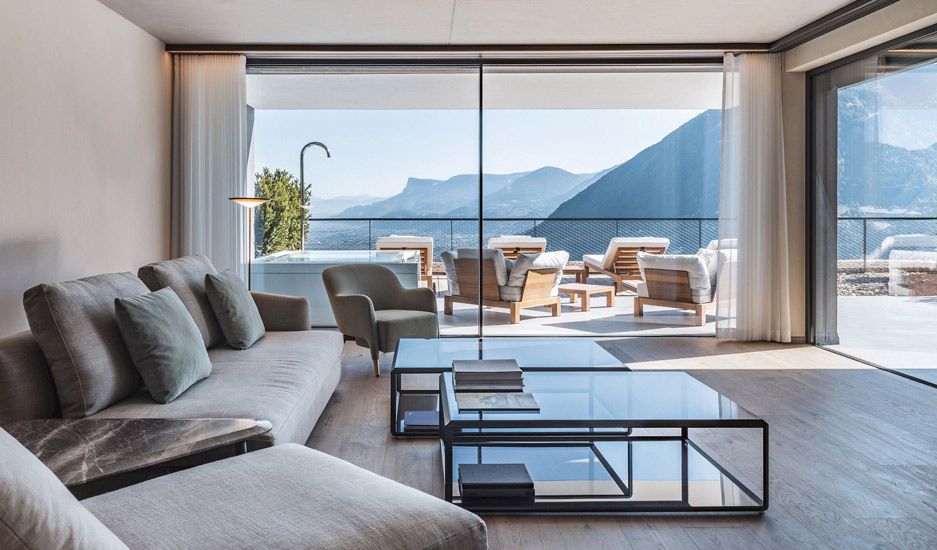 Relax in elegant yet intimate settings where each detail tells a different story, and a multitude of Italian design classics inspire the eye, such as the Paul and Turner sofas by Molteni, and spectacular kitchen islands by Dada.
Known for its local Ski resorts, art nouveau buildings and spectacular Christmas markets, Merano comes alive during winter time. The villas are also a short drive from Terme Merano, the town's thermal baths – the perfect spot for peace and relaxation.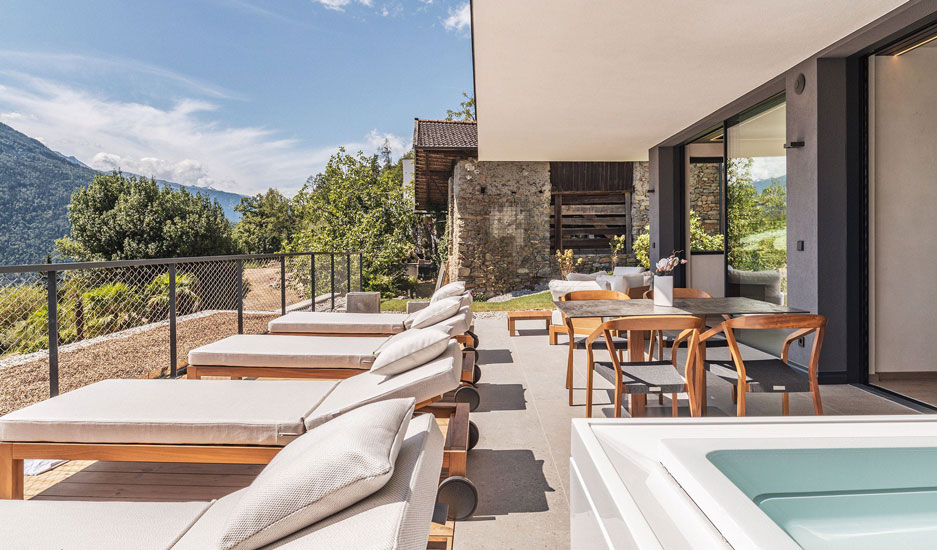 2. Lake Como – The Luxury body of Water
Il Sereno, Lago di Como, Italy
Built on the shores of Lake Como, the Hotel Il Sereno showcases a contemporary "Made in Italy" concept by Spanish designer Patricia Urquiola. She envisions modern and custom furnishings with understated earthy tones of grey and walnut with touches of blue and green – a palette inspired by the glistening water and dramatic Italian alps.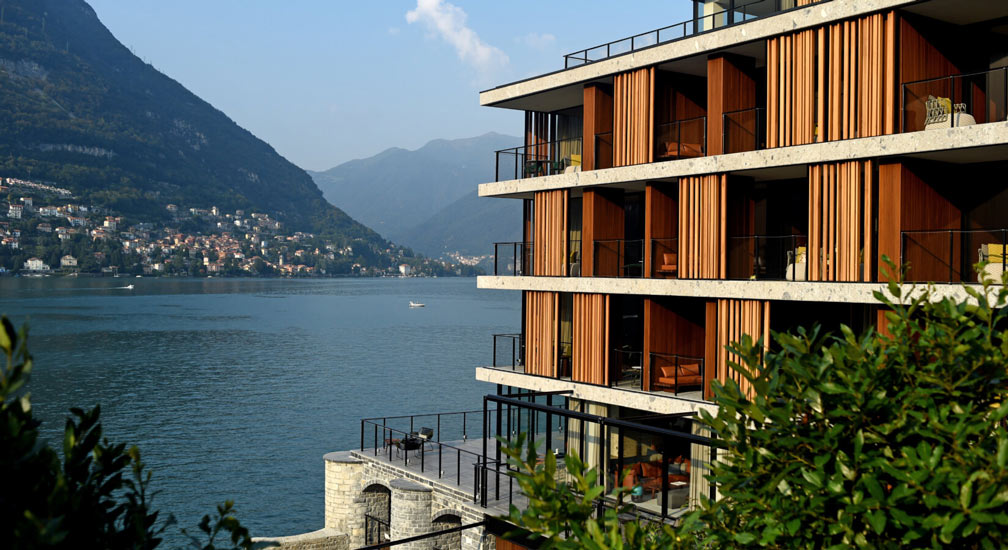 This 30-suite hotel is complete with custom Cantiere Ernesto Riva boats, encouraging you to explore the local area. While you're at it, discover some of the 180 companies under the Brianza Design District banner, an initiative highlighting the region's master artisans of wood and furniture.
Looking to visit Lake Como from Milan for the day? This one-day itinerary will help you plan the perfect day trip from Milan to Lake Como.
3. Milan – The Most Fashion Design City
STRAF, Milan, Italy
Contemporary architecture, rooftop bars and lavish restaurants, the city of Milan has it all. Drawing crowds year-round thanks to its world-renowned fashion and design industries, one-day in Milan isn't impossible but 2 or 3 days is much more fun. And for that, you need a design-worthy hotel to check into.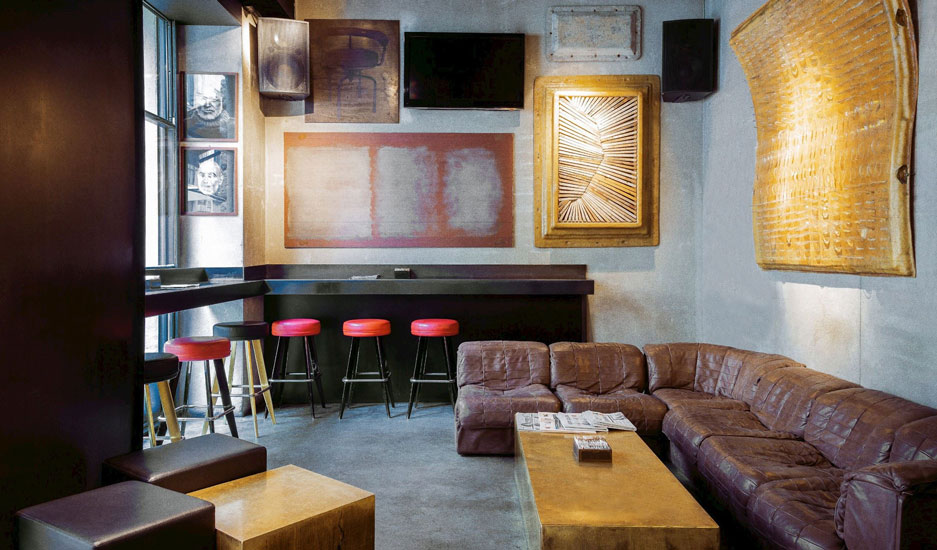 Hotel STRAF is located only a few steps from the Duomo cathedral, perfectly situated to go and explore one of the city's five design districts. Although there's a lot of design you can appreciate inside the hotel too where urban style and everyday materials recall the Arte Povera movement of the 1960s and 1970s.
4. Venice – The Floating City
Ca' Pisani Hotel, Venice, Italy
This 14-century palace, complete with furniture from the 1920s and 1940s, presents a stylish change from the chandelier-and-velvet norm. Ca' Pasani was the first Venetian hotel to abandon traditional brocade and chandeliers for a design approach, opting for an Art Deco look.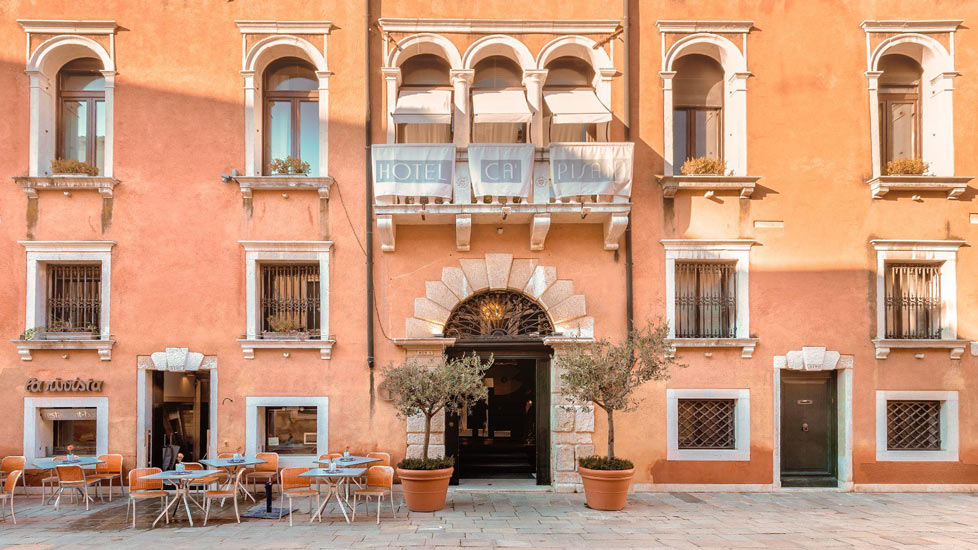 It seems the perfect place to stay and discover the design delights of Venice outside of the hotel, like the centuries-old tradition of Murano glass blowing and the legendary artisans like Barovier&Toso whose masterpieces have stood the test of time, since 1295 to be precise.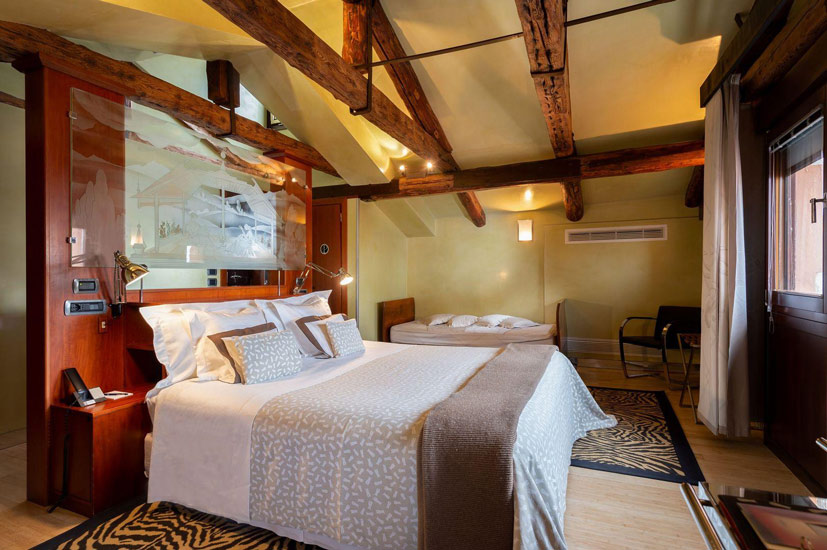 5. Liguria – The Picturesque Coast
Blu di Te House, Santa Margherita Ligure, Italy
A tribute to design in one of Italy's most beautiful seaside resorts, Blu di te House can be found in Santa Margherita Ligure, in the Gulf of Tigullio. Once an old Ligurian house, now it's a boutique hotel in Italy with one-of-a-kind interiors that combine the art of shopping with the art of design.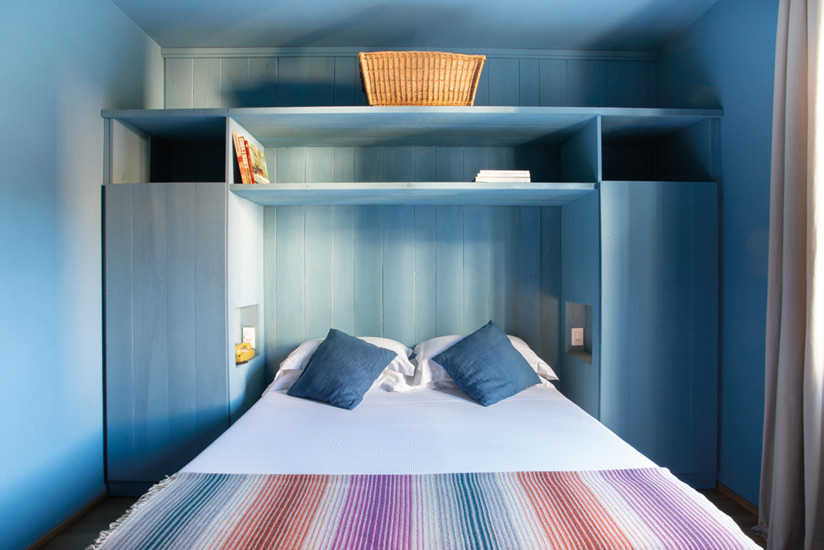 This hotel is decorated with one-of-a-kind pieces, all of them on sale. From unique pieces designed by Ettore Sottsas to velvet footstools by Missoni, each of the 20 rooms is a treasure trove inspired by early-mid 20th century icons. There's even a couple of pieces from the Universal Expo of 1958.
There's also plenty to do in between browsing. Blu di Te – a loose form of "blue de toi", which in French means "I'm crazy about you" – has its own spa, pool and terrace, and a restaurant with locally sourced ingredients. It also has its own 10-meter-long yacht for guests to enjoy luxurious day trips on the Ligurian Riviera.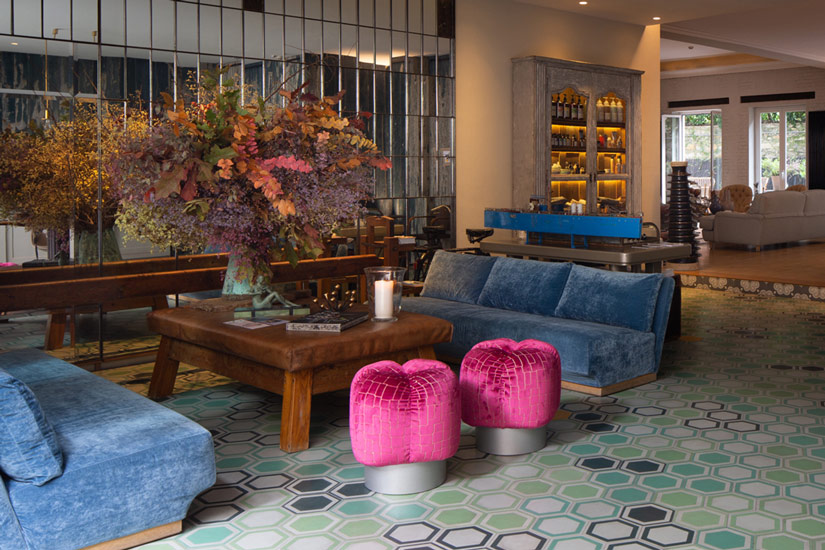 6. Tuscany / Umbria – The Heart of Italy
Reschio Estate, Perugia, Italy
If sweeping vistas and rolling hills are more your thing, Reschio combines exactly that with the ultimate in rustic Italian luxury. An ancient estate in the Umbrian countryside, the thousand-year-old castle has been meticulously restored with a suitably organic approach to design.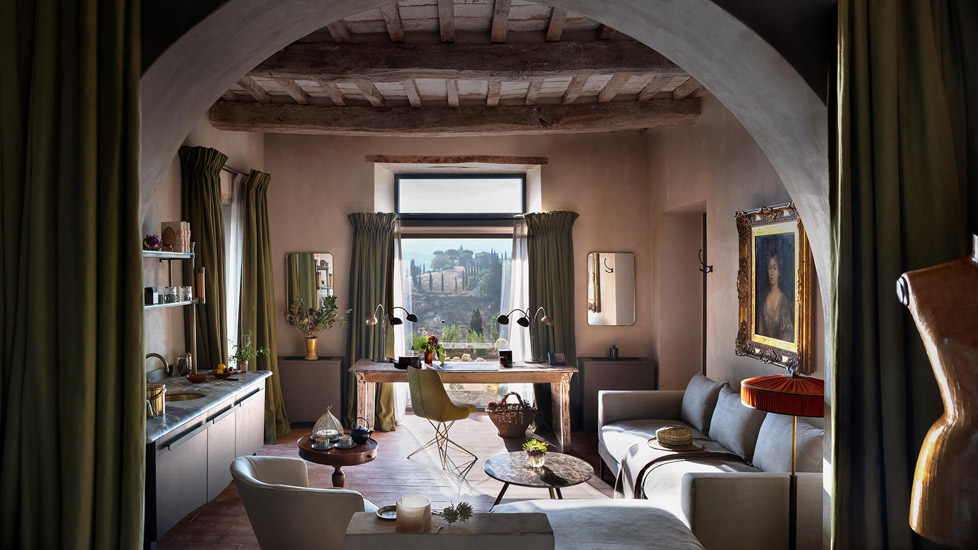 As well as employing landscape garden designers, the Bolza family who own the estate worked with local carpenters, stonemasons, tile makers, blacksmiths and other artisans in accordance with Umbria's long tradition of craftsmanship. Not only are local towns Assisi and Siena lined with old workshops to explore, the marble quarries of Carrara are close enough for a day trip of discovery into this magnificent material synonymous with luxury Italian surfaces.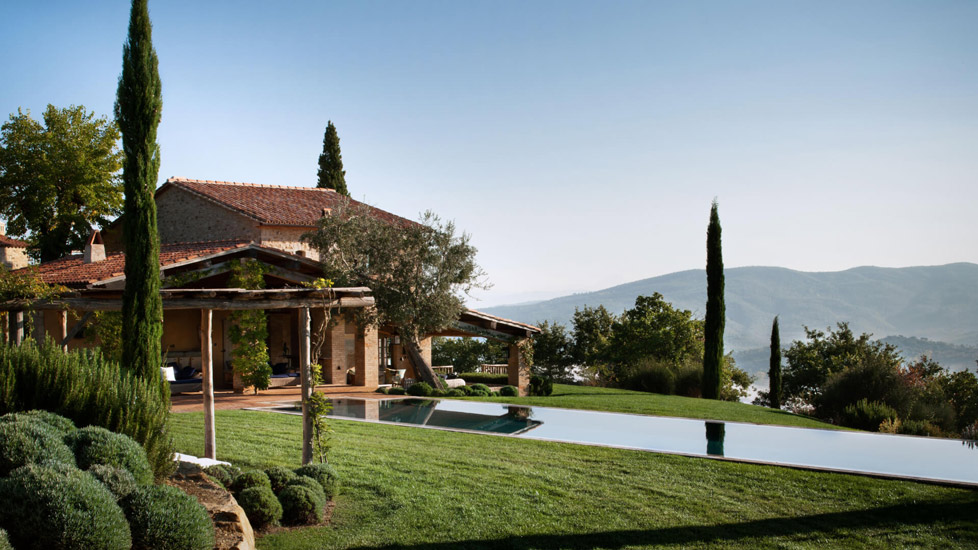 7. Rome – The Capital City
Elizabeth Unique Hotel, Rome, Italy
Set in the country's capital, full of amazing interior design stores and architectural inspirations, the Elizabeth Unique Hotel is exactly as it sounds. In a restored 17th century palazzo, 33 rooms and boutique facilities, including a restaurant, reading room and terrace, combine references to Roman architecture and details evocative of the local landscape.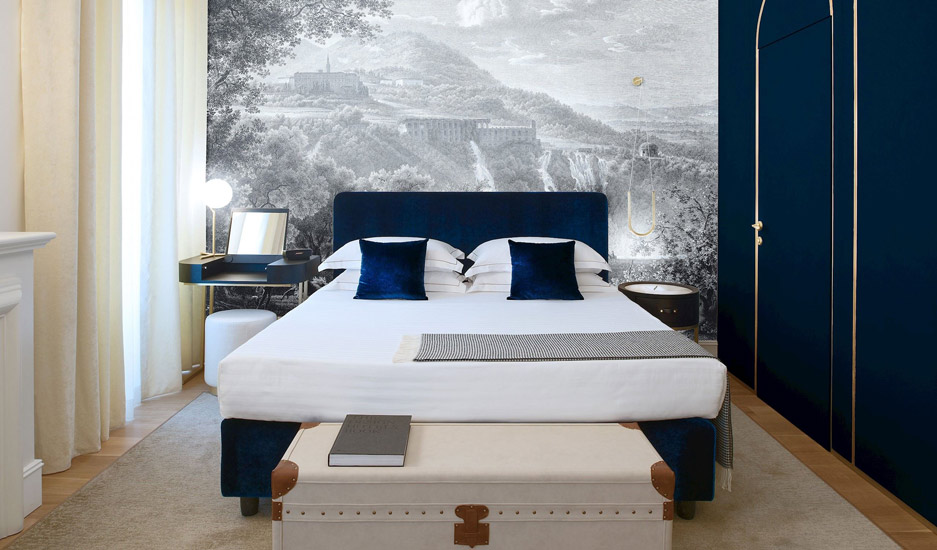 The hotel's refined interiors are those of Studio Marincola Architects, which has decorated them with contemporary furnishings, artworks and antique prints of the Roman countryside, alongside arched walls with lacquered wood paneling – the perfect resting place in between relaxed adventures of Rome's historic center.
Reached the South, Let's Discover the Best Design Hotels Italy has to Offer
8. Sorrento – The Lemon Coast
Hotel Parco dei Principi, Sorrento, Italy
Next, is an iconic venture and notably one of the first Design Hotels in Italy and the world, Hotel Parco Dei Principi. A suitable match for the project? One of the most enlightened figures of contemporary architecture, Gio Ponti.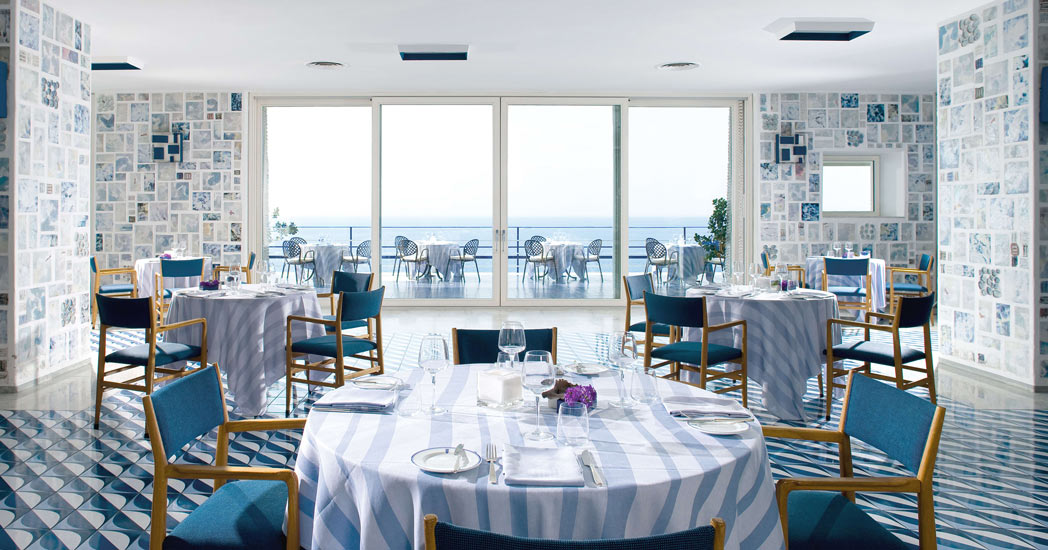 A relaxing lounge bar covered in ceramic pebbles and distinct tiles, a salt water pool and the hotel's restaurant, which gives a perspective on the endless sea off Sorrento's luscious lemon coast, are all designed by Ponti. This place has been kept in perfect shape since 1962, a fact indicative of the timeless quality inherent in Italian design.
9. Salento – The Land of Masserie
Palazzo Bozzi Corso, Lecce, Italy
A spectacular interior restoration has transformed the Palazzo Bozzi Corso, built in 1775 just a few steps from the Basilica of Santa Croce, into a luxurious and fascinating hotel de charme complete with ancient ceilings and restored stuccos.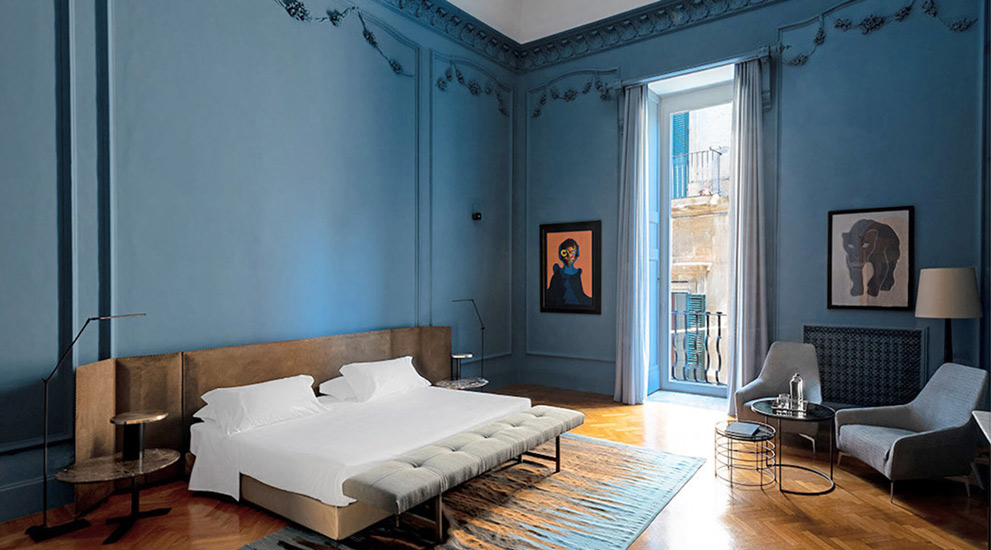 These period features are brilliantly juxtaposed with furniture created by renowned contemporary designers including Le Corbusier Escargots lamps, and classic furniture by Gio Ponti and Ettore Sottsass.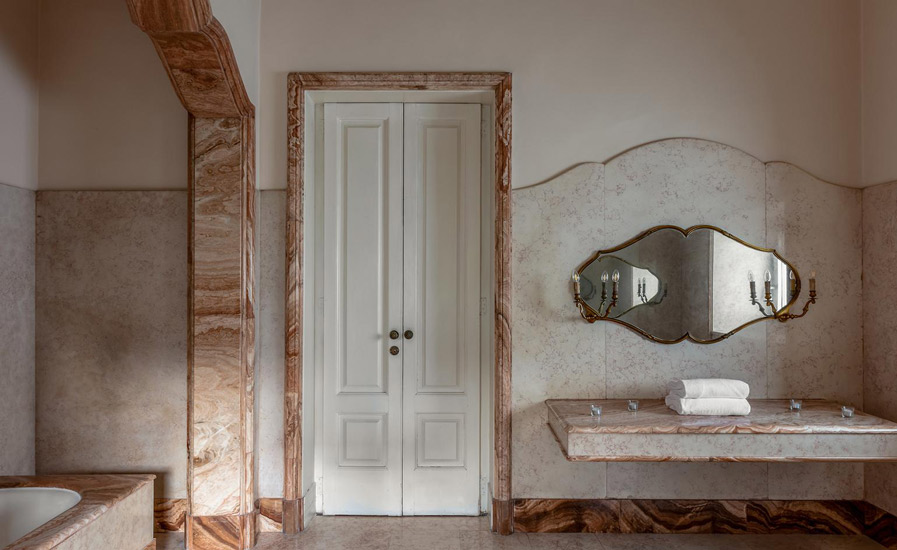 The Palazzo comprises ten splendid suites, a library, a garden, several lounges and a beautiful courtyard style garden. It also boasts a central location allowing guests to indulge in the best bars, restaurants and boutiques just minutes away.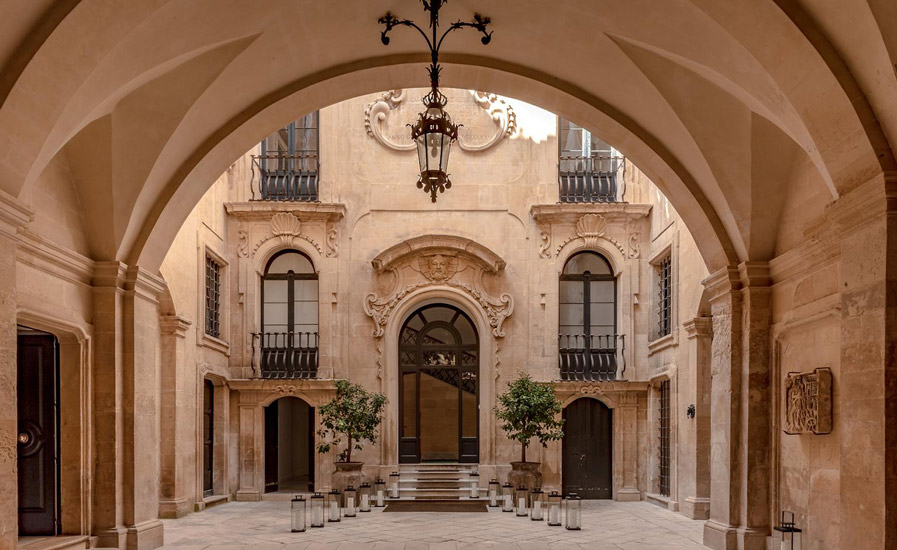 10. Sicily – The Temples Island
Zash Country Boutique Hotel, Catania, Italy
Last in our list is the Zash Country Boutique Hotel, a one-time winery transformed into a 17-room residence typical of Sicily's hedonistic culture. Architect Antonio Iraci combines volcanic stone cladding, oak floorboards, vaulted ceilings, and chestnut windows, all of which take cues from local terrain.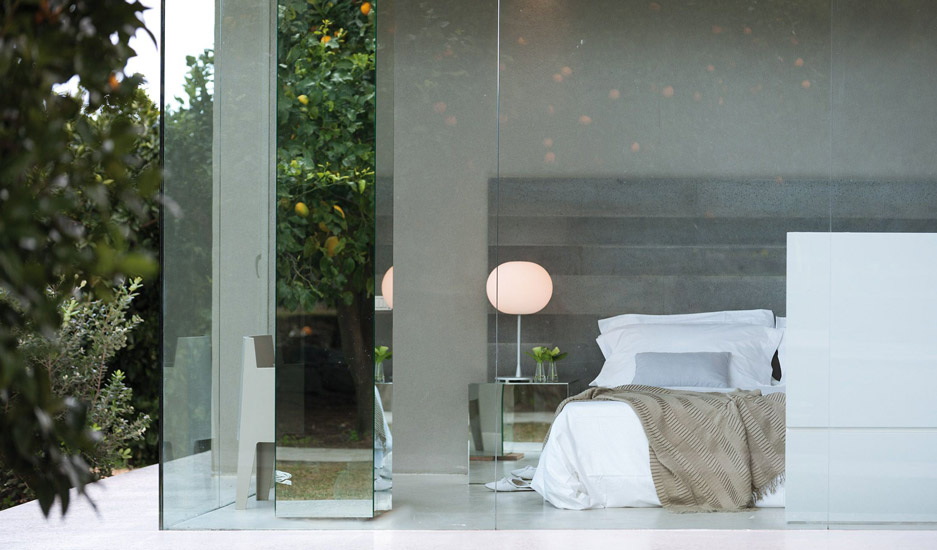 Surrounded by lemon groves, the hotel offers stylish rooms, a garden, restaurant and terrace. When you're not making the most of those, discover handcrafted ceramics from Caltagirone, one of the eight towns of south-eastern Sicily.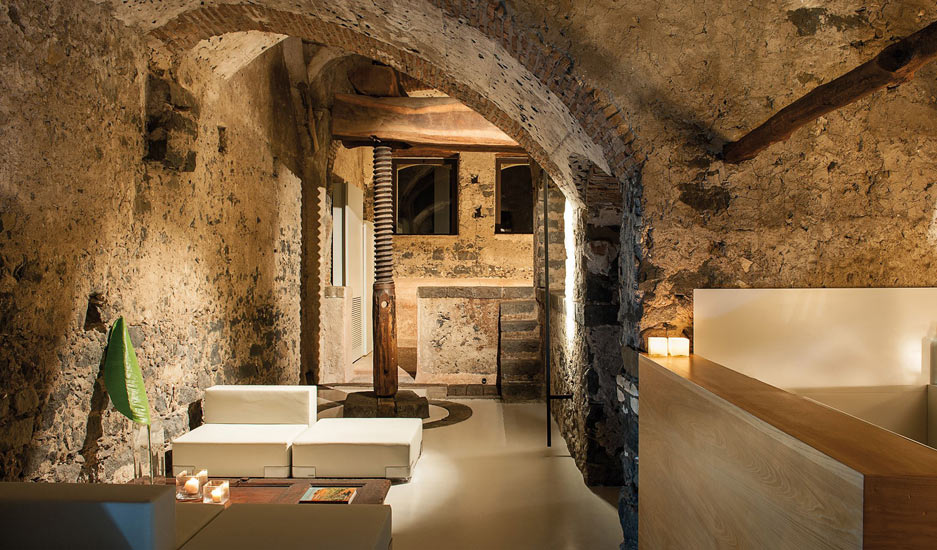 It's an exuberant tradition unique to the island and its Mediterranean style, of which, Italian fashion house Dolce and Gabbana famously draw inspiration from.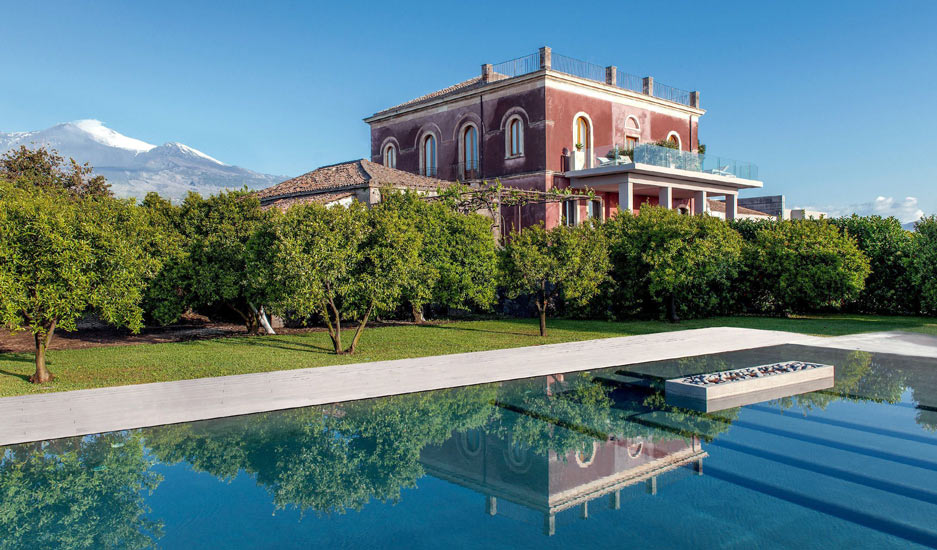 Explore Italy for Yourself
If you're inspired by the design we've explored and want to discover the best 'Made in Italy' has to offer in person, we invite you to take part in a customized furniture shopping tour. We can organise a tailored experience including visits to Italian laboratories and ateliers to choose the products for your home, as well as in depth recommendations when it comes to boutique and design hotels in Italy.
If you have already visited Italy and understand the draw of its beauty why not indulge in a luxurious second home. Buying or building property in Italy is a lifelong dream for many and with a little planning and know-how it's possible to make this dream a reality.
With our luxury home renovation and contractor services you'll have trusted professionals at your fingertips who are able to perform the most diverse tasks in any architectural and design project. We can guarantee the complete realization of your own little corner of paradise.
Your unique Interior Design Project developed by Italian Professionals.
Discover and shop Made in Italy while living the Italian lifestyle in Milano.