A sensorial Experience through the Latest in Luxury Garden Furniture Design
Posted on 01 July in Italian Home Design
Luxury Outdoor Furniture, Italian Lifestyle, Outdoor Garden Designers, high end italian furniture, luxury patio design, luxury garden furniture, Italian interior designers, Outdoor patio furniture, Best outdoor furniture brands, Outdoor furniture brand, High end outdoor furniture brands, Outdoor living space, Outdoor Italian Furniture, Garden Furniture, Italian Design
Discover the Latest in luxury garden furniture design and begin on a journey to finding the perfect solution with modern Italian outdoor furniture.
Discover the Best modern Italian Outdoor Furniture
It could be luscious countryside, a small oasis, or even an urban jungle. Regardless of size or setting, it's the garden furniture that makes spending time outdoors a beautiful experience, and to ensure that it does, making the right choice is key.
Garden furniture should strike the perfect balance between form and function, colour and texture. It should also share a close connection with the surrounding environment whilst playing off your unique taste in interiors.
If you need help honing your style, our selection of the best modern Italian outdoor furniture is here to inspire you. Browse through proposals from the best luxury outdoor furniture brands, discover the latest trends and begin on a journey to finding the perfect solution for your dream home.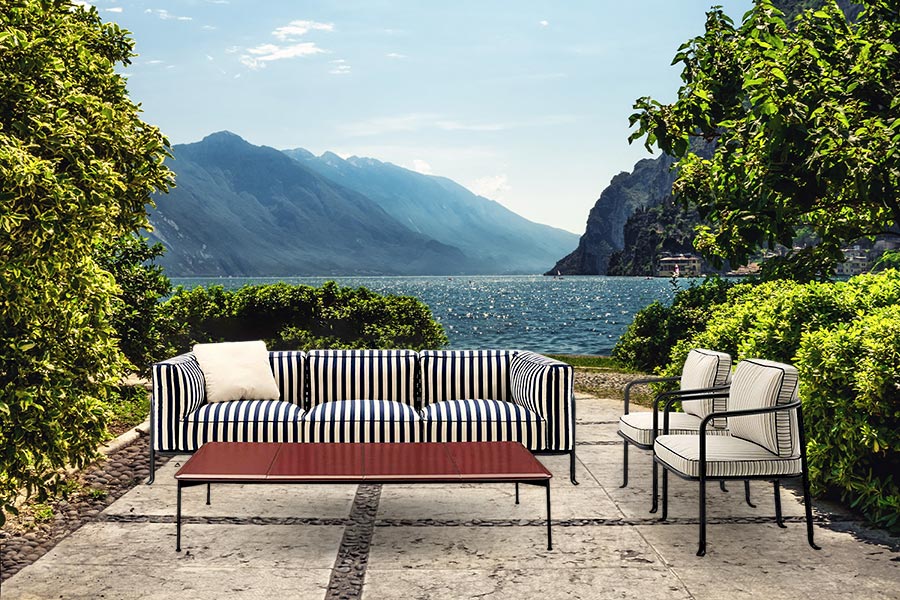 An emotional Connection with Nature: here for you the New 2021 Collections of modern Italian Outdoor Furniture
Atmosphera
Laguna Set
Inspired by the enthralling eco-system of Venice and the surrounding islands, the Laguna Set by Atmosphera creates a relaxed, refined environment characterised by a harmony of earthy shades.
The brand bases its philosophy on the concept of nature and the desire to produce furnishings that harmonise with outdoor space to create appealing settings. Like the Laguna Modular Set Sofa, which meets the needs of spaces and architectures with very different characters.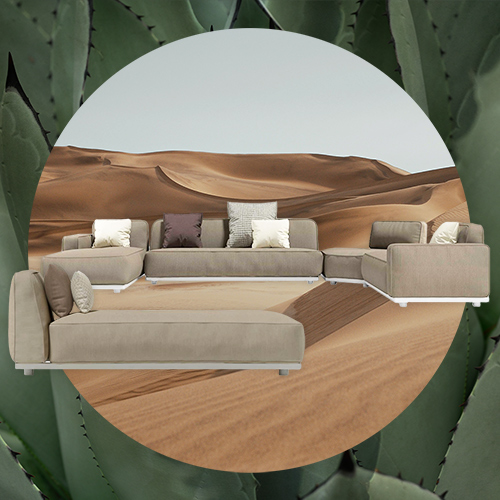 Arper
Kata Lounge Chairs
Outdoor living and sustainability are synonymous and a lot of designers champion garden furniture that is respectful of its natural environment. A great example is the Kata lounge chairs by Italian brand Arper, which is inspired by traditional woven straw chairs.
Designed by Barcelona design studio Altherr Désile Park, Kata is lightweight in form but also in environmental footprint. It's sleek silhouette comprises an FSC certified oak frame and a 3D knit textile created from recycled polyester using post-consumer plastic.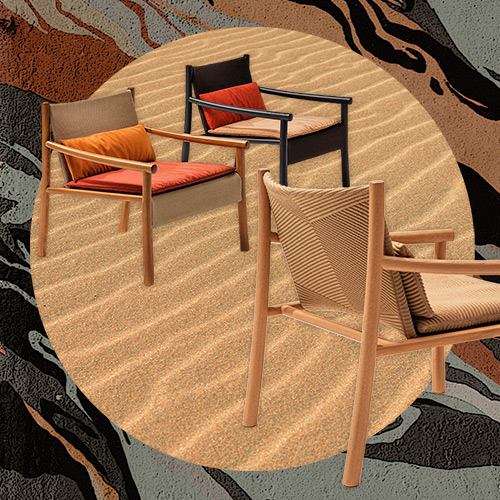 Paola Lenti
Eres Collection
Paola Lenti is a go-to for more informal outdoor seating arrangements. Her latest collection, Eres, embraces low-level seating options and even suspended platforms. The series stands out for its soft shades and all-natural materials including linen, hemp, bamboo, raphia, igusa and abaca – all indicative of the ecological balance defining the collection.
Eres offers unedited tactile sensations that awaken the pleasure of contact with original plant fabrics, worked and perfected in order to enhance their resistance, lightness and breathability.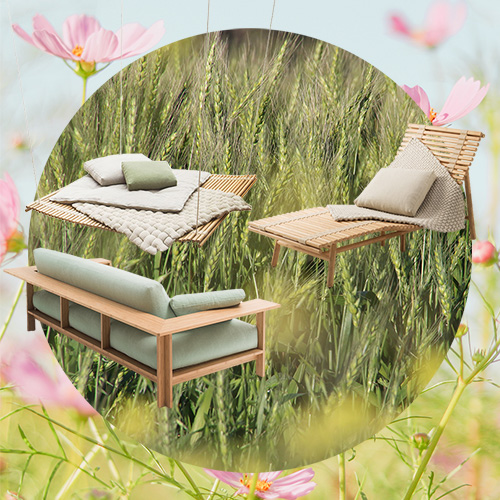 Roda
Norma Kitchen + Piper Stools
Outdoor living isn't limited to armchairs and dining tables. In fact, an outdoor kitchen can add a completely different element to enjoy in the garden. Norma by Roda is a great choice when trying to recreate the culinary experience outdoors. It offers the necessary versatility with a modular design composed of various elements you can pick and choose from.
Designed by Milanese architect Rodolfo Dordoni, the independent structure is adaptable to a small outdoor corner or a large space with well-structured furnishing solutions. Options include a sink module and a cooking module available with fixed feet or wheels, a peninsula, a refrigerator, stainless steel fry-top plates and larch-wood cutting boards.
Dordoni has also designed a vast collection of exclusive outdoor furniture for Roda including Piper, a tall-bar stool perfect for a contemporary kitchen like Norma. Made with an aluminum structure, the backrest offers a wide range of Batyline fabrics. Meanwhile, the seat can be customized in teak or resin, and enriched with a cushion.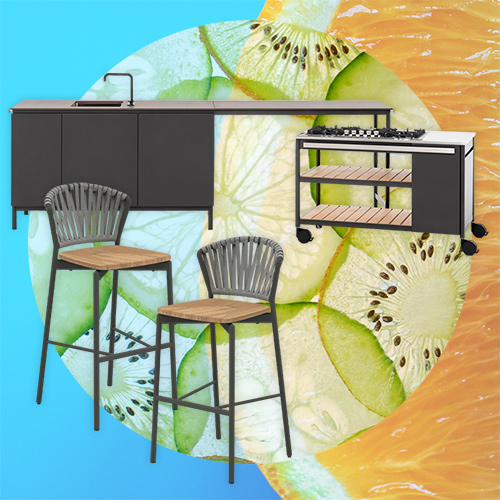 Cassina
Trampoline Collection
Cassina's first complete collection of furniture for outdoor spaces is a lesson in modern garden furniture design. Patricia Urquiola has created Trampoline, a collection that interprets the joy of open-air living with round shapes and bold patterns.
Trampoline is a dramatic, round alfresco daybed with a stainless-steel structure, perfect for a large outdoor space. If not, a sumptuous sofa is available that translates Urquiola's use of natural textures and elegant nautical detailing. Both feature a hand-woven cord-wrapped base and backrest that also deliver decorative distinction.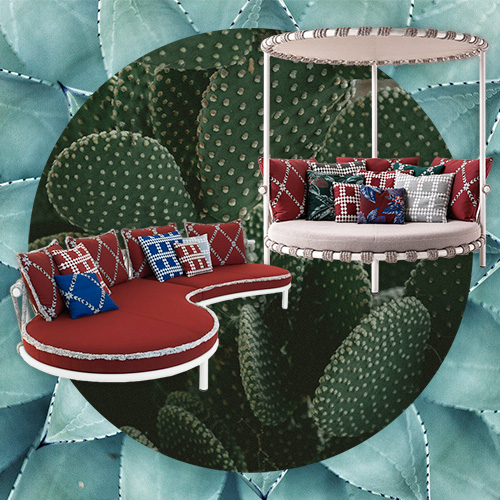 Let's continue this Voyage around the Latest in modern Italian Outdoor Furniture!

B&B Italia
Borea Collection
Sophisticated and stylish, Borea is a complete and eclectic collection of outdoor seats and tables designed by Piero Lissoni for B&B Italia. With Borea, B&B Italia continues its commitment to developing projects that are increasingly focused on sustainability. As well as using recycled and recyclable materials, all the furniture in the collection can be disassembled and single elements can be separated and disposed of responsibly.
Piero Lissoni pairs a modern look with durable outdoor-ready materials and lightweight aluminium structures. The result is a collection of light furniture that is stackable, versatile and suited to face the elements – qualities one should look for in garden furniture.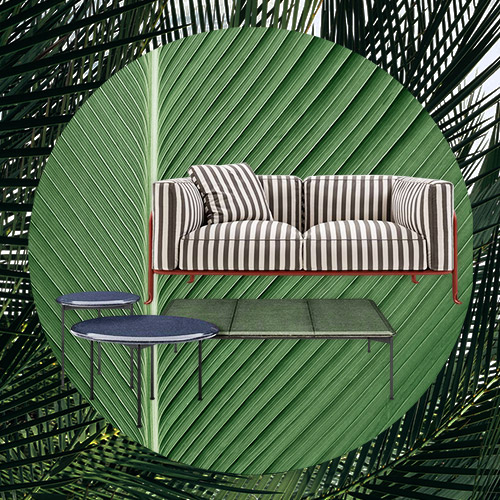 Ethimo
Rafael Collection
The great outdoors conjures up visions of adventure, which is why Paola Navone drew inspiration from her travels to create the Rafael collection for Ethimo. Fine artisan crafting of teak, marble and lava stone combined with a sophisticated range of textiles translate the warmth and radiance she remembers from discovering other parts of the world.
As well as waking up the imagination, the collection was created to enliven garden spaces, which it does with stone, marble and wood, all finely worked to give them extraordinary asymmetry and geometry. Originally conceived as a lounge line, Rafael is now also a dining set, with tables in different sizes and small armchairs featuring the same exotic appeal.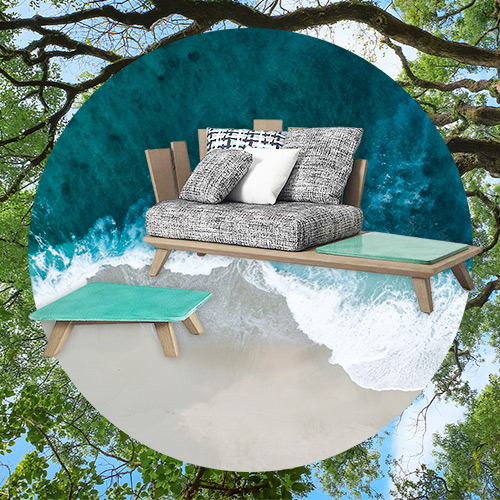 Saba Italia
Pixel Light Sofa + Geo Poufs
A combination of muted shades and cool blues are perfect for any luxurious outdoor space. The neutral upholstery of the Pixel Light Outdoors corner sofa goes perfectly with the Geo Pouf that adds a drop of colour and personality. Anchoring the space with an outdoor rug like the Double Slinkie is a great way to define 'living areas' within the garden.
Designed by Patricia Urquiola for CC-Tapis, Double Slinkie is entirely hand knotted in cotton weave and Himalayan wool. It's organic shapes and chromatic evolutions are complementary to the subtle stripes and clean lines of the Pixel Light Outdoors sofa. Color combinations and clashing patterns define a contemporary idea of maximalism; it's all about self-expression.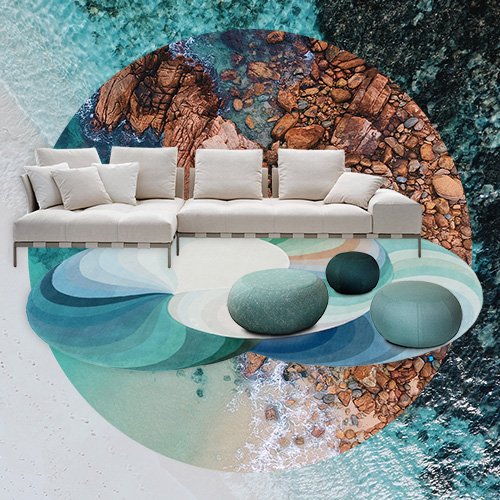 Agape
Bjohn 1 Washbasin + DR Bathtub
Playing with the boundaries between indoors and outside is a constant go-between that makes luxury garden furniture design so unique. Inspired by luxury spas and 5-star hotels around the world, the outdoor bathroom concept is the perfect example.
Relax and unwind in a bathtub made for two like the DR Bathtub by Agape. Realised in collaboration with Marcio Kogan and Studio MK27, it has a curved silhouette available as a freestanding roll-top or a built-in bathtub. Together with Agape's Bjohn wash basin designed by Angelo Mangiarotti and inspired by classic garden planters, it creates the overall feeling of a natural pool, devising a new open bathroom concept perfect for the garden.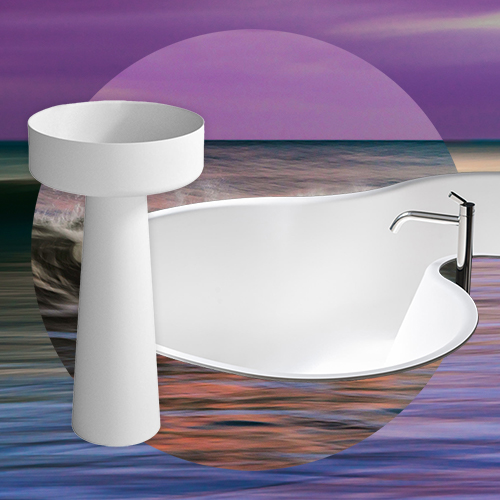 Flexform
Tessa Collection
Finally, the Tessa Collection by Flexform. Designed by Antonio Citterio, it comprises an armchair, coffee tables and side tables in solid iroko wood with natural, stained grey or lacquered white finishes. The traditional joinery requires expert craftsmanship and gently exalts the natural texture and feel of the wood.
Made according to an ancient Italian tradition, the structure is finished with a handwoven paper rush cord in the seat and the backrest. Set with a small footprint, the collection is ideal for small patios and outdoor spaces with pieces that can be arranged in a variety of combinations.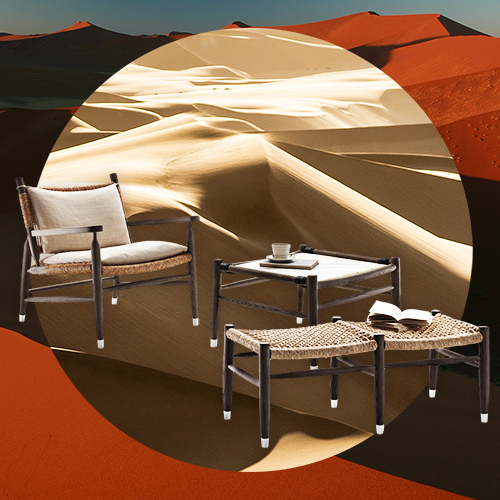 Inspired by our Selection of modern Italian Outdoor Furniture?
If these products have inspired you then we invite you to contact our interior design studio. Esperiri can guide you in choosing an outdoor solution and the best Italian furniture for your needs. With our remote interior design consulting service, we can help you wherever you are to realise your dream home, garden or luxury patio design.
We specialise in offering customised services that make the process of sourcing and buying Italian furniture online not only simple but an enjoyable experience. By utilizing the perspective and knowledge of our design experts, you can guarantee an easy and efficient experience.
We also offer the unique experience of visiting Italy and choosing your furniture sets personally. If you prefer it, we invite you to participate in our exclusive Italian furniture shopping tour organized just for you. Contact us for additional information.
Your unique Interior Design Project developed by Italian Professionals.
Discover and shop Made in Italy while living the Italian lifestyle in Milano.