Moroso Beds
Posted on 20 July in Italian Home Design
Italian designer bed, interior design compositions, Modern Italian Bedroom, Luxury Bedroom Design, Luxury Bedroom Furniture, Moroso, Italian Design, mix&match, Italian Furniture Guide, Design Inspirations, Italian interior design, Interior Design Inspirations, furniture design, moodboard interior design, Italian Furniture Prices, moroso inspiration, best italian beds
Soft curves and unique silhouettes that enhance any environment in which they are set. Moroso beds are the protagonists of our new interior design proposals. Capable of giving character to bedrooms, here are three solutions that describe three very different styles and approaches to design.
Mix&Match: Moroso Beds
In a process of constant experimentation and innovation, Moroso has been producing with passion and refinement upholstered furniture and seats for high-end furnishings since 1952. By collaborating with the best contemporary designers, including Marcel Wanders, Antonio Citterio, Nendo, Rodolfo Dordoni just to mention a few, Moroso is able to look ahead and create innovative solutions in step with the times, thanks also to its precious history and deep craftsmanship inherent in the Italian tradition. 
Patricia Urquiola, by implementing a process of simplification of the traditional bed, creates Lowland Bed, a bed with soft and simple shapes that gives a contemporary feel with a look to the future.
With soft and enveloping shapes, Patricia Urquiola has designed a bed that makes you feel like being in an American "on the road" movie of the 50s. Redondo Bed is a theater of curved lines and relaxation.
Highlands Bed is movement and flexibility. Patricia Urquiola tackles the theme of the variable height backrest and designs a bed with a soft profile for informal relaxation. 
Materials, shapes and colors are the protagonists of our Moroso Beds compositions: three solutions created with the aim of showing you Italian design at its best. Here for you three possible customizations of three different bedrooms. But the variety is endless and that's why Esperiri is here to help you create the right Mix&Match according to your taste.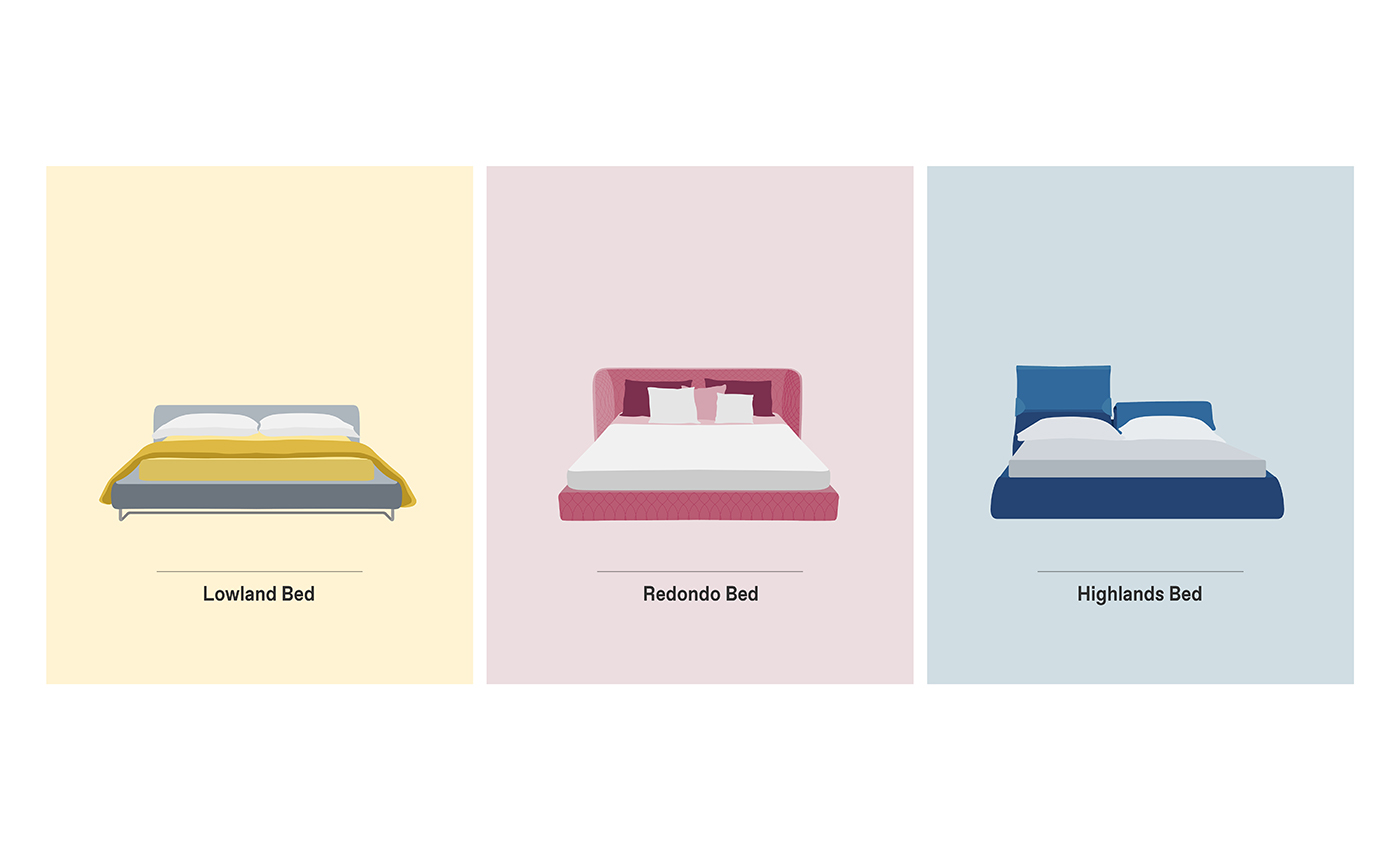 LOWLAND Moroso Bed
Elementary forms in a dynamic relationship with each other make up the Lowland Bed. Designed by Patricia Urquiola in 2000, it anticipates what is now considered as established, a modular system that becomes a single body and tells about essentiality, dynamism and elegance of shapes. 
A functional bed that still looks to the future, the Lowland Bed in a gray wool and viscose upholstery comes at a total price of 3,810 euros.
Paying homage to the masters of Modernism, the tubular metal structure of this bed is echoed by Cappellini's Sofa with Arms and the Bilia Mini lamp designed by Gio Ponti for Fontana Arte. Last, to give a touch of playfulness, we selected the Storet nightstands by Acerbis.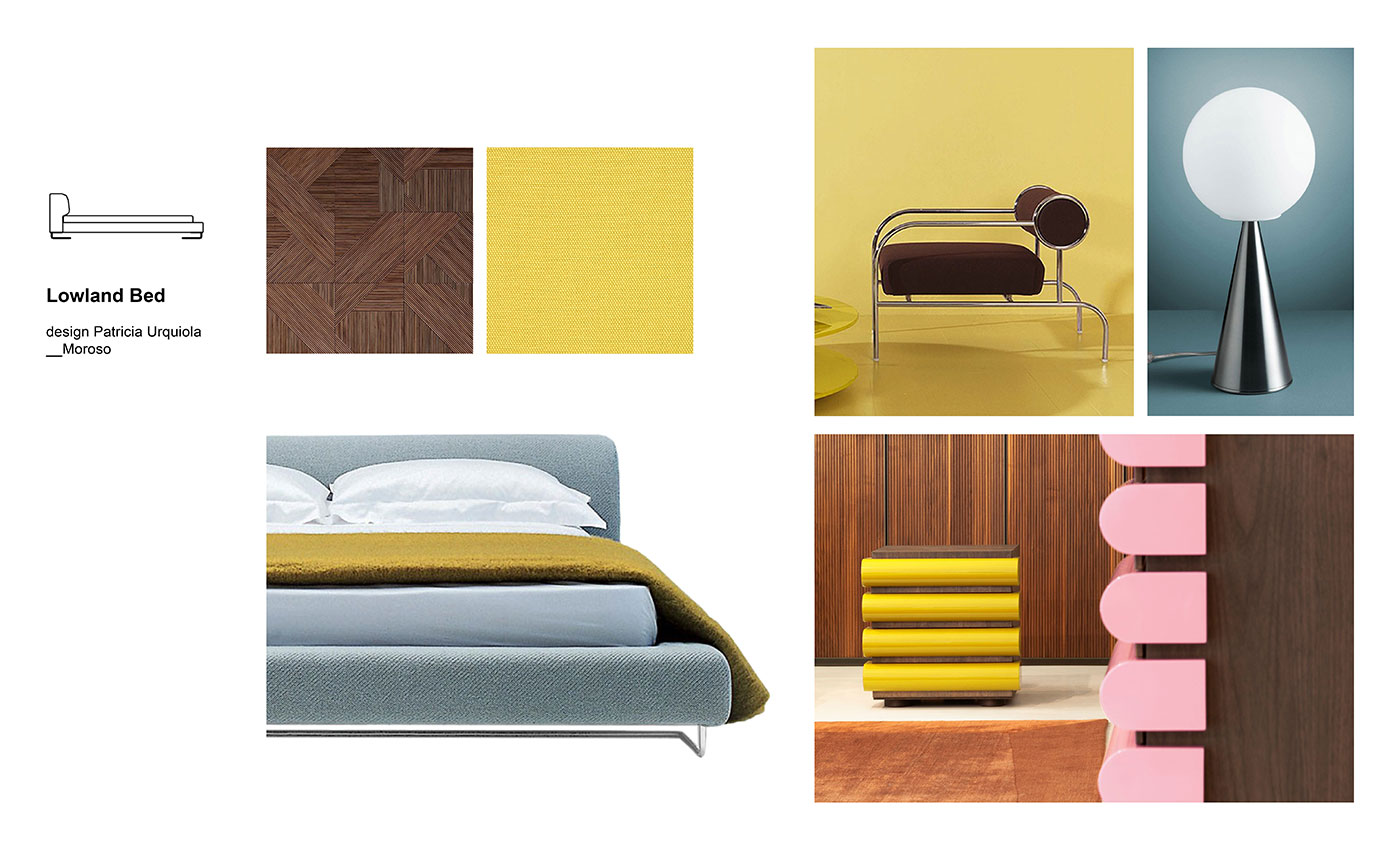 A bedroom characterized by textured wood paneling and pastel-hued walls is enriched by furnishings that emphasize the qualities of wood and accentuate the pastel colors with a strong yellow pop. The result is a cozy space, a harmony of colors and textures that tells of a contemporary style.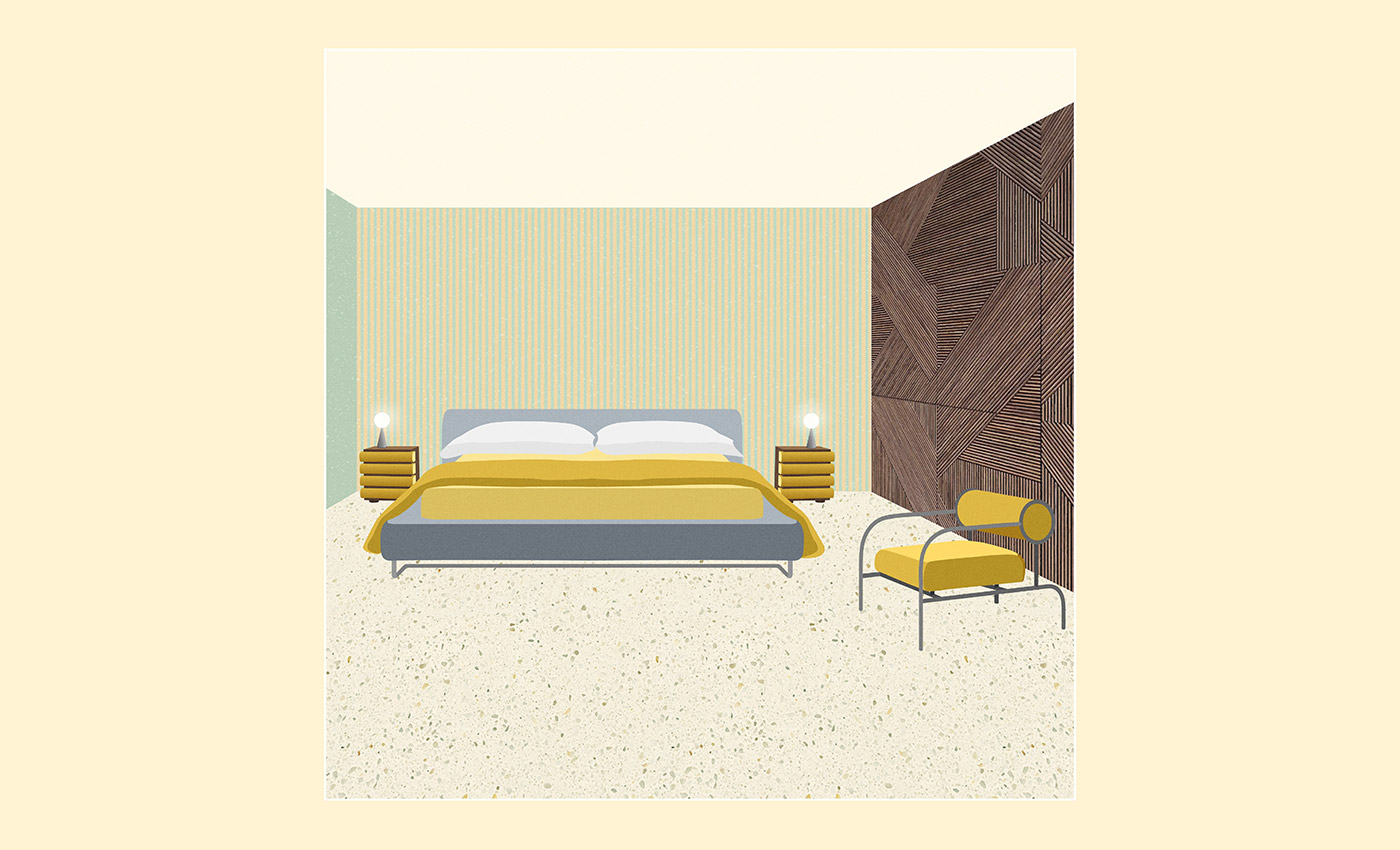 REDONDO Moroso Bed
A design that recalls the soft and round shapes of the upholstered interiors of American cars of the 1950s and 1960s. Redondo Bed consists of an enveloping, shell-like headrest and a quilted decoration, whose thread, like a pencil, draws elegant three-dimensional geometries.
To enhance the theatricality of the Redondo Bed, we chose a dark pink upholstery with quilted decoration designed by Patricia Urquiola, thus arriving at a total price of 3,650 euros.
The bright colors of the bed find a match with the Cotone armchair by Cassina and in the two Arcolor nightstands by Arflex that revive that reminiscence of the past. And to frame this dreamy stage of colors and vitality, we chose an iconic table lamp of Italian design Pipistrello designed by Gae Aulenti for Martinelli Luce.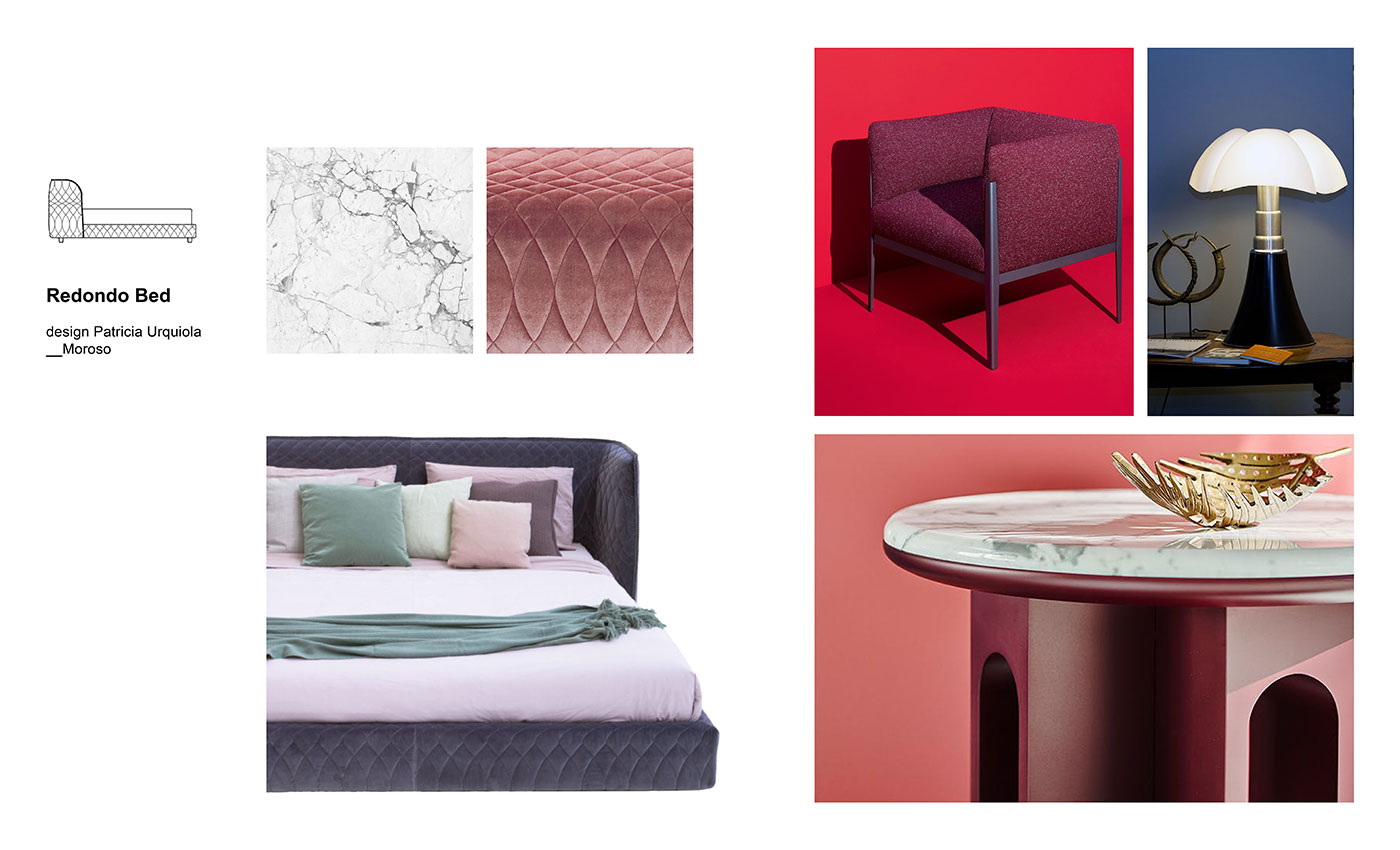 A sophisticated and dreamy environment that combines modern tones with a design that relives the past, from the boiserie to the parquet both evoking the French style. The shades from blue to pink give character and materiality to this bedroom, enhancing the personality of those who sleep in it. The blue of the walls is strongly recommended for a bedroom because of its tranquilizing qualities, while the furniture chosen in shades of purple helps to give vitality.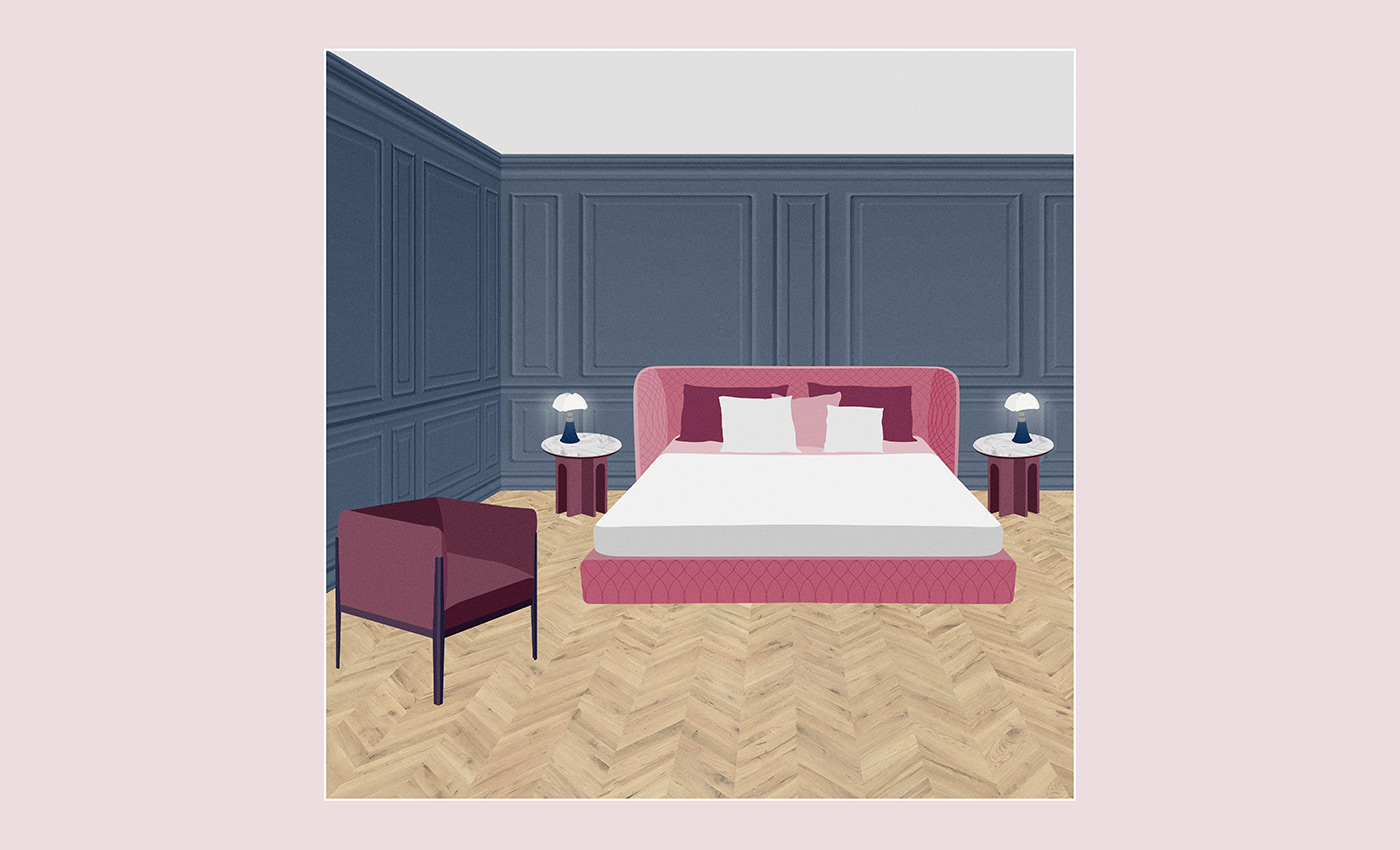 HIGHLANDS Moroso Bed
The central element of Highlands Bed is movement, a sinuous, almost organic movement of the two headboards. This variable verticality is combined with a strong plasticity and sartorial care of the upholstery. Designer Patricia Urquiola creates this fully upholstered product, with ample shapes that give a sense of fullness and containment.
We chose for this strictly functional bed an electric blue upholstery in virgin wool, which brings the Highlands Bed model to a total price positioning of 5,220 euros.
This bright color selection is paired with an armchair of unmistakable design, created by master Gio Ponti, the D.153.1 produced by Molteni&C. Its characteristic two-tone finish and satin-finish brass structure are also echoed in the Ralf bedside table by Meridiani, on which we have placed another design icon that won the Compasso d'Oro in 1979, the Atollo lamp by Vico Magistretti for Oluce.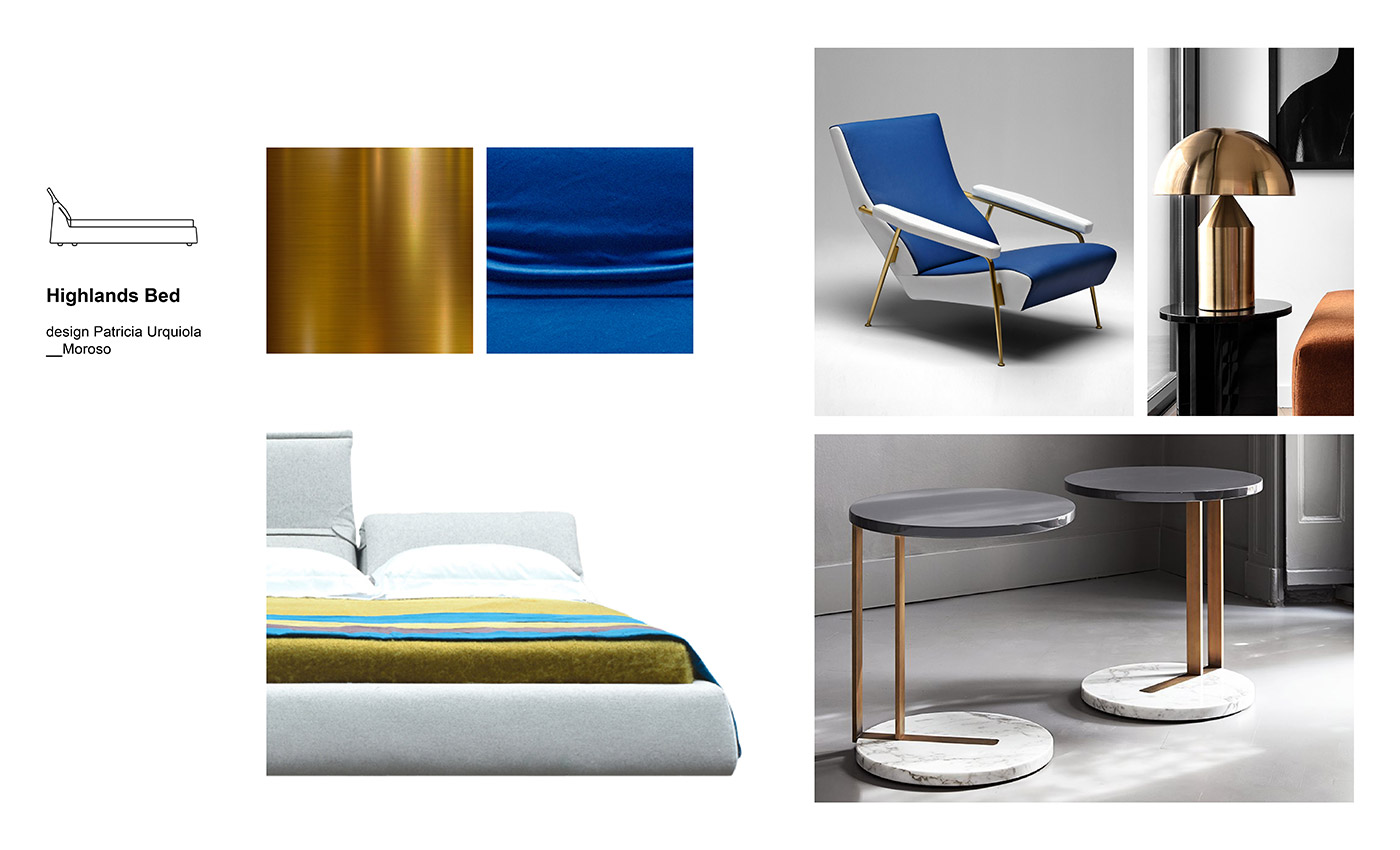 In this last room, bright and timeless in style, we find a palette of blue tones that we can easily imagine in a seaside resort. In fact, it recalls the harmony of colors designed by Gio Ponti for the Hotel Parco dei Principi in Sorrento, one of the must-see design hotels on our Grand Tour of Italy. A chromatic solution between high contrasts and softer tones that helps to create an oasis of peace and tranquility, a refuge where you can rest your eyes and mind.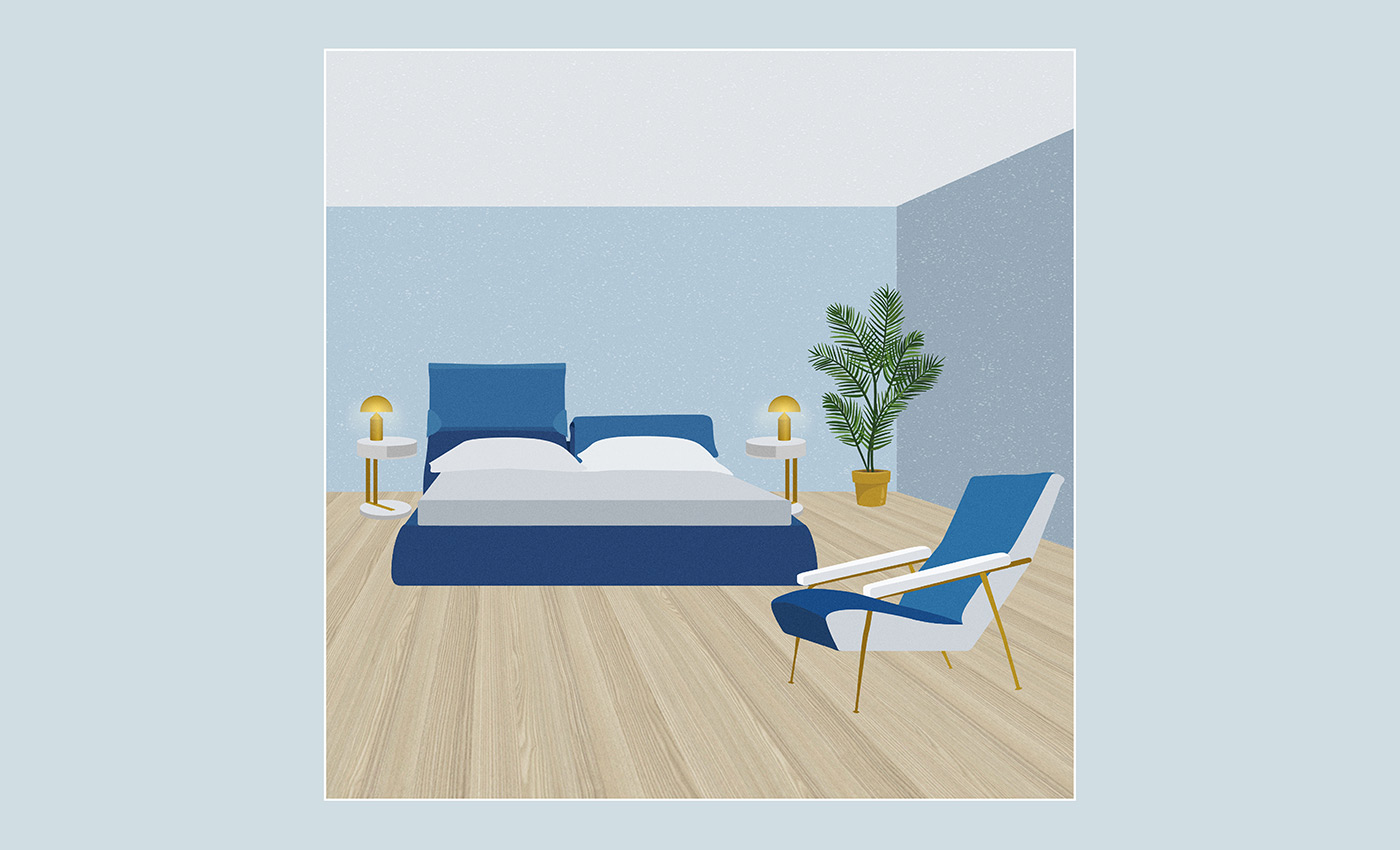 Discover Moroso Beds
If you are looking for ideas for your home, consult our catalog of Italian furniture designers and our careful selection of Italian designer beds to find the right inspiration and furniture that best suit your needs.
Immerse yourself in the world of interior design and discover our proposals of Italian bedroom style: elements of unique and authentically Italian design, precious textures and high quality materials are just some of the features that you will find in the solutions that our interior designers have created to show you how to furnish in a unique way the rooms of your home.
With us your interior design project will have no limits! Rely on our services of Italian Interior Design, Italian Furniture Supply and Online Interior design to build the home of your dreams.
Your unique Interior Design Project developed by Italian Professionals.
Discover and shop Made in Italy while living the Italian lifestyle in Milano.