Design History of the Italian Sofa
Posted on 10 December in Italian Furniture Online
Italian Design, Made in Italy
History is inextricably linked to design through culture. Every piece of furniture tells a story through its form, material, usage, and manufacturability. Throughout time, furniture has developed from simple objects and props for comfort into a great industry showcasing style, technology, and craftsmanship. By delving into the history of the Italian sofa, we will discover how the sofa has evolved into an iconic piece of furniture. A look into the past of ancient furniture will further illuminate the story of modern and contemporary Italian sofas.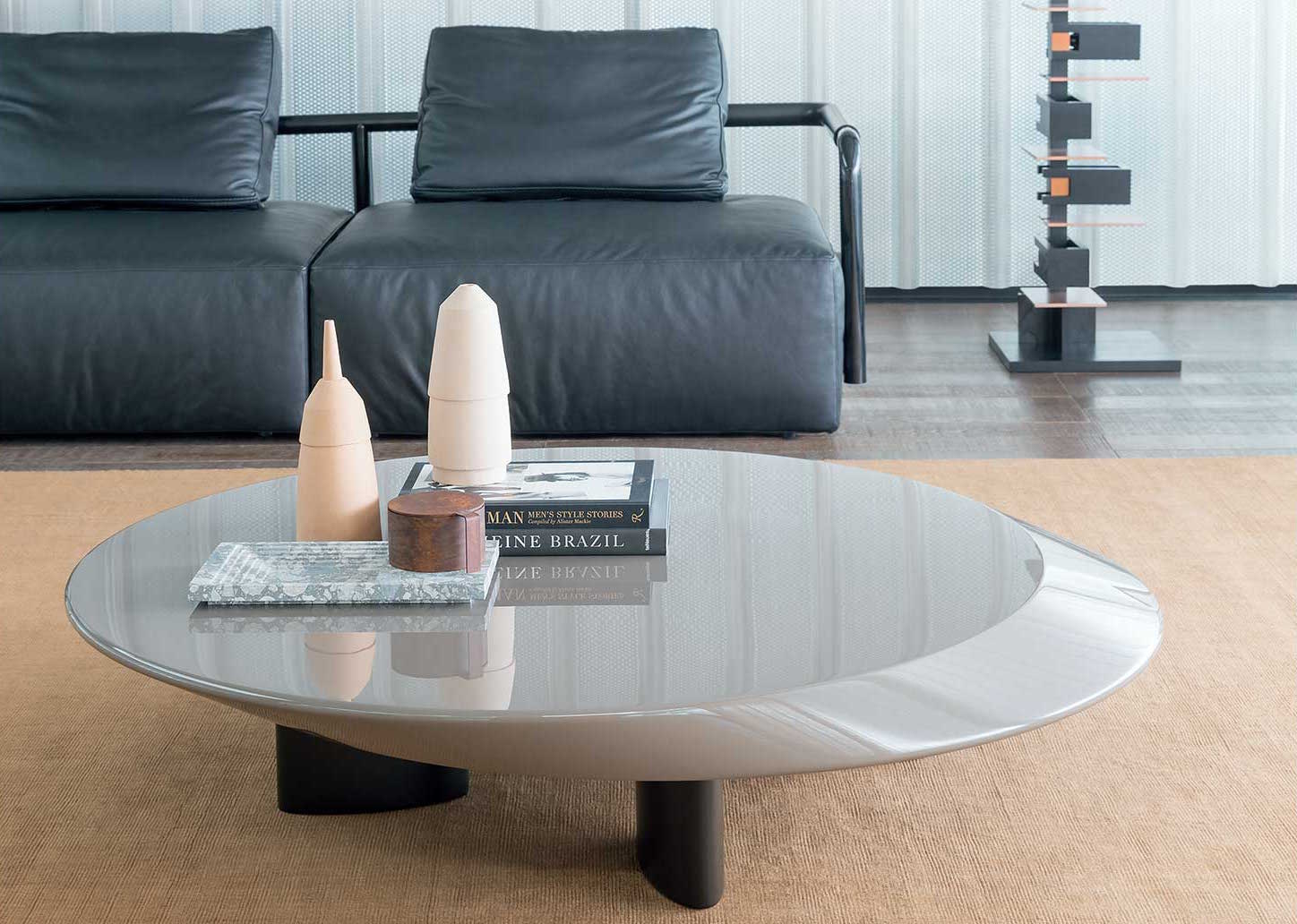 Modern Italian Sofa
The modern Italian sofa developed with sophistication during the 20th century. Many Italian furniture manufacturers started to found companies in the early 1900's in order to brand themselves and further their family businesses. Italian seating from this time was still generally handmade in a classic style from solid wood, though ideas for what sofas and furniture could become were blossoming. Italy continued their efforts postwar with the help of industrial and technological advances allowing serial production. Perhaps the most significant change in the production of Italian sofas in the last century has been the progression of craftsmanship from handmade to industrial design. What was once manually carved from wooden blocks, grew to be crafted through varying levels of industrial production.
B&B Italia Industrial Production with Craftsman Quality

B&B Italia Industrial Production with Craftsman Quality
The frame of most Italian sofas consisted of wood, often with added foam for padding. However, in the 1950's Italian furniture became avant-garde with more variety in forms and the use of different materials for both base structures and upholstery. This development of new materials gave way to great imaginations for design and construction. Traditional upholstery was easily worn and torn. New, synthetic fibers were both more durable and increasingly resistant. The invention of nylon gave another option where silk would have been used. Other materials for the sofa structures such as plastic, fiberglass, metal, and bent steel brought new innovations.
This change in structural material and production allows each peace to be more easily customized. Finer details became possible, allowing a freedom of expression for the designers. Just as in art, design became part of this modern time. Italian architects and designers continued to experiment beyond traditional tastes, expanding into modern and luxury designs, even artful creations could be sofas.
Contemporary Italian Sofa
Today, the sky's the limit for contemporary Italian sofas. Practicality has become both less and more important, depending on the design philosophy and style preferences of the architect and designer. You can customize a modular seating system or have a unique, bespoke sofa created to your own specifications. Ideals of comfort, personality, and style are all considered while shopping for a contemporary Italian sofa.
Strips by Cini Boeri for Arflex
Maralunga Contemporary Sofa for Cassina by Vico Magistretti
Maralunga Contemporary Sofa for Cassina by Vico Magistretti
Molteni&C's Contemporary Italian Sofa, Paul, designed by Vincent Van Duysen
The development of design – in terms of forms and shapes – has been a reaction to changes in culture. Designers are inspired by the world around us, allowing a limitless approach to what can be imagined and realized. Current sofas often include innovative design by including storage systems, such as with Cassina's Philippe Starck design 244 MyWorld. This design has built-in shelving and table units.
Cassina's MyWorld Living Space System by Philippe Starck

Cassina's MyWorld Living Space System by Philippe Starck
Cassina's MyWorld Living Space System by Philippe Starck
Soft Props sofa offers an innovative and flexible seating system designed by Konstantin Grcic for Cassina. Its architectural elements quickly define the space, such as with the metal tube which contrasts the soft sofa material while providing a clear boundary. Milan's metro handrails inspired the strong, sleek lines of tubular railing that guides the sofa and seating space.
Soft Props by Konstantin Grcic for Cassina
Soft Props by Konstantin Grcic for Cassina
Cassina's Floe Insel by Patricia Urquiola was inspired by the shapes of icebergs, offering smooth glacial lines and a sculpture element. Diagonal stitching on the upholstery provides a smooth effect between all sides and angles making this modular sofa a masterpiece.

Floe Insel by Patricia Urquiola for Cassina
The contemporary Italian sofa can take many shapes and appease various tastes. Made in Italy furniture is a cut above the rest due to the fine craftsmanship, quality of materials, and constant evolution of the shape and design. Travel to Milan and we will help furnish your home with the best Italian furniture, including sofas, during a Furniture Shopping Tour. Shop, experience, and discover the wonders of Italian design in Milan with Esperiri as your guide.
Modern Italian Leather Sofa
If you are looking for a modern Italian leather sofa, you'll have a great variety to choose from. The modern Italian leather sofa will always have a place in Italian design, because it is soft, comfortable, and durable. Its form and function create a perfect setting for any living space.
Natuzzi's Giò Italian Leather Sofa designed by Italian architects Manzoni and Tapinassi
Molteni's Chelsea Contemporary Italian Sofa by Rodolfo Dorodoni in leather
Skin Leather Sofa by Jean Nouvel for Molteni

Soft Props by Konstantin Grcic for Cassina
The modern sofa takes a variety of sizes, shapes, and styles these days, but where did the standard sofa form originate?
Ancient Furniture
Since Neolithic times, furniture has existed in both living and working spaces. Early examples of chairs and beds were found in the tomb of King Tutankhamen and also working-class Egyptians dating as far back as 3000 BCE. Ancient Greece took inspiration from these pieces, but decided to softened the box-shaped designs of Egyptian furniture, using couches between 2000-300 BCE.
Historians and archeologists, such as Gisela Richter, have made it possible to view models of Greek furniture and retain a semblance of their context. Roman furniture has been depicted in frescoes and sculptures. Lava from the Vesuvius eruption preserved many wooden objects from furniture, doors, to shutters. Carbonized furniture from Herculaneum is shown at the Capitoline Museum in Rome as well as New York's Metropolitan Museum.
Sofa with bone carvings and glass inlays – Met Museum

Enthrone couple on limestone relief – Met Museum
Ancient furniture was generally made of wood, though exceptional pieces were fitted with metal or precious elements such as ivory, tortoise shell, glass, or gold. Upholstery was not always common, but emerged as simple fabric draped over the couch, with some cushions for either the arm or head rests. The materials used were usually leather, wool, linen, or silk. Cushions were made from wool, feathers, leaves, and hay. Sofas were generally used to recline in dining rooms for elegant families. Beds and sofas were often used interchangeably, though in different rooms. There was no distinction between sleeping furniture and relaxing or socializing furniture. Thrones, armchairs, and footstools became common in households.
Medieval furniture was heavy and blocky, still made generally of wood, though decorations or finishings with oil, paint, and varnish. Decoration and ornamentation developed through the Renaissance, adding more cushion, carving, and upholstery. Furniture making became more about style, which can be seen through many examples of cross-cultural inspirations. What was happening culturally in the world showed up in the furniture. International styles can be understood through their own historical context, from Jacobean, Colonial, and Rococo to Revival, Art Nouveau, Bauhaus, Art Deco, and Rationalism.
Explore more Italian Furniture Online:
Explore more with Esperiri as your personal guide on a Furniture Shopping Tour. Get started today with our Innovative Questionnaire!
Shop, experience, and discover the vast world of Italian Design.