Porro Wardrobes
Posted on 17 June in Italian Home Design
Italian Furniture Prices, best designer closets, italian fitted closets, Porro Italian Furniture, italian designer closet system, Italian Design, Porro furniture, Porro Piero Lissoni, Italian Furniture Guide, Luxury wardrobe design, Italian interior design, Moroso, Italian wardrobe design, mix&match, Designer italian wardrobes, Design Inspirations, Italian fitted wardrobes, Interior Design Inspirations, Wardrobe design, moodboard interior design, furniture design, porro inspiration
Satisfying stylistic and organizational needs, Porro Wardrobes create living sets that combine freedom of expression and rational functionality. Esperiri proposes three new spaces that are able to integrate the Porro Storage closets with the most refined Italian design furniture. Follow us and discover the story behind each of the Mix&Match proposals of Porro Wardrobes.
Mix&Match: Porro Wardrobes
A unique palette of 16 essences that is renewed and embellished every year by the sensitivity of Piero Lissoni and the long-standing experience of the Porro family. Founded in 1925 in Brianza, the traditional birthplace of Italian high-quality furniture manufacturing, Porro is a company that stands out for its innate ability to select, work and interpret wood, using the latest technologies and with a vision always projected towards modernity. The Porro project is immediately recognizable thanks to an essential language that comes from a process of progressive simplification of signs, geometries, shapes, with a special attention to the most refined quality.
Halfway between the walk-in closet and the open closet, the Boiserie Wardrobe, is a spatial solution with great visual impact, which enriches the environment and gives an architectural imprint.
Air Wardrobe configures the space in a game of full and empty spaces, defining an atmosphere of great elegance. A fascinating solution that finds its place in any environment, gaining center stage in its own right.
A flexible closet, built around the needs of the user. The Dressing Room Wardrobe is able to give shape and expression to the space in which it is inserted, embellishing it with brightness and lightness.
With these three different concepts of closet structure, the Storage systems by Piero Lissoni are the protagonists of our new interior design proposals. A careful selection of furnishings, finishes, shapes and fine materials will allow you to immerse yourself in these small worlds and fantasize about your dream storage closet. Esperiri is here to help you in the conception and design that best suit your taste.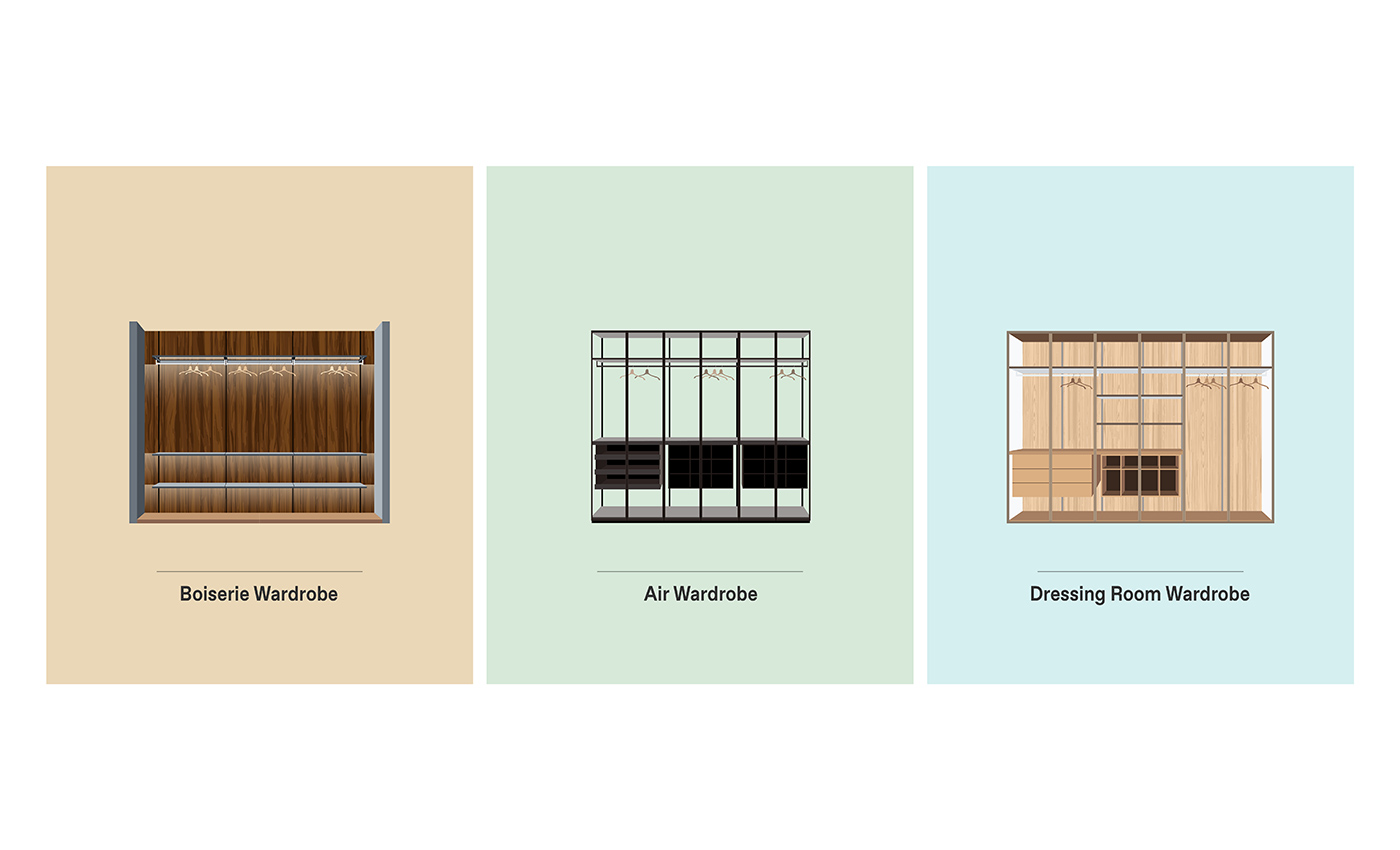 BOISERIE Porro Wardrobe
The Boiserie Wardrobe, with no side panels and uprights, is a solution that is more complete than the walk-in closet but visually lighter than the open closet, resulting in a continuous surface without any kind of frontal interruption.
A luxurious solution composed of modular wall panels that, thanks to a wide selection of fine woods or fabrics, can give an imposing character. The light that enriches the panels in Palissandro Santos and at the same time enhances the transparency of the shelves, is able to lighten and create spatial continuity.
The richness and quality of this system is further adorned by a composition of surfaces and timeless design objects. An onyx surface stretches the room and reflects the dreamy light of the Falkland floor lamp by Bruno Munari for Artemide. An iconic Lounge Chair and Ottoman by Charles and Ray Eames for Vitra further elevates an already exquisite and precious room.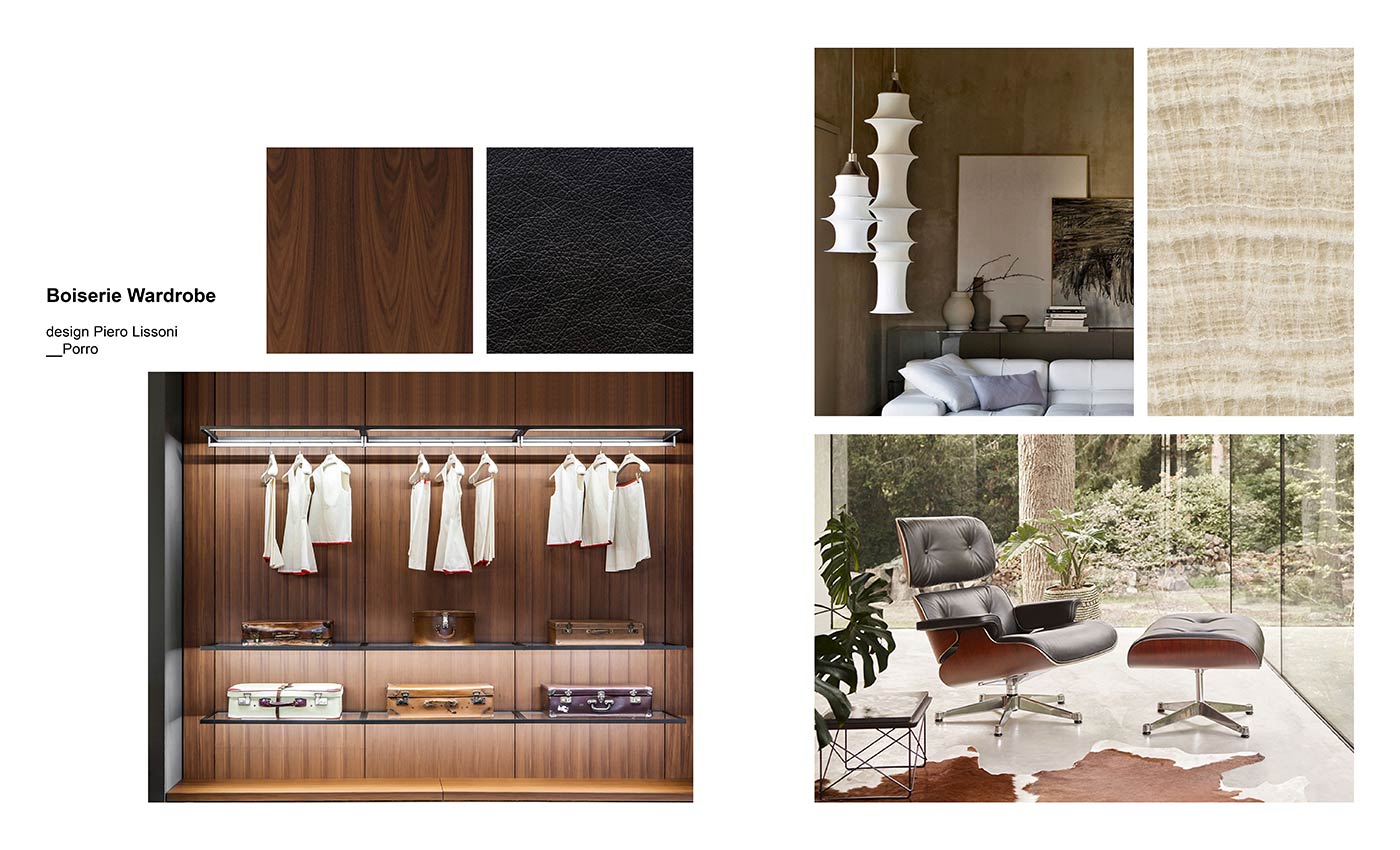 This first wardrobe room is undoubtedly marked by a rare luxuriousness. This interior tells a story of love for wood and precious stones, which even in the most intimate space such as the walk-in closet, wants to emphasize its preciousness and richness. A rigorous refuge where the user can keep their most intimate secrets and at the same time display their most precious heirlooms.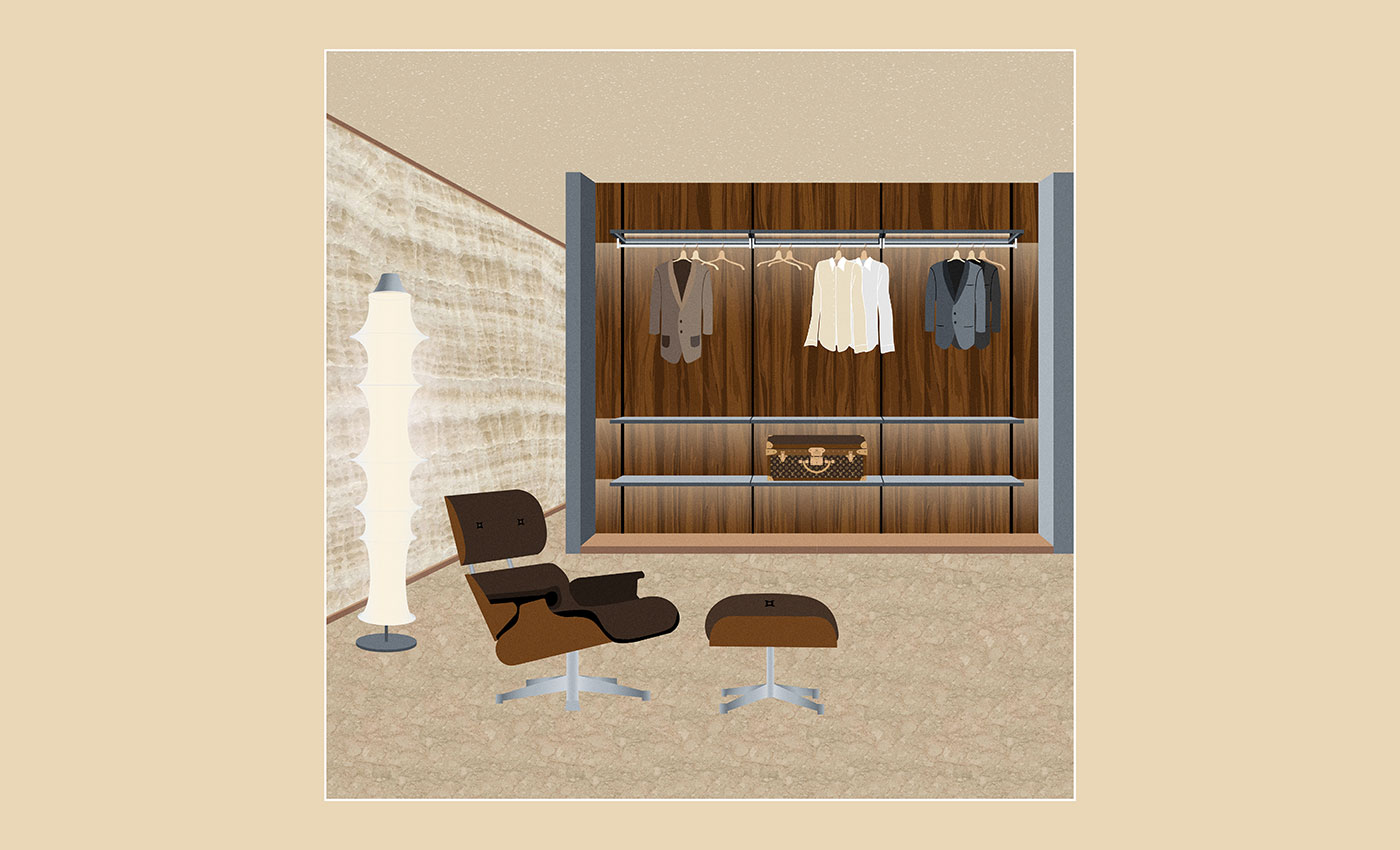 AIR Porro Wardrobe
Also designed by Piero Lissoni, Storage Air is a transparent, self-supporting closet in which the upright is a closed profile that does not require fixing to the wall. Such a thin and minimal structure allows the room to open up and formulate new visual dynamics.
In order to obtain this continuity of space across the whole closet, a new concept of the side has been conceived: it is no longer a barrier, but it becomes the load-bearing element that allows air continuity inside the closet. And so visual freedom is obtained in full, for a final effect of pure transparency.
With the thin upright and the equipment in black sugi, a particular wood treatment of Japanese inspiration, Air wardrobe frames the space with essentiality and geometric harmony. Warming up the room is a parquet floor in Oak wood and wall panels with a three-dimensional texture. The Superluna floor lamp by Oluce softens the shapes and illuminates the graceful Bonsai Sofa by Arflex.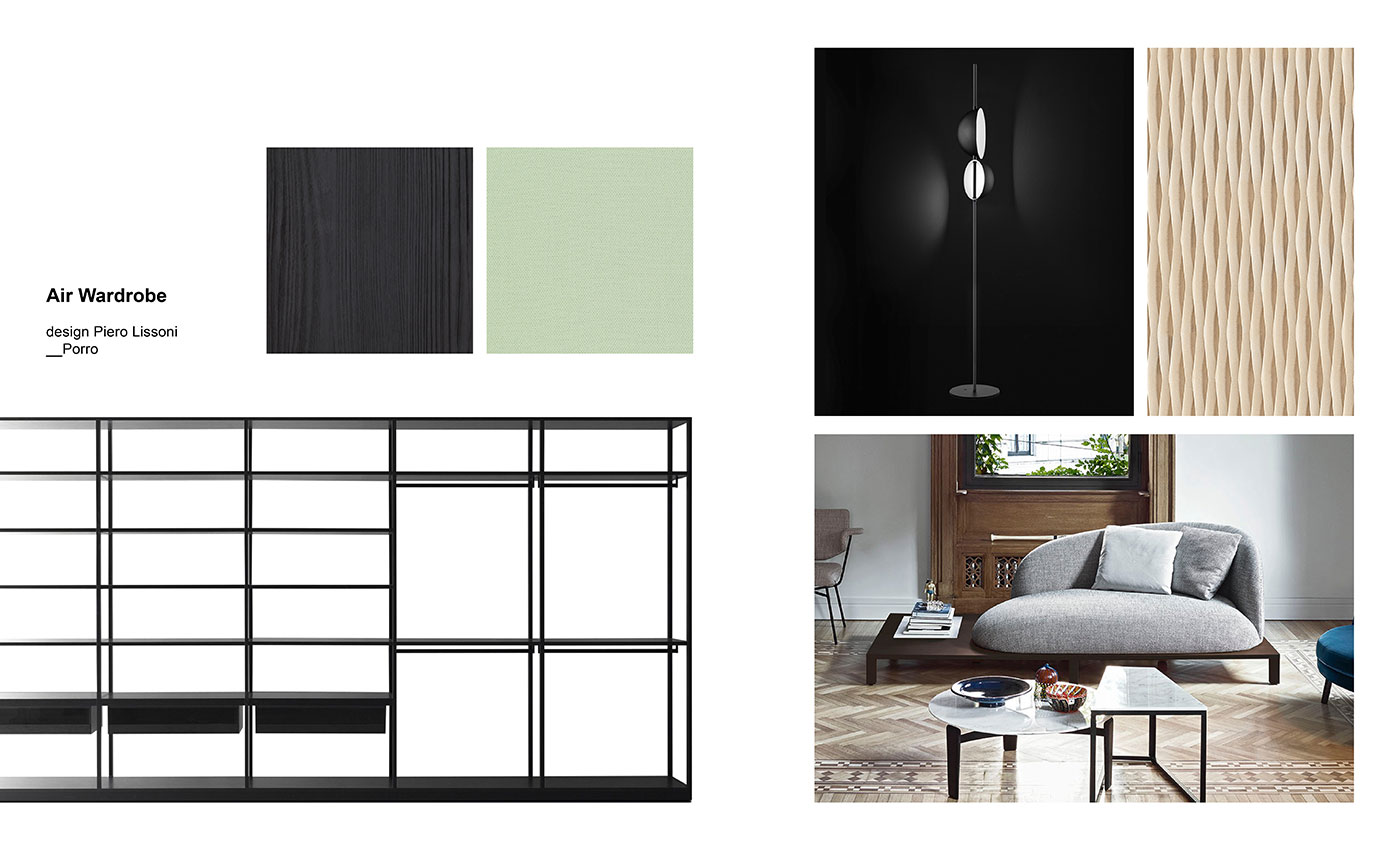 Soft colors and essential geometric shapes characterize this second wardrobe room. A careful choice of textures and palettes can make the difference in opening up and illuminating rooms that are often dark and small. A space that remains reserved but can easily be extended to other rooms, in a relationship of stylistic and organizational continuity.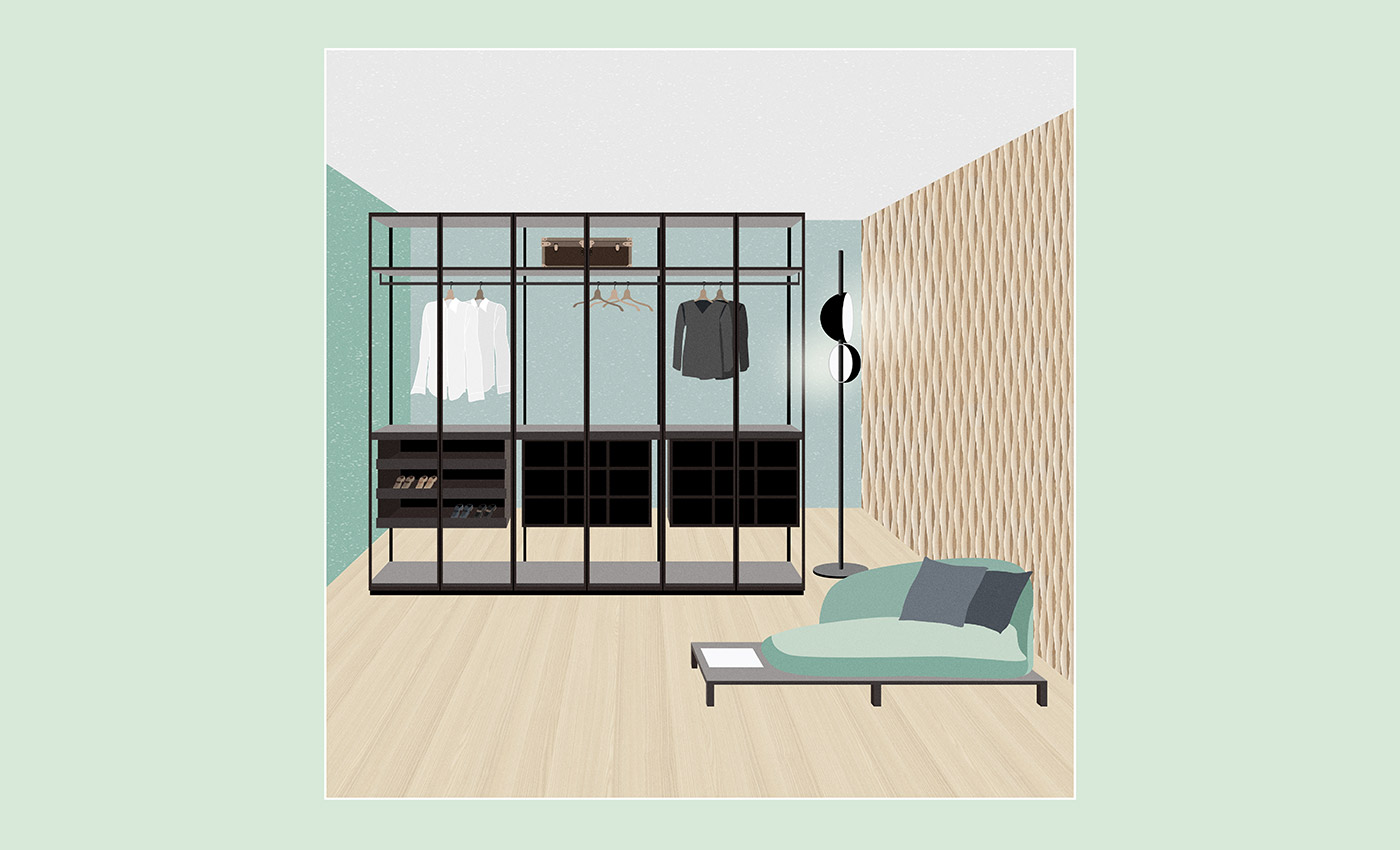 DRESSING ROOM Porro Wardrobe
Focal part of the room, the Dressing Room Wardrobe is architecture in its purest form, which designs the space, leaving maximum freedom in creating the desired composition. The versatility of this system allows for the adaptation to multiple needs with a wide variety of customizations.
With equipment and backdrops in cherry white, a light finish that reproduces the grain of cherry wood with more neutral and light tones, and a metal structure with cuvée finish, a refined color that helps to embellish the closet, this Porro closet captures the elegance and finesse of a woman who wants a space all of her own.
The cherry and cuvée finishes are also accentuated in the selection of furniture for a makeup station to be placed inside the wardrobe room. We chose, in continuity with the Nordic style of the Dressing Room wardrobe, the Continuum vanity desk by Matteo Nunziati for Natevo with integrated light, paired with a Rider chair designed by Andrea Parisio for Meridiani.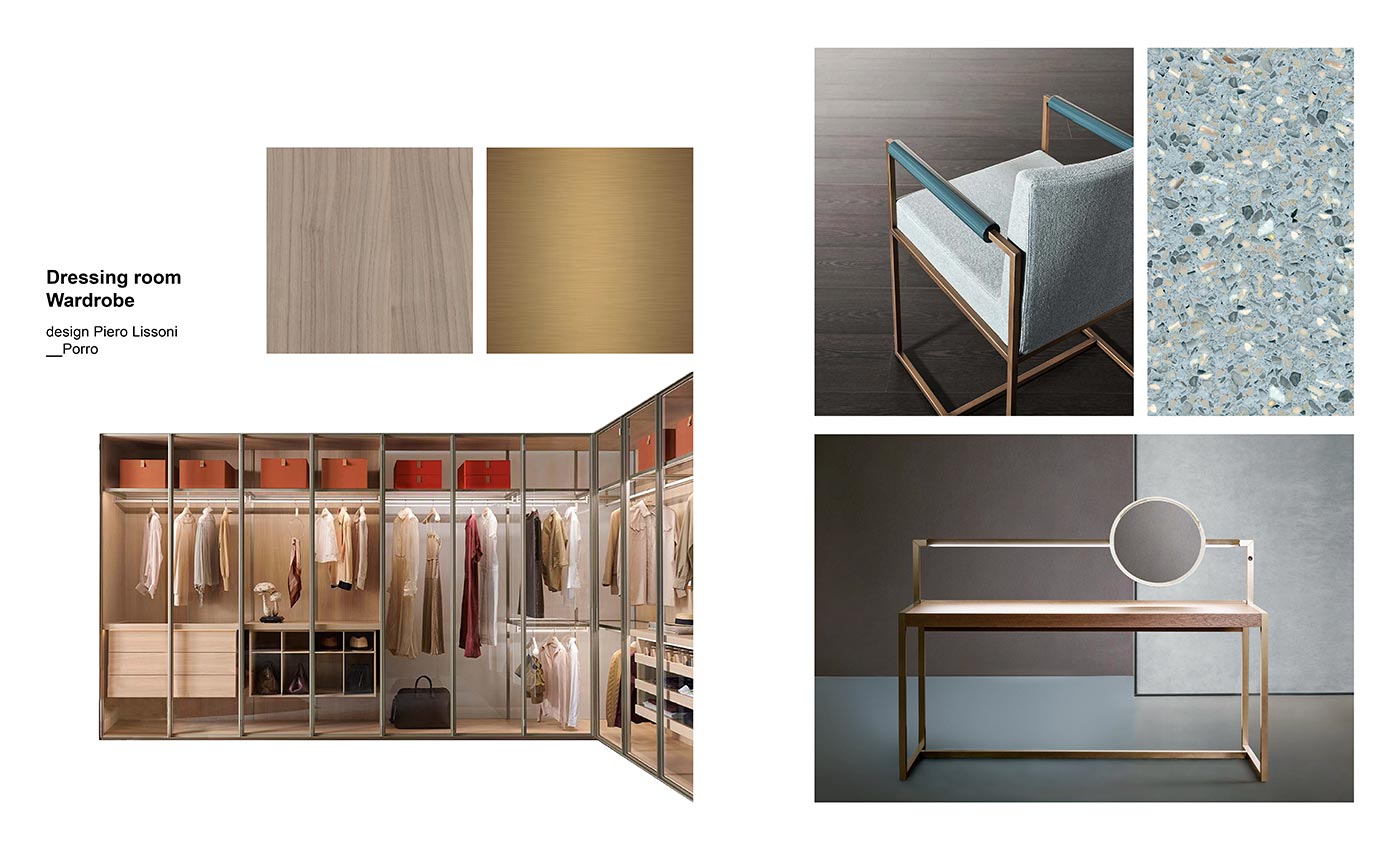 The last composition is dominated by a palette of light blue nuances in contrast with the soft shades of cherry and copper. An elegant and relaxing harmony that warms the wardrobe room and illuminates it with youthfulness. The turquoise details of the Rider chair are then matched by the blue shades of the walls and the Venetian terrazzo floor. Regular and angular shapes give rigor and importance to this room dedicated to self-care.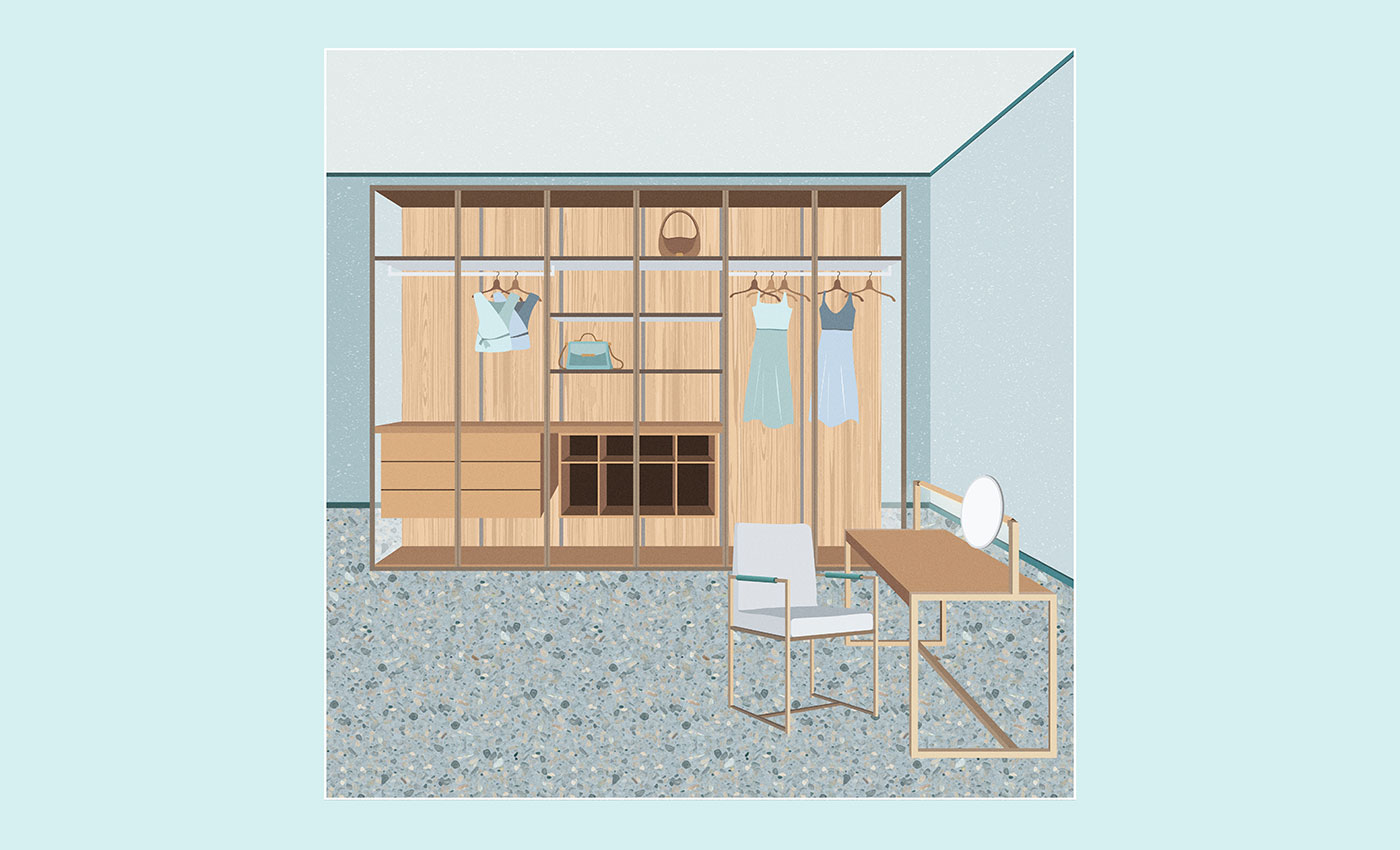 Discover Porro Wardrobes
If you are looking for news for your home, consult our catalog of designer Italian furniture and our careful selection of Italian Walk-in Closets and Designer Italian Wardrobes: together with us you will find the right inspiration and the most suitable furniture for your needs.
Immerse yourself in the world of interior design and discover our proposals of Italian bedroom style: unique and authentically Italian design pieces, precious textures and high quality materials are just some of the features that you will find in the solutions that our interior designers have created to help you furnish the rooms of your home in a unique way.
With us your interior design project will have no limits! Rely on our services of Italian Interior Design, Italian Furniture Supply and Online Interior design to build the home of your dreams.
Your unique Interior Design Project developed by Italian Professionals.
Discover and shop Made in Italy while living the Italian lifestyle in Milano.