The Best Designer Italian Wardrobe
Posted on 05 December in Italian Furniture Online
Italian Furniture Guide, Italian Brands, Italian wardrobe design, Designer italian wardrobes, Italian fitted wardrobes, Italian wardrobe, Wardrobe design, Fitted wardrobes
Discover the best designer Italian wardrobes. Choose the right Italian Wardrobe Design to Furnish your Bedroom or Walk-in Closet with Italian fitted wardrobes.
Italian wardrobe design: the top brands

Organizing and ordering our things is a fundamental part of our daily lives and having a high-quality, well-designed wardrobe can make it easier. Knowing how to choose the best solution for your home is not only a question of style and taste but also of space.
There are different types of wardrobes to meet every need and space constraint, from traditional wardrobes to built-in wardrobes to walk-in closets. The difference is substantial, since a traditional wardrobe is a piece of furniture that is placed inside a room while a built-in wardrobe aims to best exploit the corners and curvatures created by the house's layout. Lastly, a walk-in closet is a room in itself, organized and accessorized with useful storage elements, but that leaves clothes and accessories within sight so they can be found in a quick glance. 
Italian wardrobe design is well-known throughout the world. Some brands are famous because they are specialized in this industry, others because they have included wardrobes and walk-in closets in their collections. The most important characteristic of a good wardrobe design is functionality. To obtain this, many collections from Italian wardrobe brands focus on customization, and as a matter of fact the best storage systems are Italian fitted wardrobes.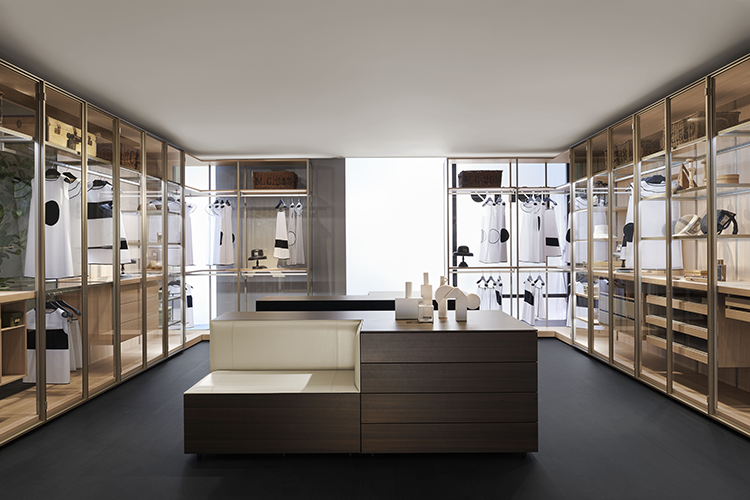 A selection of high-end designer Italian wardrobes
Porro Furniture – Wardrobes & Walk-In Closets

Porro storage collections are among the most prized designer Italian wardrobes, especially their exclusive wardrobe and closet system Storage designed by Piero Lissoni, an Italian designer and art director of the brand. Storage is a series of modular systems for the bedroom offered in different variations and finishes and configurable with multiple components and accessories. Modules with doors, open-front modules, and walk-in closets: three types of structures that can be perfectly integrated with each other.
Everything is characterized by Porro's inimitable style and quality, as is evident in the quality of the proposed materials and compositions. An example of this is Storage Air, the free-standing modular wardrobe with elements of various widths. This elegant wardrobe solution can be left completely open or closed with backs, sides, and doors in transparent or smoke glass. The modular Storage system allows you to create an endless number of compositions, making it easy to build the perfect Italian fitted wardrobe or closet for you.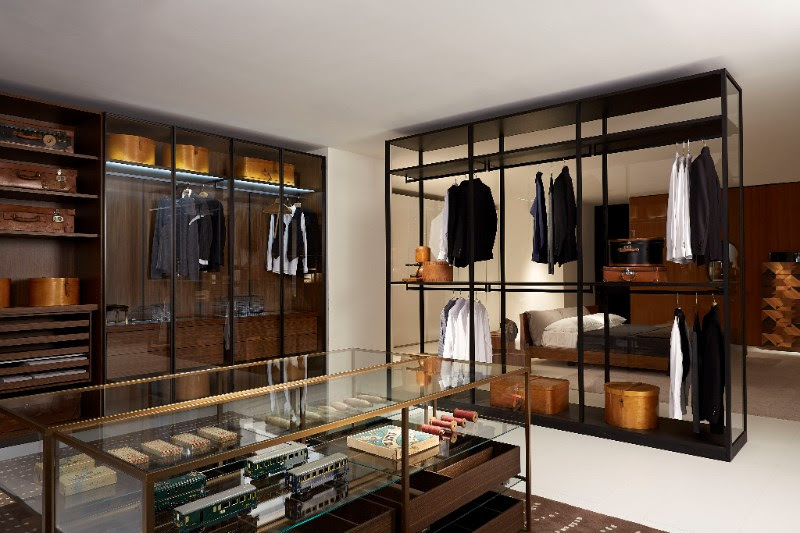 In the vast range of configurations offered by Porro, there is also the Storage Boiserie. These luxury wardrobes are halfway between an open wardrobe and a walk-in closet. The Storage Boiserie is composed of a set of panels that are fixed to the wall, to which you can attach various modules. You can customize the panels by choosing from the 18 different wood finishes offered in the Porro collections or select one of the exclusive fabric versions.
It is a light, visually-appealing solution free from side panels and pillars with a seamless frontwards appearance.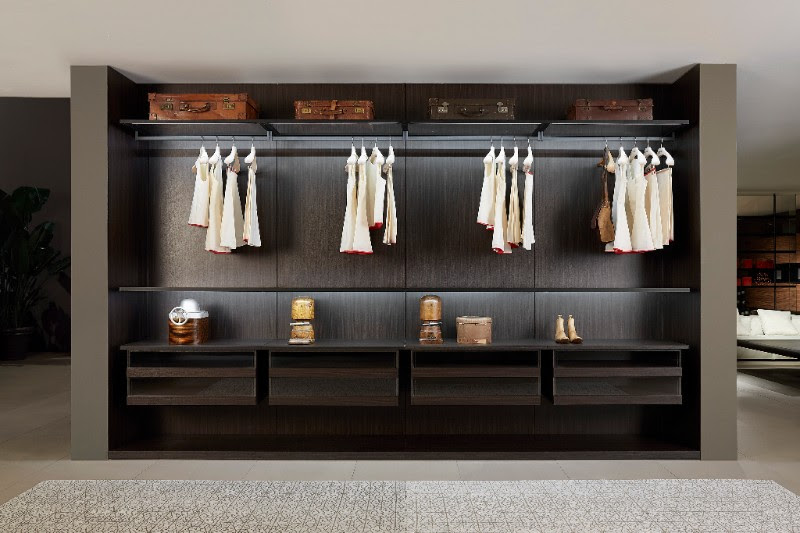 The Storage Boiserie can also be widely customized according to your desired style. For example, the back can be upholstered in ecru linen fabric. The interior can be organized with new eucalyptus-wood accessories, including glass-top drawers, inclined shoe racks, a free-standing dresser, lighted shelves, and the new large shelf.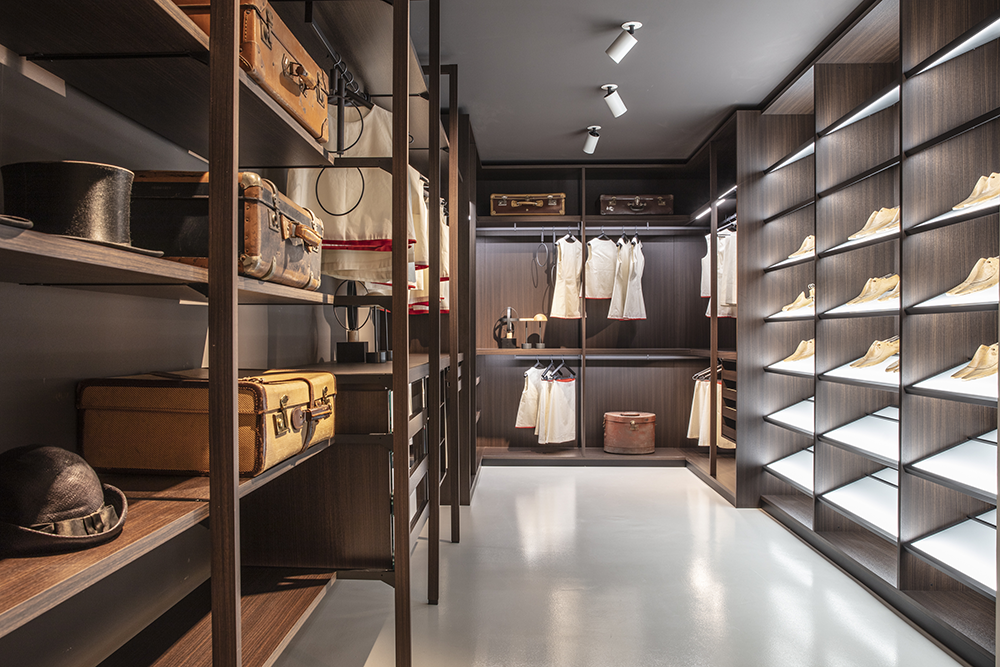 Among the best Italian wardrobe brands, the collections of Molteni&C stand out for the high quality of the proposals. The catalog includes a rich variety of proposals both for wardrobes and for walk-in closets.
One of the most interesting collections of designer Italian wardrobes by Molteni&C is Gliss Master, designed by the architect Vincent Van Duysen. The collection uses a patented Molteni&C technology that reinterprets the concept of a custom-made wardrobe. What often makes the difference between various models on the market are those small functional details that improve usability. For example, the Sistema 7 wardrobe by Molteni&C features a new type of door with a folding mechanism that allows the doors to be moved effortlessly from their initial position at the side of the compartment, thereby making it fully accessible. The wardrobe doors can be configured in wood, lacquered and normal or net glass.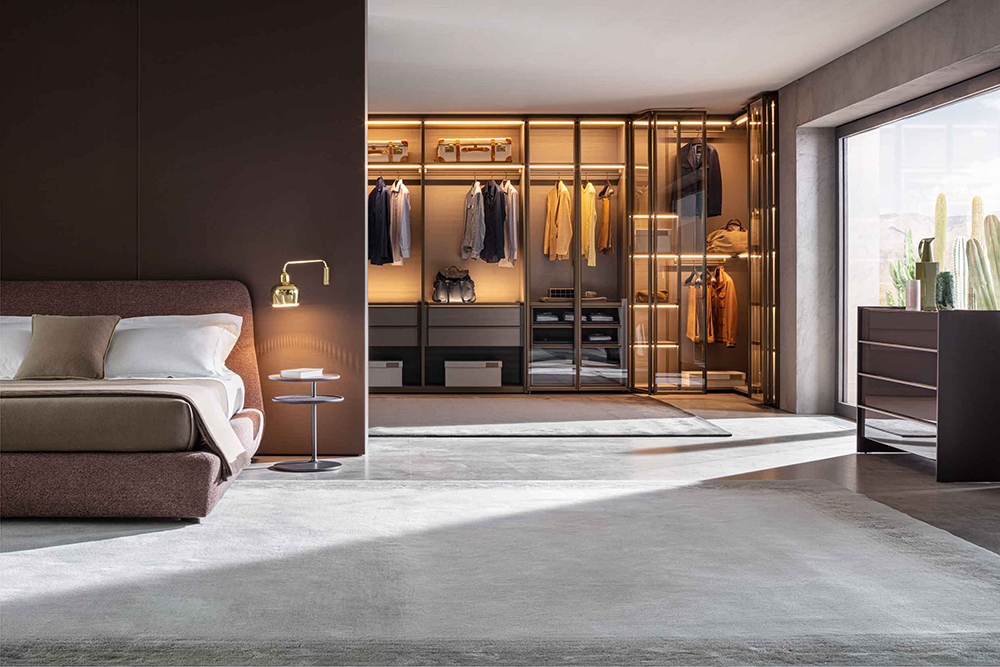 From the same Gliss Master collection comes the wide range of Molteni&C walk-in closets. These doorless wardrobe options are customizable, elegant, but above all practical. Like Gliss Walk-In, a walk-in closet system that allows you to "isolate" your wardrobe, creating an enclosed and protected space. It is a patented system of invisible self-locking brackets with a high degree of customization. It can be installed as a floor-to-ceiling solution, against the wall, or recessed with a false ceiling depending on the layout of the room where it will be placed.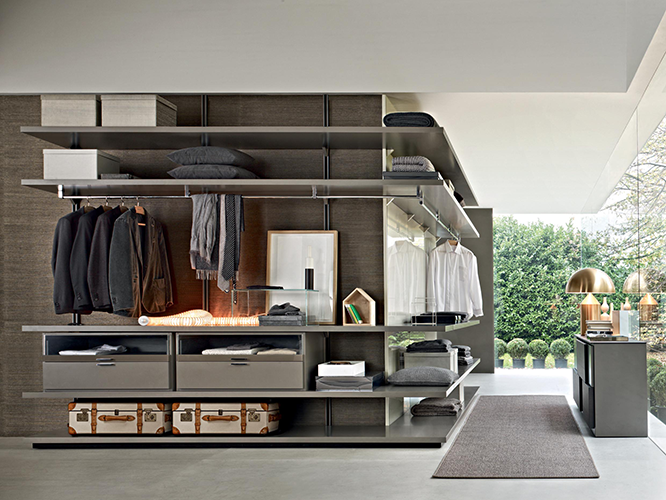 B&B Italia wardrobes
B&B Italia's wardrobe and walk-in closet collections occupy the top echelon of the Italian Wardrobe Design industry.
One of the brand's major models is Backstage designed by Antonio Citterio. Backstage has all the characteristics of a contemporary wardrobe and a discreet, elegant design making it ideal for refined interior design projects. Thanks to the boiserie effect of the surfaces, it is possible to install Backstage in a variety of spaces, not only in the classic bedroom area. The exclusive finishing details, the precious materials, and the full-height doors with an innovative door opening system make Backstage one of the best designer Italian wardrobes. This mechanism, developed and patented by B&B Italia, occupies less space and it enhances accessibility to the internal compartments.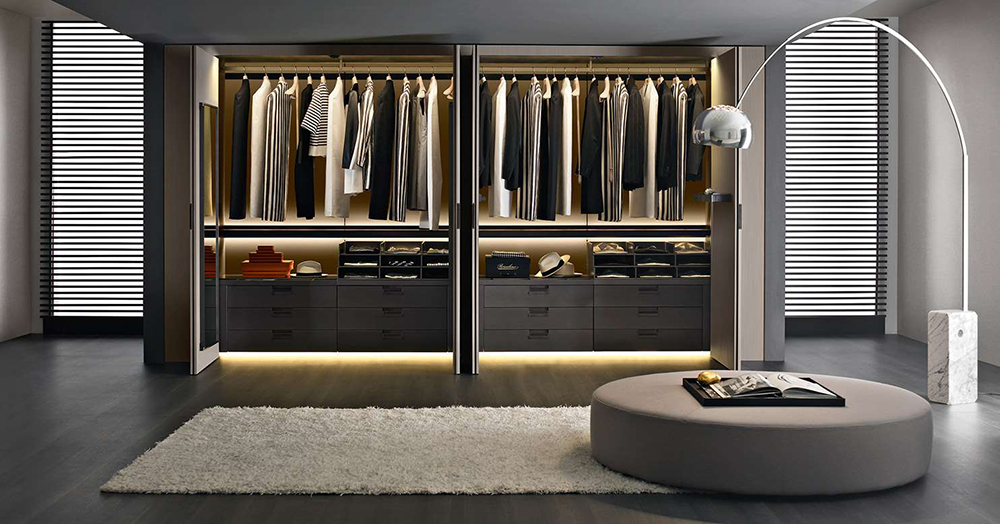 The contemporary wardrobe is no longer just an accessory that remains confined to the corner of the room, but an important piece of furniture that intermingles with the other elements of the home. It can also act as a partition between two areas in the bedroom, for example. Eracle by Maxalto allows you to achieve this with ease thanks to the double-sided version that is open on both sides. The wardrobe mimics the style of 1950s display cabinets.
It is available in brushed light oak, gray oak, brushed black oak, fumed oak or natural wengé. The interior, equipped with a chest of drawers varnished in bronzed nickel, is embellished with melamine-coated colonial leather upholstery. The same material is used for the trays and clothes rods.
Eracle is one of the most exclusive Italian fitted wardrobes and can be enriched with a wide range of luxury accessories to maximize customization.

Rimadesio Wardrobes
Rimadesio is renowned worldwide for its sleek, minimalist collections and prominent use of glass, and stands out even from the best Italian wardrobe brands. Among the most sought-after luxury wardrobes, we find Rimadesio's sophisticated walk-in closets and elegant wardrobes with glass doors. Like Cover freestanding, a self-supporting version of the Cover system, a system that features single-sided glass hinged doors and was designed to meet all the organizational needs of contemporary life, including the creation of a walk-in closet.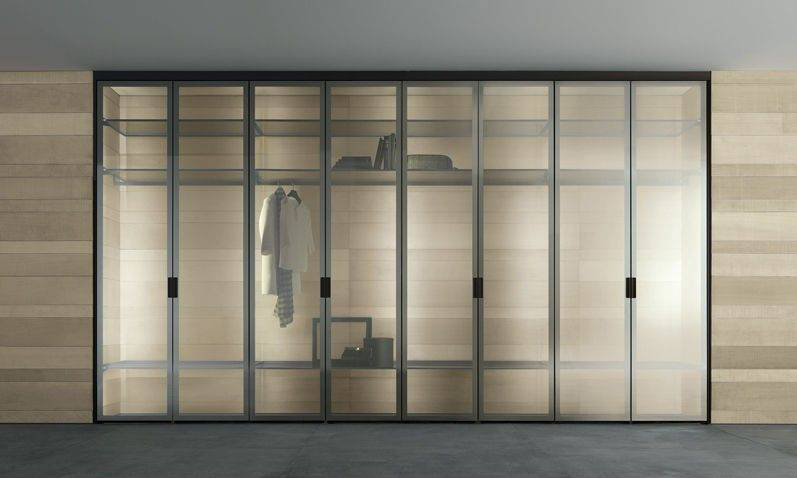 Cover in the freestanding version is equipped with side and rear panels and can be configured to create linear or angular compositions. The internal accessories, as well as the doors, the structure, and the accessories, are all "custom-made". Customization is a constant in Italian wardrobe design and it is no different for this system. In this wardrobe, the luxury internal accessories are fixed to the structure using an interlocking system without visible screws, thus creating a mutable composition that can be easily modified when desired.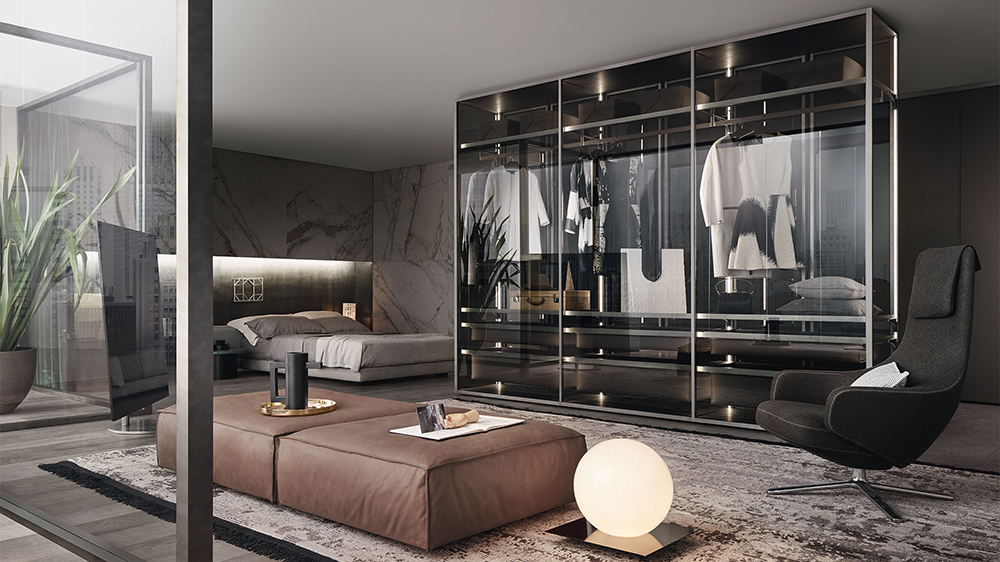 Boffi Closets
Boffi's exclusive systems make it one of the best Italian wardrobe brands. Antibes by Piero Lissoni is one of the best solutions to bring the dream of a custom walk-in closet to life. The Antibes collection is completely customizable and is a perfect example of the best of Italian fitted wardrobes. The uniqueness of this collection lies in the modularity of its structural elements, like the frame and doors, which are available in a hinged or sliding version. The upholstery of the shelves, back panels, and drawers can be chosen from a wide range of microfiber leathers and fabrics.
The effectiveness of the Antibes walk-in closet system is furthered by a series of solutions that allow for integration with both the bathroom system and with Boffi's door/partition system. An interesting derivation of the Antibes collection is Antibes Boiserie, a modular walk-in closet with open sides. It offers a great variety of materials for the back panels, drawers, and shelves which are available in Nobilitato, Silcover, and Ecolak. The interior is customizable with numerous accessories including drawer units, pull-out trouser racks, LED lighting, clothes rods, and even non-slip mats for the inside of the drawers in an exclusive non-toxic dove-gray colored material.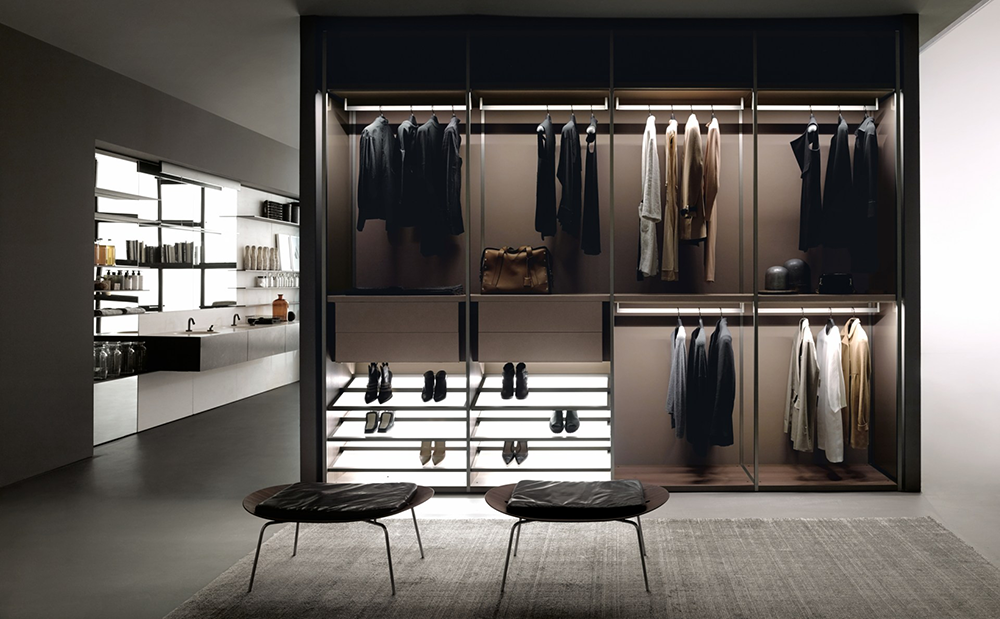 A selection of designer Italian wardrobes: The Best of Made in Italy for every price range
Poliform Wardrobe
For those looking for modern and functional designer Italian wardrobes, there are also the collections of Poliform, which include systems and furnishing accessories for every area of the house, as well as wardrobes.
Among the Poliform proposals, we have Bangkok, a high-end wardrobe by Operadesign that stands out for its unmatched elegance. This wardrobe is available with either coplanar or hinged doors and is unique not only for the Senzafine door system but also for the exclusive array of finishes.The door is upholstered in leather and the handle is built into the horizontal profile. These are the details that make the difference and define a luxury wardrobe as such.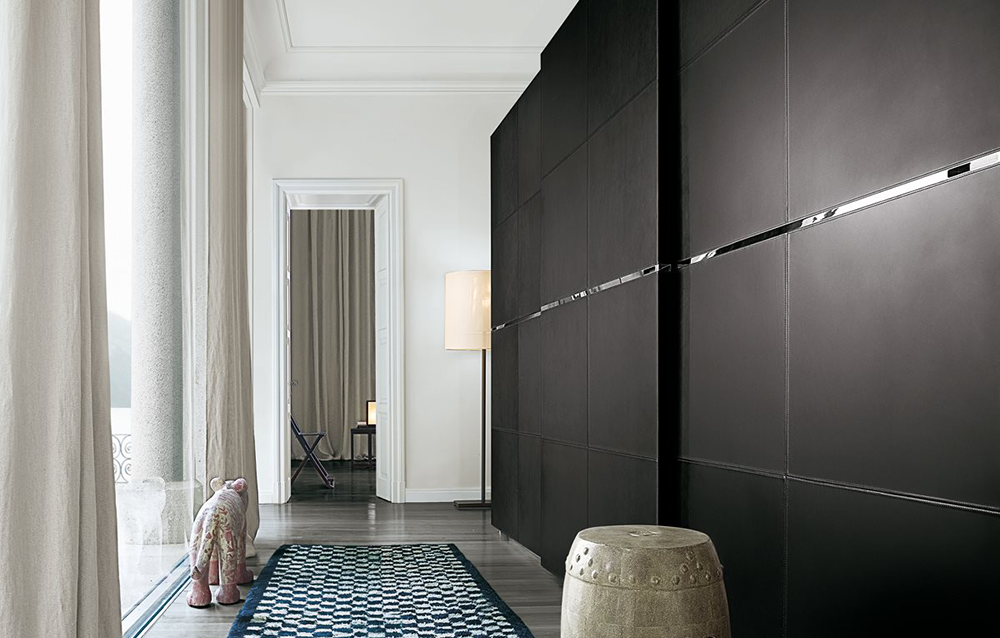 In choosing a wardrobe, in addition to the measurements and the choice of the opening system, an important aspect to consider at the time of purchase is the selection of materials.
One of the latest trends in Italian wardrobe design is the emphasis on transparency. This is a feature that we also find in the Ego wardrobe by Giuseppe Bavuso from the Poliform collections. Here, lightness and simplicity are the most prominent features.
The hinged doors with built-in handles of this wardrobe are available in different finishes (transparent, reflective, reflective bronzed, smoked).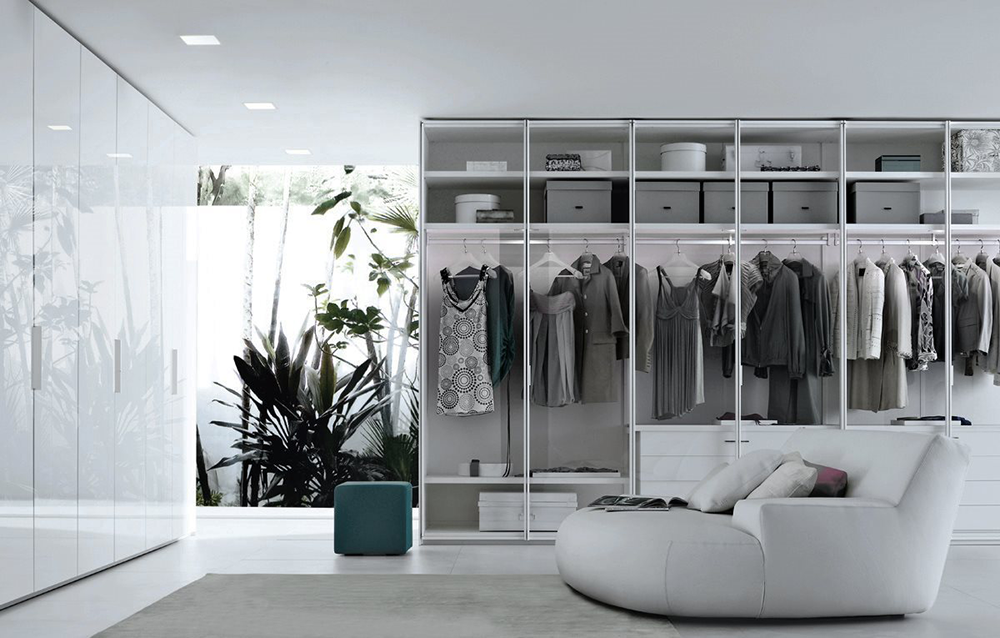 Lema wardrobes
For those looking for modern solutions and quality products fromItalian wardrobe brands, consider Lema, which offers Italian fitted wardrobes at affordable prices. Lema's Open wardrobe designed by Officinadesign is an example. It is a customizable walk-in closet solution with clean lines and no doors. It was designed to allow for maximum customization in every aspect: drawer units, trouser racks, belt holders, shoe racks, shelves and clothes rods with built-in lighting—elements that ensure the utmost usability.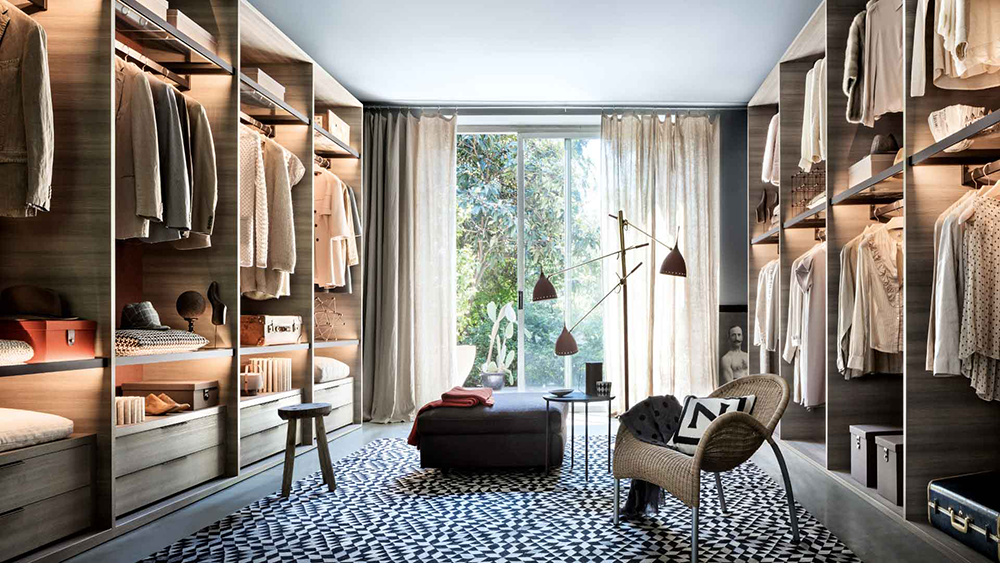 However, when the conditions are not right for creating a walk-in closet, a 4-season wardrobe is the most suitable solution for home organization.
But whether it is a coplanar, hinged or sliding door wardrobe, it is always the finishes and the supporting structure that define its beauty and functionality. Most designer Italian wardrobes are available in a wide range of colors and materials.
Dandy by Lema, for example, is a 4-season wardrobe available with a black metal outer frame and a wide selection of panels: transparent glass, reflective bronze glass, lacquered glass in 10 colors, bronze glass with fabric screen-printing, and decorative fabric upholstery. Dandy can be reduced in height, width, and depth, and features a wide range of internal equipment to create a variety of combinations to suit every need.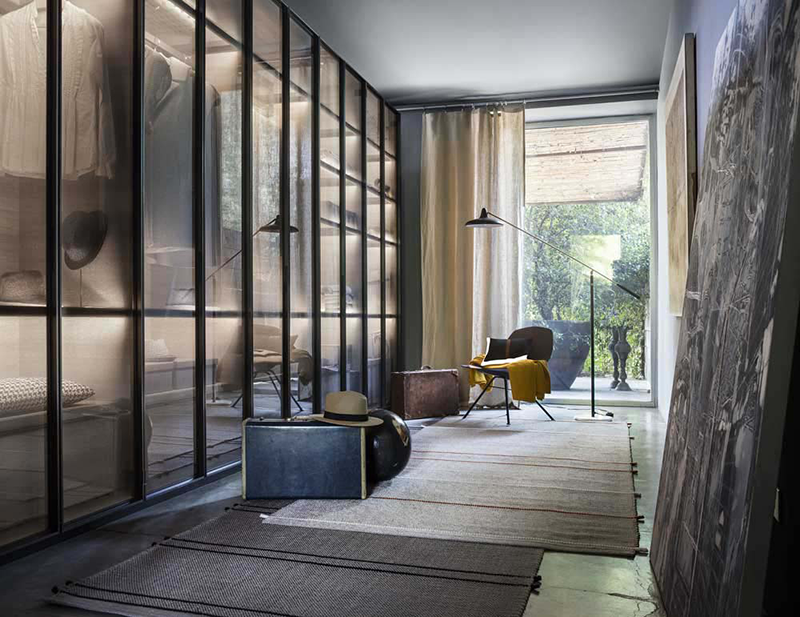 MisuraEmme wardrobes
MisuraEmme is another furniture brand whose catalog includes high-quality designer Italian wardrobes crafted to match your needs in terms of both style and proper organization of space. When choosing a new wardrobe, it is important not only to examine the internal organization of the storage system, considering the number of drawers and shelves, but also how accessories and clothing are displayed. Proposals like Narcisse by MisuraEmme offer a pragmatic display of accessories to improve the wardrobe's usability. In the version with transparent glass doors, the melamine smoked oak structure and drawers of the wardrobe remain visible. The doors with a satin-finish aluminum frame can also be fitted with painted glass or painted acid-etched glass.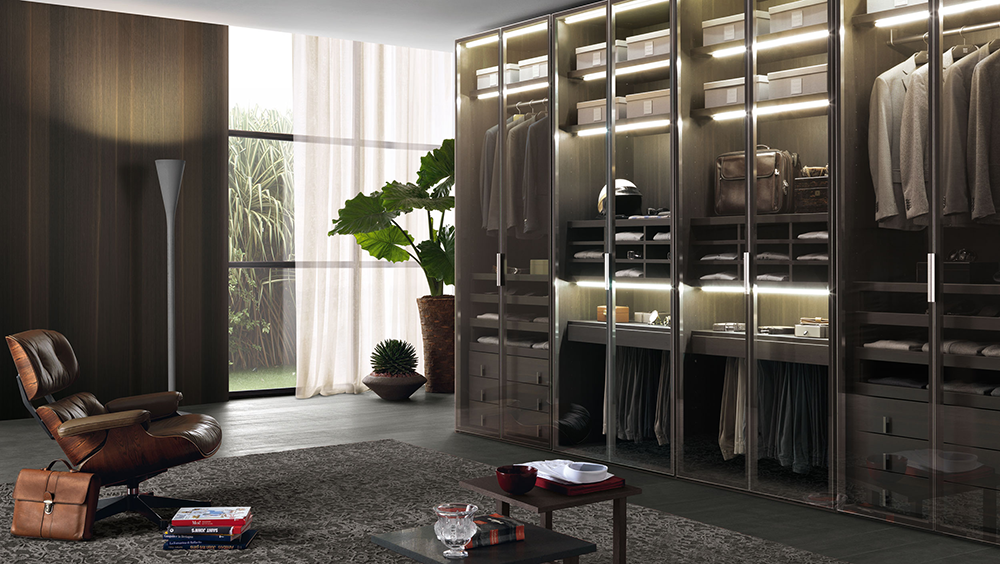 When it comes to wardrobes, Italian fitted wardrobes are considered the best, but you can have a "sartorial" product even with walk-in closets. Like Millimetrica from MisuraEmme, the walk-in closet with a wide range of customization options.
Millimetrica is a modular closet, whose contours adapt to the architectural space in which it is installed. It can adapt to any need thanks to a wide range of accessories.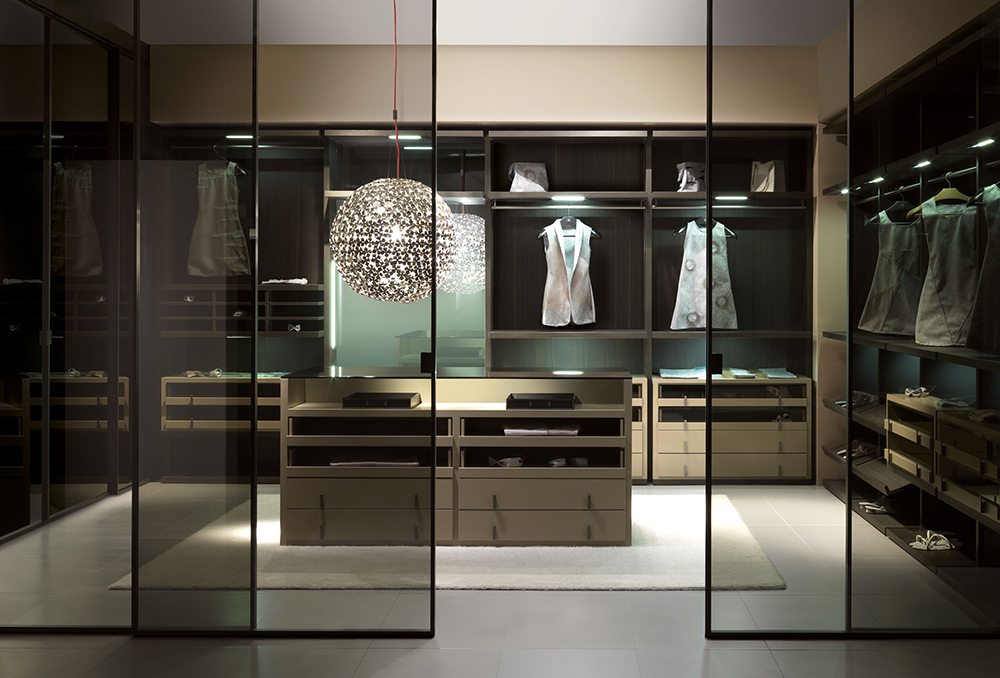 If you are looking for Italian fitted wardrobes for your home, do not hesitate to contact us. Our staff is at your disposal to support you with our design service, creating your designer Italian fitted wardrobe. If, on the other hand, you want to discover the best Italian wardrobe design firsthand, try our shopping tour. We will bring you to visit companies and ateliers where you can handpick your designer Italian wardrobe. Once you have selected the solutions for your home, our specialized craftsmen will come directly to your home to install them.
Esperiri, your interior contractor for Made in Italy.