Design your Home's Green Spaces with Landscape Garden Designers
Posted on 30 August in Travel & Design
Outdoor furniture, Outdoor living space, Outdoor Italian Furniture, Landscape Designers, Outdoor Garden Designers
Gardens and terraces can turn into magical places thanks to the work of landscape garden designers. Below is some inspiration from the projects of residential landscape designers.
Experience outdoor living thanks to landscape garden designers
For a designer home, the terrace or garden is as important as the interior. The exterior of a home is used mostly in spring and summer, but if designed properly, it can become a space to enjoy all year long.
A professional garden designer makes this a reality, acting essentially as a landscape architect while also combining an instinct for design with botanical expertise. Landscape garden designers mainly design gardens and terraces. Whether it involves country homes or city apartments, it is fundamental that the project is studied in detail so that the outdoor space can be experienced to the fullest.
The importance of the residential landscape designer's role
When you design an outdoor space, there are many factors to keep in mind: furnishings, lighting, garden paths, botanical scents, plants, and shrubbery. The landscape designer plans how these elements will be utilized, working step by step to design the outdoor space.
For a villa garden, the starting point is to determine what activities will be carried in the various areas of the space. For example, in a pool area, the landscape garden designers will have to consider the correct configuration according to the exposure to light and wind. They will then need to choose the pavement and furniture that will complete the area. There are typically many leisure areas in a garden, which generally need to be filled with greenery or bushes to maximize shade and shelter.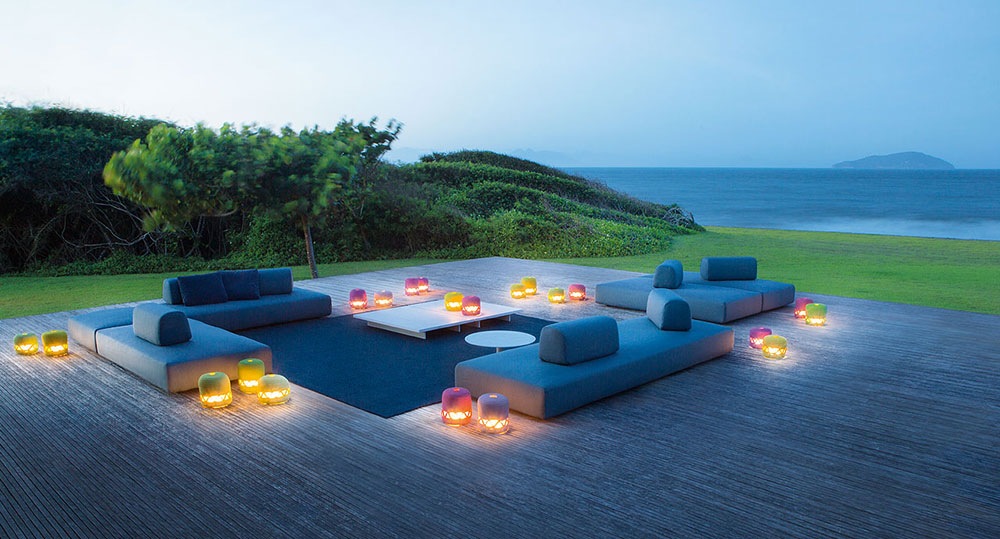 Eye-catching projects from landscape garden designers
Landscape garden designers work with all five senses. In a garden project, sight is an important sense because colors, shapes, and sizes capture one's attention. The second most important of the five senses is smell because it is what distinguishes the plants, flowers, and herbs from one another.
Even hearing is involved, such as when the residential landscape designer includes a water feature or bamboo in their design, imagining the sounds of the summer breeze blowing through them.

If you consider the famous Italian gardens of the late Renaissance or the French gardens such as the Gardens of Versailles, you will understand that landscape garden designers are of historic importance. In the past few years, this specialization has gained more traction worldwide.
Among the most famous contemporary garden designers is Piet Oudolf, who in 2011 collaborated with the architect Peter Zumthor on the Serpentine Gallery Pavilion in Kensington Gardens in London, creating a garden especially for this installation.
One of the most influential studios specializing in residential landscape design is Hollander Design studio, with locations in New York and Chicago. They designed important residences across the world, creating unique and evocative outdoor spaces for each one, such as for the projects Old Trees and Sag House.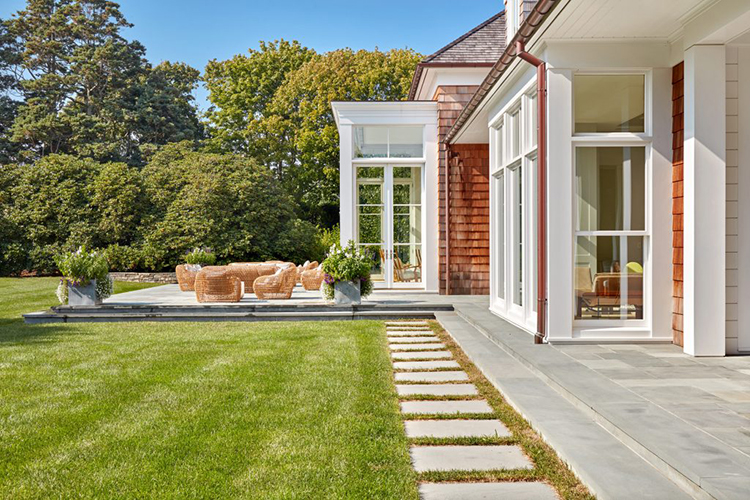 The works from the residential landscape designers of the Andrea Cochran Landscape Architecture studio in California are also intriguing. Their projects, such as the Birmingham Residence project, are interesting for how the natural aspects of the gardens interact with the architecture. It is incredibly obvious how the landscape designer and the architecture firm have been working closely.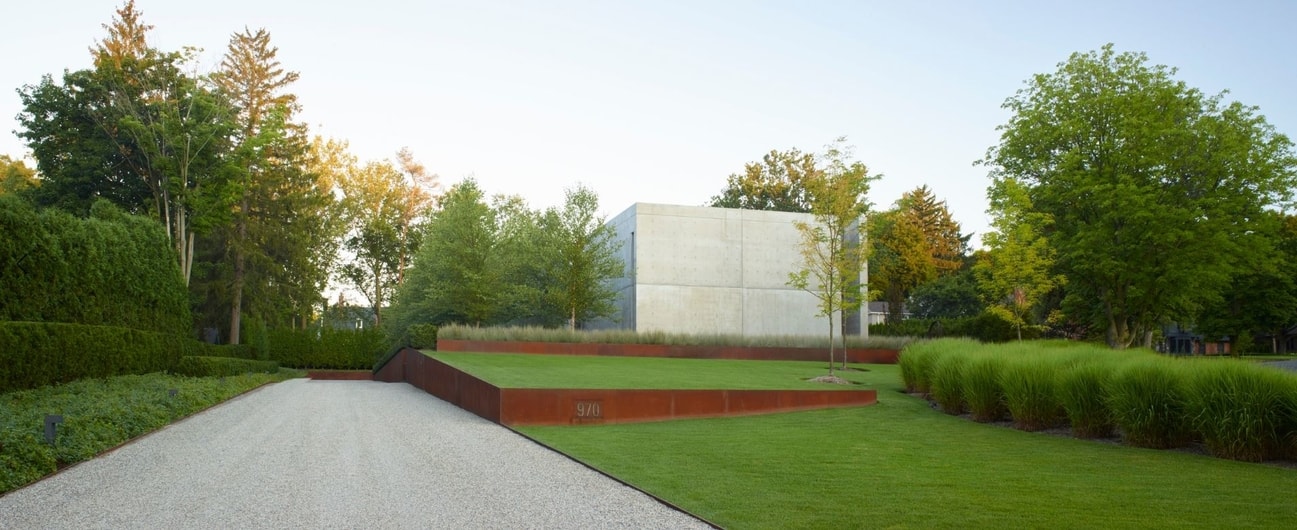 In Europe, the works of French landscape garden designer Jean Mus are very well-known. He has been in charge of many projects for prestigious villas. An exemplary work of his is a villa in Saint Jean Cap Ferrat where the Mediterranean landscape meets the minimalist architecture of the residence.
Design solutions for the garden or scenic terrace
Landscape garden designers also construct garden paths and flowerbeds and are responsible for choosing the plants. Knowing how to choose the right type of plant is a key aspect when designing a garden, as is choosing outdoor furniture.
There are plenty of options for outdoor furniture, which along with plants and flowers help create enchanting landscapes. Distinctive shaped sofas and armchairs are perfect for poolside lounging, such as Canasta by Patricia Urquiola for B&B Italia, considered a classic of outdoor design.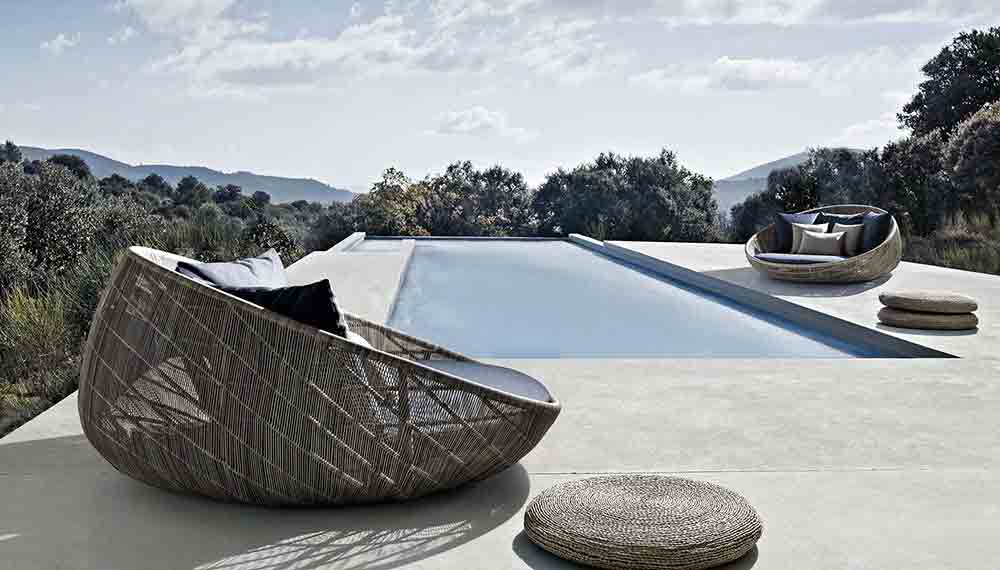 Chaise longue, deck chairs, loungers, and benches are essential components and are also suitable to furnish a city apartment terrace. There are many designer products on the market to help you create exceedingly comfortable outdoor spaces, including rugs, which are now manufactured with weather-resistant materials.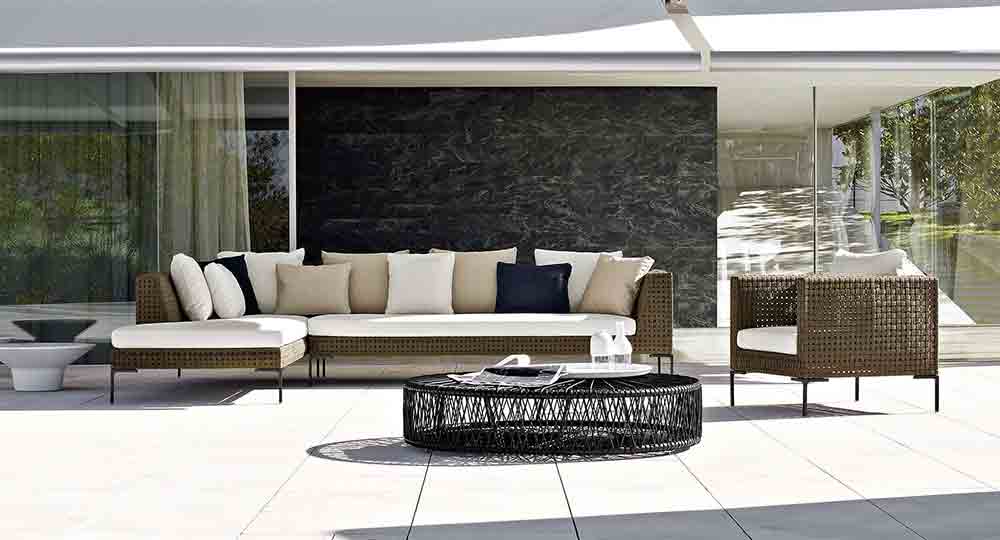 Residential outdoor in the city: an extension of the living room
Terraces and balconies also have their own special appeal when designed and furnished by landscape garden designers. These are often small and restricted spaces, so it is advisable to seek advice when choosing the right furniture.
It is also important to retain the link between the outside and the inside of the house, for example by creating a continuous passage using sliding, folding or glass doors. This helps create a stylistic unity between the living space and the terrace.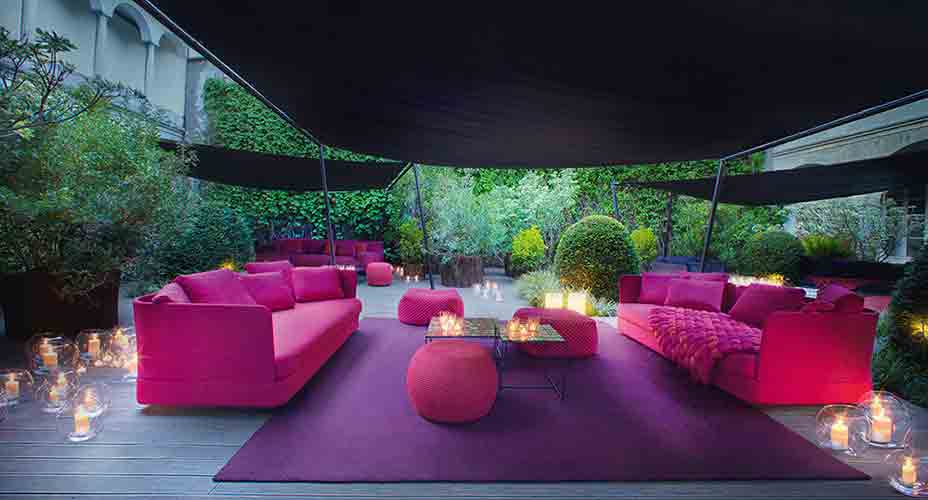 Outdoor Lighting to bring your green to life at night
If you wish to take advantage of outdoor spaces at night and enhance your garden appearance, lighting design is an important consideration. Options for outdoor lighting include floor lamps, such as Spillo from Kundalini, which have been adapted for gardens and can be installed directly in the ground and used to line garden paths.
Hanging pendant lamps are perfect for the dining area. For the lounge area, table lamps are a practical and stylish accessory, such as Lucerna from Ethimo or bellhop from Flos, which can be charged with a micro USB-C cable.

If you are trying to create a professional team for your next residential project where also garden design service is needed, do not hesitate to drop us a line. You can rely on our network of professionals.
Your unique Interior Design Project developed by Italian Professionals.
Discover and shop Made in Italy while living the Italian lifestyle in Milano.