The Best Designed Fashion Boutiques in Milan
Posted on 20 November in Milan Design Guide
Luxury Retail Design, Italian Design, Fashion Shopping Milan, Interior Design, Italian Lifestyle, Italian Showroom, Italian interior design, Retail Design, Italian Brands, luxury design, luxury shopping milan
Our guide to luxury shopping Milan-style, details where to find the best spots for high-end shopping in Milan.
The Most Beautifully Designed Spaces for Luxury Shopping Milan-Style
Discover the best spots for high-end shopping in Milan
Recognised internationally as one of the world's most important fashion capitals, Milan is a popular destination for those who seek designer boutiques and luxury brands. Neoclassical streets are decorated with them, the glamour of the city reflected on the inside where striking interiors offer complete escapism. To help you make the most of your trip our team of designers have put together a guide featuring their suggested spots with the most spectacular interiors.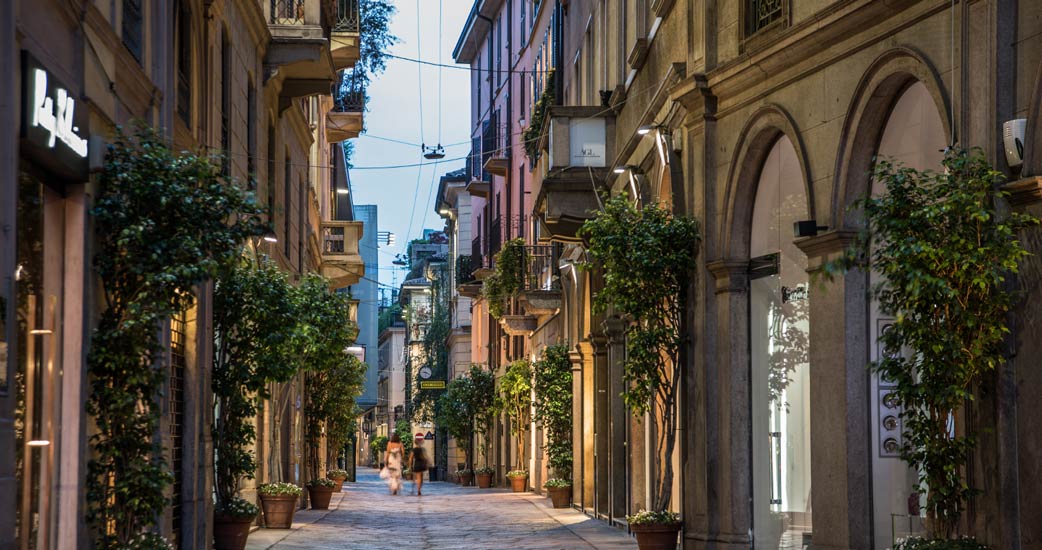 Zona Montenapoleone
First and foremost, Zona Montenapoleone, Milan's most expensive and prestigious shopping street alongside via Manzoni, via della Spiga and corso Venezia. Together they makeup the Quadrilatero della Moda – Milan's fashion district, otherwise known as the Golden Triangle.
Synonymous with the most luxurious notions of Italian style, Dolce & Gabbana has several stores in Milan's Montenapoleone area and each one is unique in its take on the brand's eccentric whimsy. Arguably It's most stylish is its Via della Spiga boutique, a space dedicated to the brand's womenswear collection.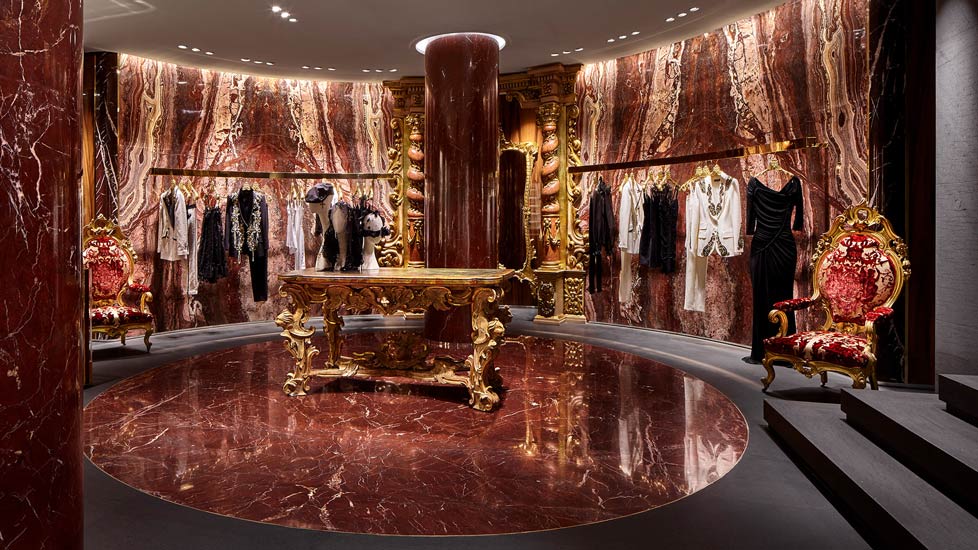 Realised in collaboration with Eric Carlson from Carbondale Studio, red jasper marble, decorative columns and furnishings pay homage to Baroque style: consoles, armchairs and mirrors reveal a decorative exuberance with a seventeenth-century flavour. Curved walls made from various materials — ranging from lacquered elm briar to deep red onyx with white and gold veins — are the backdrop for clothing and accessories including jewellery and watch collections.
Pomellato
In the heart of Milan's fashion district is the iconic Italian jewelry company Pomellato. At number 17 via Montenapoleone, the store's subtle yet utterly chic facade is a quiet invitation inside interiors that are inspired by 1960s architecture.
The store's retro charm transports customers into a dreamlike world in which materials and details find a contemporary key. Designed by Emiliano Salci and Britt Moran of Milan's Dimore Studio, the pair took a geometric approach characterised by gilded and lacquered surfaces, which evoke the jewelry boutique's sparkling pieces.
Moschino
A brand known for its irreverent and colourful style, the interiors of Moschino's via Sant'Andrea store are surprisingly monochrome, modelled on the aesthetics of an art gallery. The space features Moschino logos in giant 3D forms and shopping bags transformed into oversized shelving units.
Very much intact however, is the brand's playfulness which manifests in one of fashion's iconic collaborations with the design industry. Huge high-heeled pumps and a giant jacket purse welcome visitors, part of a capsule furniture collection made with Italian manufacturer Gufram. Also part of the series is a sofa in the shape of big red lips, which offers a welcome pop of colour.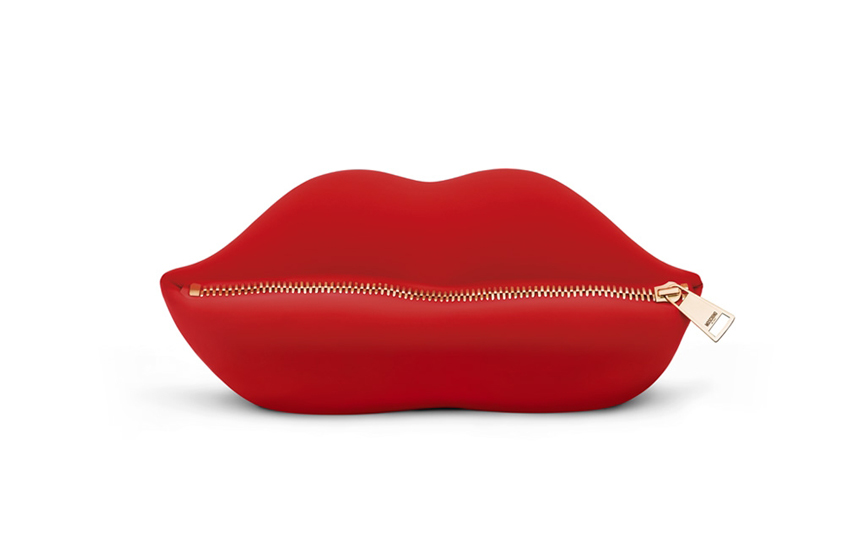 Moncler
Located in Milan's Via Montenapoleone Moncler covers four stories over a total of 8640 square feet. The store is one of the largest flagship stores in the world, spread over four floors connected by a large spiraling staircase combining black metal and Montecristo marble.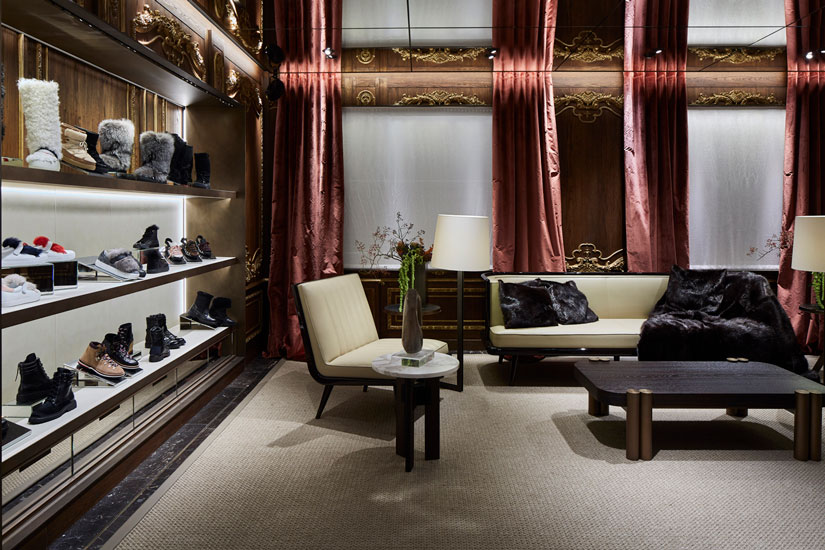 Interiors are inspired by the genius loci, the guardian spirits of Milan. This can be seen in a heightened use of symmetry, as well as geometric references drawn from the rationalism and classicism of the '30s and '40s. At the same time, spaces feel warm and inviting, conjuring the charm of a mountain chalet infused with urban flare. The architectural concept is once again the work of French studio Gilles & Boissier.
Valextra
A store that constantly reinvents itself, you're sure to discover something unique at Valextra. The Italian accessories brand located in Via Manzoni is by tradition, handed over to a different architect or designer every year, merging its luxury leather products with the worlds of design, art and architecture.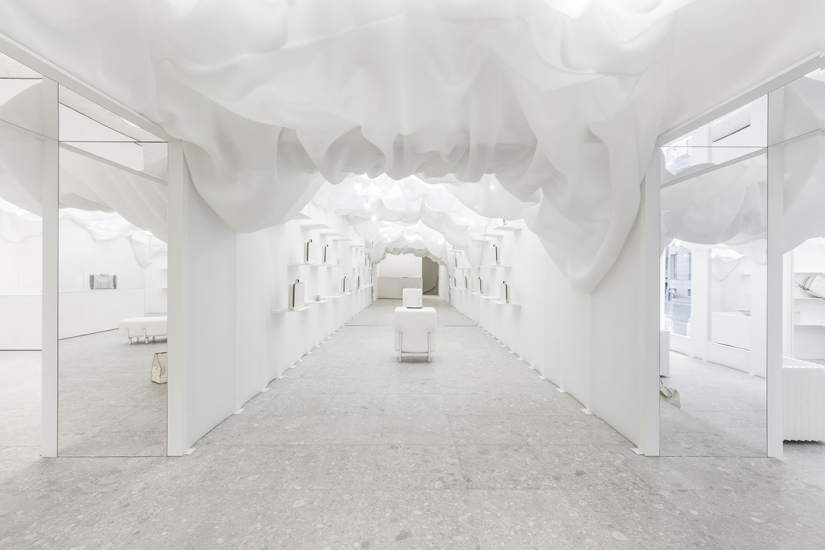 Recent interventions have included a billowing all-white pop-up by New York-based practice Snarkitecture, a magical urban woodland by Japanese architect Kengo Kuma and a minimal interpretation on the store's interiors the way only British architect John Pawson could. Most recently, it tapped Italian silk-maker Ratti for an installation consisting of ten sails printed with colorful graphics and retro motifs.
Earlier this year, Giorgio Armani reopened the doors of its historic boutique on via Sant'Andrea which first opened back in 1983. Inside, a checkerboard floor in marble and onyx connects spaces separated by platinum-colored doorways with mother-of-pearl profile and silk wall coverings.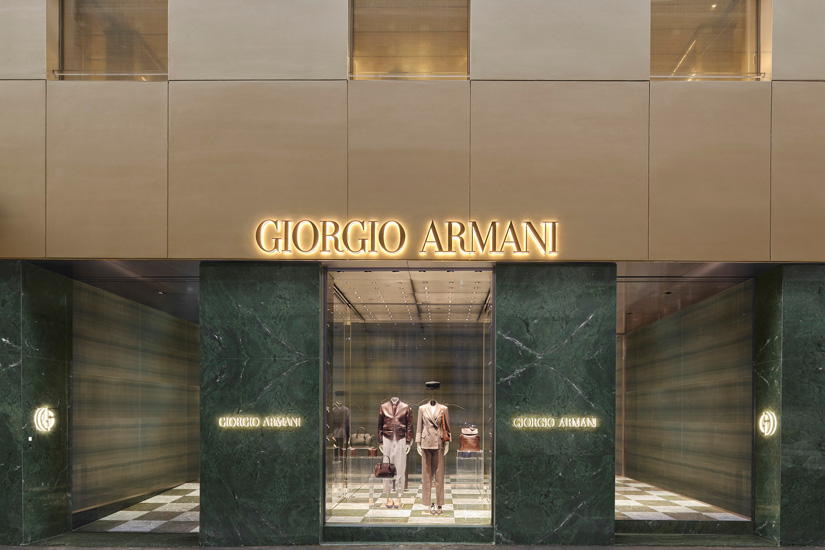 You'll find special objects from Armani/Casa, the brand's line of home furnishings, in a palette of eucalyptus and platinum tone metallics looking to the elegance of the 30s and 40s. Tables in pear wood and mother-of-pearl, inlaid by hand by Italian artisans, bring an added touch of sophistication.
Stuart Weitzman
Finally, a virtual visit to Stuart Weitzman just a few steps away from Giorgio Armani. The store, which closed last month, had a special architectural value having been designed by starchitect Zaha Hadid. The 3,000-square-foot flagship is a playful dialogue of geometries capturing the signature style of the iconic practice.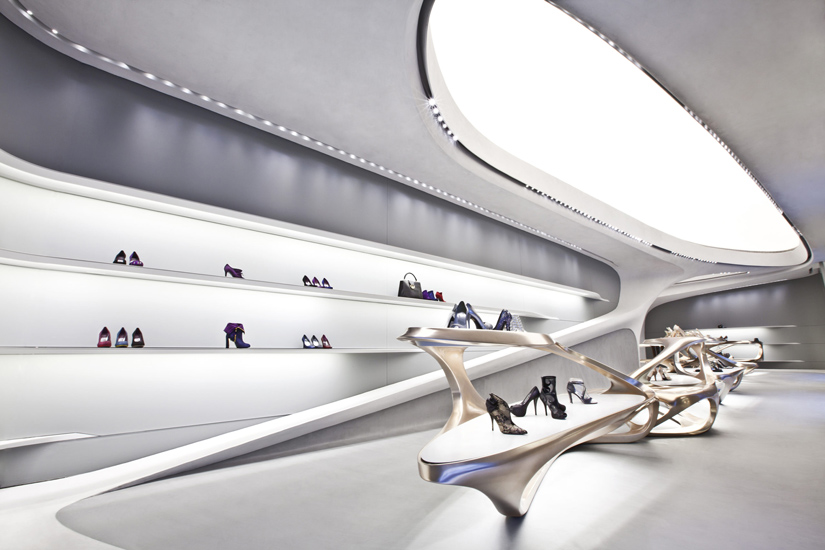 A rhythm of folds and recesses frame display units showcasing the brand's shoe collection. The boutique is largely futuristic, its spatial experience executed with a palette of subtle monochromatic shades. Meanwhile, Italian designers Pollice Illuminazione illuminates products with strong white lights recessed into the ceiling.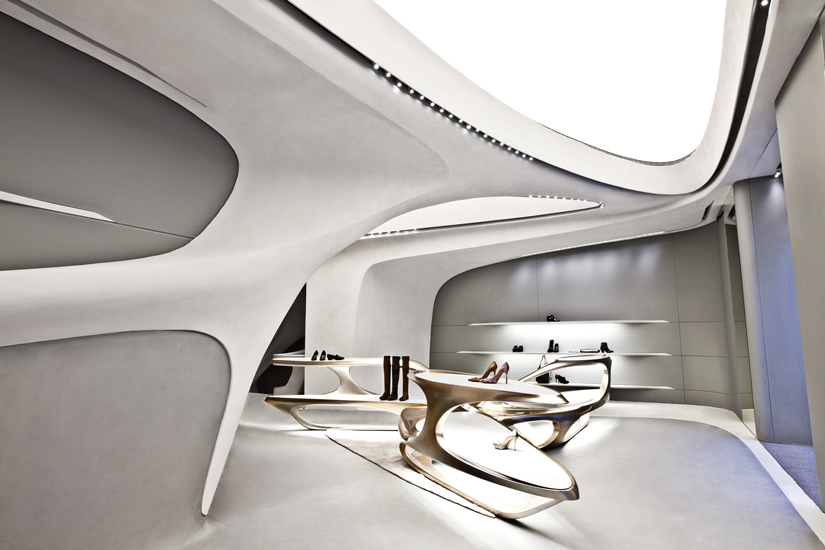 Luxury Shopping Milan-Style in Brera
Zona Castello / Brera
A welcome departure from il triangolo d'oro, the narrow streets of Milan's Brera district lend themselves to the bohemian atmosphere and cozy ambience it is known for. Unique boutiques enhance enchanting surroundings in the artistic heart of the city where high-end shopping in Milan comes alive.
Antonia
Multi-brand boutique Antonia is a must-see if not for its diverse offering of designer brands then for its stunning interiors. Situated within the historic Palazzo Cagnola, the store strikes a balance between past and present with pieces set against a backdrop of marble, glass, mirrored surfaces – and crumbling plaster.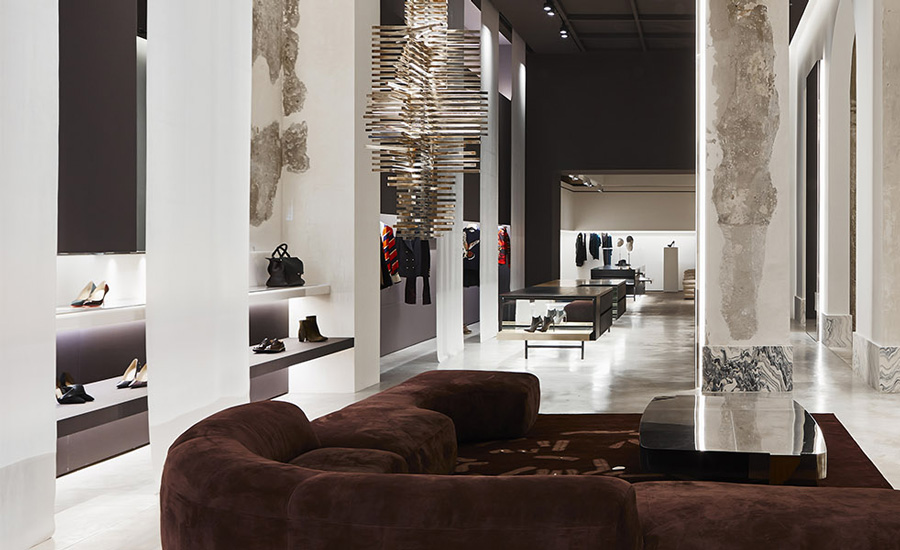 The design is a collaboration between the fashion guru Antonia Giacinti and the architect and designer Vincenzo De Cotiis. In this neoclassical setting, chic spaces set the stage for capsule collections and special projects in partnership with Off-White, Alexandre Birman and Francesco Russo, just to name a few.
La Tenda
An ever changing display of window boxes highlights emerging talent at La Tenda, the historic Milanese women's prêt-à-porter boutique located on via Solferino. During the year different artists and designers are invited to stage their own micro exhibition merging their style with the world of fashion.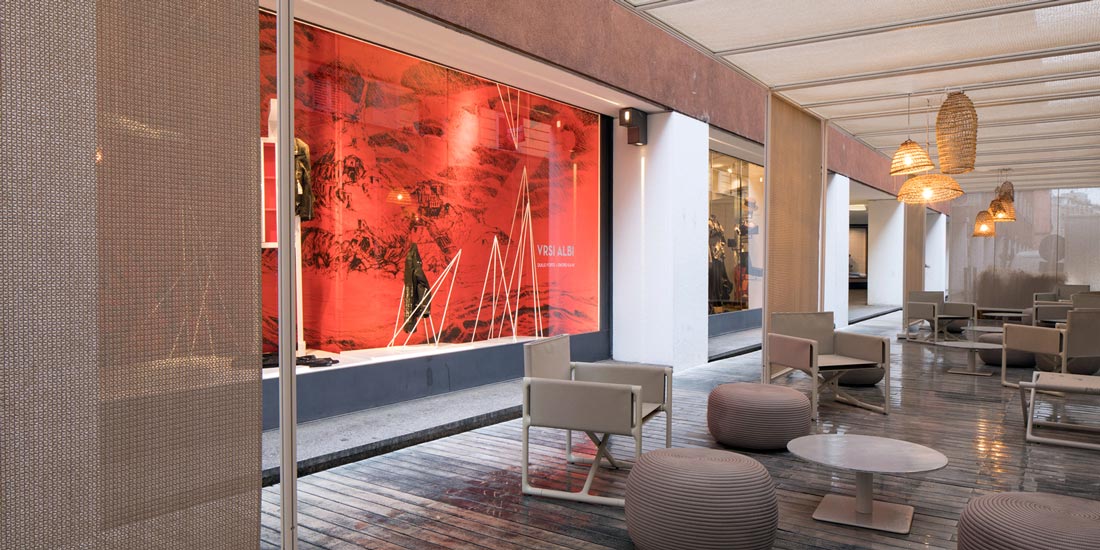 The store and its windows also serve as a backdrop for the brand's annual collaboration with Paola Lenti. During Salone Del Mobile the Italian design company interprets La Tenda's aesthetic codes to create furnishings and its own creative window concept.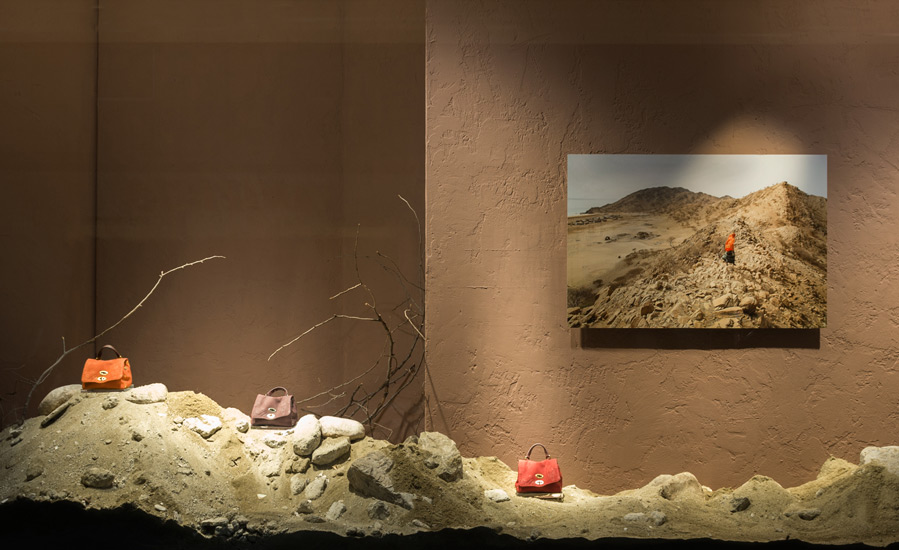 Galleria / Duomo
Another place you should visit in Milan of course, is Galleria Vittorio Emanuele II and the Piazza del Duomo area in which it is located. The Galleria Vittorio is one of the world's original and oldest shopping malls – and it's the place to shop in Milan and, perhaps the whole of Italy. Louis Vuitton, Gucci and Versace are just a few of the Italian fashion brands that take center stage in the Galleria.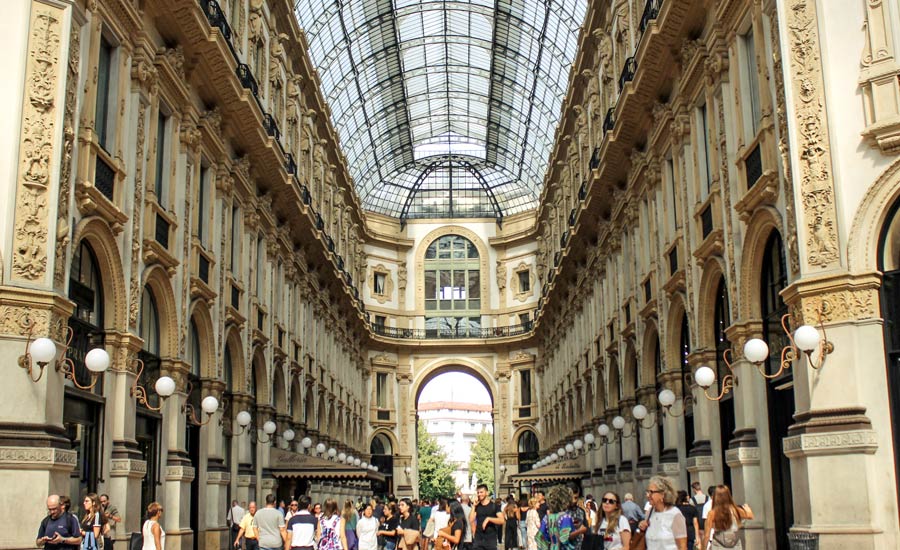 Prada has served the fashion industry as a celebrated icon since 1913, when it opened its doors inside the prestigious glass-covered structure. In 2014, the fashion house helped to restore the Galleria Vittorio Emanuele II as part of a project in collaboration with Versace and the contribution of Italian publishing company Feltrinelli.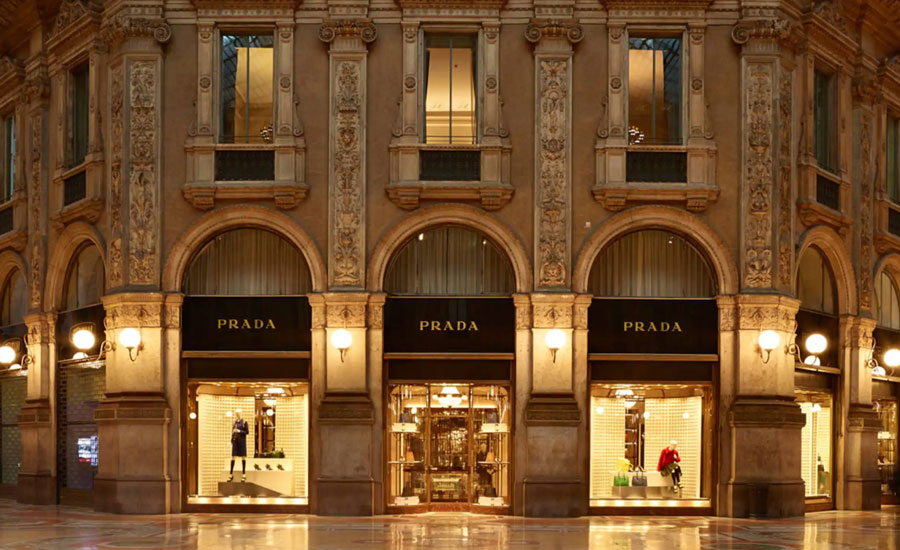 The store has kept its historic charm displaying pieces on the mahogany shelving units – the very ones that Mario Prada specially commissioned a British architect to design and produce. Its black and white checkered marble floor has gone to inspire other Prada stores around the world.
The opportunities for luxury shopping Milan can offer are unique because Milan is home to some of the most famous brands in the world, a desired city where exemplars in craft and design sit hand-in-hand. If you would like to understand more about the made in Italy industry or you are inspired by the interiors of the city's most stylish shopping spots our team can help.
As part of your visit to Milan, a personalised furniture shopping tour is perfect for such an occasion. We can organise a tailored experience including visits to Italian laboratories and ateliers to choose the products for your home. Logistics and installation performed by our experienced Italian craftsmen are part of our end-to-end service offering.
Your unique Interior Design Project developed by Italian Professionals.
Discover and shop Made in Italy while living the Italian lifestyle in Milano.