Modern Italian Bedroom
Posted on 10 July in Italian Home Design
Italian Design, Interior Design, Italian interior design, Italian Luxury Surfaces, Italian wardrobe design, Italian Furniture, Italian designer bed, Modern Italian Bedroom
Our team of interior designers is pleased to present you a new piece of our Italian Home Design column entirely dedicated to the modern Italian bedroom design. Through three proposals we will show you how to create your Italian modern bedroom furniture composition with an authentic Italian modern style.
Home inspiration: modern Italian bedroom design
Designing your own bedroom starts from an initial but also essential consideration: finding that balance between materials, furniture and accessories able to offer the highest degree of comfort. This is because the bedroom is the most intimate and private area of the house, it is the environment in which our personality manifests itself in full. It must be a room where you can always feel good, where you can experience a feeling of security and well-being. So it is necessary to create a moodboard of materials and furnishings that can best express your stylistic tastes and desires.
Our interior designers have got back into the game again by creating three modern Italian bedroom design compositions, each with its own character, look&style. Three concepts designed to inspire you and to show you the final result of a bedroom designed with materials and furniture entirely made in Italy.
Italian modern bedroom furniture & styling. Three concepts in comparison.
"Your home should tell the story of who you are and be a collection of what you love".

Nate Berkus
A particularly good statement when it comes to the bedroom. Which room if not this one must be able to fully express our "story" and our way of being?
Inspired by this concept and the idea of creating a guide on how to furnish the bedroom with a modern and minimalist style, we thought of three moodboards and colour compositions, each with its own characteristic trait and with a different price positioning.
A delicate mix of colors, often neutral shades with gold accents or dark finishes, simple and essential geometries, minimal lines and well-calibrated thicknesses are just some of the features that we will show you in this modern Italian bedroom design tour.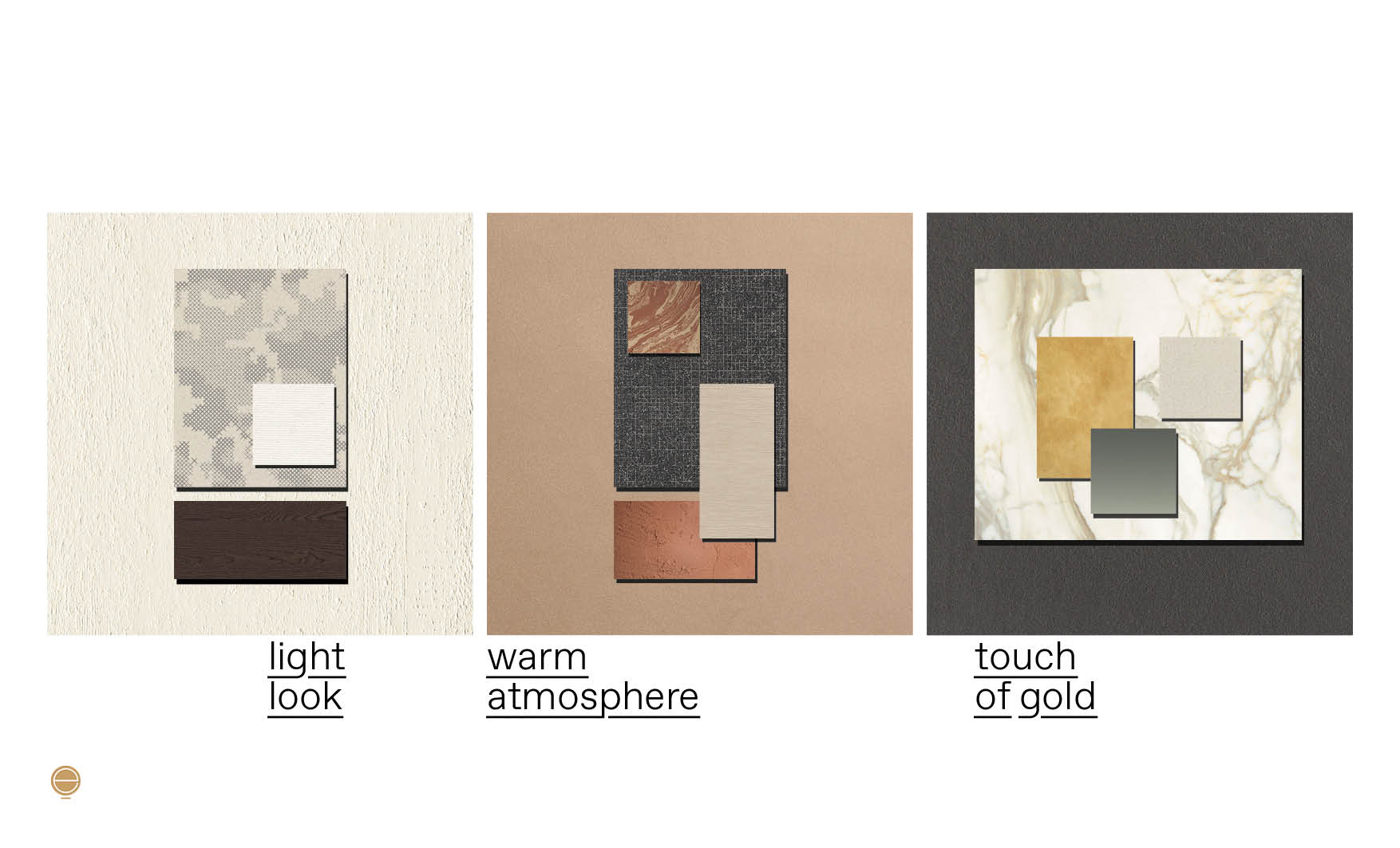 Modern Italian Bedroom Design #1: Light Look
In this first hypothesis of modern Italian bedroom design our aim was to create a room where light and neutral tones prevail, enriched by elements and details in dark wood and gold. The final result is a bright bedroom with a relaxing atmosphere.
The surfaces of the room are characterized by minimal textures, like the Asami wallpaper by Wall&Deco used for the wall behind the bed or the Cover ceramics by Mutina of the floor, personalized by geometric and regular patterns.
The search for a minimal look continues in the composition of Italian modern bedroom furniture. In this case too, neutral shades prevail, but they are embellished with dark oak surfaces and details, such as the Casper side tables by Molteni. The geometric and essential shape of these furnishing elements perfectly matches the square design of the Tahiti bed by Orizzonti Italia, creating a rigorous and striking overall vision. The purity of form is also found in the choice of the lighting elements by Penta: from the Tosca table lamps to the Tessuto Sospensione lamp, the final effect is a warm light filtered by the fabric of the lampshades which invades the whole room.
As far as the walk-in closet is concerned, we chose the Porro Walk-In Closet a really minimal and light solution whose characteristic traits are the essential lines of the aluminium structure covered with an eucalyptus wood-effect finish.
The price positioning of this solution of Italian modern bedroom furniture is around 28.000 euro.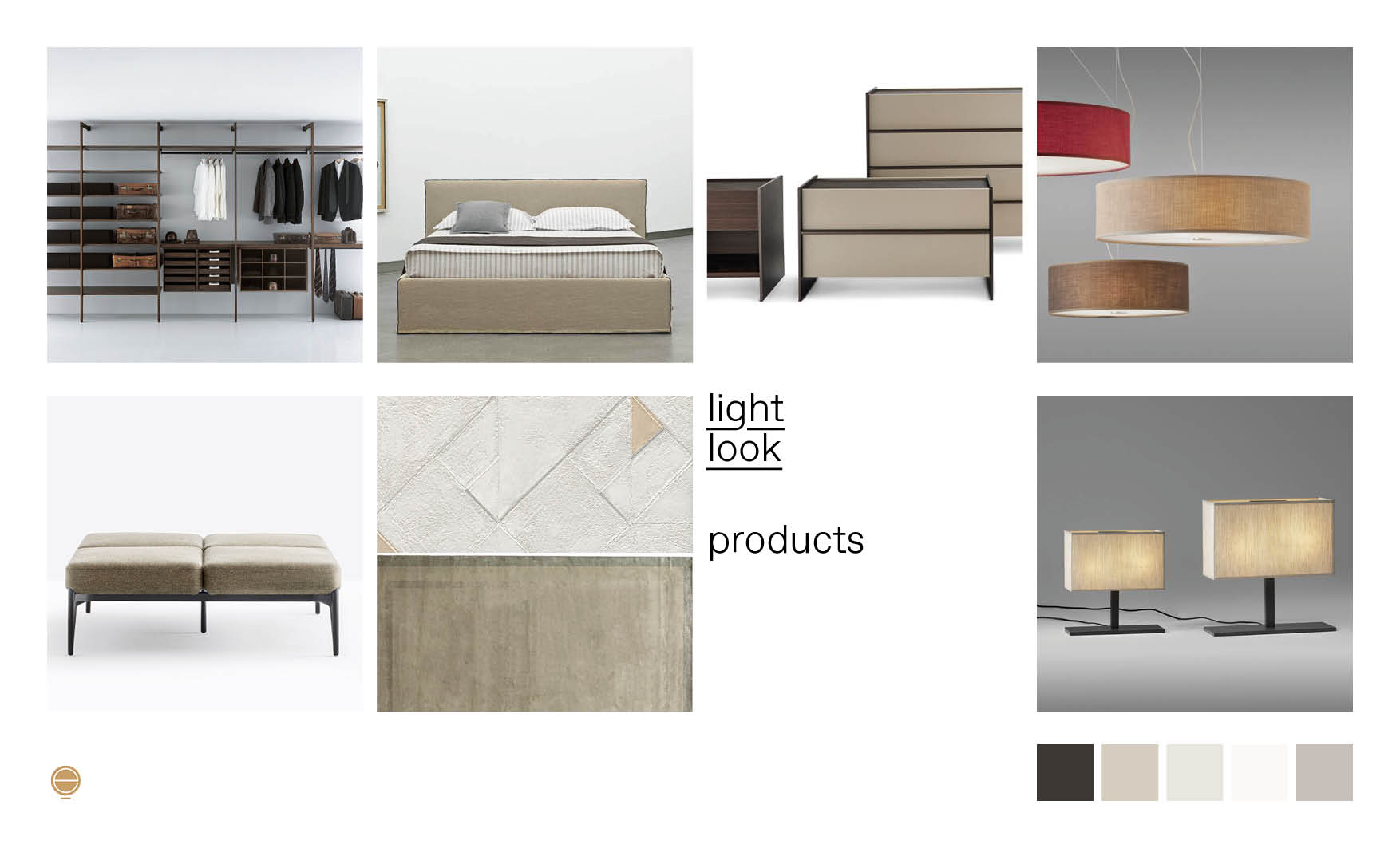 Italian Modern Bedroom Furniture Concept #2: Warm Atmosphere
We change nuance for a completely different atmosphere. What we have tried to achieve in this second hypothesis is a bedroom with warm tones. The colour palette is in fact enriched with earthy colours, such as brick, sand, beige, golden brown and turtledove.
For this reason the choice of the wall covering behind the bed fell on Dechirer XL by Mutina color Havana, a ceramic surface characterized by minimal and highly decorative bas-relief designs. The light parquet floor by Mardegan Legno, with its amber veins, and the ivory-coloured Classic Matrice carpet by Kashtall also contribute to creating a warm and welcoming atmosphere.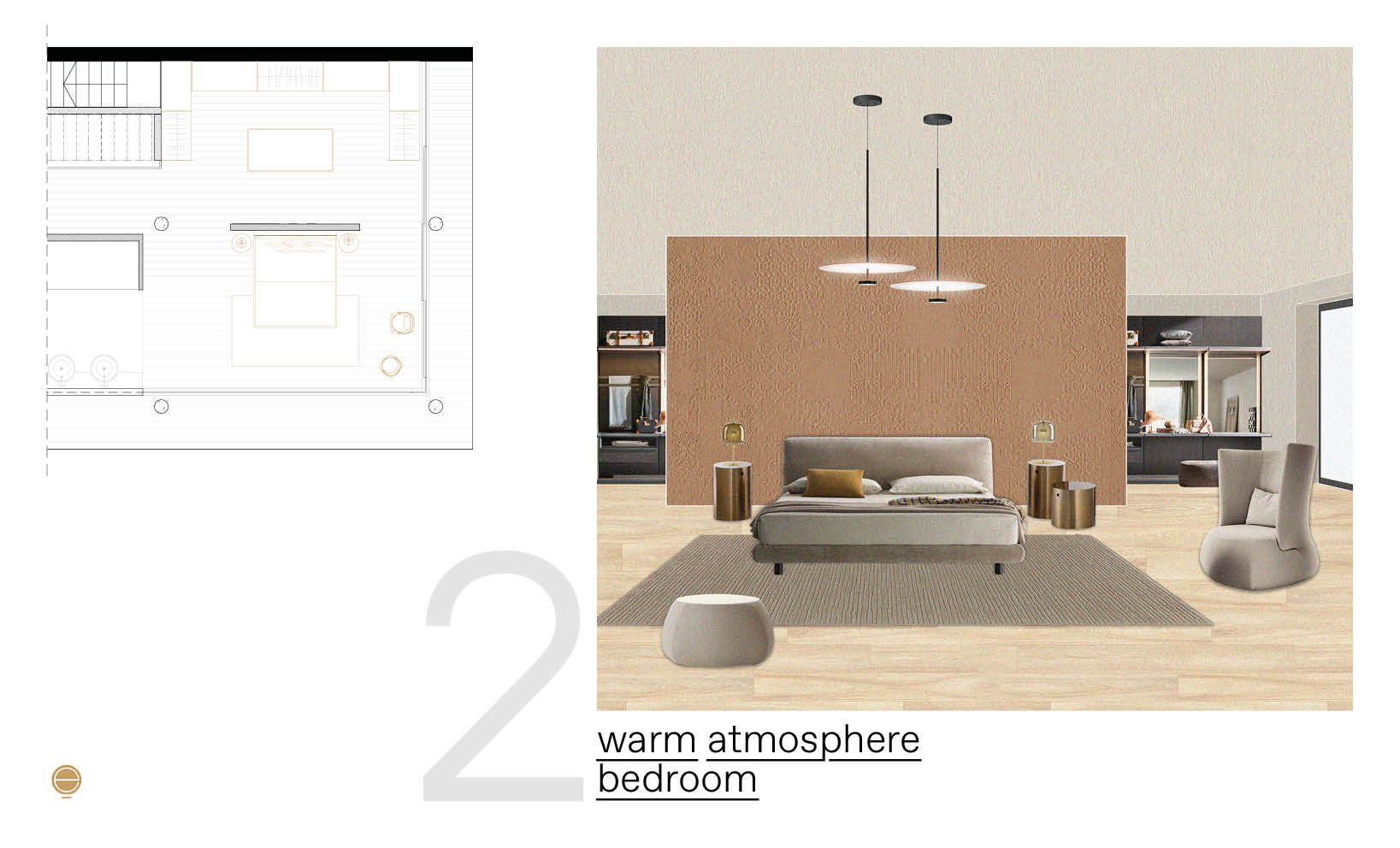 The Italian modern bedroom furniture composition starts from the idea of searching for elements with soft shapes. For this reason the choice of the upholstered bed falls on Overtime by Ivano Redaelli, characterized by a rounded base structure and padded headboard. The armchairs and poufs of the Fat Sofa collection by B&B Italia also feature a soft, curvilinear design, perfectly integrated with the general style of this second hypothesis of modern Italian bedroom design. The circular figure is another recurring element that we find both in the design of the bronze Thais bedside tables by Ivano Redaelli and the Flat hanging lamps by Vibia.
Completing the furnishings of this second bedroom is the Master Dressing walk-in closet by Molteni&C to which the central Gliss Master island-chest of drawers has been integrated. It is a walk-in closet with a strong technological character thanks to the presence of LED lights that run along the profiles of the various internal components and the innovative Fine Grain backrest texture.
The price positioning of this Italian modern bedroom furniture solution is around 45.000 euro.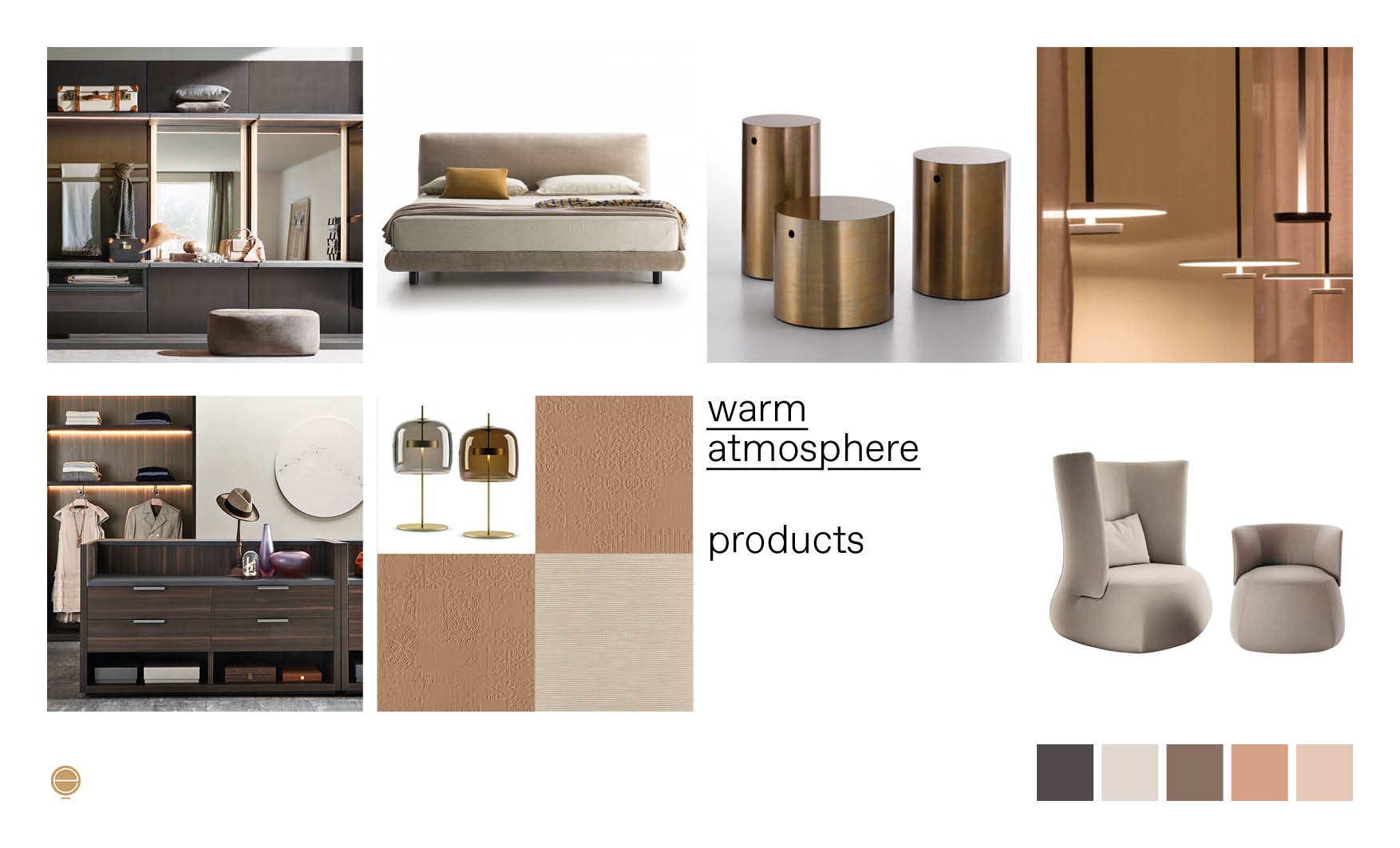 Modern Luxury Bedroom Concept #3: Touch of Gold
Last but not least we present our third solution of modern Italian bedroom design. A space that is completely open and left free, where the elements that separate the bed area from the dressing room are simply transparent sliding doors or a very high headboard. What makes this hypothesis precious are the gold details present in most or all of the furnishing elements and in the materials chosen for the coverings. Budri's calacatta marble floor, with its gold veins, creates a play of references with the golden nuances of the furnishings, from lighting elements to armchairs and sliding doors.
This preciousness leads the third hypothesis to a higher price positioning around 65.000 euro.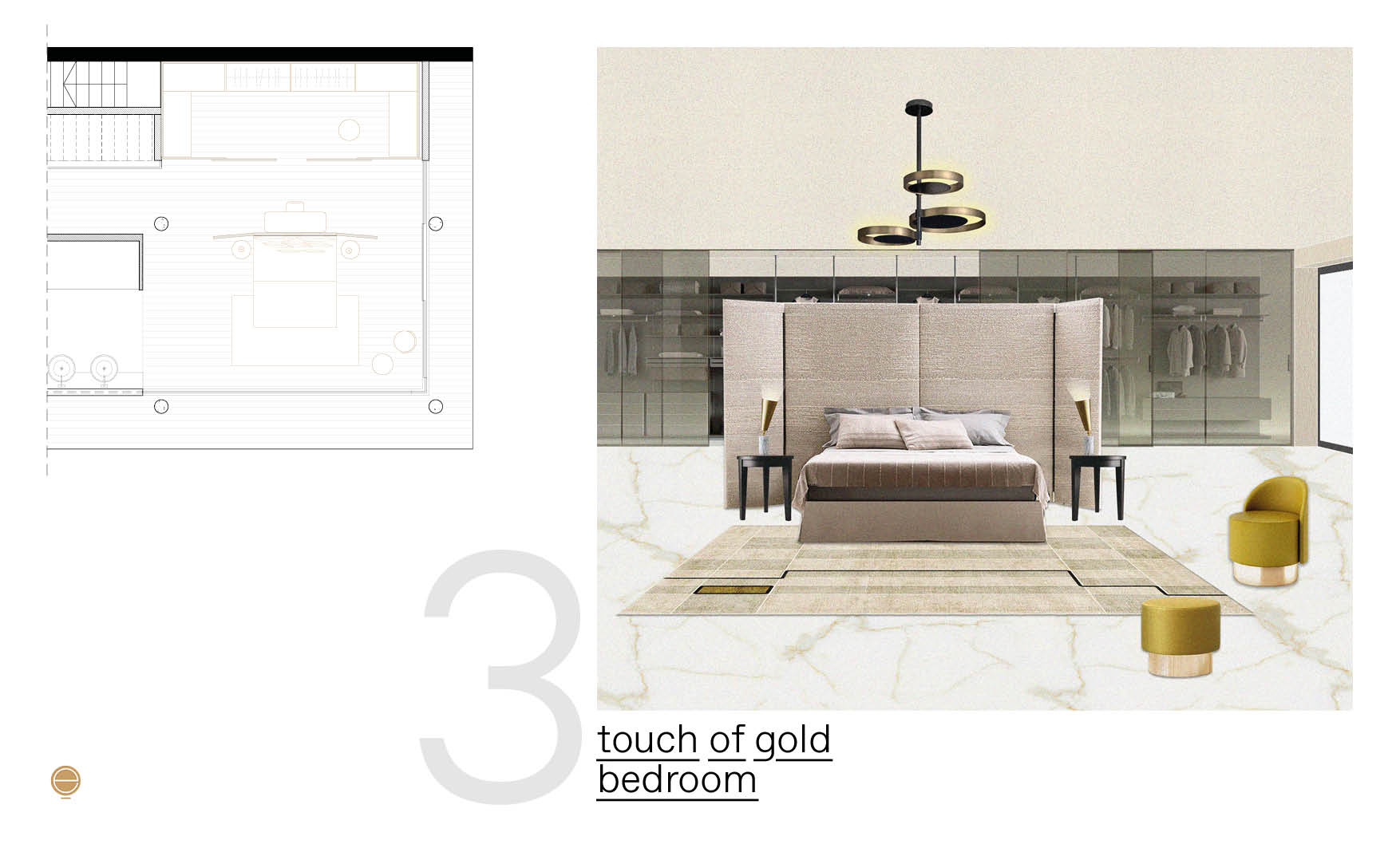 In this third hypothesis of Italian modern bedroom furniture "elegance" is the watchword. For this reason the choice of the model for the walk-in closet fell on Abacus Rimadesio, sophisticated, minimal and essential both in the structure and in the design of all its internal accessories. To separate the walk-in closet from the rest of the bedroom, Velaria sliding doors, also by Rimadesio, have been inserted with full height doors, transparent and with golden reflections.
The Dike bed by Maxalto with a very high and folding headboard was combined with the Stewart nightstands by Meridiani, the Face Reloaded rug by Sirecom with gold details and the Vox table lamps by Tato. Behind the bed headboard we also placed the Duncan console by Ivano Redaelli and the Elettra chair by Arflex, to offer an additional desk inside the room. But the real touch of class and colour accent to this Italian modern bedroom furniture composition is given by the Pastilles armchairs by Tacchini, with mustard-coloured upholstery and brass base.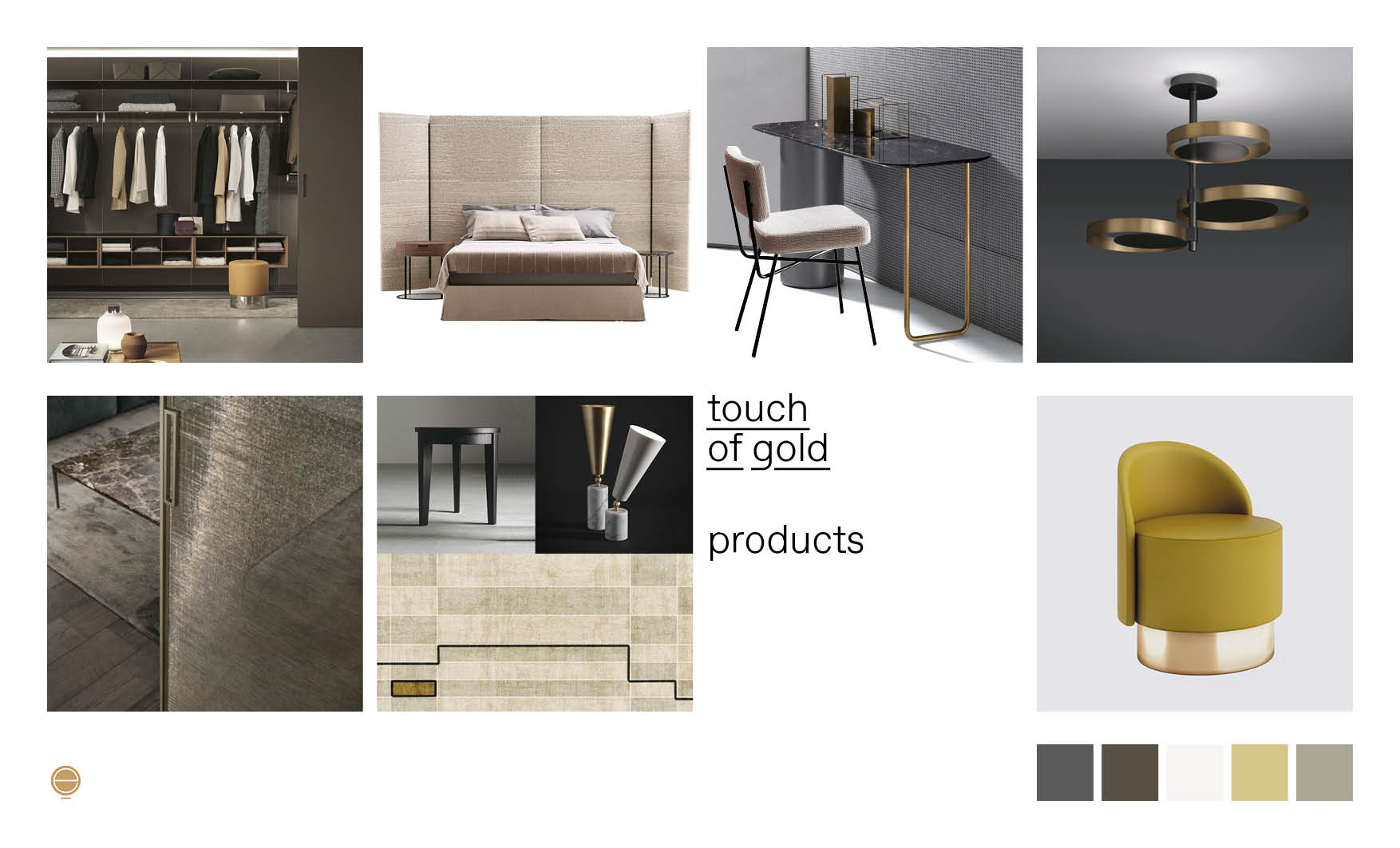 Here are our three proposals of modern Italian bedroom design. Do you feel inspired? Thanks to our Italian interior design service you can start a unique adventure in the world of Italian design with us. Our interior designers and experts in the field are ready to accompany you step by step during all the phases of creation and implementation of your interior project, from the first consultation to the shipment and assembly on site of the furniture selected by you, thanks to our Italian Furniture Selection & Supply services.
If you are looking for new experiences and you are curious to see Italian design live, we will organize an exclusive Shopping Tour, guiding you through the most exclusive Italian design districts and showing you the pieces of furniture best suited to your needs.
Finally, technology, combined with our strong passion, has allowed us to create an Italian Interior Design Online service, so that we can reach you wherever you are and offer you our expertise and advice for your design project.
Your unique Interior Design Project developed by Italian Professionals.
Discover and shop Made in Italy while living the Italian lifestyle in Milan.