The 10 Best Interior Designers in Melbourne
Posted on 06 May in Travel & Design
Italian Design, Interior Design, Italian Lifestyle, Italian interior design, Residential Design, luxury design, interior design services, top 10 interior design, Online interior designers, luxury interior designer australia, luxury interior designer melbourne, best interior design firm australia, best interior design project australia, luxury design melbourne, luxury furniture australia
A showcase of the best interior designers Melbourne has to offer. Discover top interior designers in Melbourne.
Discover our round-up of the Best Interior Designers from down under
From modern high-rises in South Yarra to heritage Victorian worker's cottages in Melbourne's inner suburbs, one thing unites architecture across the city – beautiful spaces. The coastal capital is the centre for creativity in Australia and the Asia Pacific region with a vibrant and growing design scene attracting home-grown talent and international designers alike.
To tell you about some of them, we have selected the country's most beautiful design spaces and the top interior designers Melbourne has to offer.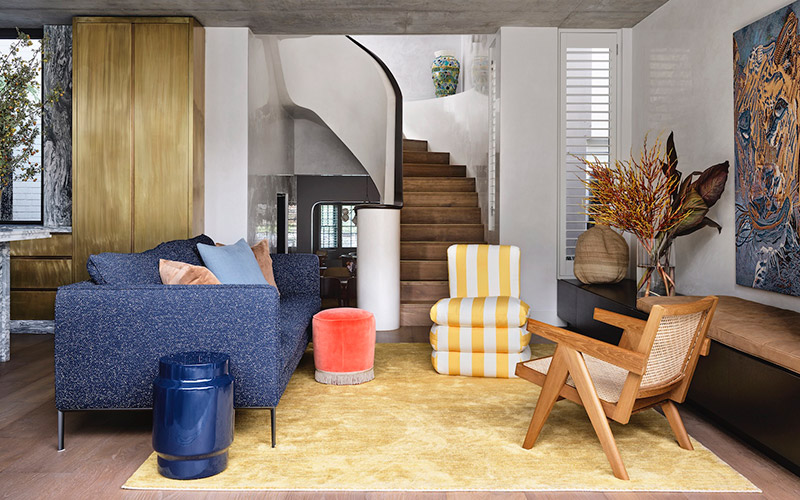 Eclectic Style and Italian Quality: our Selection of the Best Australian Interior Designers
FMD Architects
Founded in 2005, FMD Architects is an architectural practice with extensive experience across boutique commercial, hospitality and residential work. For the most part the studio's projects merge interior design and architecture, like in Split House, a 1,937-square-foot home composed of two very distinct aesthetics.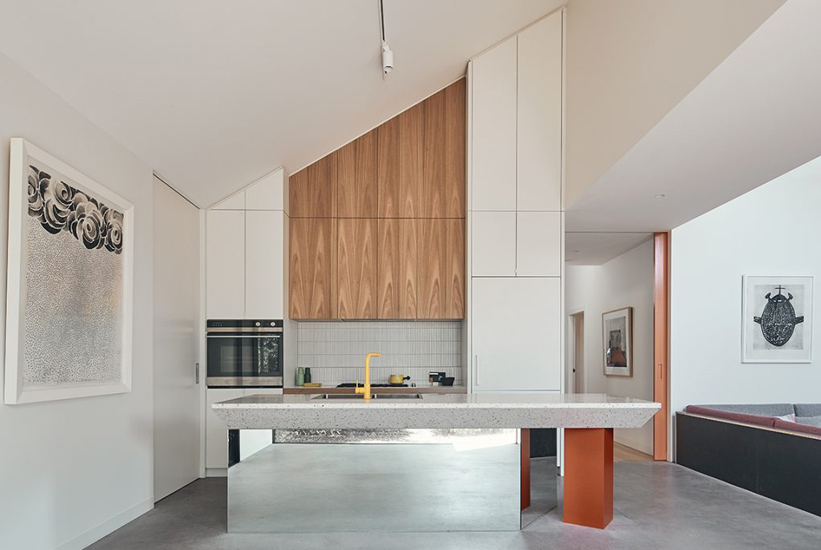 A modernist extension to an existing Melbourne cottage, bright contemporary interiors featuring polished concrete floors and timber detailing are in stark contrast to the black steel canopies and timber frames that define the exterior.
Carr
Since 1971, Carr has grown from an architecture and interior design studio of less than ten people to an award-winning practice of over forty people. It's considered approach has led to international acclaim for a series of projects, including Peninsula House, a contemporary reinterpretation of a modern farmhouse in Victoria's Mornington Peninsula.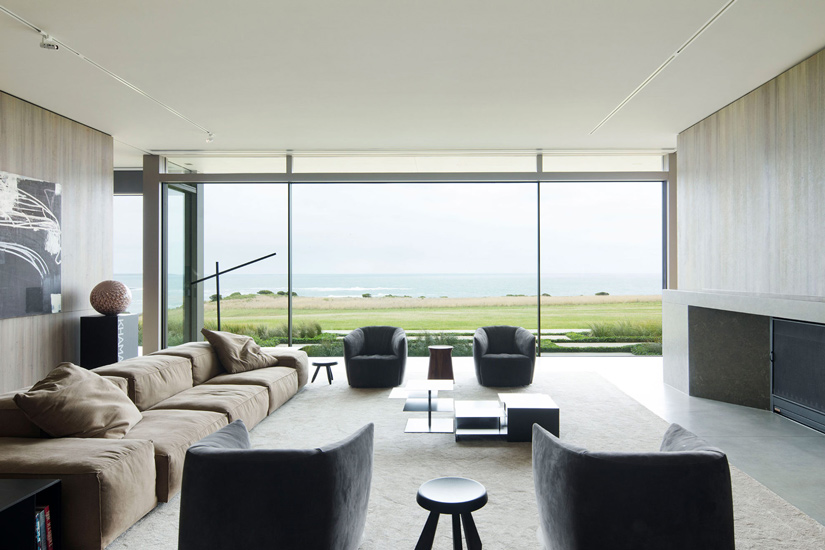 Inside generous, timber-clad volumes are light-filled interiors decorated with contemporary Italian furniture. In an informal living room, the Myworld sofa by Philippe Starck for Cassina echoes the colours of the ocean, together with the Patricia Urquiola-designed Husk dining chairs from B&B Italia.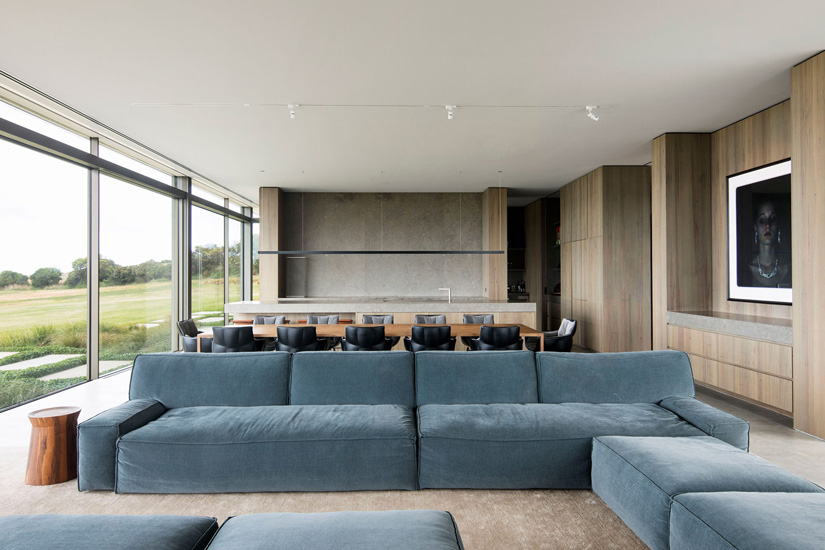 Meanwhile, a limited palette of only three primary materials – warm timber, natural stone and concrete floors – lets the modern, gallery-like space speak for itself.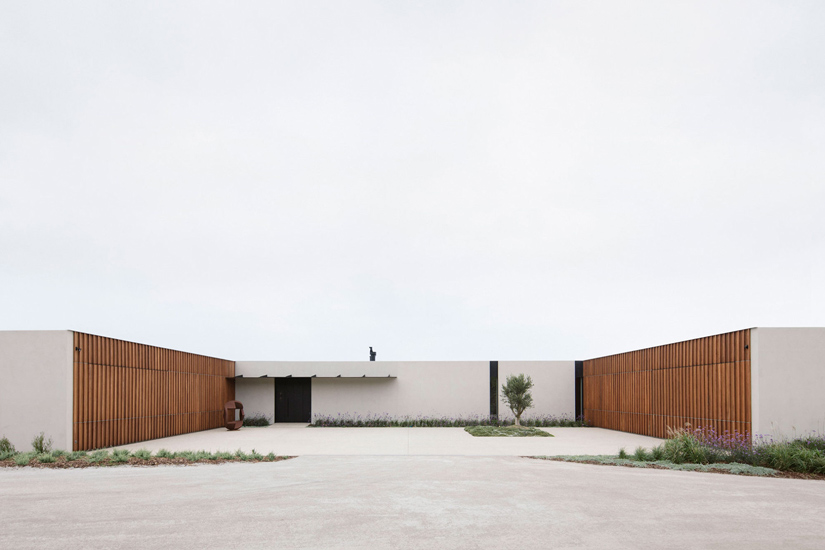 Flack Studio
Flack Studio is a multi-disciplinary practice of designers and architects grounded in research and driven by passion. In the six years since it was founded, the practice has made a name for itself delivering supremely elegant contemporary interiors with a respect for the past.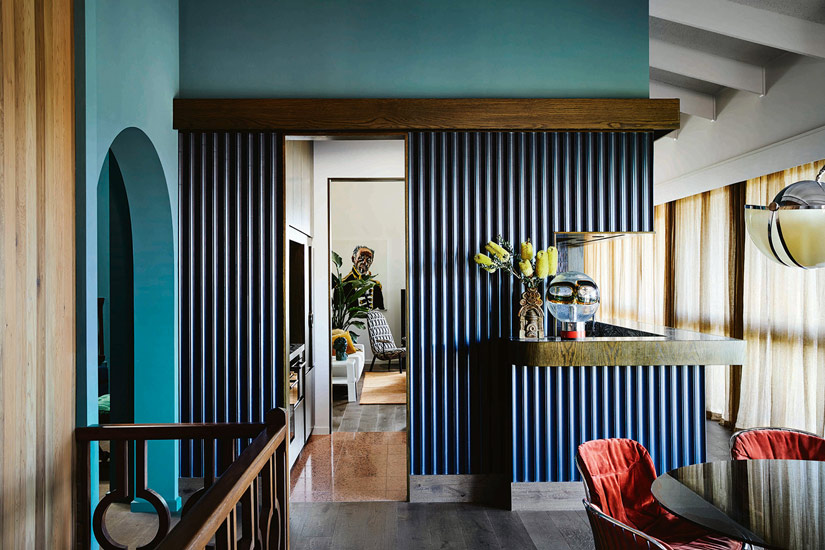 The Ivanhoe Residence comes to mind, a 1970s house restored to its former glory with the help of some iconic Italian design pieces. A dining table by Luciano Frigerio and Rima dining chairs by Gastone Rinaldi are luminated by a Studio Alchimia Arc En Ciel table lamp by Andrea Bellosi and the Superstudio Oolok/Molok Arco floor lamp.
Meanwhile, through the doorway to the living room, an Arflex Leafo armchair by Jaime Hayon from Poliform Australia sits alongside a vintage Gufram cactus. Together they perfectly represent the playful expression that runs throughout.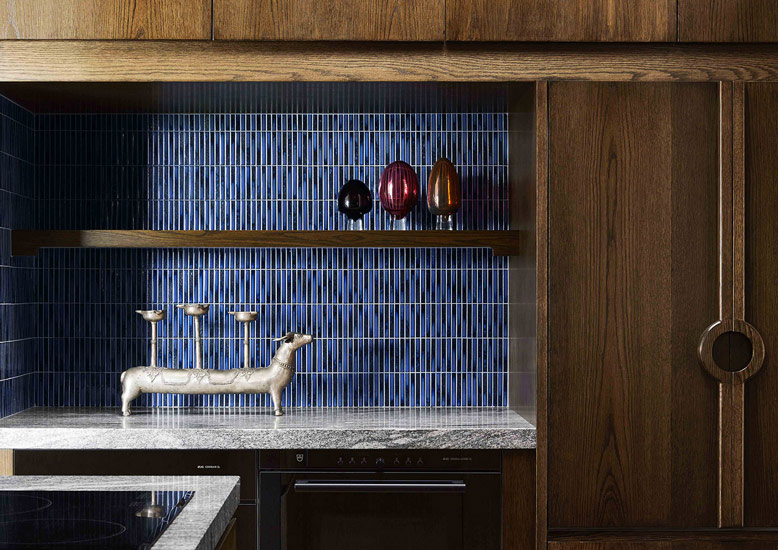 Fiona Lynch
Next is an Australian interior designer whose atmospheric creations embody a spirited minimalism. Founded in 2013, Fiona Lynch's crafted aesthetic is best demonstrated in projects like Williamstown House, a modern home that celebrates texture and hue in often italian-inspired home decor.
In the kitchen a Kartell Shibuya bowl designed by Christophe Pillet provides a pop of colour, and in the dining area, the tan leather of Cassina Cab chairs by Mario Bellini offers relief from a mostly monochrome interior. Elsewhere, Gerrit Thomas Rietveld's Utrecht chair for Cassina in red pops against a Neo Wall sofa by Piero Lissoni for Living Divani.
Another example is the studio's Ottawa House project where modern interiors feature a mixture of contemporary pieces including the Clerici Lounge By Konstantin Grcic For Mattiazzi. Elsewhere, minimal designs like the Captain Flint floor lamp by Michael Anastasiades for Flos are paired with reinterpretations of classic styles, in this case the chester Moon sofa by Paola Navone for Baxter.
Still searching for the Top Interior Designers in Melbourne?
StudioFour
Led by directors Annabelle Berryman and Sarah Henry, architecture collective StudioFour likes to explore opportunities to showcase landscape in every project they take on. Bourne Road Residence demonstrates their approach with architecture as a backdrop for the family's engagement with the garden.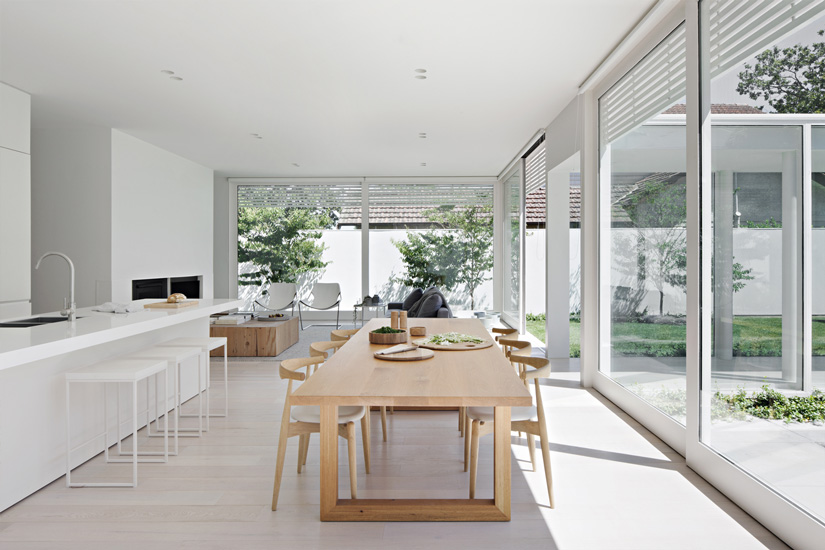 The house's public areas are completely open and connected to the internal garden, defined by all-white interiors punctuated with a palette of natural woods and vegetation.
Sibling Architecture
Founded in 2012, Sibling Architecture is a fairly young studio with a distinct take on design that feels fresh and new. The practice aims to make everyday life easier through architecture and interiors, creating spaces that are engaging, but more importantly, fun. When commissioned by an artist couple to rebuild their home, Sibling Architecture created a playground of colour and imagination to match their clients profession.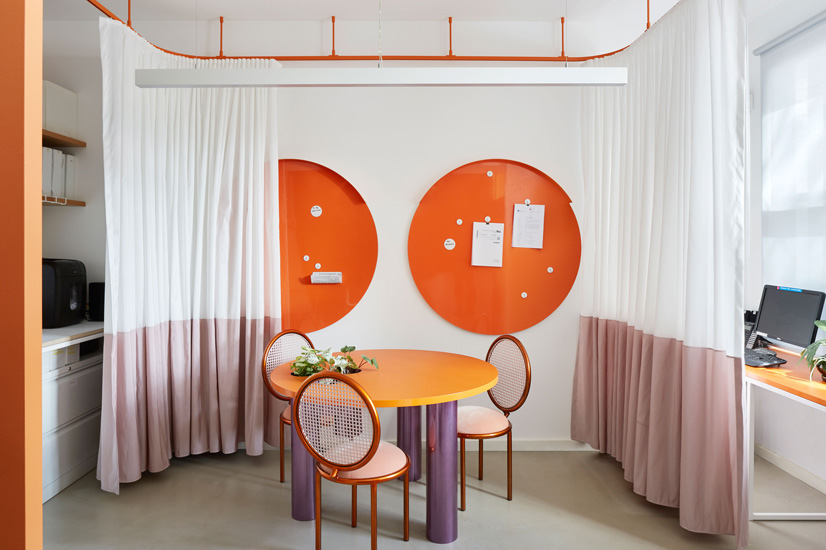 Playful furniture like a segmented 'cake couch' and totem-style display units are highly-spirited gestures. Meanwhile, a circular motif is a symbol of inclusion and sharing; for example, found in the form of the sturdy terrazzo lazy Susan on the dining table.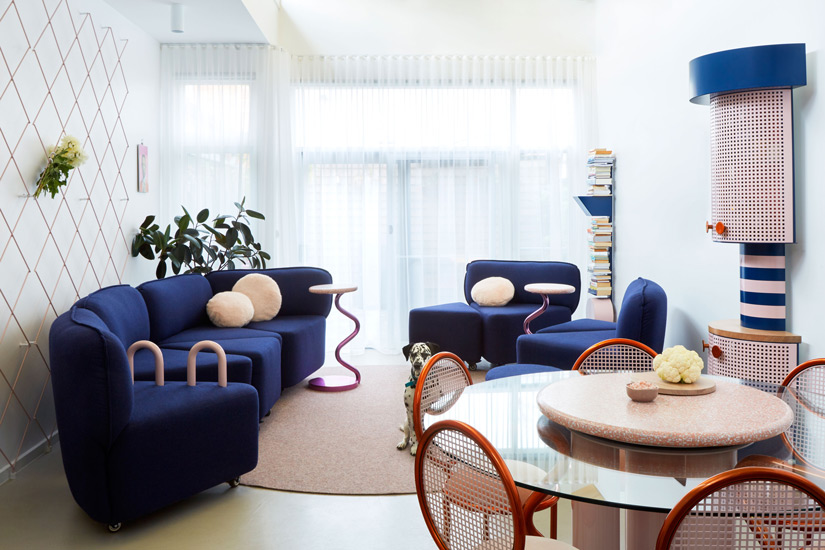 K.P.D.O.
K.P.D.O, led by director Kerry Phelan, embraces emotional design with soulful exploration. Expect colour and glamour to culminate in luxurious spaces. Take the studios' refurbishment of a penthouse in Melbourne's central business district for example. The interior architecture exudes luxury, filled with cult designs that together help to create a space inspired by eclectic postmodernism and New York City living.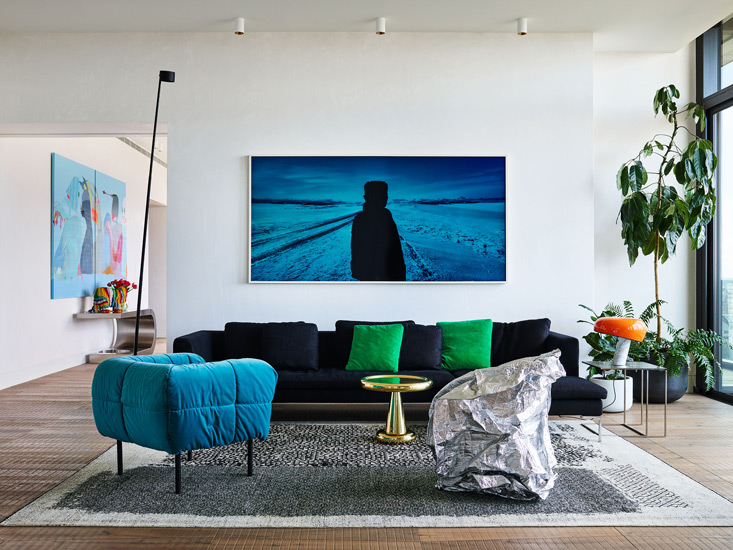 A gold kitchen is illuminated by the Hubble Light by Pietro Russo for Baxter. Meanwhile, the living room is decorated with the comfortable Easy Lipp XL sofa by Piero Lissoni for Living Divani, Shanghai Tip Side Tables by Patricia Urquiola for Moroso, and the Button Small Table by British designers Edward Barber and Jay Osgerby for B&B Italia.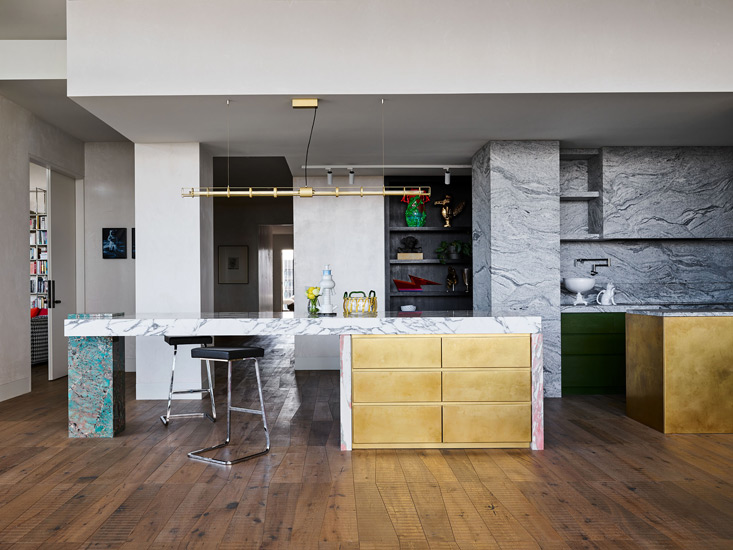 Notable pieces in a separate living space include the Pecorelle chair by Cini Boeri for Arflex, Memory Chair by Tokujin Yoshioka for Moroso, Charles Sofa by Antonio Citterio for B&B Italia, and Snoopy Lamp by Achille Castiglioni for Flos.
Davidov Architects
Robert Davidov, or Davidov Partners Architects, started his namesake practice in 2011. Private homes, guest houses, retail spaces, restaurants, office spaces and multi residential projects, all explore a clear vision of space and materials, while retaining a feeling of warmth.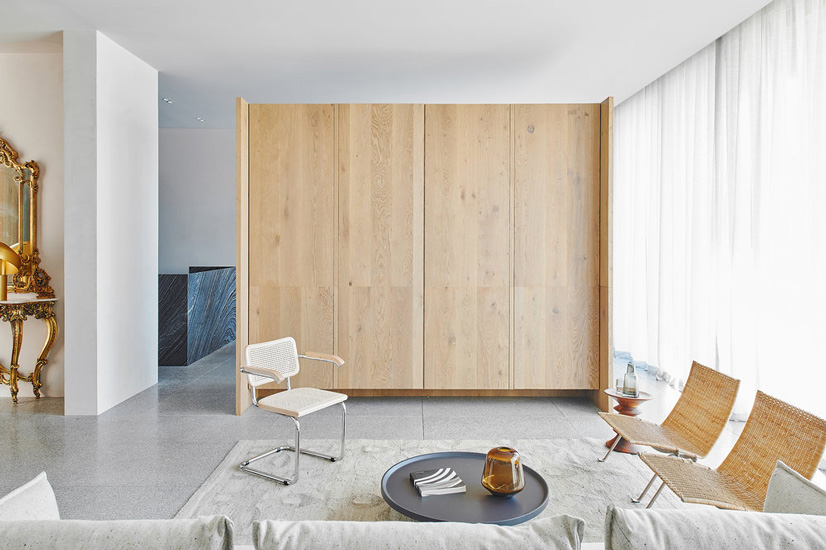 SLS Residence, which is located on a busy road in the suburb of Toorak, reflects the studio's approach in airy, minimal interiors distinguished by a limited palette and an integration of shelving and recesses that minimise the need for freestanding furniture.
Robson Rak Architects
A small practice that undertakes a range of residential and commercial projects, Robson Rak Architects is one of Melbourne's award-winning firms. With an emphasis on warmth and well-being, projects feature a refined material palette and textural narratives that provide an overall sense of opulence.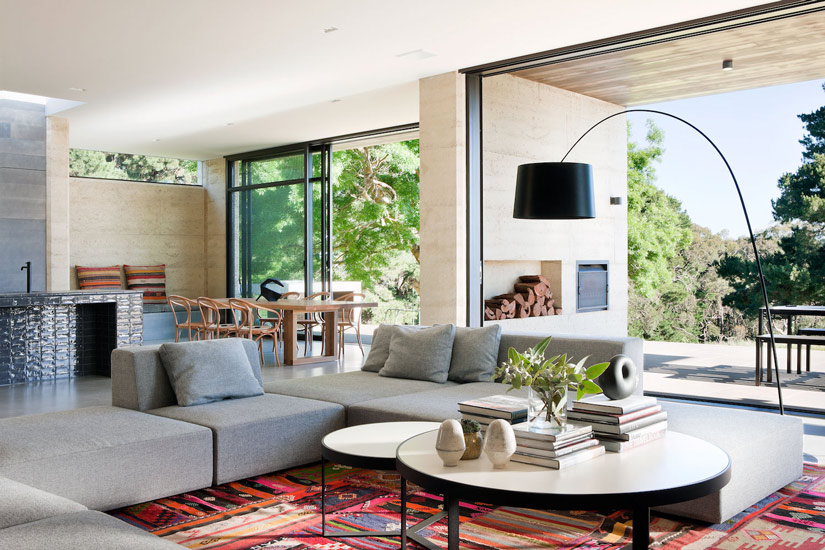 Merricks house is a great showcase, staging contemporary furnishings in an open-plan space that's layered with various materials including rammed earth walls and a kitchen island made out of hand made tiles.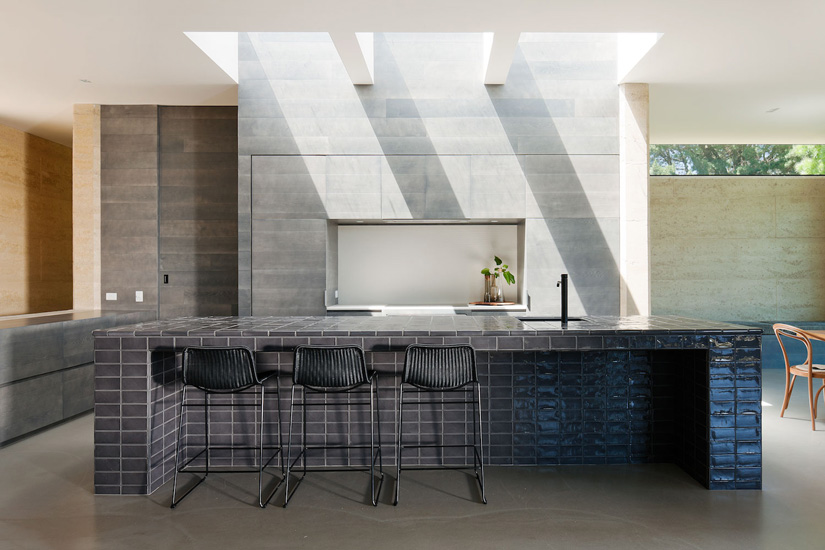 B.E. Architecture
Last on our list is B.E. Architecture, a practice whose team prides itself on being young, dynamic and multicultural. They have a mantra, design doesn't stop at the walls, which makes perfect sense when you look at projects like St Vincents Place, a modern residence transforming a grand Victorian home.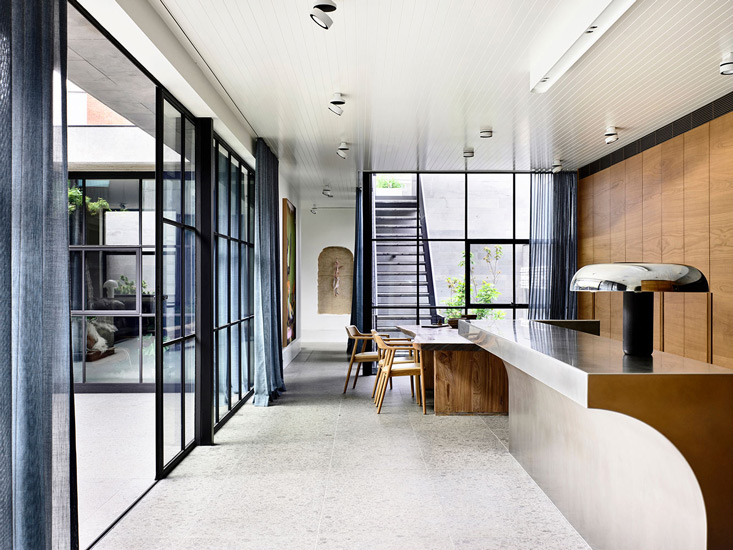 Vintage furnishings sourced from Europe and Asia contribute to the home's eclectic atmosphere, including a pair of blue Tufty-Time sofas designed by Patricia Urquiola for B&B Italia, and a vintage Circa table lamp by Lumenform (among other highly desirable and collectable pieces). Meanwhile, a palette of modern materials includes concrete, bluestone, terrazzo-style stone floors and painted-timber ceilings.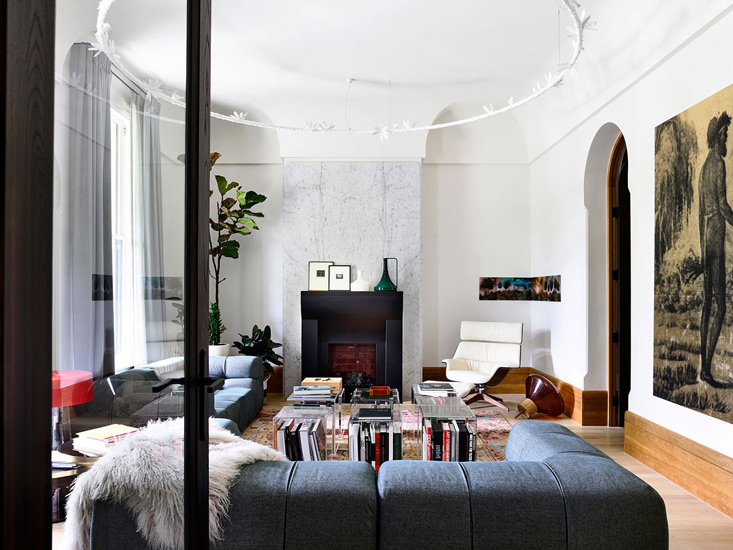 With an eclectic mix of styles and furnishings from Italy and all over the world, interior design in Australia is rich with creativity. If you've been inspired by the brands you've seen in these projects, we offer interior design services including a Furniture Selection & Supply Service where you can browse furnishings with dozens of brands to select.
As well as mapping the best interior designers Melbourne has to offer, we have also put together a list of the best interior designers in Italy, whose experience can help you create the perfect project.
We understand the value of luxury furnishings, which is why we ensure the necessary care is given to sourcing every piece. Our experts are available to assist you throughout any project as well as offer an assembly service if needed.
Your unique Interior Design Project developed by Italian Professionals.
Discover and shop Made in Italy while living the Italian lifestyle in Milano.