The best Luxury Hotels in Milan
Posted on 21 September in Travel & Design
Italian Design, Italian Lifestyle, Italian interior design, Italian Furniture, luxury design, interior designer, Italian interior designers, luxury hotels, luxury design hotel, Luxury Hotels in Milan, Best Hotels in Milano, Top 10 Luxury Hotels in Milan
Best Luxury Hotels in Milan: From Bulgari to the Four Seasons, Discover Our Selection of the Best Hotels Milano has to Offer.
Discover The best luxury hotels in Milan and where to find them
An epicentre of fashion, architecture, art and design, Milan is a sprawling metropolis with rich layers of history and culture. From the beloved Duomo cathedral, which stands at its very heart, to the convent of Santa Maria delle Grazie, where Leonardo da Vinci's The Last Supper is located, the city is brimming with things to do and see.
It's no surprise then, that the city offers some of Europe's most spectacularly-designed hotels, offering visitors to the city a luxurious experience that speaks to the history of Milan's world-renowned design industry. Touring the capital for furniture and fashion shopping, we have listed 10 of them, exploring each with a design point of view from our interior designers.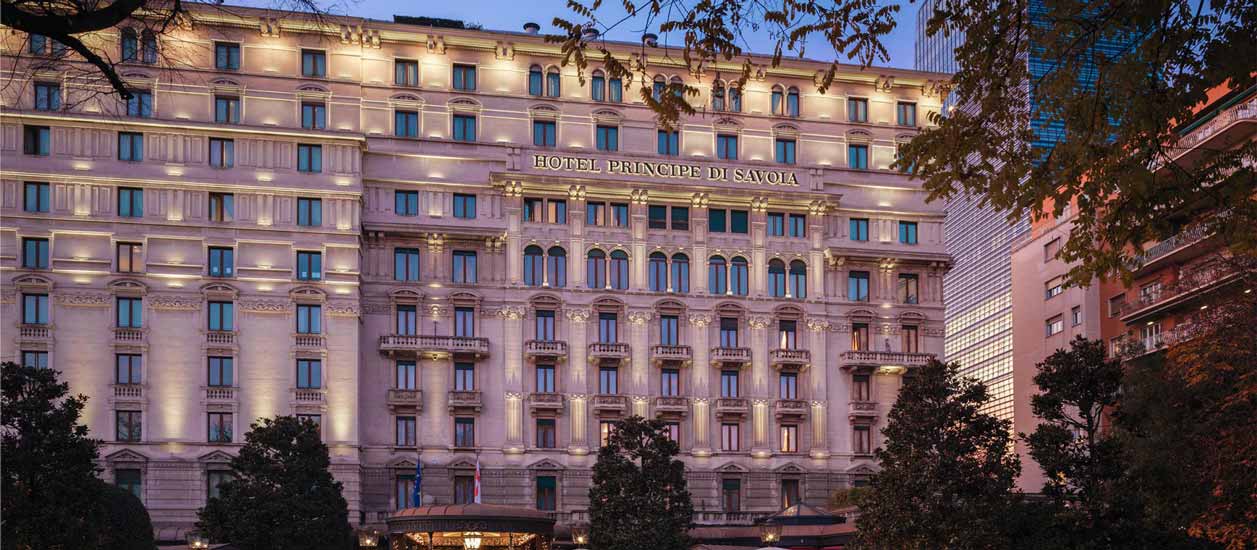 From classic to avant garde: The best luxury hotels Milano has to offer
Principe Di Savoia
Overlooking Piazza della Repubblica, the Hotel Principe Di Savoia has been a landmark of luxury since its opening in 1927. The hotel was renovated back in 2009, tapping the talents of Thierry Despont, Francesca Basu, and Celeste Dell'Anna, to create lavish guest rooms and suites that retain their Art Deco glamour and celebrate the inheritance of the site.
Basu was inspired by Milan's La Scala Opera house when designing his series of Principe Suites, which feature theatrical details and rich fabrics. In the Imperial Suite, Dell'Anna has kept the original wood paneling adding residential touches like an abundance of seating.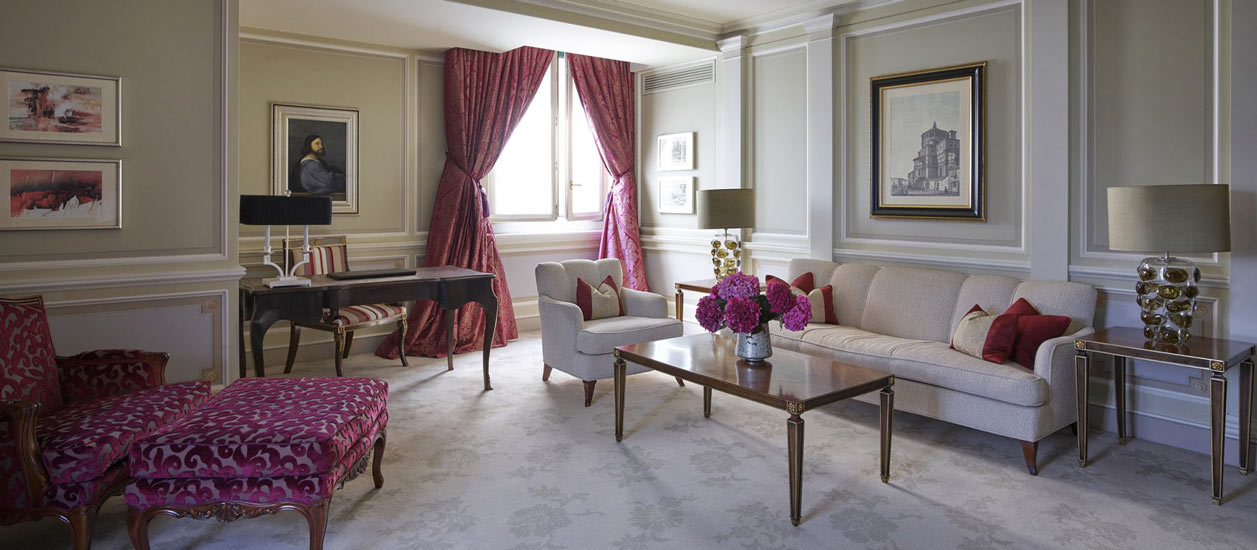 Of all the rooms however, the pièce de résistance is reserved for the Presidential suite, which has a Pompeii-style spa and a large private swimming pool, Jacuzzi, sauna and Turk. Another iconic feature of the hotel is the Principe Bar, formerly known as the Winter Garden Bar where New Yorker Despont has outfitted the space with a cast glass bar, a massive custom made glass chandelier, and intimate banquet seating.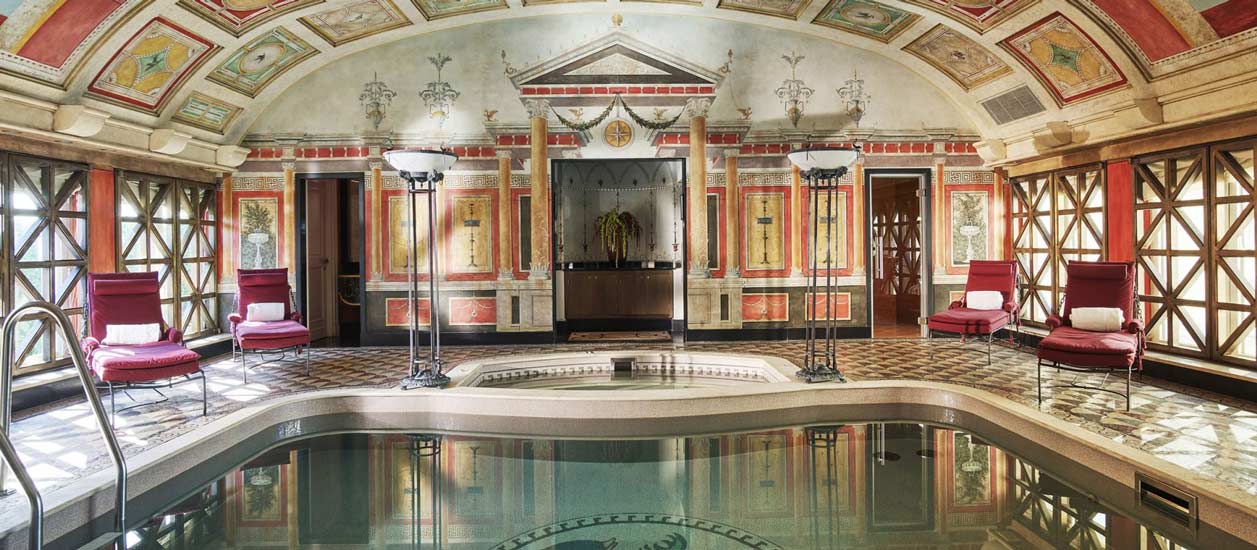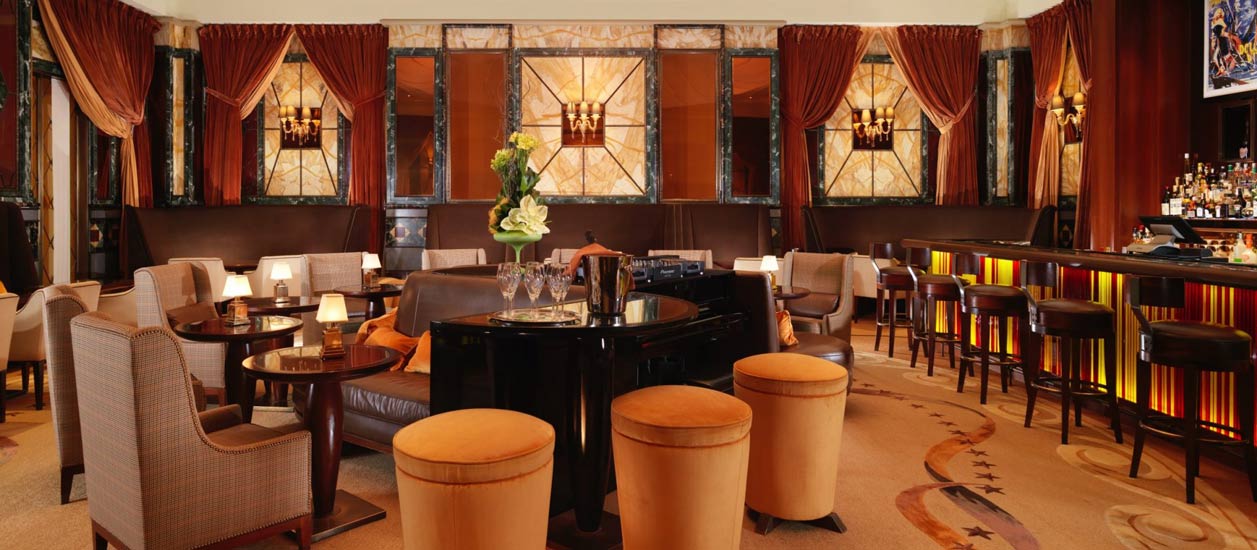 Palazzo Parigi
Milanese taste meets Parisian finesse at the Palazzo Parigi Hotel & Grand Spa located in the heart of Milan, in Corso di Porta Nuova. The hotel's meticulous detail is the work of architect Paola Giambelli, who collaborated with world-renowned French interior designer, Pierre Yves Rochon. Upon entry, a wrought-iron skylight illuminates the hotel's lobby, an elegant space in typical neoclassical Milanese style featuring a venetian mosaic flooring, hand-decorated ceilings, and a majestic staircase decorated in peach blossom marble and calcutta gold.
This theme continues into the lounge bar, where warm wood paneling decorated with antique paintings, post-Deco inspired furniture, and shelving reminiscent of french furniture designer Émile-Jacques Ruhlmann, merges Milanese taste with Parisian finesse. The hotel comprises ten floors and a rooftop terrace with 360-degree views of the city. Inside, rooms feature classic decoration and an elite selection of art, objects and materials, that capture the essence of a luxury hotel in Milan.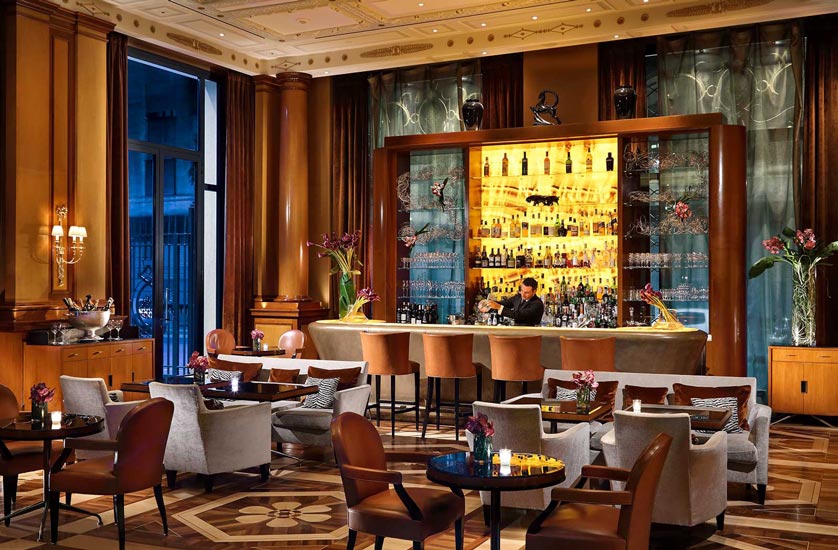 Set in the heart of the fashion and shopping district, and just a few steps away from the duomo di Milano, the Park Hyatt is set in a palatial building that dates back to the 1870s. It's architecture and interior design are by the American architect Ed Tuttle, whose combination of an original 19th-century Milanese style with contemporary touches makes for eye-catching interiors.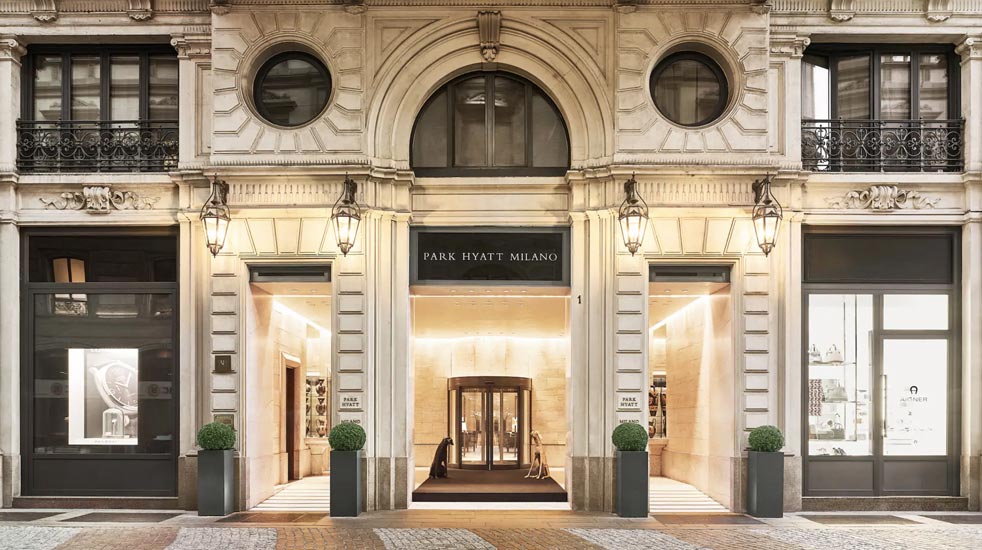 Guests are greeted by the Cupola Lobby Lounge characterized by a phenomenal 30-foot glass cupola where Tuttle envisaged Lucio Fontana's Testa di Medusa alongside original masterpieces by renowned artists such as the sculptor Anish Kapoor.
Throughout the rest of the hotel, a modern aesthetic complimented by vibrant artwork in corridors and hallways accent a muted color palette of creams, beiges, and grays. At the Park Hyatt Milan, rooms are elegantly styled, with high ceilings, imposts covered with precious apricot-colored silk, expensive dark woods and rich wool carpets.
Elegant interiors from the best hotels Milano has to offer
Situated in Via Gabba, The Bulgari Hotel Milan has been built in one of the most prestigious Milanese locations, located in the beautiful Brera district and set in the centre of a 4000m2 private garden next to the Botanical Gardens. It occupies a building that dates from the 1950s, recently refreshed by architects Antonio Citterio and Partners.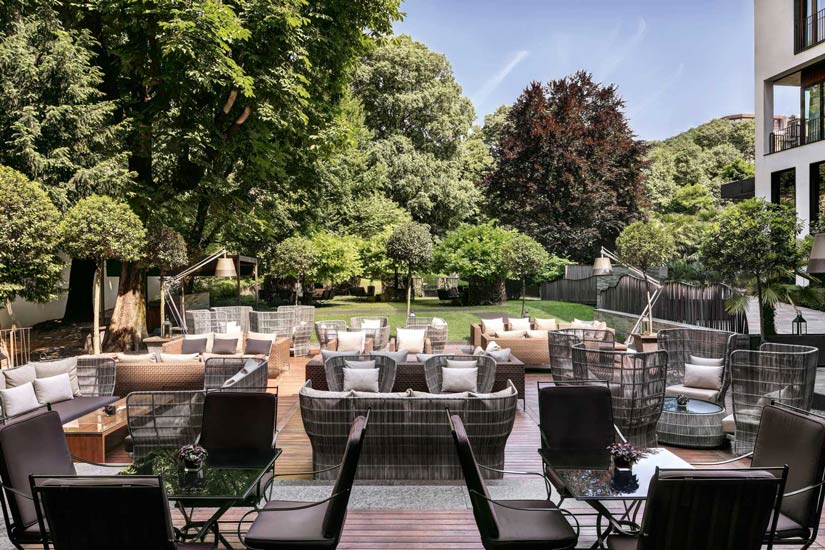 Contemporary Italian furniture can be seen throughout, including sofas, armchairs and beds from Citterio's Flexform Collection, Maxalto, and B&B modular libraries and outdoor furniture, curtains by Enzo degli Angiuoni and carpets by Altai.
The hotel, one of the best Luxury hotels in Milan, features rare and precious materials that give a richness to its interiors: Vicenza stone and Turkish Aphyon in the Spa, solid teak, durmast and oak in the rooms and suites. Marbles were used in double the quantity generally used in a hotel of the same category, and the fireplace made of Zimbabwe black granite in the lounge room alone weighs 15 tons.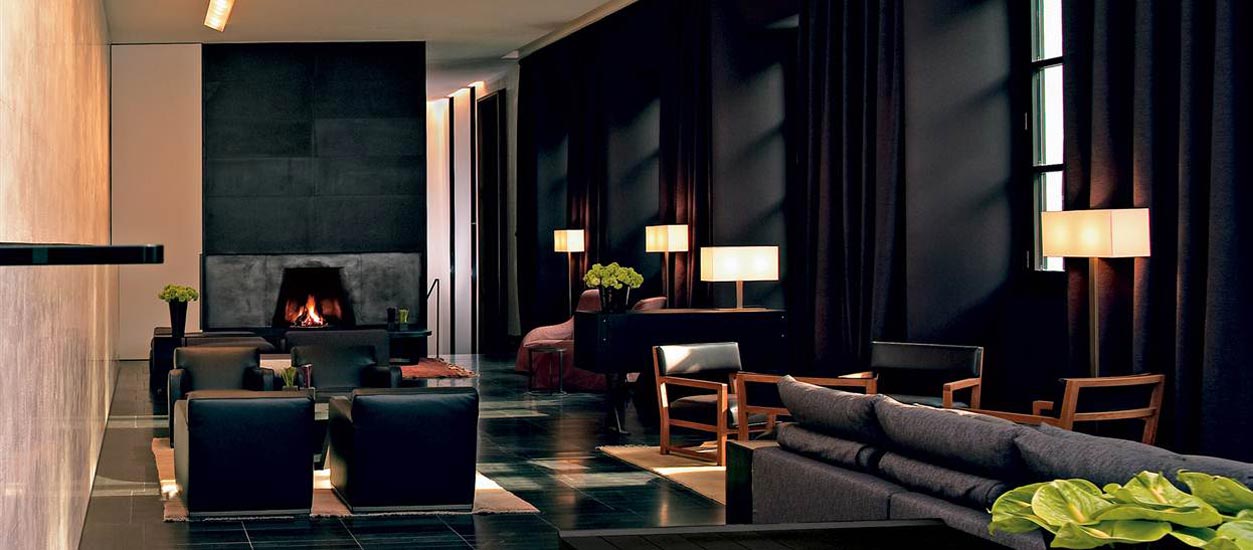 Armani
Located within the extraordinary Palazzo at Via Manzoni 31, originally designed in 1937 by Enrico A. Griffini, inside the Armani Hotel Milano are luxurious interiors to contrast their austere exterior. Led by Giorgio Armani's personal aesthetic vision, the aim was to create a world of harmony and privacy, demonstrated in the circular entrance vestibules that create intervening spaces upon entering guestrooms.
Taken from the Armani/Casa collection, the furnishings in the hotel share the signature design philosophy but have been tailored to reflect the mood of the palazzo. Elegant linear sofas covered in sophisticated fabrics sit aside backlit wooden bed heads in rooms clad with Silk Georgette, a smooth limestone from Asia. Meanwhile, on the seventh and eighth floors, where all the public areas are concentrated, the Armani/Lounge boasts a double height ceiling and views over the skyline.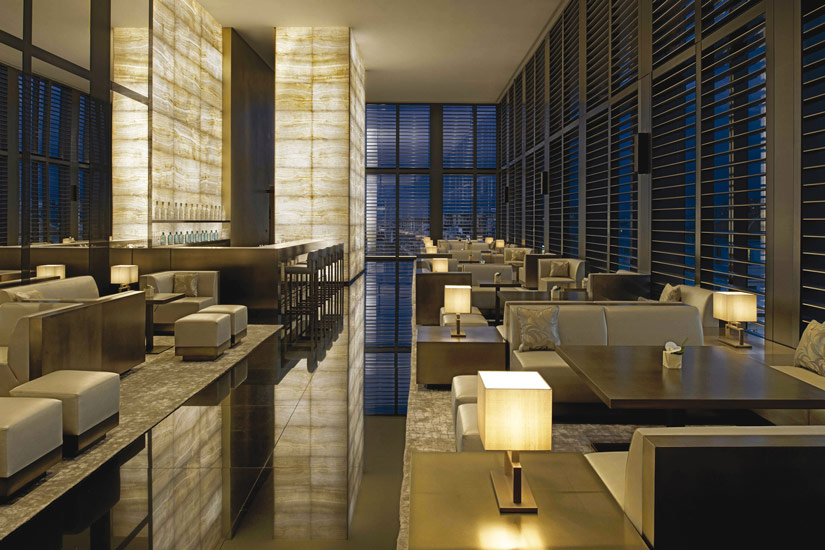 Grand hotel et de Milan
The prestigious, 19th-century Grand Hotel et de Milan opened in 1863 so has over 150 years of Milanese history to tell. More recently in 2019, the Milan-based Dimorestudio restyled the hotel, updating the former orange and taupe shades with a rich palette of pinks and greens, precious velvets, silks and jacquards.
The renovated rooms are divided into five categories according to their chromatic tone: black cherry red, mustard, aubergine, sugar paper and cocoa. Each one preserves the period furniture and details, as well as the parquet floors and the Italian marble bathrooms.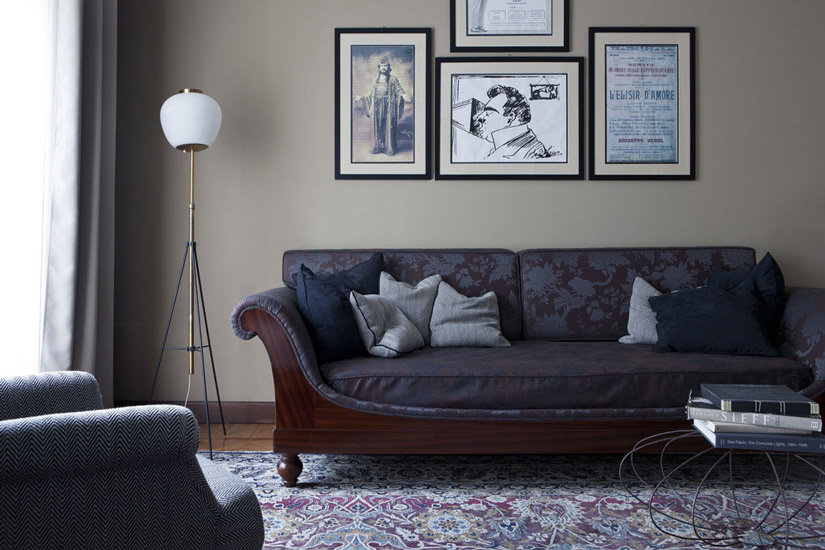 In the Hotel's bar area, also known as Gerry's bar, touches of pink, rust and golden hues, are seen in plush velvets and floral patterns adorning hall sofas. Furniture pieces are embellished with fringes, and bottle green and orange hues juxtapose with muted pink embroidery.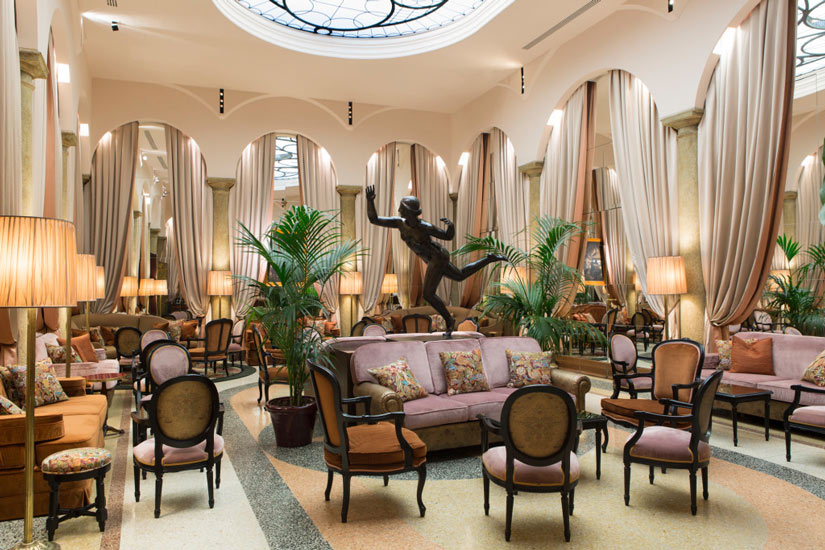 Il Duca
Positioned on Brera's Piazza della Repubblica at the edge of the city's fashion and design district, the Milan Il Duca is one of the city's more contemporary hotels. It's housed in a building by renowned architect Aldo Rossi, and was recently revived by the Italian studio Arassociati.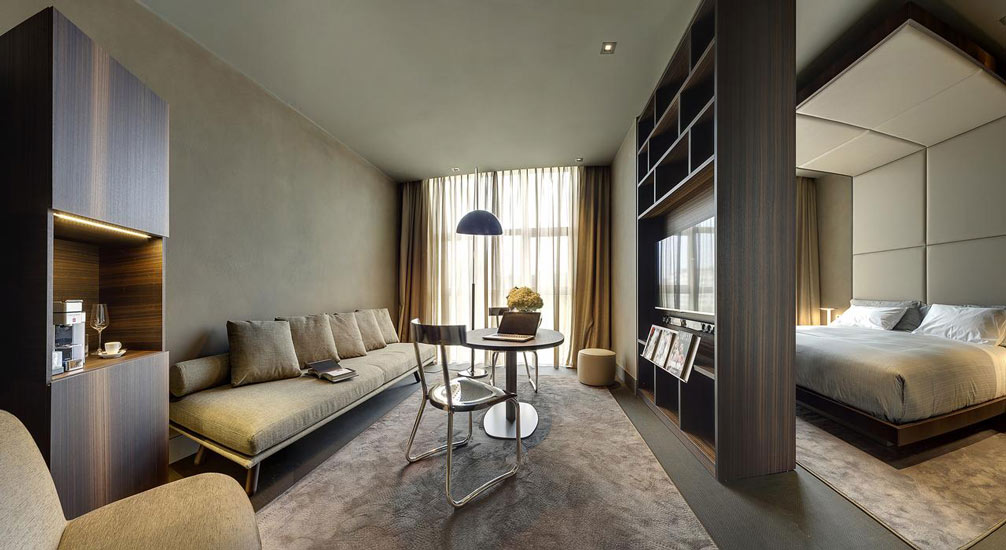 Inside, guestrooms are coloured in muted grey, beige and cream tones. Montecatini aluminium chairs by Giò Ponti are complemented with lighting solutions by Achille Castiglioni. Meanwhile, the restaurant's interior showcases contemporary design elements like signature plaster horns, curved platform seating and a beautiful central lounge.
Most of the furniture throughout is actually made by Molteni&C, with each floor of the hotel identified by the chairs and furniture products designed by a great Milanese master. B.B.P.R. and Gio Ponti occupy the ground and mezzanine floors. Then from the first floor to the ninth floor, respectively: Aldo Rossi, Caccia Dominioni, Achille Castiglioni, Franco Albini, Ignazio Gardella, Vico Magistretti, Joe Colombo, Marco Zanusoand Guglielmo Ulrich.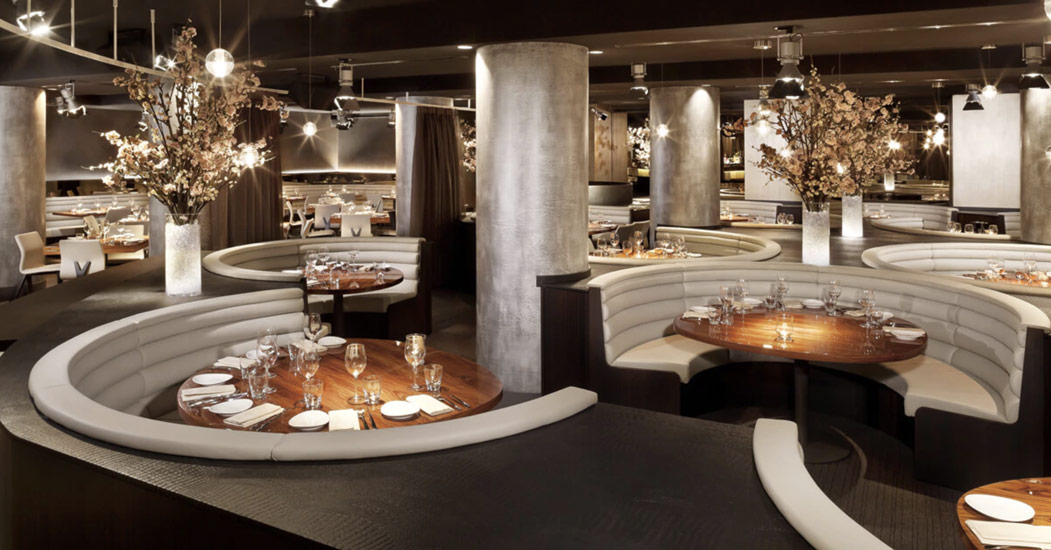 Our team selection of the best luxury hotels in Milan
Mandarin Oriental
Just a few steps away from the fashionable Via Manzoni and Montenapoleone, the Mandatin Oriental occupies four elegant 18th century buildings on the central Via Andegari. Inside, rooms combine a classic Milanese style with strongly decorative materials, custom-made furniture, all directed by the art of Feng Shui.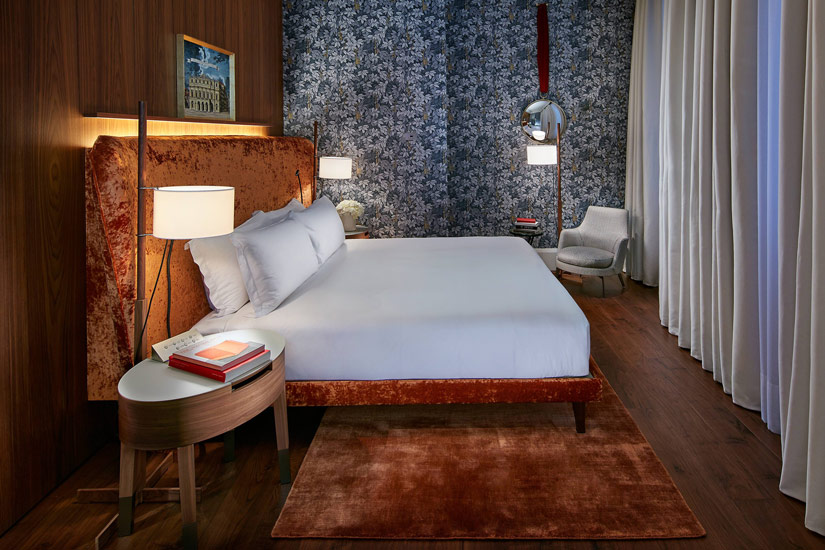 The hotel is intended to be intimate in its atmosphere, with interiors designed by Antonio Citterio Patricia Viel Interiors. The work of Italian design masters, such as Piero Portaluppi, Gio Ponti, Asnago and Vender inspired the project, contributing to the Milanese identity of its interiors. The hotel recently opened a private dining room by Fornasetti, a complement to the hotel's custom designed Fornasetti Suite, which guests can choose as part of a package that includes a private tour of Fornasetti's flagship store in central Milan.
The heart of the hotel is the Mandarin Bar, which is dominated by a large black counter upon a large geometric mosaic. White and black marble is used throughout, framing a composition of lounge furniture to create a cozy and elegant setting.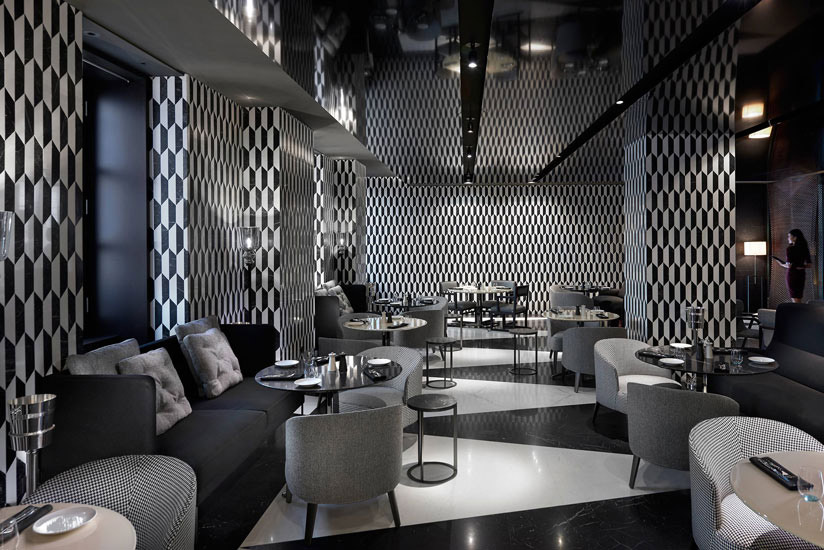 Facing Centrale Station, the l'Excelsior Hotel Gallia (formerly known as the Palace Gallia hotel, which officially opened in 1932) is characterised by its Art Deco style. The interiors were conceived by Marco Piva, who renovated the hotel in 2017.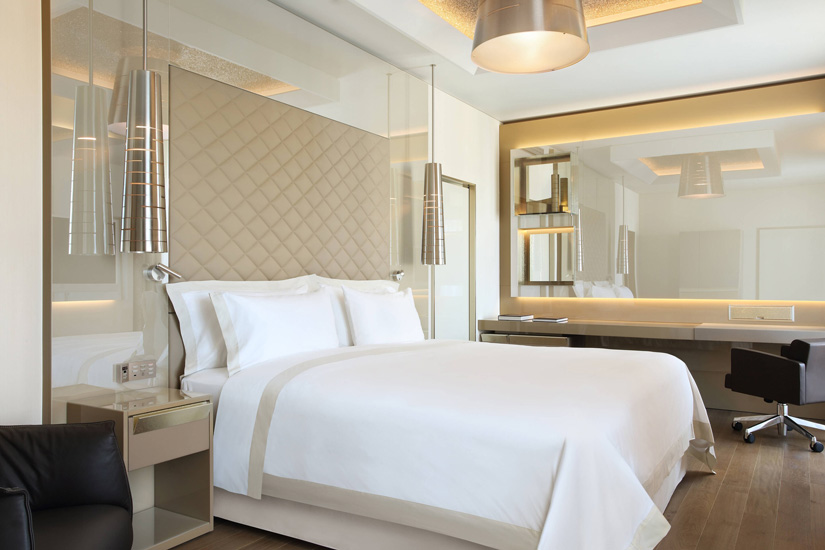 The hotel is stamped with the signature of Italian frontrunners in the furniture industry, like Poltrona Frau, who has created beautiful custom pieces for all the guestrooms. Cassina has also played a role in fitting out rooms and the hotel corridors. Among the more affordable suites are five dedicated to renowned milanese designers or architects: Franco Albini, Luigi Caccia Dominioni, Achille & Pier Giacomo Castiglioni, Vico Magistretti, and Giò Ponti.
The level of luxury offered to guests is extreme, making this location one of the best hotels in Milano. A private promenade dedicated exclusively to guests offers a private shopping experience, thanks to a special agreement with various high fashion brands. It also offers a complimentary chauffeur-driven Maserati service to take them into town.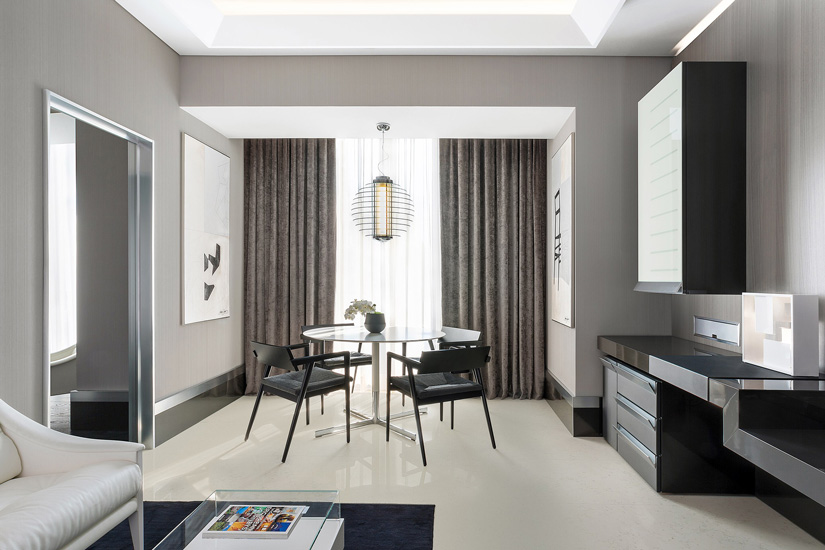 Finally, the Four Seasons in Milan, an elegant offering housed in a former 15th-century convent. Located on Via Gesù in the centre of Milan's Fashion District, its interiors range in designs from American studio BAMO, French interior designer Pierre Yves Rochon, and architect Patricia Urquiola.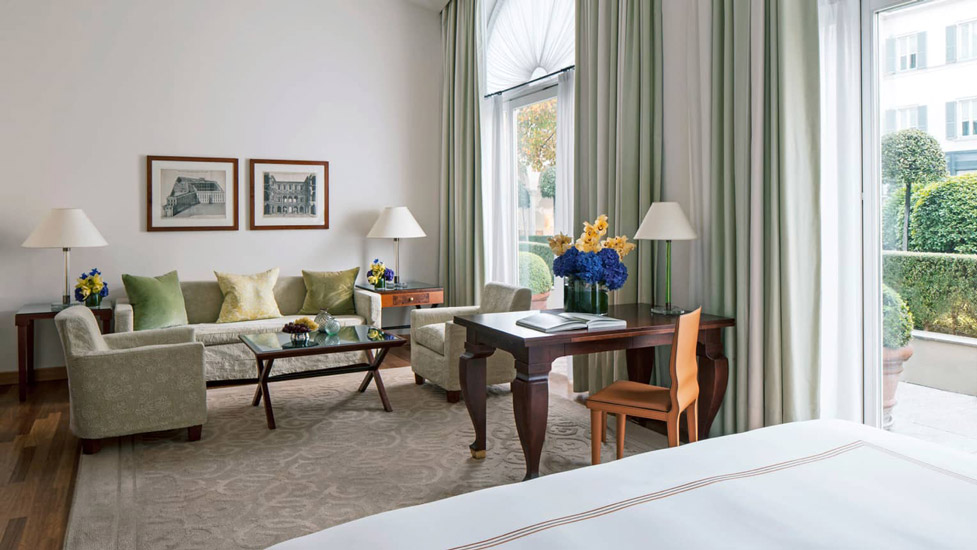 BAMO has adapted the cloister to include clean, modern interiors whilst Rochon has designed two of the hotel's suites to showcase a contemporary look and a retro spirit. He selected furniture by Eero Saarinen with strong lines and a bold green colour. Accessible only by lift, the suites feature french doors that open onto private terraces and a Knoll table and chairs fitted with cushions upholstered in a herringbone fabric. Patricia Urquiola designed the spa, which is set within the historic architecture of the hotel, offering an indoor swimming pool with vaulted ceiling, whirlpools and a turkish bath.
With an abundance of luxury hotels in Milan and beautiful places to stay you might feel inspired to visit the world design capital. And beyond the elegant rooms, lobbies and lounges dedicated to Italian designers, there's so much more to explore outside the hotel.
If you are looking for the best of contemporary design, you can visit milan to furnish your next high end residential project. Our personalised furniture shopping tour is perfect for such an occasion.
We can support you as your interior design project takes shape while discovering the best of Made in Italy has to offer. Our Italian architects and designers have a deep knowledge of the industry, with access to locations off the beaten path. Then, our firm can consolidate all the goods and ship to your country worldwide. If needed, our italian craftsmen can even come to assemble it on site.
Combine our know-how with your passion to explore authentic Italian production and excellence making for an unforgettable design experience.
Your unique Interior Design Project developed by Italian Professionals.
Discover and shop Made in Italy while living the Italian lifestyle in Milano.