The Best Stores and Luxury Furniture: Bangkok
Posted on 13 April in Travel & Design
Italian Design, Interior Design, Italian Showroom, interior design firms italy, luxury furniture, Italian interior designers online, Online interior designers, Best online interior design services, luxury italian design, Italian Furniture Bangkok, Luxury interior design in Bangkok, interior design brands, italian showroom bangkok, best furniture bangkok
A curated list featuring the finest luxury furniture in Bangkok and the showrooms selling the leading Italian furniture Bangkok has to offer.
Discover the Finest Luxury Furniture Bangkok has to Offer
Known for its incredible shopping, Thailand's capital is known for the latest in classic design and luxury furniture. Bangkok is filled with hundreds of shopping malls, buzzing markets and streets lined with showrooms featuring Italy's leading brands.
Italian design and furniture and home decor has had a long and strong reputation around the world, so it's no surprise that in Bangkok, you can browse and buy some of the country's iconic creations from brands including Dada, Boffi Studio and Molteni&C.
To help you navigate your way through the many shopping areas and furniture stores in this vibrant city, we've curated a list of the best places to visit for the finest designer furniture Bangkok has to offer.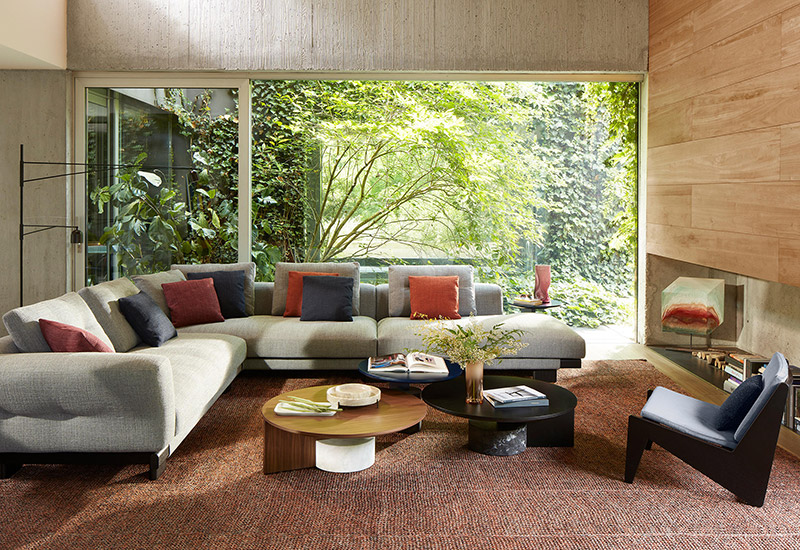 Where you can find the Exclusive Quality of Unique Italian Furniture Brands in Bangkok
Giorgetti
If unique designs are what you desire, Giorgetti is a great exemplar. The Brianza-based brand renovated its Bangkok showroom last year, which now boasts a refined layout, characterised by Canaletto walnut, precious fabrics and leather.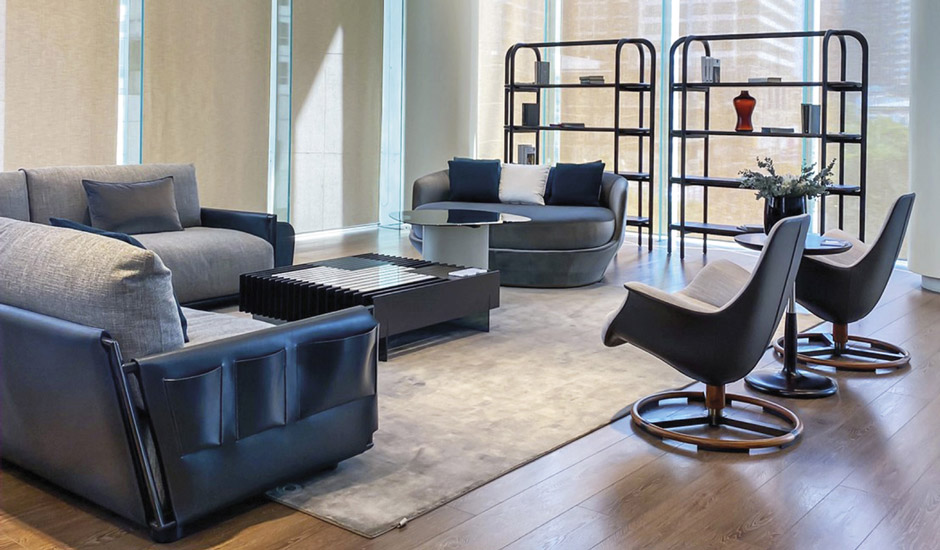 Located in the Watthana district, a visit to the showroom is a chance to explore Bangkok's shopping hub as well as Giorgetti's latest developments. Highlights of its 2020 collection include 'Janet', a shell-shaped armchair with enveloping lines by Umberto Asnago, and the 'Ago Table', a marble topped table with legs in canaletto walnut featuring a light and minimal silhouette.
Dada
After perusing the Giorgetti showroom, Dada is just a stone's throw away if you're looking for the latest in contemporary kitchens. The Milanese brand is renowned for designs that combine contemporary style and high quality materials, imbued with luxury and craftsmanship.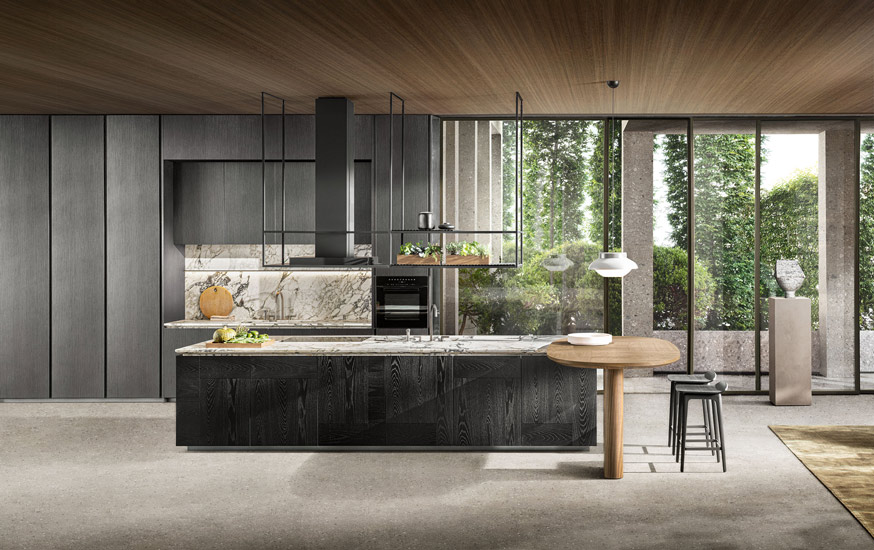 Pay a visit and you'll find that Dada's latest creations are no exception. 'Intersection' and 'Ratio' are just two in a series of innovative solutions featuring geometric proportions and a warming palette of natural materials, both signed off by the company's creative director Vincent Van Duysen.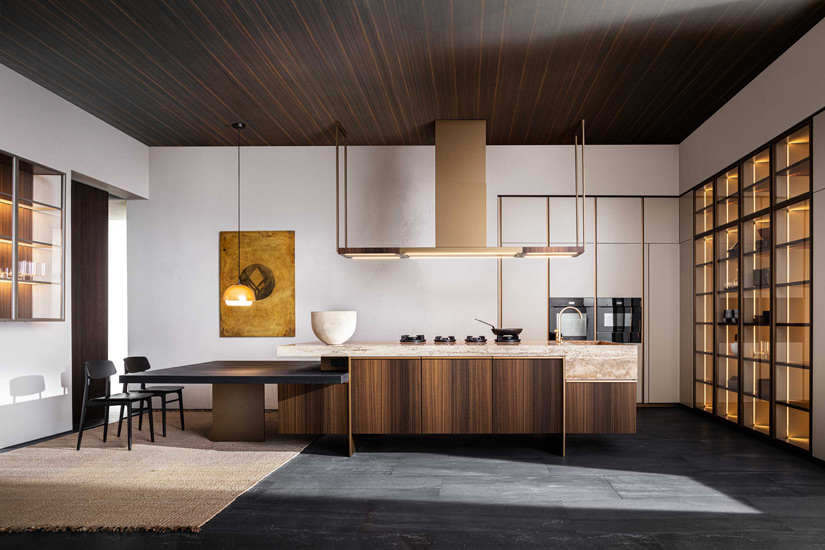 Poltrona Frau
As far as furniture brands go, Poltrona Frau is the quintessence of Italian taste. From modern leather sofas to carefully crafted coffee tables, the flagship located in the heart of Bangkok is a wonderful place to visit if you're looking for essential yet elegant objects.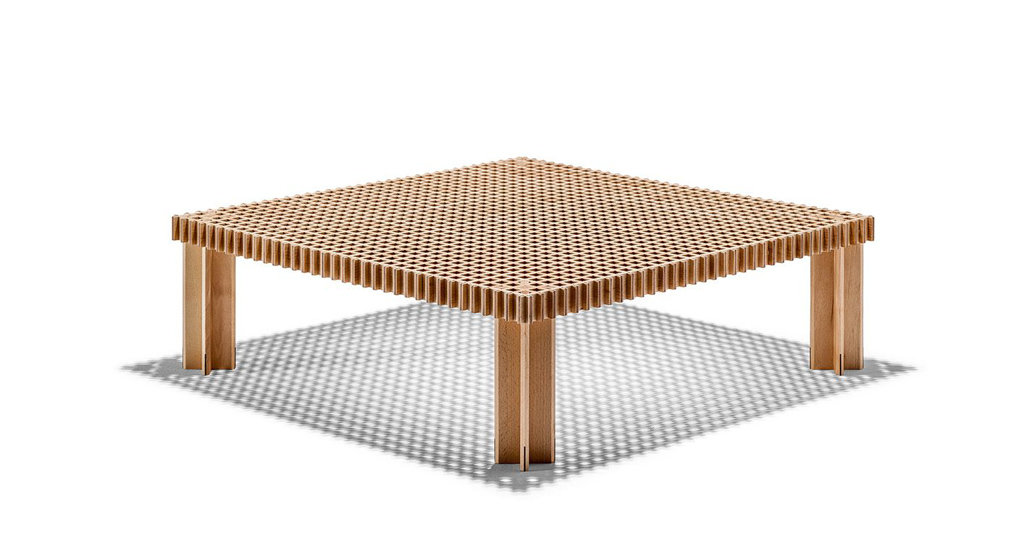 Symbolic of its approach is the recently revived Kyoto Table by architect and designer Gianfranco Frattini. Inspired by Japanese woodworking techniques, the 2020 edition revisits a grid-like design from 1974, combining a brilliant idea with impeccable craftsmanship.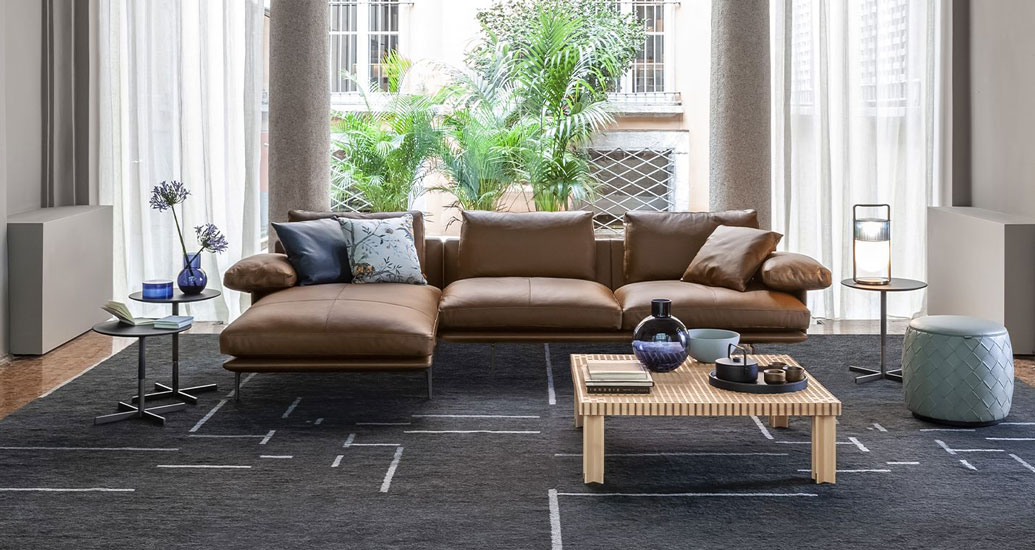 B&B Italia
In Bangkok, B&B Italia forms part of an extensive showroom space inspired by Milan design galleries. An unmissable model apartment sets the stage for B&B Italia's latest designs including a terrace decorated with outdoor collections like Gio, a series of solid teak pieces designed by Antonio Citterio.
Boffi Studio
Also contributing to this model apartment is Boffi, whose iconic designs define the kitchen and bathroom spaces in this exclusive store experience. Based on the handcrafted tradition of building kitchens, this Italian brand's latest solutions are displayed in several areas across the gallery.
The Best Luxury Furniture Bangkok has to Offer
Cassina
Steeped in history, the signature identity of Cassina's Italian designer furniture lies in the innovative fusion of technological skill and traditional craft. Both define the brand's Bangkok showroom where the latest iconic pieces are sure to be on display.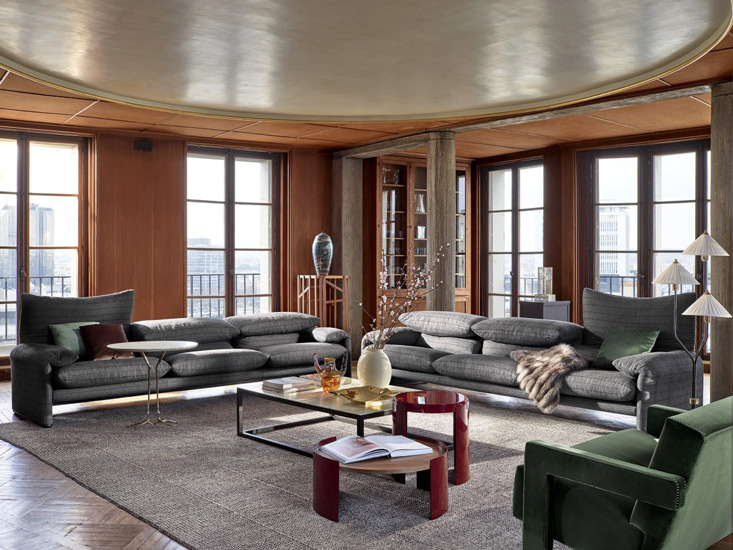 Two of the latest designers asked to interpret Cassina's perceptual dialogue between past, present and future are Rodolfo Dordoni and Patricia Urquiola. Dordoni has designed 'Dress-Up!', a modular sofa with generous proportions, whilst Urquiola has come up with a unique bed design with an adaptable headboard that cocoons the main body. The design, called 'Bio-mbo', also boasts wellness features thanks to the work carried out with Cassina LAB: an air sanitisation mechanism and a sound absorbing panel.
Porro
Located in the Watthana district, a visit to Porro's showroom is a journey through the Italian brand's best sellers and novelties. 10 day and night areas show various arrangements of high-quality furnishings, each one illustrative of Porro's extensive collection of woods.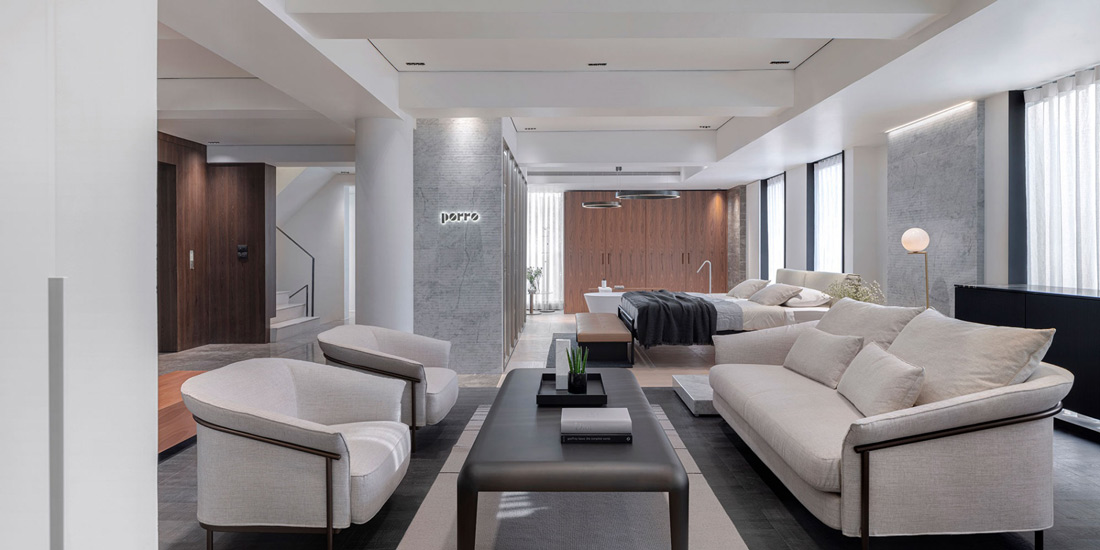 Porro's most recent collection champions retro style and geometric shapes, such as Romby by GamFratesi, an upholstered chair with a conical swivel base. It's sculptural form is the perfect compliment to Piero Lissoni's 'Materic' table, also a protagonist in Porro's 2020 collection.
Molteni&C
A list of the best luxury furniture Bangkok has to offer isn't complete without Molteni&C. Founded over 80 years ago, the brand has amassed a fortune of collaborations which find a home in Thailand's capital.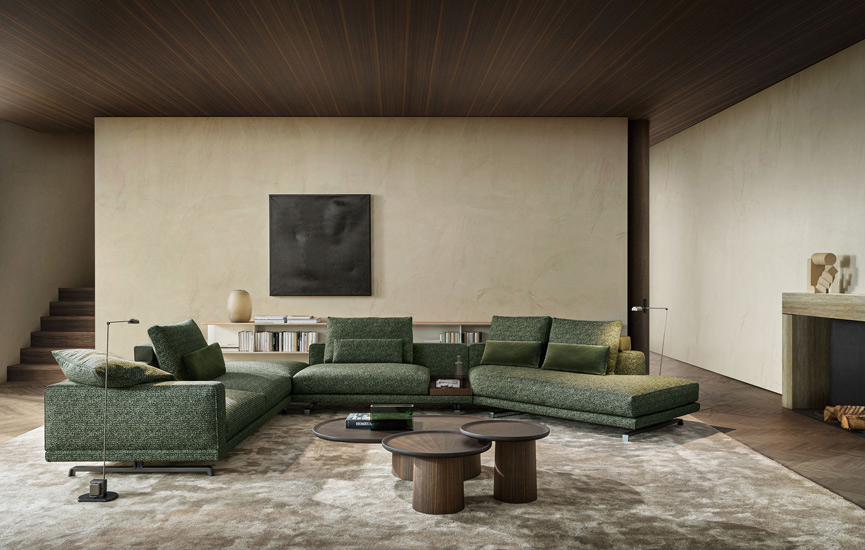 Alongside iconic pieces are Molteni&C's most recent designs. In 2020, it unveiled several collections including the Octave sofa collection by Vincent Van Duysen and the Azul bed by Nicola Gallizia, both marked by a graphic interplay of clear lines and geometric volumes.
Rimadesio
If you're looking for solutions when it comes to the architectural definition of interiors, Rimadesio is a master of the sliding door. Often at the center of its products, examples of the brand's shelving units, walk-in wardrobes and other technical products can be found at its flagship store in Bangkok.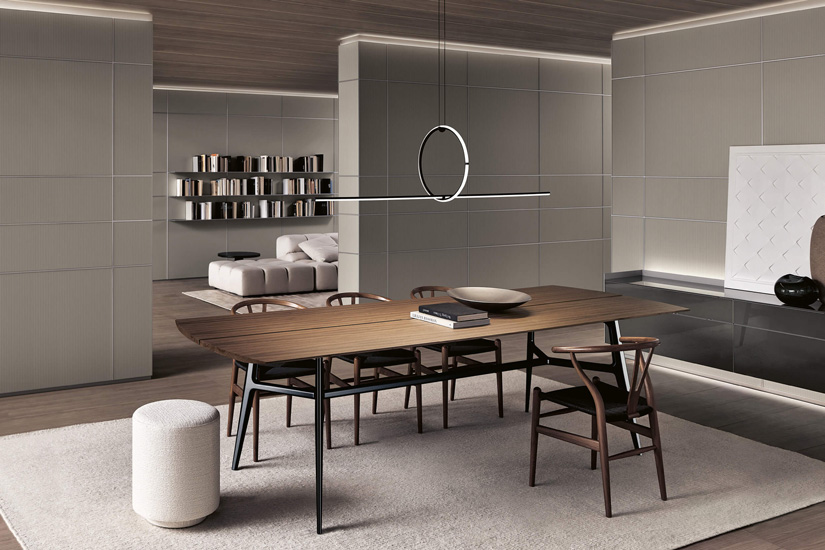 Rimadesio's latest collection "New Interiors" is designed by Giuseppe Bavuso, which includes the modular wall paneling system, equipped with cabinets designed to organize, store and display items.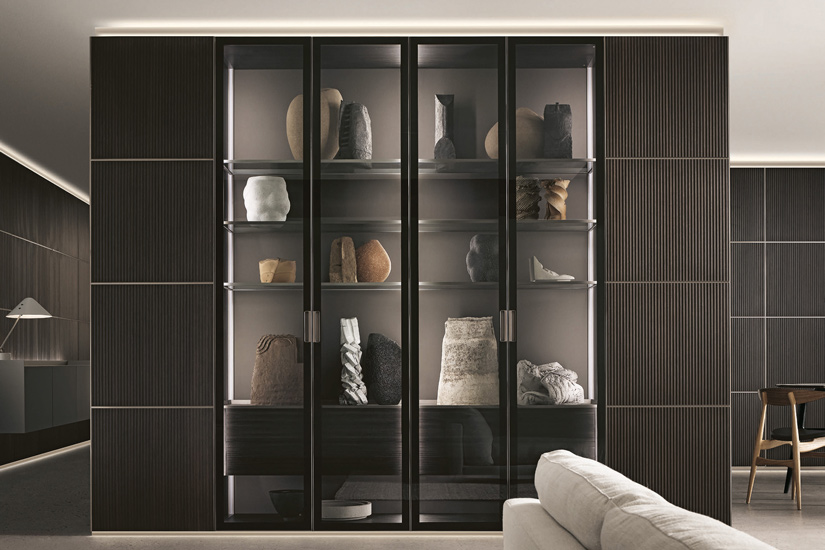 Fornasetti
The intensely imaginative Fornasetti is the final feature in our list of the best Italian furniture in Bangkok. Known for its surrealist take on interiors, the brand has developed a distinctive visual language that gives every one of its designs a magic and dreamlike quality.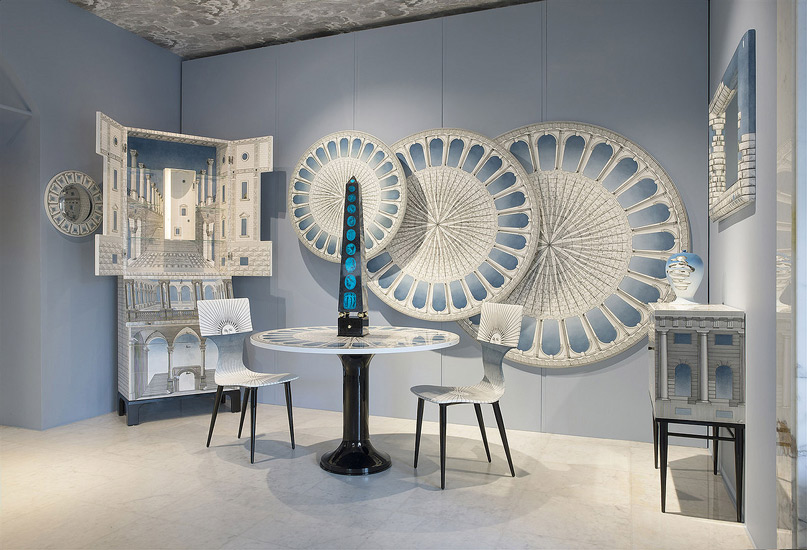 This is a fact particularly illustrated in its latest "Malachite" collection, which takes cues from optical illusion art. As with all of Fornasetti's pieces, it also champions traditional artisanal techniques.
Feeling inspired by our guide to designer furniture in Bangkok? As well as mapping the leading Italian furniture Bangkok has to offer, we have put together a list of the best interior designers in Bangkok. Check it out to see how local designers are incorporating the best of Italy's modern furniture into their projects.
If you're interested in how things are made, we invite you to discover the best 'Made in Italy' has to offer by taking part in a customized furniture shopping tour. We can organise a tailored experience including visits to Italian laboratories and ateliers to choose the products for your home.
We also have an online interior design service that can help realise your own vision and make your dream project become a reality. Supporting you in every phase of your project, our team of Italian interior designers are experts in managing high-end projects and can help you choose the best brands.
Your unique Interior Design Project developed by Italian Professionals.
Discover and shop Made in Italy while living the Italian lifestyle in Milano.