Luxury Italian Kitchen
Posted on 24 October in Italian Home Design
Italian Design, Interior Design, Kitchen Design, Italian interior design, Italian Brands, italian kitchen brands, modern Italian kitchen, Italian kitchen, Italian modular kitchen brands, kitchen brands, modular kitchen, luxury design, Italian interior designers, Italian Luxury Furniture, luxury kitchen, luxury Italian kitchen
Italian Home Design, our column dedicated to home spaces and interior design, today leads you to explore the world of luxury Italian kitchens. Start this journey with us, we will show you three unique projects of bespoke luxury kitchens.
Focus on Luxury Italian kitchens
In our ever-changing society, there is a new way of living the house. Fluidity of space, multifunctional furniture, rooms that are increasingly interconnected giving life to environments of conviviality.
Even the kitchen takes on a different role, often identifying itself as a place where to carry out specific activities. In luxury homes in particular you often have two distinct functions put together: the kitchen where to cook meals, also called wet kitchen, and the kitchen where you can enjoy your moments of break, also called dry kitchen.
A series of environments perfectly integrated with each other and that create a homogeneous system of spaces able to satisfy every kind of need. That's why it is so important to create bespoke luxury kitchens designed on the scale of our needs.
Strong lines, unique textured materials and precious details: this is how to create bespoke luxury kitchens.
Three kitchen models, each with a different design and a unique character. Three proposals of luxury Italian kitchens, which stand out thanks to technology, for their material strength but above all for their design studied down to the smallest detail.
Dada Ratio, a suspended kitchen with well marked features and completely squared shapes; Boffi Apr60 in greystone version, a material with a thousand shades of grey that is transformed into a high-end kitchen; Armani Dada Slide, a luxury bespoke kitchen with golden profiles and warm and elegant nuances.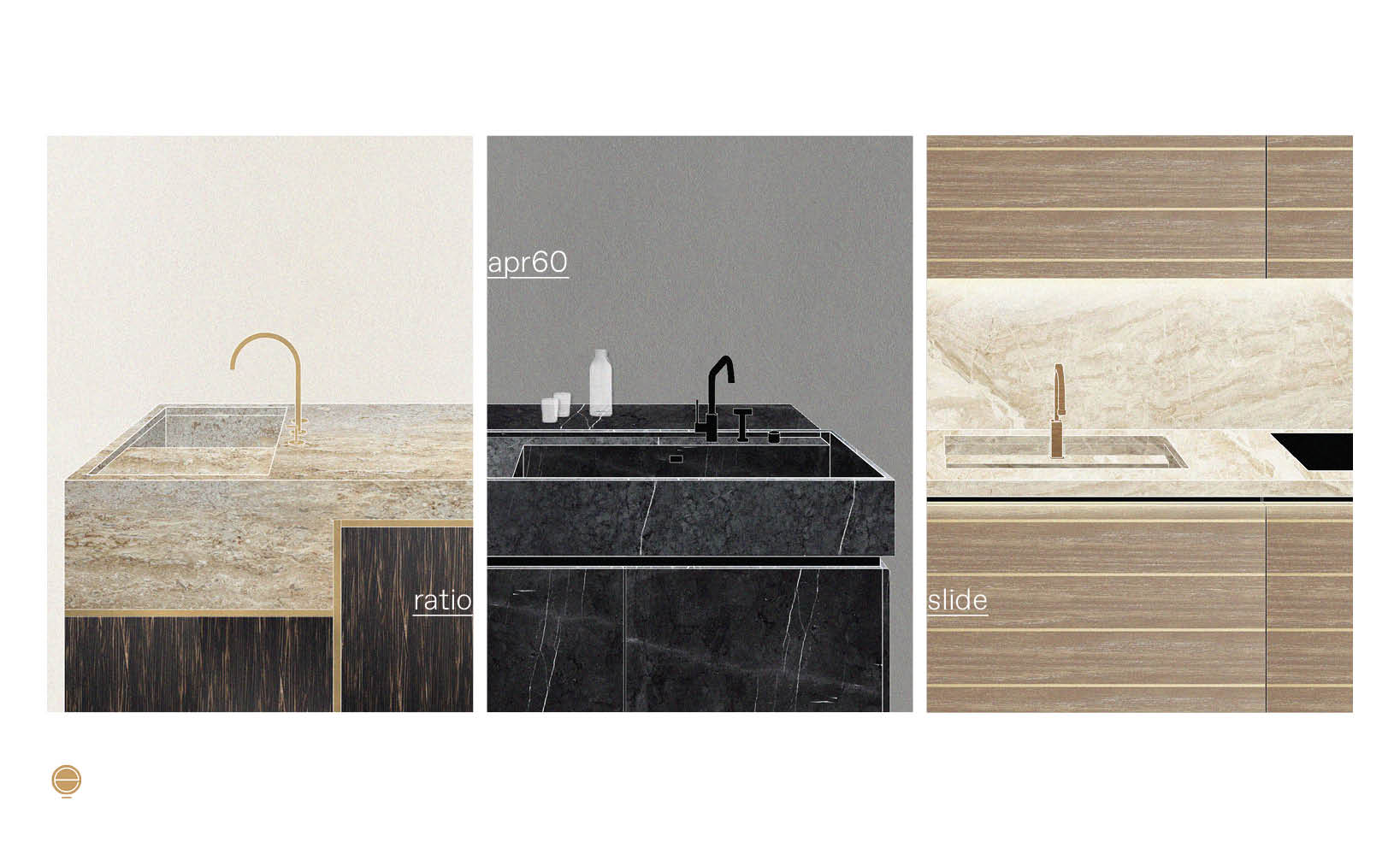 Dada Ratio: the architectural kitchen
The undisputed protagonist of Dada Ratio is its structure: thin brass profiles design the architecture and support a compact volume in which solids and voids, different thicknesses and materials of different shades create an elegant play of balance. A kitchen that is based on "two layers: the structural layer, formed by the uprights, and the surface layer". (Vincent Van Duysen).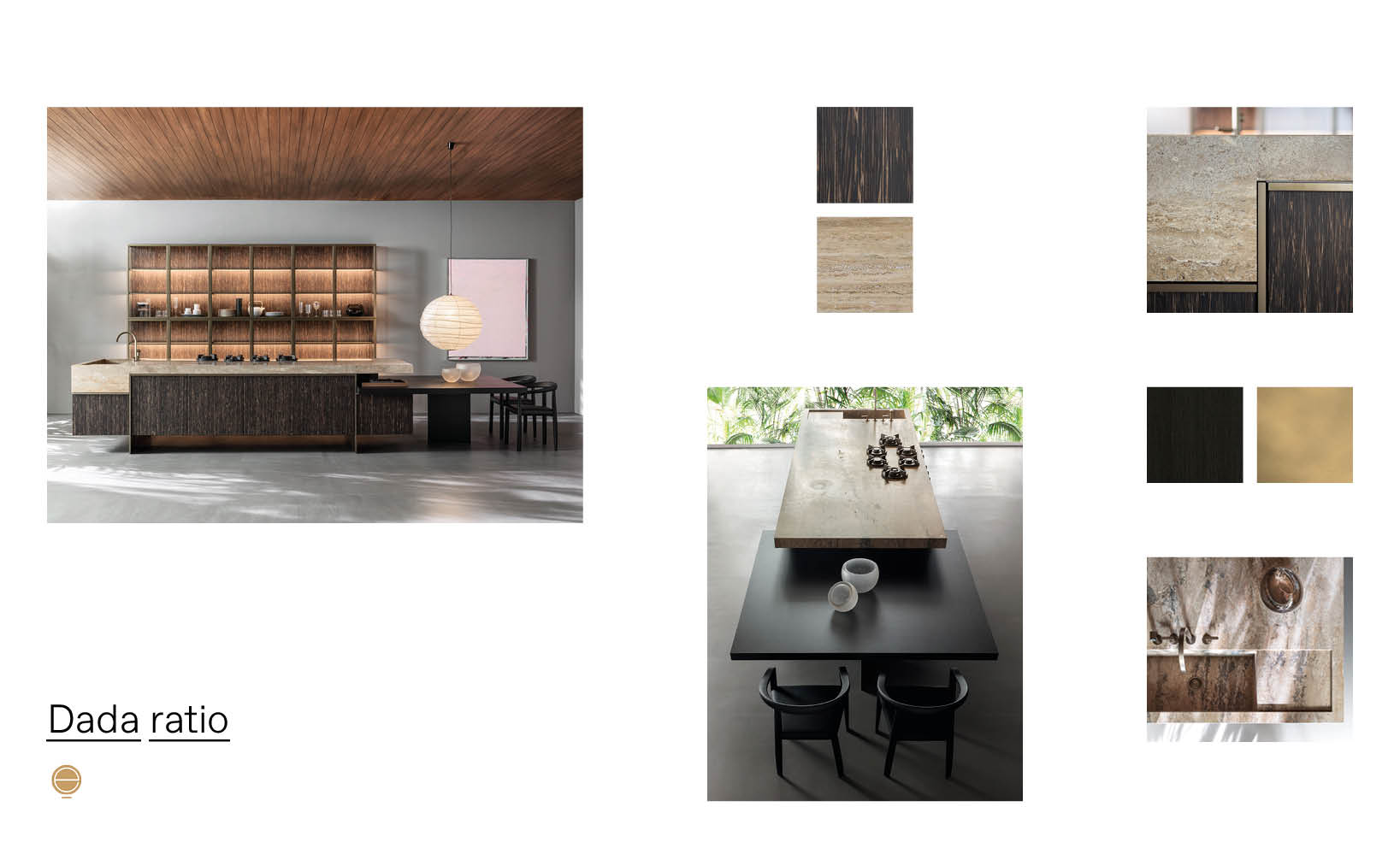 The solution chosen for this first proposal of luxury modular kitchen is an island kitchen with top in Rapolano marble and doors in dark palm wood, which with its golden streaks matches the brass profiles that run throughout the kitchen.
At a different height we have the snack table in dark oak, which is matched with the Miss chairs by Molteni&C. To complete the composition of this kitchen is the suspended wall unit with glass doors, the backrest in palm wood and LED lights that design the profiles of the transparent shelves.
The price positioning of the first solution of our luxury Italian kitchens is around 63.000 Euro.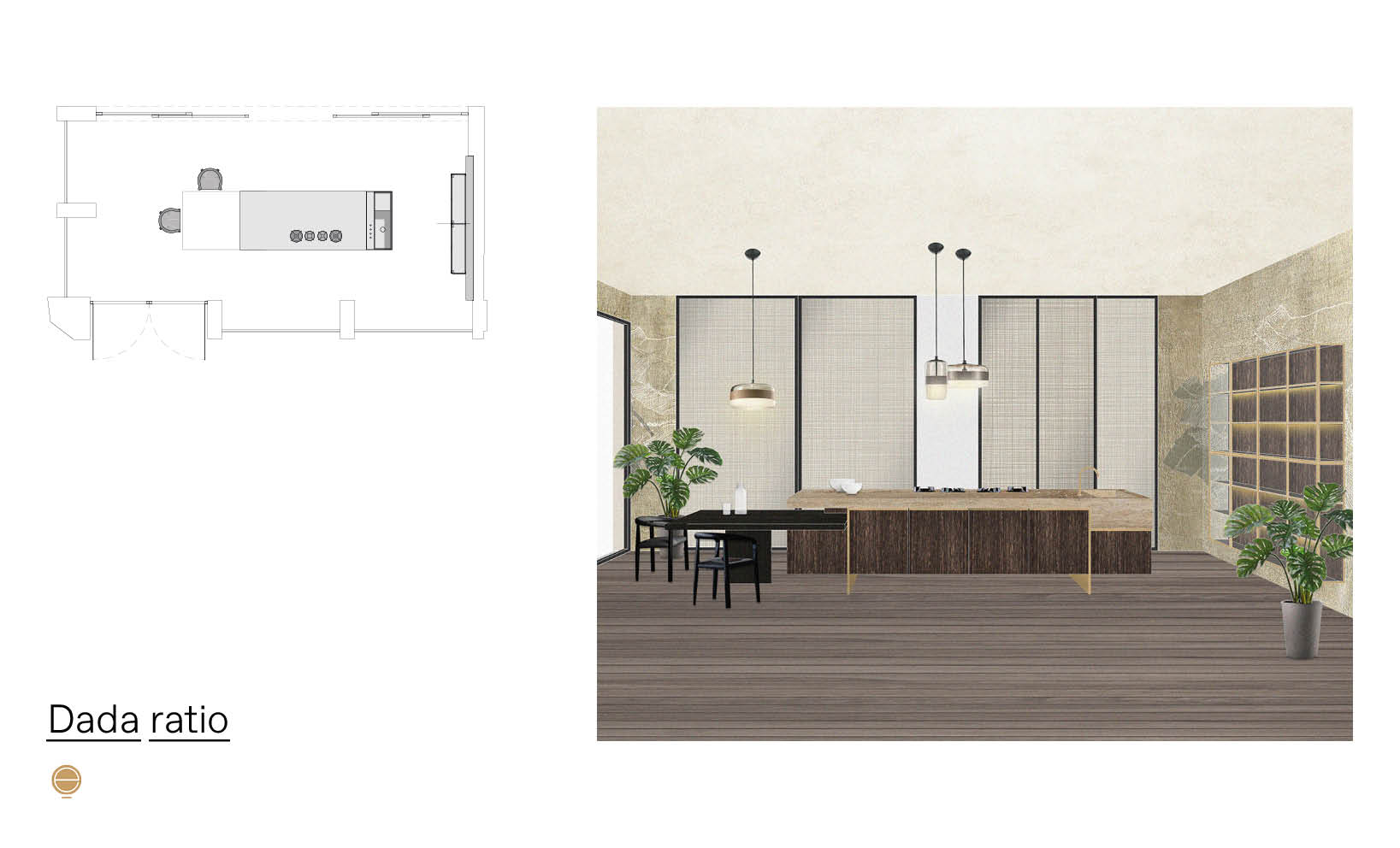 Boffi Apr60: the massive greystone kitchen
The characteristic of Boffi kitchens is that they are all born from the customer's requests. Everything is made to measure starting from the materials. Greystone, the finish used for our second proposal of luxury Italian kitchens, is a limestone whose color varies from grey to anthracite depending on the quarry of origin. Moreover, its white veins make each surface different from the others.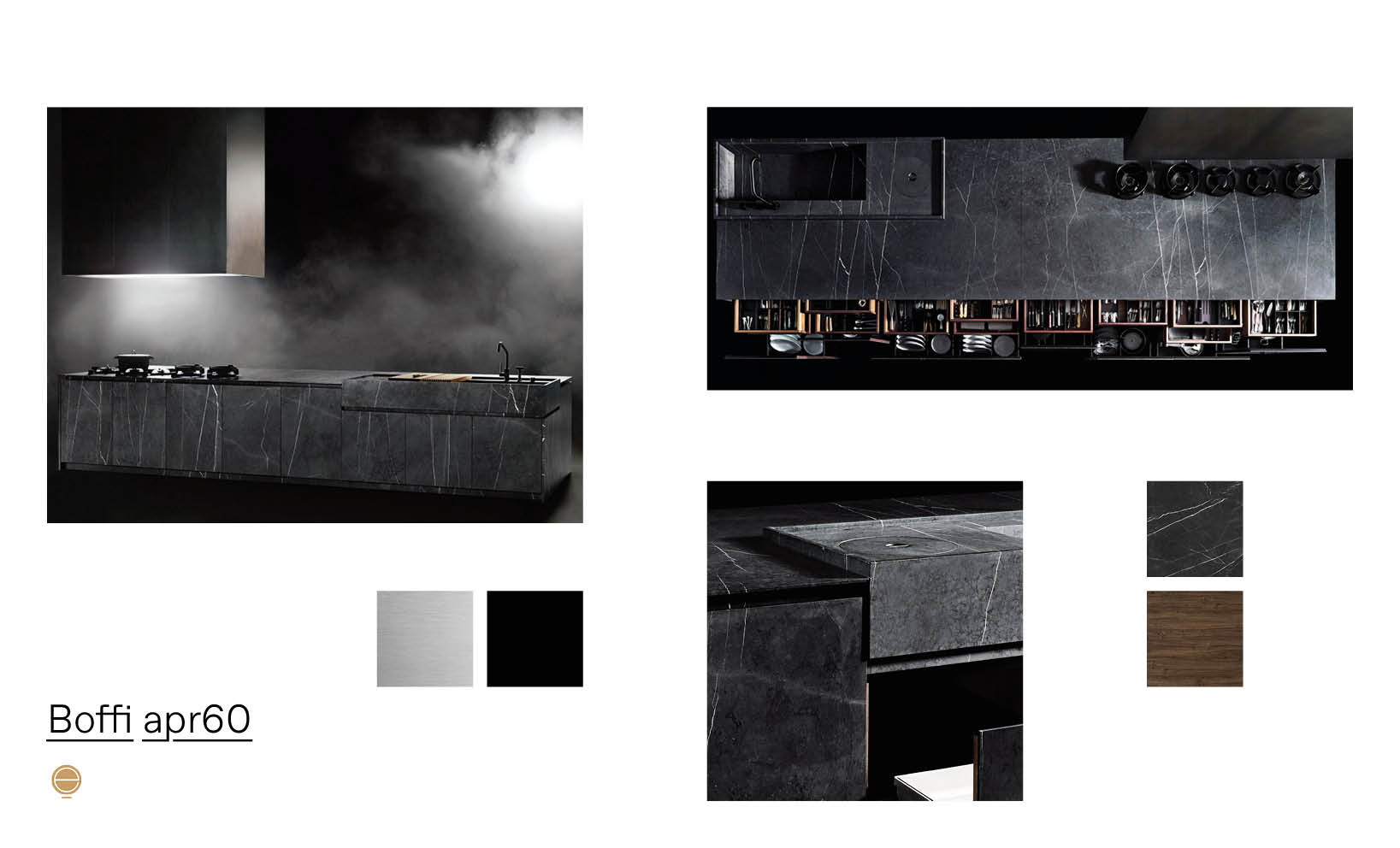 In this second proposal we find ourselves in a dry kitchen, where the work surfaces play a fundamental role, precisely because it is an environment in which there are more moments of conviviality than practical kitchen activities.
The volume in greystone marble, with a thick top and integrated sink, fits harmoniously into the solid wood snack table. A shaped kitchen island perfectly inserted in the center of the room which is completed with full-height columns with solid wood doors.
The price positioning of the second luxury modular kitchen solution is around 90.000 Euro.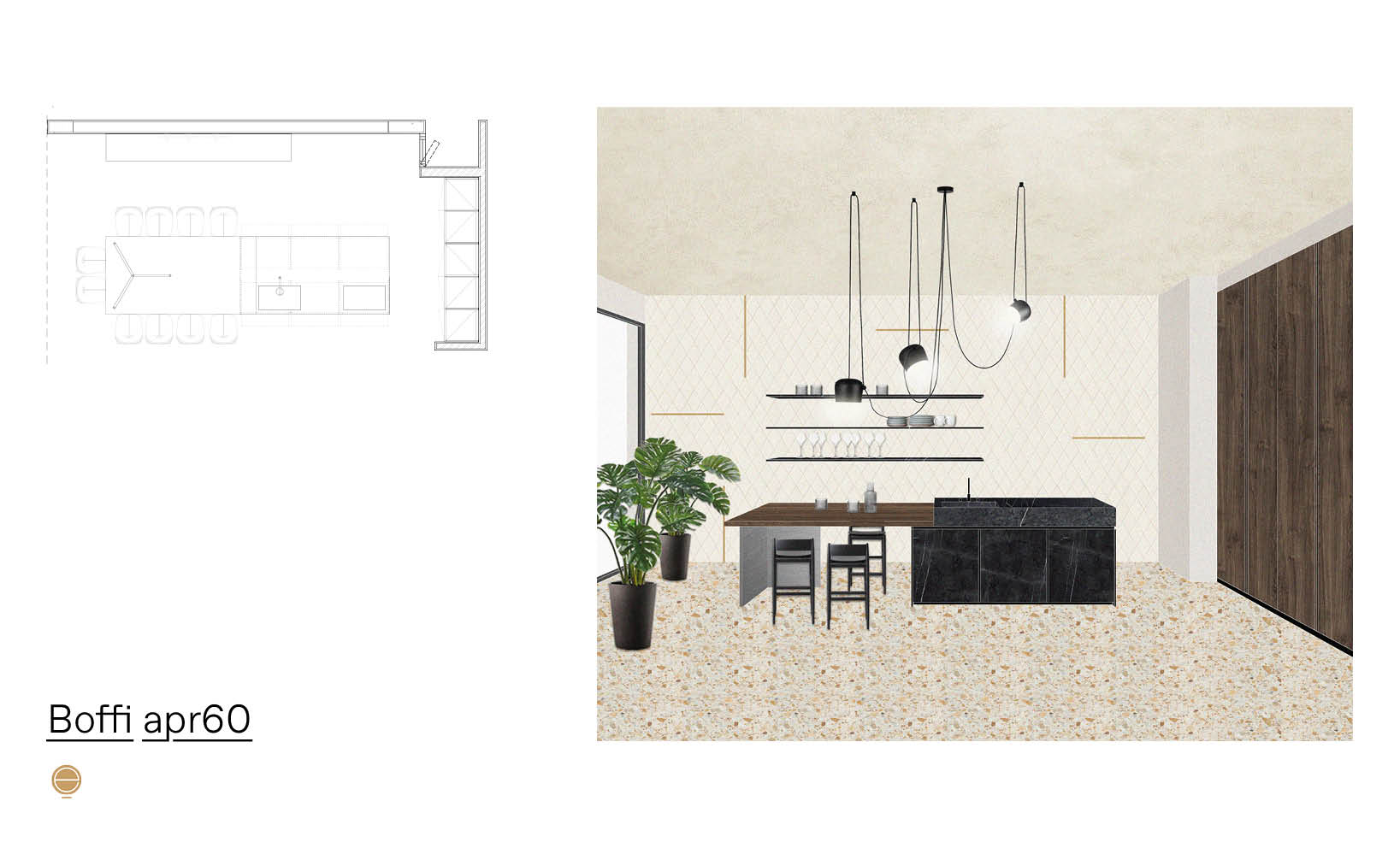 Armani Dada Slide: the elite kitchen
The basic concept of Armani Dada's Slide kitchen is to recreate an informal yet refined atmosphere, as if you were having dinner with a chef.
Everything revolves around the central island with a sliding marble top that reveals the satin bronze worktop. Attention to detail is the watchword for these bespoke kitchens: high quality materials and finishes, advanced technology and innovative systems are just some of Slide's features.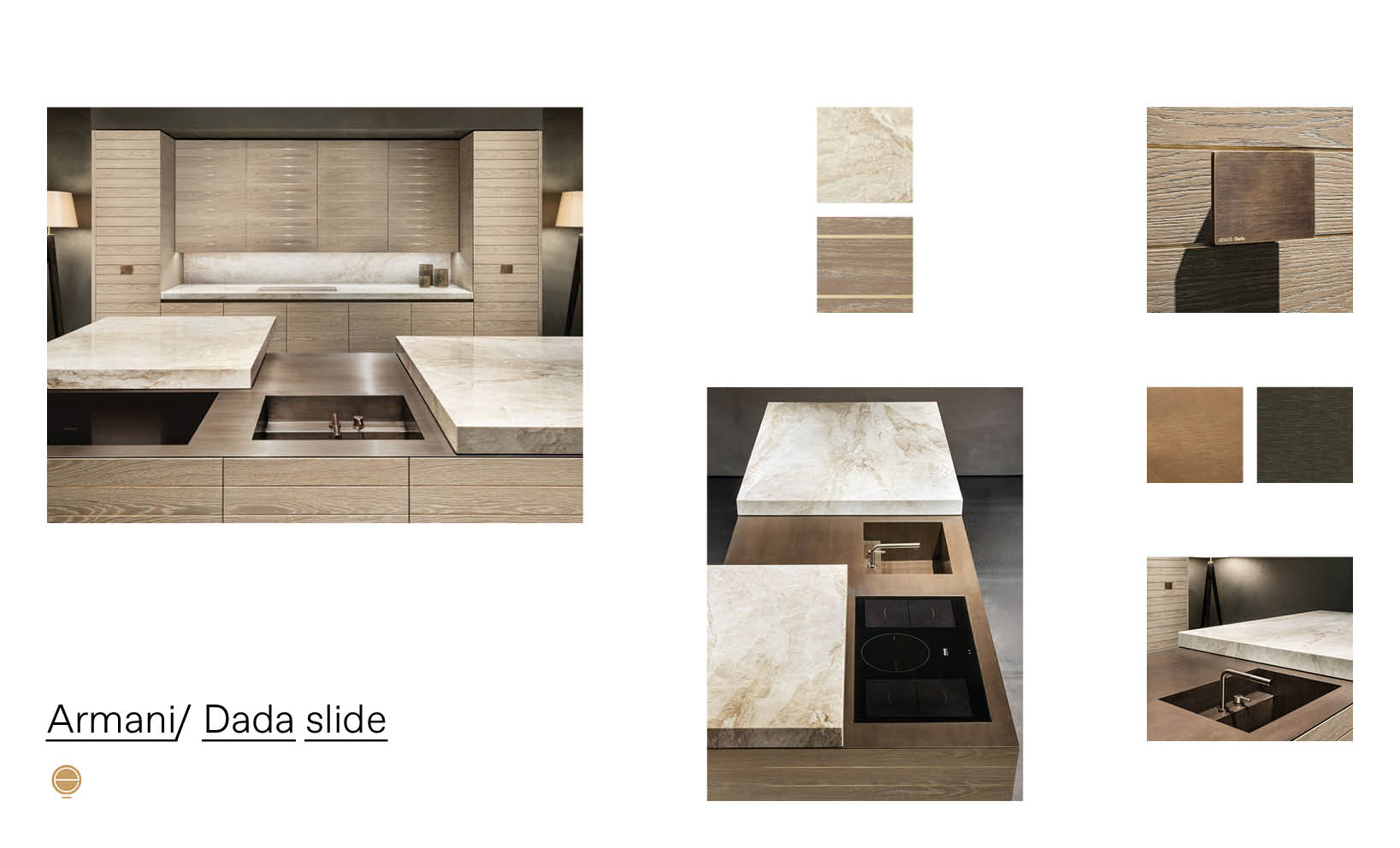 The facades of the central island and the system-walls all have horizontal sassafras light wood staves, regularly punctuated by horizontal brass profiles carved into the wood. To break this boiserie we have the champagne-colored marble positioned along the backplash of the kitchen and on the tops of the worktops. The final touch is given by the square bronze handles positioned in the center of the doors of the columns at full height. A precious and elegant kitchen design in every aspect.
For more information on the price of this luxury modular kitchen contact our team of experts.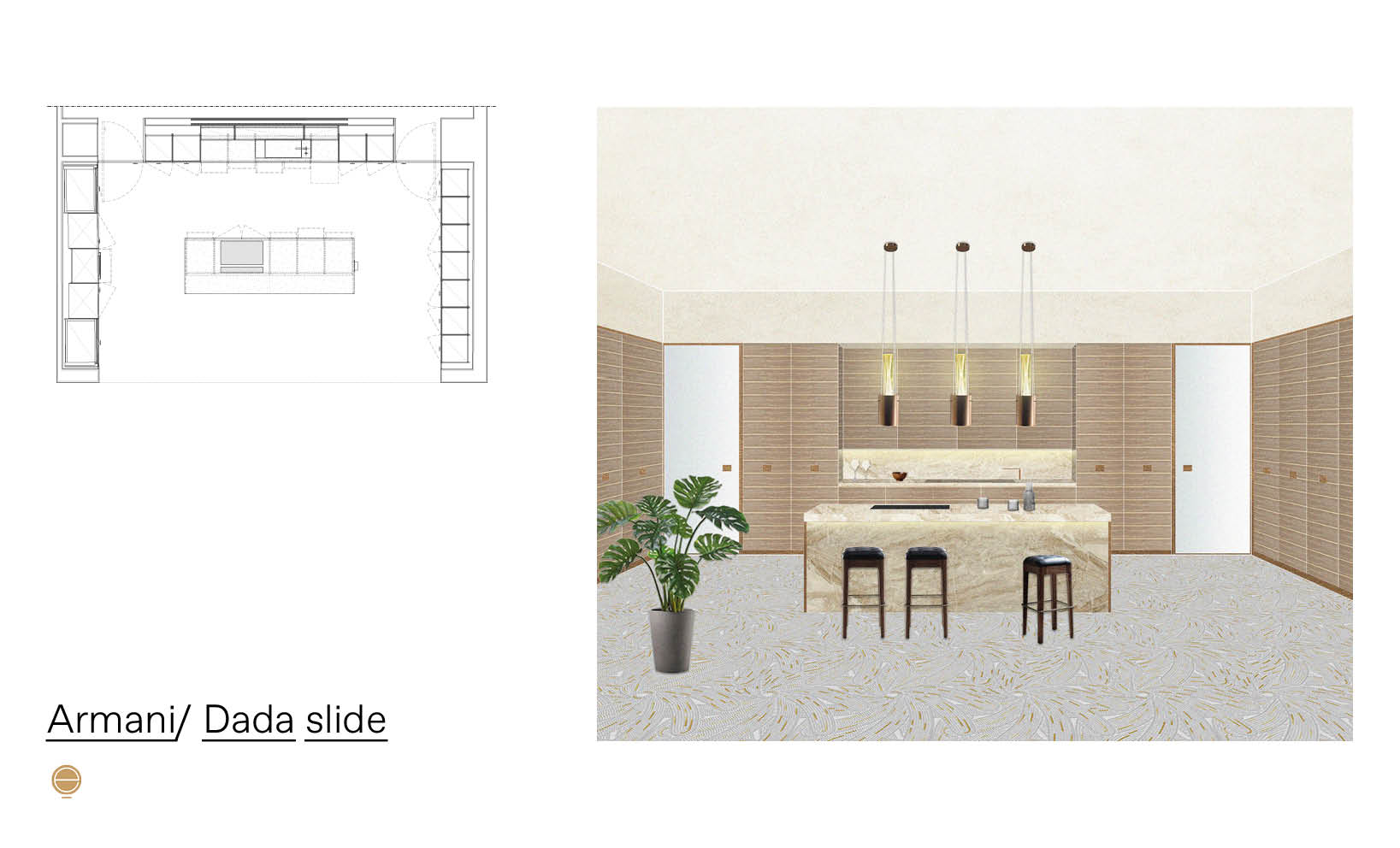 Here are for you our three proposals of bespoke luxury kitchens. If you feel inspired and are looking for a new Italian style kitchen for your home, please do not hesitate to contact us. Together with our interior designers you can start an Italian Interior Design project: from the kitchen to the living room, from the bedroom to the bathroom we will accompany you in every phase of the project to create together with you the house of your dreams. Our complete 360° Italian Furniture Supply services also include transport and assembly with white gloves directly on site.
In order to respond to every kind of curiosity we offer you an exclusive Italian Furniture Shopping Tour service: together with our experts in the field you will have the opportunity to see live and touch the real Italian design, experiencing and living unique and unforgettable experiences.
Your unique Interior Design Project developed by Italian Professionals.
Discover and shop Made in Italy while living the Italian lifestyle in Milan.