Outdoor Furniture Brands for your Summer
Posted on 03 May in Italian Furniture Online
High end outdoor furniture brands, High end outdoor furniture, Outdoor Italian Furniture, Garden Furniture, Luxury Outdoor Furniture, Italian interior design, Best outdoor furniture brands, Outdoor furniture, Outdoor furniture brand
The Best Outdoor Furniture Brands for Luxury Gardens and Terraces. Ideas from High-end Outdoor Furniture Brands to Live Surrounded by Nature in Style.
Top ten best outdoor furniture brands
With the arrival of spring, the living area moves into the garden or terrace. So it's a good idea to get organized and start thinking about outdoor furniture so as not to be caught unprepared when summer arrives. Browsing through the proposals of the best outdoor furniture brands you can find many design ideas, perfect to create luxury environments equipped with every comfort.
If you are looking for new inspirations for the terrace of your house or your garden, our interior designers are ready to take up the challenge by creating luxury outdoor furniture compositions with genuine products exclusively made in Italy.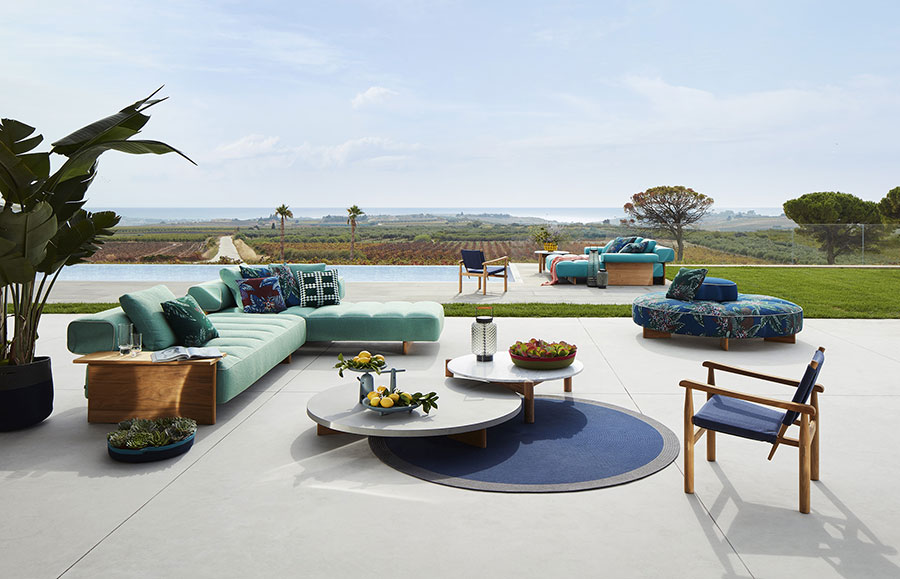 High-end outdoor furniture brands to furnish a relaxation area
Paola Lenti
Among the high-end outdoor furniture, there are the collections of Paola Lenti, ideal proposals for those who want to furnish an outdoor space in an informal style. The brand offers high performance outdoor solutions designed to withstand the weather and the action of time. The collections of the brand are characterized by vivid and bright colors. Like Adagio, a playful and ironic suspended seat, composed of ropes made with an exclusive Rope yarn by Paola Lenti.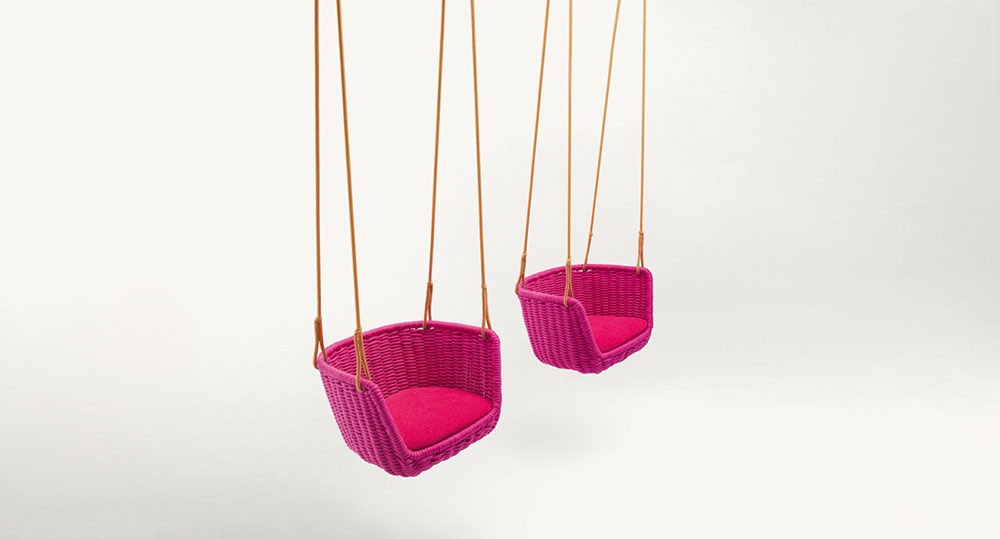 Paola Lenti is one of the best known companies active in the field of outdoor design which for years has also been engaged in experimentation and research. For example we have the High Tech rugs made with exclusive yarns able to withstand outdoor exposure and sea or swimming pool water. Like Loom, adaptable as a rug or wall decoration, with an exclusive texture of white plastic rings and handmade weaving.
Roda
With its collections entirely dedicated to the outdoor, Roda is one of the best outdoor furniture brands among the design companies of Made-in-Italy.
Active in the production of outdoor furniture since 1990, Roda has become over the years one of the best-known high-end outdoor furniture brands in the industry. Art director of the brand is the designer Rodolfo Dordoni, author of one of the cult pieces: the Network collection. Designed in 2004, Network is the first collection entirely dedicated to outdoor furniture. The seat is made of teak, a material that the company has worked skilfully since its beginnings. The collection includes various furnishings such as the adjustable sun lounger, armchairs, coffee tables and seating modules to furnish outdoor spaces and be used all year round in the garden.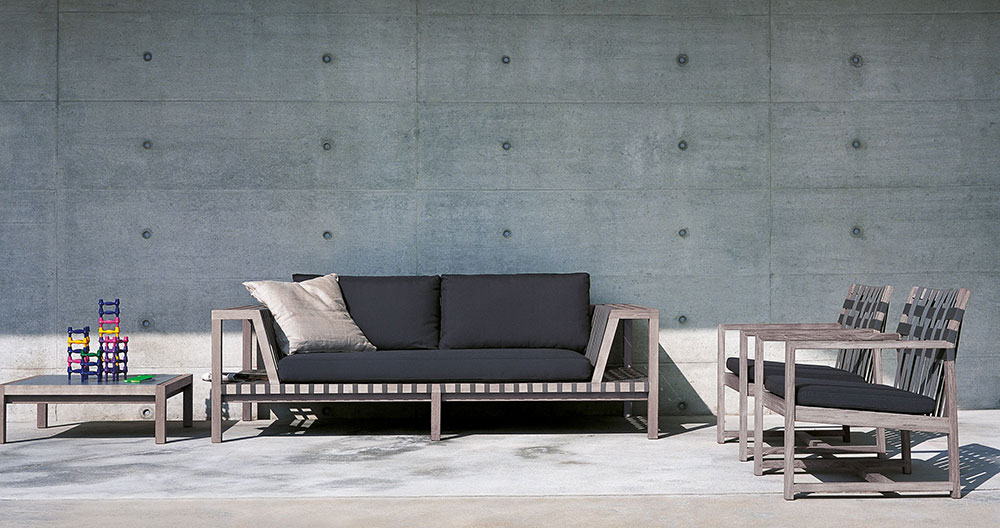 In order to create a luxury living room in the outdoors, Roda collections also include elegant and sophisticated sofas such as Dandy, a modular sofa with removable covers, with a rigorous design whose lines are inspired by classic indoor sofas.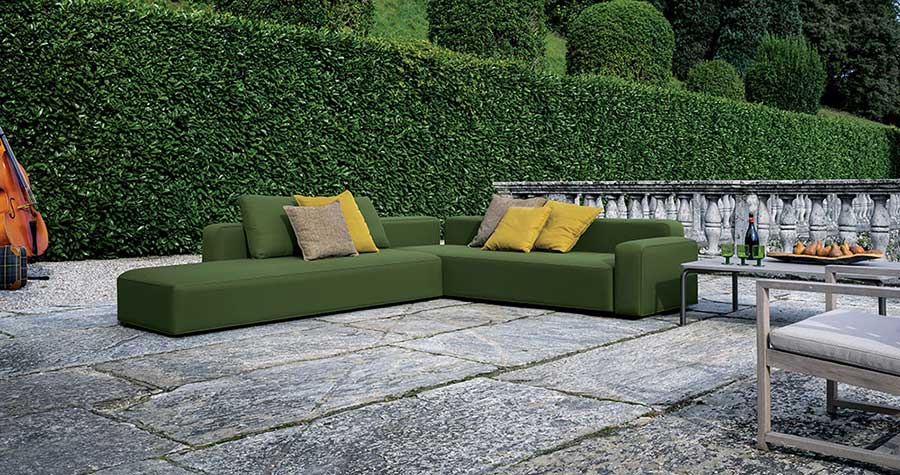 Cassina
In addition to the high-end outdoor furniture brands specialized exclusively in this field, there are also the great Made in Italy design brands, which have decided to bring their style to outdoor furniture collections.
Like Cassina, one of the best Italian sofa brands that has recently launched The Cassina Perspective Goes Outdoor. A new line of outdoor products that reinterprets the classics and introduces furnishings and accessories by Rodolfo Dordoni, Philippe Starck and Patricia Urquiola. Fenc-e Nature is the collection of seats with matching tables, designed by Starck and characterized by simple and essential shapes. The chair has got a solid teak armrest and the backrest is in hand woven rope.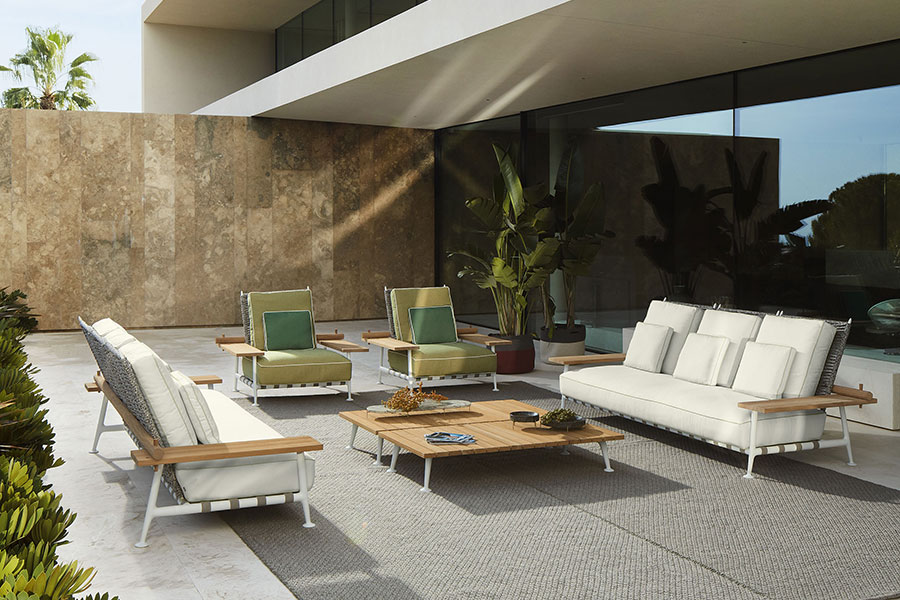 Sail Out is a modular sofa by Rodolfo Dordoni, with a compact shape reminiscent of canvas airbeds.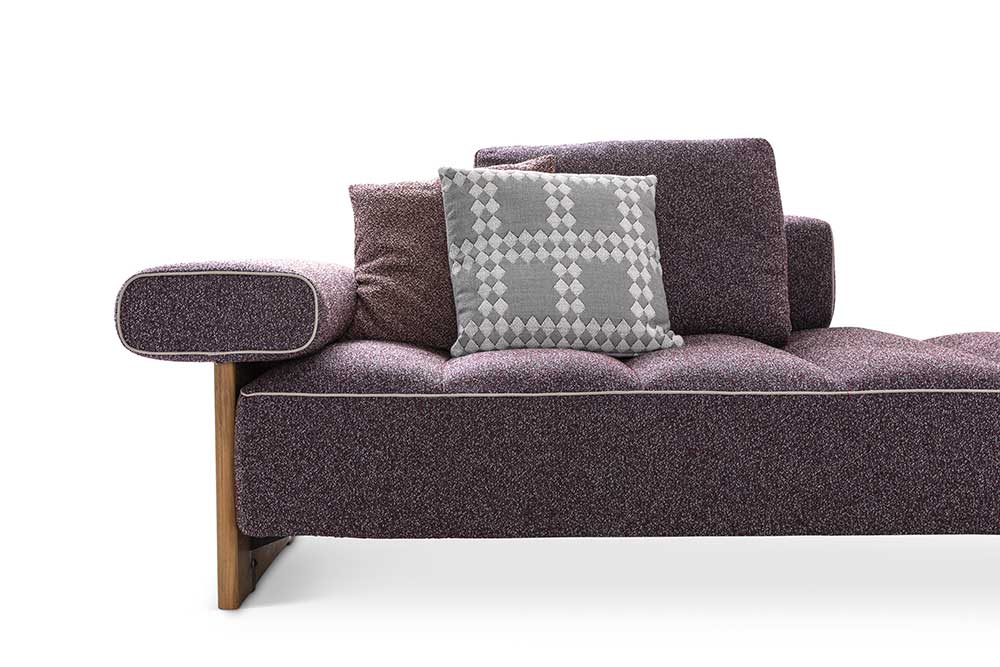 While Trampoline is the scenic love bed, designed by Patricia Urquiola, perfect for a large outdoor space, also available in a sofa version. The backrest and base are made from a solid handmade weave, in mélange polypropylene rope or in a multicoloured version.
Exteta
For many Italian design brands, tailoring is a fundamental component and it is precisely for this aspect that Exteta, one of the best outdoor furniture brands, stands out.
Brand of excellence that creates high quality outdoor products. From chairs to kitchens up to furniture accessories suitable for outdoor use. The exclusive Exteta collections include the Locus collection, a re-edition of a 1964 project designed by Gae Aulenti. Armchairs, sun loungers, tables, stools, deck chairs and sofas. A complete patio set, characterized by a sinuous coloured steel structure and fancy fabrics.
Exteta is a high-end outdoor furniture brand, which also offers in its catalogue proposals of high craftsmanship. Like the new Pouf Rossiccio signed by Massimo Castagna, art director of the brand. A complement that finds its ideal context alongside elegant upholstered furniture such as the Panarea collection made up of sofas, islands and dormeuse. A luxury collection composed of a mahogany structure with Barrique finish on which the large cushions rest. The latter are upholstered with fine fabrics, precious finishes and meticulous leather inserts.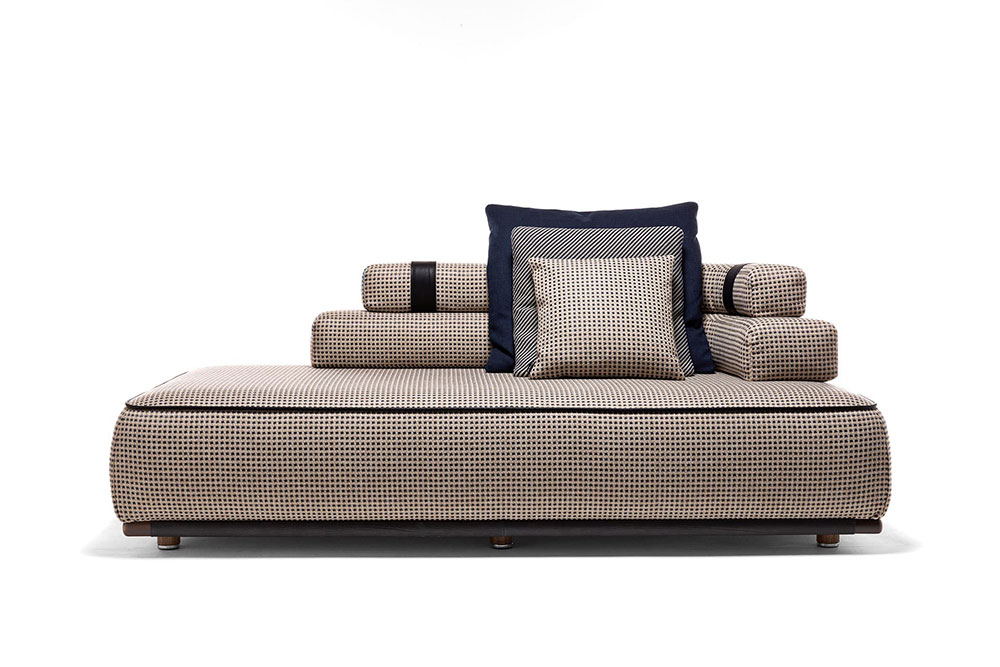 B&B Italia
Among the best-known brands of high-end Italian design, we find B&B Italia. The company with its catalogue of proposals dedicated to the outdoors is also at the top of the high-end outdoor furniture brands.
Among the top products is the Canasta collection designed by Patricia Urquiola in 2007 and now an icon in outdoor furniture. A collection composed of circular and linear sofas, armchairs, chairs and elements characterized by a large white polyethylene fiber weave completely handmade through a complex process that requires 4 hours of work and 2 craftsmen to string the yarn on the structure.
Like many of B&B Italia's indoor products, the brand's outdoor proposals also focus on flexibility and customization.
This is one of the distinctive features of the Ribes collection by Antonio Citterio, a modular seating system that can be transformed into something else by replacing, adding or changing the position of backrests and armrests. The basic module is the "futon" with an aluminium structure, on which armrests and backrests can be freely fixed.
Outdoor designer furniture and the role of Landscape Designers
Contacting an interior designer or landscape designer to plan an outdoor space may prove to be the best choice. In this way you can make the most of the potential of green spaces and choose the furniture with the help of a true expert in the field.
Flexform
For example, he could advise you on the collections of Flexform, another reference brand in the field of Made in Italy furniture, which has an outdoor section in its catalogue. Here you can also find products from the indoor collections reinterpreted with features that make them suitable for use in open spaces.
Like the Moka chair, a cult piece reissued by Flexform in 1985 and now also in an outdoor version, perfect to furnish the dining area in the garden or veranda with a minimalist style. The Moka outdoor chair with its characteristic cross-shaped backrest is made of materials resistant to the action of atmospheric agents. The structure is made of tubular steel or solid iroko wood, while the seat is woven in polyester fibre or polyurethane rubber.
To bring the elegance of the living area out into an outdoor space, the Moka chair can be combined with the Moka outdoor dining table, also with tubular steel frame and transparent tempered glass top or with the Levante table. The latter features an essential design with steel frame and top in solid iroko wood with natural, white or grey lacquered finish.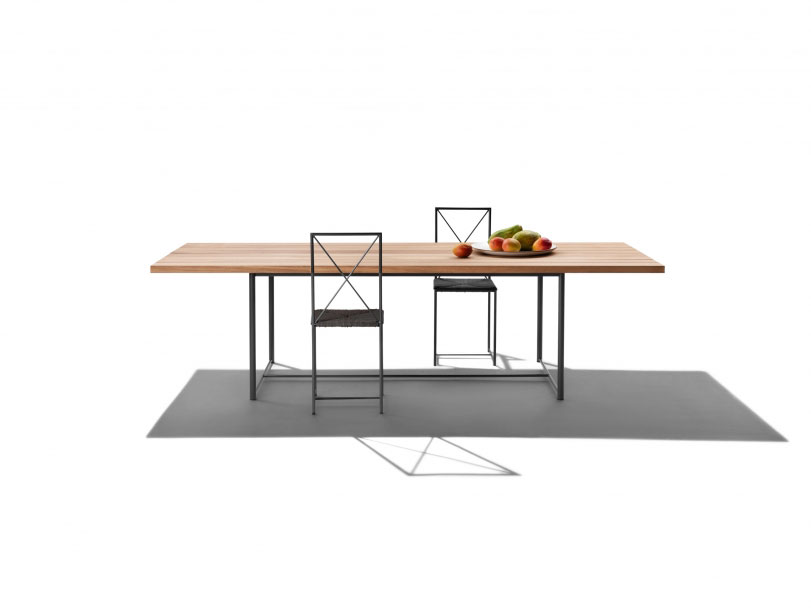 Royal Botania
Another company that places itself among the best int'l brands of high-end outdoor furniture is Royal Botania with its Royal Botania collections.
The Antwerp-based company has earned its position among the best outdoor furniture brands thanks to its 25 years of experience. It was founded by Kris Van Puyvelde and Frank Boschman, who initially intended to produce only teak furniture. Today Royal Botania's catalogue of proposals offers a wide range of high quality and design products, made with different materials. From stainless steel, to aluminium, to synthetic fibres, so as to satisfy all customers' needs.
Folia, for example, is a collection of outdoor seating, handcrafted in stainless steel. The structure is light and the shape is ergonomic, ideal to welcome the body in moments of relaxation. Available in white, anthracite, bronze and a range of pastel colours.
The search for materials is also evident in Royal Botania's most recent proposals. Like Conix, the series of outdoor tables of various sizes, characterized by a conical base and round or elliptical tops. The structure of the tables is in mixed concrete and reinforced with Ductal fibres. These conical table bases can also be combined with ceramic tops for which you can choose textures, colours and shapes.
Dedon
The research for innovative materials is fundamental to meet the special needs of the customers and this is especially true for outdoor design, so as to offer high-end garden furniture. Dedon, an international brand founded in 1990 by Bobby Dekeyser, was born from the patent of an innovative weatherproof synthetic fibre.
The uniqueness of the product is a quality that has distinguished Dedon since its first design: the Orbit outdoor armchair. Designed in 2002 by Richard Frinier, it is a generously shaped two-seater seat, also available in an XXL version with an adjustable canvas cover and wheels to easily change position.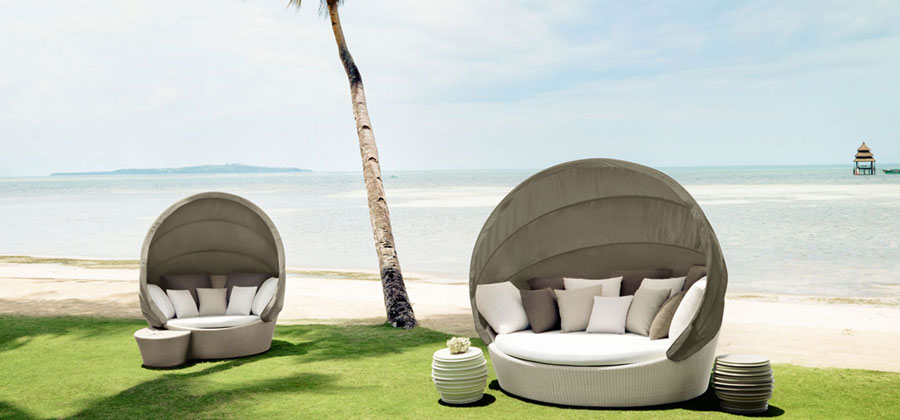 World-famous designers such as Jean-Marie Massaud and Philippe Starck collaborate with Dedon, making it one of the best outdoor furniture brands.
Proposals for outdoor relaxation, designed to create luxurious islands of comfort. As with Brixx by Lorenza Bozzoli, a flexible system composed of rectangular modules and the brand's first upholstered collection, or Rily by GamFratesi, a collection that ranges from chairs to deckchairs, from the cocoon armchair to the large double sofa bed with canopy.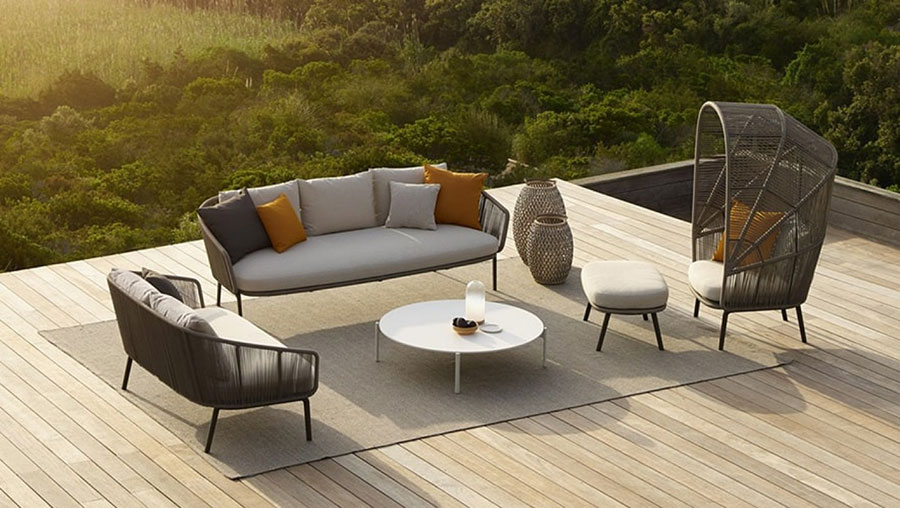 Kettal
One of the major international brands of outdoor furniture is Kettal, a Spanish company founded in 1964 by Manuel Alorda, initially with the intention of producing camping and beach furniture. Also for Kettal research and technology have determined the turning point, making it today a high-end outdoor furniture brand. The contemporary design of Kettal's outdoor furniture bears the signature of designers such as Ronan & Erwan Bouroullec, Hella Jongerius, Jasper Morrison.
Products for contemporary interior design projects such as Bitta, the collection designed in 2009 by Rodolfo Dordoni, which today is already a classic.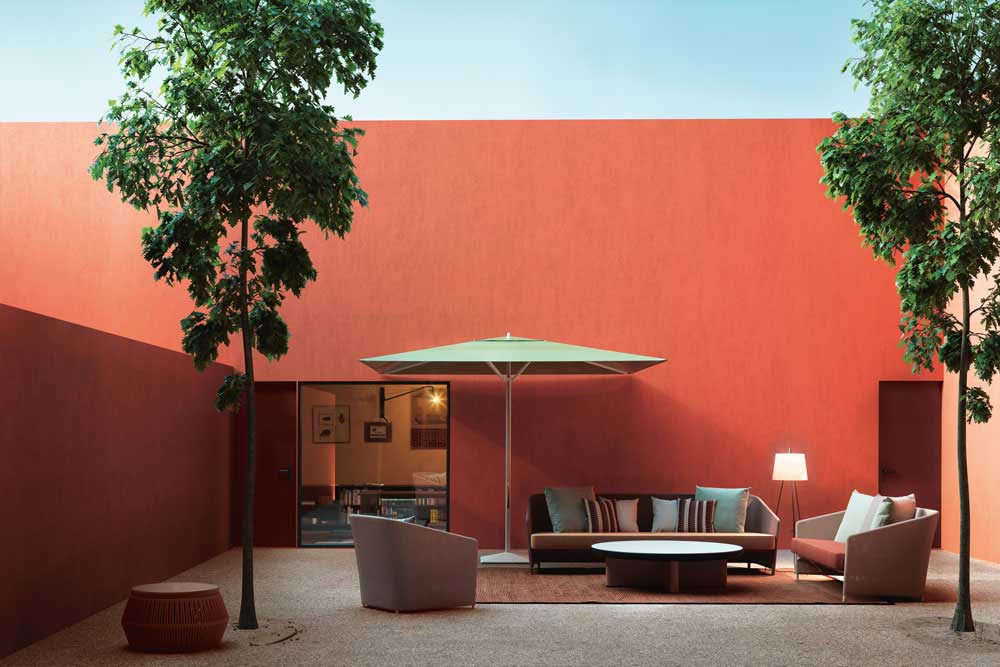 A family of garden furniture characterized by an aluminium structure. Dining set with chairs with backrests in woven polyester cord and tables with teak and stone top. A sober but at the same time distinctive design, like Cala armchair with curved backrest in woven cord, particularly evident in the majestic armchair by Doshi Levien.
Roll, the family of seats characterized by ironic cushions held together to the backrest by coloured bands, removable to allow the cushions to be stored during winter. Both products have been expanded with a whole family of outdoor furniture.
Gandiablasco
Gandiablasco is also one of the best outdoor furniture brands. The company was founded in 1941 but only since 2000 has it focused on the production of outdoor furniture, accessories and lamps. Collections with a rigorous design and a strong architectural character.
This is evident for example in the modular pergola system, a contemporary version of the wooden pergola. Ideal for extending a living space and creating outdoor dining areas, relaxation areas or shaded shelters. Pergola has an anodized aluminum structure and can be customized in various finishes, materials, colors and closing systems.
A collection of elegant and essential outdoor furniture, which goes well with the seats of the DNA collection, light and sophisticated.
If these products have inspired you and you have decided to give a new image to the outdoor spaces of your home, contact our interior design studio. Our architects will take care of the outdoor design of your garden or terrace. With our remote interior design consulting service we can follow you wherever you are and help you to choose the best Italian outdoor furniture brands. Should you prefer it, you could also come to Italy to choose your furniture personally, participating to our exclusive Italian furniture shopping tour organized for you. Contact us for additional information.
Your unique Interior Design Project developed by Italian Professionals.
Discover and shop Made in Italy while living the Italian lifestyle in Milano.