Bespoke Italian Furniture for Exclusive Projects
Posted on 04 February in Italian Furniture Online
Italian Furniture, Bespoke Italian furniture, Bespoke furniture, customer service, luxury furniture, furniture design, high end italian furniture, Italian Design, Interior Design
Furnishing with Bespoke Italian Furniture. Ideas and Suggestions for a Custom Luxury Interior Project with High End Italian Furniture.
Home and Design: Bespoke Italian Furniture
Contemporary furniture aims to create spaces suitable for the lifestyle of those who live in them. Modern interiors reflect the spirit of our time by conveying the way in which we live and work. In order to meet specific space and style requirements, the best choice is to rely on expert designers to design living spaces and exclusive bespoke Italian furniture.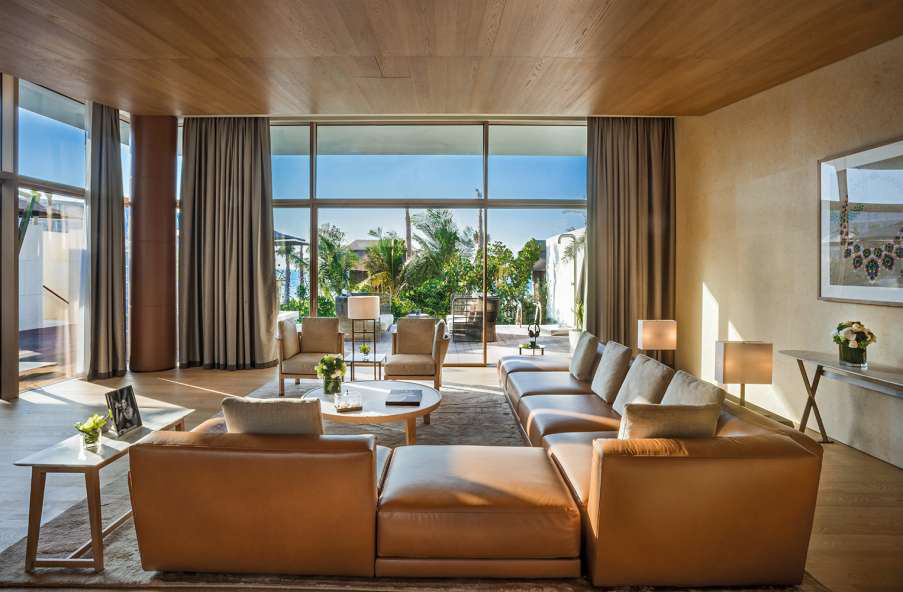 Bespoke and Made in Italy: Furnish with high end Italian Furniture
The knowledge of Italian designers, continuously updated on current trends, joined with the manufacturing know-how of companies and artisans, are the right combination to create an interior design project and a unique furniture design, allowing you to best take advantage of the spaces available.
But this is not the only advantage that you have if you choose custom furniture. Custom furniture allows you to personally select the finest materials, as well as the textures and the finishes. Unlike a mass-produced product, your bespoke furniture will be unique and personalized. Ad hoc solutions can be employed to enhance the shapes, colors, and materials, adapting the project to the context as best as possible. All this, combined with the undisputed quality of Italian design, is the reason for choosing bespoke Italian furniture.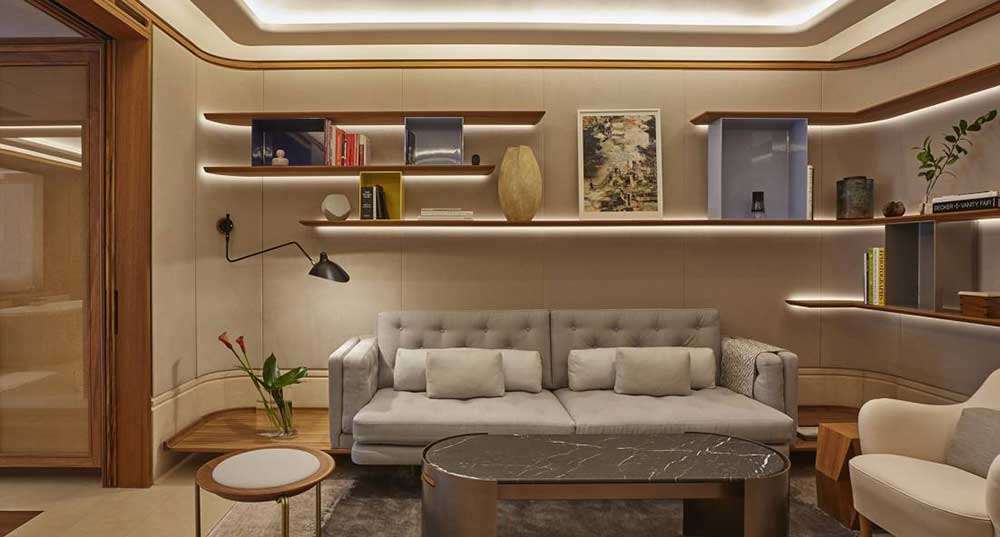 At the same time, there are Made in Italy companies specialized in certain fields of furniture and decor, which invest daily in Research and Development. These enterprises work alongside artisanal companies, who are ready to intervene on any project requiring specialized knowledge, cutting edge technology, or machinery. In order to create unique, high-level solutions, it is necessary to rely on industry experts: professionals and companies who work to meet the needs of a clientele constantly in search of high end Italian furniture that is tested, reliable and long-lasting. This is also why choosing Made in Italy furnishings means investing in high quality products.
Bespoke and Italian Artisans
The skills and manual abilities of Italian artisans are known all over the world. In fashion design, like in interior design, when we speak of Italian style, we think of those workers who pass on their skills in processing raw materials and creating certain products (furniture, upholstery, etc.) from generation to generation. And it is from this artisanal tradition that high end Italian furniture is born.
The manual processes include the inlay proposed for this "sartorial" piece of furniture, which is destined to become the true focal point of a custom-designed space. Bond, the dining table designed by Rachele Pellegatta of Dome Milano Interior, is a piece of sculptural furniture in wood and marble. The peculiarity of this table is in the top, made by inlaying two types of wood, and in the base with octagonal legs, which are available in marble or wood.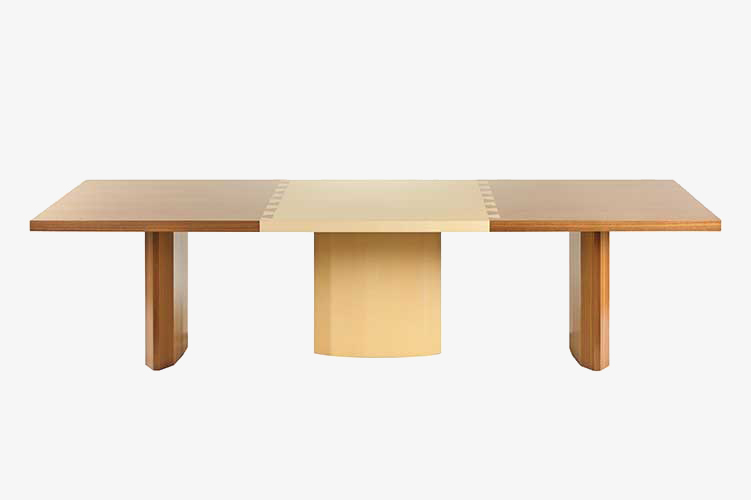 As well as the Credenza designed by Patricia Urquiola, which inspired us with its exquisite example of the stained glass technique. This piece of furniture brought this near-extinct procedure to light and reinterpreted it in a contemporary language.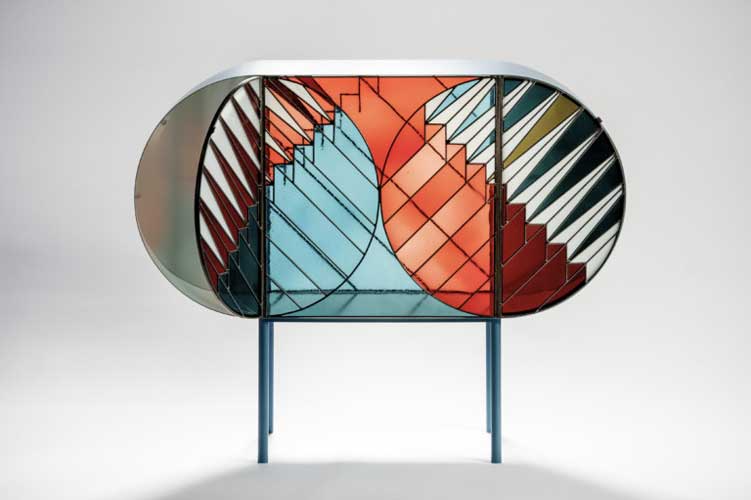 The craftsmanship of the artisans allows you to have products made with the most sought-after materials, like the Statuarietto marble processed by hand that we used for the Italian Custom Furniture project of a NYC residence. This tailor-made project was conceived in order to distinguish our customers' bathroom with something truly unique.
By relying on an interior designer to furnish your home with tailor-made solutions, you can obtain ad hoc solutions that enhance specific architectural details or particular aspects of the house.
Studio Marcante Testa does this in its interior projects by using custom metal solutions to create room dividers or boiseries with a metal structure to divide spaces and characterize the contemporary living room in a unique way.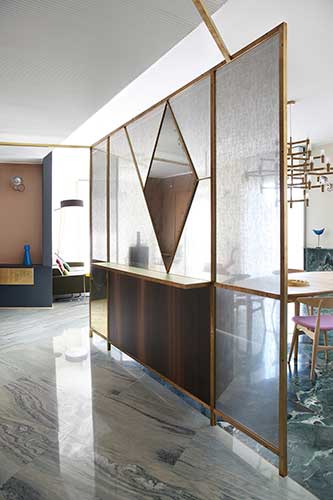 Bespoke and Italian Design Companies
Custom furnishing does not necessarily mean involving only small artisanal companies, which are spread throughout the Italian territory, each possessing their own specialties. Even large Italian furniture brands can provide proper support for an interior design project that sees bespoke Italian furniture as the protagonist. These companies can offer the best guarantee for a project as they possess ample technical knowledge and are always engaged in research and development.
This guarantee, for example, also applies to those involved in the maritime sector or yacht design. The interiors of these boats have restrictive environments for which it is possible, if not even necessary, to make custom furniture. An example is the SUNDAY FB235 by AZIMUT BENETTI YACHT, the staging of which was designed and created specifically by Molteni&C, a well-known Italian luxury furniture brand.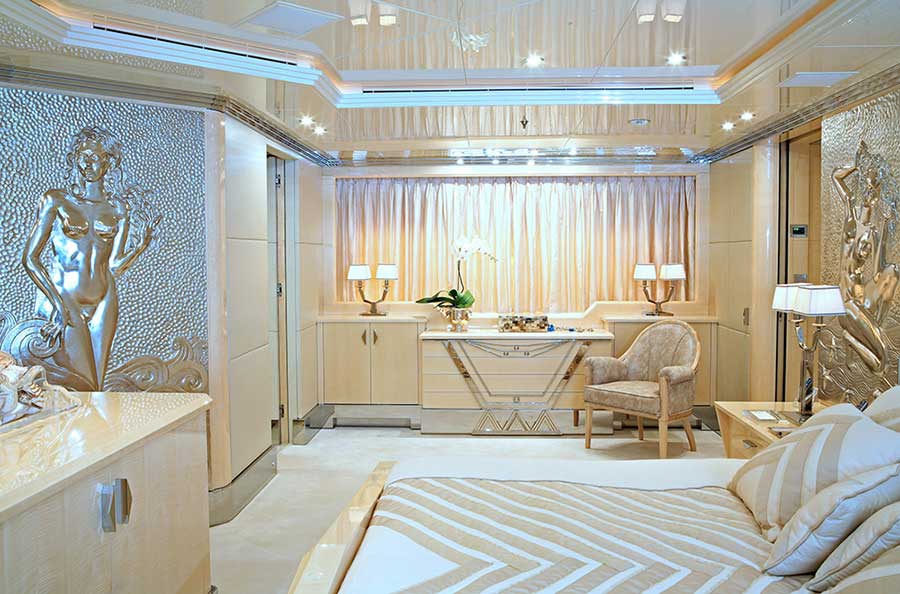 It is a wonderful residence on the water where each space is made unique by luxury finishes, exclusive high end Italian furniture based on custom designs, works of art, and various design objects.
It is an approach that is systematically partly industrial and partly artisanal, such as that which designer Patricia Urquiola took when creating the interiors of the SD96 yacht by Sanlorenzo, for which she designed the furnishings and layout.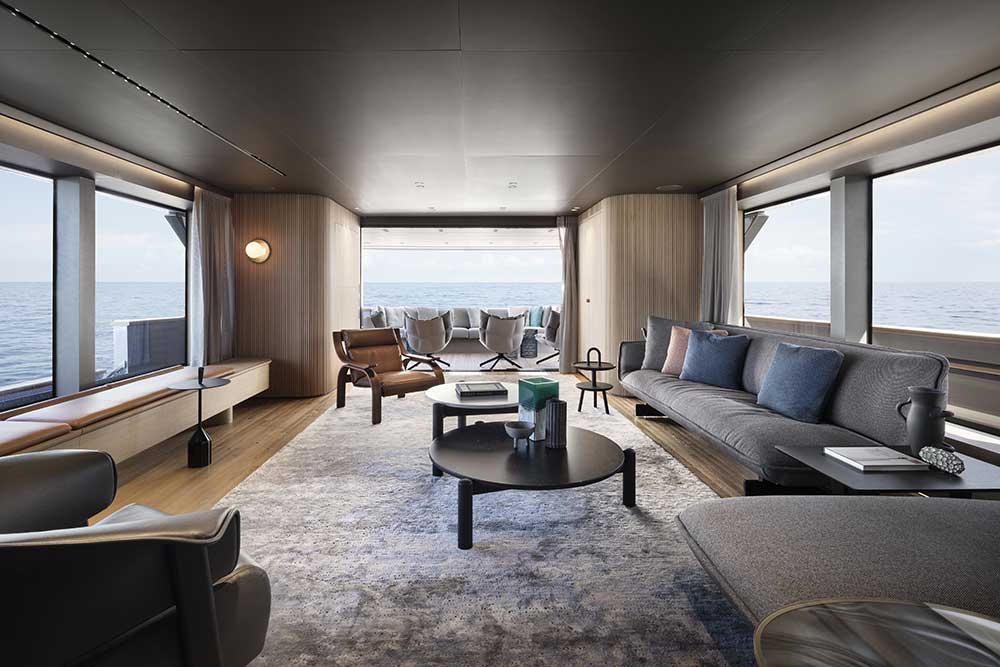 Not only furniture but also decor can make a room unique, like the arresting aquarium made with Mutaforma micromosaics for My Dream, the 38th largest yacht in the world, custom-designed by Studio CQS. The decor is an expression of originality for this nautical jewel. It was made with micro tiles of composite material, which allow for the creation of an endless number of designs.
The collections of Alpi provide another decorating option. Alpi is an Italian company that produces decorative surfaces in composite wood. Its collections are suitable for creating infinite custom compositions on any surface or finished product. The Italian brand was recently chosen to decorate the interior of the Yacht Crossover SX76 from Sanlorenzo.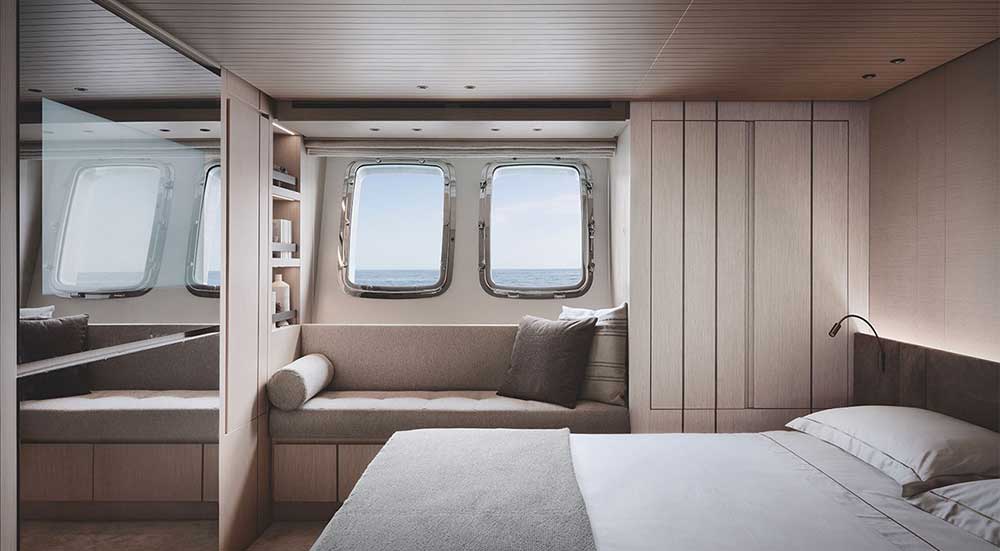 Contemporary Italian Furniture: Bespoke Kitchens and Wardrobes
The exclusivity of the products is not the only reason why it is worth it choosing to furnish with bespoke Italian furniture. A piece of tailor-made furniture fits into the home perfectly and can be designed in coordination with individual preferences and needs.
An example of this is designer Italian wardrobes, furniture items that generally find their best placement in passageways, niches, and service rooms. Therefore, whether it is a built-in, walk-in, or free-standing closet, the important thing is that the solution is the one that best suits your needs.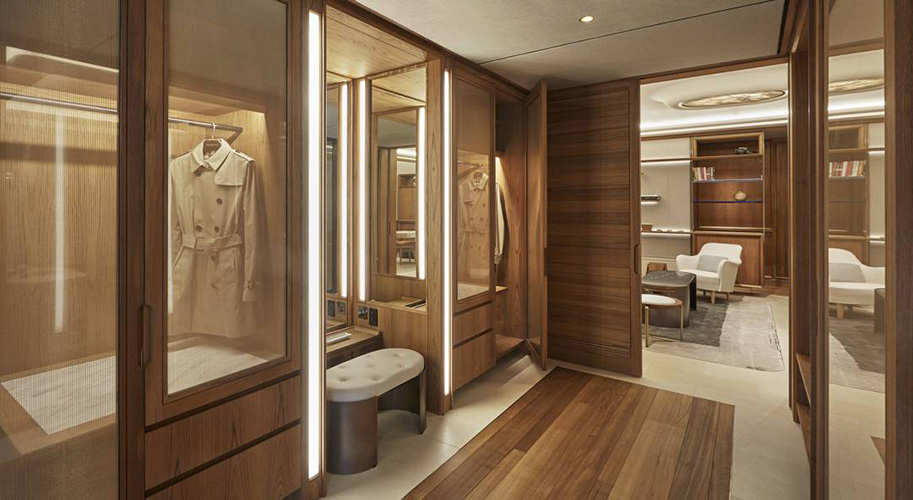 The advantage of choosing a custom-made piece of furniture also lies in the possibility of creating a proposal embellished with refined details. For example, a fabric-padded boiserie that serves as both decor and a storage compartment such as the one from Porro's furniture collections.
Like wardrobes, kitchens are also one of the most customizable spaces. In these cases, the kitchen is designed to adapt to the customer's needs and the space available since.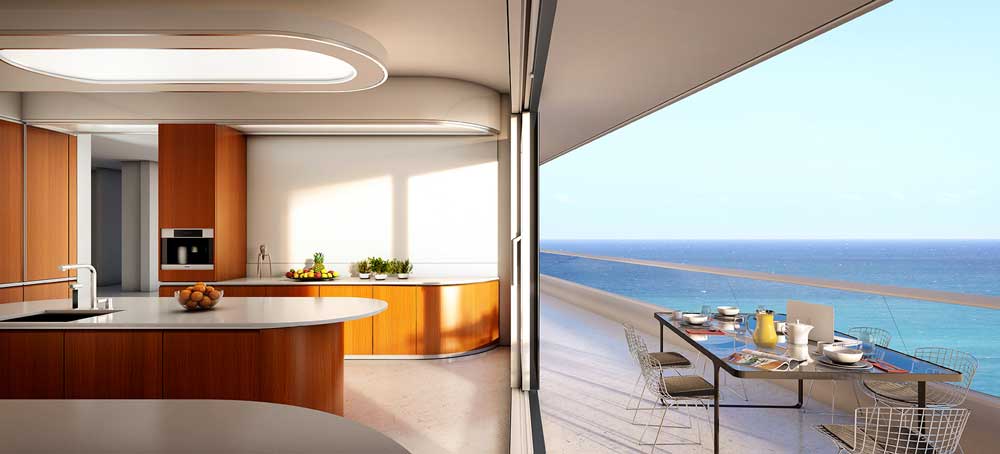 Custom luxury Italian furniture is unique and precious. When deciding to purchase these pieces of furniture, one of the fundamental steps is the installation. This phase must be managed by qualified and experienced personnel who know the product and its unique characteristics.
The high-end Italian furniture in our projects is installed by expert technicians who, thanks to decades of experience, can obtain the best results in the final phase.
By entrusting your project to our Italian interior design studio, we can design unique furnishings for all areas of your home from the kitchen to the living area. For those who are dreaming of bespoke Italian furniture, we offer exclusive shopping tours.
We will plan your visit to Italy, where you can choose the furnishings and see the craftsmanship and raw materials firsthand. Once the products are finished, our customer service continues with the on-site installation of the high-end Italian furniture by our expert craftsmen, to bring the best of Italian design to your home.
Your unique Interior Design Project developed by Italian Professionals.
Discover and shop Made in Italy while living the Italian lifestyle in Milan.