Luxury Patio Design
Posted on 04 January in Italian Home Design
Outdoor living space, Outdoor dining, Italian Design, High end outdoor furniture, Interior Design, Outdoor Italian Furniture, Italian interior design, Luxury Outdoor Furniture, luxury patio design, Italian interior designers, Luxury Modern Outdroo Furniture, Best outdoor furniture brands, Outdoor furniture, Outdoor furniture brand, High end outdoor furniture brands
A moodboard, a guideline and a style declined in three proposals of luxury patio design. From a lounge atmosphere to an elegant dining area, discover how to create the right luxury modern outdoor furniture composition for the terrace of your house.
How to devise the perfect luxury patio design
Today more than ever, thinking about the design of your terrace (or your garden) has become a fundamental objective in the design of your home. Outdoor spaces are transformed and integrated with indoor environments, creating an even more complex and dynamic system of spaces.
We have realized, especially in this period, that being in the sunlight and breathing fresh air, surrounded by the scent of nature are needs that make our lives better, they are almost fundamental requirements for our well-being. We are therefore pleased to present our patio ideas: 3 different environments, each with a different function but all united by the same Italian style, a color palette with Mediterranean nuances and above all by luxury modern outdoor furniture exclusively made in Italy.
Mediterranean mood: focus on luxury modern outdoor furniture
The common thread that will accompany us on this journey to discover our three outdoor patios is a completely Mediterranean mood. Neutral shades and natural tones, white painted walls, ceramic tiles and wooden floors are the backdrop to furniture elements with interwoven textures, blue and light blue fabrics and bright colors.
Lighting also plays a central role: lanterns, suspended lights and floor lamps not only provide light at night, but are essential to create an evocative atmosphere and enjoy the outdoor area in the evening. Finally, prickly pear plants, lemon trees and climbing ivy enrich the terraces, creating unique settings reminiscent of Mediterranean landscapes.
Lounge, pool deck and dining: here for you our three proposals of Italian patio design. From the selection of products to the overall price positioning, we will show you how to give life to the terrace of your dreams.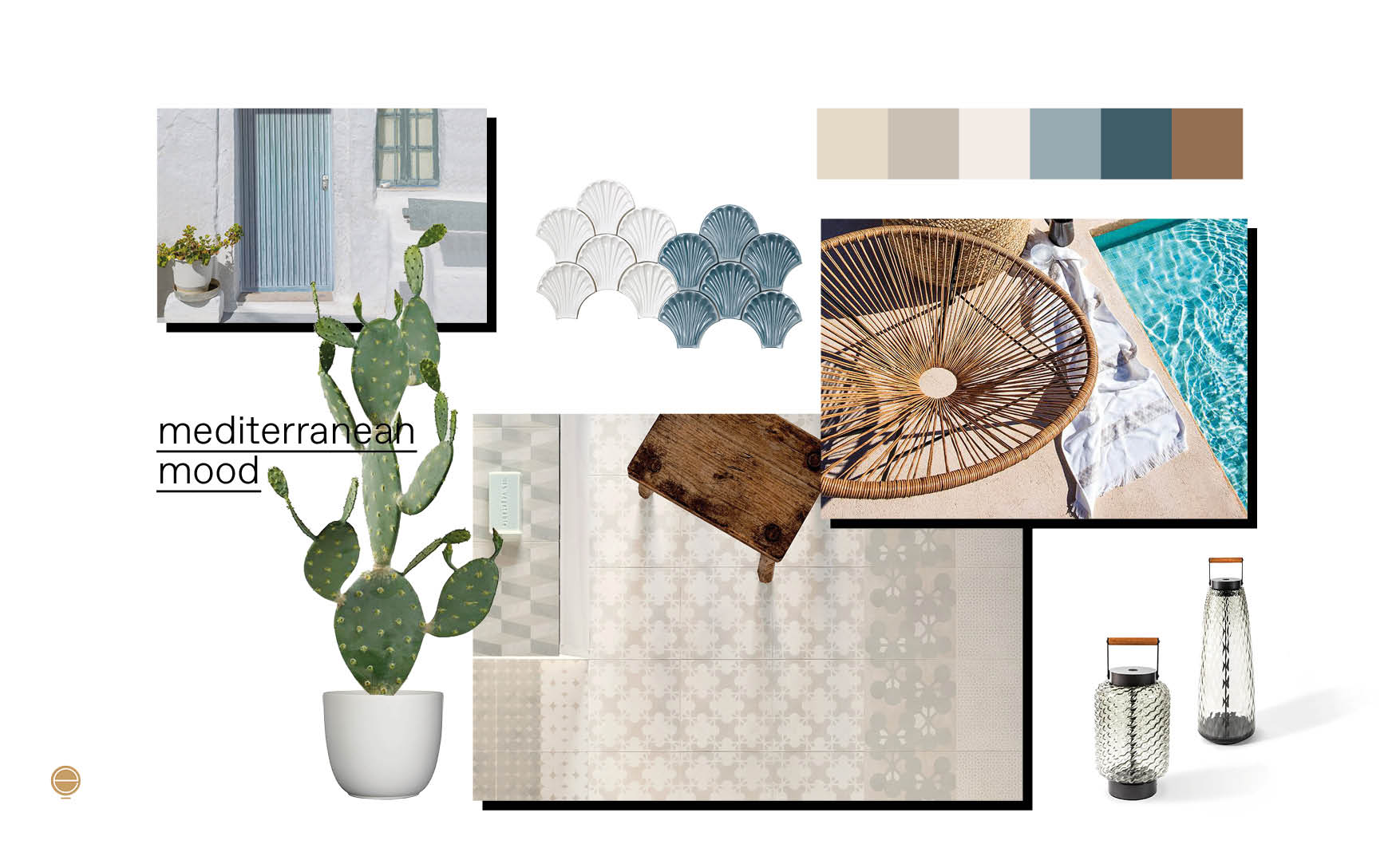 Italian patio design n.1: lounge & relax atmosphere
Our first proposal of luxury patio design aims to recreate a real lounge atmosphere, an outdoor living area where you can relax and enjoy the sunny days. Surrounded by cacti and succulents, the outdoor space features sofas, large and enveloping armchairs, colorful poufs and circular carpets, whose blue and green hues are highlighted by an ivory stoneware floor.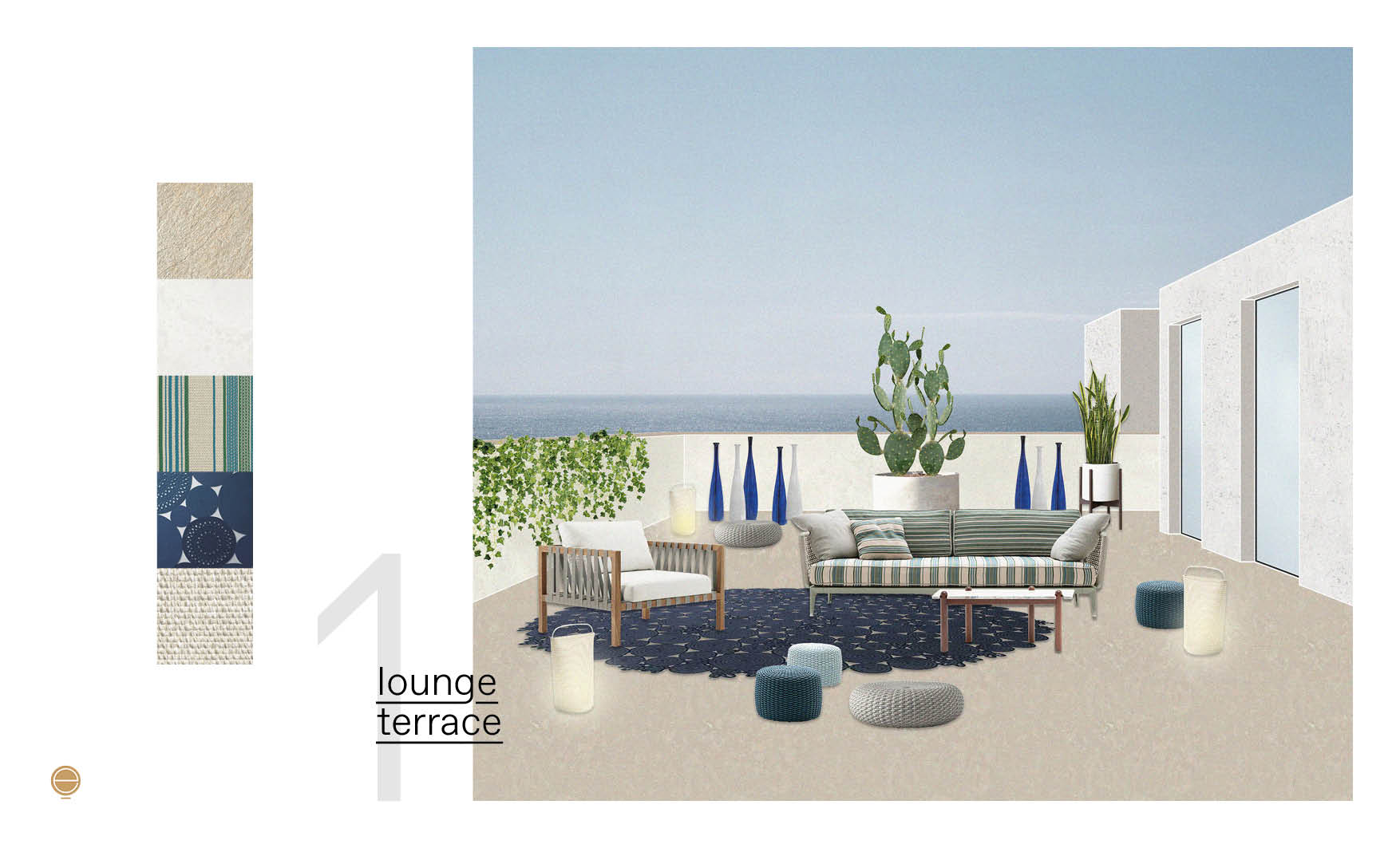 In order to create a balanced composition for your luxury modern outdoor furniture lounge we went in search of products with essential silhouettes and intertwined ropes and wires, so as to create a constant game of solids and voids between all the furniture elements.
Positioned at the center of the terrace are the two Ribes sofas by B&B Italia, whose cushions with linear textures match the straps of the Mistral armchairs and Piper chairs by Roda. Completing the composition are the Caprera low tables by Exteta, the large blue and white InOut vases by Gervasoni, the Cosmo rug and the Nido and Shell poufs by Paola Lenti.
The price positioning of the first luxury patio design is around 35,000 Euros.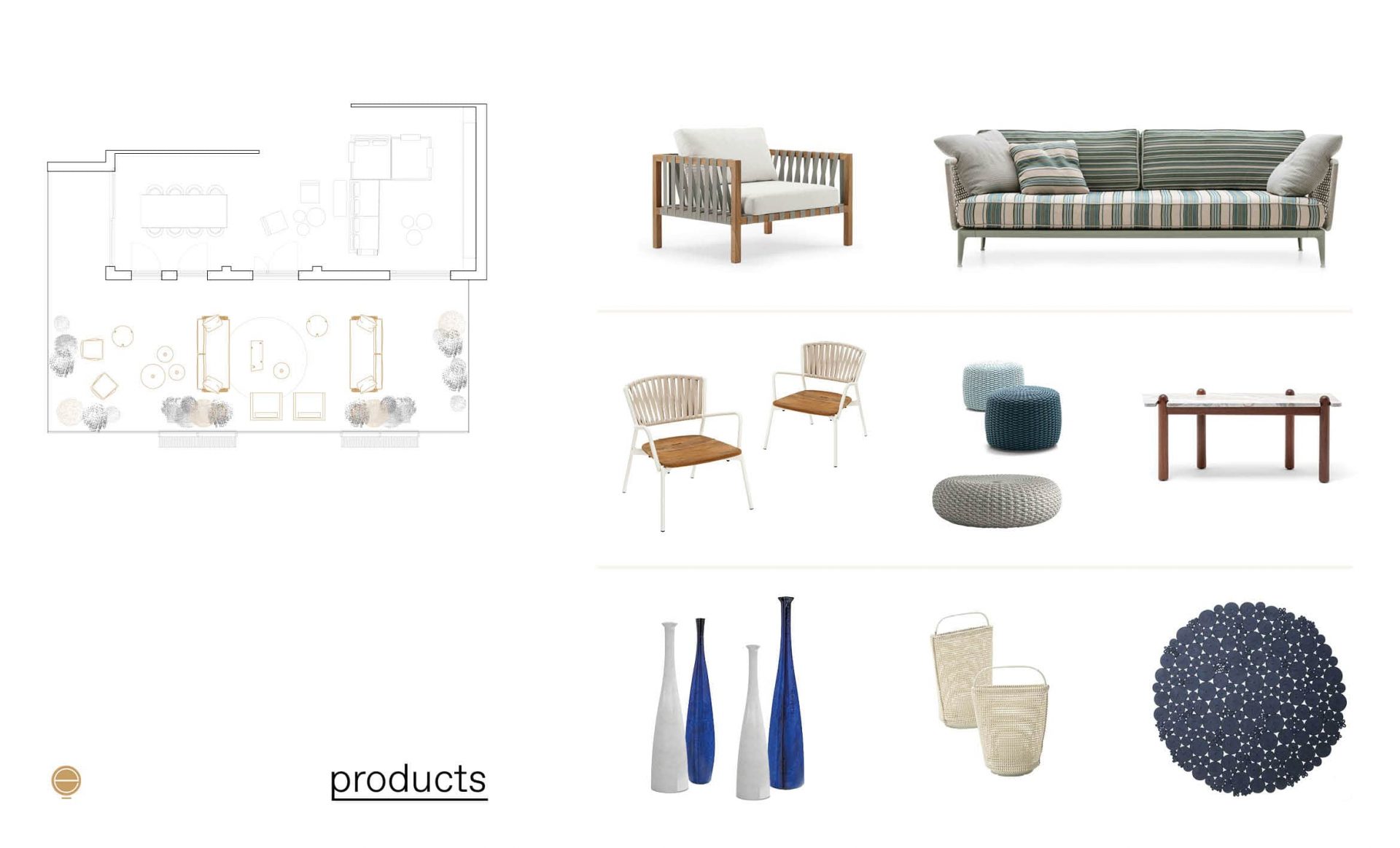 Italian patio design n.2: pool deck & wellness
If the size of the terrace is considerable, why not think of designing a pool deck patio? So in this second hypothesis we wanted to recreate a genuine wellness atmosphere, where nature and its colors become the protagonists: the climbing plants on the external walls of the house, the Cricket vases by Varaschin in wicker and the wooden staves placed on the floor create the right dehor & decor to spend a relaxing afternoon by the pool.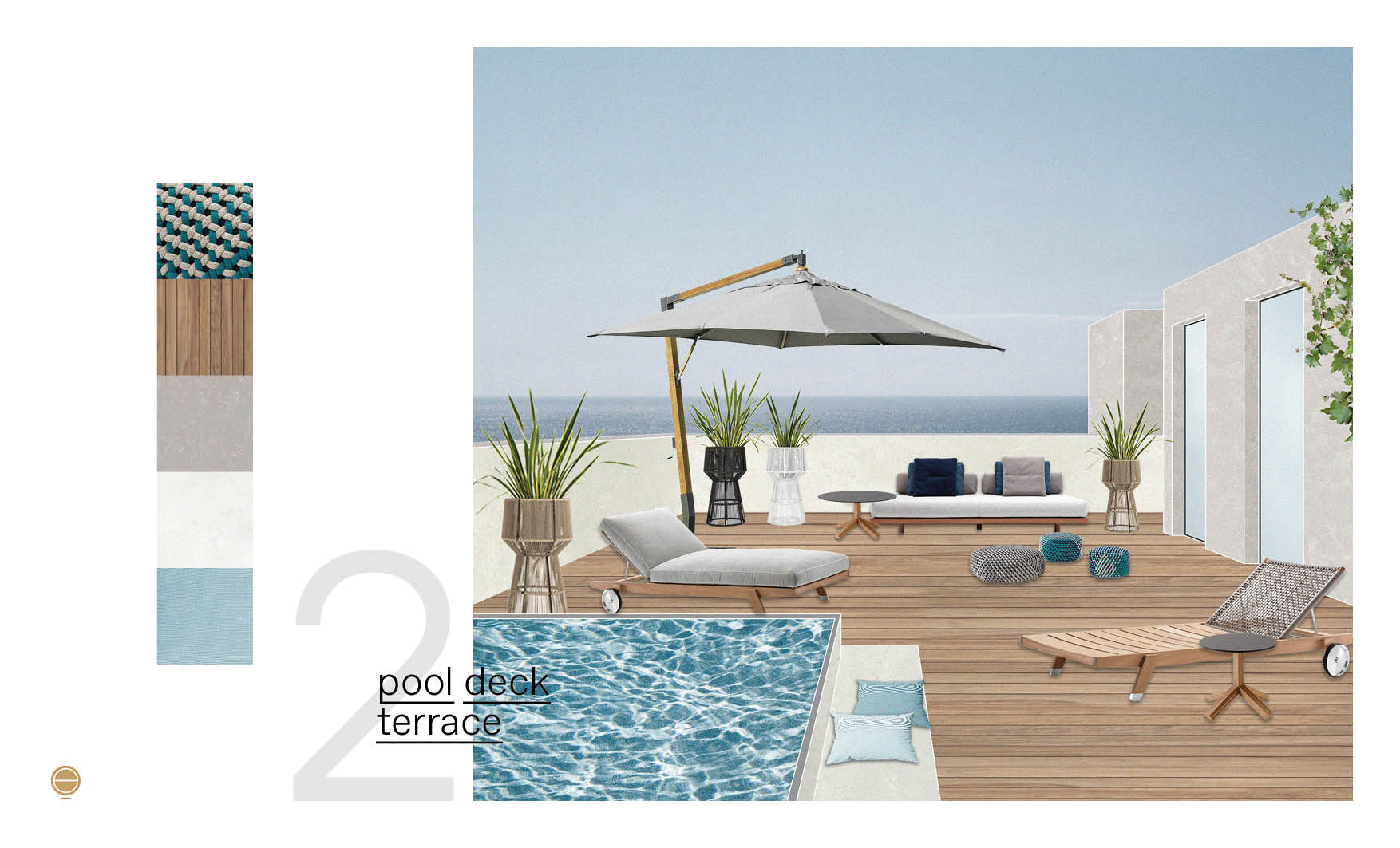 The main protagonists of our pool deck terrace are definitely the Hora Sexta loungers by Flexform, whose soft cushions and wooden structure match the design and colors of the 10th Caprera sofa by Exteta. Finally, the Root coffee tables by Roda and the Holiday umbrella by Ethimo become perfect elements to enjoy a cocktail by the pool or to read a good book in complete relax.
But the real touch of class is given by the Tramae pouf by B&B Italia, a small object whose surface presents a singular dynamism of materials and colors that come to life thanks to the exclusive interweaving of ropes that reminds us of the traditional wicker baskets.
The price positioning of this second luxury modern outdoor furniture composition is around 28,500 Euro.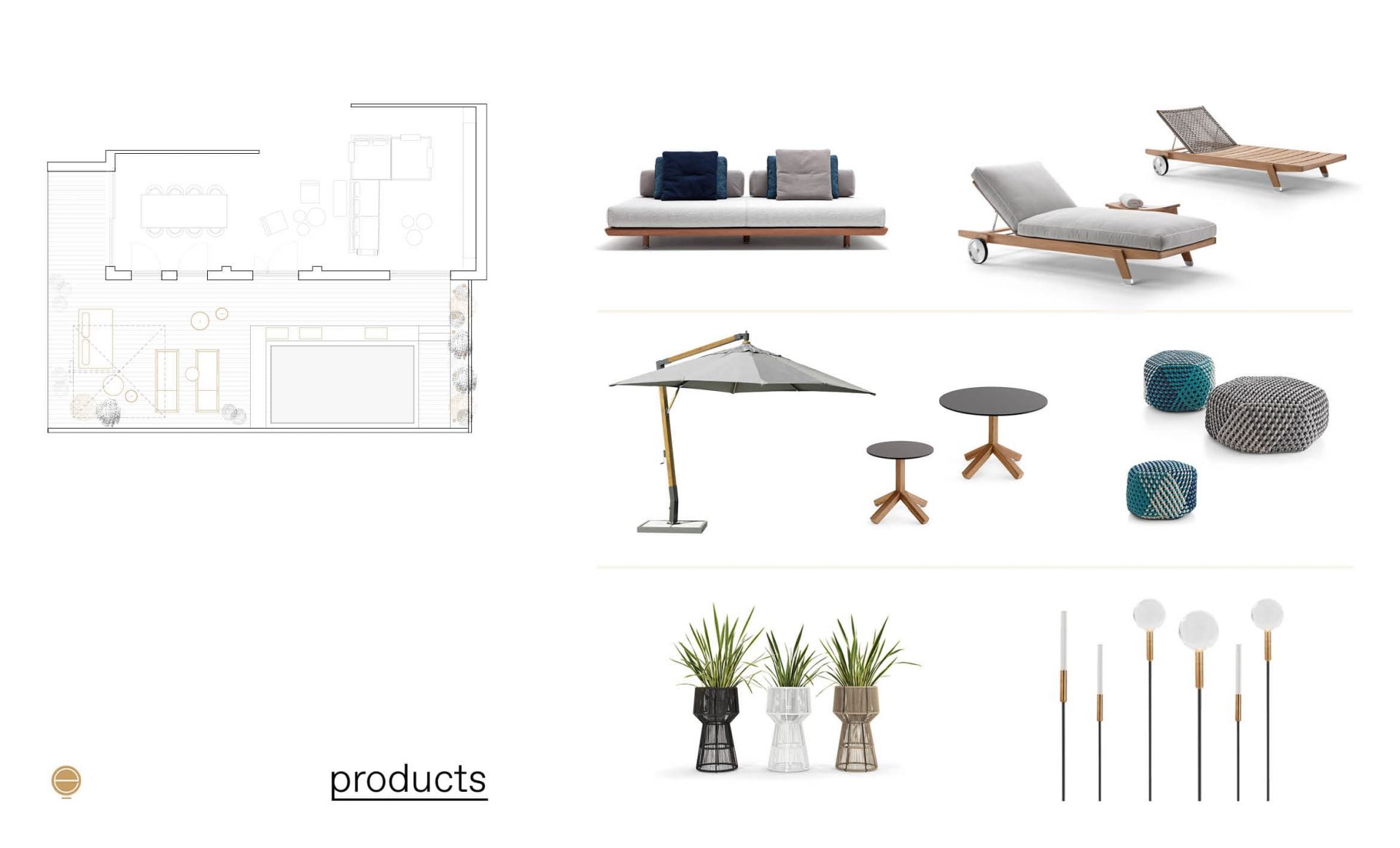 Italian patio design n.3: dining outdoor terrace
We have reached our third and last proposal of Italian patio design, a solution that wants to meet the need to create an outdoor space where you can organize a summer lunch with friends, an outdoor breakfast or an aperitif watching the sun set over the sea.
The ceramic tiles in light shades, with designs reminiscent of azulejos typical of southern Italy, become the precious and unique "carpet" on which all the furniture is arranged, characterized by wood finishes, dove-colored ropes and blue and white cushions.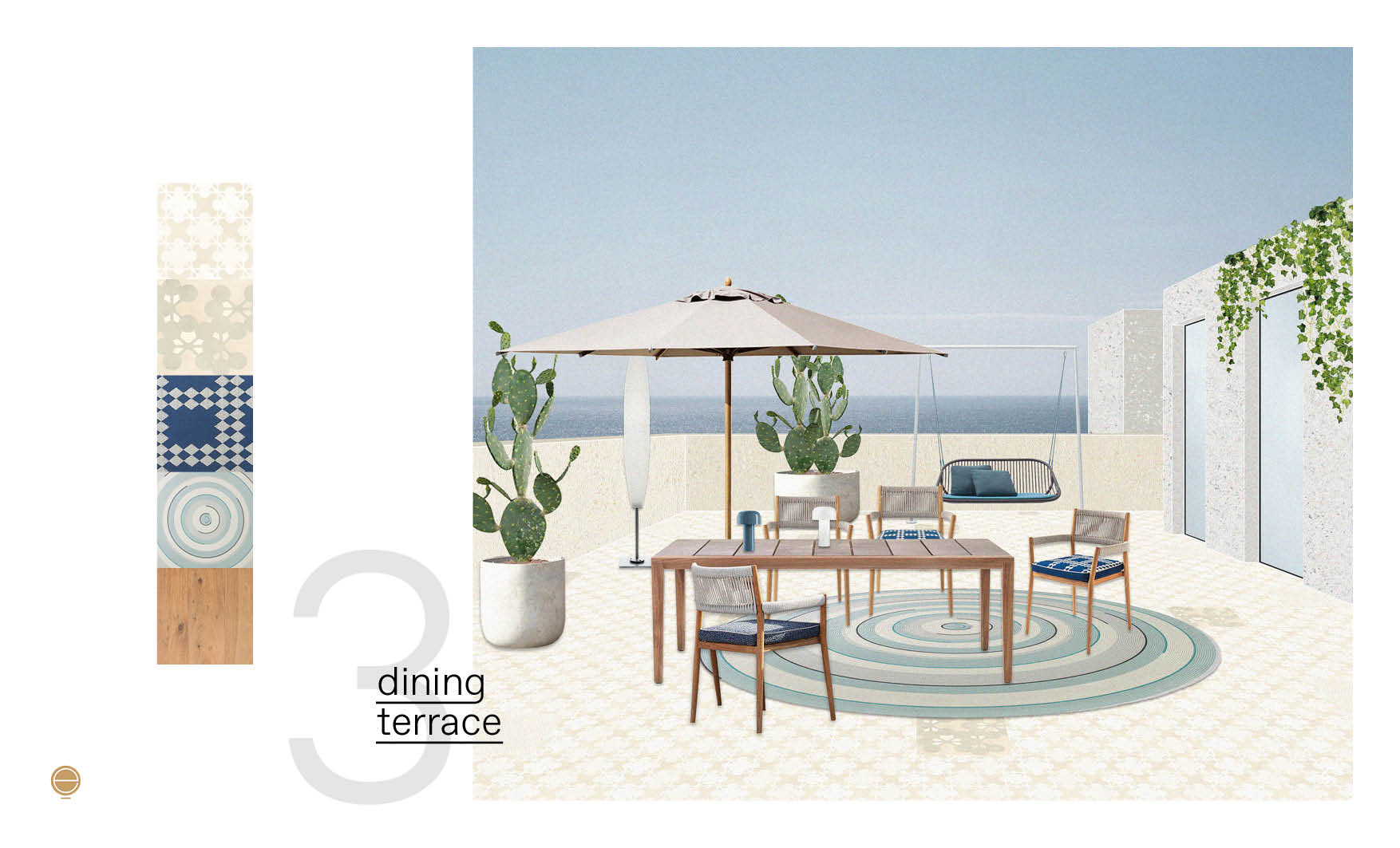 At the center of the terrace we find the Teka table by Roda with its ivory stoneware top. Around it are the Dine Out chairs by Cassina, in pure Mediterranean style, and the Classic umbrella by Ethimo.
Finally, among the prickly pear plants, there is a small relaxing corner marked by one of the major Italian luxury outdoor furniture brands: Paola Lenti design. From the sofa Wabi to the suspended seat Swing and the carpet Zoe Rev, we meant to create a composition of furniture capable of giving life to unique moments of conviviality.
The price positioning of the third luxury modern outdoor furniture composition is around 34.500 Euro.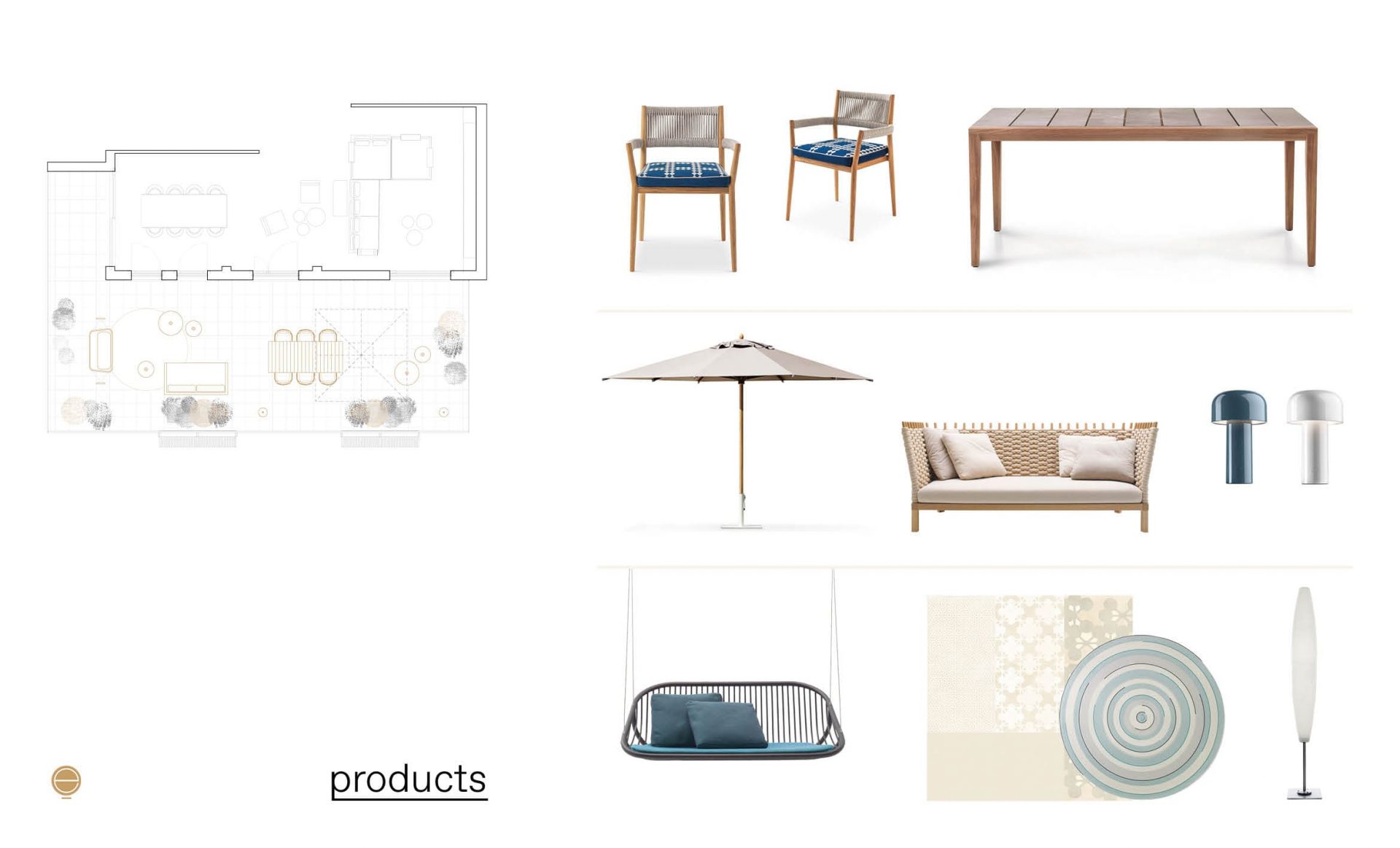 Here for you our three proposals of luxury patio design in a completely Italian and Mediterranean style. Start your adventure with us. Thanks to our service of Italian interior Design and Furniture Selection & Supply you will find constant assistance from our experts, from the selection of outdoor elements to the composition of furniture that best suits your needs and your style, from order management to the shipment of all products directly on site.
If you are curious to see Italian design live instead, through our personalized Italian Furniture Shopping Tour, we will guide you through the best design districts, showing you unique pieces of furniture.
From now on you can start your experience in the world of Italian design with us also through our Italian Interior design Online service: we will guide you in your interior design project directly from your home, listening to your needs and helping you discover the beauty of our country's products.
Your unique Interior Design Project developed by Italian Professionals.
Discover and shop Made in Italy while living the Italian lifestyle in Milan.