The Best Interior Designers in Sydney
Posted on 27 May in Travel & Design
Italian Design, Interior Design, Italian Lifestyle, Italian interior design, Residential Design, luxury design, interior design services, top 10 interior design, Online interior designers, luxury interior designer australia, best interior design firm australia, best interior design project australia, luxury furniture australia, luxury interiors sydney, design interiors sydney, sydney interior designers, interior decor
Discover the Best interior designers Sydney has to offer with our curated List of the 10 Top interior designers in Sydney.
Discover the Best Interior Designers in Sydney
In many ways, Sydney seems to have it all. It's an inviting blend of the exhilarating and easygoing, the traditional and contemporary, and it's a hotbed of inspiration when it comes to interior decoration.
Whether dark and minimalist or sun-bathed and coastal, one thing that unites Australian, and particularly Sydney, interiors is an appreciation for fusion styles, craftsmanship and iconic pieces that highlight a worldly design aesthetic.
After all, the city is teeming with life, boasting bold architecture and rich in creative talent. So, we've put together a list of the best interior designers Sydney has to offer, exploring some of their best projects and the iconic pieces they use to realise their unique signature style.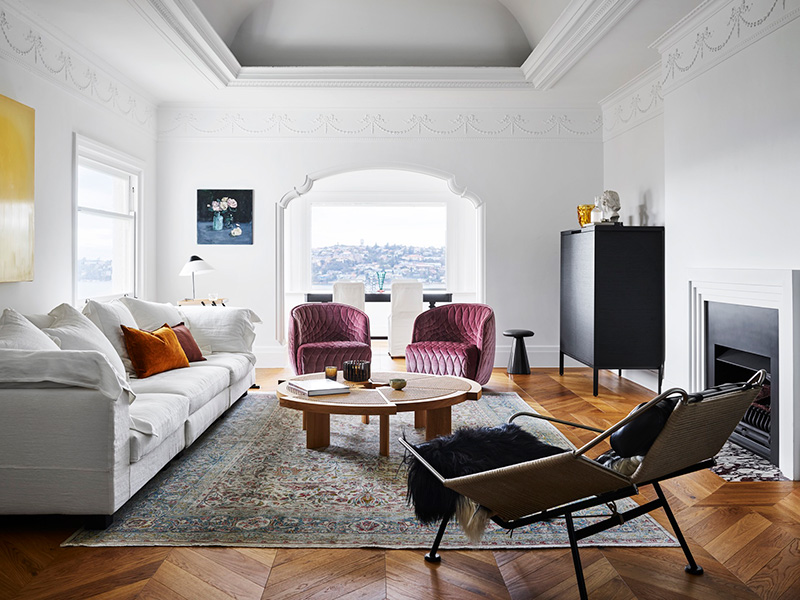 Eclectic Style and Italian Quality: our Selection of the Best Australian Interior Designers
SJB
Our list of the top interior designers Sydney has to offer starts with SJB. Founded in 1970, SJB is a multidisciplinary design practice that embraces architecture, interior design, town planning and urban design. With a strong contemporary focus, the firm approaches every project as an open conversation, responding to the user as well as the context of the site.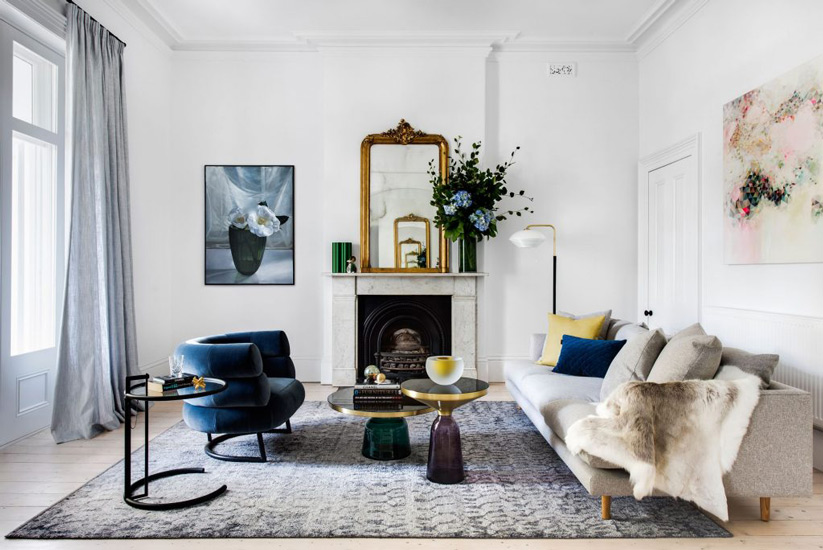 SJB's approach is perfectly demonstrated in its modern extension and adaptation of Clark House. The studio uses a subdued colour palette of black, white, and grey to tie in the newly built environment with the heritage portion of the home, bringing together a loose collection of contemporary and traditional furnishings, which include the Lady Armchair by Marco Zanuso for Cassina, that perfectly compliment the home's classic foundations.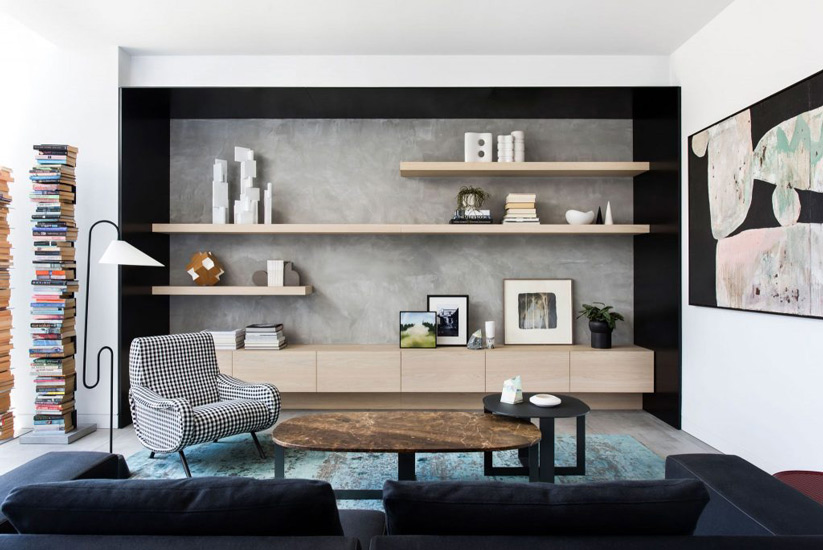 Hare + Klein
Distinguished by an aesthetic of understated luxury and attention to fine detail, Hare + Klein is synonymous with uncompromisingly comfortable, liveable interiors made exceptional by deceivingly effortless styling.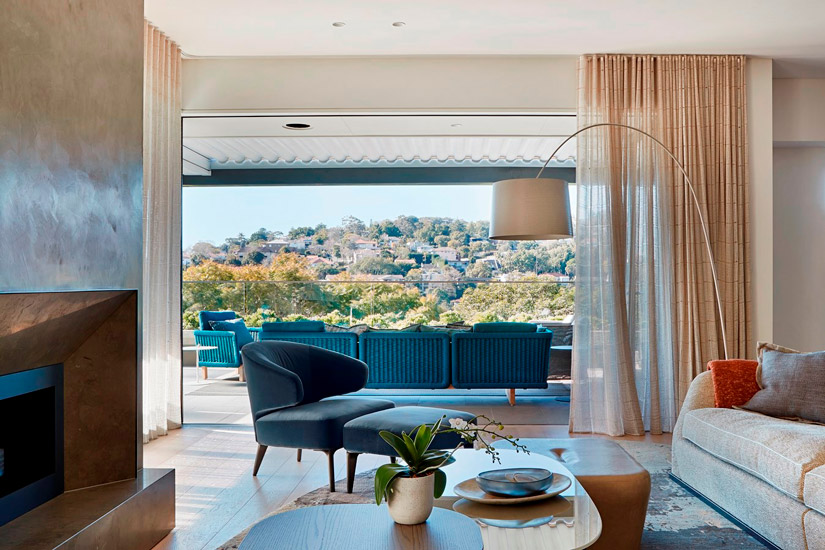 Whether it's a rural idyll seamlessly linked to a gorgeous garden, or a city penthouse, like the Woollahra Valley Residence seen here, the studio's style is unmistakable. Hare + Klein has chosen furnishings for their shape, form and textural language, enhancing the warmth of natural materials with darker, cooler and more industrial accents.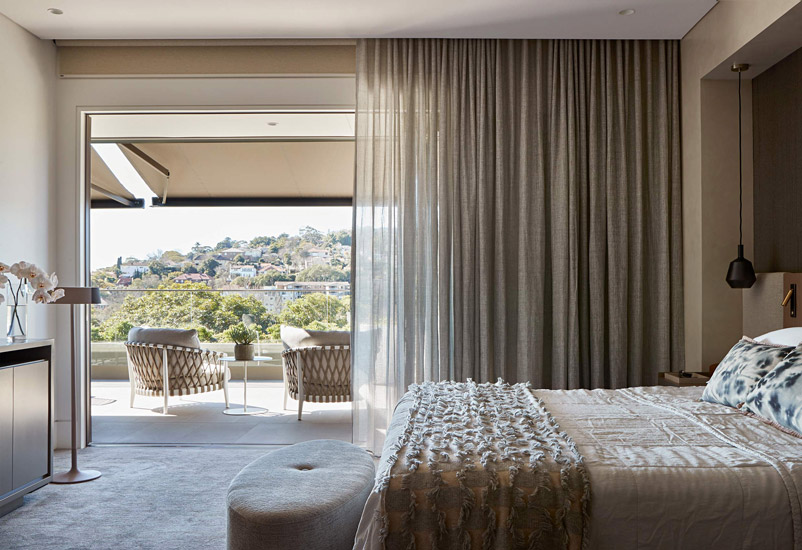 Greg Natale
With a penchant for unexpected design, Greg Natale has become known for his masterly use of pattern and colour, and his bold application of both in creating tailored, glamorous and sophisticated spaces. He also has a penchant for winning awards, having recently won House & Garden's Room of the Year for his design of Walsh Bay Penthouse.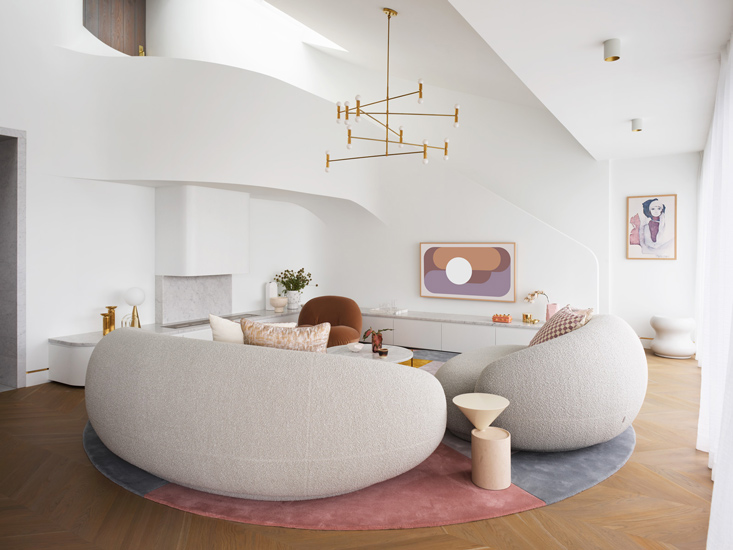 The two-storey, three-bedroom apartment showcases a creative use of curves enhanced by the freeform of contemporary furnishings, including two of Tacchini's Julep Sofas in the living area. Fluid shapes are also highlighted with hand-carved grey Carrara marble, which accents the rounded cabinetry, kitchen island, and bathroom walls.
Richards Stanisich
Founded by Jonathan Richards and Kirsten Stanisich in 2018, Richard Stanisich's intention is simple: to create spaces that make you feel something, as seen in its design of Elizabeth Bay Villa.
The historical building that houses this villa, combined with the client's own collection of contemporary furniture, led to a major reconstruction designed with a restrained sense of luxury. The interiors respond to the iconic nature of the building with elegant details and a change of materiality: from light timbers and translucent glass screens to black terrazzo and steel framed doors to the terrace.
Arent&Pyke
Since the formation of the practice in 2007, Arent&Pyke have fine tuned their philosophy around what it means to make a space sing. They are best known for their distinctive brand of decorative modernism, which the studio has exercised to create wonderfully relaxed interiors in The Collector House.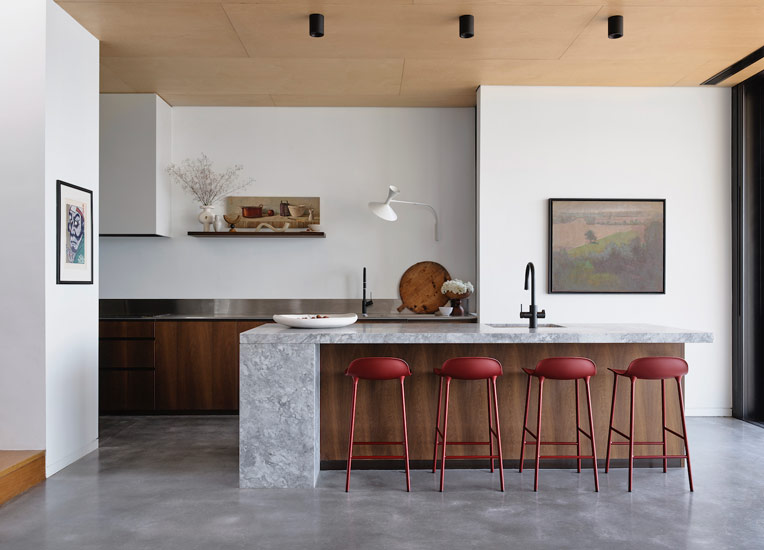 For this waterfront home Arent&Pyke worked with iconic pieces. The Up Series 2000 Armchair by Gaetano Pesce becomes a focal point in the library, in the company of the Knoll Cesca Chairs and Isamu Noguchi Akari E light. Elsewhere, a curation of locally designed and made furniture pieces sit among other design objects including the Brazilian Mad Lounge Chairs by Jader Almeida for Sollos.
Continue your search for the best interior designers in Sydney
YSG
YSG's highly customised interiors are steeped in craftsmanship and charged with a rebellious spark. Bringing together custom furnishings with contemporary classics, Budge Over Dover is an ode to the studio's bold and characterful approach.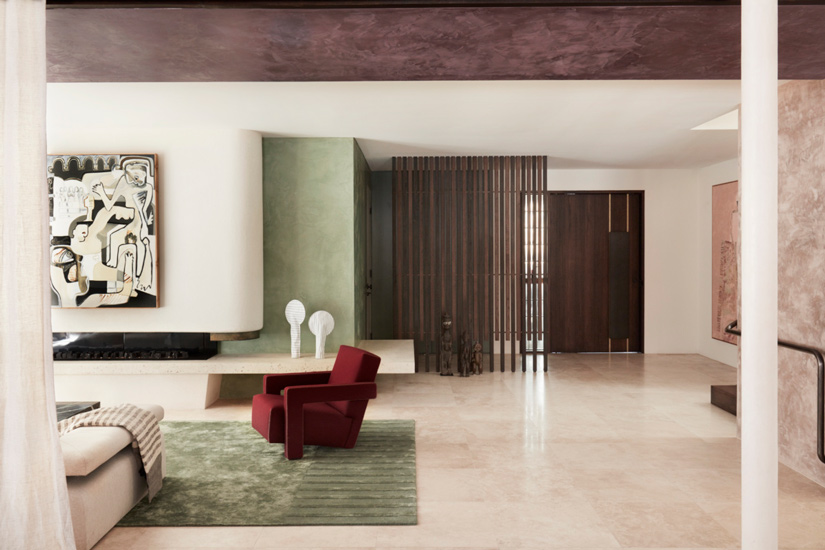 YSG has transformed a five-bedroom family coastal home with a not-so coastal aesthetic, imbuing it with a whimsical energy thanks to a striking palette of purple and green, and a collection of striking furniture. In the den is the Utrecht armchair by Gerrit Thomas Rietveld, and in the main bedroom is the LC7 armchair by Charlotte Perriand, both pieces for Cassina.
Doherty Design Studio
Doherty Design Studio is a multidisciplinary practice whose experience is in both residential and commercial environments, which are always playful, thoughtful and full of life. The studio's expressive touch is felt in Back to the Future House, a home originally designed by Peter McIntyre in the 1980s.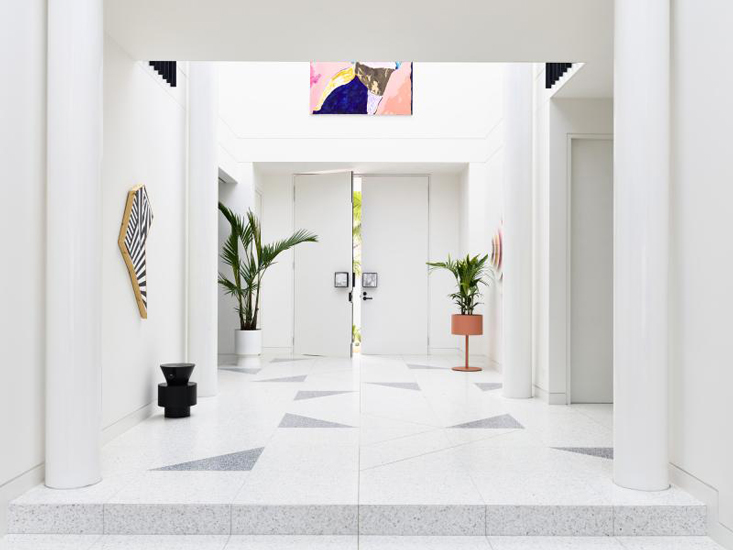 Doherty Design Studio has injected colour into its interiors, interpreting modernism with Palm Springs as a particular influence. The boldness is emphasised by contemporary light fixtures and bulbous furnishings in vibrant colours.
Decus Interiors
Decus Interiors celebrates beautiful design in all its manifestations creating projects that seek to balance the exquisite and provocative, whimsical and classic, austere and colourful. The studio's coined aesthetic "luxurious yet liveable" defines residential projects across Australia, including this Coastal Home.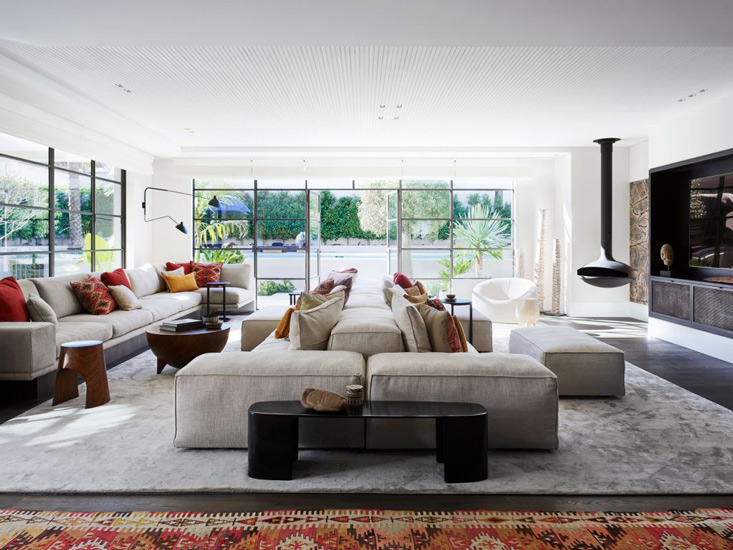 Steering clear of the typical beachside home aesthetic, Decus looked to native Australian flora and an extensive collection of Australian artwork for inspiration. Hence the eclecticism of finishes, defined by a sprinkling of vintage curios, indigenous sculptures and Mid Century pieces.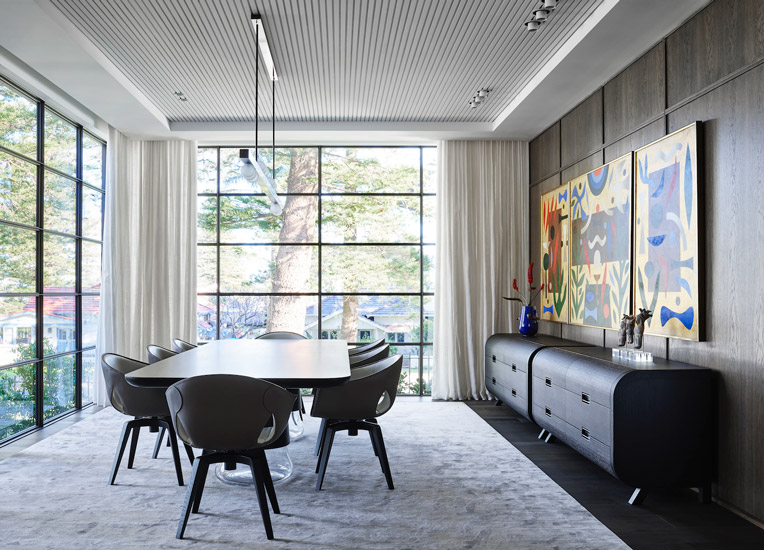 Notable pieces include the Ginger Chair by Roberto Lazzeroni for Poltrona Frau in the dining room, and the Extrasoft Sofa by Piero Lissoni for Living Divani. Elsewhere, a custom-designed leather sofa by Decus Interiors is paired with Missoni cushions and footstools.
Carter Williamson
Carter Williamson is a multiple award-winning design studio with a strong commitment to rigorous, beautiful and robust architecture and interior design. The studio recently unveiled Concrete Blonde, an updated Annandale cottage that unfolds from a modest heritage façade to a generously spaced home.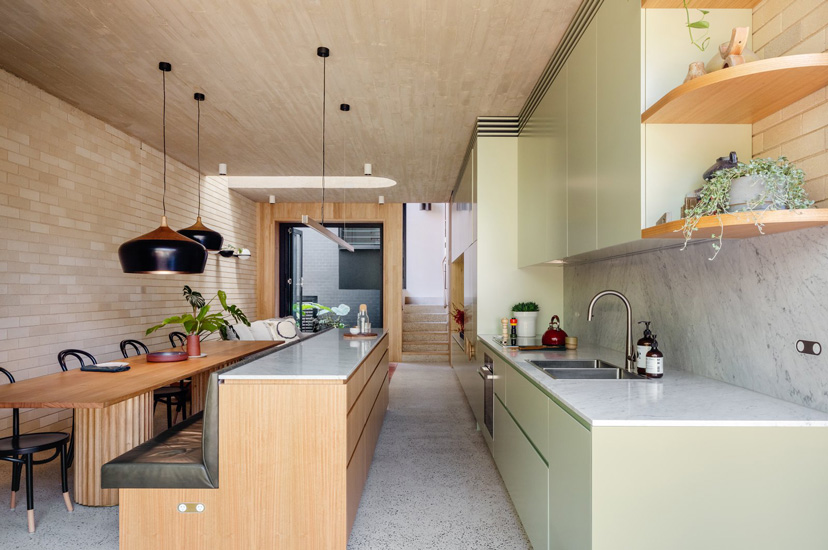 Carter Williamson preserved the heritage facade of a 100-year-old dwelling while imbuing the interiors with pastel hues and rounded shapes. A light and elegant material palette provides a mix of textures to compliment the terrazzo flooring and natural wood, which defines custom-made cabinetry throughout the living and dining area.
Alexander&Co
Our list of the best interior designers Sydney has to offer finishes with Alexander&Co whose team is made up of architects, interior specialists and furniture makers that work together to create timeless and beautiful spaces. The studio's design of Bondi Junction House sees both an alteration and addition to an existing 1900s Victorian terrace in the Eastern suburbs of Sydney.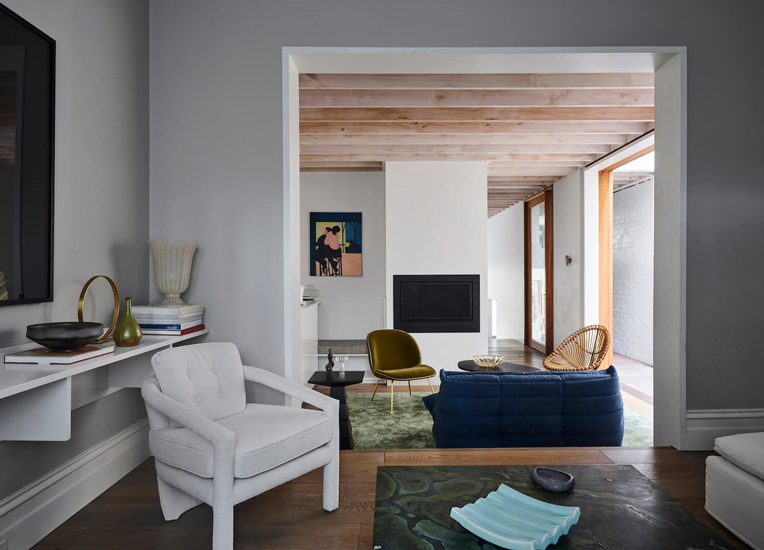 Inspired by Alvar Alto, the space loosely references a modernist philosophy whilst revealing a contemporary interpretation of Scandinavian style with iconic designs from across Europe. Standouts pieces include the geometric inspired Quaderna Console by Superstudio for Zanotta.
Inspired by the Italian furniture used by Sydney's top interior designers?
If you feel inspired by the luxury design and contemporary Italian furniture featured above, we invite you to take part in a customized furniture shopping tour in Italy. Whilst on the ground, our team of experts can source and deliver already-existing and bespoke Italian furniture to wherever you are in the world.
Having an Italian furniture shopping tour with Esperiri means exploring the Italian dream in all its aspects, which is why we've already put together 10 of the best design hotels in Italy. Or, if you need help releasing a project from afar, our online Interior Design Service can simplify the sourcing of multi-brand projects as well as offer an assembly service if needed.
Maybe you want to perfect a residential project and need a little more guidance, or want to simplify the sourcing of multi-brand mix & match pieces. It's simple, just refer to our Furniture Selection & Supply Service for the supply of Italian Altagamma furnishings all over the world with dozens of brands to select from. Once your project is finalised, our team can take care of the delivery and installation of any new furniture directly to your home.
Your unique Interior Design Project developed by Italian Professionals.
Discover and shop Made in Italy while living the Italian lifestyle in Milano.