Top NYC Interior Designers
Posted on 14 September in Travel & Design
Italian Design, Interior Design, Italian interior design, Residential Design, luxury design, top 10 interior design, interior designer, Italian furniture new york, High end furniture NYC, Top Interior Designers in NYC, Best NYC Interior Designers, New York apartment interiors, High end Interior Design firms NYC
A selection of Top NYC Interior Designers including projects to inspire luxury condo and New York apartment interior design.
Discover the Top NYC interior designers
Known for its iconic architecture – an evolving silhouette decorated with luxury condos, townhouses and loft apartments – New York City is one of the most important landmarks in the world of design. Home to Pratt, Parsons, and a number of other top design schools, it has a storied history and a tradition of setting trends for the world to follow.
At its core is a thriving community of award winning architects, landscape architects, engineers, contractors, and interior designers, working on big budget projects, spectacular developments, and truly bespoke interiors that often take advantage of the towering skyline views.
To tell you about some of them, we have selected the city's best design spaces and top NYC interior designers The Big Apple has to offer.
NYC: Home to Iconic Spaces and spectacular New York Apartment Interior design
Antonio Pio Saracino
Floating above downtown Manhattan with spectacular views of One World Trade Center, this Tribeca Penthouse is a great example of Italian designer Antonio Pio Saracino's penchant for the outdoors. The interiors center around a courtyard inviting natural light into the living area and serving as a showcase for a spiral staircase enmeshed in a mirror-polished stainless steel cocoon.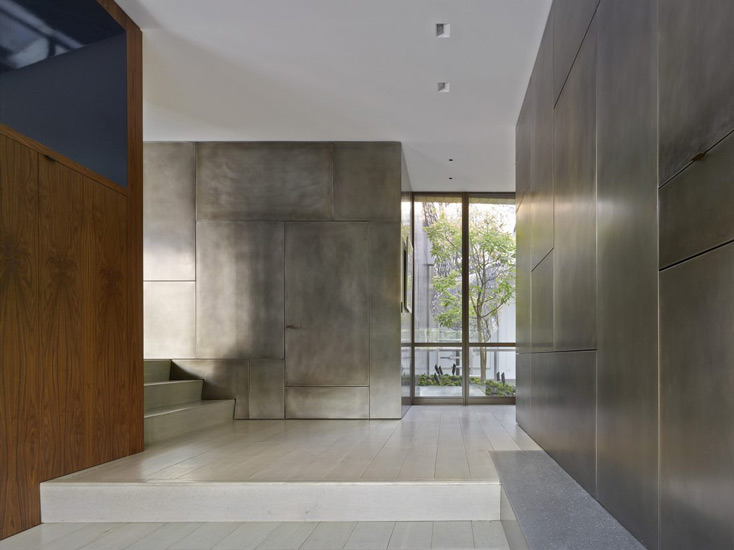 The project involved a gut renovation of a two-storey structure, no doubt favoured by Saracino for the 7,000 square feet of surrounding outdoor space including terrace gardens that run adjacent to the home's primary rooms. Inside, full-height, steel windows; patinated zinc panels; Walnut millwork; and basalt hearths and countertops are characteristic of Saracino's experimental approach, marrying urban space and nature whilst using materials to recreate the feeling that it provides.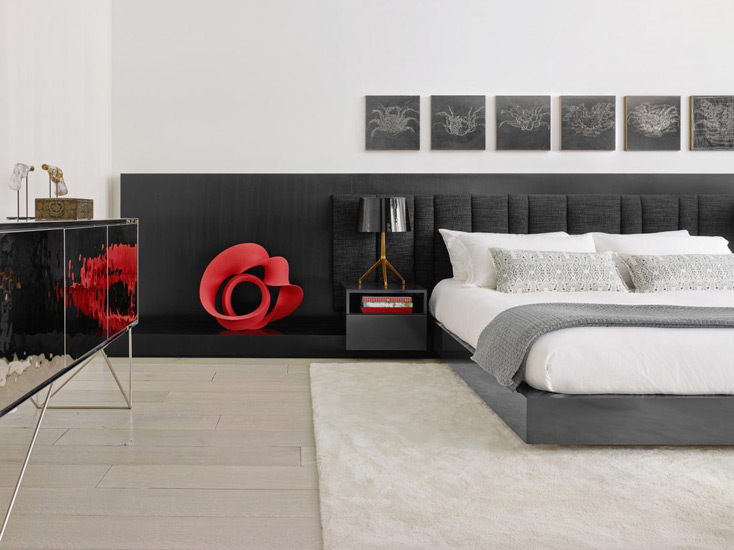 Antonio Pio Saracino is an Italian architect and designer based in New York City whose work spans buildings, interiors, products, and public art. He is favoured for combining traditional Italian design and manufacturing skills.
Since 1999, Arthur Casas has led a team of designers, architects and urbanists on a series of projects worldwide in cities like Tokyo, Paris, Rio de Janeiro and New York. Among the top NYC interior designers, the studio has made a name for itself merging Brazil's iconic modernist aesthetic with contemporary cosmopolitan flair.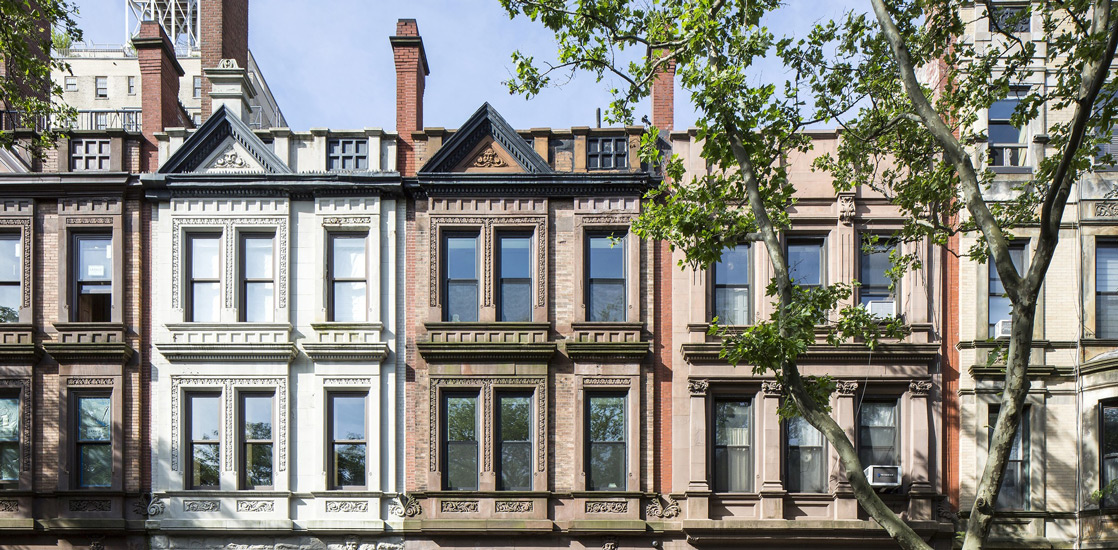 In its update of an historical brownstone, the interest in Brazilian identity is noted by a selection of custom furniture pieces – many of which designed by Arthur Casas – and works of art. Other highlights include Henge chairs surrounding a large oak table in one of two dining areas, and marina chairs by Jorge Zalszupin in the other. The house itself comprises six levels that define the rooms distribution whilst making the most out of the restricted entrance of natural lighting.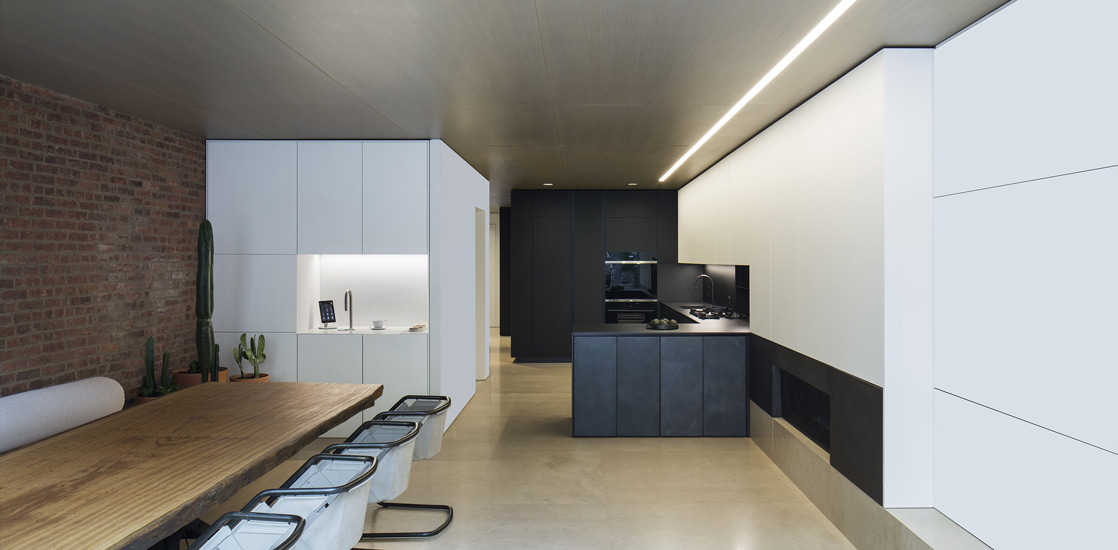 The project respects the original architectural character whilst making room for modern solutions, including an indoor pool on the underground level. The interior decor uses neutral shades in contrast to the dark facade. Oak flooring in the upper levels brings softness, while Limestone in warm shades and fabrics and furniture in earthy tones are a subtle reference to the Middle East – the owner's homeland.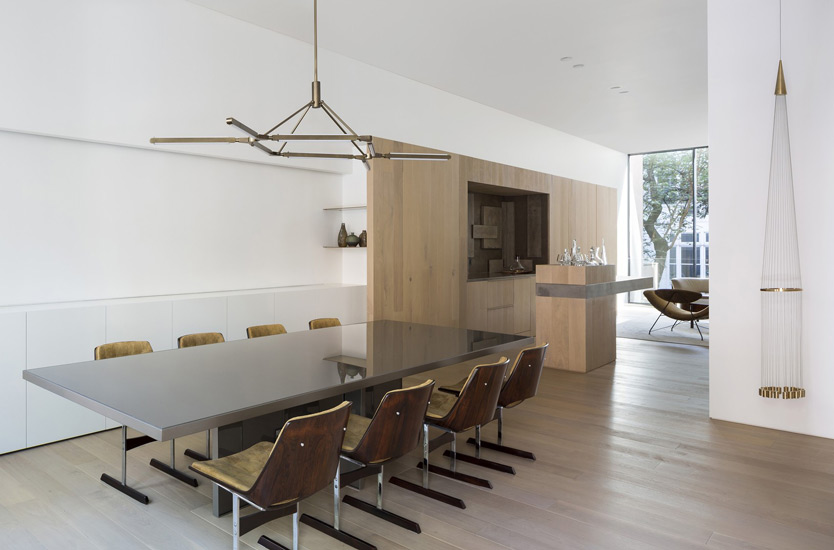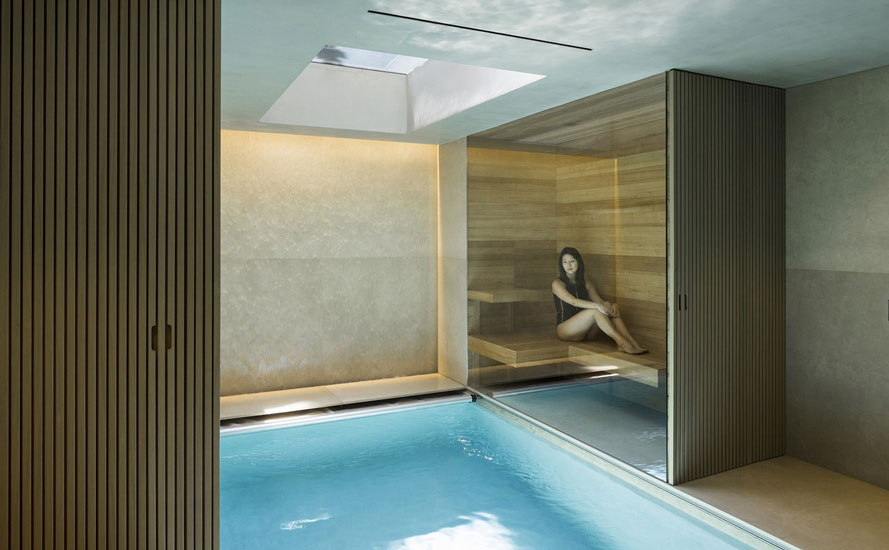 Brad Ford
New York-based Interior Designer Brad Ford has developed a spare, modern aesthetic with a warm soul. Founded in 1998, his studio puts an effort on residential spaces with interiors that are both modern and warm, elegant and functional.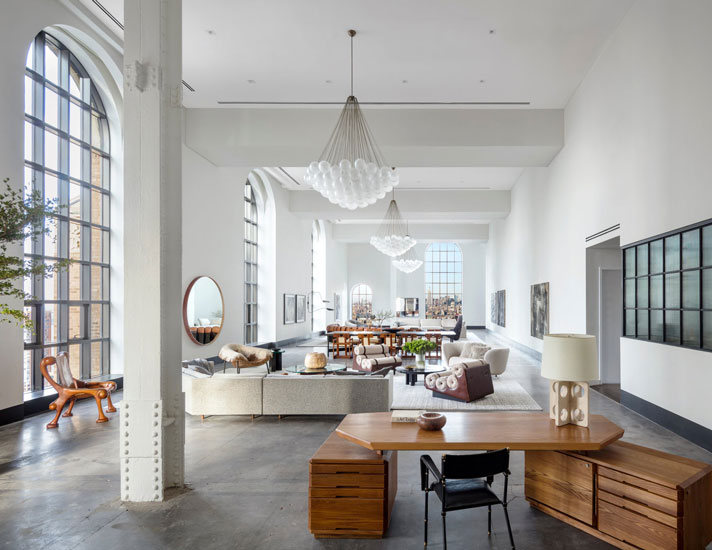 Brad Ford's projects balance light, space and color to create a timeless effect with an attention to texture and the highest quality materials. His approach can be seen in his design of One Hundred Barclay's penthouse, touting the largest living room in New York at a staggering 3,168 square feet. Or this more modest Upper West Side Apartment where he uses a mix of classic and contemporary pieces including the Elettra armchair by Arflex to add texture to the space.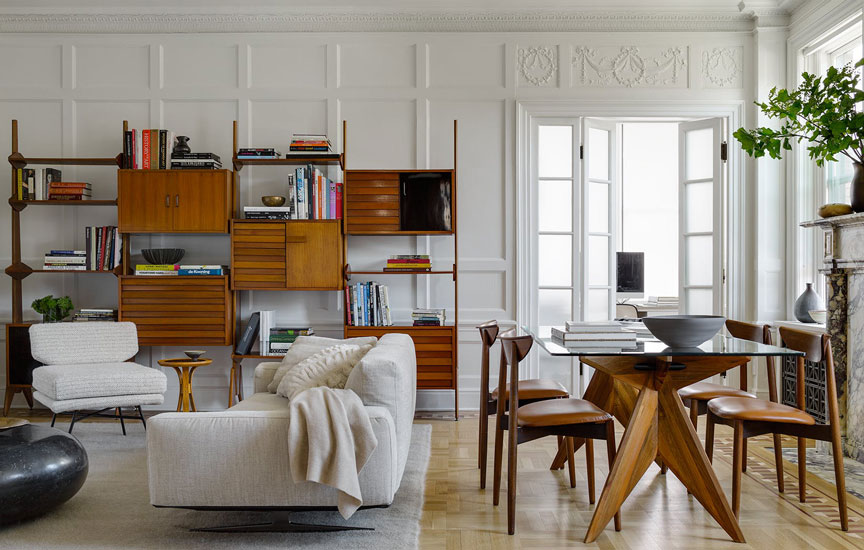 Also among the top NYC interior designers is Drake/Anderson, whose polished interiors in many of Manhattan's 'it' buildings (One57, the Baccarat Residences, and Herzog & de Meuron's 56 Leonard) has won them some of the industry's highest accolades, including the prestigious Elle Decor A- List, the Architectural Digest AD100 list and Interior Design magazine's Hall of Fame.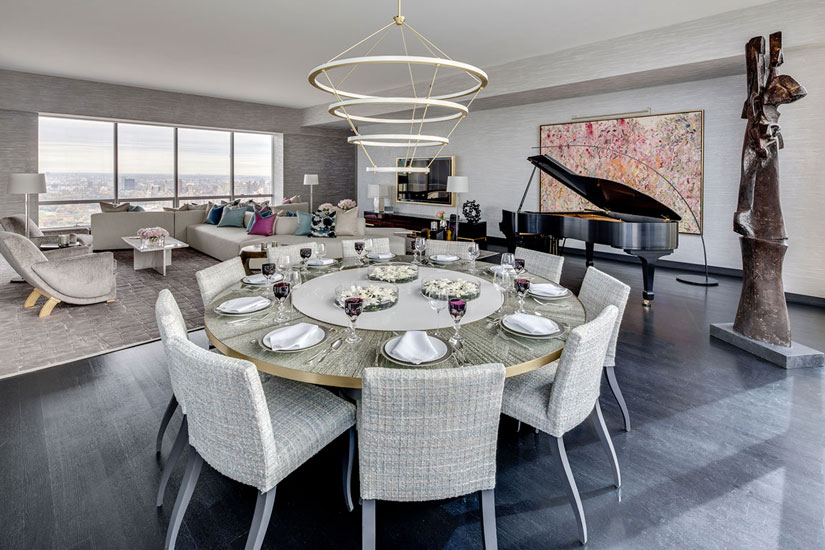 When designing the model apartment of One57, the duo instilled a luxurious, elegant and visually powerful New York apartment interior overlooking Central Park. A cosmic theme made up of luminous wall treatments, metallic details and shiny fabrics like silk, velvet and satin, is carried throughout the space.
The international studio has also completed projects in London, Paris, Bermuda, and the Middle East.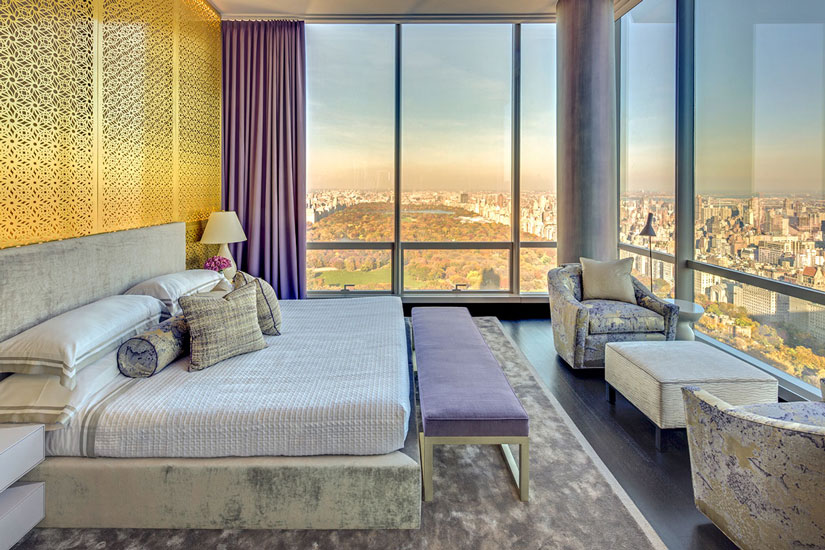 D'aquino Monaco
D'Aquino Monaco has carved out an international reputation for design excellence supported by a multidisciplinary portfolio of residential, hospitality, and commercial spaces. Since 1997, the studio – co-founded by interior designer Carl D'Aquino and architect Francine Monaco – has been designing modern spaces with subtle twists.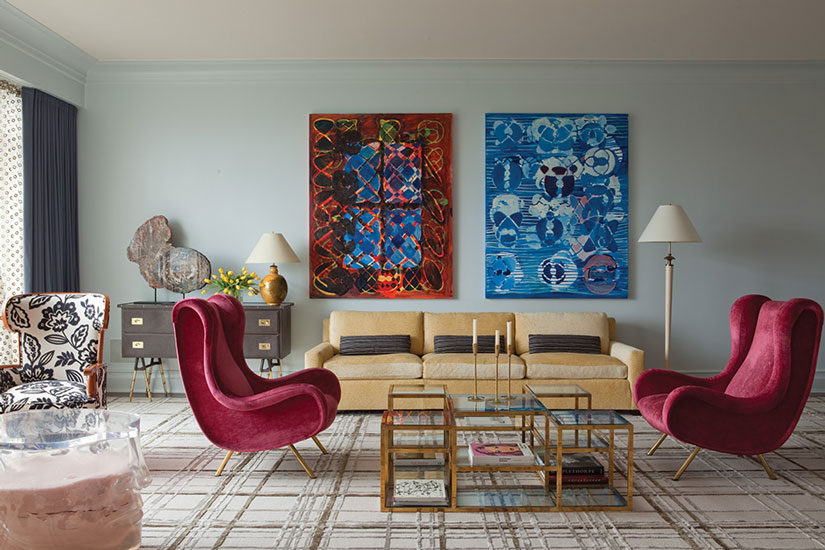 Take 15 Central Park West for example, a classical layout transformed by a bold colour palette and unique choices in textures, patterns and light fixtures. In the living area, two Sir Armchairs from Arflex (no longer in production) set the tone with their visually cheerful shape, before an almost surreal-like take on modern living unfolds, flouting traditional styling for geometrically-shaped 'crown molding', stuffed sheep, colored doors & contrasting Fornasetti wallpaper.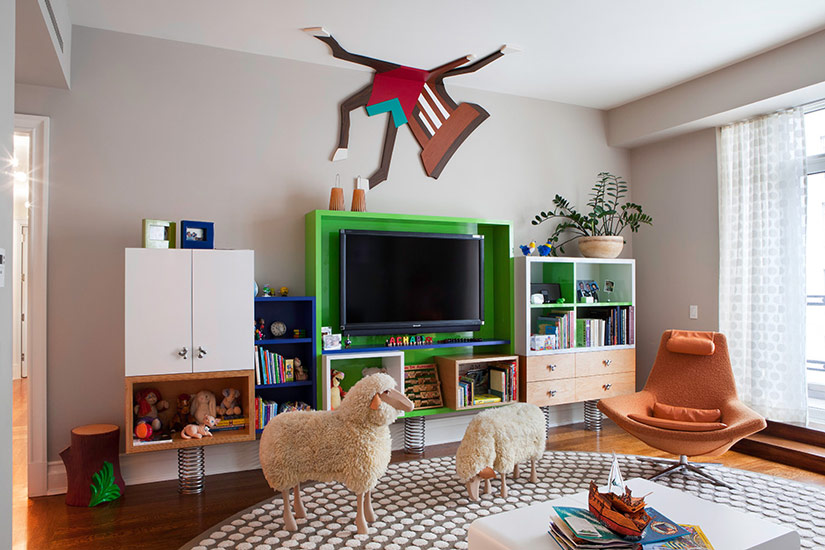 The duo also transformed the 21st floor of a converted hotel by joining two apartments to create a Gallery Home Hybrid for two art collectors. Without the use of any natural materials, poured urethane floors and resin doors frame the apartment's layout whilst a convivial selection of art and furnishings decorate the space.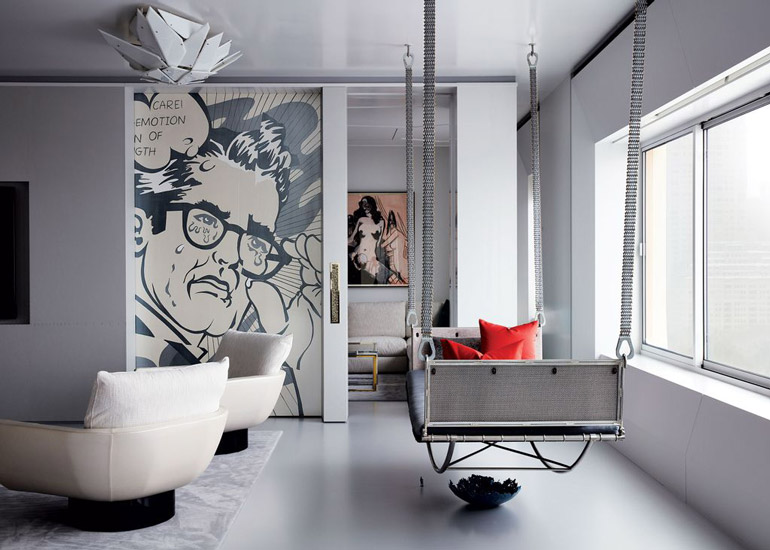 The corner sitting room combines the fluffy pink Edra Sofa by the Campana Brothers with blue Molteni&C armchairs. Meanwhile, the dining room area features the Monster Chairs by Marcel Wanders and the entry bench and bedroom lighting fixture are by Ingo Maurer.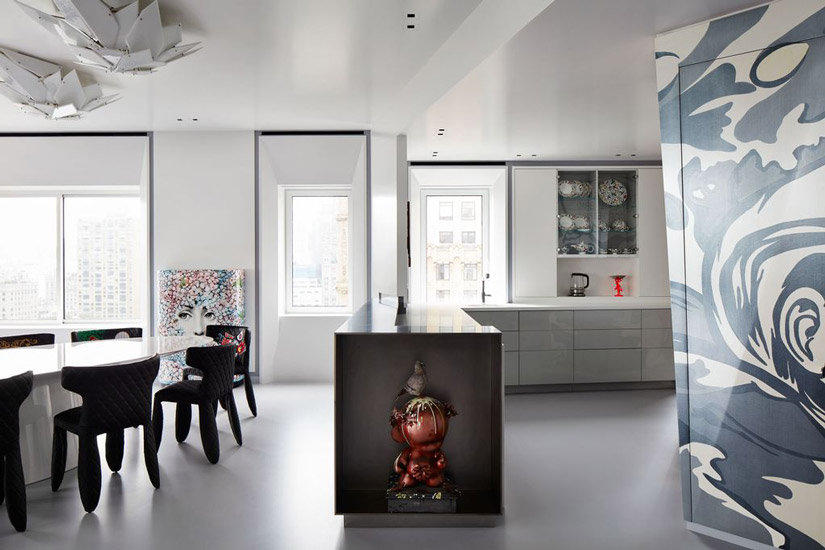 Top NYC interior designers: from sky-high skyscrapers to bay side dwellings
Hariri & Hariri
Also included in our list of New York City's top interior designers is Hariri & Hariri, helmed by Iranian sisters Gisue Hariri and Mojgan Hariri who have over 30 years of experience ranging from architecture, master plans, interiors, product design and furniture. Recognised as two of the most accomplished women in American architecture & design, they imbue conceptual, residential, commercial and cultural projects with a unique approach to modernism.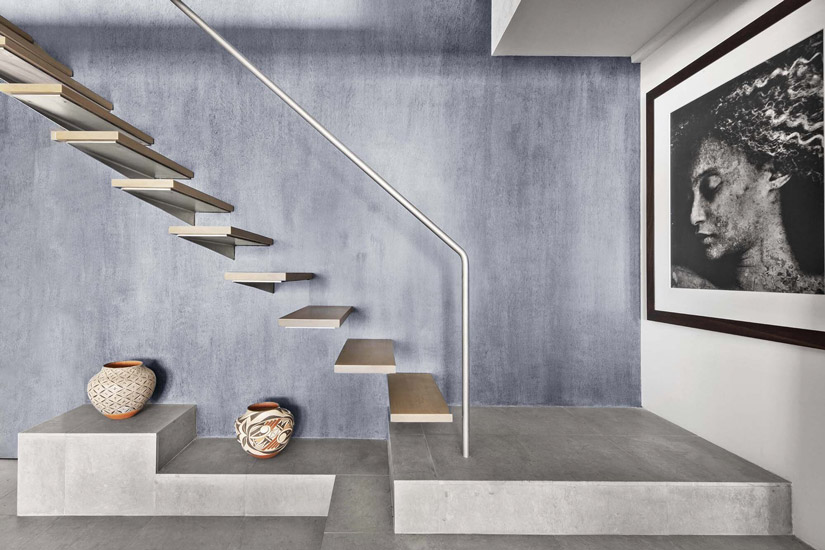 Let's consider this 3,700 square foot residential project, which started with the owner's dream of owning a 'Townhouse' in NYC with skyscraper views. Hariri & Hariri came up with a careful masterplan of vertical connections between 19th, 20th and 21st puzzle-like floors, leaving space for outdoor area typical of NY townhouses. Inside a neutral palette mirrors the tonality of the city skyline with interiors that create a monastic feel. A sculptural staircase on the middle floor is set upon a blue plaster backdrop to add color, leading up to a glamorous living space with a curved sofa and a baby grand piano.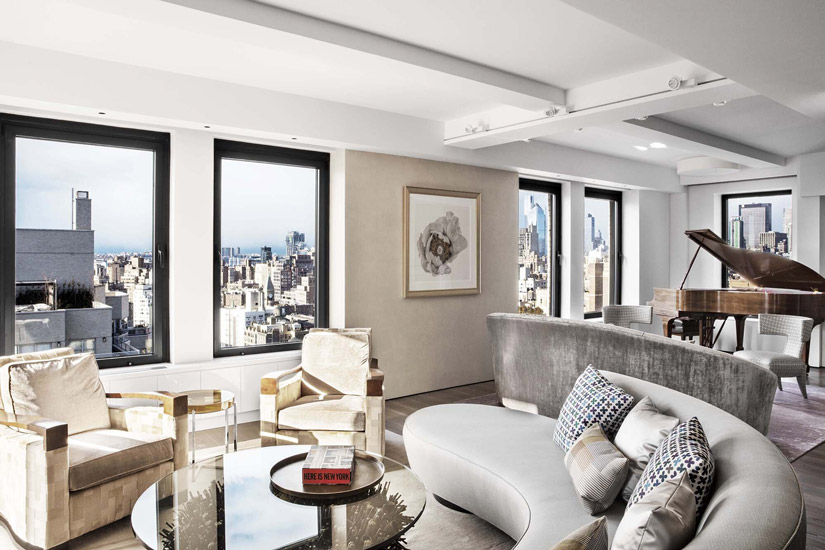 Then there's this New York apartment interior, plagued with lower ceilings – an issue Hariri & Hariri turned on its head, dropping them even further and tiering the ceiling to make it into one of the apartment's most interesting features. The project saw them transform a previously 'cookie-cutter' interior to make it more loftlike, with a compact kitchen adjacent to an open den anchored by an Antonio Citterio L-shaped sofa.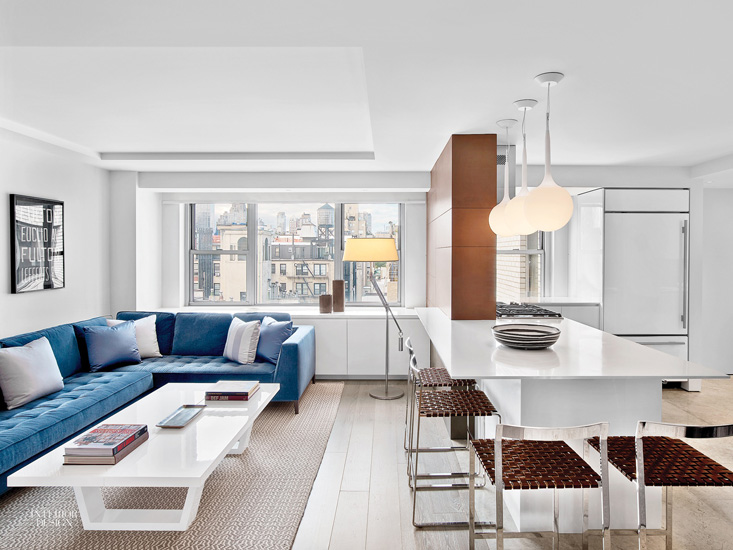 Gabellini Sheppard
Chelsea is New York's fashionable west-side neighborhood known to have some of the finest architecture in the city housing stunningly post-war walkups, a dose of newer high-rise buildings, and of course, converted lofts. One of those lofts is designed by Gabellini Sheppard, a firm founded in 1991 and distinguished by its sculptural finesse and mastery of light and space. Over the years it has earned countless honors and awards from organizations including the American Institute of Architects and the Cooper Hewitt Smithsonian Design Museum, to name a few.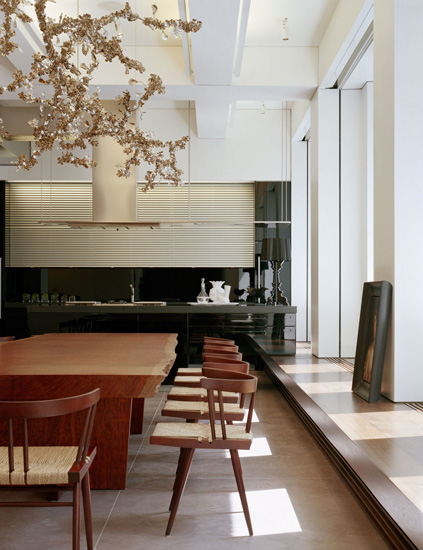 Spread over 400-square-foot, this 1920s industrial loft is another property built to show an extensive art collection, washed in light from numerous windows and lighting solutions. An open plan takes advantage of northern and southern light exposures, complemented by an eclectic fusion of contemporary furniture including living room sofa, lounge chairs, and an upholstered circular cocktail table selected from the B&B Italia Collections.
In the dining area, chairs in walnut and woven grass are custom-made by George Nakashima Woodworker, complemented by black satin-lacquer and stainless steel kitchen cabinetry by Boffi.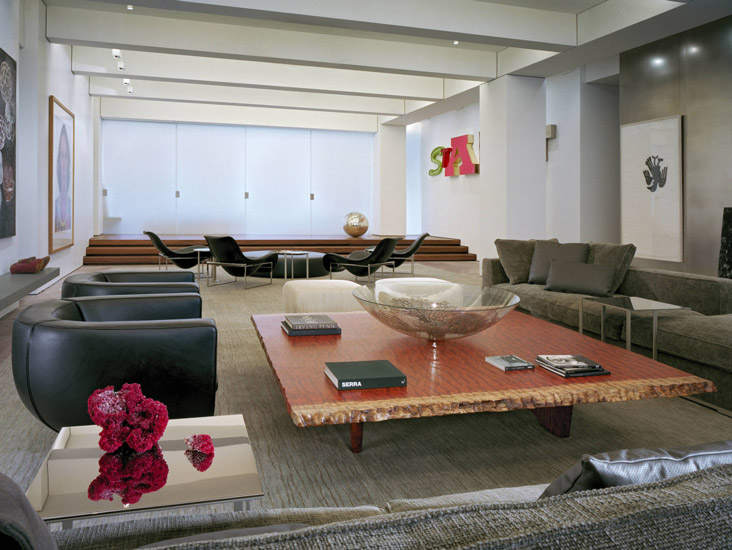 Ashe Leandro
Another noteworthy duo in design based in New York is Ashe and Leandro, a couple whose style redefines modern luxury with a contemporary twist on the traditional home. Together, they lead a design team dedicated to spaces with references to art, design and culture, whilst mixing natural materials with different textures and patterns.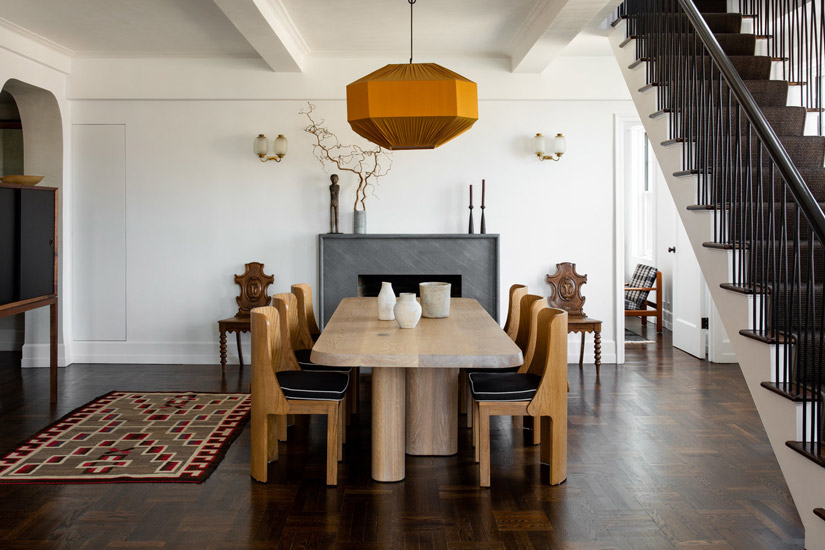 Founded in 2008, the studio's latest projects include a Manhattan duplex for Ashe's sister and brother-in-law, Alexi and Seth Meyers, featuring molded oak dining chairs by Ruemmler, Ashe Leandro's own furniture line. A favourite among celebrities, in 2017 the pair also completed a London Townhouse with airy interiors borrowing iconic italian designs like another Antonio Citterio sofa (this time for Flexform) and a pair of Gerrit Rietveld for Cassina armchairs.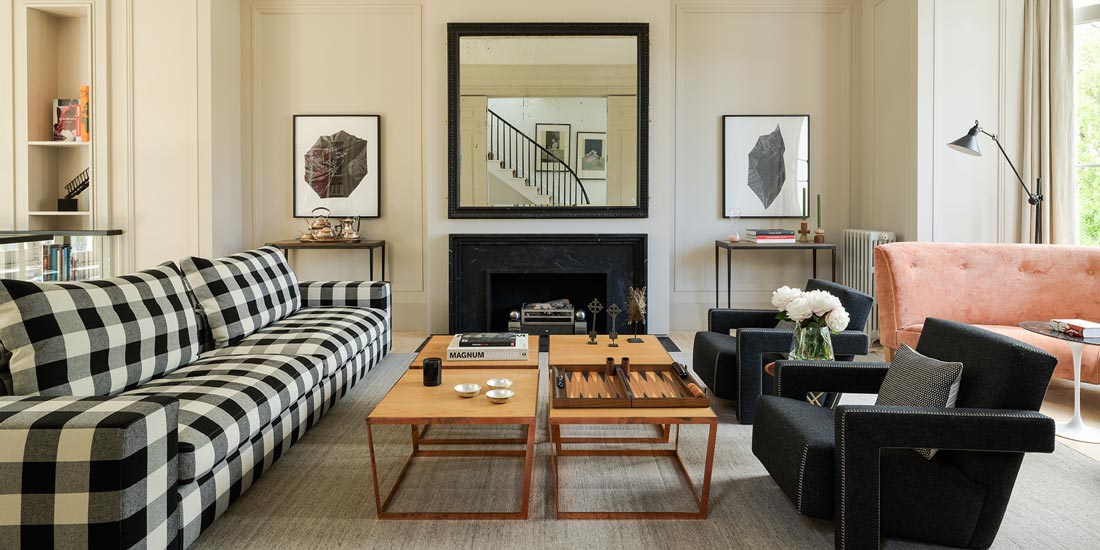 Ingrao Inc
Among New York's iconic hotels is former-Helmsley Palace, a 55-story hotel in Midtown Manhattan, in which internationally recognized design and architecture firm Ingrao Inc have designed a luxury apartment. Now called Lotte NY, their design features strong, bold and dense furniture, including a generously sized edra sofa in grey, setting the neutral tone for the elegantly styled interior. This is contrasted with indoor flower arrangements that bring life and natural form.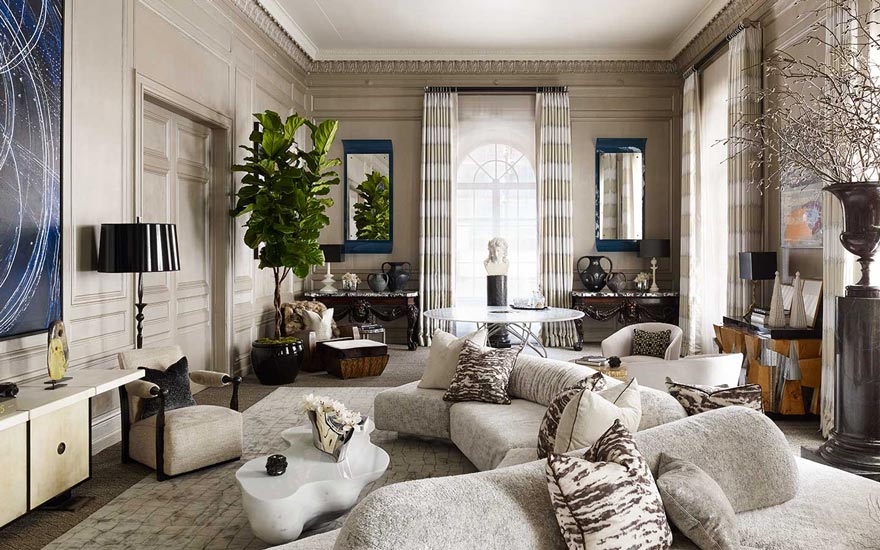 Ingrao Inc was founded back in 1982 by Anthony Ingrao and Randy Kemper, and is today composed of 36 interior designers and architects based in New York City that work on projects around the world characterized by their reimagining of modern luxury.
It recently completed designing the Baccarat Residences in New York City, two residential towers in Ward Village in Hawaii with Howard Hughes Corporation and architect Richard Meier, and the interiors of 35 Hudson Yards with Related Companies and architect David Childs/SOM.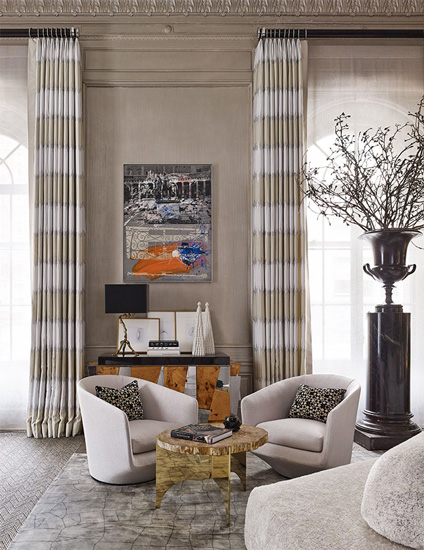 GRADE New York
Finally, a unique full-service design firm known as GRADE New York makes our list of the best interior designers NYC has to offer. Since 2001 it has specialised in luxury residences with a contemporary edge whilst dedicated to creating artistically curated environments.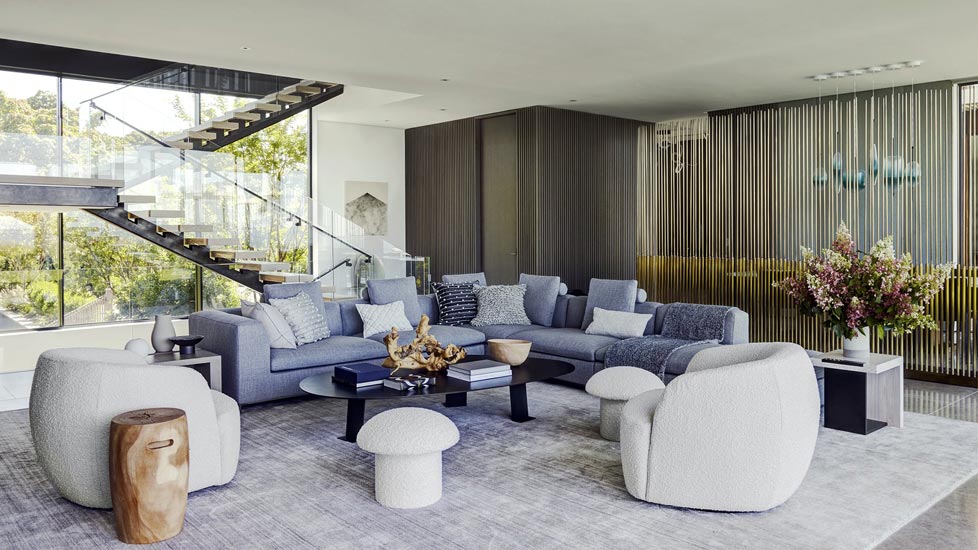 Working on high-end projects in New York and the surrounding areas, one of their most recent projects is Bay House in North Haven. Set over 11,500 square feet, GRADE has cleveral organised the layout around a generous outdoor living space made up of various hardscapes, pools, sheltering roof panes, and wide pergolas.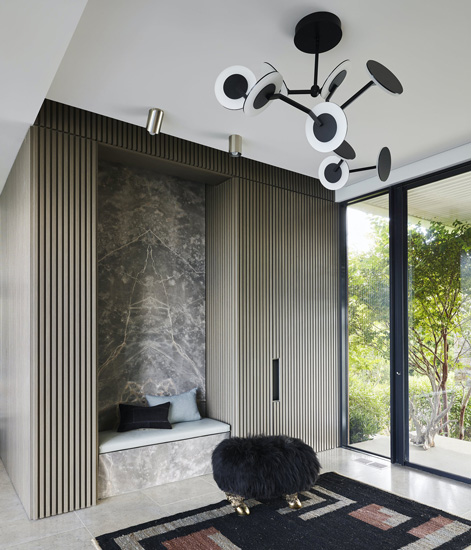 The interiors are characterized by an abundance of natural light, illuminating contemporary furnishings and an extensive use of natural materials and textures, like stone, marble and wood.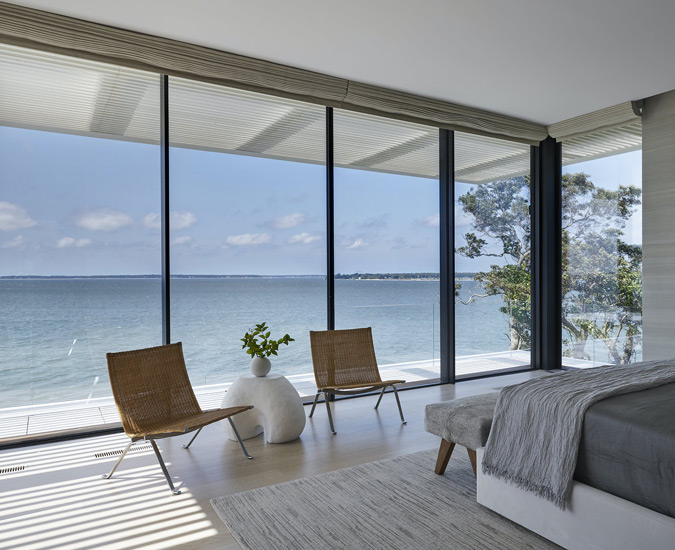 As well as mapping the top interior designers in New York City we have put together a guide to the best Italian furniture stores NYC has and where to find them. You can also discover other useful resources in our editorial section, like this guide to the top interior designers in Los Angeles.
Are you looking to furnish your home with high quality Italian design? We have an online interior design service that can support you in every phase of your project wherever you. Our team of Italian interior designers are experts in managing high-end projects and can help you choose the best brands including the iconic Italian pieces used by the interior designers included in this list.
You might even be interested in an exclusive Italian furniture shopping experience, where we can organise a tailored tour on the ground in Italy, including visits to Italian laboratories and ateliers to choose the products for your home. Logistics and installation performed by our experienced Italian craftsmen are part of our end-to-end service offering.
Your unique Interior Design Project developed by Italian Professionals.
Discover and shop Made in Italy while living the Italian lifestyle in Milano.