Modern Italian Bathroom
Posted on 24 March in Italian Home Design
Italian Design, Italian interior design, Italian Brands, Italian Materials, Bathroom design, luxury Italian bathrooms, Best Italian bathroom brands
Esperiri presents you three ideas to create your personal modern Italian bathroom. Check the authentic contemporary Italian bathroom to take inspiration for your design project.
Focus on the modern Italian bathroom
In this article, we want to talk to you about how you can decorate your bathroom in a modern key. To do this, we took inspiration from color, materials, and Italian design. This mix of ideas, if applied correctly, can create a bathroom with an innovative character and a unique appearance.
Before getting into the three proposals that we have designed for you, let's take a step back to understand what indispensable qualities a proper minimalist bathroom must have.
#1 Appropriate and uniform colors
The combination must be well-researched: neutral colors, minimal patterns, and uniform materials are the perfect starting point for obtaining a modern Italian bathroom
#2 Shapes and thicknesses
The furnishing elements must convey order, lightness, and simplicity. For this reason, our selection will focus on linear objects with well-defined geometric shapes.
#3 Essentiality
To obtain a minimal-looking bathroom, you shouldn't go too far. Attention to detail is the trump card for getting a welcoming space with a fresh and modern look.
Copper&Ivory, Black&White and Shades of Marble: three contemporary Italian bathrooms in comparison
We have come up with three different suggestions of materials and textures, all united by a common goal: to give shape to a contemporary Italian bathroom.
Copper & Ivory, Black & White, and Shades of Marble are our three proposals. For each one, we created mood boards with products, materials, and finishes, each with a different price positioning.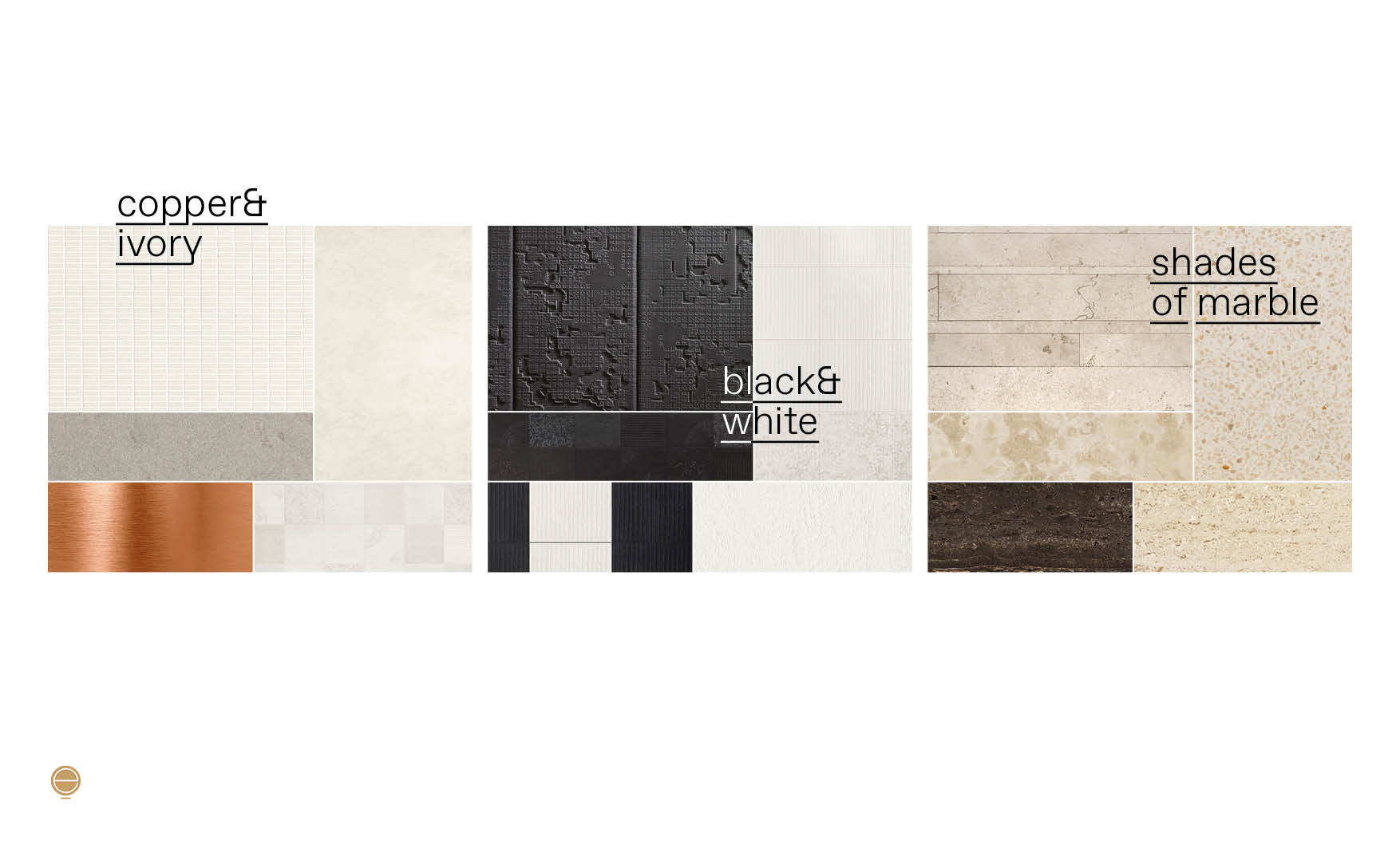 Copper & Ivory: Simple and essential
For this first modern Italian bathroom option, the words "simplicity" and "essentiality" were our guide, starting from the choice of materials. The pearl gray stone from Casone Group contrasts with the dominant color of this bathroom, ivory. The walls covered with Mutina with a minimal, linear pattern are enhanced by the copper elements, which give a touch of liveliness and brightness to the space.
The objects are arranged uniformly throughout the room: on one side, the rounded mirror frames the first wall and plays off the free-standing bathtub positioned along the opposite wall.
The selection of bathroom furniture elements was made entirely of copper and ivory objects. The Italian sanitary ware and washbasins are from the GSI Ceramica Color Elements collection, which is inspired by the colors of nature and materiality. Creta is the color that we have chosen and combined with Cea Design's elegant signature tapware. The linear forms of the Giotto and Ziqq models offer us a wide range of pure copper solutions with a distinctive character. The overall price of our first option is the lowest at around 13.000 Euro.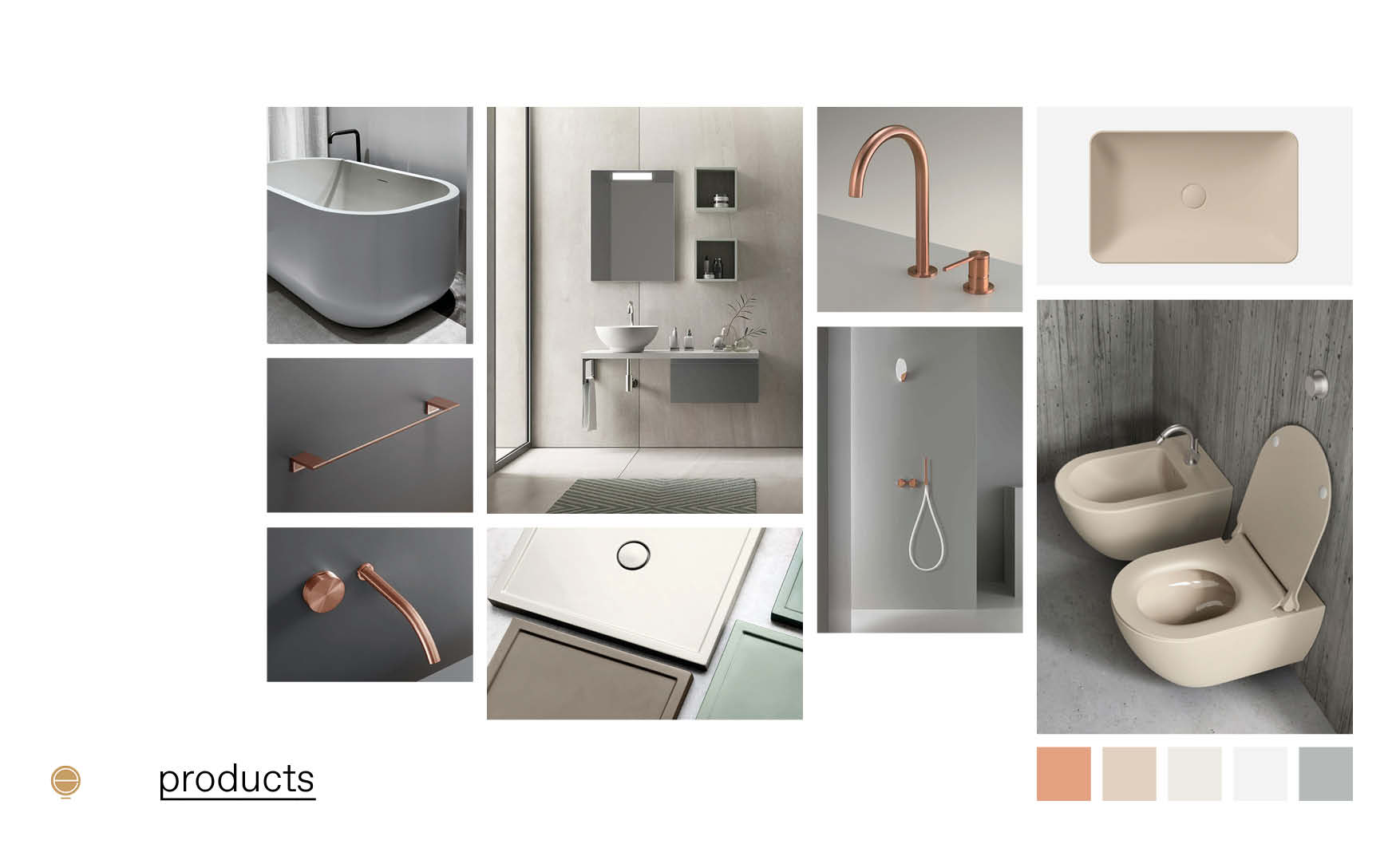 Black & White: An elegantly "dressed" bathroom
A contemporary Italian bathroom that is elegant in every regard: this is the second proposal. It features a black and white color scheme —Yin and Yang, day and night— which blend into a perfect mix that makes us rediscover a consummately elegant and essential style. Once again, the finishes were chosen from the fabulous Mutina catalog: Phenomenon, in a black version, with its texture reminiscent of the natural world, creates a play of light and shadow and contrasts with the white Chymia glazed porcelain stoneware floor.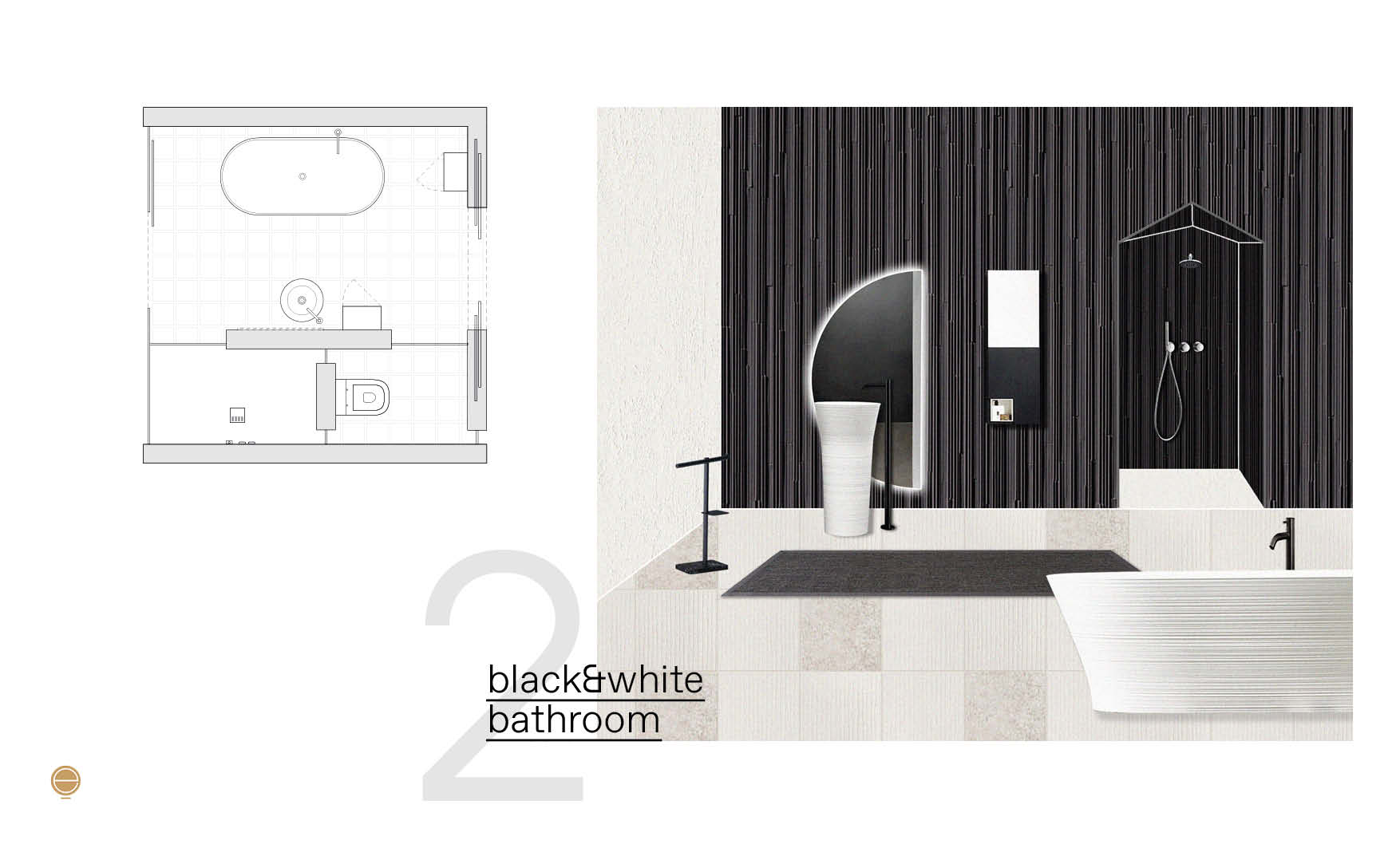 Among the furnishing elements chosen for this second proposal, the main stars are the free–standing elements from Falper. The white, streaked surface of the sink and bathtub from the Handmade collection contrasts with the brightness of the black Cea Design taps. The refined Spicchio mirror by Antonio Lupi completes the composition of the furnishings, which with its LED lighting, generates a constant dialogue with the different sectioned textures for this modern Italian bathroom. The total cost of this second option is around 18.000 Euro.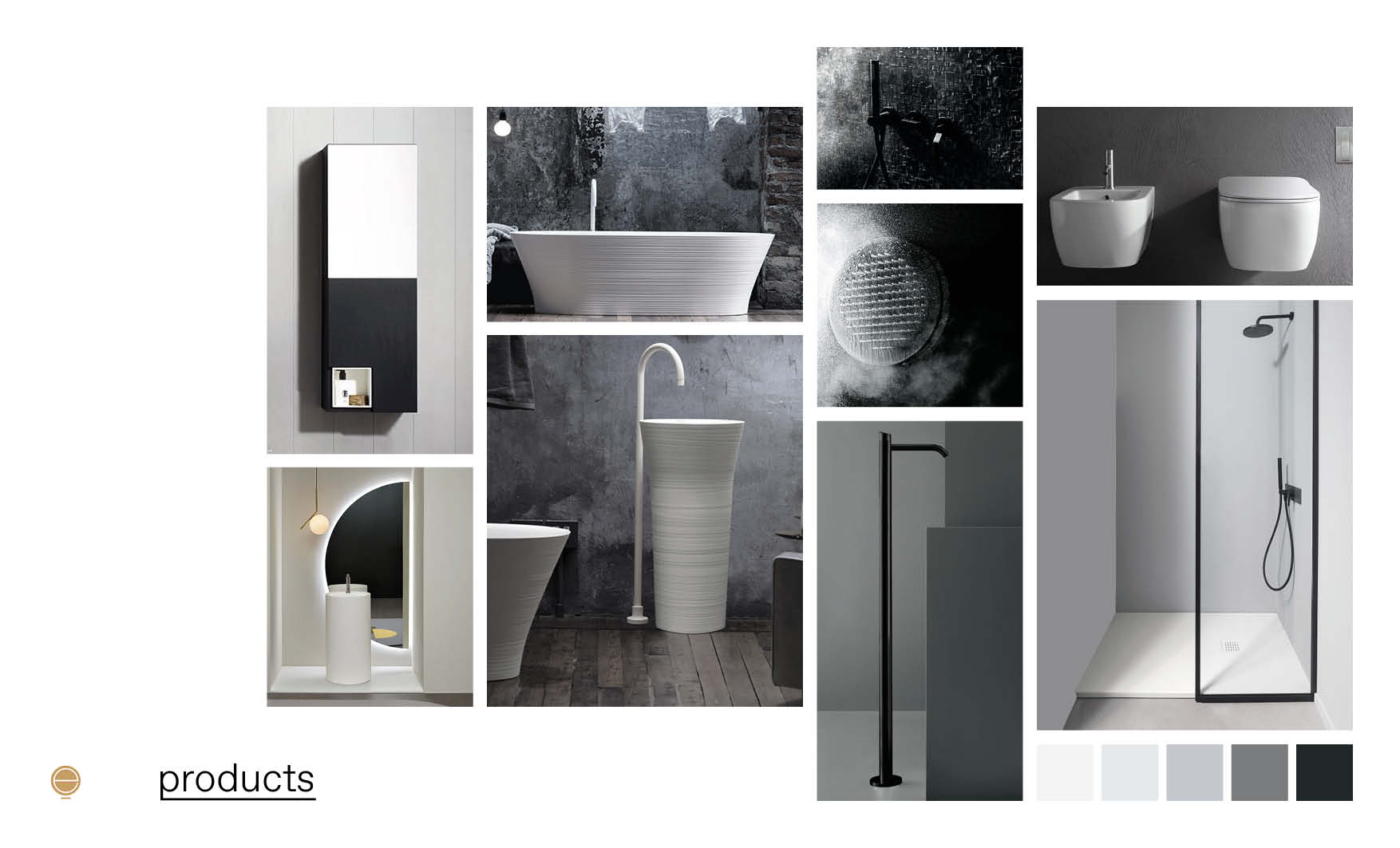 Shades of marble: Discovering precious materials
Last but not least, we present the third version of the contemporary Italian bathroom, the most expensive and most valuable. Its price point is around 26.000 Euro. It is a space where warm colors prevail and where the textures and shades of natural and refined materials merge. The bathroom vanity stands out with Salvatori's Lithoverde marble chosen for the walls and with the imperial Budri texture of the floor.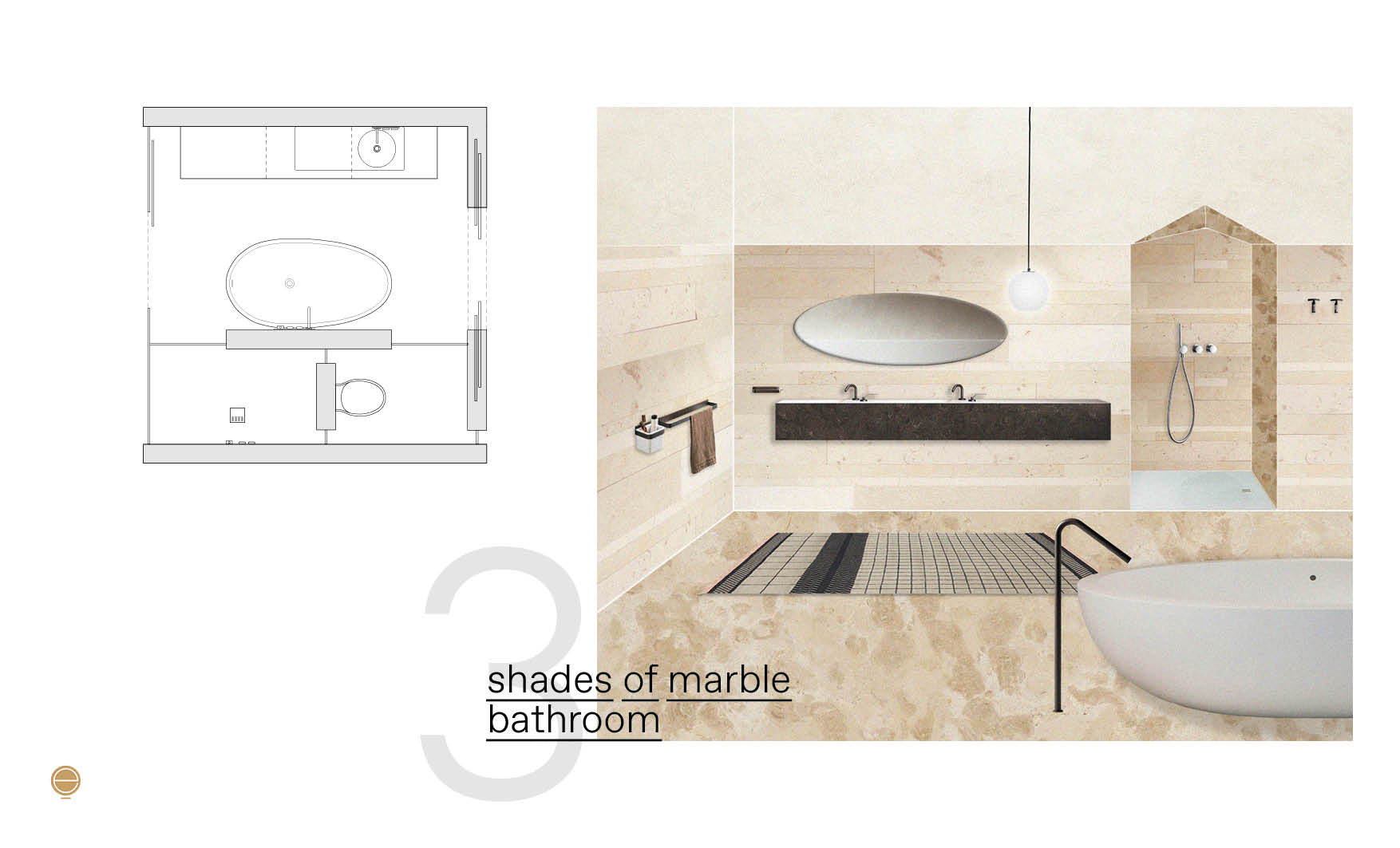 Minimalist does not necessarily mean looking for square shapes. On the contrary, adding some curvy elements can often give a touch of dynamism and liveliness to the space. The choice must fall on products with simple and essential lines, such as the Spoon XL free–standing bathtub by Agape, the Solstice oval mirror, and the Boffi circular Floe washbasin. However, a touch of class is given to this luxury bathroom by Meteo_Out, the new shower head by Antonio Lupi that combines the primordial power of water with the beneficial effects of chromotherapy.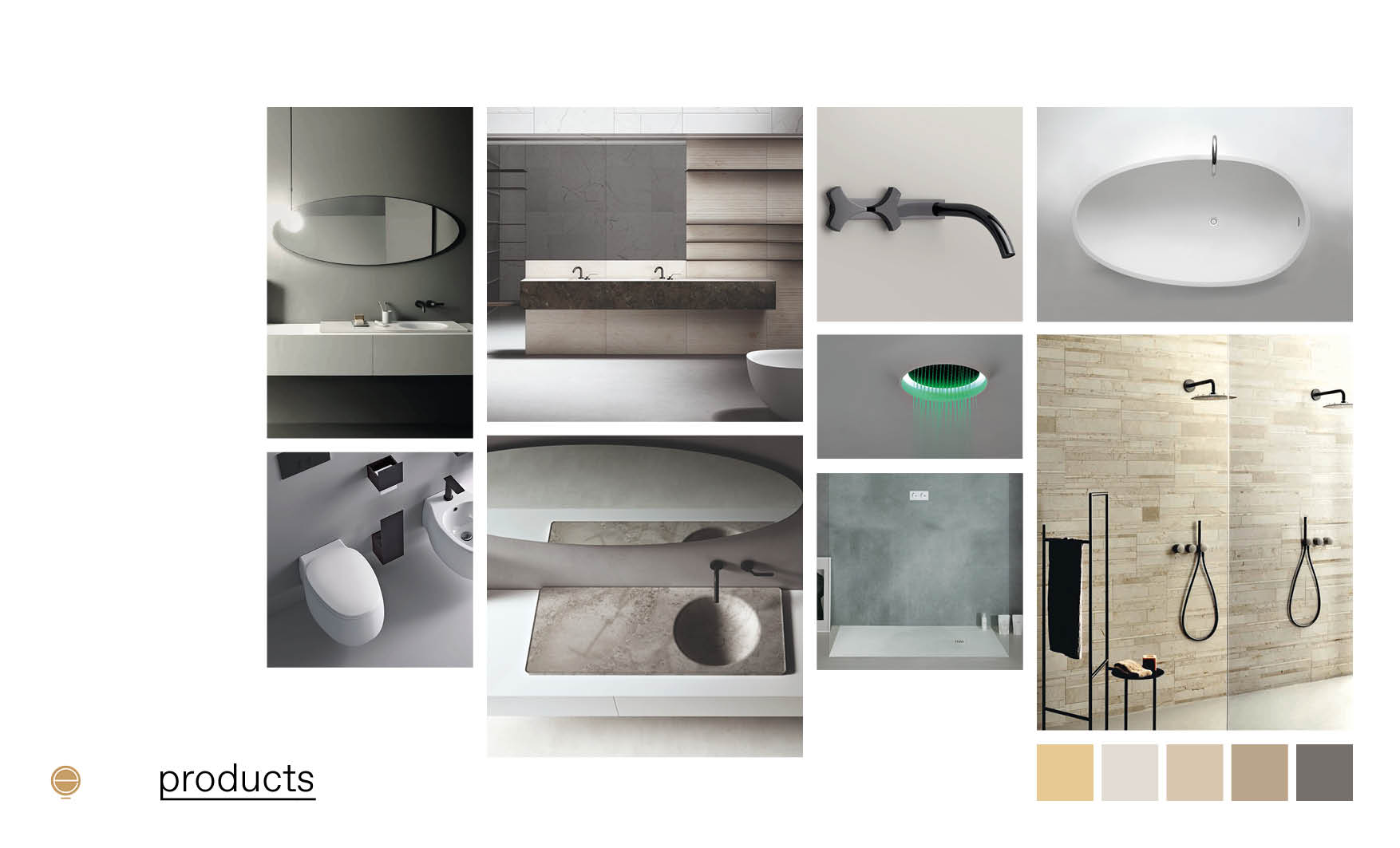 Do you feel inspired? If you are looking for a modern Italian bathroom, with our team of Italian interior designers, you can discover the true beauty of interior design. We can help you experience something unique and you will have the opportunity to participate in our Shopping Tour and get to know products with pure Made in Italy taste firsthand.
And if you are still looking for some inspirations, check our selection of Italian bathroom design
Your unique Interior Design Project developed by Italian Professionals.
Discover and shop Made in Italy while living the Italian lifestyle in Milano.