The Best Luxury Bathtubs Made in Italy
Posted on 26 September in Italian Furniture Online
Bathroom design, luxury Italian bathrooms, Best Italian bathroom brands, Best Italian sanitary ware, Luxury Bathroom, Italian Bathtubs, Luxury Bathtubs, Italian Luxury Bathtubs, Italian sanitary ware prices
Discover the best luxury bathtubs crafted by renowned Italian designers
Promoting rest and relaxation, bathrooms have become spaces that are as meditative as they are functional. No longer the smallest, most forgotten rooms in the home, today they could easily be considered the hearts of domestic life. At the center of these spa-like sanctuaries are luxury bathtubs – exciting, architectural features replacing the idea of the soaking tub as a utilitarian device.
Renowned for their use of high quality materials and mastery of detail, Italian designers have played an important role in developing this new icon. From inset baths to freestanding tubs, they have created limitless possibilities of luxury: contoured shapes, ovals, squares, or rounded; stone, acrylic or wood; soakers, whirlpools or air massage. Innovative shapes and designs feature the latest technology to inspire self-care and relaxation.
It's true that the best in bathroom luxury manifests itself in Italian bathtubs and with such a wide variety out there it can be difficult to choose. So, we have put together a list of the best (alongside information on their luxury bathtub price) to inspire your dream bathroom vision.
Modern Designers in Italy Master the Look, Shape and Feel of Luxury Bathtubs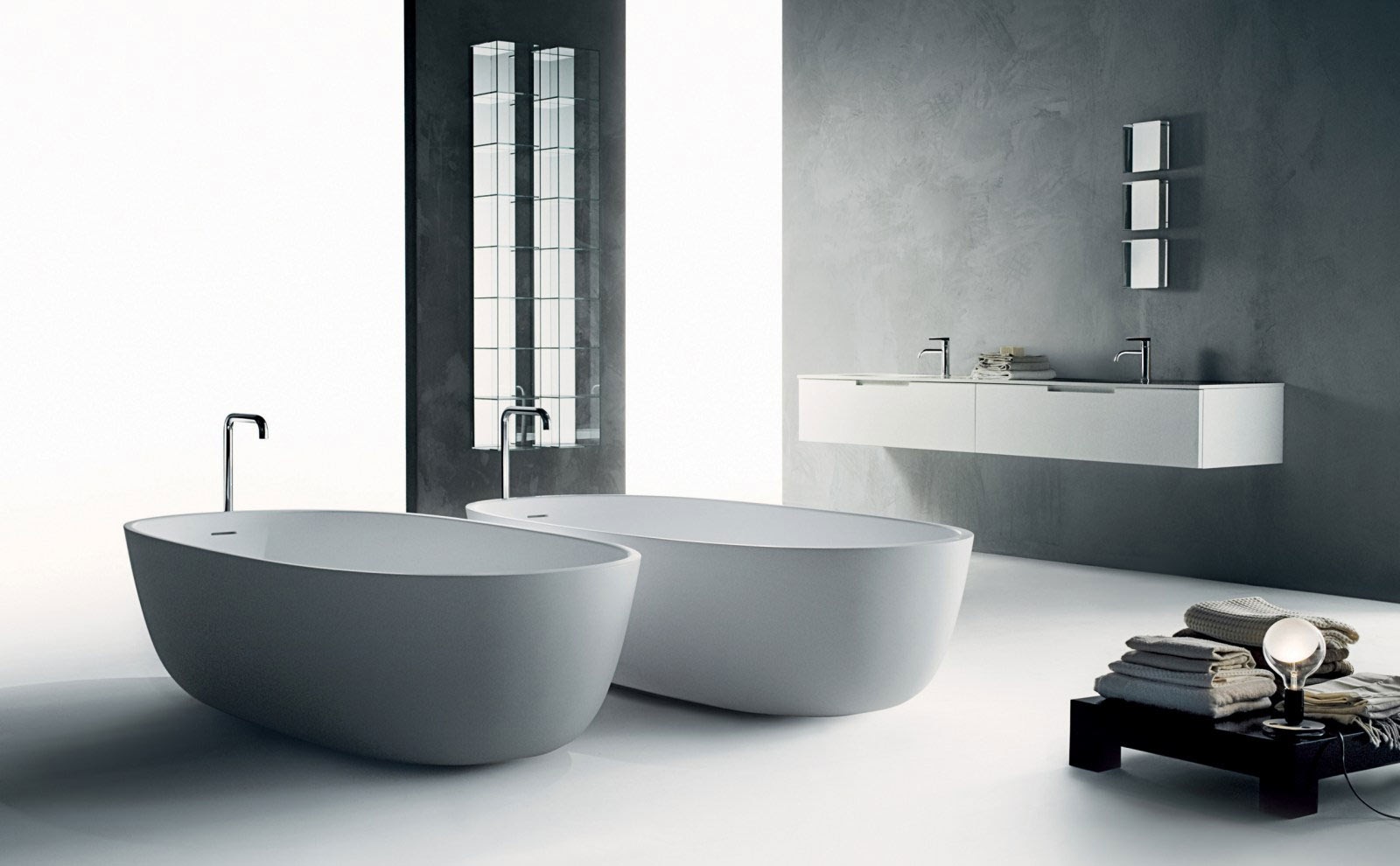 Vieques by Agape
Starting off our list of the best luxury bathtubs is the freestanding Vieques designed by Patricia Uruiola for Agape in 2008, a re-styling of the old-fashioned tub that would suit both classic and contemporary interiors, starting from 6.672 Euro.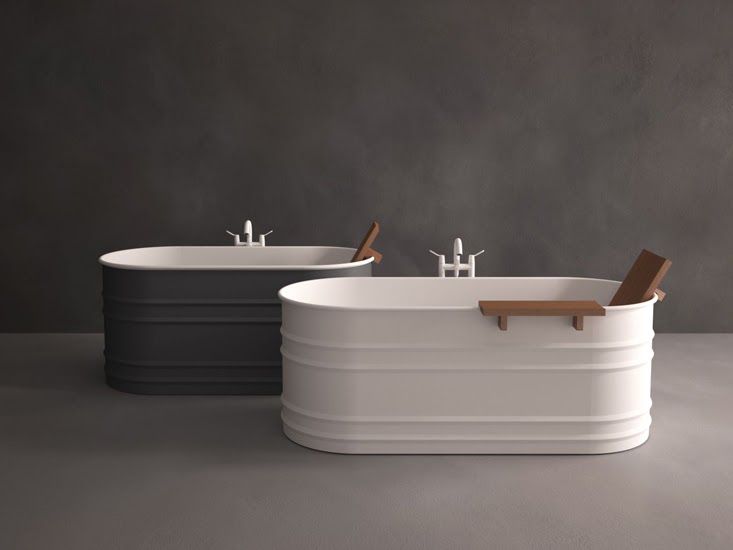 Made of stainless steel with either a double-colour (gray or black) or total white finish, it can be made in various sizes and can be accompanied by a backrest and shelving in teak wood. A classic take from Agape, a brand that has been at the forefront of bathroom design, producing its own pieces as well as collaborating with modern designers since 1973.
DR by Agape
Another style we recommend is the DR, a collaboration with Marcio Kogan and Studio MK27. This built-in tub for two makes more of a statement with its puddle-like silhouette shaped from bent wood that holds a solid interior surface. With the option to pair with wall or floor mounted taps this model starts from 4.712 Euro. It's also available as a freestanding bathtub clad in a wooden veneer, raw earth, or lacquered in a wide variety of colours, starting from 8.773 Euro.
Another contemporary expression is the Eclipse by leading Made in Italy brand Antonio Lupi, an enveloping egg-shaped model that ergonomically protects the body. This type of tub was designed to command space and would look great taking center stage in a master bathroom. It's available in stone or cristalplant with the luxury bathtub price starting from 4.223 Euro.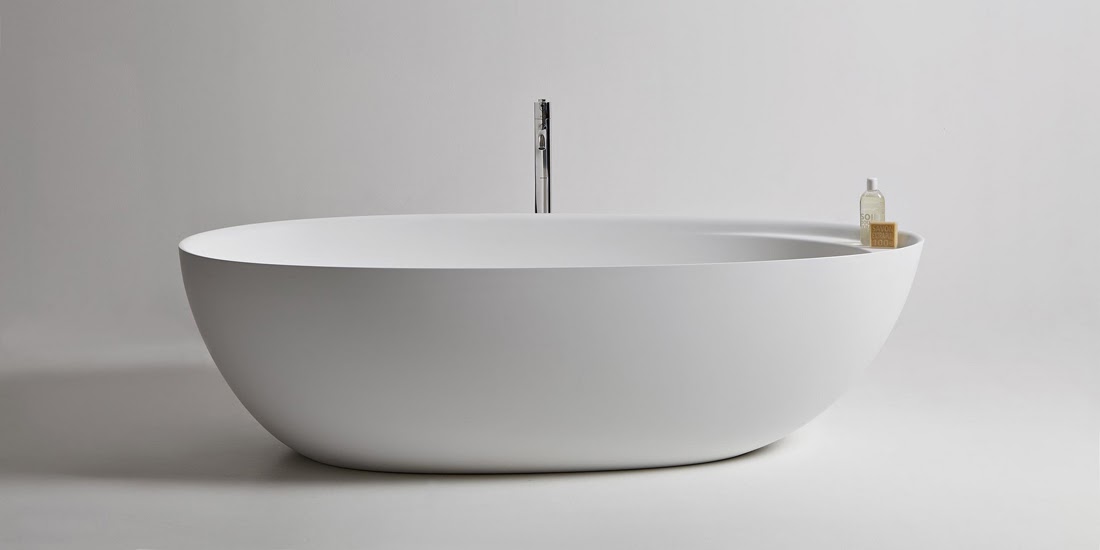 Mastello by Antonio Lupi
Alternatively, Antonio Lupi offers some classic models that have been stunningly revised. Firstly, Mastello, a tub made from the company's patented Flumood satin material, whose shape recalls the wooden tubs used in the past for bathing. This model is available with copper, brass or multi-colored lacquered coatings and starts from 4.834 Euro.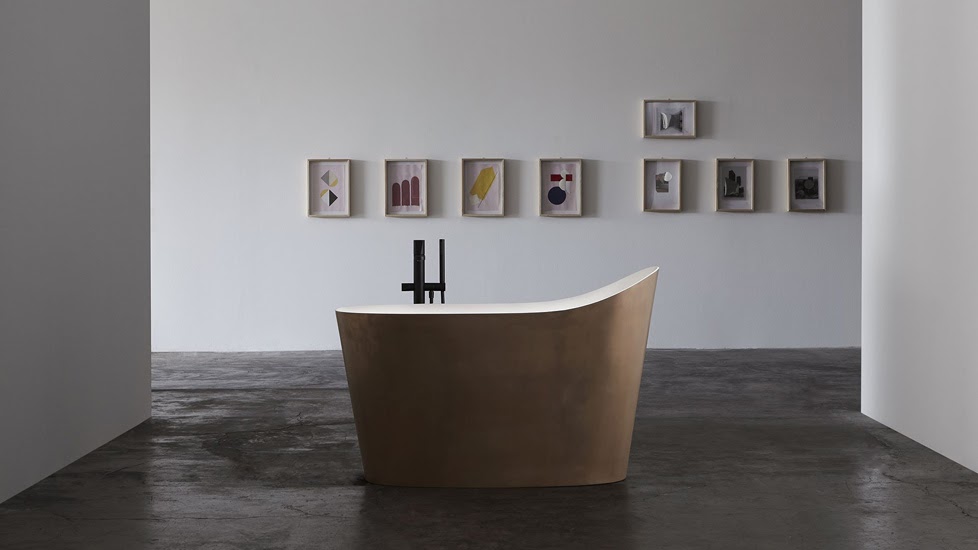 Suite by Antonio Lupi
Or there's Suite, another freestanding cristalplant model with sinuous lines and large fold back as its main features. A new shell-shape brings this classic-looking bathtub with feet into the 21st century, which starts from 6.535 Euro.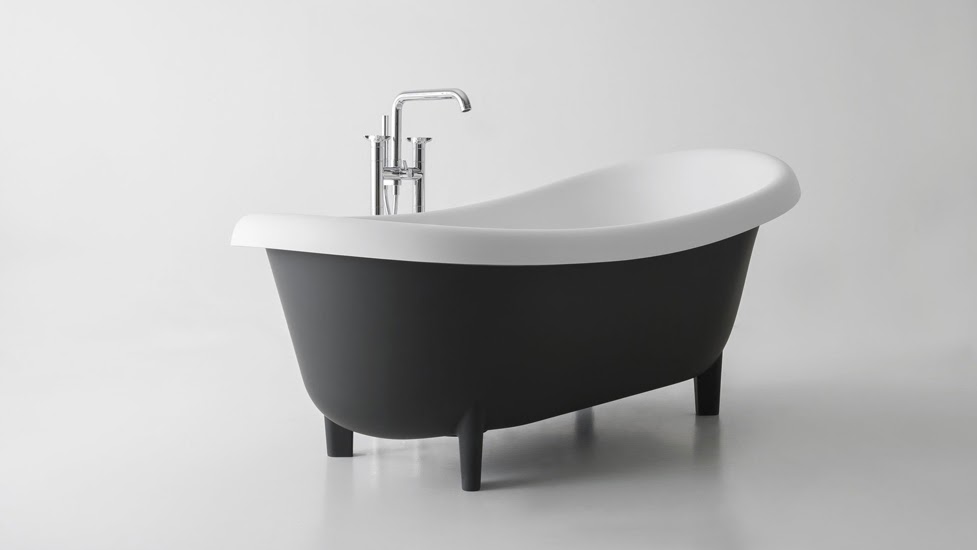 Italian Bathtubs by Designers who Master Materials like Stone
Anima by Salvatori
A bathtub made from natural materials makes for a one-of-a-kind focal point and Salvatori, a global benchmark in the 'design meets natural stone' field, has some beautiful options. Its sensuous product collection features luxury italian bathtubs with an amorphic, fluid form complimented by the unique colouration and veining of various marbles, like the Anima that starts from 31.148 Euro.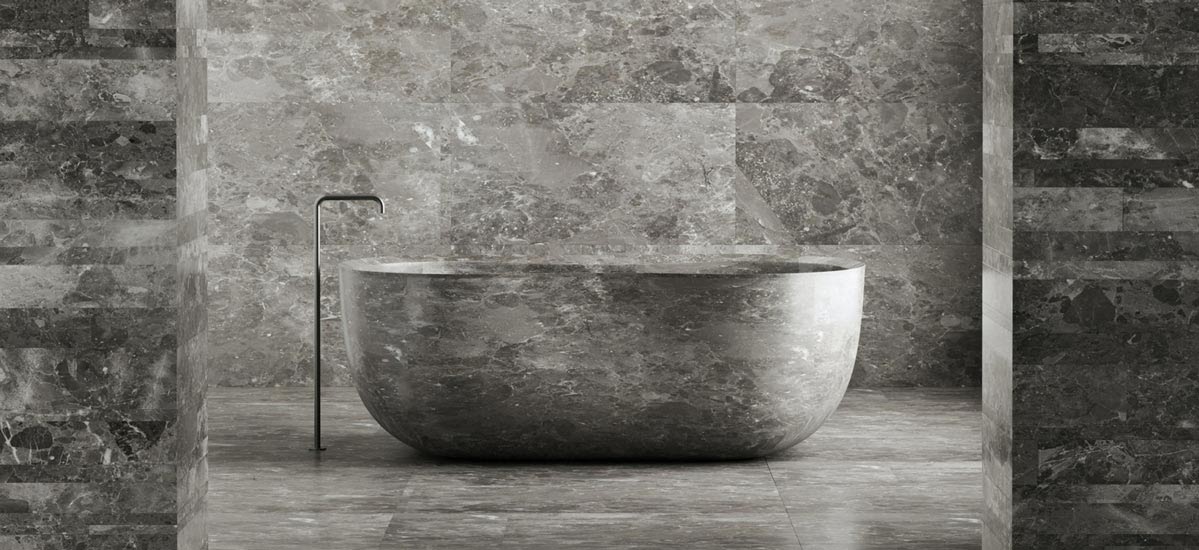 Balnea by Salvatori
Another beautiful example is the Balnea designed by Elisa Ossino, which comes in more defined shapes of oval or circular. The tub, which starts from 26.230 Euro, is sculpted from a single piece of Carrara Marble to create a strikingly monolithic model perfect to complete a the look of luxury italian bathrooms.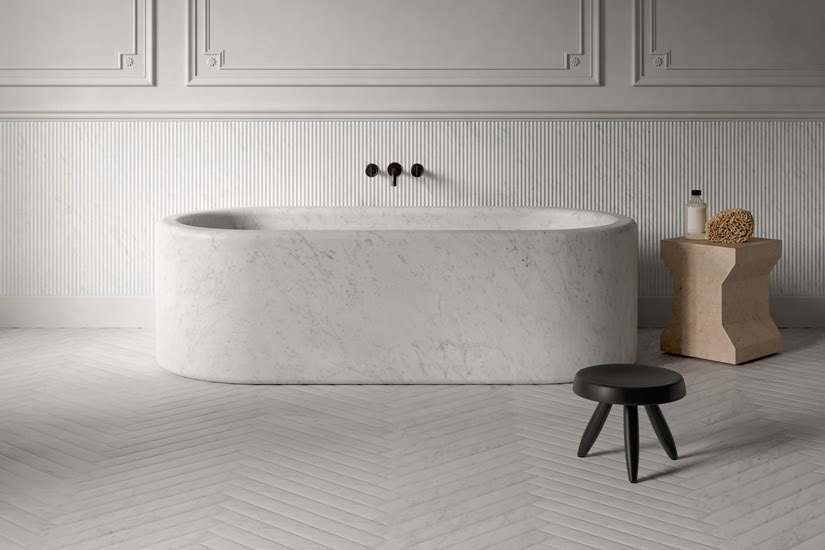 Ishiburo by Salvatori
Or there's the Ishiburo bathtub designed by award-winning japanese architect Kengo Kuma, our final Salvatori bathtub that demonstrates the mastery of stone. This rectangular bath is made up of a seemingly haphazard placement of stone 'batons' that come together to create an angular harmony. It starts from 17.705 Euro and is available in a wide range of stone: Bianco Carrara, Crema d'Orcia, Pietra d'Avola and Silk Georgette.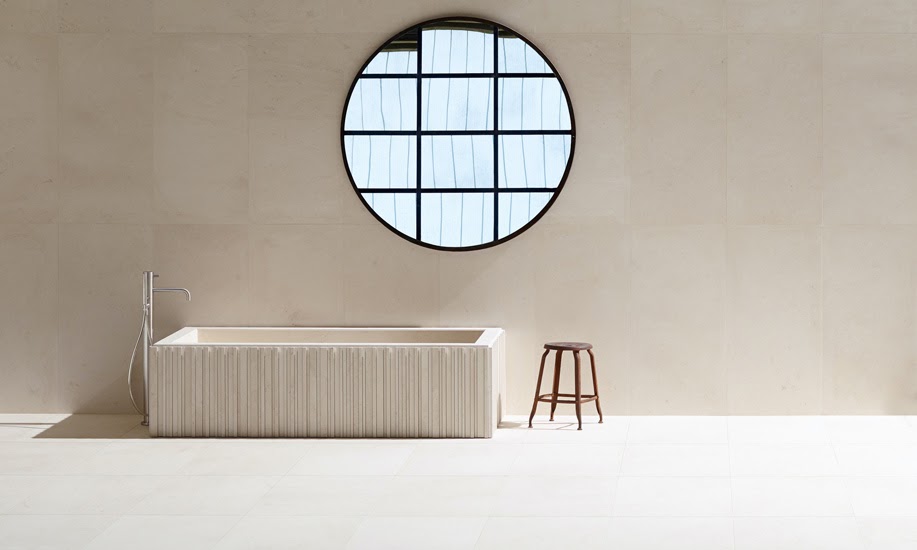 Vascamisura by Falper
Also making our list of the best luxury bathtubs is Falper's Vascamisura bathtub, which has a tactile and uniquely soft, light-reflecting effect. Designed by Michael Schmidt, the profile of the freestanding tub, which starts from 10.560 Euro, reveals a smart open wooden compartment where a double-colour can be created.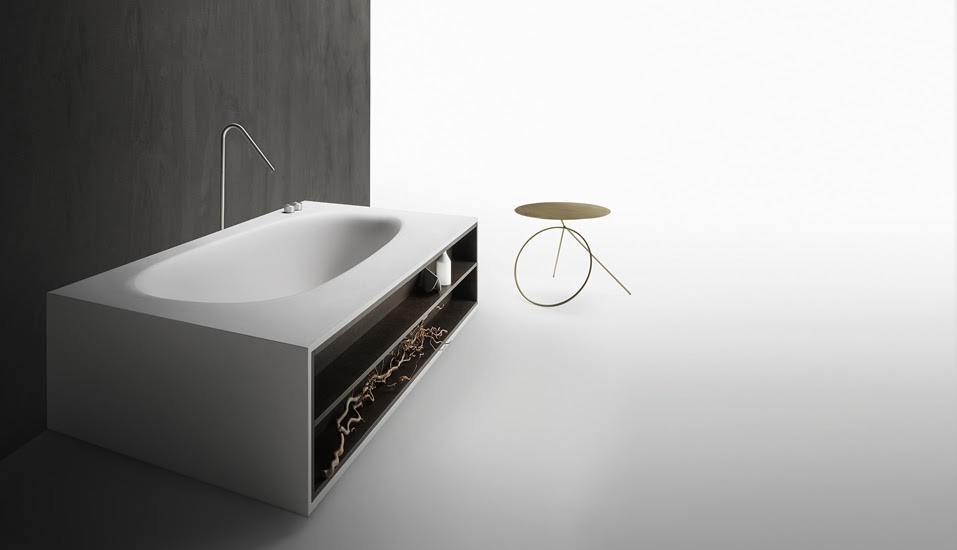 Alternatively, a built-in version available in matt white and various sizes adds a touch of subtle sculptural shine to any contemporary bathroom, starting from 6.603 Euro.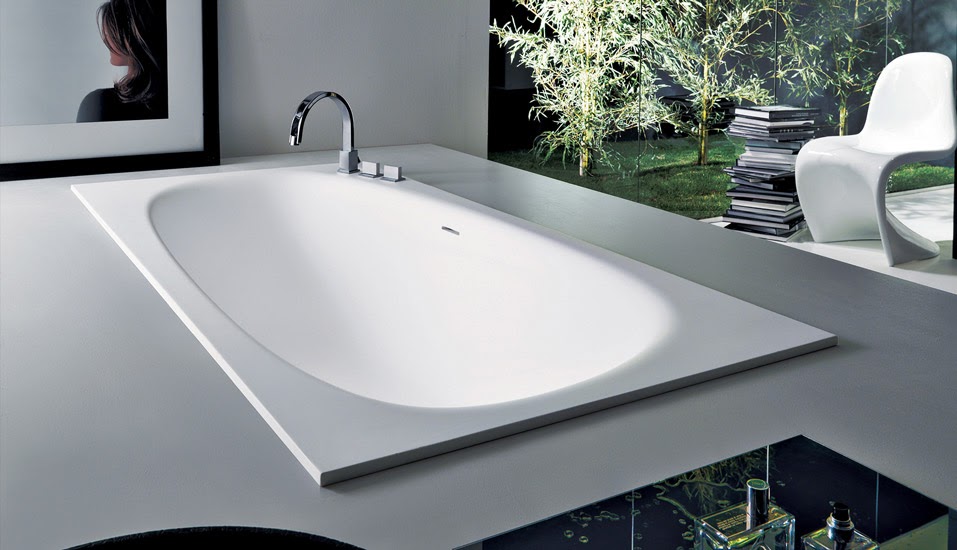 Controstampo by Falper
We also love the Controstampo, an award-winning cristalplant bath designed by Dario Gaudio and Vittorio Venezia whose unique approach draws inspiration from machinery. Together, they have created a tub with an industrial feel further emphasized by its availability in corten steel colour. Other treatments include soft touch colours like white or grey and the luxury bathtub price starts from 6.549 Euro.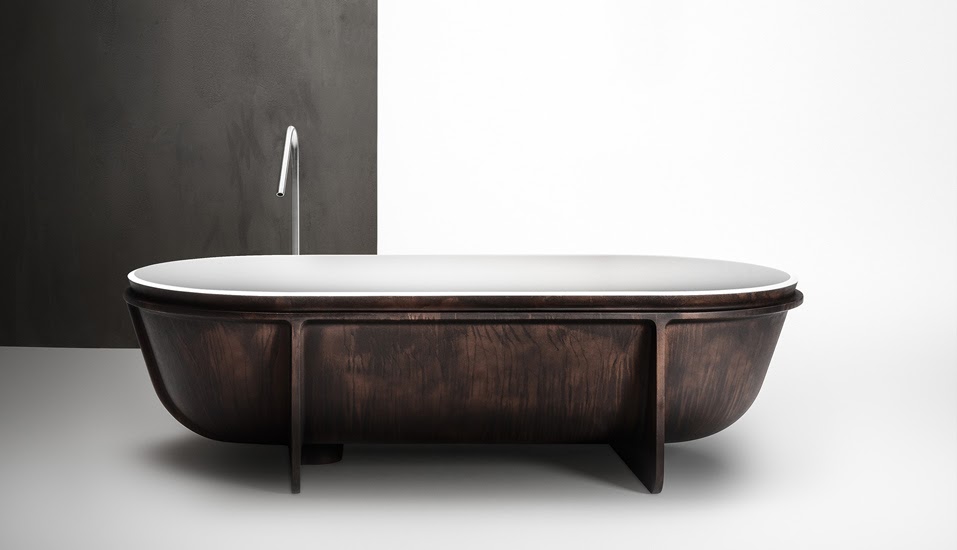 Luxury Bathtubs Equal Luxury Comfort
Baia by Armani Roca
The collaborative Armani Roca, which combines Roca Bathrooms with Giorgio Armani's ethos, makes incredibly stylish pieces. One of their most striking is Baia, a freestanding retro-inspired bathtub accented with four metal handles making it the perfect focal piece in any bathroom. Revised with a contemporary tone and paying attention to ergonomics, soft and sinuous lines characterize this model, which starts from 4.851 Euro.
Built-in Island with Soft Air Massage and Water-Chromotherapy by Armani Roca
Another noteworthy model is the Armani Roca Built-in Island with Soft Air massage and Water-Chromotherapy. Combining luxury and comfort once more, this one offers a spa-like experience with an exclusive hydrotherapy feature that fills the water with gentle bubbles that mimic the size and texture of champagne bubbles. It's available in four finishes including an elegantly chic Nero colour. This luxury bathtub price starts from 5.773 Euro.
Round Fisher by Boffi
The brilliance of bathtubs is that their beauty lends itself to a simple shape. Designed by the company's iconic art director, Piero Lissoni, Boffi's minimalist take on the freestanding bathtub is a great example. Inspired by the natural beauty of its namesake island, the Round Fisher, which starts from 20.563 Euro, features an oval design that naturally embraces the human body.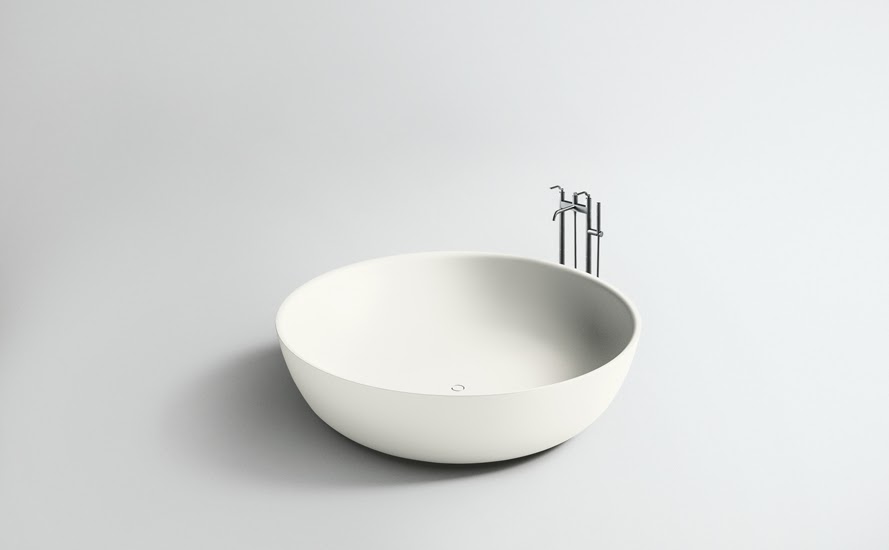 Sabbia by Boffi
Echoing the same sentiment are other Italian bathtubs from the collection like Sabbia, which was designed by Japanese industrial designer Naoto Fukasawa. Another freestanding cristalplant bathtub, this time starting from 6.120 Euro, its beauty also lies in its luxurious curves.
It's the perfect ode to the circle, always in harmonious relation with its environment.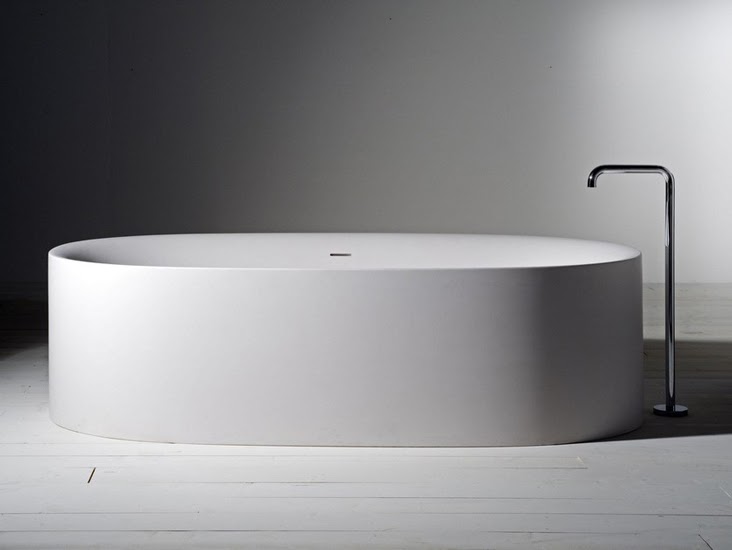 Evergreen by Flaminia
If you prefer classic examples of luxury Italian bathtubs with a twist, Ceramica Flaminia's Evergreen is the perfect example, featuring a freestanding tub on classic feet, starting from 2.572 Euro. Its collections are characteristic of the company's unique approach to traditional shapes making the perfect tub for the modern Italian bathroom.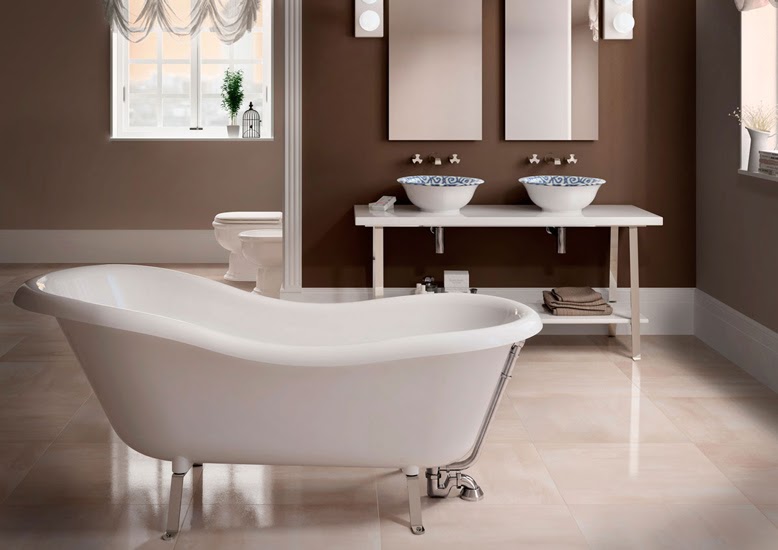 IO by Flaminia
Finally, we also love the unconventional IO, a visually strong and versatile bathtub that can be installed both on the wall or in the center of the room, starting from 4.200 Euro. It's compact base and expanding form makes for a striking shape that perfectly contrasts colourful interiors.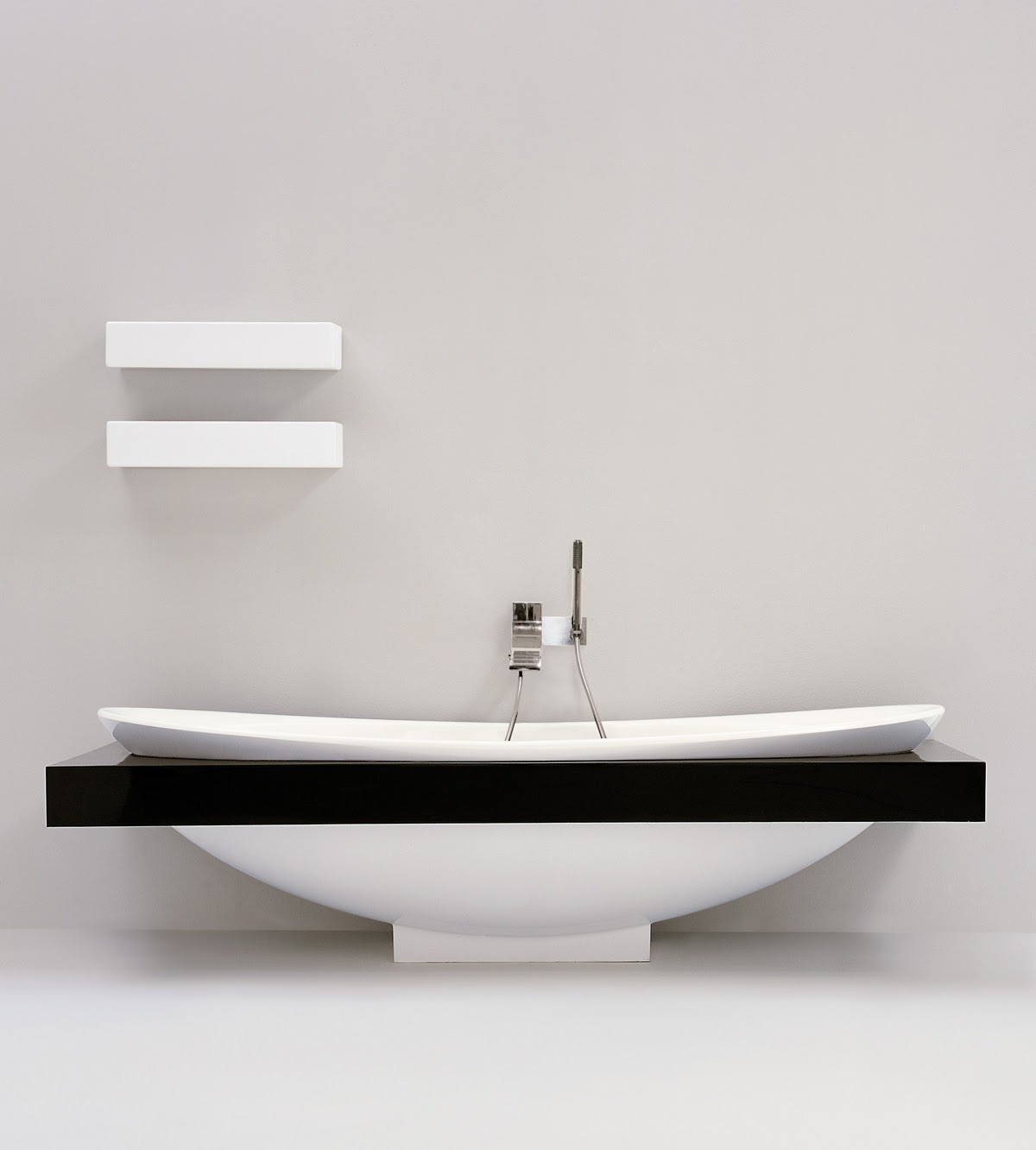 Are you curious to start your own bathroom interior design project? As you can see, the Italian world of luxury Italian bathtubs can help fill a project with style and the support of an interior designer can be invaluable in this regard, supporting you as you navigate Italian sanitary ware brands.
Thanks to our Italian interior design service our experts can accompany you step by step during all phases of design and project implementation. Throughout the design process they can offer advice and inspiration, providing moodboards for your bathroom material selection as well as plumbing plans to provide to your contractor.
They can also source pieces through our Italian Furniture Selection & Supply services. At the end of the design process, our skilled Italian craftsmen will take care of the installation of the selected pieces in your home.
Your unique Interior Design Project developed by Italian Professionals.
Discover and shop Made in Italy while living the Italian lifestyle in Milano.