Italian Interior Design Near Lake Como
Posted on 25 February in Italian Interior Design
Italian Design, Made in Italy, Italian Lifestyle
Isn't it everyone's dream to live in an Italian villa for a summer, if not forever? There's something tactile and relaxed about the Italian lifestyle that seems to resonate with all of us. However, striking an authentic balance between classic and chic is best left to the professionals.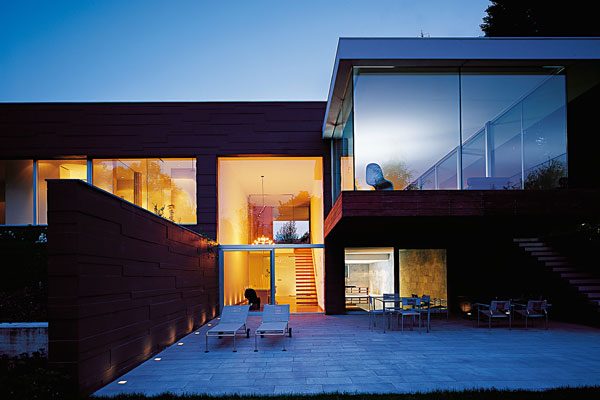 Italian House Design
Piero Lissoni Group and Sag'80 Group collaborated in a residential Italian House Design and interior project for a private villa in Como. The Italian architect and interior design brand have intelligently utilized international and Italian furniture pieces to fit the lush environment and minimalistic ambience. With such a power team, the outcome could only be timeless and elegant.
Italian Villa House Designs
This Italian Villa project has all of the authentic elements defining contemporary Italian house design. The landscape is inviting and the house itself features 600 square meters across two floors, a swimming pool, and a marble infinity bathtub. Besides having a perfect location, near Lake Como and only a quick train ride to Milan, the modern exterior and design-filled interiors bring it together.
This Italian house design project makes the most of minimalism with quality materials of cement, glass, and wood. The façade showcases cement in a variety of grey hues, molded in a rationalist style around the front door and entrance steps. Natural wood offers a balance to the strong character of cement, with a rustic finish and craftsman quality. The glass allows the eye to wander the exterior landscape from indoors, and vice versa. It also opens the architecture to spread light throughout the different living spaces, so there's little need for artificial lighting.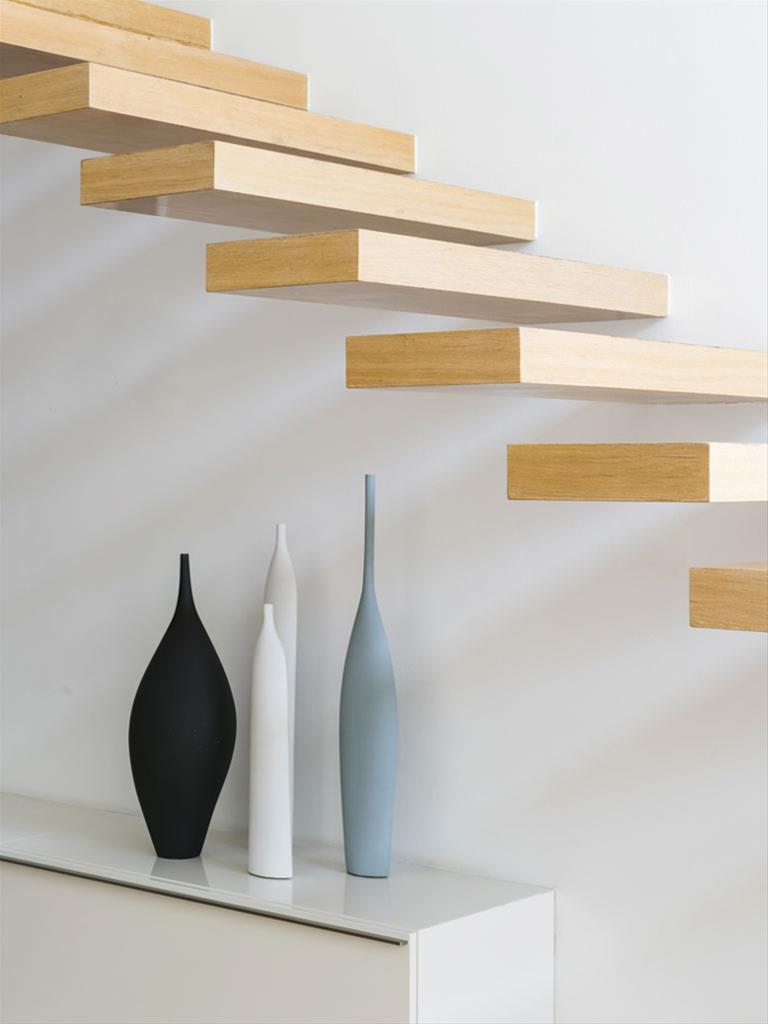 Italian House Design Interiors
The interior colors remain mostly neutral, as the outdoor greenery reigns supreme. Contrasting black and white, with accenting hues, keep things simple. Nature plays an important role not only in the landscape surrounding the home but with the interior aesthetic. Large windows, such as in the bedroom and pool room, allow the ever-changing outdoor color palette to accentuate the mood indoors.
This Italian house design is rich in design history and inspiration. The Boffi kitchen and bathroom fixtures and furnishings are only the start. Iconic pieces work seamlessly together to provide a clean and contemporary look with Made in Italy and internationally acclaimed works, such as this round dining table in white by Eero Saarinen for Knoll.
The dining room, for example, is a narrow space that feels extremely bright and free despite its spatial restrictions. The dining table is flanked on both ends by Panton Chair Classics, one in black and one in white. There is a serene contrast in color and texture, without feeling crowded. The 2097 Chandelier by Gino Sarfatti for Flos, hovers above the table in front of the client's artwork, which mirrors the string and linear composition of the light fixture. Since there's plenty of light streaming in, the piece functions more as decoration and a source of indirect light.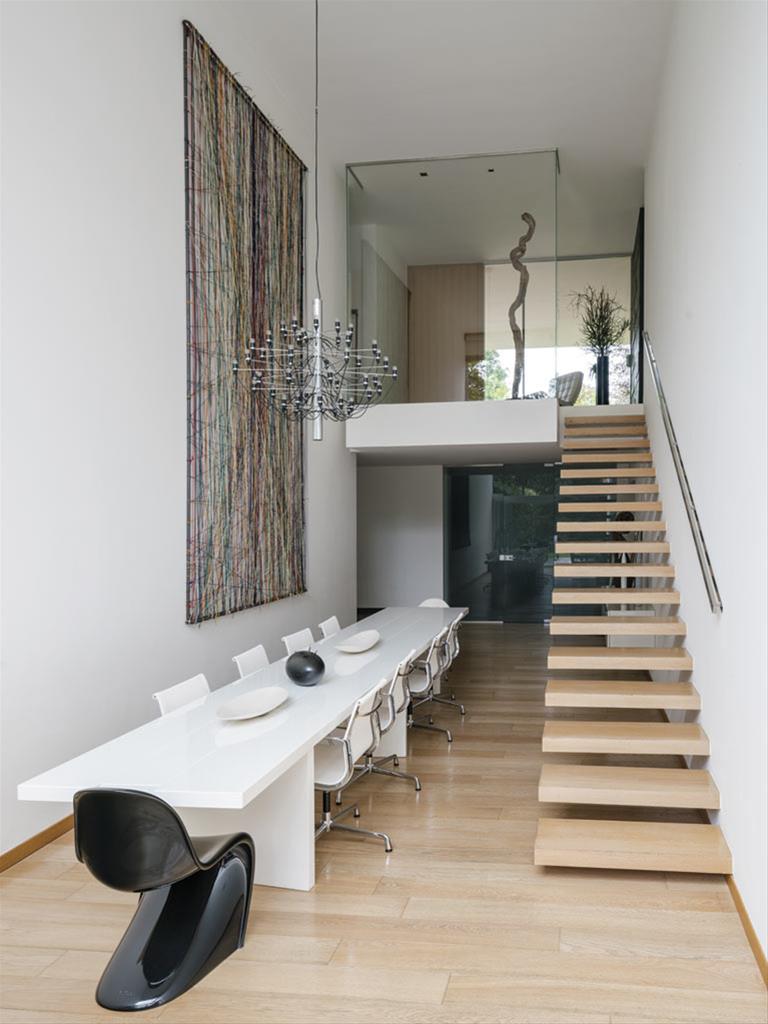 In the living room is a relaxed atmosphere illuminated with style, showcasing a bright red fabric Up Junior armchair by Gaetano Pesce for B&B Italia. The color matches warm shades in accent objects and artwork. Design furniture includes Barcelona daybed in black leather by Mies van der Rohe.
Italian House Interior Design
An intelligent Italian house design will make you feel at home. The key seems to be in the design aesthetic and architectural details, so employ experts to provide you with your dream home. Whether for a luxury rental or private project, managing the interiors is not as simple as piecing your favorite color with a chair you found online or choosing a wallpaper that speaks to you. Italian designer Margherita Missoni Amos discovered this during her own home project in Varese, which she took on boldly and completed five years later.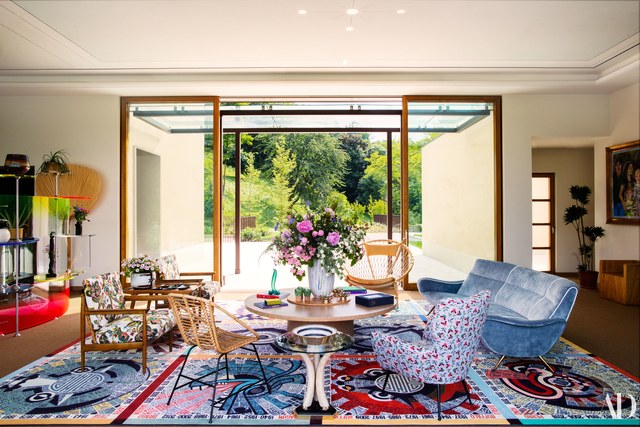 Perhaps you have a high-end project that needs Italian furnishings. Don't leave your interiors up to chance. Consult our interior design experts to make the most of your home furnishing project with Interior Design Online. We can also host you in Milan and take you to the historic Sag'80 Showroom, which was the first design showrooms founded in Milan. It continues to be a trendsetter among among many others. Visit this showroom as part of a customizable Furniture Shopping Tour. Or you can take it all the way visiting the biggest international design and furniture fair with Milan Design Week Tour.
Explore more Italian Interior Design articles:
Your unique Interior Design Project developed by Italian Professionals.
Discover and shop Made in Italy while living the Italian lifestyle in Milano.