The Best Stores and Luxury Furniture: Egypt
Posted on 19 August in Travel & Design
Italian Design, Interior Design, Italian Showroom, interior design firms italy, luxury furniture, Italian interior designers online, Best online interior design services, luxury italian design, interior design brands, furniture stores egypt, italian design furniture egypt, luxury home decoration egypt, italian showroom egypt, luxury design egypt, home design egypt
Find the Best Furniture Stores in Cairo and beyond with our Selection of the Best Italian Luxury Furniture Egypt has to Offer.
Explore the Best Furniture Stores in Cairo and beyond
Egypt's contribution to design is one of the greatest. In fact, the capital Cairo is home to one of its greatest feats—the Great Pyramids, which draw people from all over the world to the city.
It's no wonder some of Italy's most iconic brands have found a home there, making it an interior design hotspot and a destination for furniture shopping.
Contemporary, classic and custom made furniture—you can find the best styles in Egypt. So, to help you navigate and make the process of sourcing the luxury furniture Egypt has to offer, we have curated a list of the finest places including the best furniture stores in Cairo and beyond…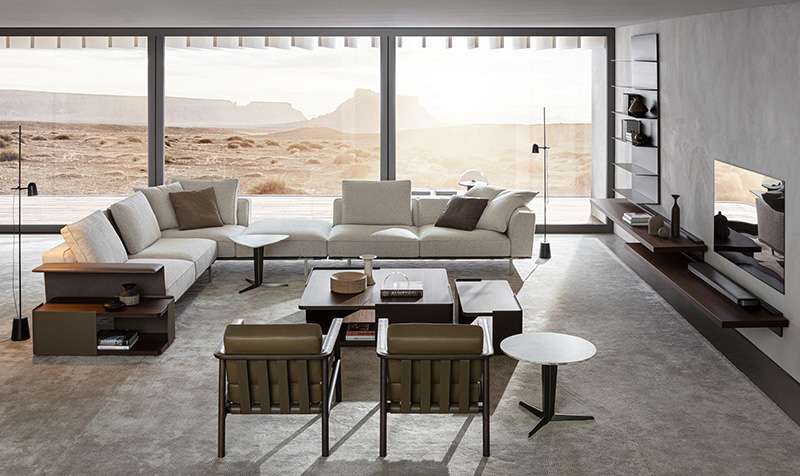 Where you can find the Exclusive Quality of Unique Italian Furniture in Egypt
Giorgetti
The highest artisanship remains at the core of Giorgetti, an icon of Italian design dating back more than a century when it started its activity in Brianza, Italy. Defined by contemporary pieces with unmistakable style, the brand's attention was recently combined with M2Atelier's distinctive approach.
Together, an articulated collection of tables, chairs and accessories were created for 2021, including the Shirley bench, a soft oval element supported by a ribbon-like structure, and Elsa, a tribute to Italian jeweller Elsa Peretti and the result of an alternation of volumes and empty spaces.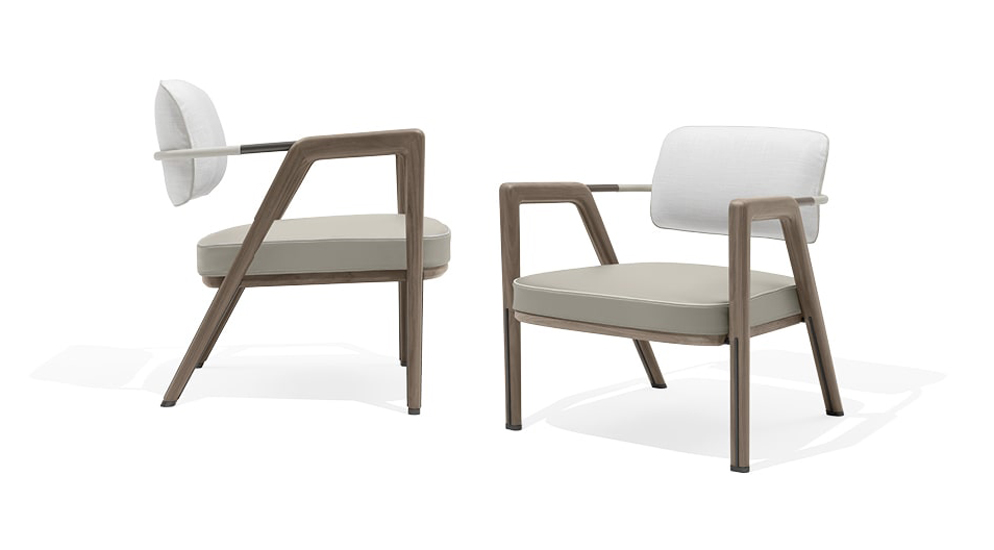 Talenti
Known internationally as a company specialising in the design and manufacture of outdoor furniture, Talenti knows how to interpret contemporary trends. Unique furnishing elements have the charm of an interior and the naturalness of the outdoors.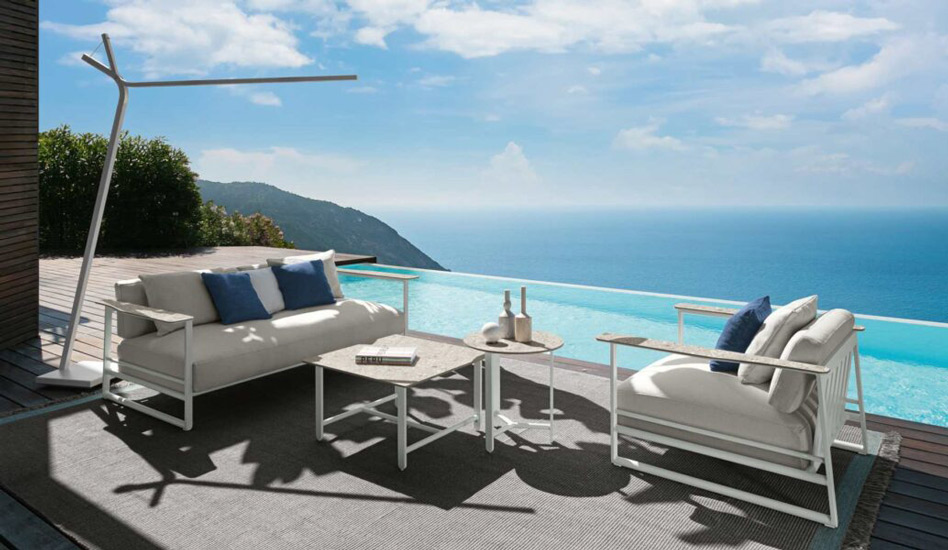 Talenti products are original, versatile and characterized by a timeless elegance, as is the case in the Riviera—a material-rich collection featuring ceramics and leather together with aluminum. The two-seater sofa and armchair stand out for its elegant and bright lines that perfectly adapt to your outdoor living space.
Cattelan Italia
Quality materials and unique shapes define Cattelan Italia, a 100% Made in Italy label founded in 1979. Today, it produces hundreds of different types and styles of modern Italian furniture, mixing materials and pushing the boundaries of innovation and design.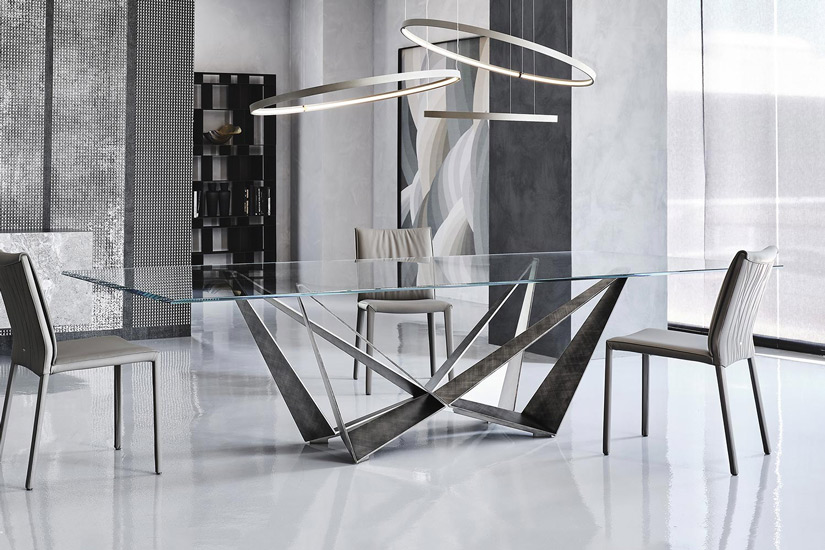 Its distinctive and unique stamp is expressed in pieces like the Cattelan Italia Skorpio Table, which features a striking glass top in a range of shapes and sizes. The table is complemented with an industrial-style lacquered metal base in various finishes.
Molteni&C
A list of the best Italian furniture wouldn't be complete without Molteni&C, part of the Molteni group—a distinct family of brands also made up of Dada and Unifor. The furniture brand that helped put Italian design on the map through its passion for quality craftsmanship.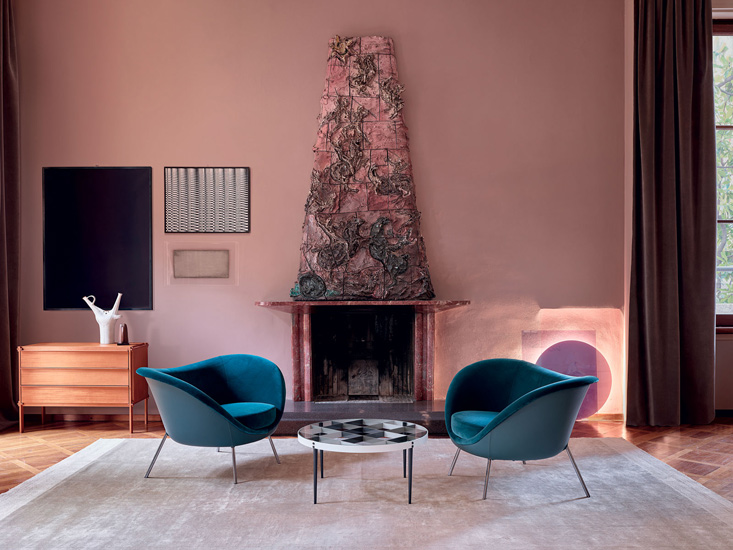 The brand's collection features collaborations with some of the most important names in design like Gio Ponti who has created several striking designs as part of the brand's D series. Meanwhile, other iconic pieces feature signatures from names including Angelo Mangiarotti, Tito Agnoli, Luca Meda, Afra and Tobia Scarpa and Aldo Rossi.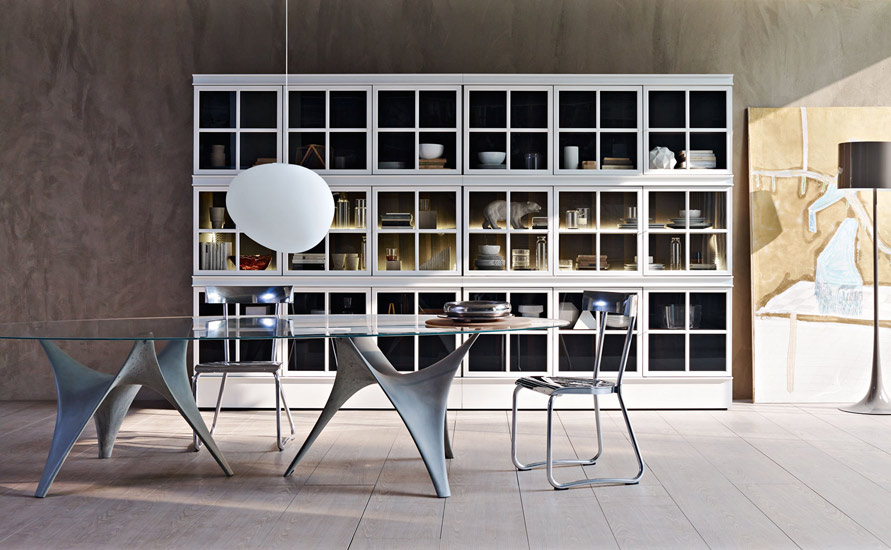 Natuzzi Italia
On a mission to create harmony in the home, Natuzzi has mastered the art of designing leather and fabric-upholstered furniture. The company produces and sells an extensive collection of sofas, armchairs, home furniture and home accessories, all of which strike the perfect balance between design, function, material and colour.
Catering to humans seems like a basic requirement but Natuzzi's commitment to comfort is on another level, as can be seen in pieces such as Deep, a voluptuous sofa with embracing armrests. Other icons in the collection include Adore, a sensual armchair with a techno-glam single leg finished with matte light gold metal.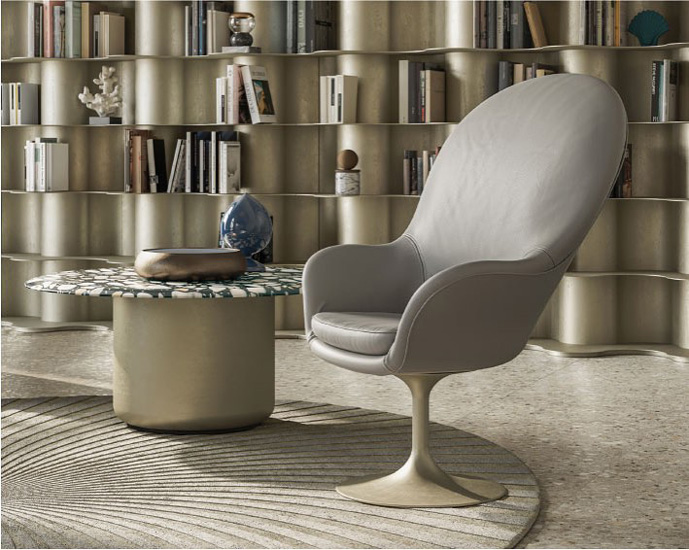 The Best Luxury Furniture Egypt has to Offer
Moroso
Pay a visit to Moroso—a premium when it comes to craftsmanship and tailoring. Moroso has perfected industrial processing techniques, which define its collections both old and new. Take the brand's Supernatural chairs for example, a 2005 design by Ross Lovegrove in which sinuous shapes radiate from the frame-structure to the surrounding space.
Elsewhere, the Ripple Chairs by Ron Arad are made of white polished and natural injection-moulded thermoplastic to highlight the design in relief that is reminiscent of the traces left by sea waves on sand.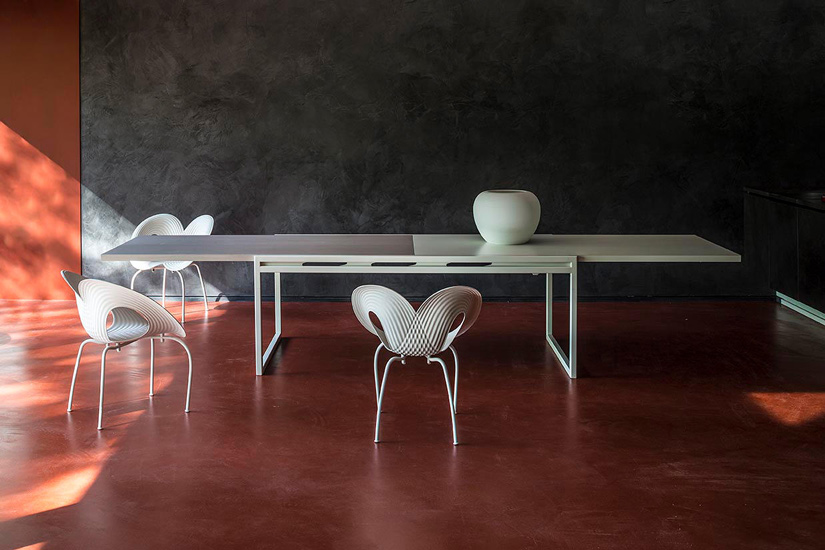 Reflex
Reflex Angelo are luxury Italian glass specialists with an incredible heritage credited for revitalising the Venetian tradition of Murano crystal for the modern era. Thanks to their ancient knowledge, they were actually the first to use Murano glass as a base for their tables.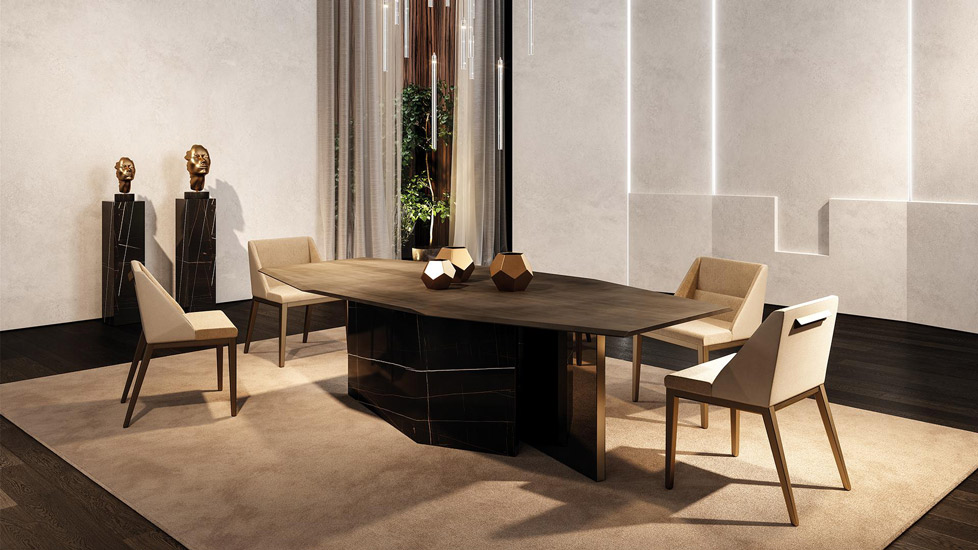 Today their contemporary collection is expansive, featuring striking pieces like the octagonal Cubitum table but also lounge compositions like the Segno sofa chaise longue, a multi-level design upholstered in quilted leather.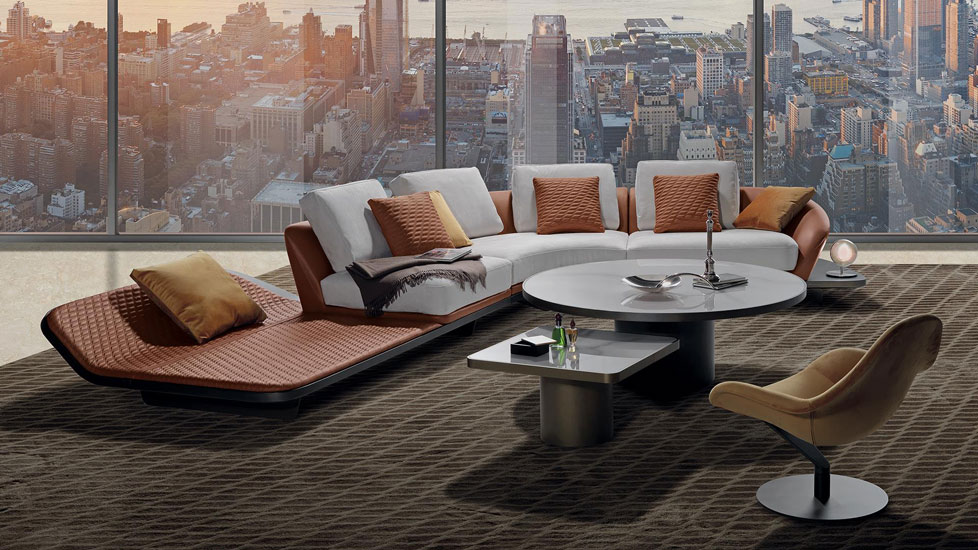 Luxury Living
Over the last 30 years, Luxury Living has developed, produced and distributed high-end furniture Made in Italy on behalf of the most important international luxury brands: Fendi Casa, Bentley Home, Trussardi Casa, Bugatti Home beside its own Luxury Living brand.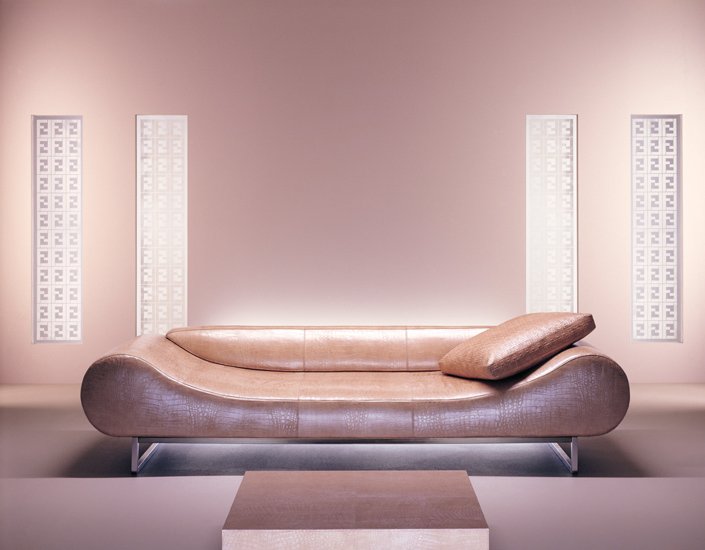 Amongst the brand's collections are elegant designs including the Eros Sofa by Fendi Casa, a sofa with rounded, sculptural shapes, and the Maryl Sofa by Trussardi Casa. Both are ideal solutions for residential settings with contemporary character.
B&B Italia
B&B Italia is a leader in the high-end designer furniture sector built on a future-oriented mindset. Modern furnishing elements are strongly distinctive and characterised by exceptional quality and timeless elegance are the result of the unique union of creativity, innovation and industrial know-how.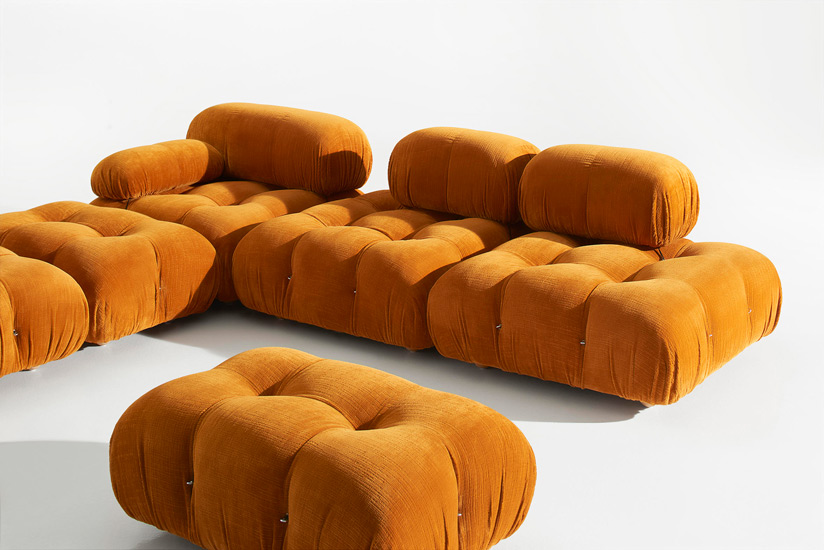 It's latest collections are a testament to the brand's historical work with iconic designers. Originally unveiled in 1970, the modular Camaleonda by Mario Bellini made a comeback preserving the amorphous elements that made it such an icon. It rejoins other world-famous pieces like the Husk armchair by Patricia Urquiola, a tribute to softness and an invitation to relax thanks to the generous extra soft cushions with capitonné design.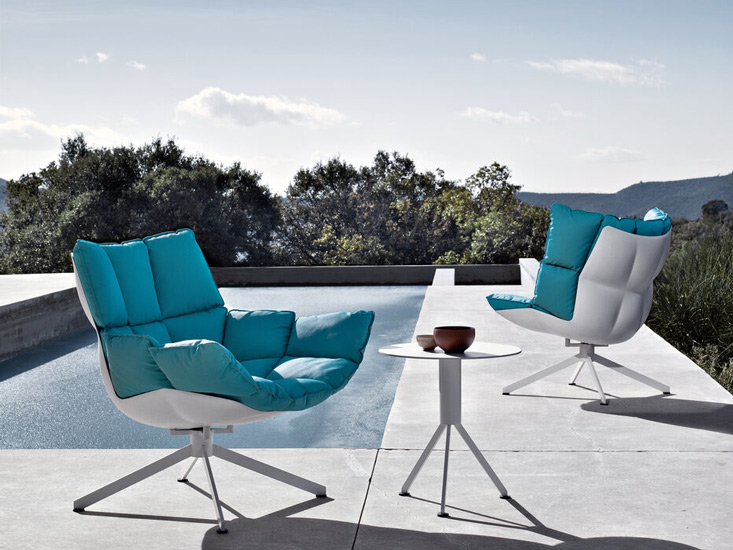 Armani / Casa
Borrowing from Armani's house codes, Armani / Casa integrates the worlds of fashion and interiors. Rather than just a few monogrammed cushions the home extension of the brand is a fully developed entity offering entire ranges of furniture, lighting, accessories and more.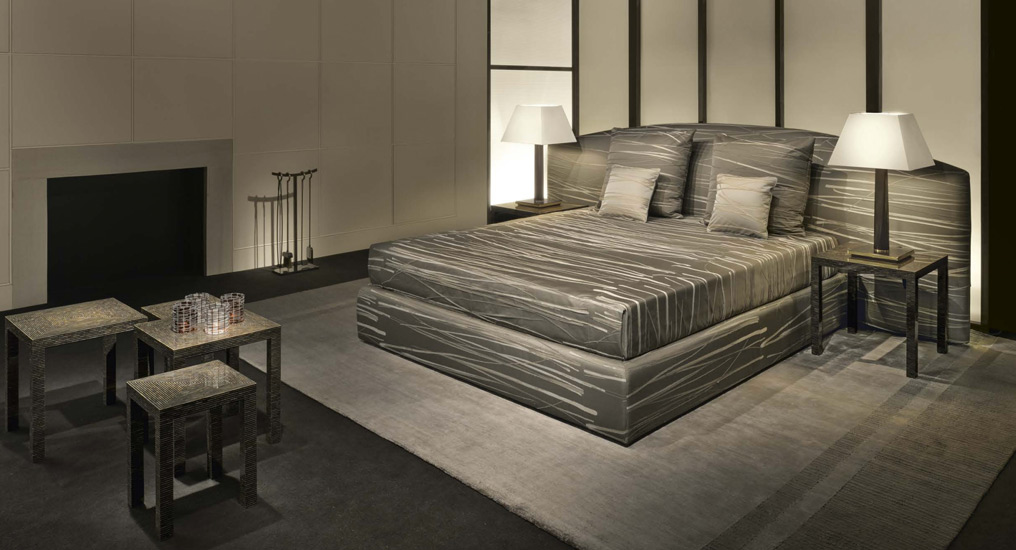 We conclude our list with a brand representative of Italy's mastering of luxury. Just look at the Armani Casa collection, which features discerning pieces like the Dandy Bed with its statement headboard and graphic print or the Hector Chaise Longue, shown here with a chic print that echoes the very roots of the Armani/Casa brand.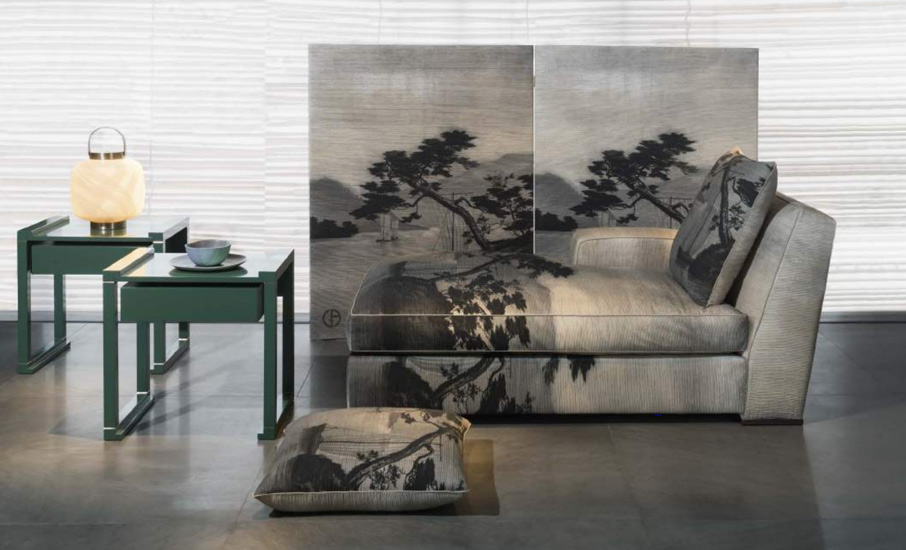 Inspired by the Italian luxury furniture Egypt has to offer?
Are you searching for Italian design to inspire a home project? As well as mapping the best Italian furniture Egypt has to offer, we have put together a list of the best interior designers in Egypt, featuring contemporary interiors showcasing some of the leading Italian luxury brands. 
If you need a little more guidance, our online interior design service is available to access from wherever you are. Our team of Italian interior designers are experts in managing high-end projects. We can also advise on Italian custom furniture to help you realise your vision. Once your project is finalised, our team can take care of the delivery and installation of any new furniture directly to your home.
Explore Italy for yourself
If you can't find what you are looking for in Egypt, and want to discover something new, we can organise a tailored shopping tour on the ground in Italy, where you can immerse yourself in the quality of design that's Made in Italy.
For even more inspiration, discover our list of the best Italian interior designers to see how they incorporate the best of Italian furniture into their projects. We've recently embarked on a grand tour of Italy, sampling the finest parts of this beautiful country, from luxury spa destinations to the boutique design hotels and 5 star stays—all waiting for you to indulge when you come and visit.
After an 18-month hiatus, the country's design capital Milan comes alive this September with the highly-anticipated Milan Design Week and Salone del Mobile. Check out our list of the must-see events ahead of celebrations.
Your unique Interior Design Project developed by Italian Professionals.
Discover and shop Made in Italy while living the Italian lifestyle in Milano.