Best Italian Leather Sofa Brands
Posted on 10 June in Italian Furniture Online
Italian Design, Italian Furniture Guide, Italian Brands, Best Italian Sofa Brands, Best italian designer sofas, Best Italian sofas, italian sofas, Italian Furniture
Discover 8 of the best Italian leather sofa brands with Made in Italy designs. Esperiri maps the top Italian leather sofa brands.
Discover 8 of the best Italian leather sofa brands
Combining traditional aesthetics with ancient techniques, leather has long been championed for its timeless quality. Throughout the home it can be used to soften architecture or add splendour to an interior design project, particularly in areas like the living room where leather furnishings are often the epicenter of domestic life.
An evolution in tradition from these top Italian leather sofa brands
Today, some of the best Italian leather sofa brands have dedicated their expertise to ensure the longevity of the leather-making tradition, producing textiles with rich tactility and visual potential. Available in a range of finishes, colors and styles, the possibilities are endless. So, to help you in your choice, we have selected 8 for you to discover.
Poltrona Frau
From Ferraris to the EU Parliament – many of the most exclusive places in the world offer leather seating by Poltrona Frau. Among the top Italian leather sofa brands, it has perfected a system that involves twenty-one steps of preparation. It also only uses the top layer of the dermis, which is the only part of the hide that qualifies as full grain.
Known for its elegant mix of rich craft, heritage and creativity, one of Poltrona Frau's icons is The Chester, an enduring classic since it was introduced in 1912, the same year that the brand was founded. Characterized by pleated armrests, it celebrates the classic shape of sofas and armchairs that populated English clubs and country houses in Edwardian England.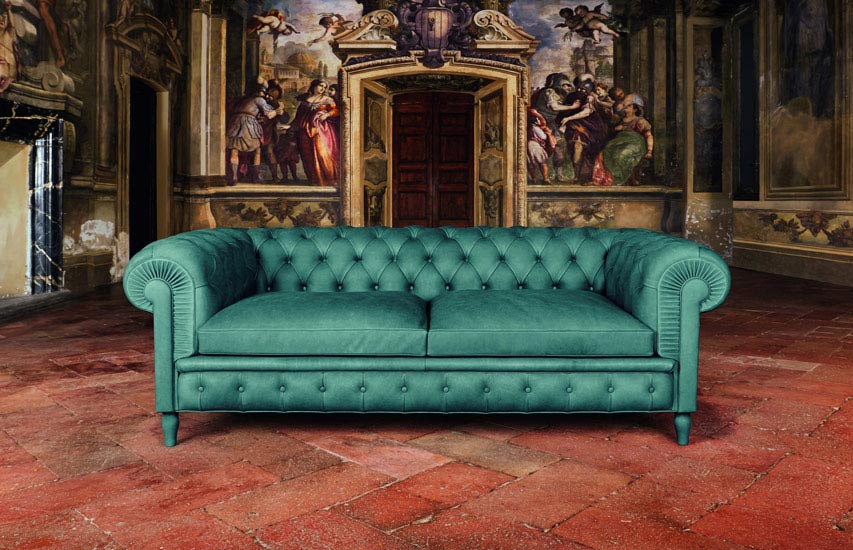 For more than a century Poltrona Frau has furnished interior design projects, adding a touch of timeless elegance. Emblematic of this approach is the brand's Get Back seating system, a modular leather sofa inspired by the Beatles lyric, '…get back to where you once belonged'. Designed by Ludovica and Roberta Palomba, its reclined backrests underline their intention to create a haven of relaxation, sitting on a suspended frame supported by simple aluminium feet that give the overall feeling of lightness.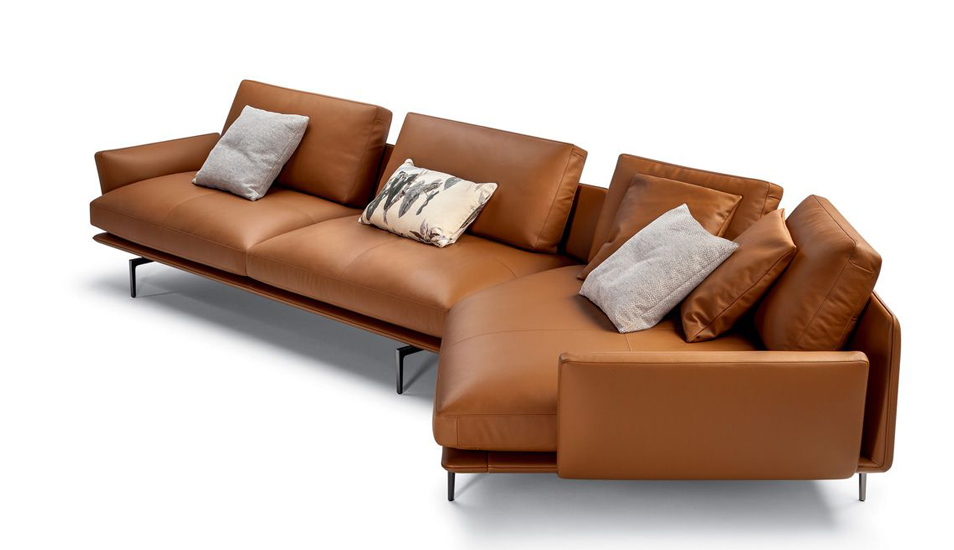 It follows on from the design duo's Let It Be sofa, another tribute to the english rock band with a similarly modular approach. Open to infinite configurations, the structure features saddle-leather straps with visible leather and saddle-leather stitching.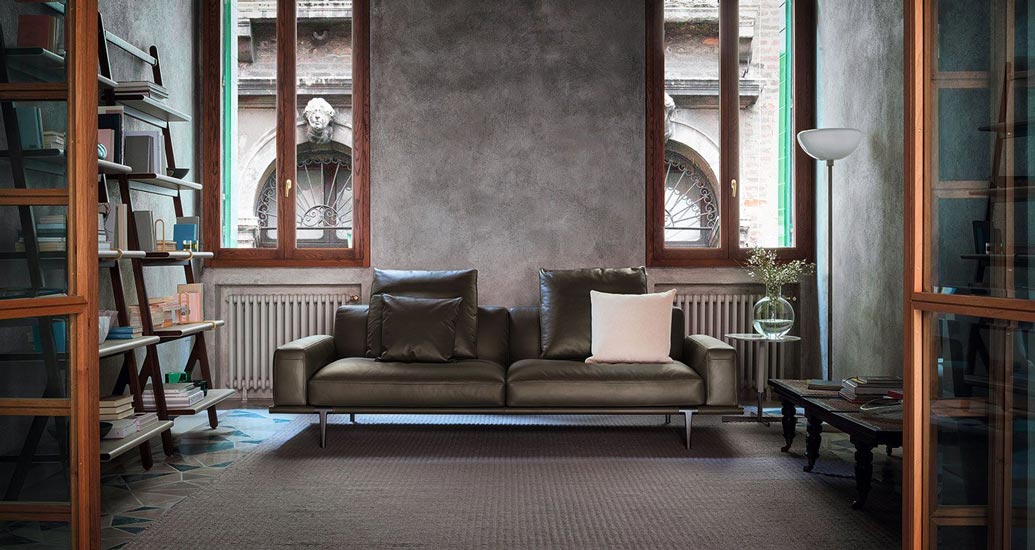 Four-time winner of Italy's most prestigious design award the Compasso d'oro, B&B Italia is undoubtedly one of the best Italian leather sofa brands. Since 1966, it has led the way in anticipating trends and unveiling iconic pieces that preserve the excellence of raw materials, many the result of collaborations with celebrated designers and architects.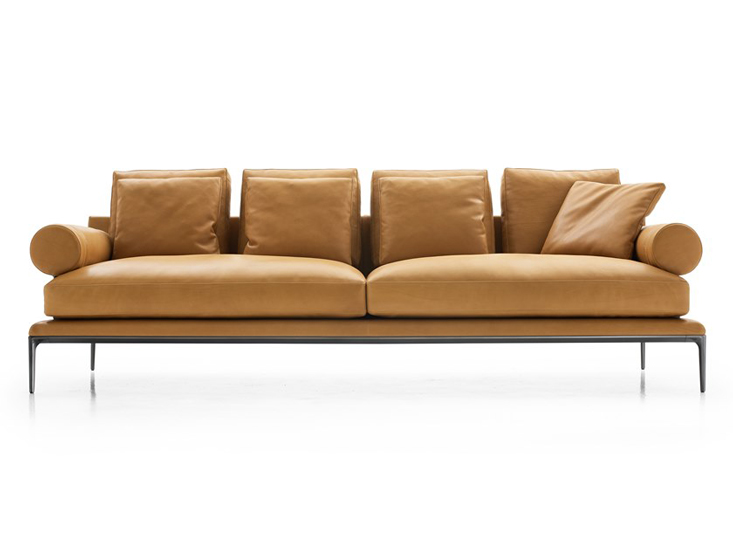 Take the Atoll collection by Antonio Citterio, a modular series formed of three basic platforms, striking a balance between aesthetic form and a decisive style. You can choose between cockpit sofas, dormeuse, individual elements, chaise longue styles and poufs.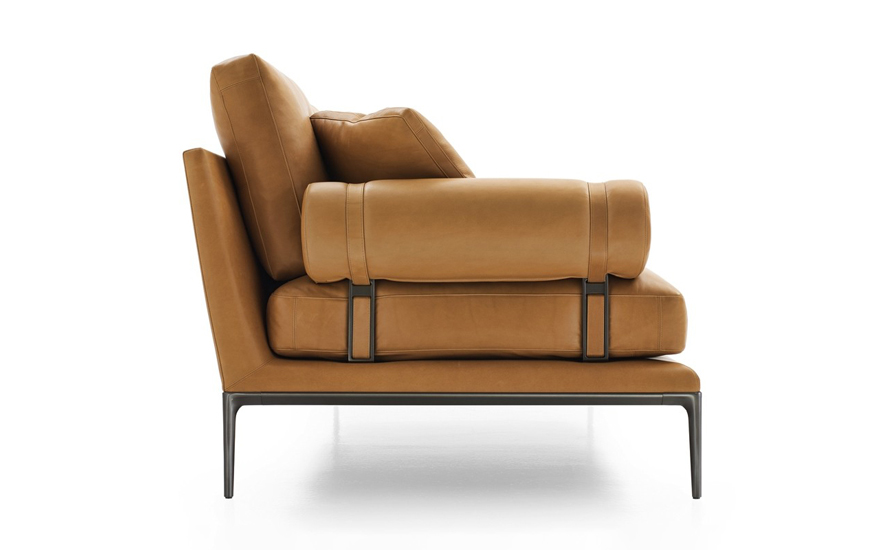 Then there's Diesis, an elegant formal sofa with a classic look designed by Citterio with Paola Nava, intended to be set in the centre of a room like a work of art.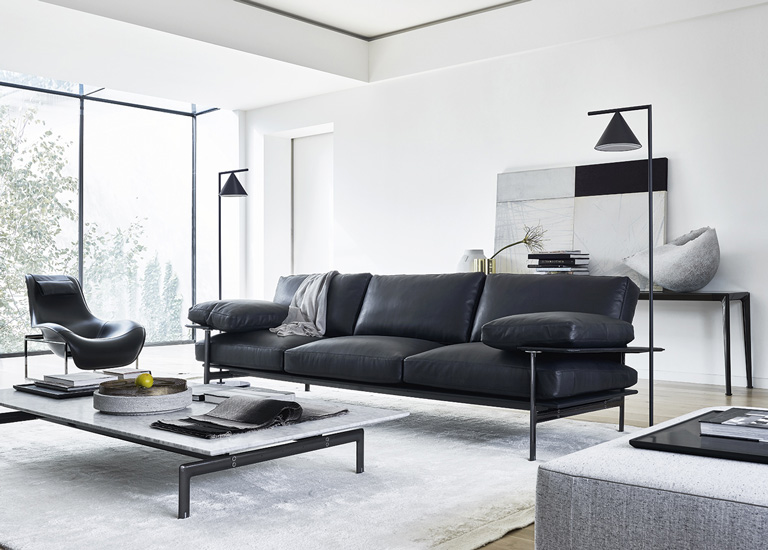 Tacchini
Ranging from great classics to innovations that are clean, minimal and reflect a modern aesthetic, family-run Tacchini has carried with it the 'Made in Italy' hallmark since 1967. Take the Sesann sofa which is perfect for the contemporary living room, encased in an architectural steel frame that beautifully envelopes the leather upholstery. See how played off the linearity of the Sesann and styled it in our modern Italian living room concept.
Designed in the '70s by Milanese architect Gianfranco Frattini and reissued in 2015, it's bold form tells of Tacchini's desire to discover new shapes, a story that continues in recent releases like Julep, a generously ample sofa influenced by the 1950s Avant-Garde movement.
Sculptural seating systems and modular sofas that honor traditional craftsmanship
Flexform
A list of top Italian leather sofa brands would not be complete without Flexform, known worldwide for its refined and versatile collections. Since 1959, the company has collaborated with some of the best designers on the Italian design scene: Cini Boeri, Joe Colombo and Giulio Manzoni.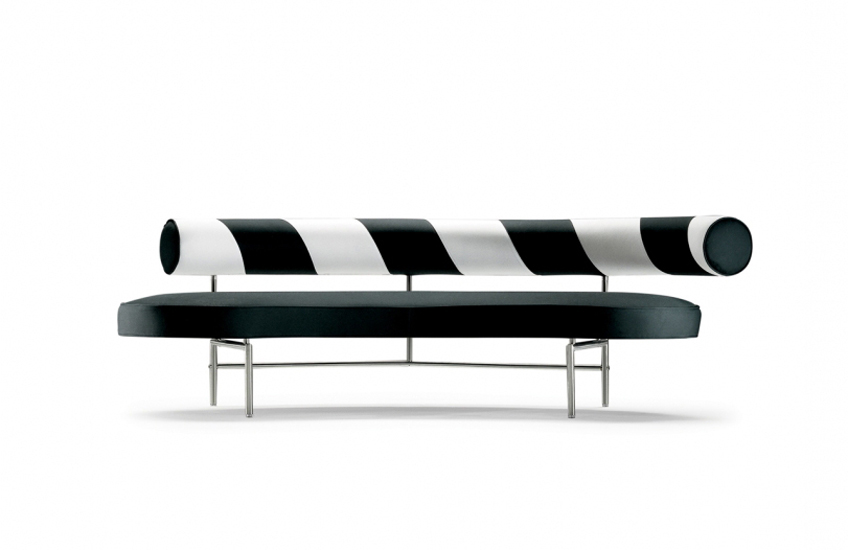 For over forty years, Antonio Citterio has coordinated the entire collection, designing an exceptional line of leather sofas including the iconic MAX, a sculptural cult classic characterized by its sinuous lines. Designed in 1983, it paved the way for more recently released pieces such as Sveva, a shell-like two-seater with a distinct silhouette and a similarly bold presence.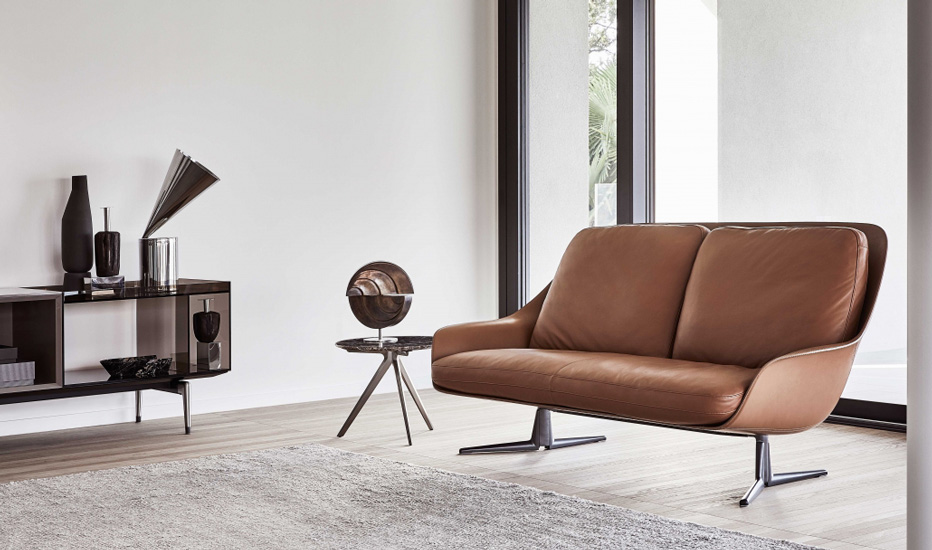 A more contemporary aesthetic can be found in Arflex, a company founded in 1947 when technicians from Pirelli, along with architect Marco Zanuso, started using industrial materials and technologies to build and design Italian furniture. Among its collections are pieces that echo the brand's experimental origins, like the Marenco sofa, which uses a revolutionary assembly system making it seamless to attach the seat and armrest cushions to the base.
The Naviglio further reflects Arflex's imaginative amalgamation of technology and aesthetics, featuring a cleverly engineered joint allowing the three or four seat sofa to be poised on slender legs. It's perfectly suited to modern interiors as is the Hollywood, a fixed or modular design with a backrest in shaped polyurethane and feather goose down.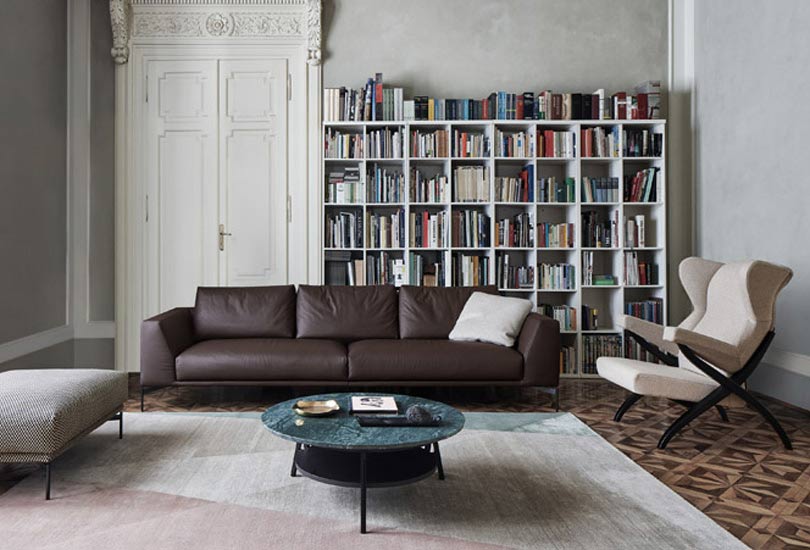 Steeped in history, Cassina is known around the world as a leader of Italian design. It also uses only full grain leather, creating iconic pieces to enliven the atmosphere and add a touch of style to your interiors. The soft and slightly tailored 202.8 is the perfect representation of Cassina's ability to integrate seamlessly with modern life.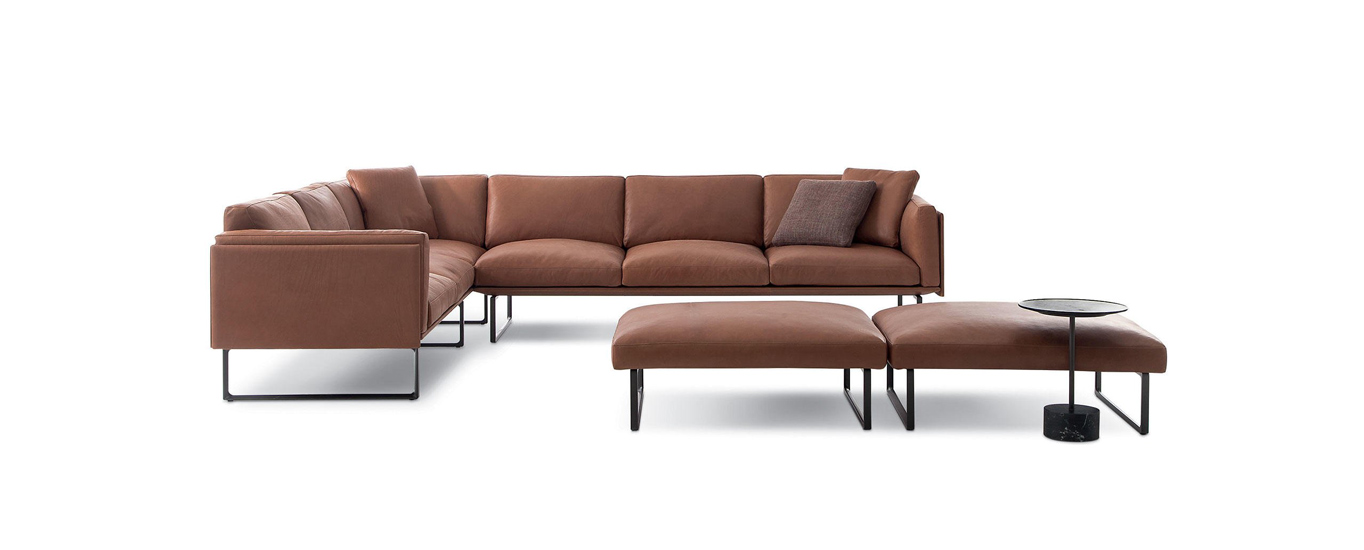 Piero Lissoni balances proportions in a sober silhouette with detailed upholstery whose clever folds and invisible stitching nod to the brand's mastering of Italian leather. The sofa's soft lines are complemented by feather-filled inserts in the seat, back and arms.
Molteni&C has a range of sofas with many characters to suit all tastes, from cosy and subversive to elegant and classic. Each one illustrates the brand's technological and upholstering expertise and is available in 8 types of leather, one of which is vegetable.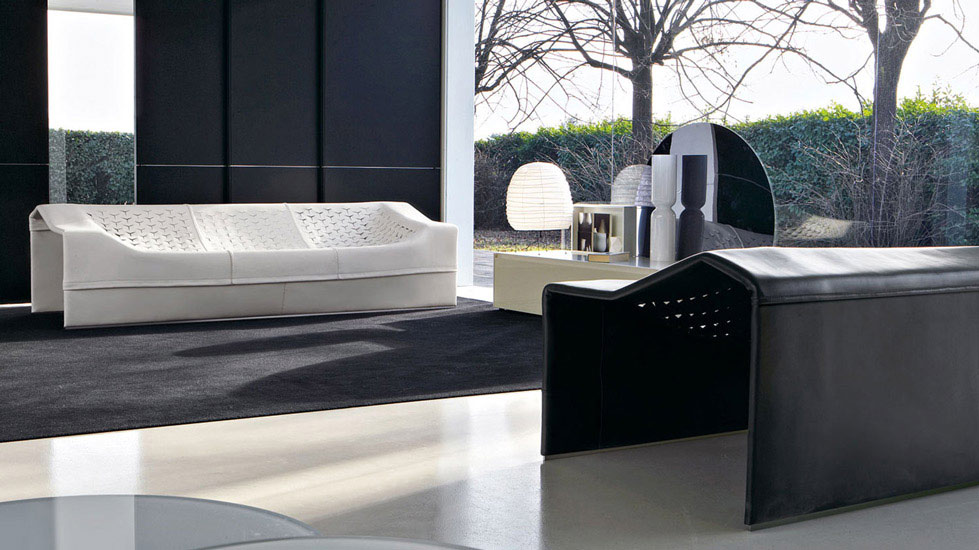 Skin is just one of Molteni&C's one-of-a-kind offerings and features a self-supporting hide leather cut with geometric incisions that reshapes itself over time. It is the result of many years of collaboration with Jean Nouvel and reinterprets the unique architecture of the Musee du Quai Branly in Paris.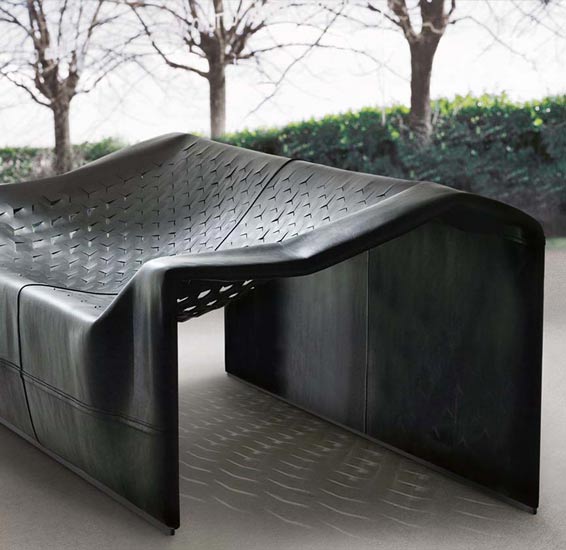 Living Divani
Understated luxury is the essence of Living Divani who says leather is its 'favorite material.' Since the 1970s, it has been a landmark within the interior design landscape, its pieces formed with volumes of harmonious proportions. The company's Extrasoft collection offers you the ultimate freedom, offering infinite combination possibilities of seats and armrests/backrests, with irregular contours.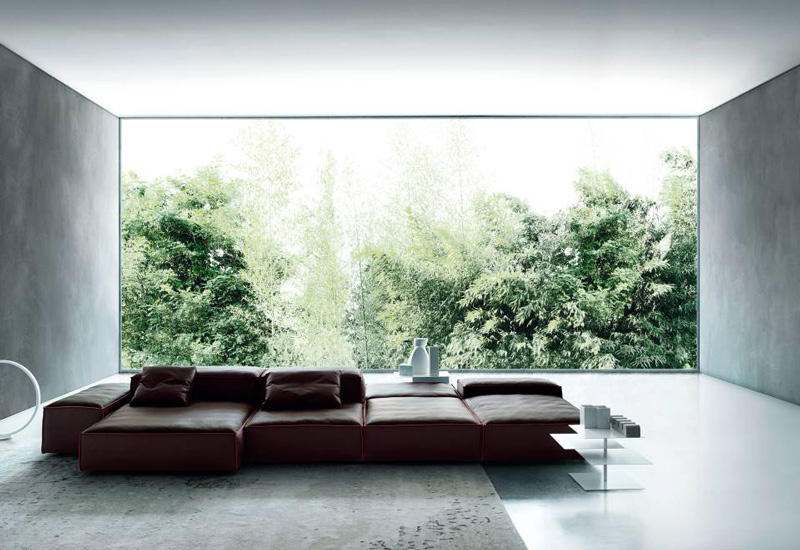 If you need help choosing the right leather sofa or want support realising an interior design project, our Italian design service can help. Our experts are available to assist you throughout, from selecting the most appropriate sofa layout and leather colour to local installation. In addition to the pieces listed above in our selection of top Italian leather sofa brands we can also realise customized solutions to suit any space. 
If instead you would prefer to discover the best 'Made in Italy' has to offer in person, we invite you to take part in a customized Italian furniture shopping tour. Organized with you in mind, this is a chance for you to see first-hand award-winning objects, including the best leather furniture of the best Italian sofa brands, from ateliers to art galleries, showrooms and craft workshops. And if you want to take anything home, our logistics team will take care of the shipment and installation anywhere in the world.
Your unique Interior Design Project developed by Italian Professionals.
Discover and shop Made in Italy while living the Italian lifestyle in Milano.