Milano Design City 2020
Posted on 09 October in Milan Design Guide
Italian Design, Interior Design, Milan Design Week, Italian Furniture Stores, Italian Showroom, Fuorisalone Milano, Italian Furniture Guide, Italian interior design, Italian Brands, Italian Furniture, Italian design brand, Italian interior designers, Milan Design Week 2020, Milan Design City, Milan Furniture Fair
A selection of the latest news from the Milan Design Week 2020. Discover with us the new design proposals and the best exhibitions of Milan Design City.
Milano Design Week 2020: news & updates
October 2020. In Milan you can breathe new air. Images, colors and sounds have invaded the streets of the capital of design and fashion. Milan is back to life and is eager to display the beauty and strength of Italian design.
Milan Design City opened its gates on September 28 and can be visited until October 10, 2020. A week of celebration, unique design events but also exhibitions and virtual conferences not to be missed on the Fuorisalone digital platform.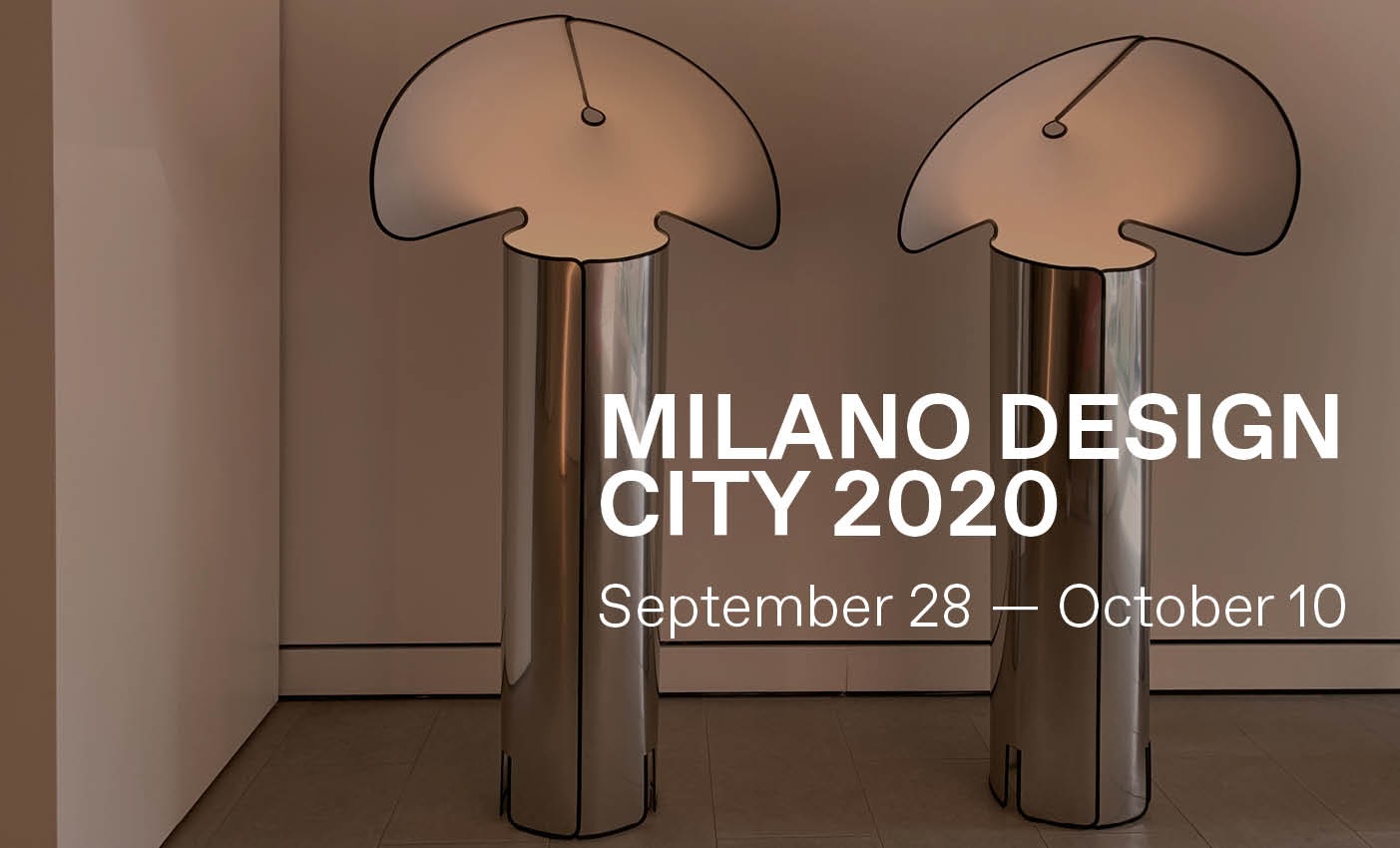 Milan Design City: looking for the best news in town
For those who are fond of design like us, taking part in these weeks of events among the design districts is a must. First because we are curious to discover the novelties of the brands we love, and second because we are looking for new inspirations. This is why it is impossible not to "hit the road" in Milan. For these reasons and not only, we have decided to be the spokesperson of Italian design news and to tell our readers, especially those who are unable to come to Milan, about our adventure during this Design Week.
In our tour we have visited furniture showrooms, art galleries, exhibition spaces with a colorful and lively atmosphere and innovative and elegant installations. Stage after stage, here is our selection from this Milan Design City 2020 for you.
New furniture collections & Italian Interior Design
Cappellini: The New Renaissance
We started our tour immersing ourselves in the world of Cappellini. The showroom is located in Via Santa Cecilia and as soon as we entered the place we found ourselves in a space invaded by a thousand colors.
A fashion show that starts with the new coffee table in different colors Gong Circus and continues with suspended furniture in turquoise and pink, with vases in Murano glass and with the new suspended lamps Arya with blue and white matte finishes. A triumph of shapes and colors, a true "rebirth" for Cappellini.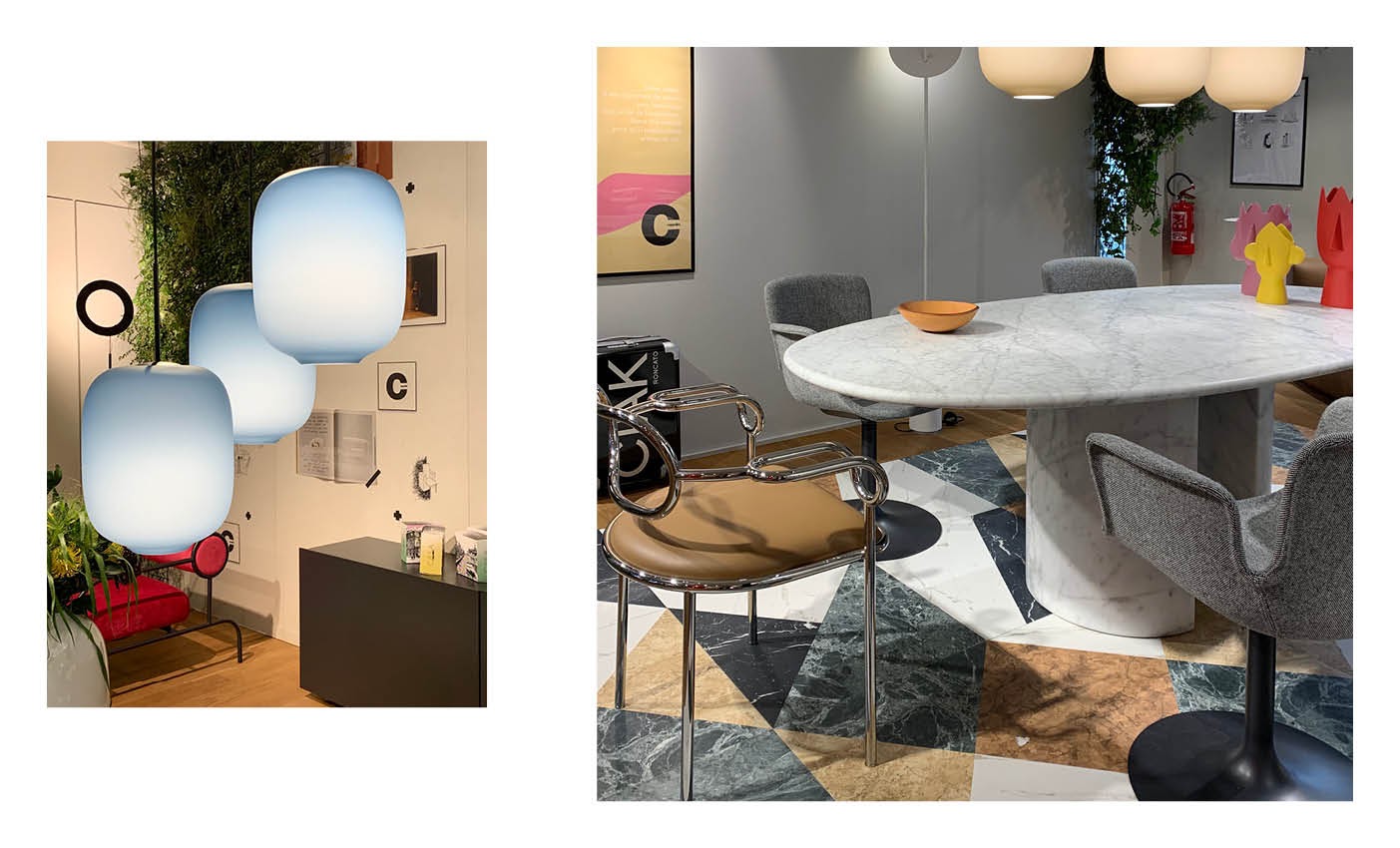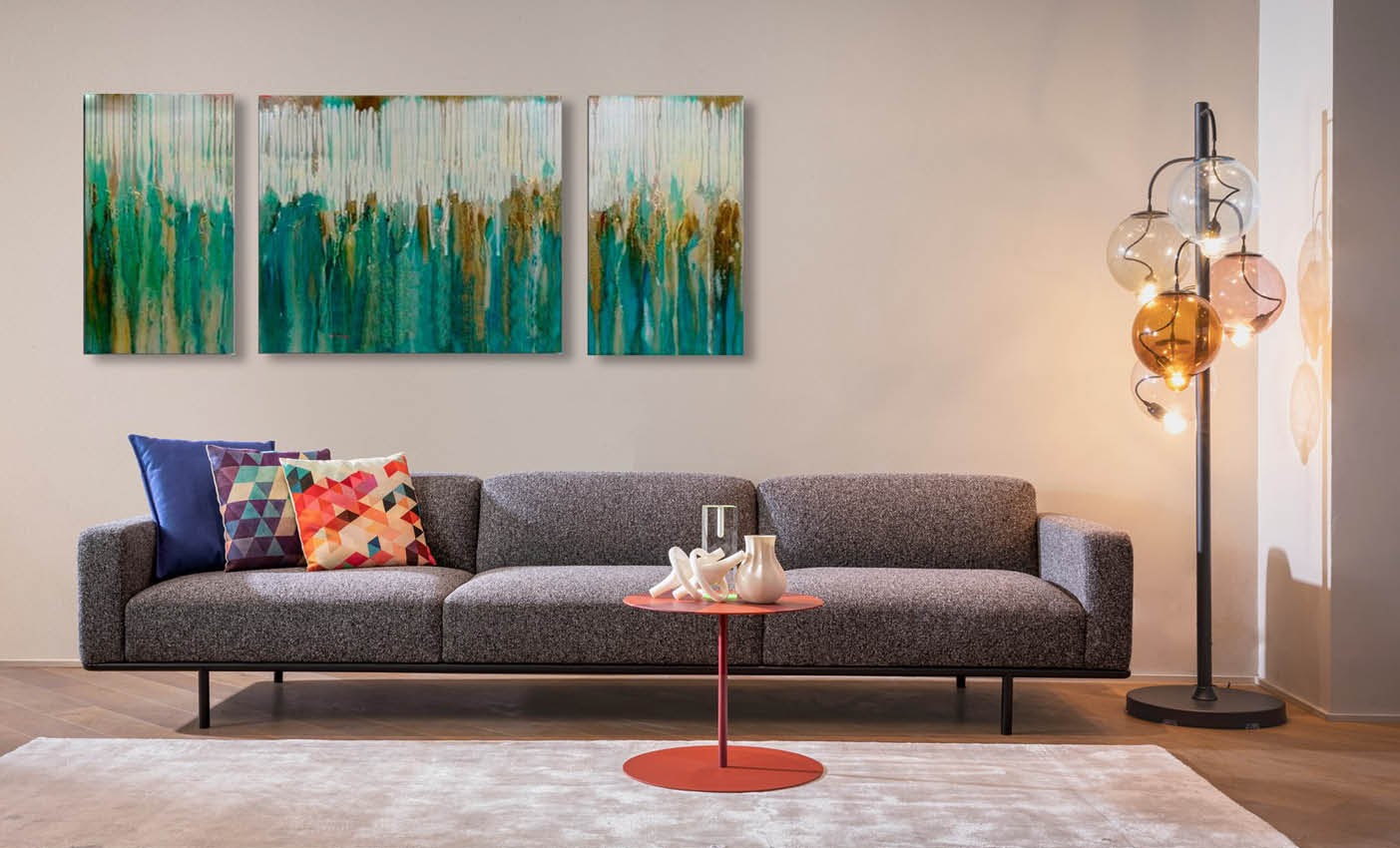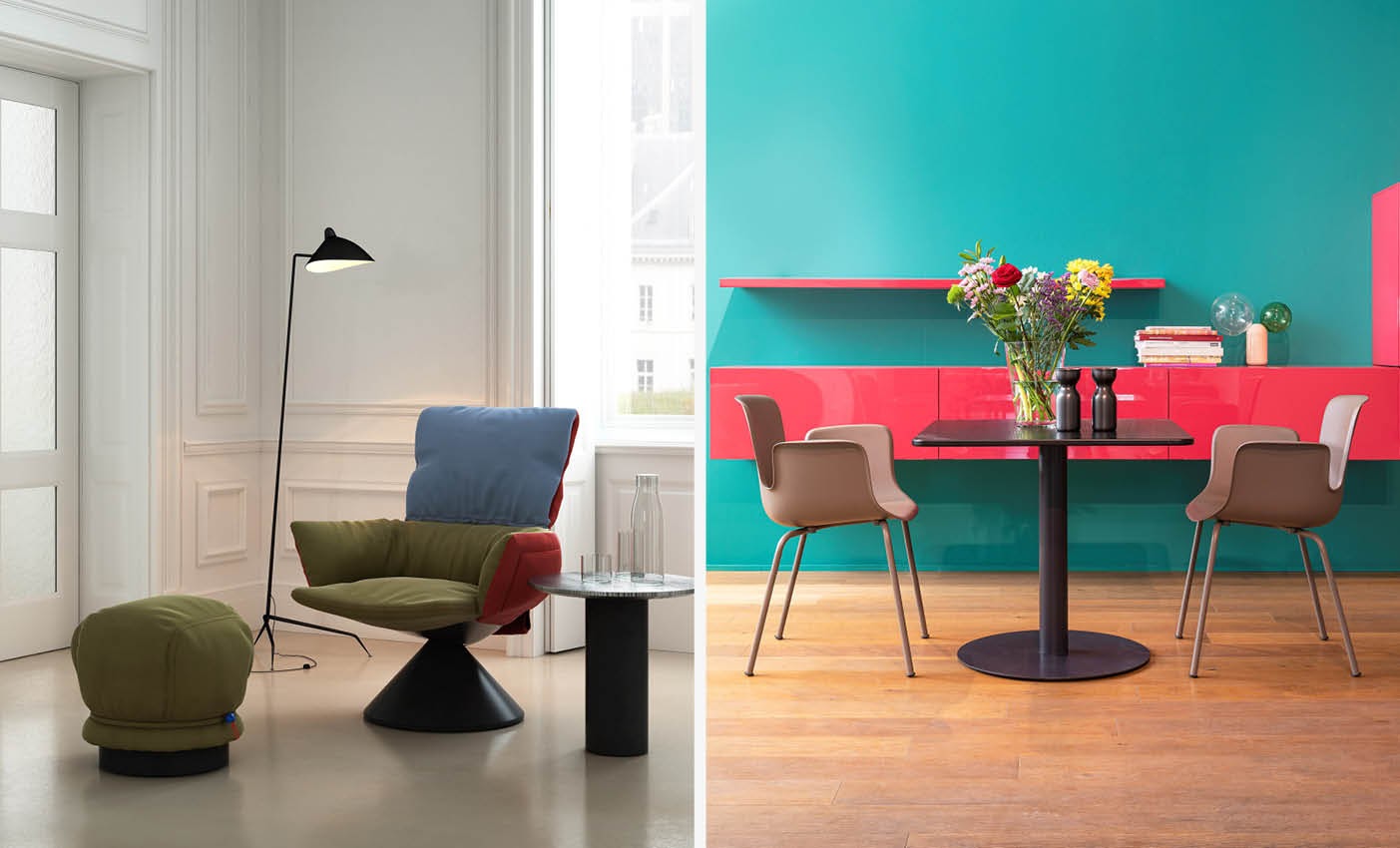 De Padova: Time & Style ēdition
We totally change atmosphere. For the autumn of 2020 De Padova guides us in the discovery of Japanese craftsmanship and traditions through a collaboration with the brand Time & Style.
Going down the long entrance staircase we arrive in a dim space where you can perceive the tradition rooted in time, the precision in woodworking and the elegance of contemporary design.
Low tables, Liku Japanese Chairs, lamps in cedar wood and paper used as lanterns suspended in the air, everything is a real tribute to the values of strength, kindness and stability recurrent in all Japanese stories.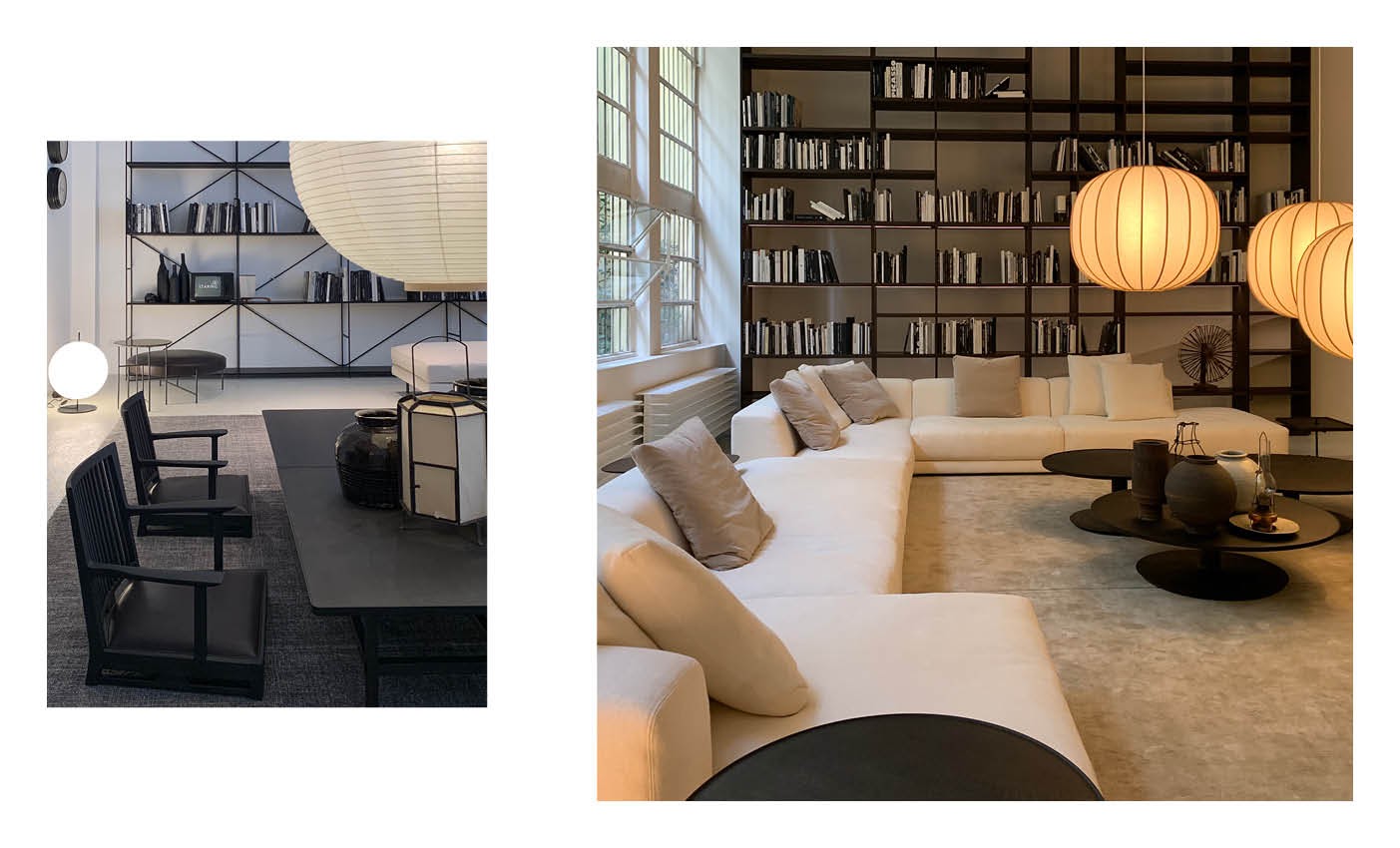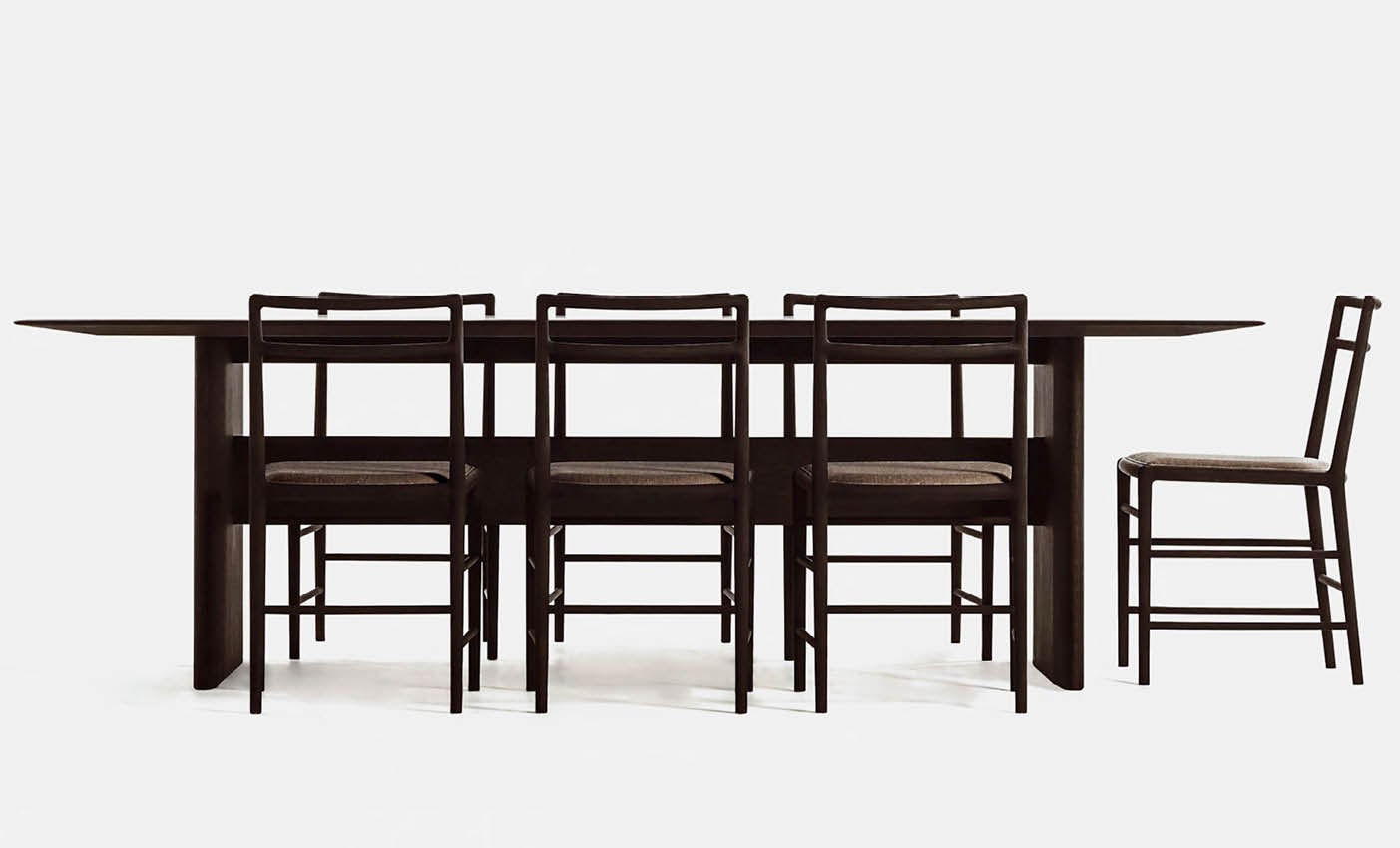 Cassina: The Cassina Perspective 2020
A targeted and conscious presentation is the one we found in the Cassina Showroom, in Via Durini. Sustainability and well-being are the dominant themes. The showcases are painted in bright colors like the green of the meadows or the orange nuances of the sunset: a perfect setting for unique products.
On one side the Sengu Sofa by Patricia Urquiola, with well-defined volumes, simple geometries and made with 100% recycled fiber. On the other side, the great master Ico Parisi enters the scene with the reinterpretations of two of his designs: the 875 armchairs in red velvet and the Olimpino table. A hymn to classic Italian design!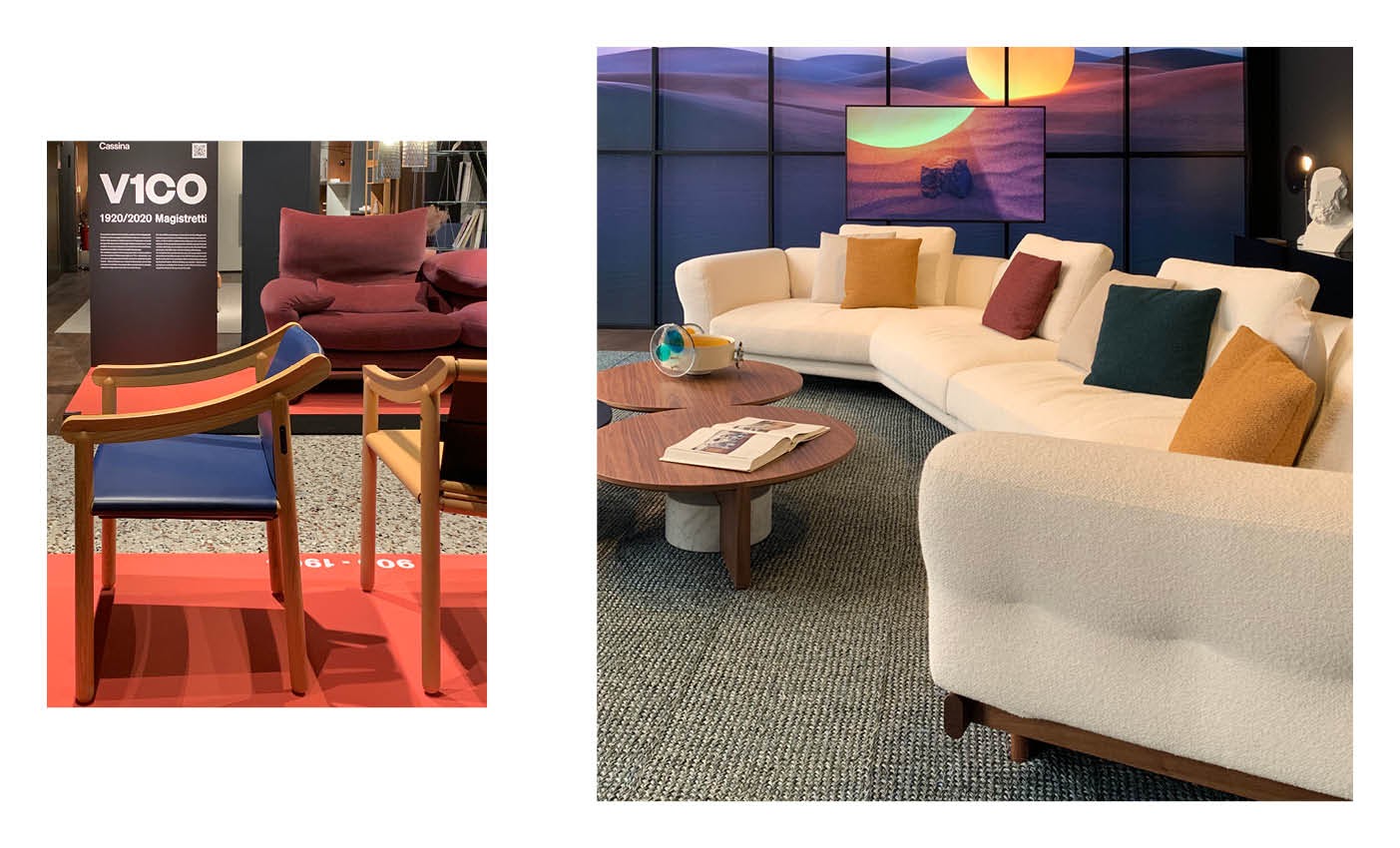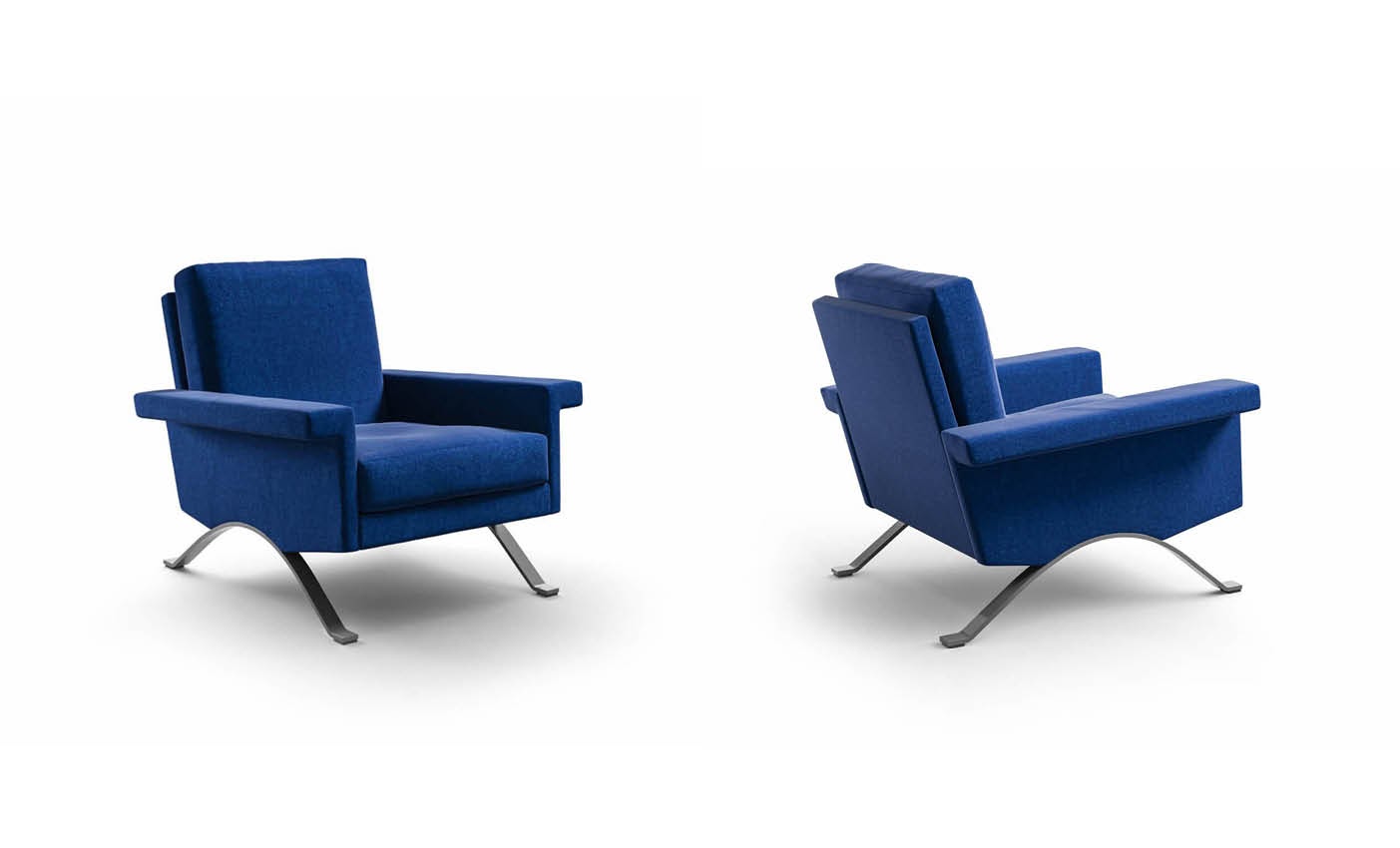 B&B Italia: The new landscape
Architectural power and domestic dimensions dominated by objects with a strong scenic presence. These are the sensations we experience entering the showroom B&B Italia. A majestic presentation realized for this Milan Design week 2020.
In the center of the large room the new Naviglio sofas by Yabu Pushelberg in blue and white fabric, with a sinuous movement resembling a river. The presentation continues with a reinterpretation of Camaleonda, a seating system with soft and rounded shapes by Mario Bellini. To complete the composition Gli Scacchi, an "armchair" divided into many small cubes. The architecture is transformed and becomes part of the domestic world.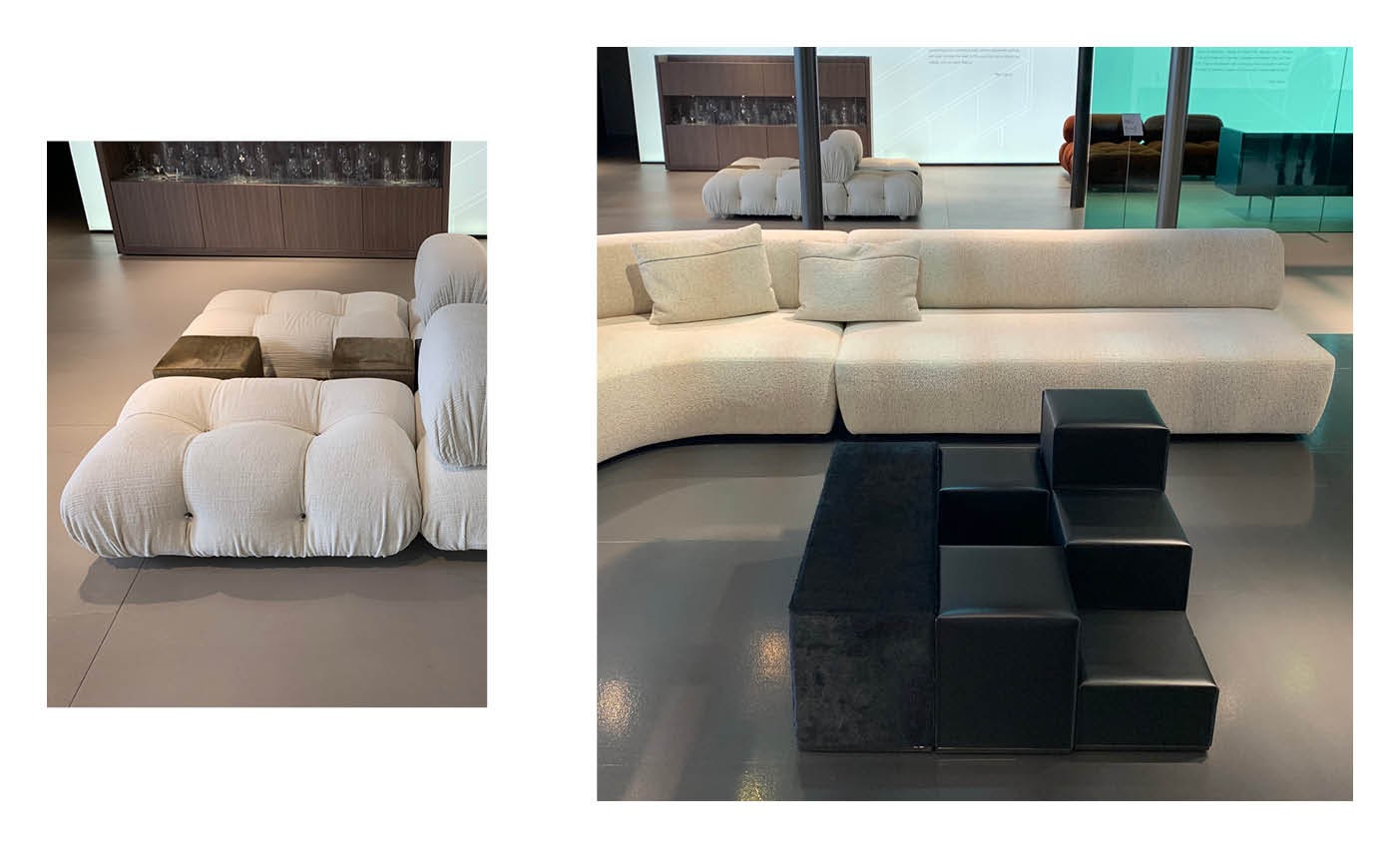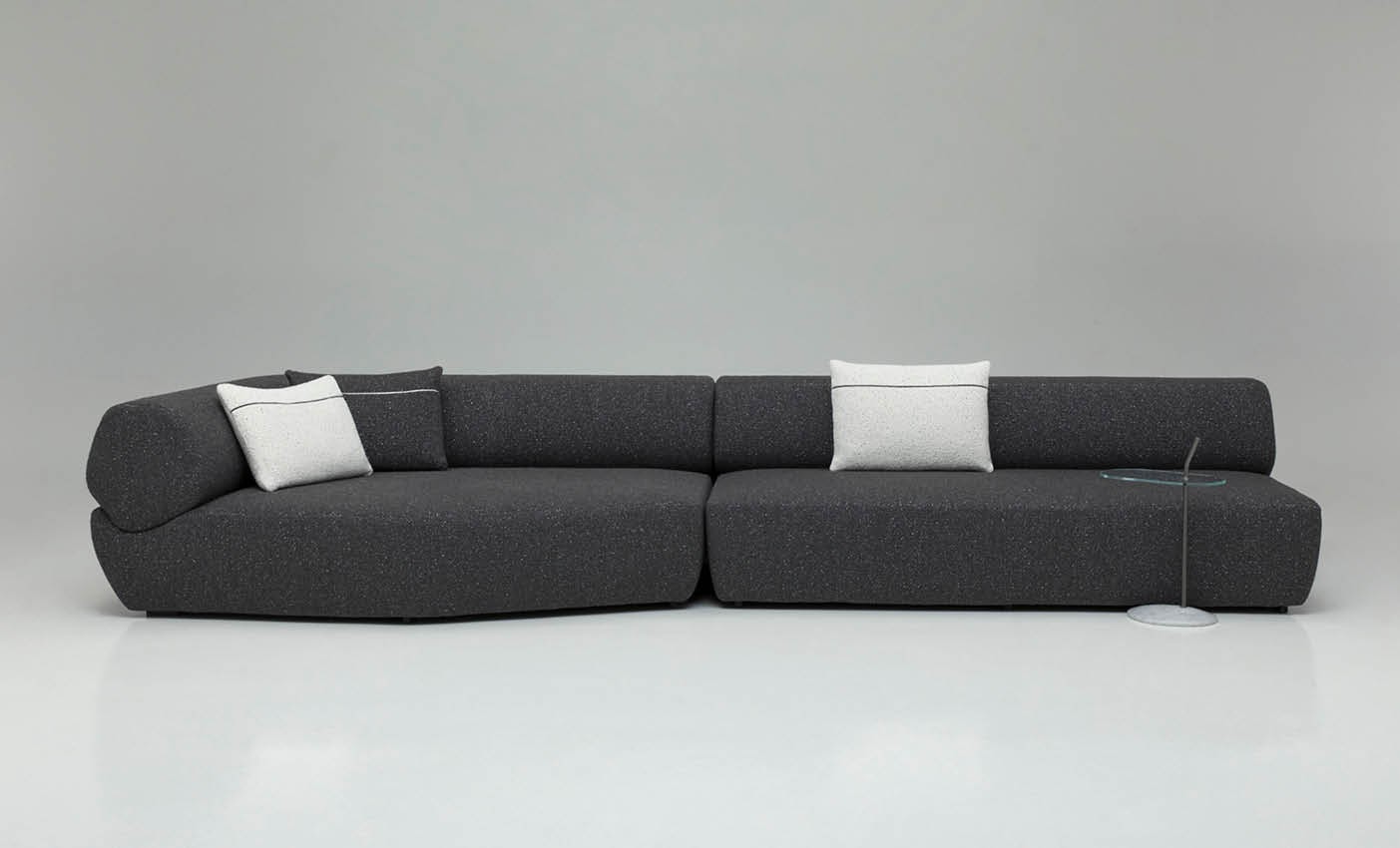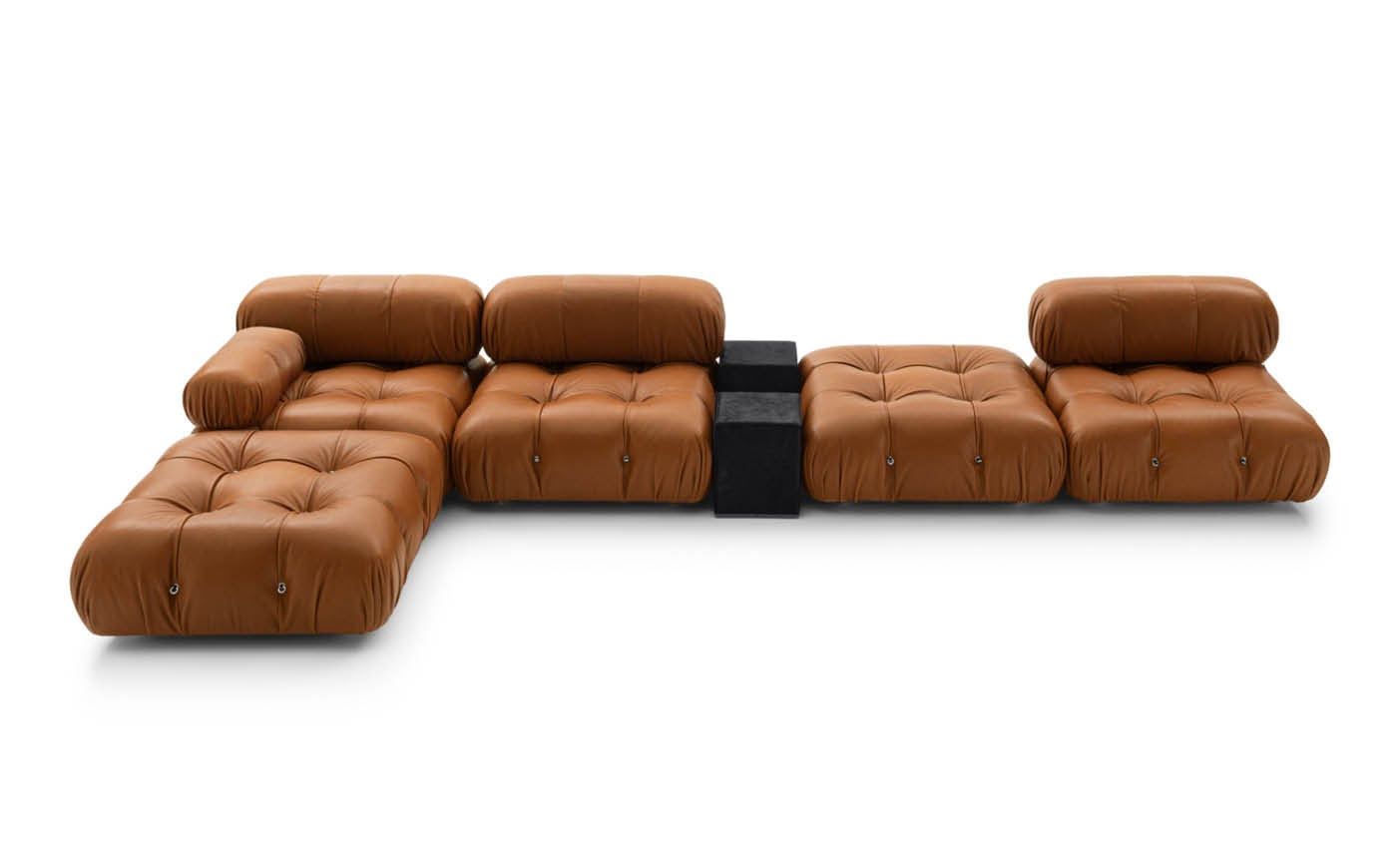 Molteni&C Dada: The new HOME catalogue
After having walked down via Durini, we arrive in Corso Europa where the showroom of Molteni&C Dada is located. Reinterpreting living as a constantly changing space is the starting point for the new proposals presented in this Milan Design City 2020. The Hector bookcase by Vincent van Duysen is its emblem, which is completed with the modular and decomposable Octave sofa and Louisa coffee tables with a strong material presence. Design and innovation, these are the two watchwords of Molteni&C.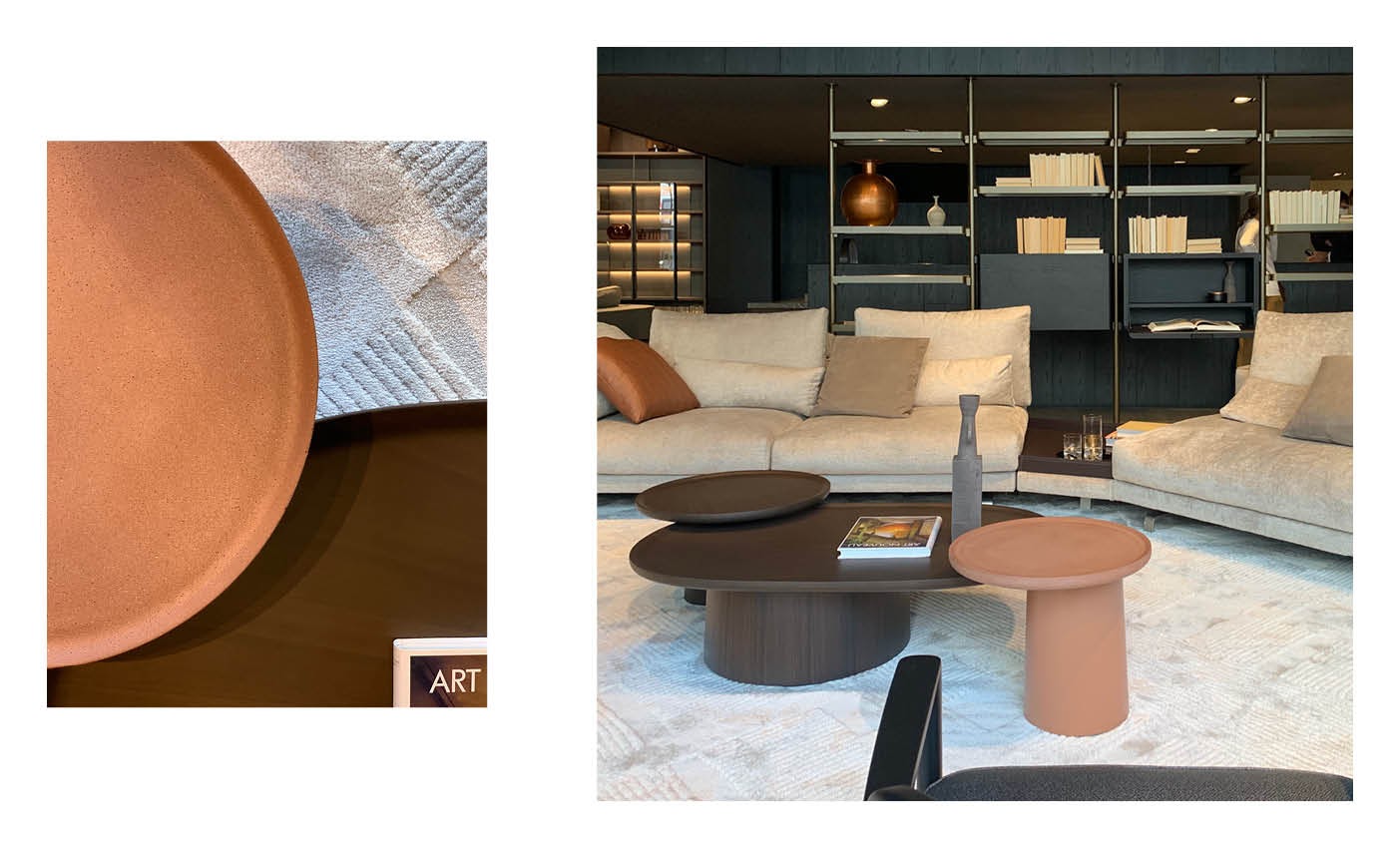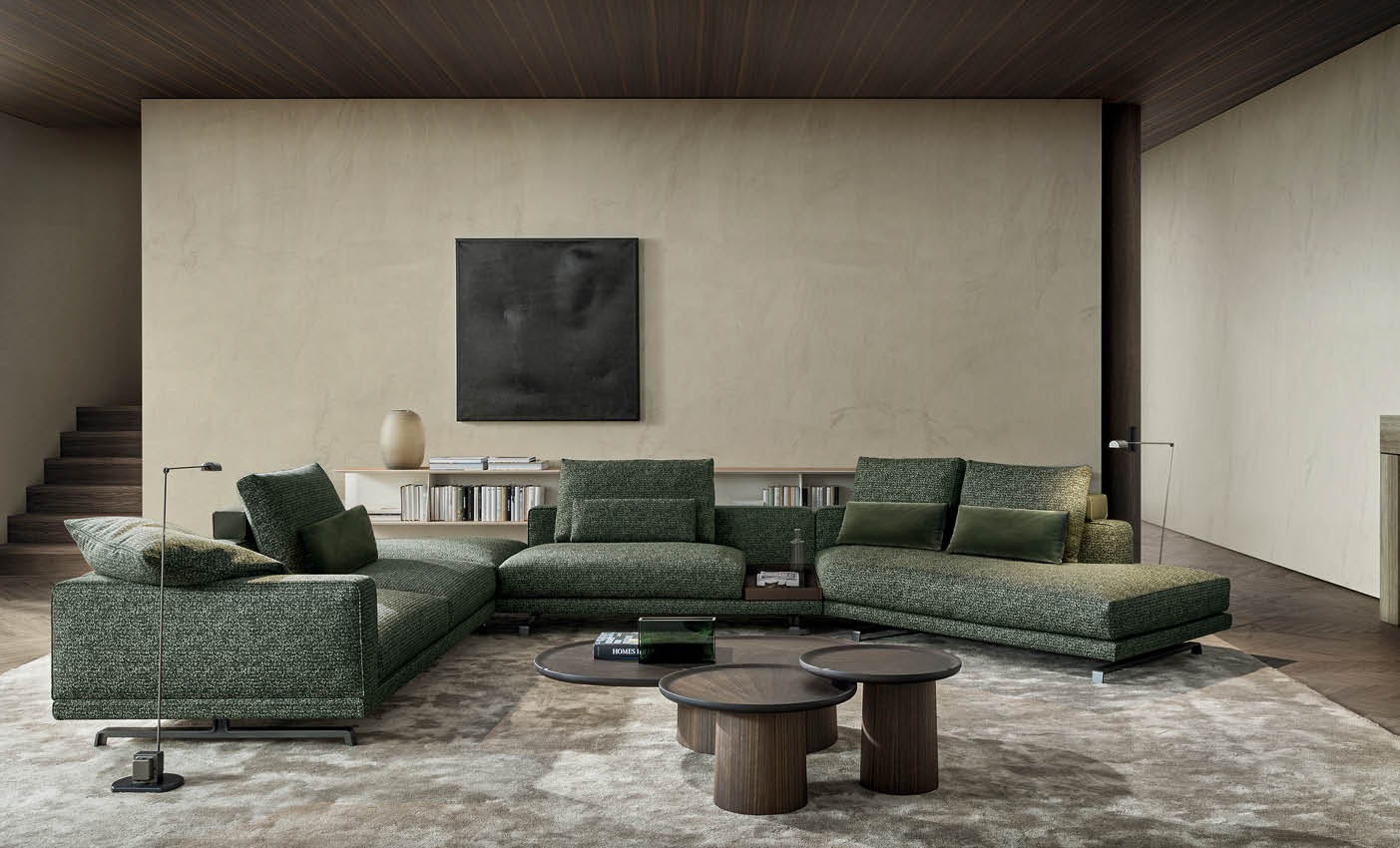 Boffi: New catalogue 2020
Continuing our route we arrive at the Boffi Showroom in Via Solferino. Nothing to add to the impeccable elegance of the new Apr60, Aprile and Combine models by Piero Lissoni proposed during this Milan design week 2020. Marble doors, round dark wood snack tables, long counters and functional internal equipment are just some of the features you will find in the new Boffi catalog.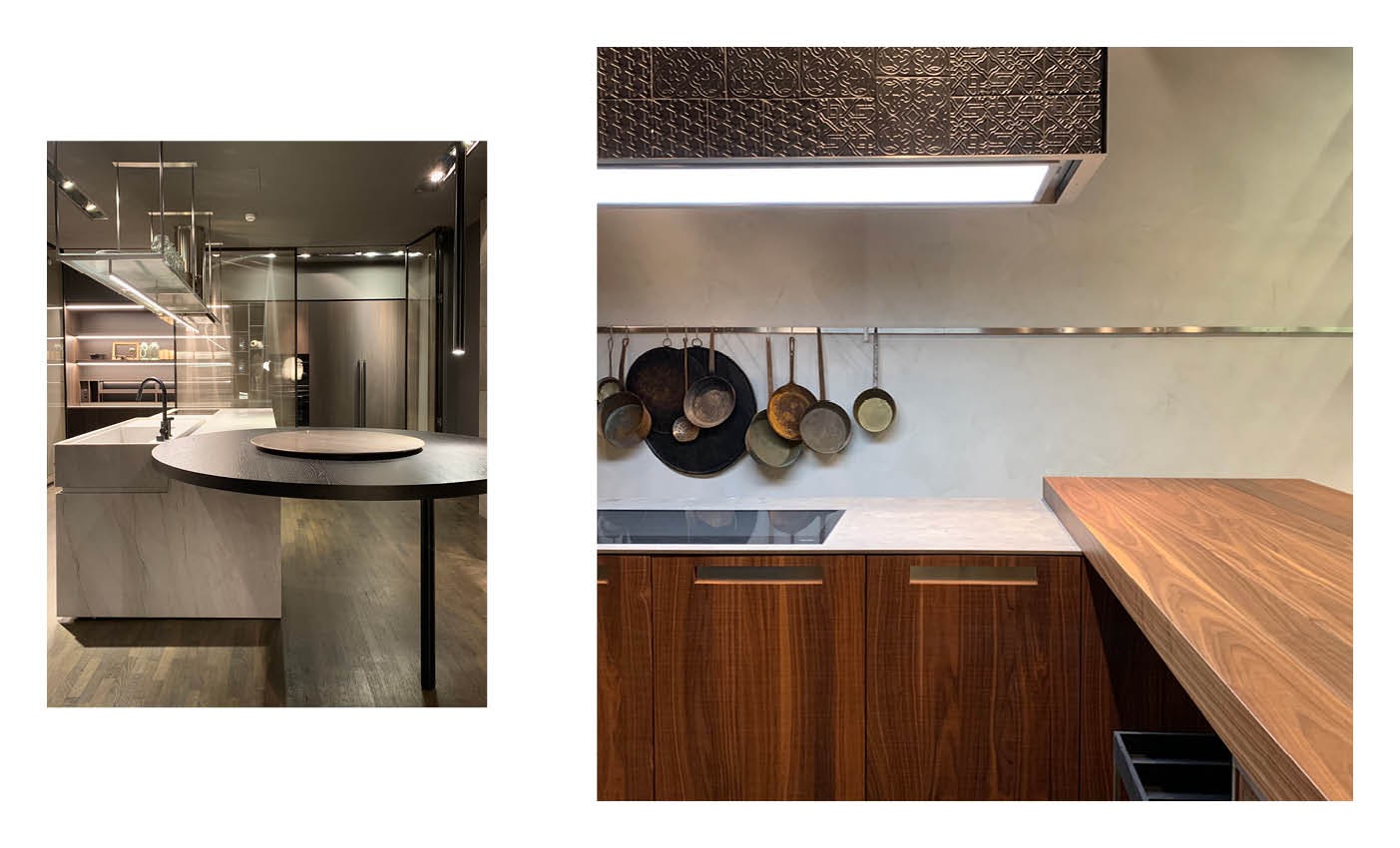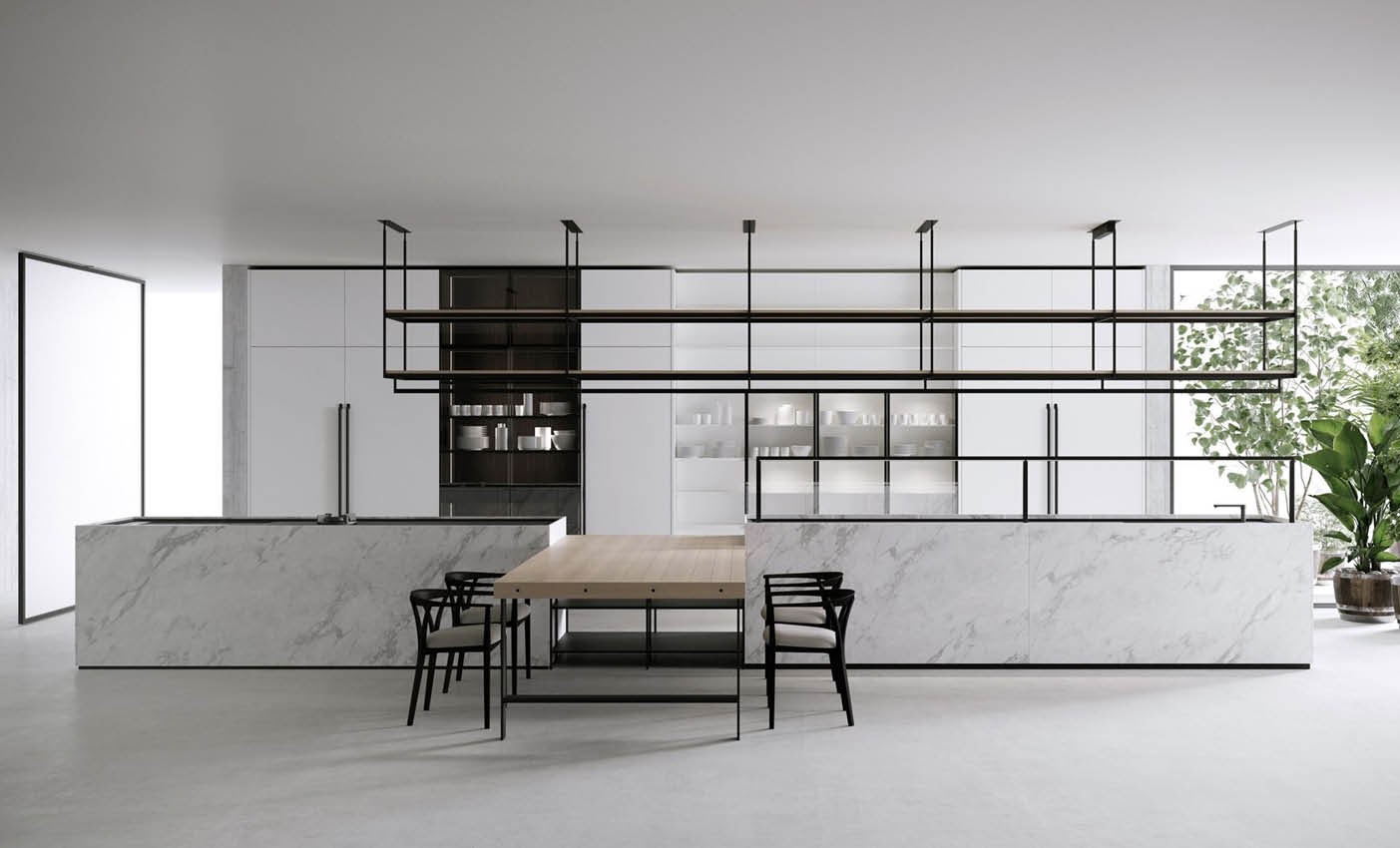 Sag'80 for Arflex new collection
For this Milan Design Week 2020 the Arflex collection has been presented in a space designed by Dome Milano Studio Design in via Boccaccio 4.
The new Arflex collection, like the sofa Cradle by Neri&Hu, the armchair Supplì by Luca Nichetto and the seats by Claesson Koivisto Rune, is perfectly combined with iconic products that have always been part of the Arflex catalog. A balanced mix&match that varies from light tones such as cream or white to brighter shades such as green, blue and rust red.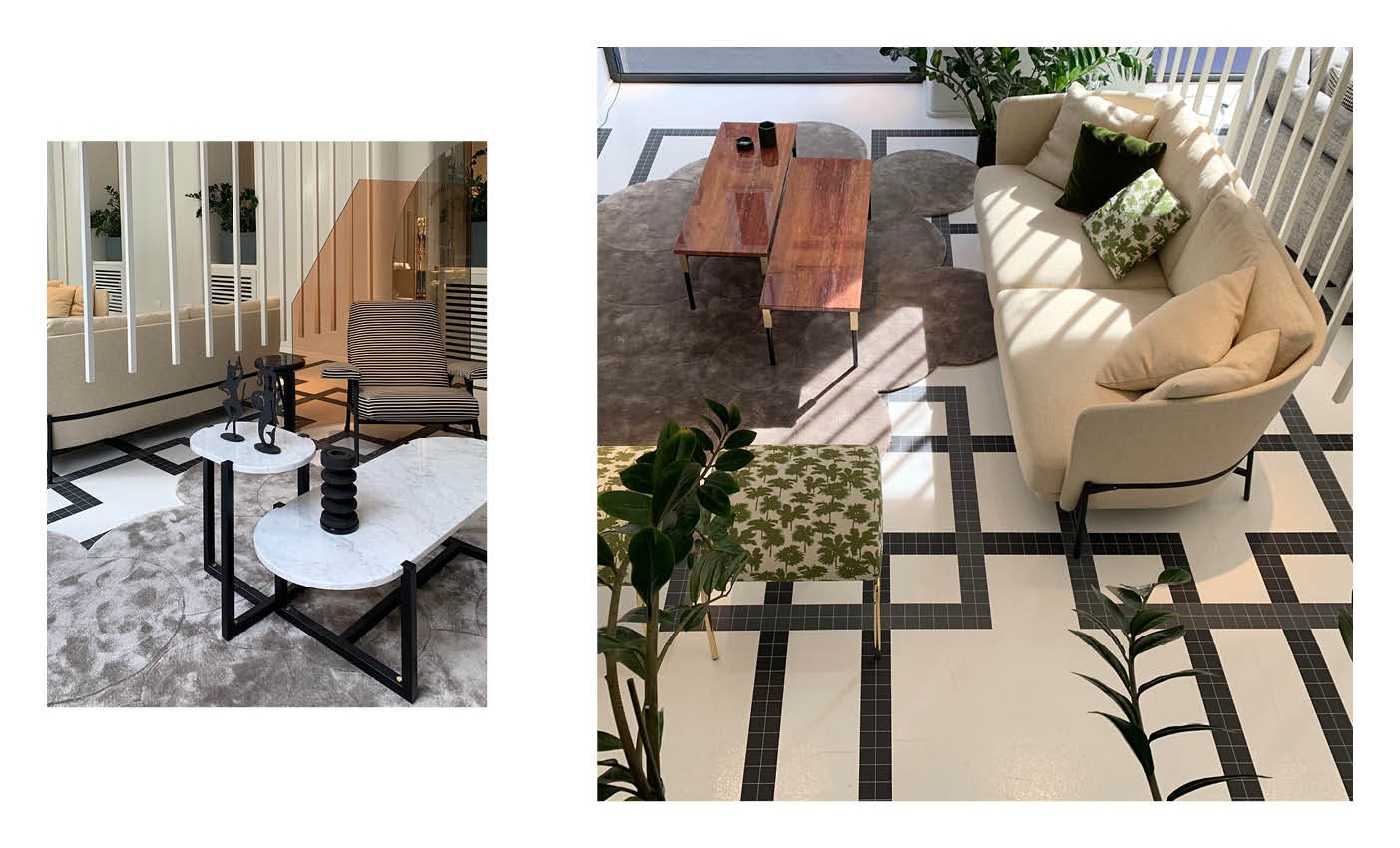 New Surfaces for precious atmospheres
Bisazza: Fornasetti collection
What opens up to our eyes as we enter the Bisazza exhibition space is a spectacle without comparison. For this Milan Design City the glass mosaics are redefined with a unique interpretation.
Bocca, Serratura, Soli a Capri and Ortensia, some of the most iconic images of the Fornasetti Collection, invade the walls of the showroom through a well-thought out studio and a digitization of the original design in many small pieces with bright and bold colors.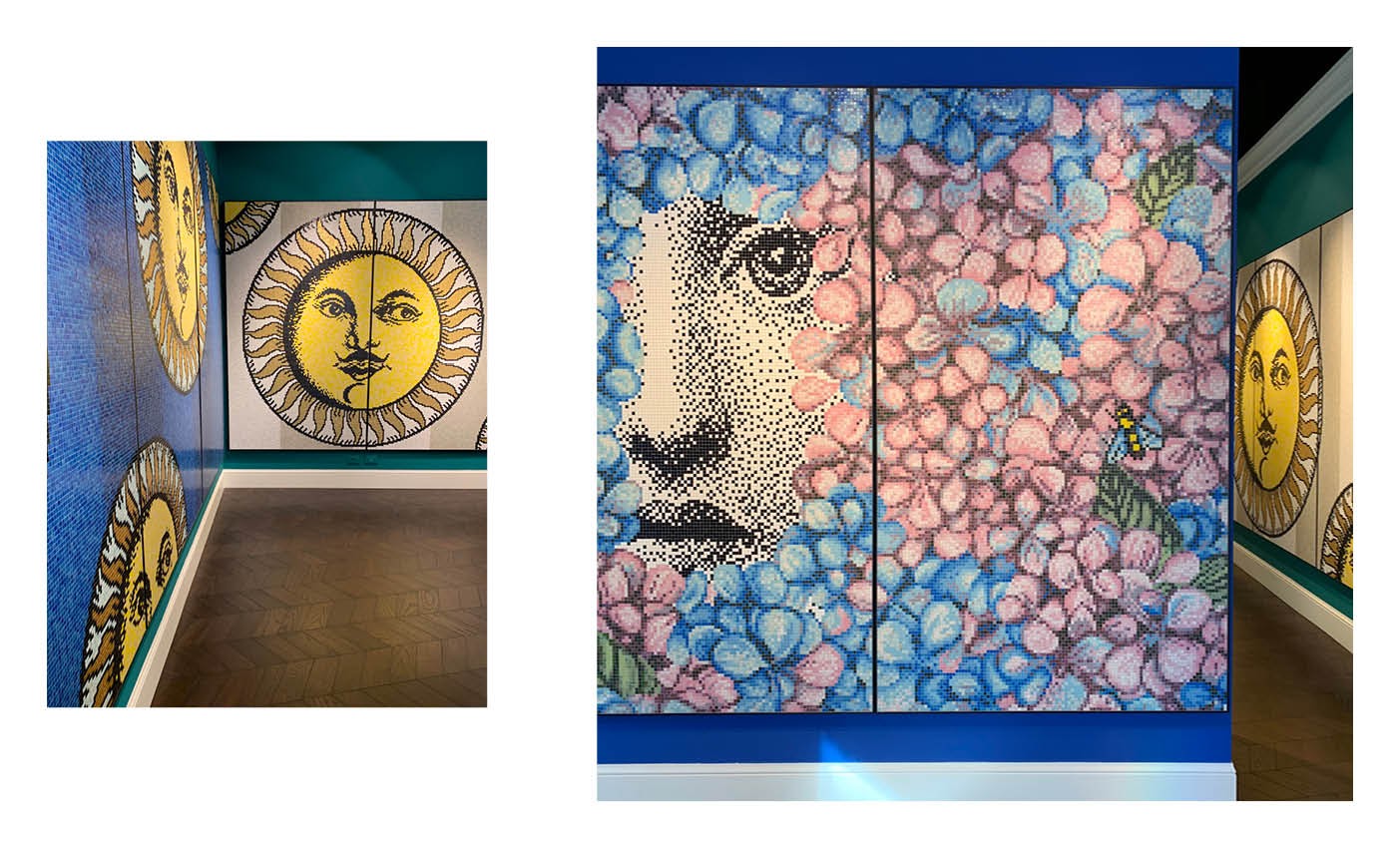 SALVATORI: marble addicted
For us, marble lovers, a stop at the Salvatori showroom was a must. Walls covered with different types of marble, each with its own texture and shade, welcome the bathroom collections and furnishing elements exclusively marked Salvatori.
New for this 2020 is the table "Design for Soul" by Piero Lissoni. A completely sustainable project that was born from the need of recovering scraps of processing, sanding and welding pieces of marble with a resistant golden resin. The final result is a table with an elegant design and a strong scenic presence.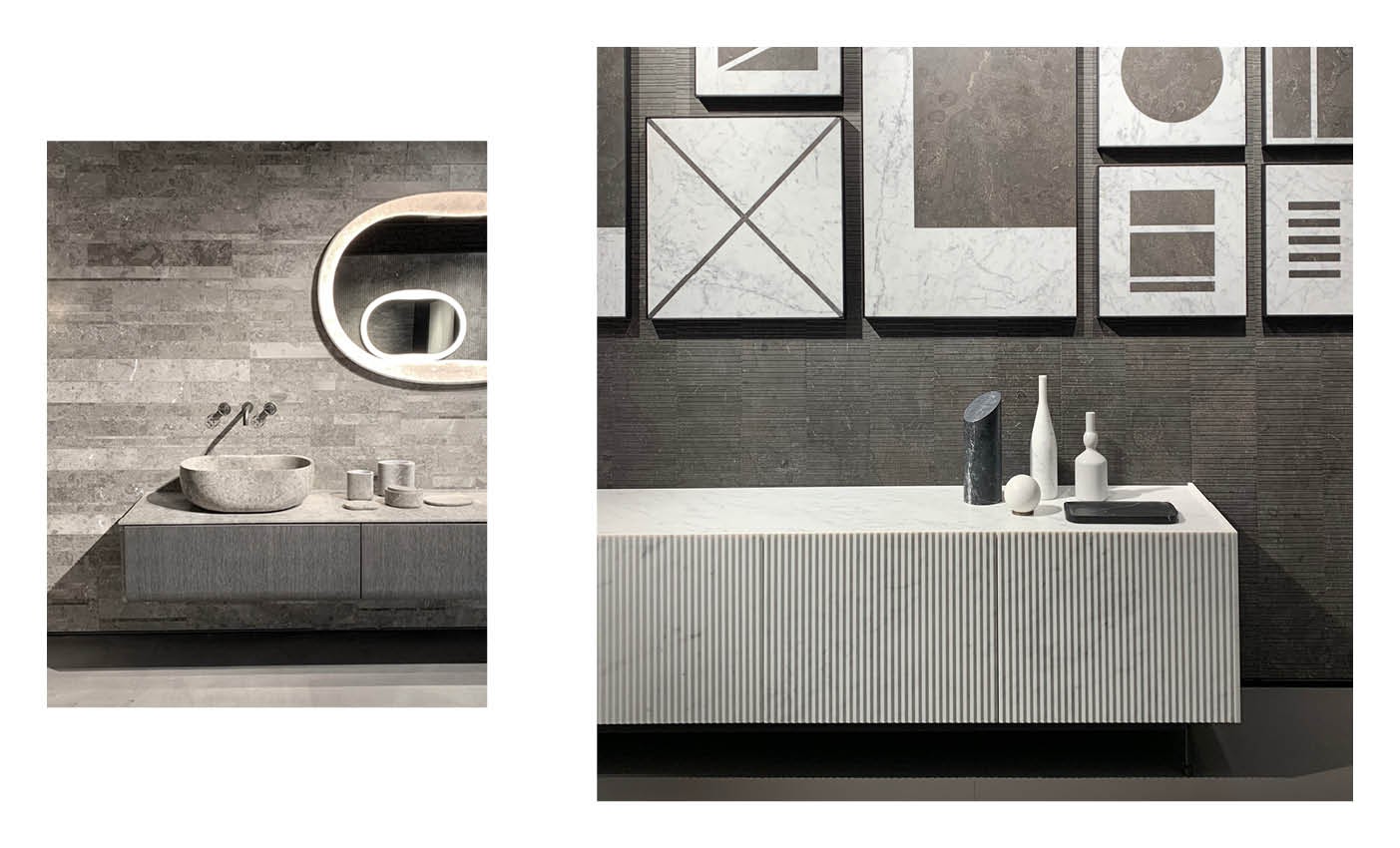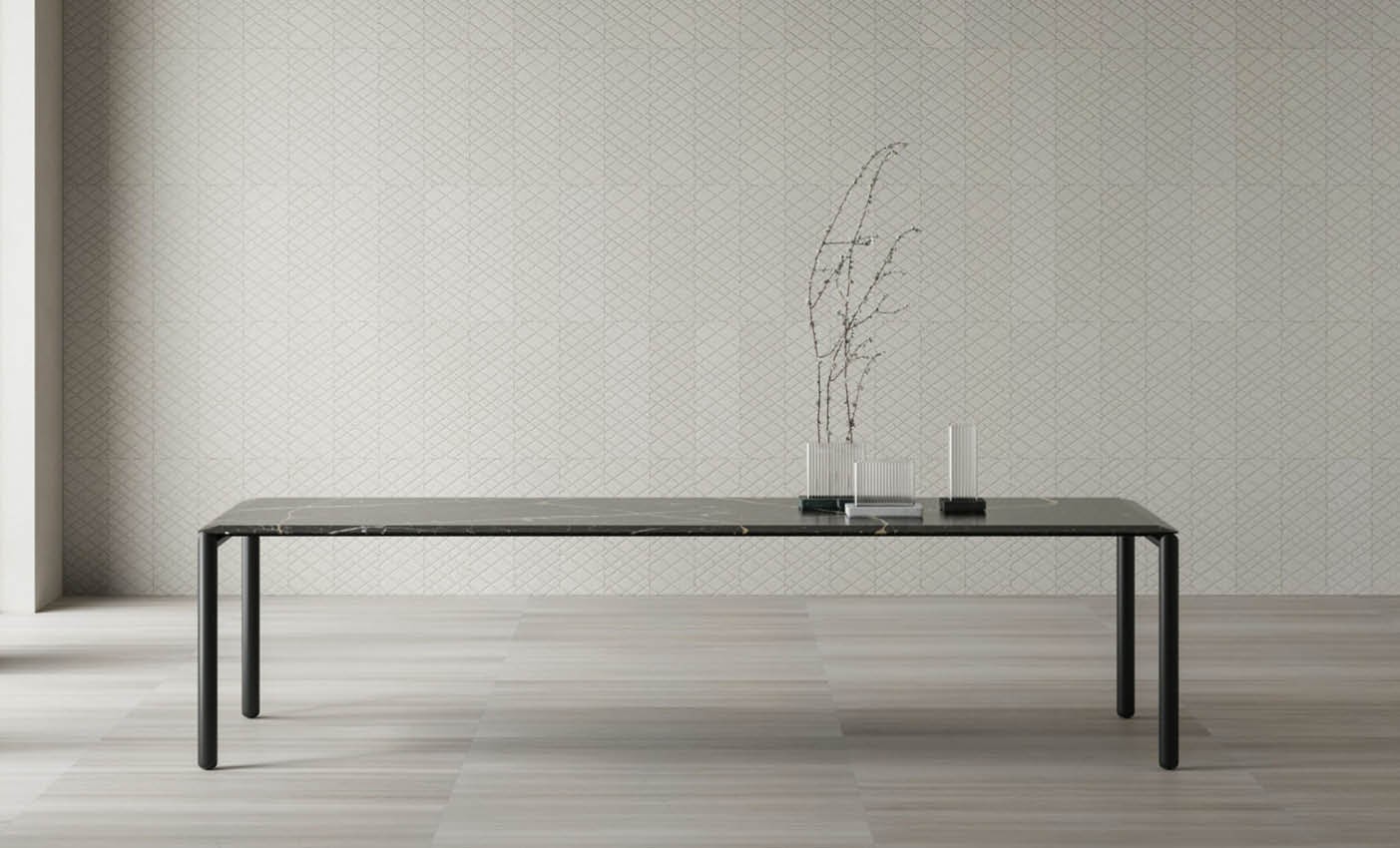 When Contemporary Art meets Design during Milan Design Week 2020
Nilufar Gallery: It's all about color by Studio Nucleo
For lovers of contemporary art, culture of design in Via della Spiga there is Nilufar Gallery. Nina Yasher, the owner of the collection and exhibition spaces, for this Milan Design City, has decided to make contemporary designers the protagonists of the exhibition. Of course she has also added her "heritage" collection with unique objects by great Italian, Mexican, French and Scandinavian designers.
The exhibition is called "It's all about colour", a collection of completely decomposed and rigidly shaped objects proposed by the Turin-based collective Studio Nucleo. Square benches, stools, a floor lamp, a bookcase, a monumental table and a suspended lamp invade the space creating a surreal and completely futuristic atmosphere.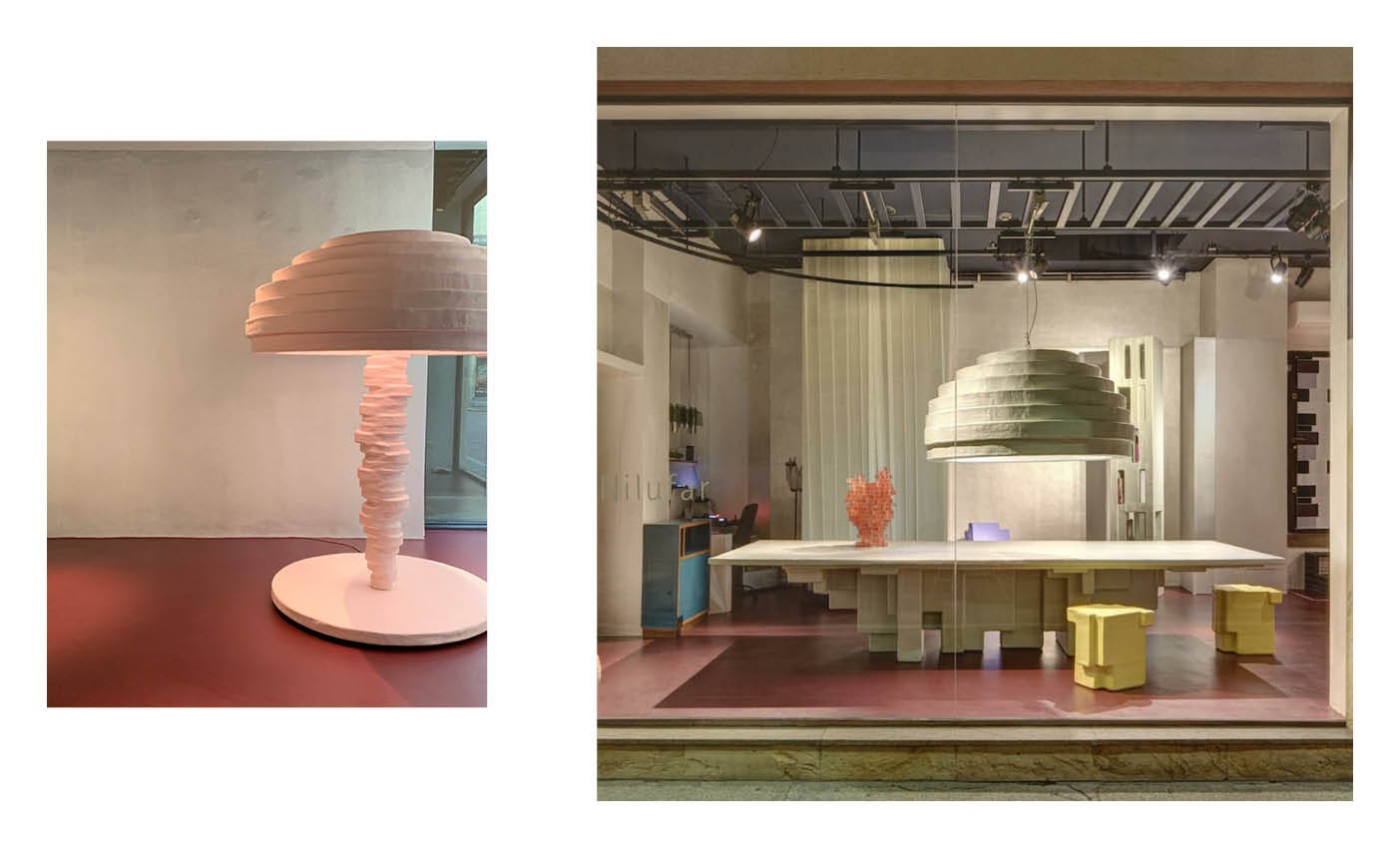 Memphys Gallery
Continuing along the trail of art and the world of design we couldn't miss Memphis, which in addition to the iconic objects by Ettore Sottsass, Michele de Lucchi, Aldo Cibic and many others, offers us for this Milan Design week 2020 the new collection in a true Japanese style by Masanori Umeda. A sofa and two armchairs with a rigid structure in wood and straw and with soft cushions in a thousand colors become part of the Memphis catalog from the current month of October.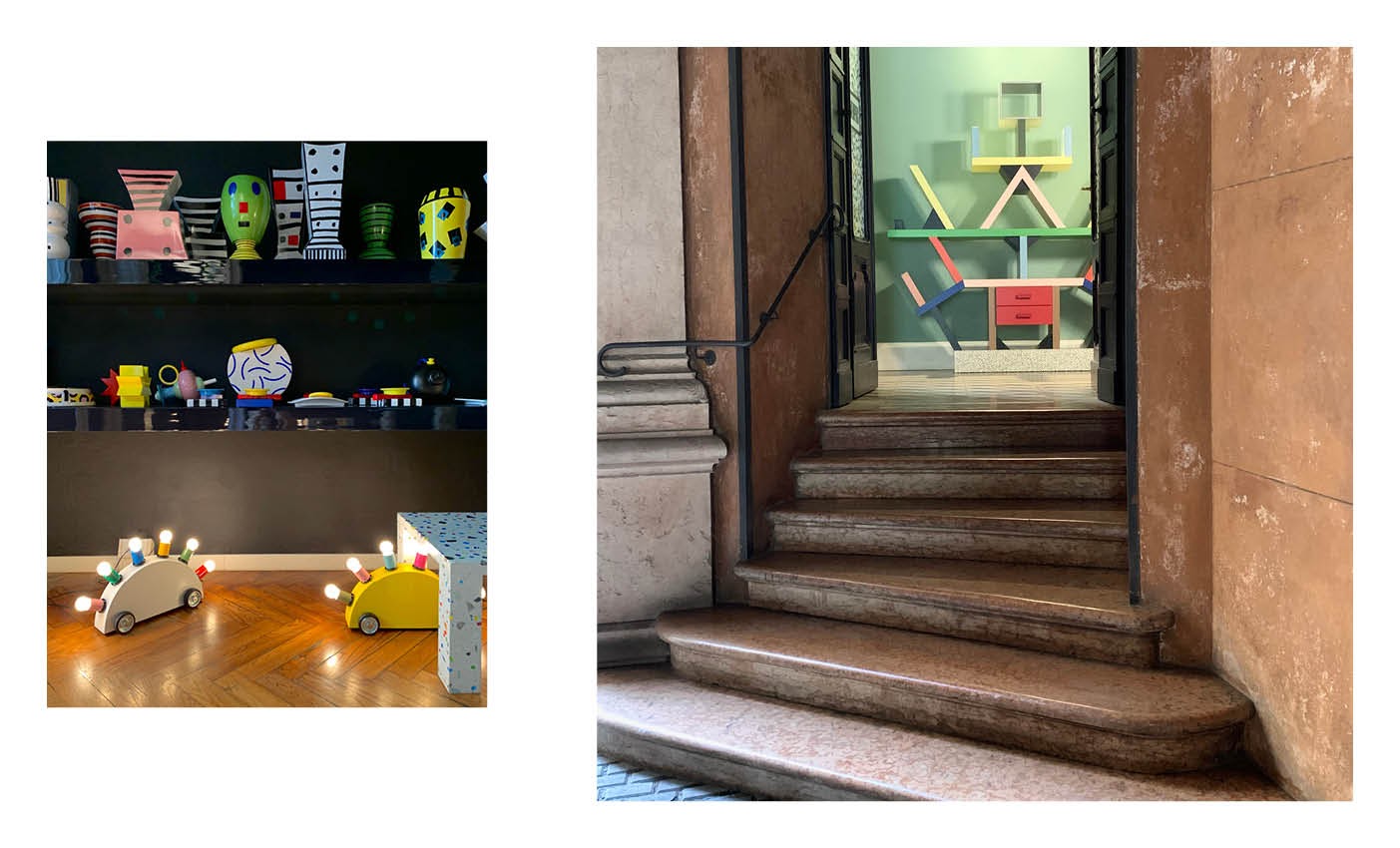 If you are curious to discover and see the real Italian design, contact us, we will organize for you an exclusive Furniture Shopping Tour. Through our Italian Interior Design and Italian Furniture Supply services we will guide you in the choice of the best products for your home, always proposing innovative solutions. Our team of experts will guide you step by step, from the first consultations to the management of the shipment of the products selected by you directly on site.
If you prefer to stay in your country, don't worry, because now thanks to our Online Italian Interior Design service we are able to reach you all over the world, offering you our support for your interior design project.
Your unique Interior Design Project developed by Italian Professionals.
Discover and shop Made in Italy while living the Italian lifestyle in Milan.