Cappellini Chairs
Posted on 05 March in Italian Home Design
Italian Design, Italian Furniture Guide, Italian interior design, Italian Furniture, Italian Furniture Prices, Luxury Furniture Prices, Best online interior design services, Outdoor furniture, Outdoor living space, Outdoor Italian Furniture, Italian Luxury Furniture, Luxury Dining Room Design, Modern Dining Room Design, Italian Chairs, Italian Chairs Design, Best Italian Designer, Cappellini Chairs, Cappellini Brand
Capable of giving a touch of personality to any type of environment, from indoor living areas to outdoor spaces, iconic and with unmistakable silhouettes, Cappellini Chairs have become unique pieces which is difficult to do without. Here for you then three proposals in which you can find colors and eclectic shapes as well as an original style, all signed Cappellini.
Mix&Match: Cappellini Chairs
Giulio Cappellini, founder of the great Italian company Cappellini and with a talent scout vocation, over the years has recruited up-and-coming designers from all over the world, creating a heterogeneous and unique collection of products. Cappellini in fact has been an important launching pad for many talents, such as James Irvine, Marc Newson, Carlo Colombo, the Bouroullec Brothers and Marcel Wanders to name just a few.
Within the Cappellini Chairs collection there are a series of avant-garde products, in which design experimentation and a new concept of living have been the guidelines for every single project.
The S-Chair designed by Tom Dixon in 1971 represents in its essence the union between craftsmanship and the success of industrial production. A sinuous "line" that becomes an emblem of contemporary design, a chair recognized as an icon and exhibited in the permanent collections of the greatest international museums.
In 2006 Jasper Morrison created a family of small armchairs that he called Lotus. Designed to adapt easily to any type of situation, from the domestic environment to the workplace, the collection features a series of variables that make these chairs highly customizable: low, medium and high seats, with or without arms, with four or five-spoke base, with or without wheels.
The Thinking Man's Chair, one of Jasper Morrison's first projects for Cappellini, is an armchair in which all the elements have been designed to create a functional seat suitable for moments of relaxation. Made of painted metal, this armchair impeccably combines a bold design with maximum comfort.
Here for you then are three solutions, all different from each other, to inspire you and to show you how you can customize the Cappellini chairs, creating unique furniture compositions for your home.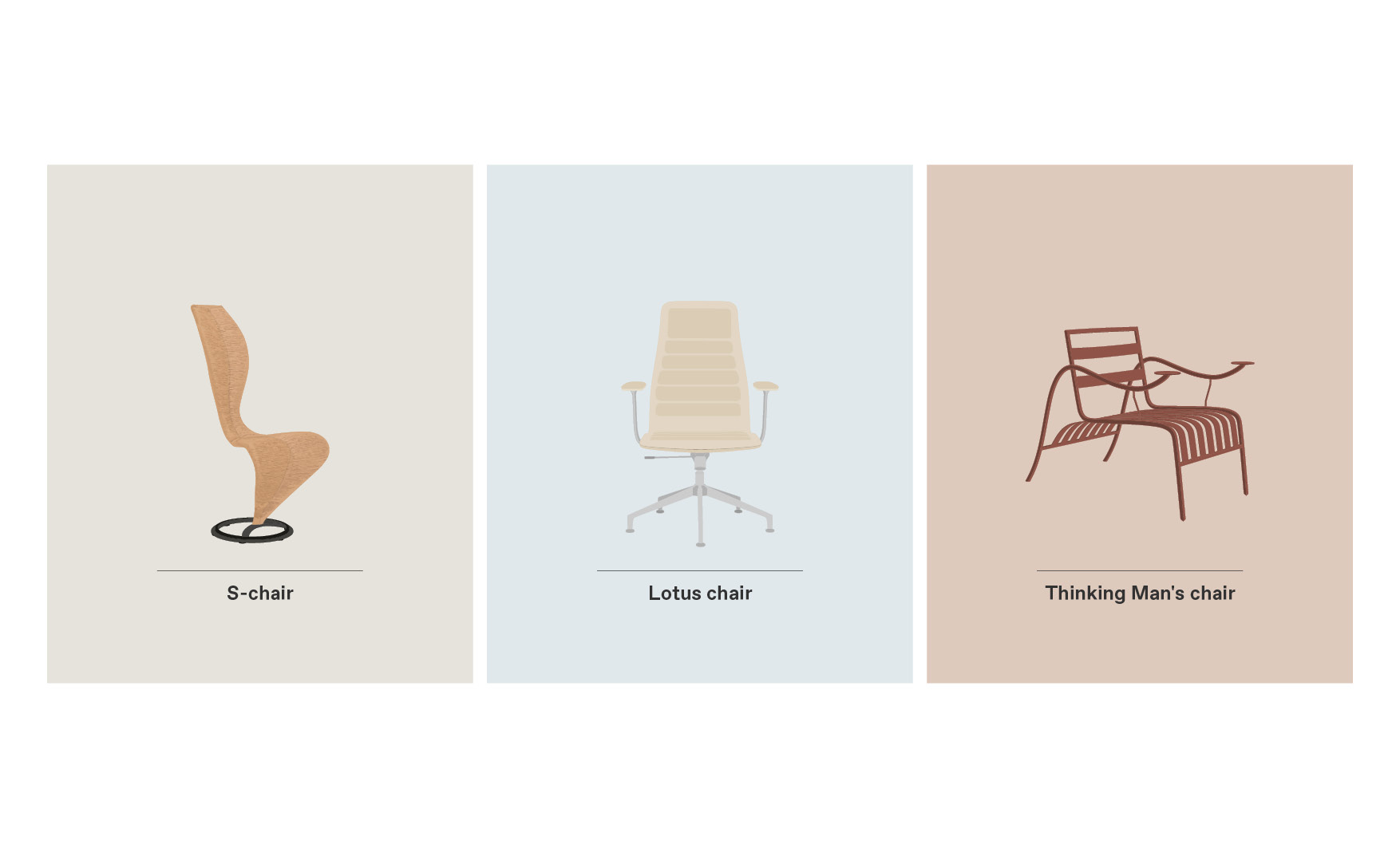 S-CHAIR by Cappellini
Essential in its lines, with a sinuous shape and supported by a circular base in dark painted metal, the S-chair is dressed with its iconic swamp straw upholstery, arriving at a total price of 1.570 Euro. An element that in its simplicity manages to manifest and clearly convey the craftsmanship tradition and meticulous work of weaving straw threads.
The circular and soft shapes of the chair are echoed and matched by the elegant suspended light Cacoon Overlap by Flos and by the table La Rotonda by Cassina, whose transparent top allows a glimpse of the S shape of the chair by Tom Dixon.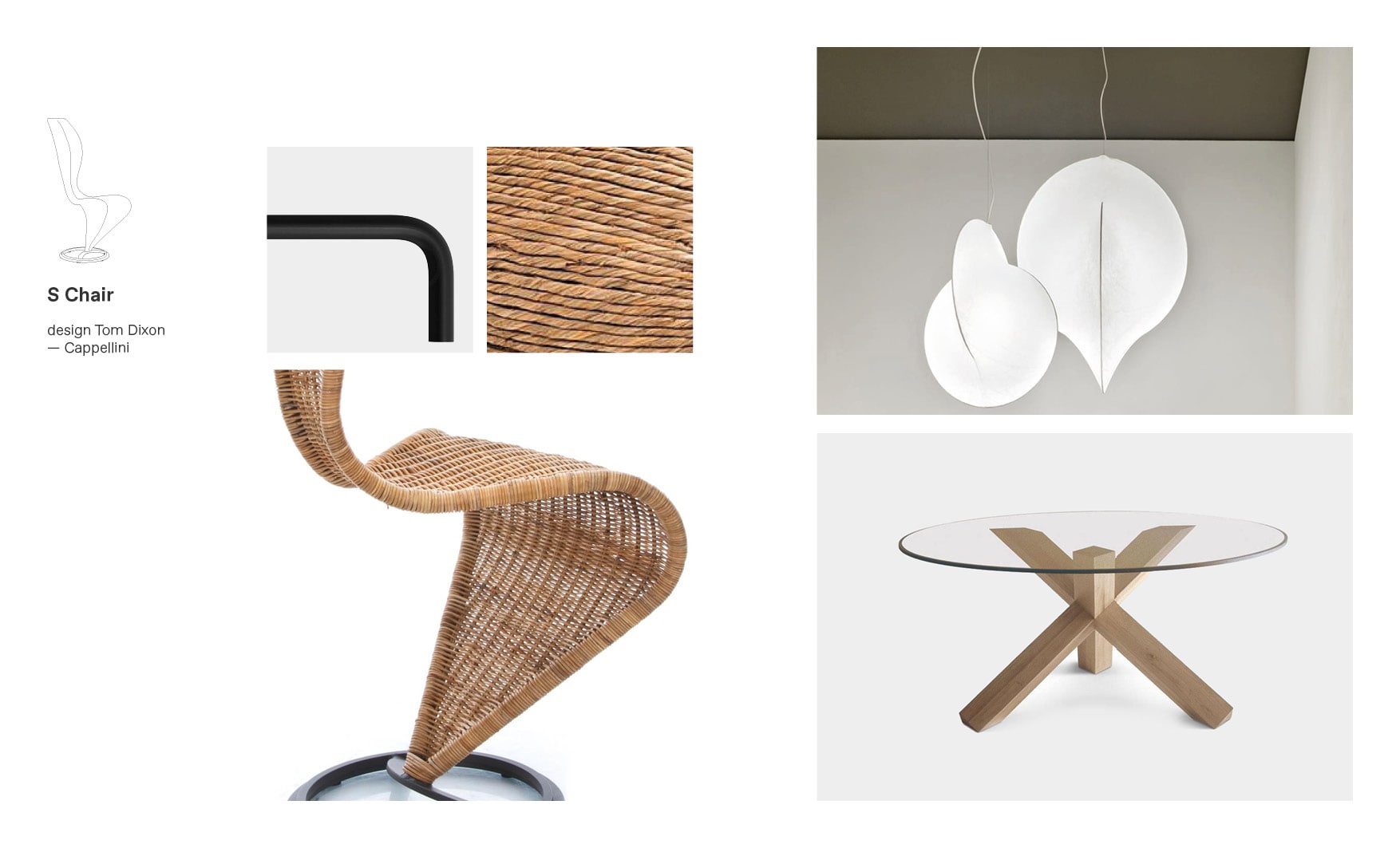 A grit floor with different shades of brown and amber reflections, walls with light shades and a niche in the wall with bright tones and shelves on which to store personal items create a warm and welcoming atmosphere. A living area in which the protagonist is the sinuous, soft and curved line of the products that starts from the chair, continues with the circular top of the table up to the intertwined arches of the hanging lamp.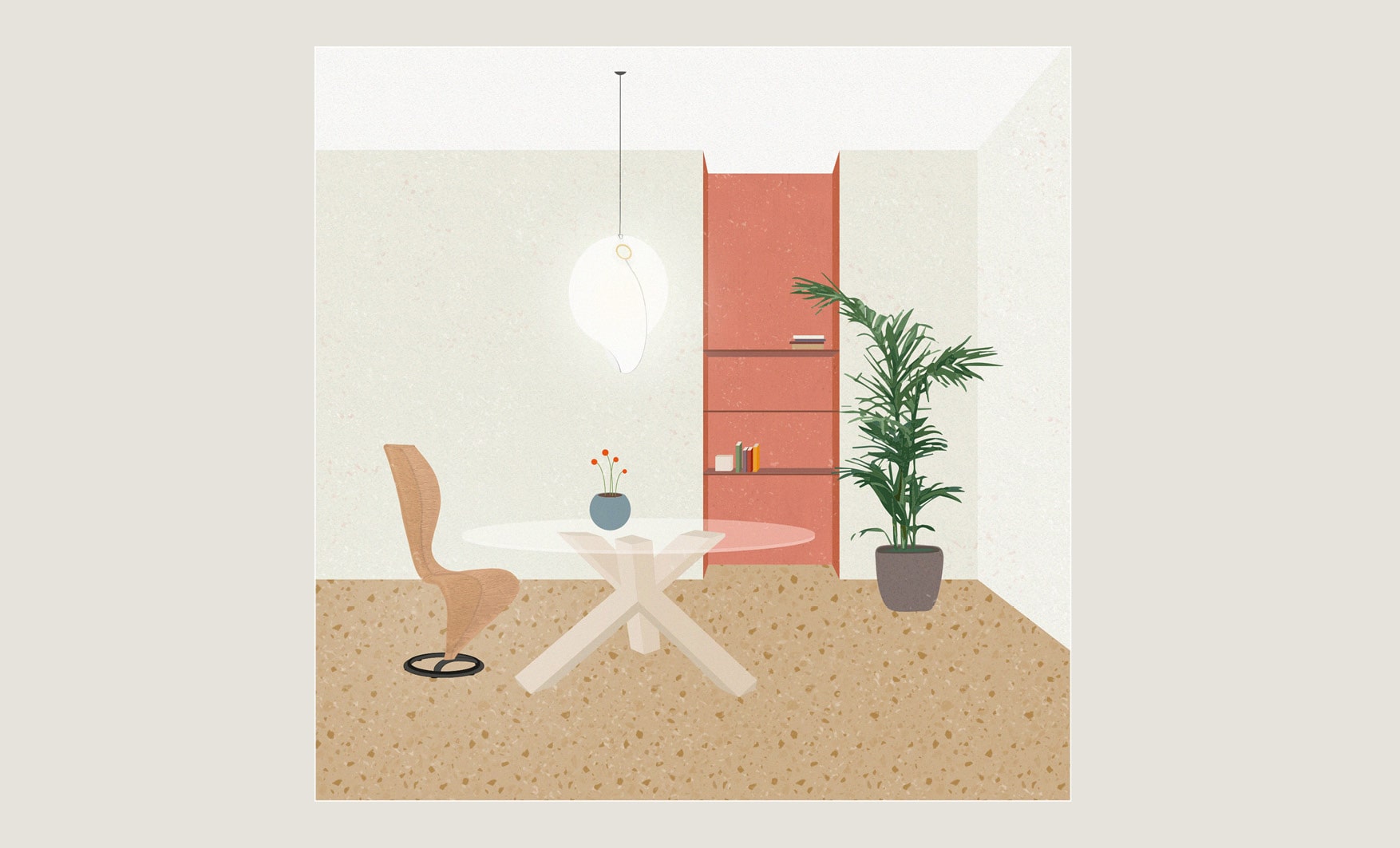 LOTUS MEDIUM by Cappellini
A chair with infinite combinations, Lotus becomes the ideal seat for an elegant yet comfortable work environment. We have selected the Medium model with armrests, 5 spokes at the base and a dove-colored fabric upholstery with bronze highlights, for a price positioning of 1.590 Euro.
Completing this modern working corner is the Frame table by Alias Italia, whose chrome structure echoes the chair's features, and the Tolomeo table lamp by Artemide, designed by Michele De Lucchi.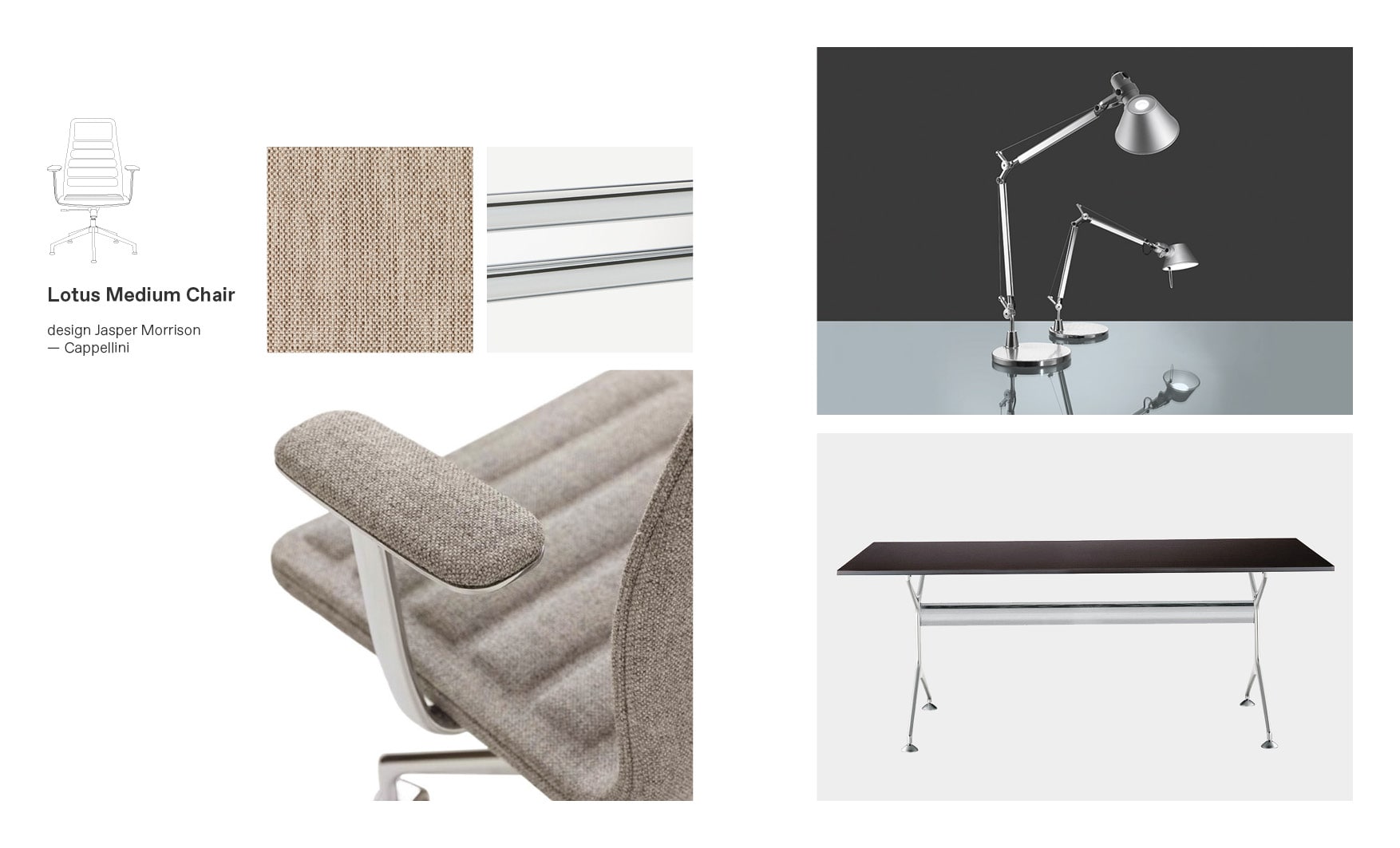 If we think of a healthy work environment, we imagine it as a large, bright open space in which sugar-colored movable walls divide the room into many independent working areas. A comfortable and ergonomic chair, a large desk, a designer desk lamp and pots of lush plants is all you need to recreate a functional office and workspace.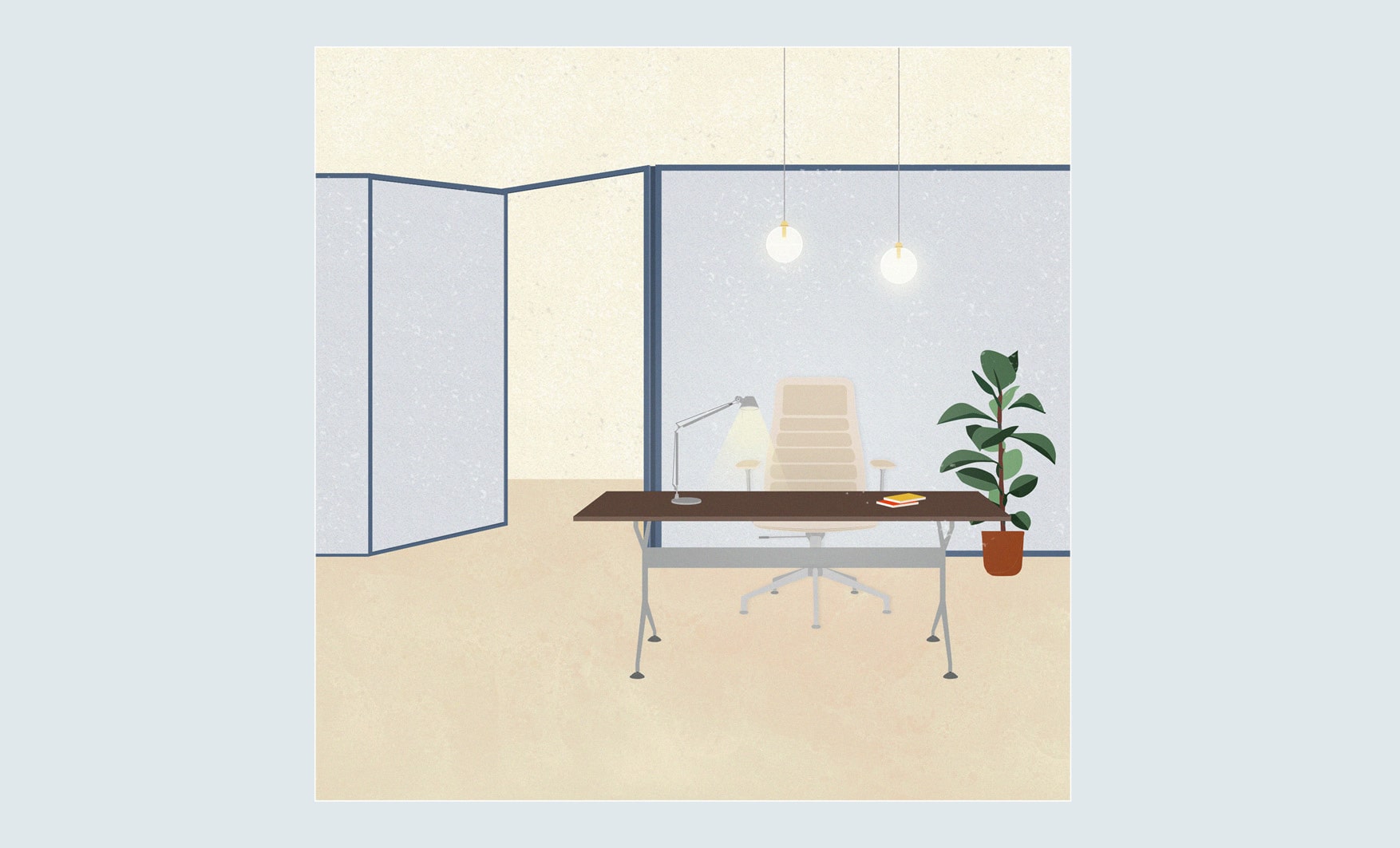 THINKING MAN'S CHAIR by Cappellini
The Thinking Man's Chair, a seat whose name evokes a space dedicated to contemplation, wellness and relaxation. With the purpose of creating a welcoming atmosphere, we paired the terracotta-painted metal armchair, priced at 2.400 Euro, with Bowy Outdoor coffee tables by Cassina, with white and red fiberglass tops, and Spring square poufs by Paola Lenti, with a light-colored upholstery and floral textures.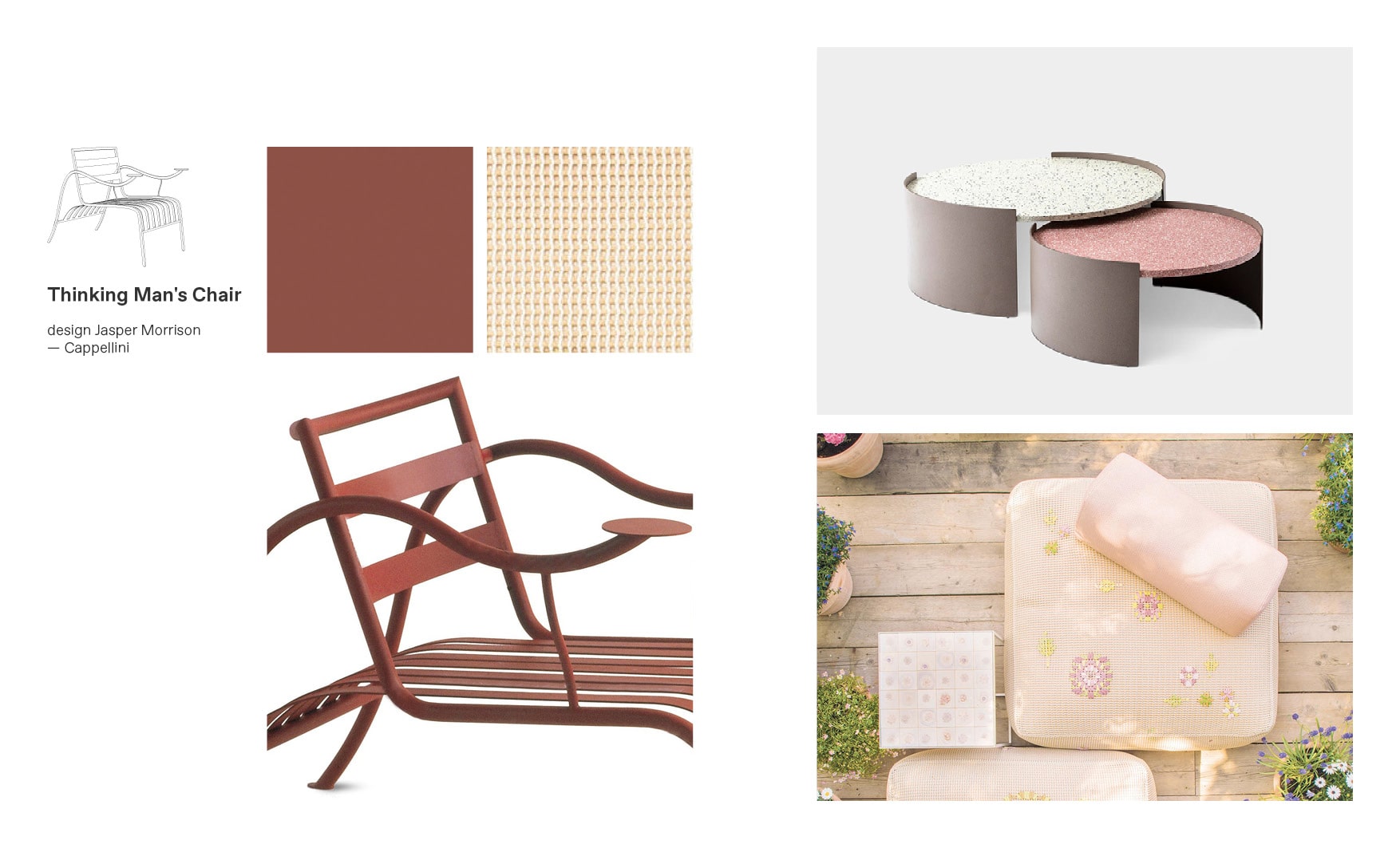 A veranda with large windows from which one can get a glimpse of the tropical plants in the garden. A brick-colored floor and a mint green wall. This is the scenario of this third setting, conceived for a seat with wavy shapes, for soft poufs with colorful embroidered flowers, for low tables with tops in chromatic tones ranging from red to white, from pink to beige.
A place that sits in between the outdoor green spaces and the internal activities of the house, an environment where you can get away from the hustle-and-bustle to find peace and relaxation.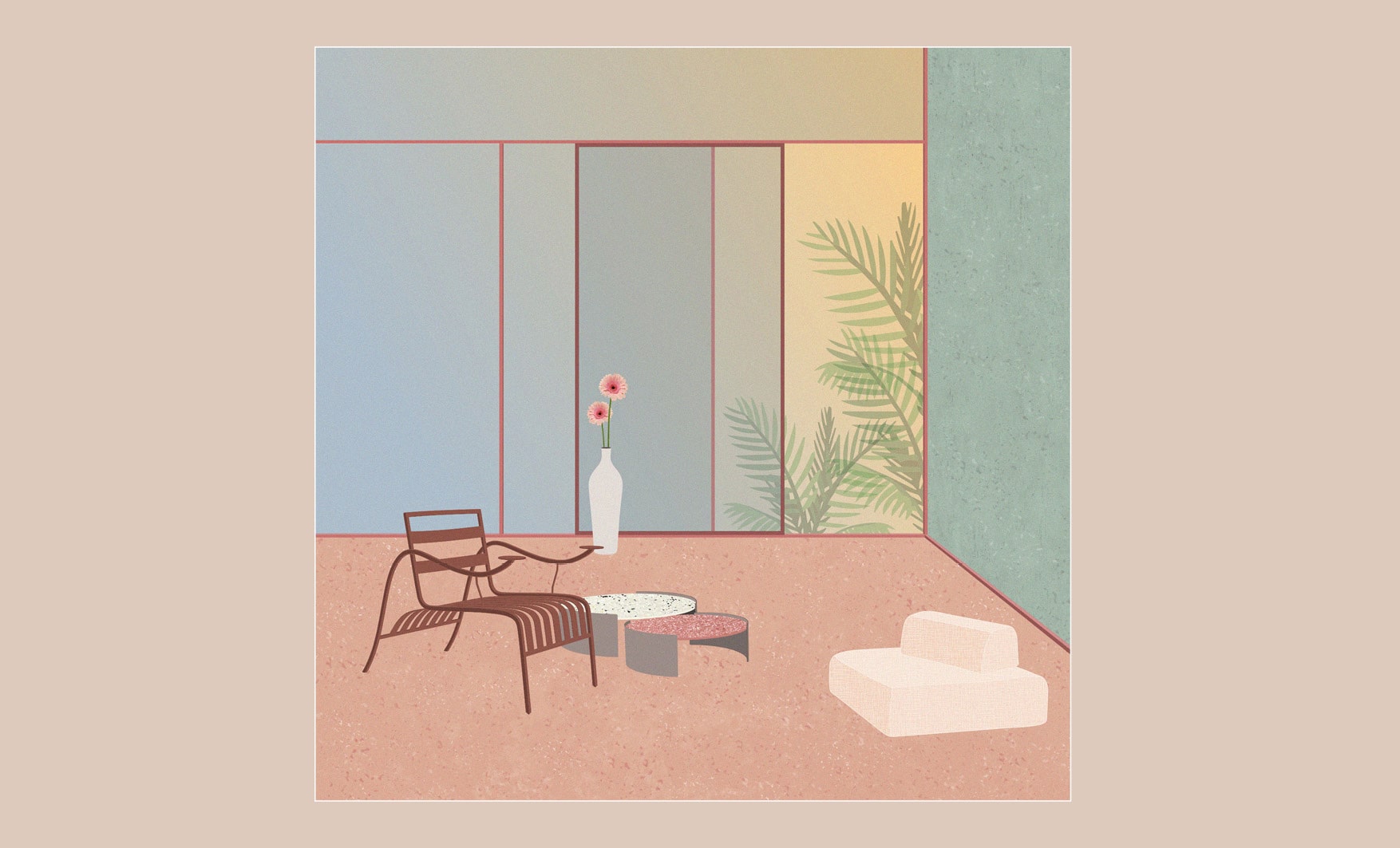 Discover Cappellini Chairs
Browse through our catalog of Italian designer furniture to discover our careful selection of Italian designer chairs and many other high-end products.
If you are looking for new ideas, discover our proposals for an Italian dining room style and outdoor style: from the choice of products to the selection of textures and materials, we will show you how to furnish the rooms of your house with an authentic Italian design.
Together with us your interior design project will have no limits! Rely on our services of Italian Interior Design, Italian Furniture Supply and Online Interior Design to build the home of your dreams with our help.
Your unique Interior Design Project developed by Italian Professionals.
Discover and shop Made in Italy while living the Italian lifestyle in Milano.