Made in Italy Hand-Painted & Handcrafted Furniture
Posted on 16 November in Italian Furniture Online
Italian Design, Made in Italy
The industrial revolution has had a great and lasting effect on the Italian furniture industry including its products and practices. However, one of the reasons Made in Italy design furniture remains relevant and iconic is due to traditional styles and handcrafts remaining as part of the processes. There are still many companies that produce their furniture the old way with experienced, practiced artisans. Handcrafted and hand-painted furniture allows more freedom of expression. There's a unique nature to something that has been imagined and created with the hands of another human. You can't get that quality from machines and probably never will.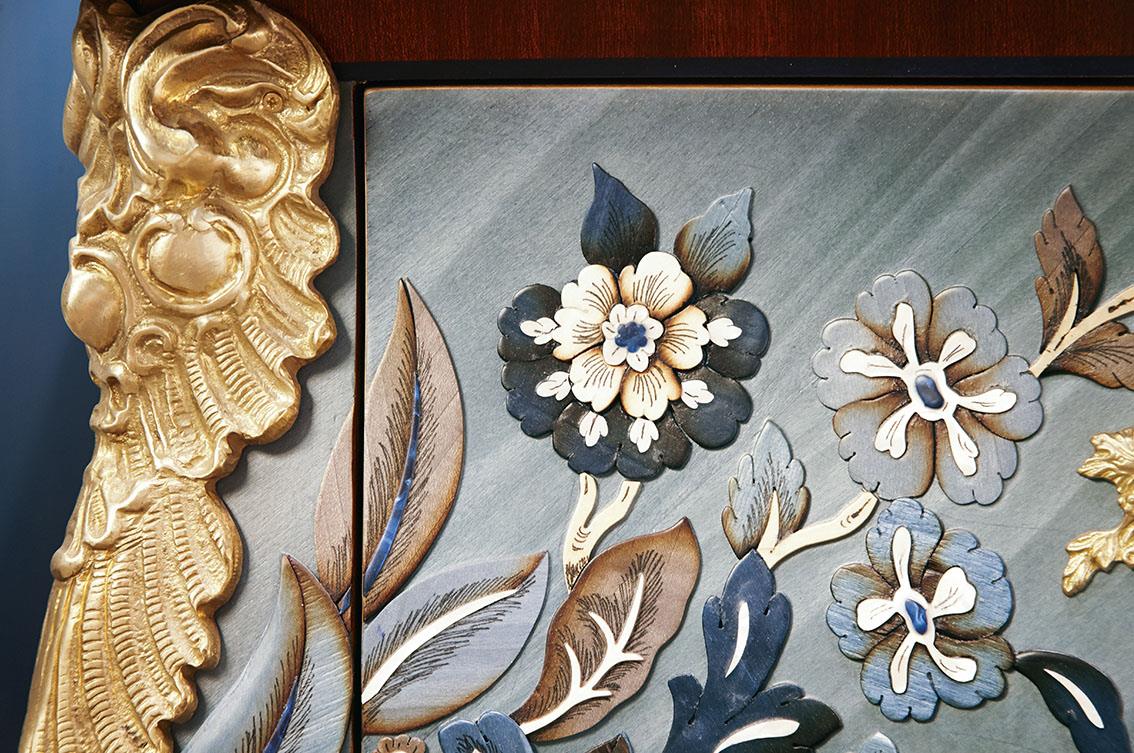 If you are looking for handcrafted and hand painted details in your Italian furniture, appliances, and accessories, Esperiri can help guide your search with access to the best Italian furniture brands.
Italian Hand-Painted Furniture
Since 1916, Asnaghi Interiors has been creating Italian classic and luxury furniture. Originally founded by Giuseppe Asnaghi, the brand and furniture company have remained in the family for three generations. Over the years, Asnaghi furniture has been exported all over the world. There are also Asnaghi showrooms in Dubai, London, Miami, Moscow and of course Milano. While the brand continues to maintain high-quality Italian furniture in a traditional style, they are also absorbing new trends in Italian interiors and design. This established brand holds a firm commitment to their craft of manufacturing Italian hand-painted and handcrafted furniture. Their integrity is apparent in the unique details and quality materials.
Made in Italy since 1970, Provasi has brought contemporary lines and style furniture to their design-lover clients. True luxury begins with the quality of materials. Provasi provides the best woods, metals, fabrics, leathers, lacquerings, and marbles to assure the final product will be a wonderful example of Italian custom-made furniture.
Book an Italian Furniture Shopping Tour with Esperiri today. Your trip will be curated and guided by our local design professionals. Bring Made in Italy furniture home, wherever you live. We will manage global shipping and furniture assembly, so your experience will be easy and efficient. Consult us for a tour quote and explore Italy through designer furniture!
Handcrafted Italian Furniture
One of the most iconic of 20th century Italian furniture design is the handcrafted and hand-painted 1978 Proust armchair by Alessandro Mendini. Mendini reinterpreted existing designs with updated features. The wooden frame was hand-carved and hand-painted as well as the matching multicolor fabric upholstery covering the cushions. This becomes like a work of art, with the painting extended to the frame.

The Proust armchair is currently available in a multi-color pointillist brushstroke or geometric design by Cappellini, which inherited the design in 1993. A version of this chair is in the permanent collection at the Philadelphia Museum of Art. There have been several other variations on the chair over the years, but these two remain the most iconic.

Hand-painted design furniture and products give an artistic flair to your home interiors. One of the finest Italian luxury fashion houses, Dolce & Gabbana has partnered with an Italian manufacturer of high-end kitchen appliances SMEG. Sicily is my Love is a project that brings the story of Made in Italy together with appliances for the home. These are exclusive luxury products, keep in mind. The products include hand-painted refrigerators, toasters, juicers, coffee machines, kettles, blenders, and more.

The designs are not only colorful symbols of Italian flair, but Sicilian folklore. These decorative aspects from lemons, prickly pears, red cherries, to Mount Etna reveal the aesthetic of Domenico Dolce and Stefano Gabbana.

Another familiar name for handcrafted quality is Ceramica Bardelli. This brand brings art and craftsmanship quality to their ceramics. The artistic vision is brought to its best light with this commitment to tradition. By collaborating with wonderful artists and designers, the products offer yet another angle of beauty and individuality. There are several Fornasetti features including Tema e Variazioni and Libreria among many others.
Dimorestudio and Marcel Wanders have also collaborated to create ceramics for home interiors.
Richard Ginori has a long history with beauty. Beginning in 1735 in Doccia (outside of Florence), a porcelain factory started. Ancient traditions and modern influences were both utilized in creating sculptures and other decorations. Gio Ponti was the creative director from 1923-1933. Flash forward to 2013, when Gucci acquired Manifattura Richard Ginori. It remains an important name in porcelain and the creative direction will surely lead it into a future filled with success.

Explore more Italian Furniture Online:
If you are shopping for home appliances or luxury interiors, look no further than Made in Italy. Esperiri will help guide your way through each step of the shopping process, including shipping and assembly. It's never been easier to bring high-end Italian furniture and appliances into your home! Explore more with Esperiri as your personal guide on a Furniture Shopping Tour. Get started today with our Innovative Questionnaire.
Shop, experience, and discover Italian designer furniture with Esperiri!