Cassina Dining Tables
Posted on 09 December in Italian Home Design
Italian Furniture Guide, mix&match, Italian interior design, Best Italian Tables, furniture design, Best Italian Designer tables, Italian Furniture Prices, Best Italian Table Brands, Design Inspirations, Luxury Dining Room Furniture, Interior Design Inspirations, Luxury Dining Room Design, moodboard interior design, High End Dining Room Furniture, Cassina Furniture, Cassina, Cassina Inspirations, Modern Dining Room Design, Cassina Compositions, Italian Design, Italian Dining Room
A symphony of fine surfaces and rounded shapes. Craftsmanship that generates beauty and refinement, this is what characterizes Cassina's dining tables. Esperiri is pleased to suggest three new furniture solutions to show you the variety of compositions that Cassina's dining tables offer.
Mix&Match: Cassina Dining Tables
Cassina, a world leader in iconic Italian design, offers a collection of dining tables that reflects the authenticity and quality craftsmanship that make its products so unique. All of the most appreciated designers, from Le Corbusier to Philippe Starck and Gerrit Rietveld, have worked in partnership leaving their contribution making storage furniture, bookcases, chairs, sofas and last but not least, tables. 
Designed by Patricia Urquiola, Sengu dining table is an oval or round table that, thanks to the layering of materials and shapes, acquires a carefree and monumental feel.  
For an outdoor setting, the Dine Out dining table designed by Rodolfo Dordoni is ideal to fit into a lively and playful context. The conical base and terrazzo finish give it a sculptural look without losing lightness.
With its two graphic elements in the characteristic "V" shape, the Capitol Complex dining table is a tribute to Pierre Jeanneret and his collection designed for the Legislative Assembly Building in Chandigarh.
For each of the three Cassina dining tables, we made a careful selection of materials, textures and estimated a final price. And with the aim of showing you possible compositions with other design products of Italian brands, we have developed three illustrations that present three different styles of dining rooms, but the variety of compositions is endless and Esperiri is here to help you create the right Mix&Match according to your taste.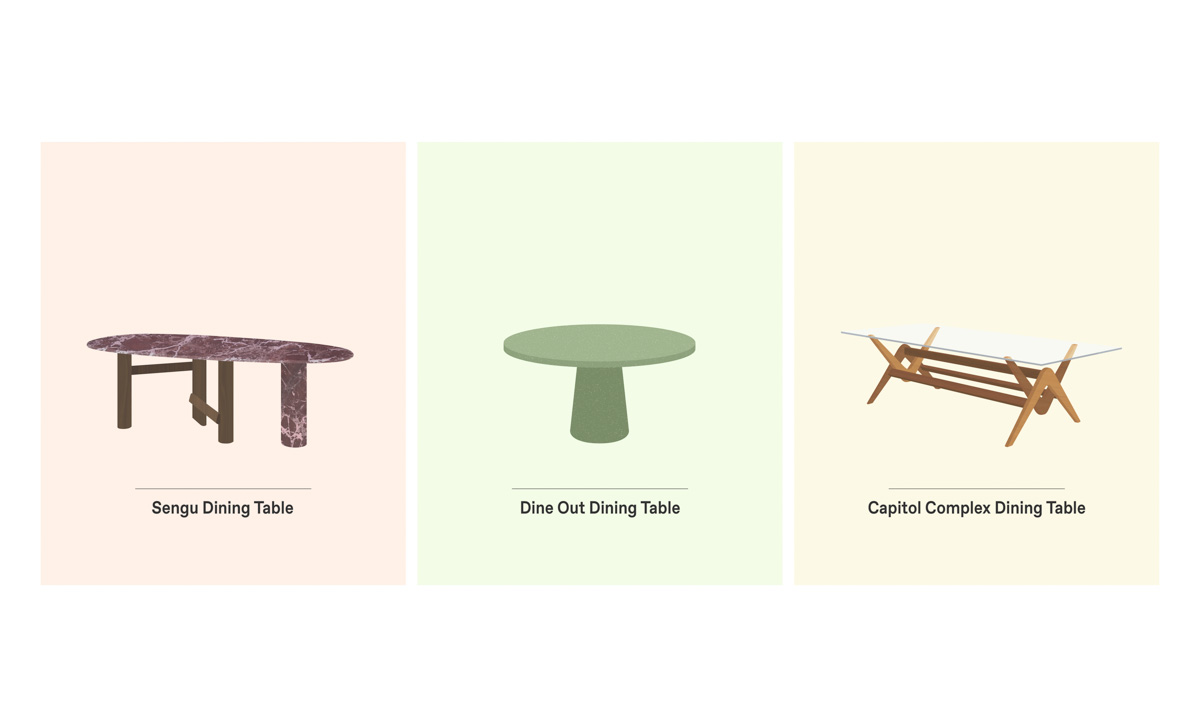 SENGU Cassina dining table
Patricia Urquiola transfers the poetry and conviviality of the Sengu sofa collection to the dining room, recalling the Japanese ritual of the perennial construction and reconstruction of shrines over the years. Sengu dining table is an almost monumental element that celebrates conviviality through poetic dialogue, emphasizing the union of different materials that together express great visual tactility.
The Sengu dining table is characterized by a structure in solid Canaletto Walnut wood with an oval leg that is connected by one or two cross pieces to the two cylindrical legs, while the top is combined with a column of strong presence in Rosso Levanto marble. Thus composed, in the oval size 230 x 116 cm, the table reaches a total price of 11,560 euros.
With the aim of celebrating carefree cheerfulness through the dialogue between different materials, we have selected furnishings that contrast with the monumentality of the Sengu dining table. A linear and essential chair, the Neptunia chair designed by B.B.P.R. in 1953 for Arflex, a functional metal container with a mechanical look, the Perf designed by Diesel Creative Team for Moroso and the Pandora Light hanging lamps for Tonin Casa.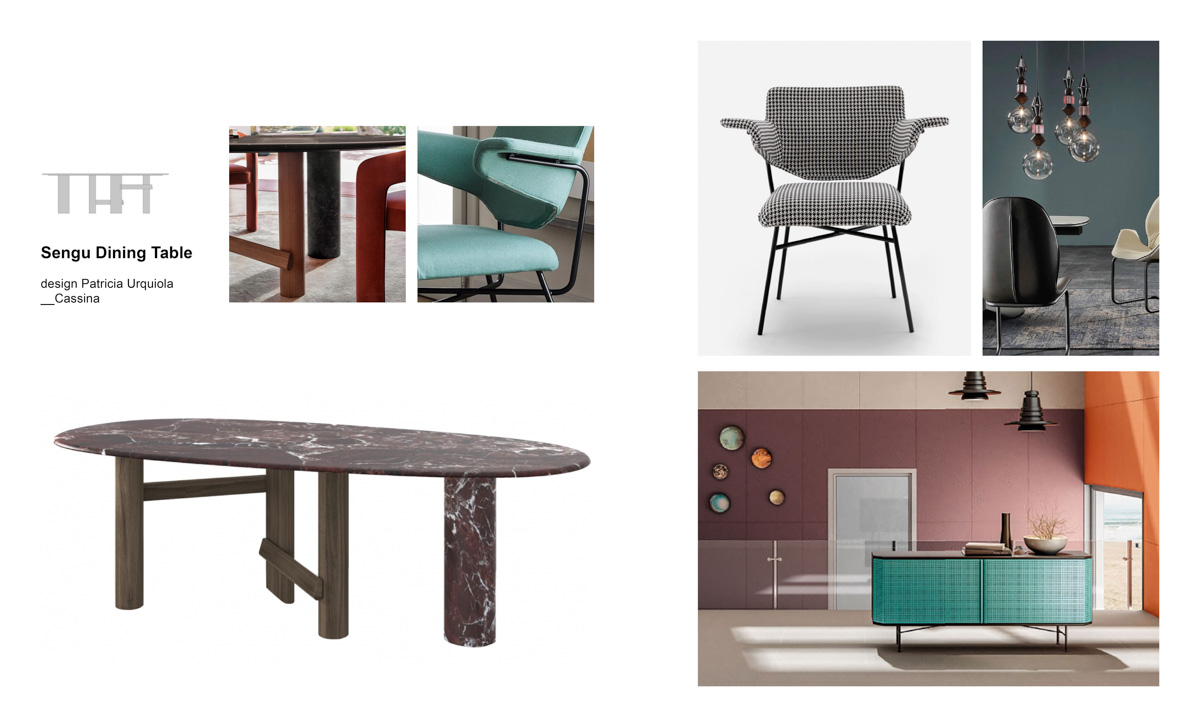 Shades of pink and light blue tell of a bright and delicate, welcoming and precious environment. We like to imagine that a young couple lives in this house, wishing to isolate themselves from the hustle and bustle of the city and build their nest in the peace and quiet of a parquet floor, a cc-tapis rug and tissue paper effect walls.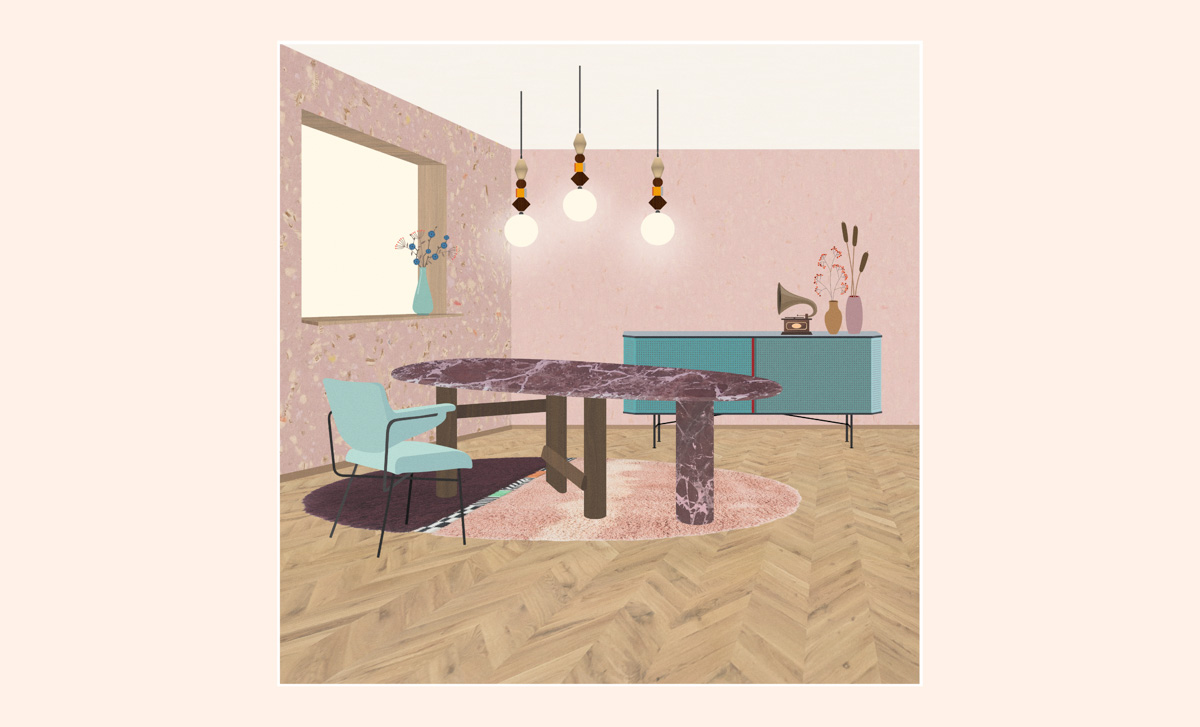 DINE OUT Cassina dining table
After months of imposed  isolation in our homes, the desire to get out and enjoy the sun is stronger than ever. This is how Cassina presents the Perspective Goes Outdoors collection, which includes the Dine Out series designed by Rodolfo Dordoni, composed of a stackable chair and a matching dining table with a shapely conical base. Available in rectangular (in two sizes) or round versions, the Dine Out dining table cleverly mixes materials: the bases can be in concrete or terrazzo and the surfaces in teak or terrazzo. 
This round table, with a diameter of 140 cm, is made of green and white terrazzo stone and is priced at 4,225 euros.
To add to and emphasize the lively personality of this Dine Out table, we chose equally playful outdoor furniture, the Tropicalia chair designed by Patricia Urquiola for Moroso, the Swing hanging seat by Paola Lenti and the Trilly hanging lamp by Martinelli Luce.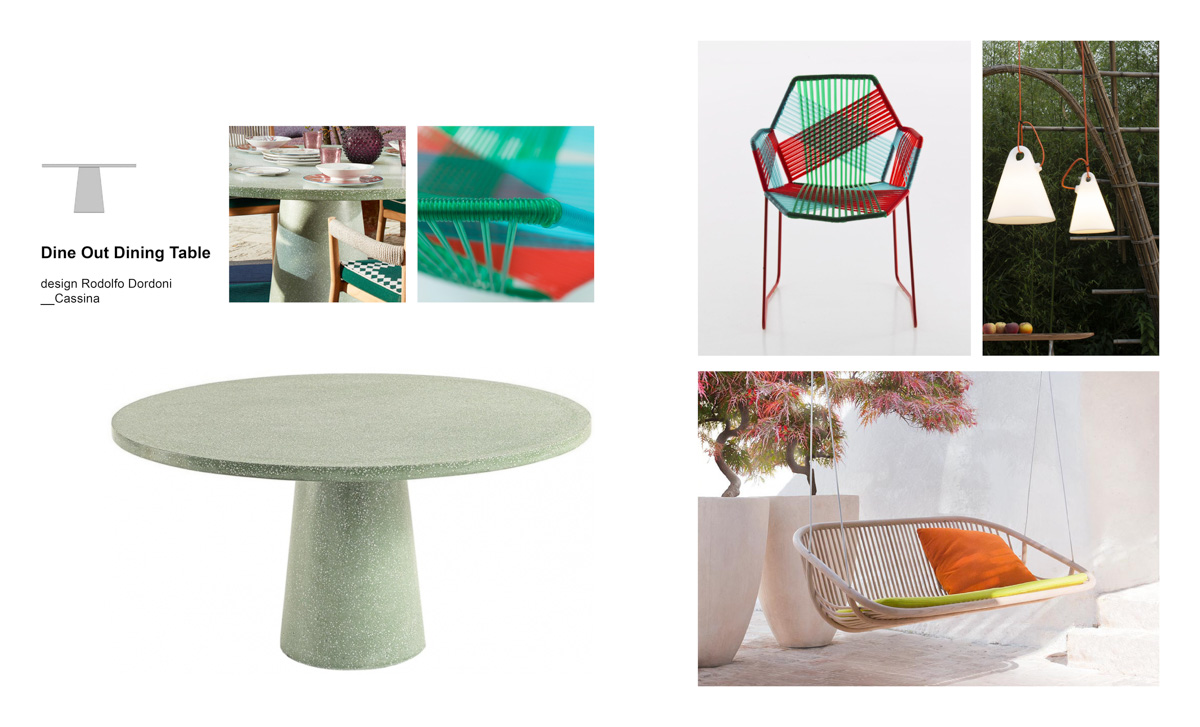 This second room is developed in a wooden veranda outside a full-height sliding glass window that brightens a house with a minimal and contemporary style. We imagine a house with essential shapes and colors that, however, when you move into the outdoor space, explodes with colors and personality, with tropical plants and eccentric furnishings.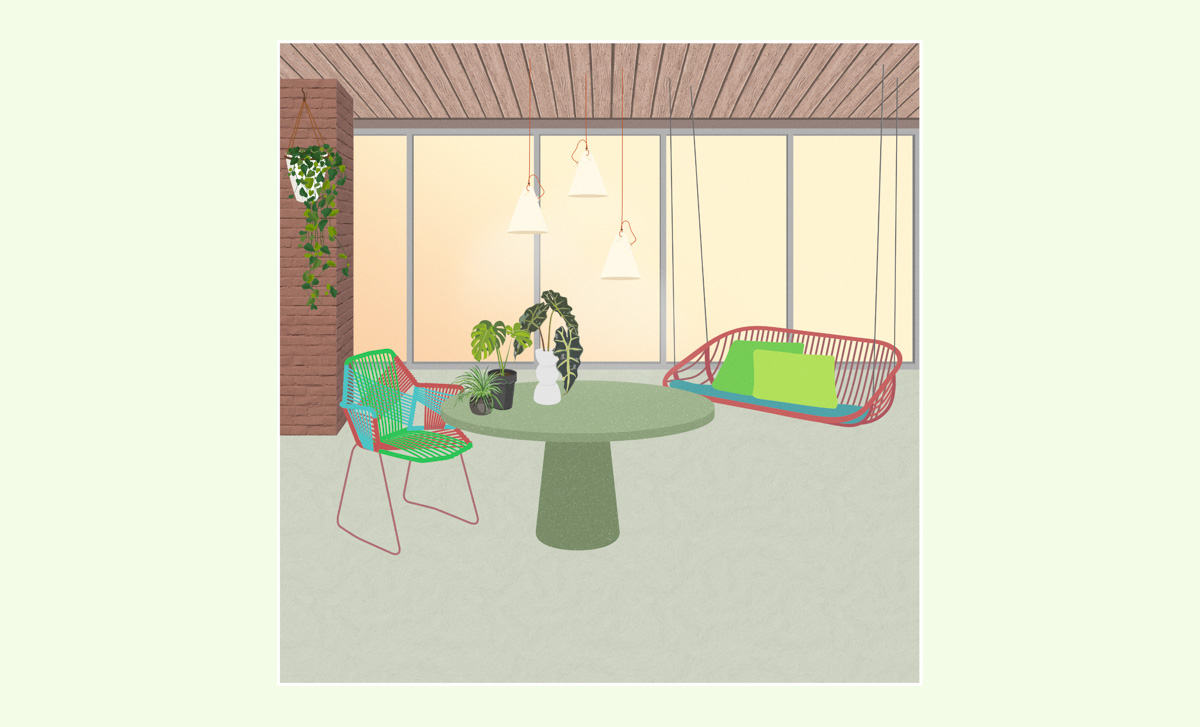 CAPITOL COMPLEX Cassina dining table
A tribute to Swiss architect and designer Pierre Jeanneret, reissued by Cassina thanks to the expert workmanship of its carpentry workshop in Meda, the Capitol Complex dining table was conceived between 1963 and 1964 when Pierre Jeanneret was largely responsible for the interior design and in particular the design of the chairs for the Capitol Complex government building designed by Le Corbusier. Characterizing all the furniture in the collection, the designer proposed a particular compositional pattern that is often repeated in the rounded "V" shaped supports.
The Capitol Complex dining table, in the dimensions 270 x 130 cm, consisting of a structure in natural stained oak and a glass top, reaches a total price of 6,510 euros.
The extraordinary essentiality of the forms and the quality of craftsmanship in wood processing that characterize this dining table are echoed in the selection of furnishings that make up the third room. Arrangements, a hanging lamp composed of geometric elements, designed by Michael Anastassiades for Flos, the Ginger Ale chair designed by Roberto Lazzeroni for Poltrona Frau and Antigua cabinet designed by Luca Nichetto for Wittmann.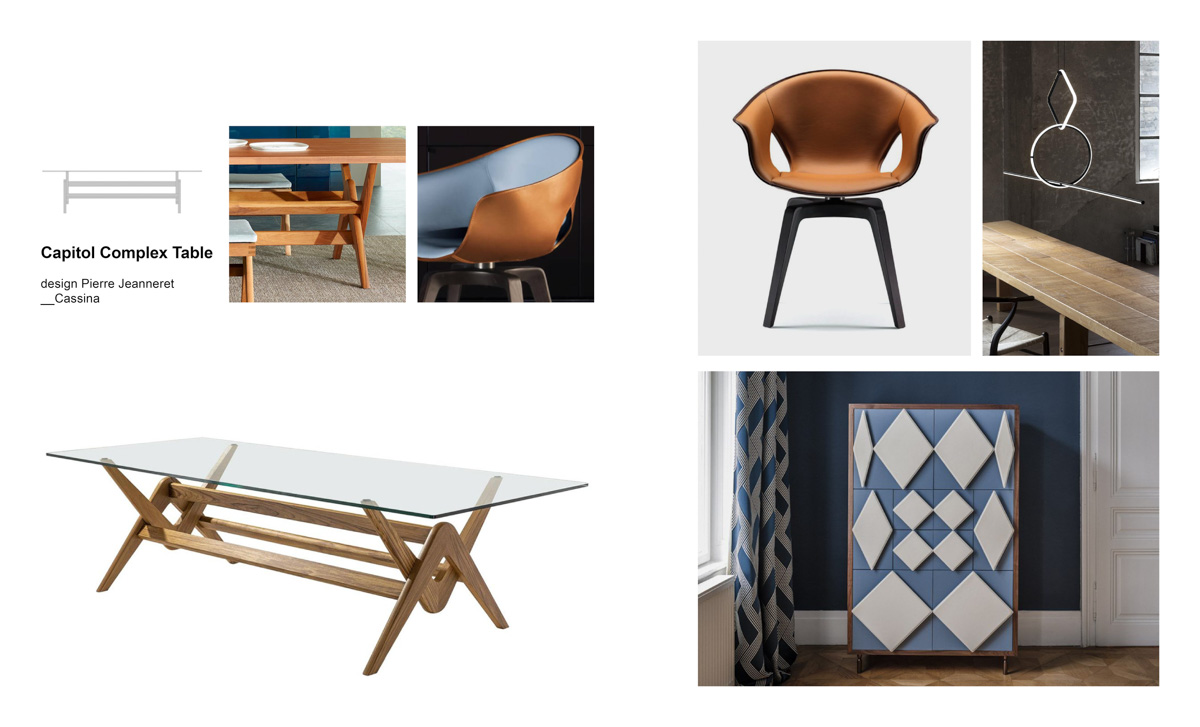 The last room tells of a luxurious and sophisticated style, consisting of fine stone for the floor while a combination of wallpaper and full-height wood boiserie paneling is what enhances the walls. The refined and elegant furnishings play with modernity through simple and linear shapes, but in relation to the classical character of the environment in which they are inserted.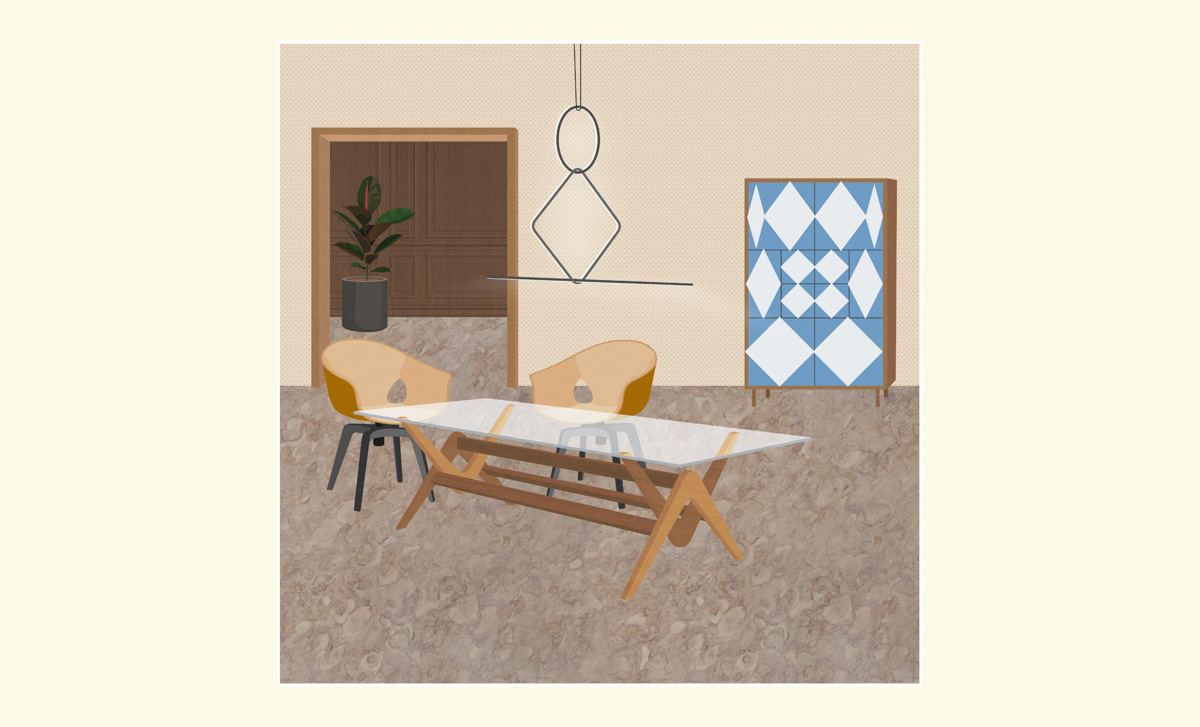 Discover Cassina dining tables
Discover the real Italian design by consulting our catalog of Italian designer furniture and our careful selection of Italian designer tables: with our service you will find the right inspirations and the most suitable furniture for your needs.
If you are looking for new ideas for your home, discover our proposals for Italian dining room style. You will find many tips, images and suggestions created by our designers to show you how to furnish the rooms of your home in an original and unique way.
With us your interior design project will have no limits! Rely on our services of Italian Interior Design, Italian Furniture Supply and Online Interior Design to build the home of your dreams.
Your unique Interior Design Project developed by Italian Professionals.
Discover and shop Made in Italy while living the Italian lifestyle in Milano.