Molteni&C|Dada Kitchens
Posted on 26 February in Italian Home Design
italian kitchen brands, modern Italian kitchen, Italian kitchen, kitchen brands, furniture design, Italian Furniture Prices, Italian Design, luxury Italian kitchen, Kitchen Design, dada kitchens, Italian Furniture Guide, molteni kitchens, Italian interior design
Whether you're looking for inspiration, or simply want to swoon, the latest Molteni kitchens create striking spaces that blend aspects of contemporary design with looks that will never go out of style. Here we explore their latest 2020 collection.
Molteni Kitchens: What Makes a Modern Kitchen?
Often the busiest room in a house, the kitchen is a focal point where the family enjoys meals and dinner party hosts chat with guests. Think of it as a stage on which an intimate atmosphere is created that makes everyone feel at home. Therefore, you'll want to fit it with the kind of luxury worthy of the ambience you have in mind.
Luckily, the latest creations from Dada kitchens are imbued with exactly that luxurious ambience. Signed off by the company's creative director Vincent Van Duysen and guest designer Francesco Meda, its 2020 collection embraces innovative design solutions for contemporary living, featuring domestic spaces that are versatile, multifunctional, and perfect for a multitude of different spaces.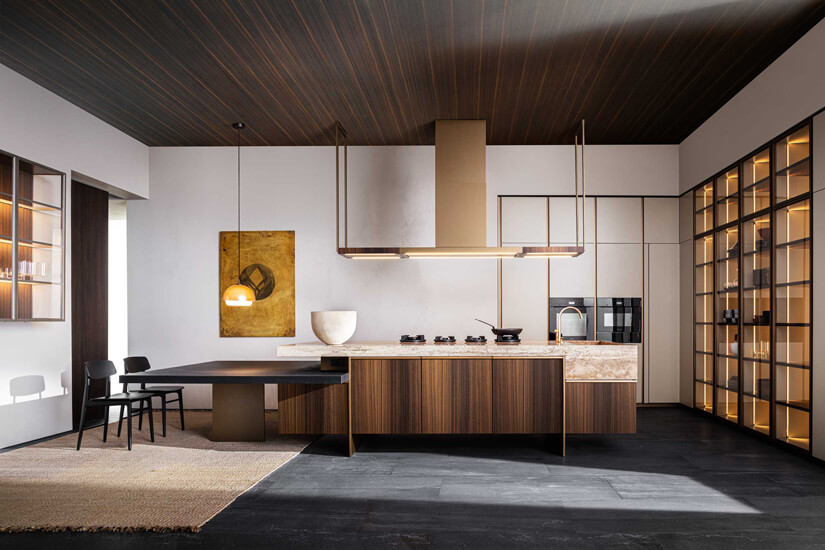 Ratio Kitchen: Vincent Van Duysen signs off the latest Molteni Kitchens
First up is the Ratio kitchen by Vincent Van Duysen, a modular design with style and elegance in equal measure. Characterised by wooden paneling and marble surfaces, Duysen has devised a series of industrial compositions made up of various accessories which attach to a seek metal frame.
Onto a basic architecture defined by metal grids, customers can attach additional wall units, columns and hoods as well as other accessories including snack counters, minimal stove tops, sinks, and empty volumes for storage and display of utensils.
Ratio is equipped with slatted doors and internal lighting, which integrate the handles with profiles of the same thickness, designing a decorative frame that gives rhythm to its structure. In addition to traditional linear compositions, corner solutions, central islands and accessory units make it possible to achieve the desired vision.
Meanwhile, the material palette satisfies the most discerning of users with sophisticated woods like Mooreiche oak and black palm, which balances the natural stone of georgette marble and rapolano travertine. All of this is interspersed with sophisticated bronze aluminum accents.
Intersection: Seamless geometry by Vincent Van Duysen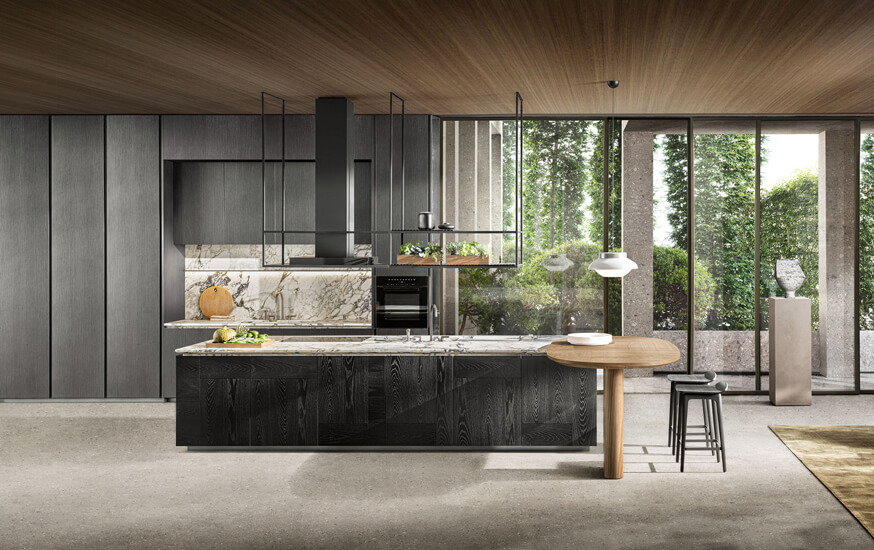 Next up is Intersection Dada kitchen, an expressive kitchen collection that interprets architecture and redefines its proportions. With sculptural finesse, Van Duysen has designed a series of elements that play with light and shadow, mixing solid marble worktops and black wood.
In place of smart modular solutions, as seen in Van Duysen's Ratio collection, Intersection carries with it a dominant structure that makes it suitable for a larger space. As given away by its name, the kitchen's various surfaces intersect and, depending on your spatial requirements, can be arranged to fit any existing kitchen layout. Combining generous units with customisable accessories, statement profiles are at once imperceptible and yet distinctly dominated by geometric proportions like the oak countertop, which merges seamlessly with the island.
Sistema XY: A unique flexibility by Francesco Meda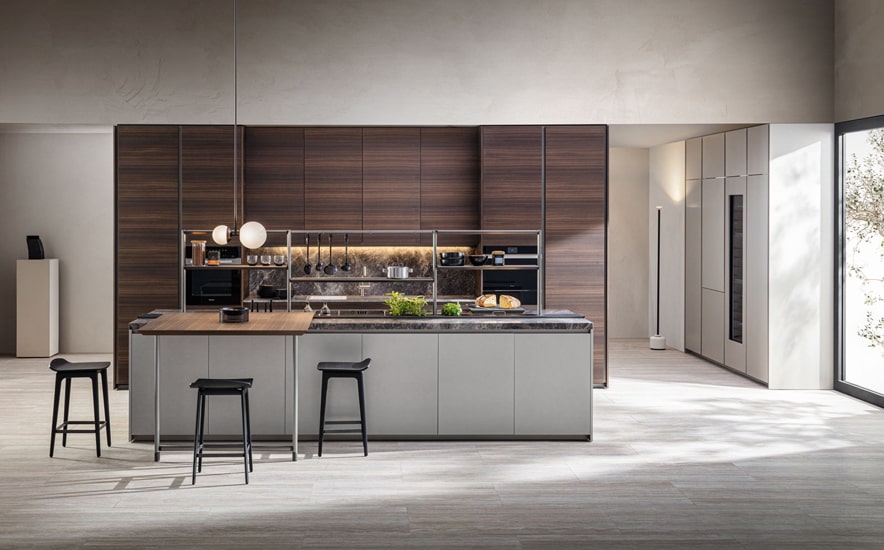 Milanese designer Francesco Meda has also created a modular system for Dada kitchen collection. This collection is similar in the way it adheres to a minimal level of ornamentation but yet a maximalist concept drives its design. When designing Sistema XY, Meda wanted to create an architecture that gave the vast amount of kitchen accessories a place to call home.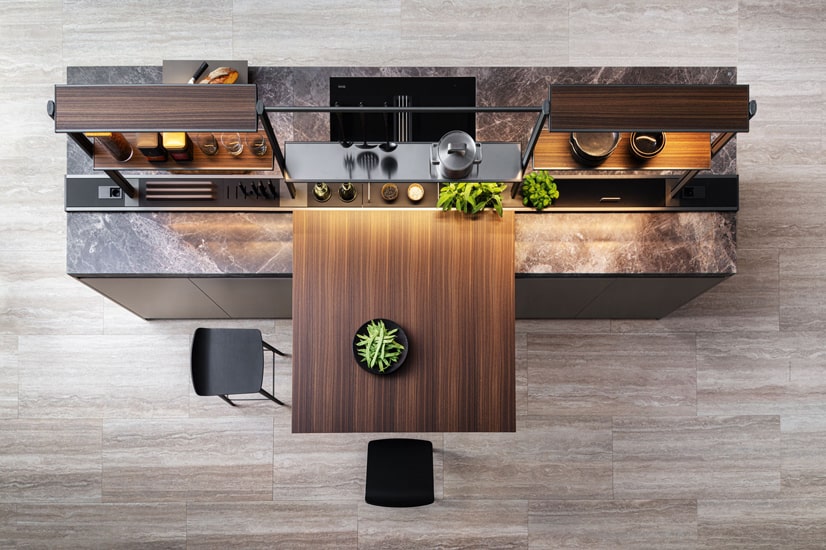 Furthermore, he wanted each one to be within easy reach. The result is a system of tracks on an X and Y axis that offers an impressive level of flexibility. Imagine it as a Cartesian plane, the configuration developed through various extruded aluminum profiles.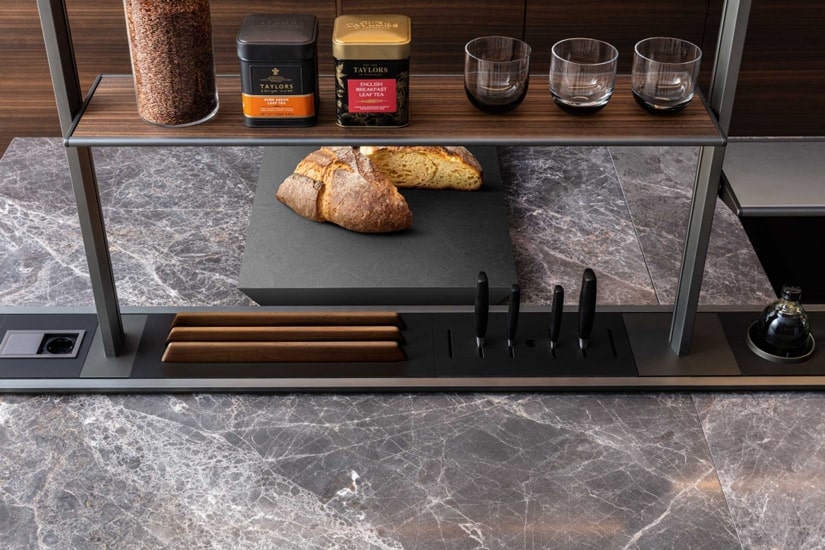 The basic "axis" of the design is a central accessorizable channel (compatible with other Dada kitchen models), featuring ad hoc spaces for items like knife holders, chopping boards, spices and condiments, eclectic plug units, extraction hoods and plate racks.
On the same track, uprights can be installed, also vertically, to support a system of aluminium shelves that can be finished in different materials such as wood or stainless steel.
Sistema 7: The perfect finish for Molteni Kitchens
In the interest of both space and retaining the beautifully streamlined design of its latest models, Dada kitchens has also unveiled the Sistema 7 wall unit, which boasts the same innovative opening mechanism used in the Molteni Gliss Master system.
At its core is a horizontal folding mechanism that enables the doors to be opened and folded back, aligned parallel to the adjacent compartment without occupying space in front of it.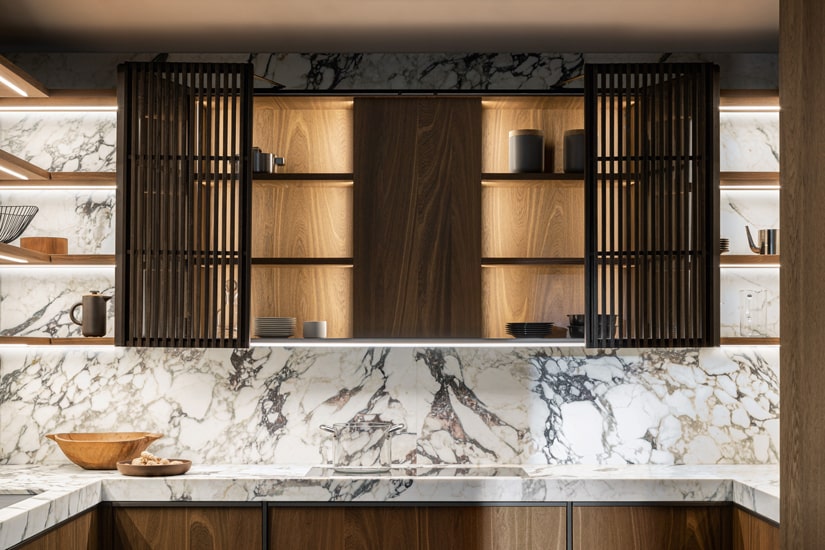 A slatted oak design with light proportions lends the Sistema 7 to all three kitchen models, echoing the minimalism of Ratio, adding extra depth to the geometry of Intersection, and further emphasising the utilitarian personality of the XY system by highlighting the kitchen's contents.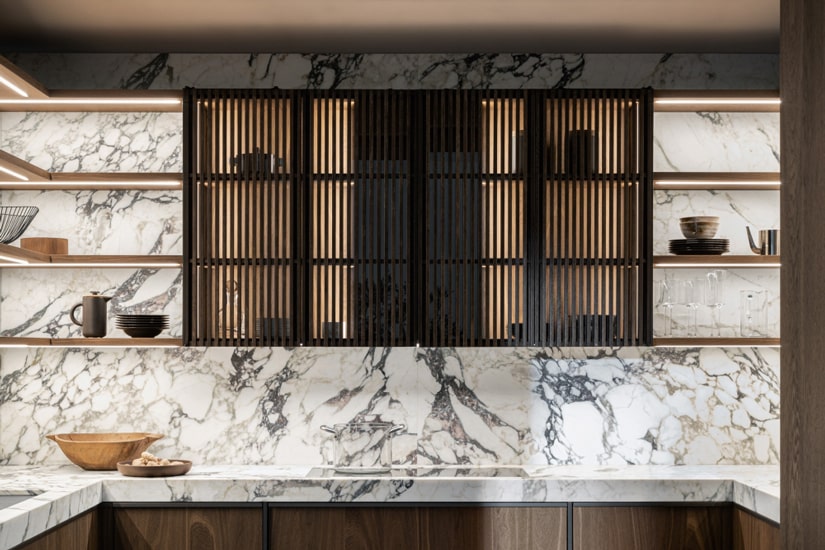 Armani / Dada presents Midnight
If straight up opulence is more your thing then Dada's latest collaboration with Armani has a new versatile bar cabinet with the utmost splendour. Designed as a "treasure chest", Midnight is a cocktail and wine bar with the option to include a mini-kitchen, encompassing aesthetic, modernism and functionality, all hallmarks of the Armani/Dada collection.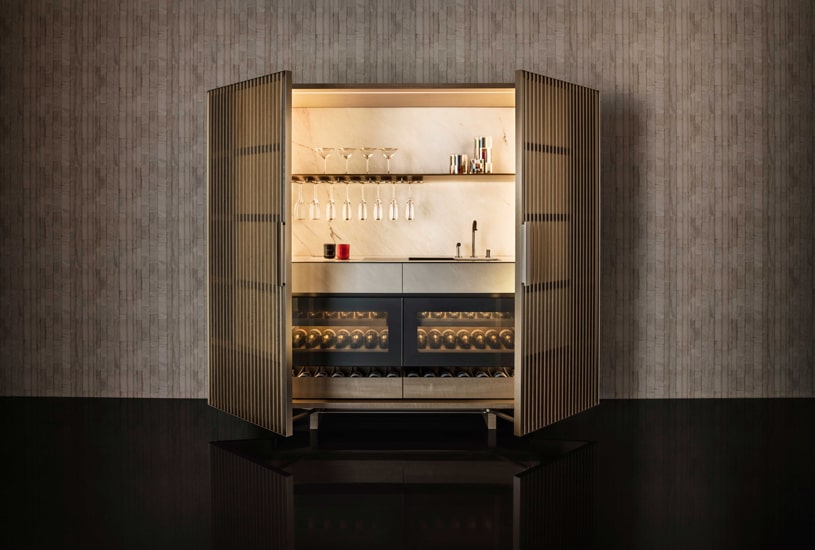 A clean, Japanese-inspired design features doors in a gilded bronze finish aluminum with vertical rod inserts in aniègre frisé-textured, and a satin aluminium finish in a champagne hue. Perfect for compact spaces that you want to make a big impact, Midnight uses a patented mechanism that allows its doors to sit alongside the unit without occupying additional space.
Molteni&C|Dada Kitchens
Beyond its latest unveilings, Dada kitchens has an extensive collection of kitchens that are some of the best when it comes to modern and contemporary design. With experimentation at the company's core, they are the result of intense research and testing, carried out in collaboration between the Dada Research and Development team and true experts like Vincent Van Duysen, Dante Bonuccelli, Nicola Gallizia and Francesco Meda.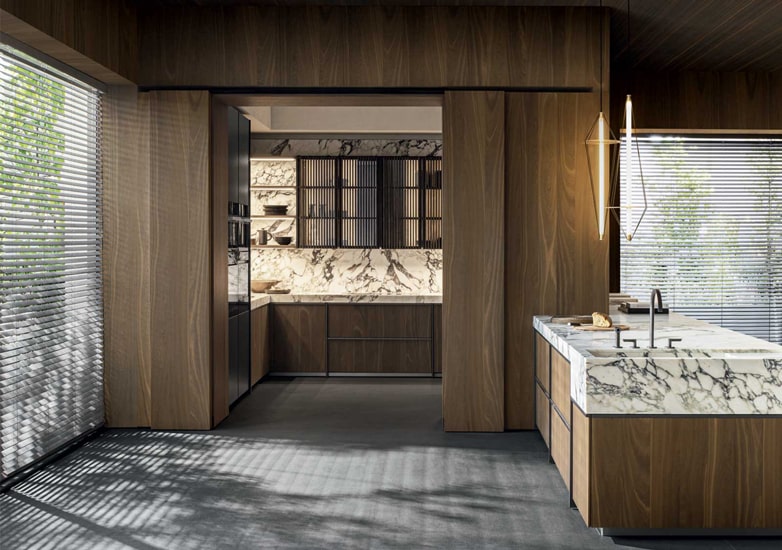 When designing a kitchen the possibilities are often infinite, a luxury that can prove difficult to navigate without expert support. If you feel inspired by the latest Molteni kitchens and would like help exploring your options, our interior designers can help create and configure your kitchen. By making the most of our interior design services, we can look after supply and installation too, making your vision for a contemporary kitchen or dream design a simple reality.
Discover Molteni|Dada Kitchens
Check out our catalog of Italian designer furniture and our careful selection of Italian Designer Kitchens to find out how to best furnish your home.
Start your journey into the world of interior design and discover our proposals for an Italian Kitchen Design: textures, materials, colors and finishes, you will find many ideas on how to design the kitchen of your home.
Together with us your interior design project will have no limits! Rely on our services of Italian Interior Design, Italian Furniture Supply and Online Interior Design to build with us the house of your dreams.
Your unique Interior Design Project developed by Italian Professionals.
Discover and shop Made in Italy while living the Italian lifestyle in Milano.