Air purifiers and accessories for Luxury Wardrobes
Posted on 09 May in Italian Furniture Online
Italian wardrobe design, Designer italian wardrobes, Italian fitted wardrobes, Italian wardrobe, Wardrobe design, Fitted wardrobes, Luxury wardrobe design, Wardrobe accessories, luxury wardrobes accessories, walk-in closets accessories
Solutions to customize Luxury Wardrobes with Accessories and air purifier systems. Made in Italy proposals for Luxury Wardrobe Design.
Luxury wardrobes and accessories to customize them
We know how much both wardrobes and walk-in closets are essential to our homes. Everyday essentials to store clothes and reorganize our home space. In a wardrobe, functionality is as important as style. An aspect that each user interprets in a different way, according to their needs. That's why in interior design we generally talk about custom-made wardrobes with customized accessories. Even for the most famous Italian brands of luxury wardrobes, accessories are the main component, thanks to the versatility they guarantee.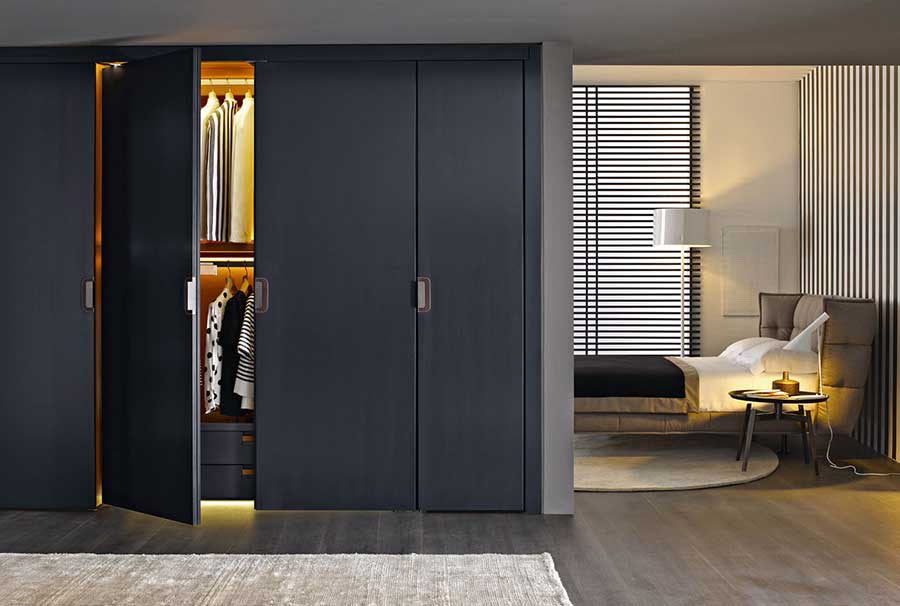 Solutions and systems for luxury wardrobe design
In the planning of a luxury wardrobe both practicality and design have the same importance, because it has to be configured according to specified requirements. Porro furniture, one of the leading Italian companies in the production of luxury wardrobes, offers in its catalogues a wide variety of accessories, which configure the wardrobe or walk-in closet.
The Storage collection designed by Lissoni responds precisely to these characteristics of customization of the product. Starting from the standard module, which corresponds to the height and width of the wardrobe, the internal accessories of the cabinet allow for countless compositions.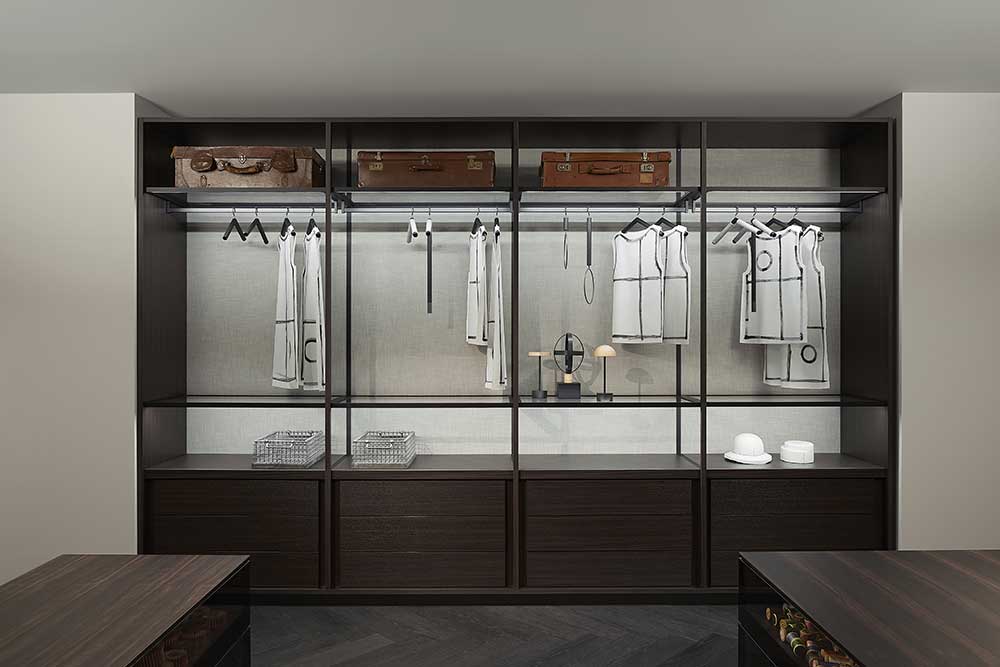 Shelves, clothes hanger rods and drawer units are the basic accessories to be composed at will. The same variety of choice applies to the finishes as well. The drawers, for example, in veneered wood, can be in various colours and finishes with fronts and sides also in glass. You can also customise the clothes hanger rod in white, cuve, black or ash metal. All details that contribute to define the quality and design of a luxury wardrobe.
Drawers and pull-out compartments to compose the wardrobe
What makes design cabinets really functional is the internal equipment, which helps rationalize space. Boffi, the Italian brand famous for its systems, offers solutions to organize wardrobes and walk-in closets. Such as the Antibes system, the configurable wardrobe par excellence. To compose it, in addition to the horizontal shelves, you can choose inclined tops, useful as shoe racks, or shirt trays and removable trouser racks.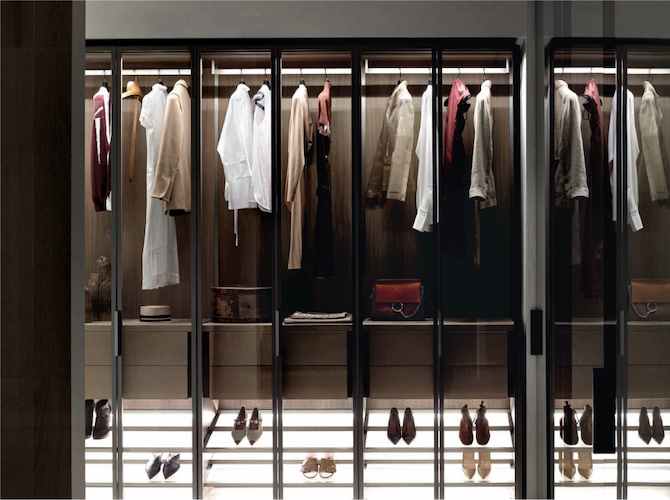 Porro's Storage collection also focuses on customisation with accessories, thanks to sliding trays and shelves designed to act as racks for sweaters, bags, trousers, shoes and laundry.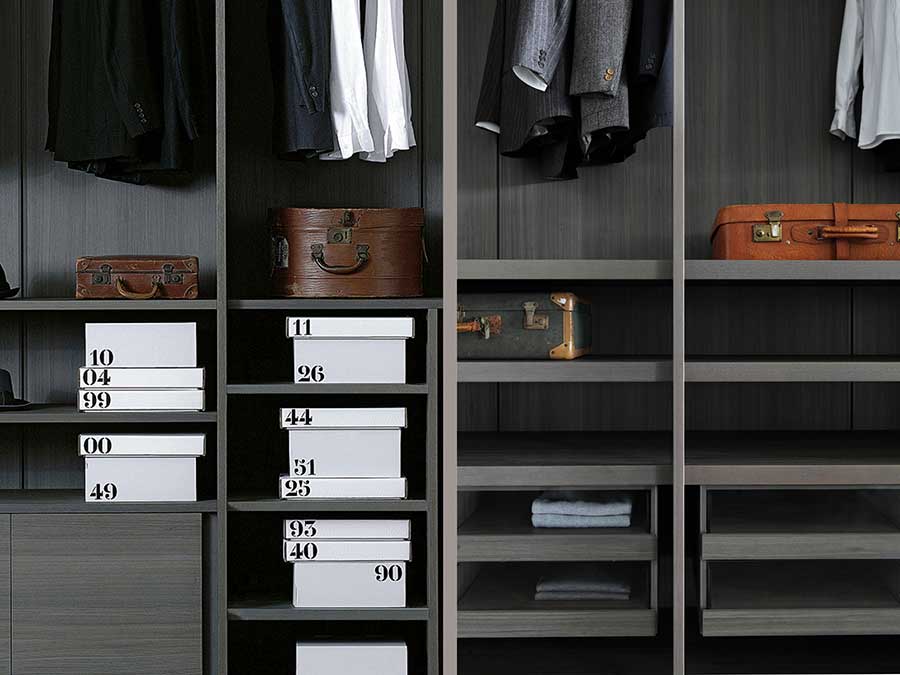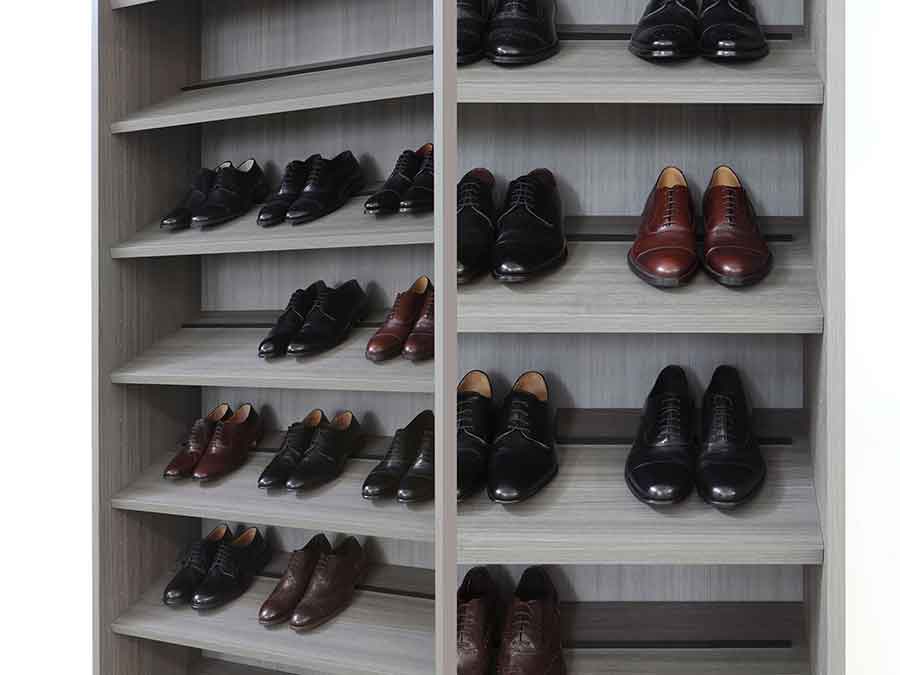 A rational and luxurious internal organization is also proposed in the Cover collection by Rimadesio with a rich variety of elements to freely configure the wardrobe. Base units, shelves, clothes rods and drawers of different sizes and pull-out tops to arrange ties, belts or watches.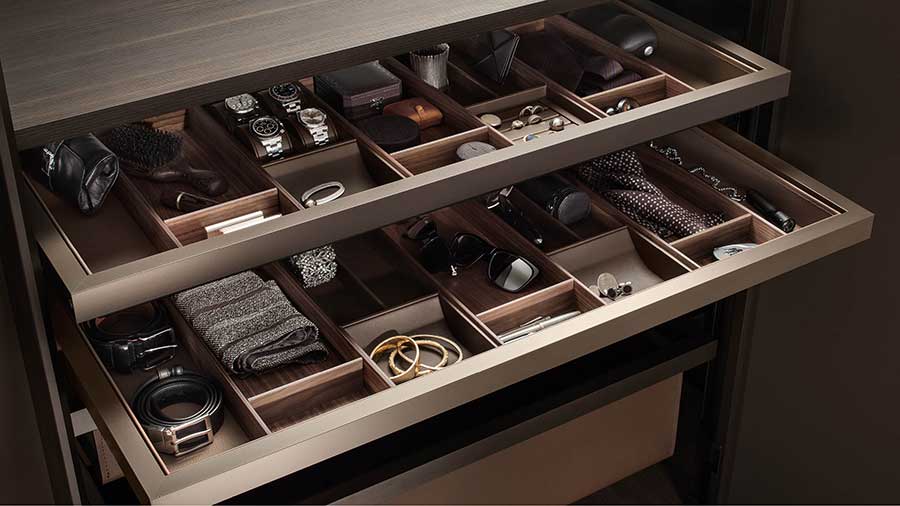 Everything for an impeccable organization that allows you to organize both men's and women's wardrobes, each accessory comes with fine finishes. Like the pull-out shelf and divider in imitation leather or the container in walnut essence. High quality finishes such as the suspended chest of drawers with leatherette top or mirror finish. Small details that embellish the design of the luxury wardrobe.
Walk-in wardrobes: accessories for interior organisation
As for wardrobes, luxury walk-in closets accessories are essential. In its version without doors, Gliss Master by Molteni&C, is the solution to organize the dressing room.
The collection allows you to customize the interior by combining the accessories. Hanging chests of drawers and sliding storage trays to be composed, together with sloping shoe shelves. But also storage compartments and drawers equipped with dividers.
Functional shirt holders to be placed on floor-standing or suspended drawer units and convenient pull-out hangers, as well as a retractable mirror. The finishes of Gliss Master are also refined. Like those on the top of the Master drawer units, in transparent glass and aluminium painted Pewter and Bronze or the shelves for accessories such as tie holders and jewellery holders with ruby and grey "eco skin" finishes.
Opening system to better manage space
When talking about designer wardrobe accessories, one has to think about the elements that determine their quality and contribute to the design of the luxury wardrobe. One of these elements is the opening system. The Backstage collection of B&B Italia, for example, is equipped with full-height doors with a simultaneous opening system. A mechanism patented by B&B Italia that allows the doors to rotate. This offers greater accessibility to internal compartments and reduced bulk when the door is open.
Gliss Master by Molteni also proposes an innovative cabinet opening: System 7. A patented mechanism that allows the doors to fold back on themselves and align with the adjacent compartment without taking up space. The doors move effortlessly from the initial seat to the side of the compartment, so the Gliss Master wardrobe or cabin becomes fully accessible.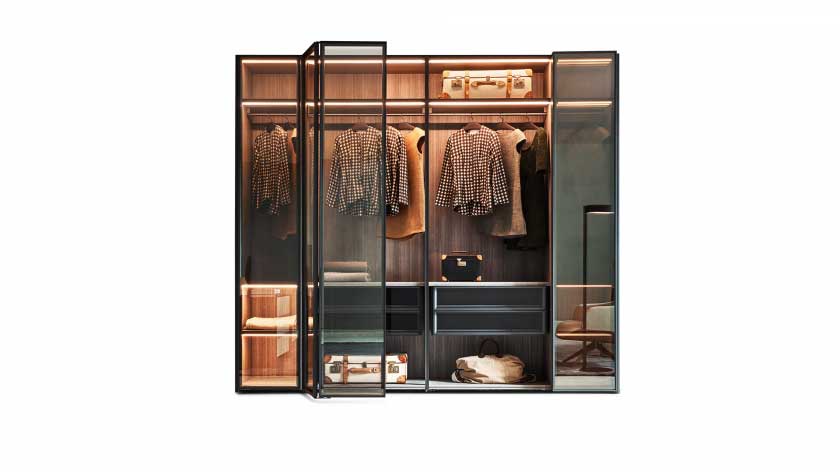 Cover di Rimadesio offers an equally exclusive system regarding the integration between doors and spatial context. The supportive structure of this system is fixed to the ceiling and floor without any intervention on the walls. This solution allows to make the best of the space available and to create equipped niches. In this luxury wardrobe, the accessories are fixed to the uprights without visible screws.
Air purifier systems to sanitize wardrobes and walk-in closets
How about a high-end cabinet that not only stores and protects your clothes, but also sanitises the air keeping out bacteria, mould and allergens?
This is possible thanks to an IOT system that Molteni&C has introduced to the world of wardrobes. This is Aircub, an air purification and scenting system that can be managed through a dedicated APP from your smartphone. The system is installed on the back of each wardrobe compartment. Then, thanks to an ionizing and ozonizing process, which can eliminate up to 95% of agents harmful to health, it spreads a good scent.
Another system for the purification of cabinets is REFRESH-BUTLER produced by V-ZUG available for Molteni&C cabinets but that can also be installed on any cabinet. This device can sit in the wardrobe or be installed in a free-standing version in the walk-in closet. It refreshes, sanitizes and dries your clothes and also steams out creases. Each device is equipped with UV lamps that activate photocatalysis and eliminate pollutants present in the air and on clothes. At the same time microholes release steam which refreshes and eliminates unpleasant odours from fabrics.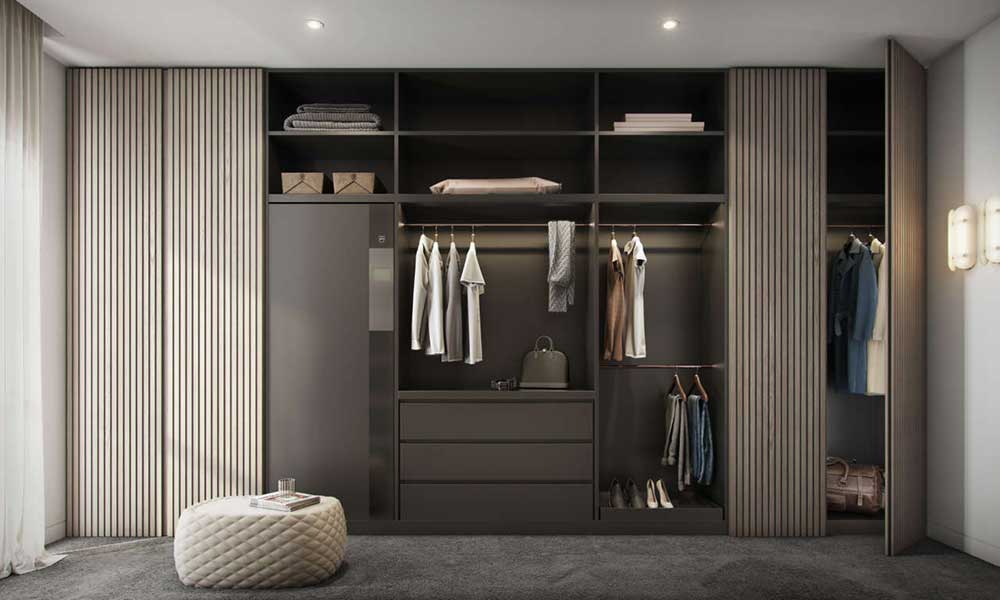 Interior lighting systems for luxury wardrobes
The scenic effect and practicality of a wardrobe are also increased by the interior lighting, which a luxury wardrobe design almost always provides.
Backstage of B&B Italia for example has LED lighting bars as well as Cover di Rimadesio which has integrated LED interior lighting.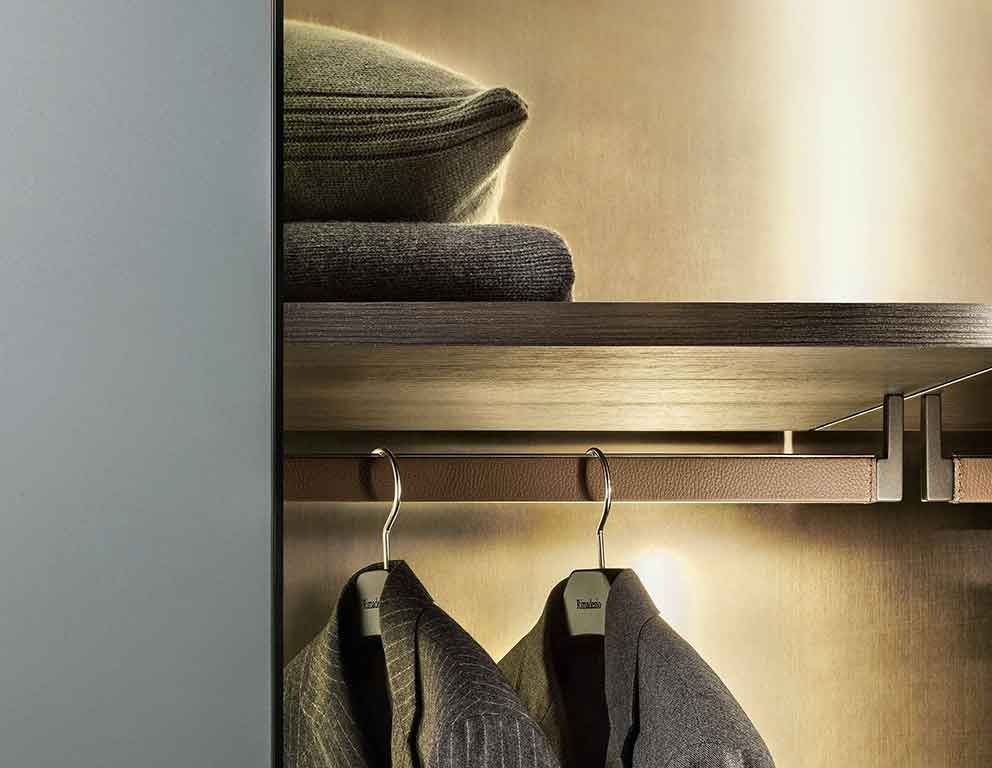 Also Antibes by Boffi has a lighting system in the back panels and on the shelves with recessed lights.
The same is true for Gliss Master by Molteni, which has LED lighting bars also available with motion sensors. The lights applied to the tops are also used to embellish drawers or outline luminous shelves.
Lastly, Storage by Porro comes with a lighting system that is fully integrated with the lighting points that can be positioned freely.  
It is clear that in every luxury wardrobe the accessories are freely configurable and the support of an interior designer can be invaluable in this regard. This is why our Italian interior designers are available to create and configure your wardrobe or your new walk-in closet, through our Italian interior design services.
In addition, if you wish to come to Italy to see with your eyes the collections of the best Italian design brands, we are ready to organize an exclusive Italian furniture shopping tour for you to discover design wardrobes. At the end of the design process, our skilled Italian craftsmen will take care of the installation of the selected pieces in your home.
Your unique Interior Design Project developed by Italian Professionals.
Discover and shop Made in Italy while living the Italian lifestyle in Milano.