Molteni Dining Tables
Posted on 29 April in Italian Home Design
Italian Design, Italian Furniture Guide, Italian interior design, furniture design, Italian Furniture Prices, Molteni&C, Molteni Furniture, Italian Dining Room, Best Italian Designer, Molteni Dining Tables, mix&match, Best Italian Tables, Italian Tables, Best Italian Designer tables, Best Italian Table Brands, Molteni inspirations, Design Inspirations, Interior Design Inspirations
Unparalleled attention to detail matched to an elegant and sophisticated design is what characterises the dining tables by Molteni. Thanks to their sinuous and essential shapes, they are able to make any type of environment unique. Three proposals in which to find refinement, high quality materials and modern style furniture compositions.
Mix&Match: Molteni Dining Tables
Always at the forefront of technological innovation, Molteni&C, one of the most important Italian brands in the world of furnishing, is constantly striving to find solutions that meet the constant changes in daily life.
A study of design and form which takes care of the smallest detail, obviously applied to all Molteni dining tables as well.
Filigree is a table that stems from the desire to create an object able to meet all kinds of needs. Designed by Rodolfo Dordoni, this table stands out for the sinuous shape of its structure, for the minimal thickness of its top and for an innovative technology that makes it possible to have an extendable table with an invisible telescopic side system.
In 2010 Foster + Partners designed a revolutionary table for Molteni&C. The idea was to experiment with a new material for the base structure: a compound of cement and elastic synthetic fibres, completely sustainable and with a low environmental impact. Arc Table thus incorporates different ideas, from the sculptural and architectural concept for the extremely plastic shape of its base to the technological one for the new techniques used for its realization.
D.859.1 is a table of imposing dimensions that attracts attention for its essential and refined style. Designed in 1959 by Gio Ponti, D.859.1 looks like an object that recalls the principles of architectural construction: a trapezoidal base becomes the structure and, like a real single-span bridge, supports a tapered and aerodynamic shaped top, giving the whole table lightness and modernity.
After a careful choice of materials, textures and finishes and after estimating the price positioning of each product, here are our three proposals of Molteni dining tables, to show you how to create the right Mix&Match of furniture for your home.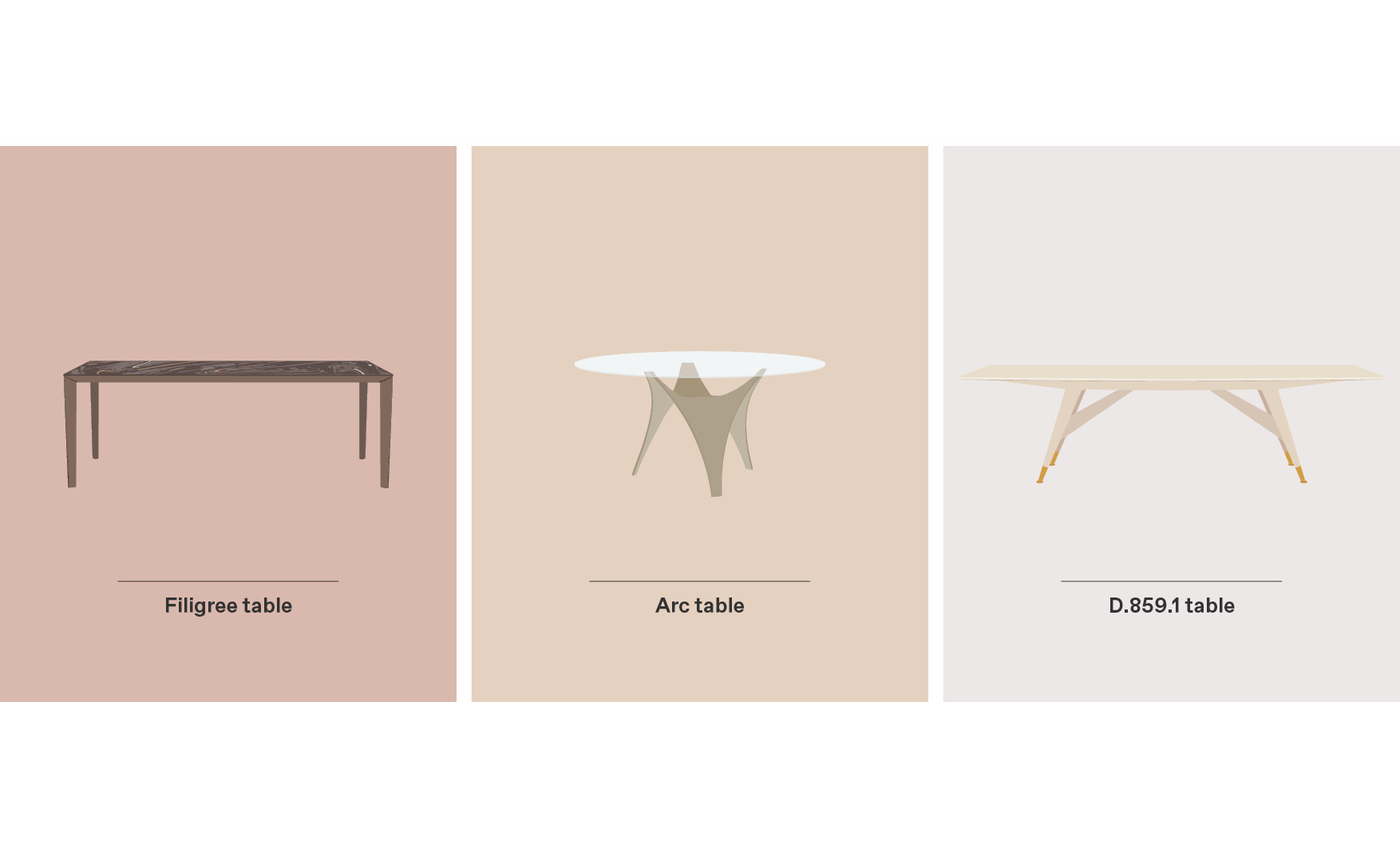 FILIGREE Molteni&C Table
A modern and elegant design, linear and simple shapes: these are the main features of Filigree. For this first composition we selected a 210 x 98 cm table, with an eucalyptus wood structure and a Dark Emperador marble top, arriving at a total price of 5.233 euro.
Continuing along the line of minimal design, we matched Filigree with Back Wing chairs by Cassina, Alcor sideboards by Maxalto in burgundy color and the pair of Aggregato hanging lamps by Artemide.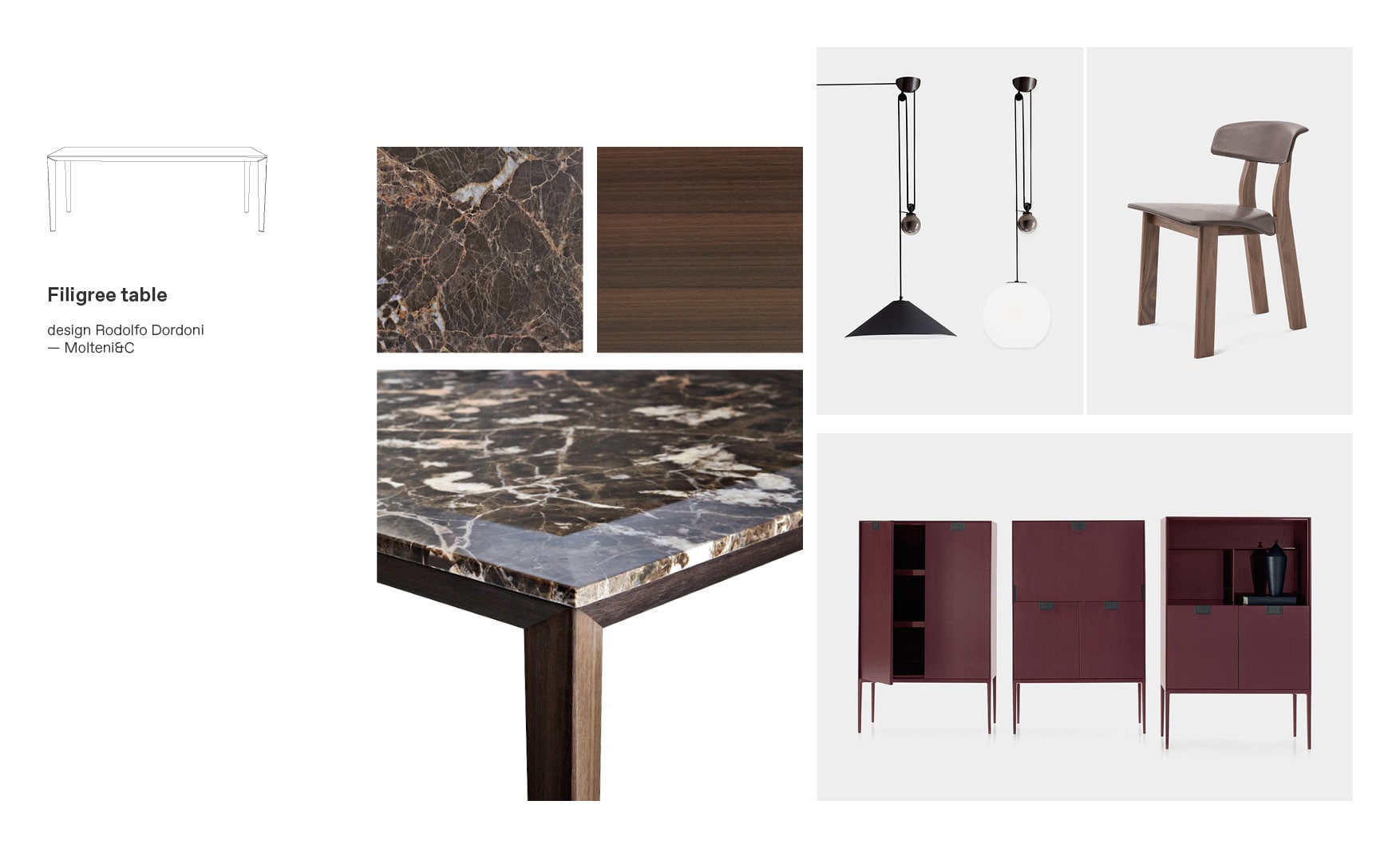 An environment with vintage colors but with modern and minimalist furnishings. A timeless mix&match that goes back in time, from those years when grit floors, bold colors and marble surfaces were in fashion to the sophisticated elements of the present day, with advanced technology and simple, linear forms.
From walls in contrasting colors to furniture with natural finishes, from floors with amber reflections to wine-colored cabinets, here for you a symphony of tones that can create a charming and timeless dining room.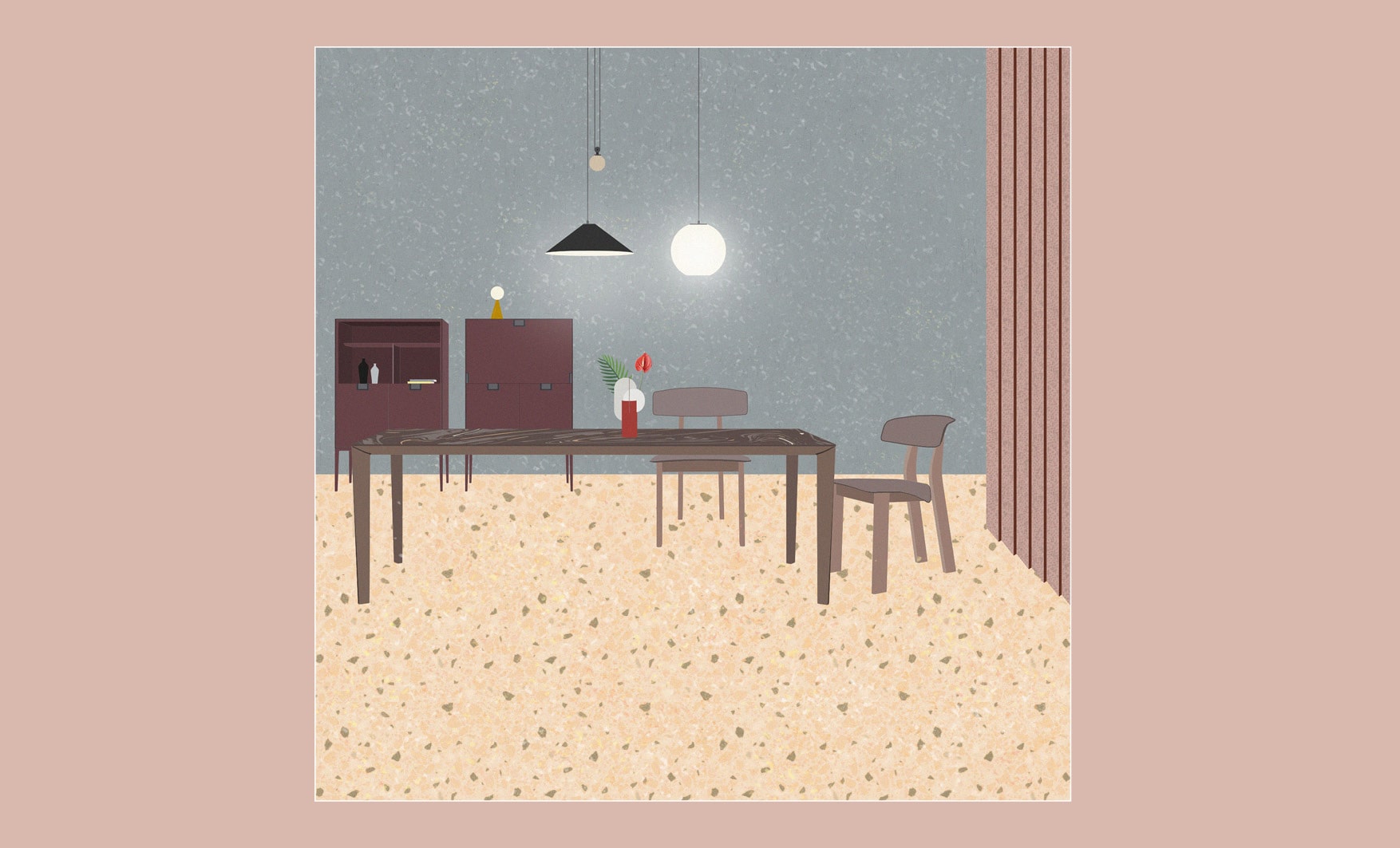 ARC Molteni&C Table
Like a refined sculpture, Arc becomes the protagonist of the room and the central point around which all the other furnishing elements revolve, from the Brianza chairs by Arflex to the suspended lamp Le Soleil by Foscarini, which with its irregular luminous bands creates a fascinating play of reflected and diffused light.
We decided to use bronze-colored cement for the structure and extra-clear transparent glass for the circular top with a diameter of 150 cm, arriving at a total price of 3,108 euros.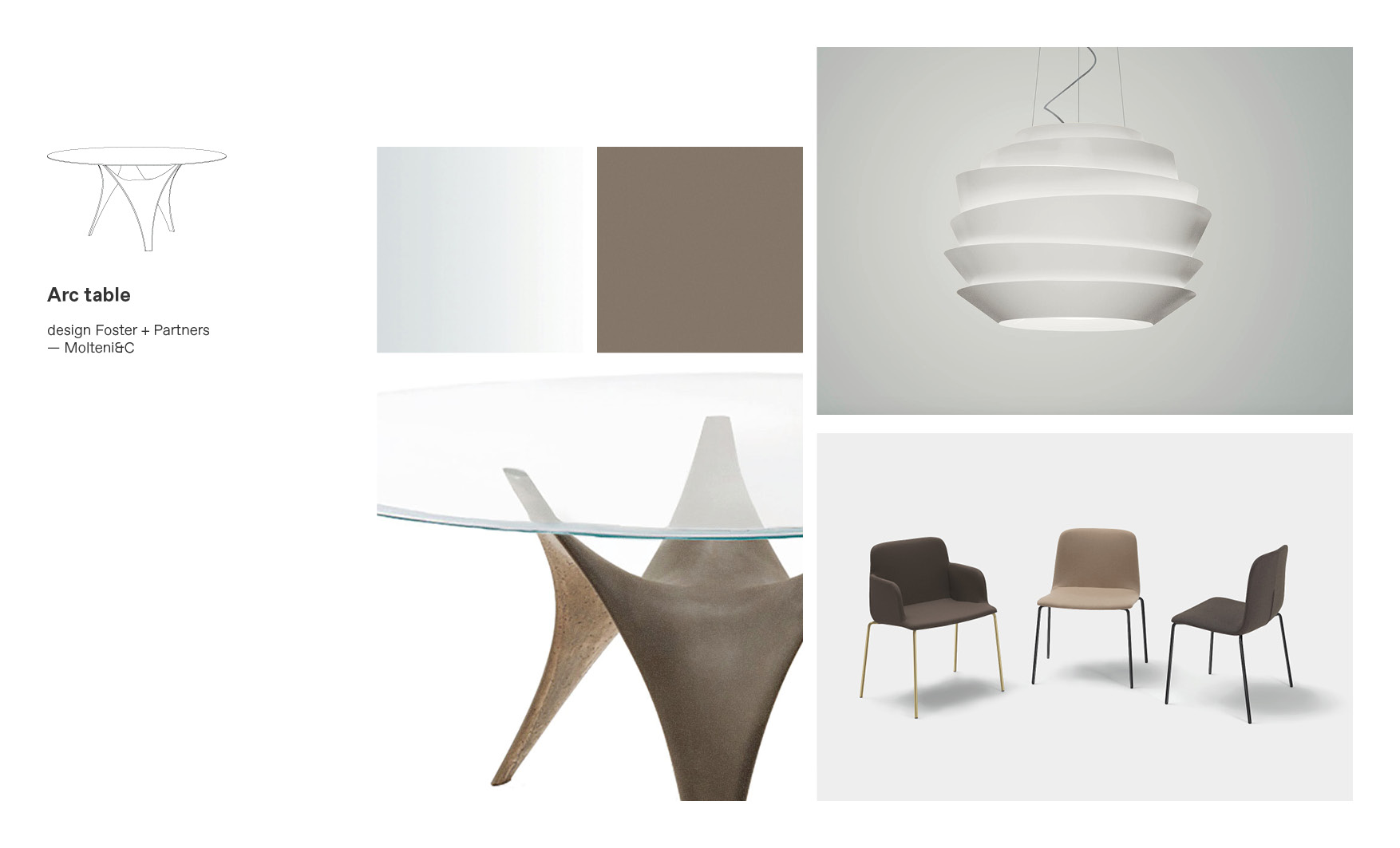 All Molteni dining tables are capable of creating evocative atmospheres. Arc, with its architectural and highly scenic design, thus becomes the protagonist of an almost contemplative living area: a sculptural table illuminated by a large suspended lamp accentuated by the light, delicate shades chosen for the walls and floor.
In the background, a three-dimensional covering and a series of shelves create dynamism and a delicate movement around a table that seems almost suspended in a parallel dimension.
D.859.1 Molteni&C Table
D.859.1 is part of the Heritage collection by Molteni&C. For this reason we decided to propose this table again (with dimensions of 280 x 100 cm) in its original version in natural solid ash wood and brass tips, arriving at a total price of 6.457 euro.
The natural finishes and light streaks of the wood can be found in the Newood chairs by Cappellini arranged around the table. The composition is completed by the suspended Less System lamp by Venicem, with square profiles and golden reflections.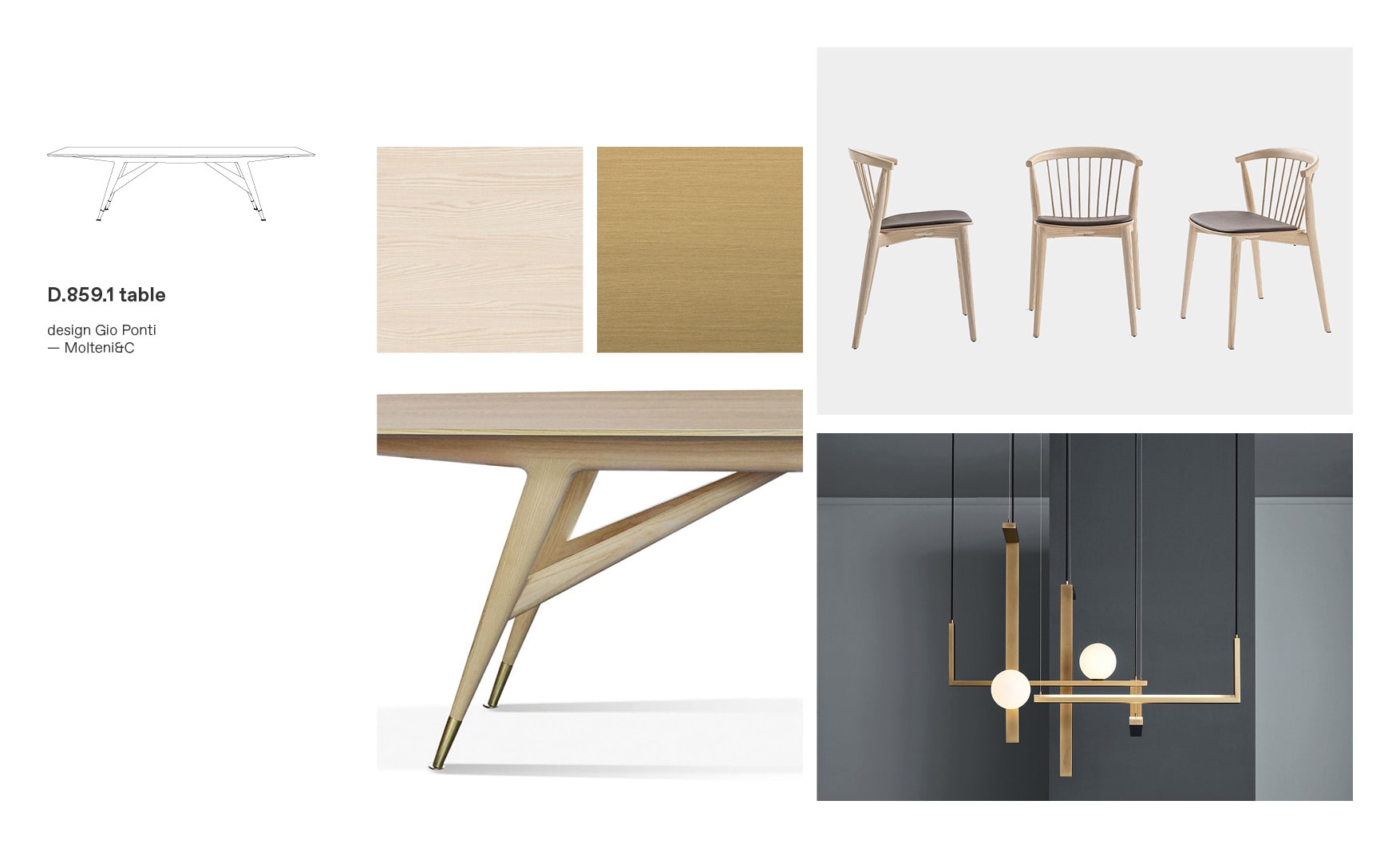 For a table with a strong character but at the same time with a refined and elegant style, we thought of a large dining room with broad windows, pastel-colored walls and an earthy-toned floor that would highlight the natural, light-colored ash wood of the table and chairs.
An environment illuminated by a scenic suspended lamp in which to welcome guests, consume banquets, organize sophisticated parties and have long and pleasant conversations with family and friends.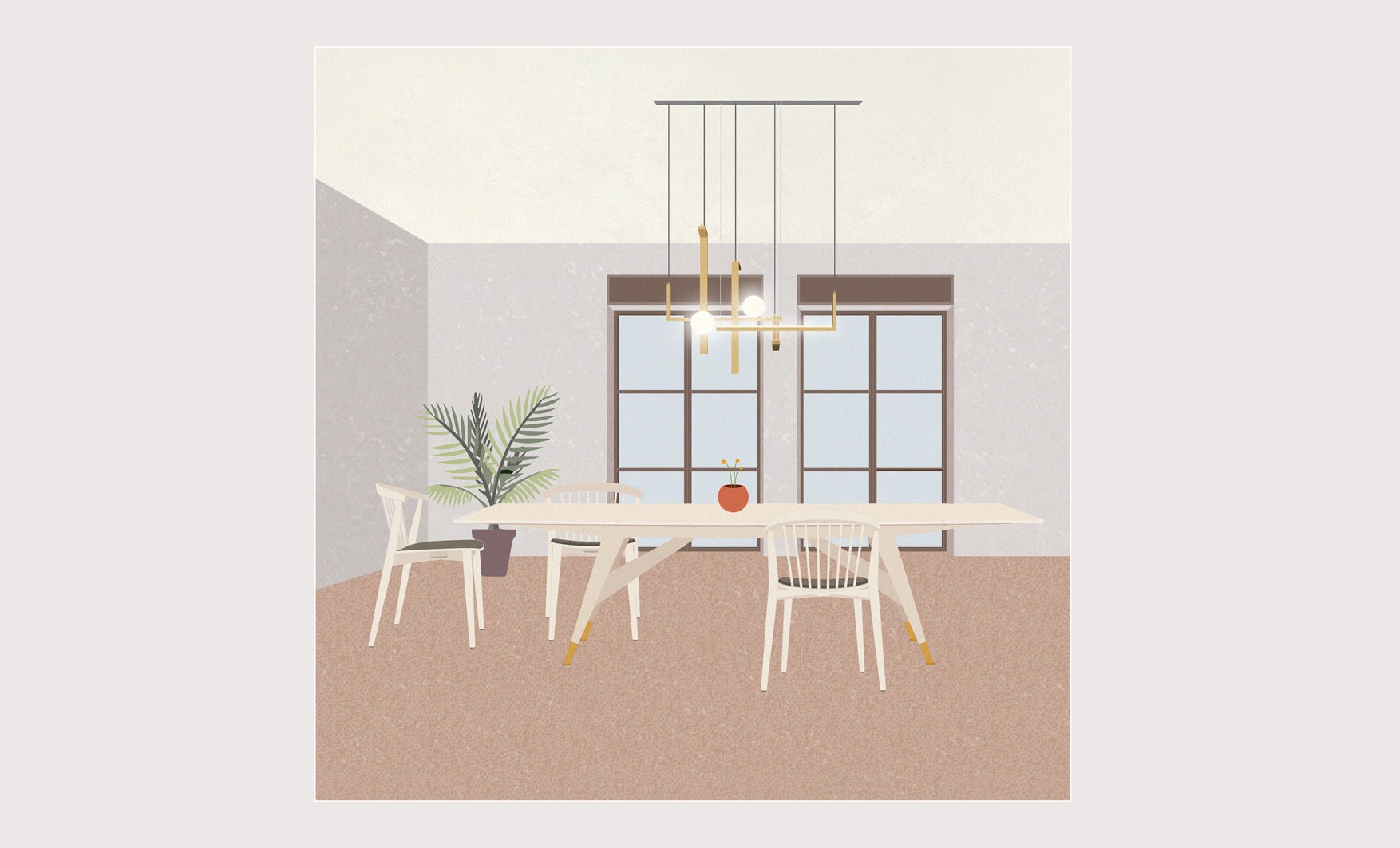 Discover Molteni&C Tables
Discover the true Italian design by consulting our catalog of Italian designer furniture and our careful selection of Italian designer tables: together with us you will find the right inspirations and the most suitable furniture for your needs.
If you are looking for new ideas for your home, discover our proposals for Italian dining room style. You will find many tips, images and suggestions created by our designers to show you how to furnish the rooms of your home in an original and unique way.
Rely on our services of Italian Interior Design, Italian Furniture Supply and Online Interior design to build the home of your dreams.
Your unique Interior Design Project developed by Italian Professionals.
Discover and shop Made in Italy while living the Italian lifestyle in Milano.