Molteni Armchairs
Posted on 18 November in Italian Home Design
Italian Design, Italian Furniture Guide, Italian interior design, furniture design, Italian Furniture Prices, Italian armchairs, Armchairs Design, Italian armchairs design, Molteni, Molteni&C, Molteni Furniture, mix&match, Molteni inspirations, Design Inspirations, Interior Design Inspirations, best armchairs, best designer armchairs, moodboard interior design, best italian designer armchairs, best italian armchair brands
Welcoming shapes and unforgettable design icons that are able to revolutionize the environment where they are placed. Molteni armchairs are the protagonists of our new interior design proposals. Capable of enhancing any ambience, here are three solutions that tell the story of Italian design and will make you live a dream.
Mix&Match: Molteni Armchairs
From a carpenter's workshop to a "small pocket-sized multinational", Molteni&C soon identified technological progress and quality design as its path to success. In the 1950s we find Molteni as a protagonist in the Italian market, adhering to the local taste and needs of the time. Since then,  and especially after the great turning point of the 1960s with the economic boom which gave rise to creativity and a desire for change, Molteni&C has been at the forefront in converting the innovative values of modernity into products. Design was born not as an anarchic sign but as an integrated project, the result of the joint work of craftsmen and great architects: a memorable list of talents, ranging from the mastery of Gio Ponti to the irreverent genius of Ron Gilad.
Capable of satisfying not only the body but also the spirit, Molteni armchairs have made the history of Italian design. We have selected three of the most representative:
The iconic Round D.154.5 armchair designed by Gio Ponti has such modern shapes that it seems to come from another world, a structure never thought of before.
Witty, soft and sinuous, the Glove-Up armchair designed by Patricia Urquiola manages to influence the personality of a living room, taking center stage.
Always passionate about the theme of naval furniture, Gio Ponti designed the D.151.4 armchair specifically for interior projects on four transatlantic liners, a hymn to Italian art and design around the world.
For each one of these Molteni Armchairs, we have chosen materials and colors and estimated a final price as well. In addition, with the aim of showing you possible compositions with other Italian brands, we have developed three different style solutions for you. But the variety of compositions is infinite and Esperiri is here to help you create the right Mix&Match according to your taste.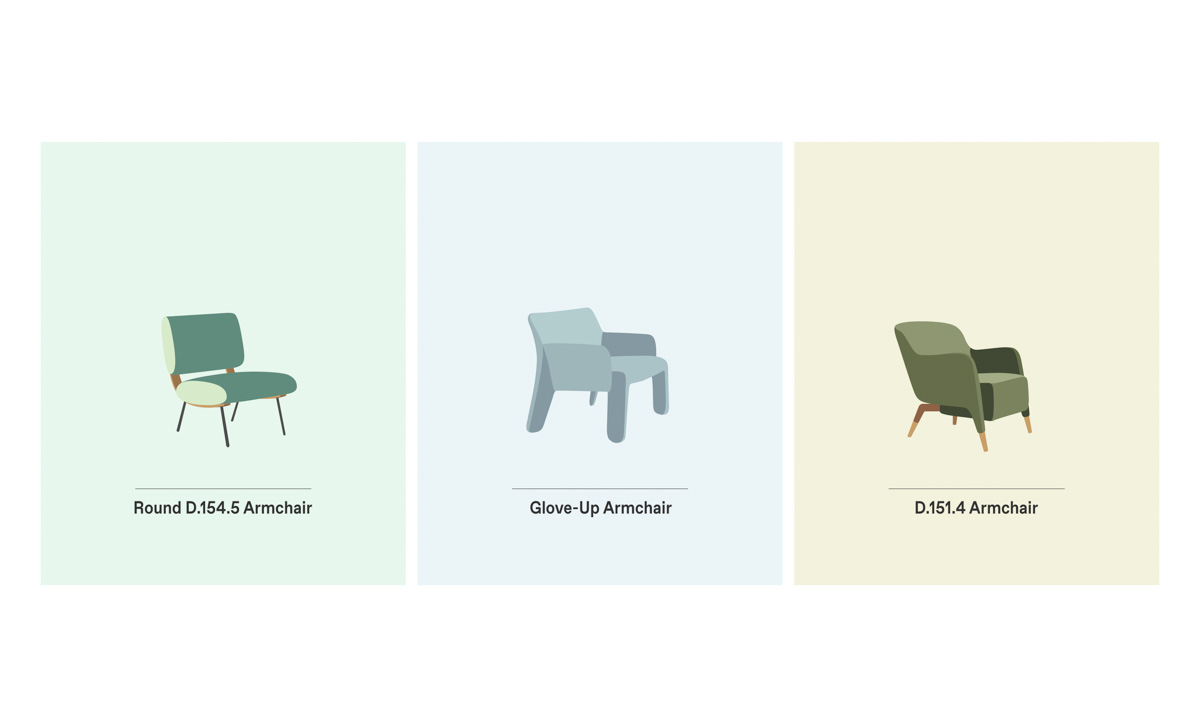 ROUND D.154.5 Molteni armchair
The name of the project, Round D.154.5, derives from the rounded shape of the seat and backrest, also referred to as the "soap bar". Gio Ponti used avant-garde materials and technologies for the construction of the armchair, such as Vipla, a plastic material similar to leather, for the upholstery, curved plywood to fasten the backrest and seat together, and metal feet with non-slip tips that are easy to assemble.
The Round D.154.5 Molteni armchair was conceived in the early 1950s, a turning point in Gio Ponti's furnishing projects, which saw an evolution of the concept of design towards very innovative solutions linked to functionality and essentiality of form. 
More than 60 years after the original idea, Round D.154.5 armchair comes back to life thanks to the Heritage Collection reissue project by Molteni&C, in collaboration with the Ponti Archives, and is presented on the market at a price of 3,300 euros.
Gio Ponti's glance at the future is enhanced by the revolutionary character of designer Ettore Sottsass, who created the Callimaco floor lamp for Artemide. In order to echo the memories of the past in a modern key, we have selected the Cabinet de Curiosité bookcase by Fabrice Berrux for Bonaldo and the Menhir coffee table designed by Lodovico Acerbis and Giotto Stoppino for Acerbis design.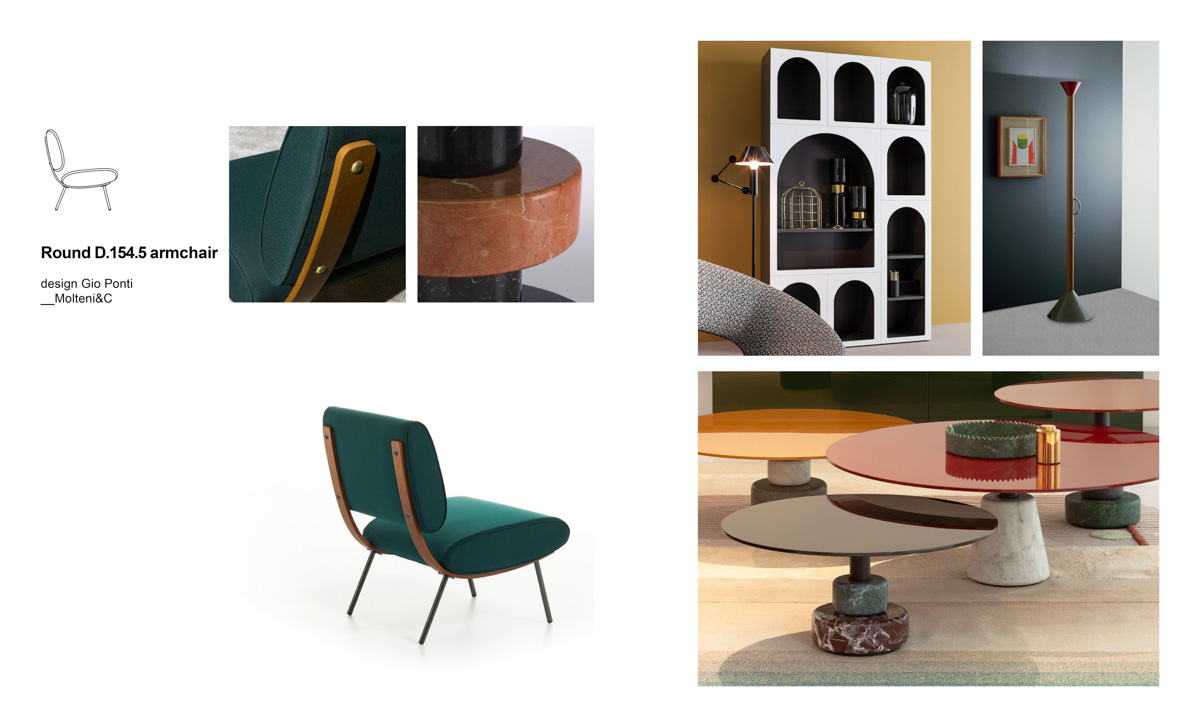 We thus observe an initial environment with energetic and visionary qualities, a combination of tradition and contemporaneity. The spatial envelope is delicate and linked to history, while the furnishing elements give character and joy. Quality and progress, a play of color and formal contrasts that are fully expressed in the cc-tapis rug designed by Mae Engelgeer.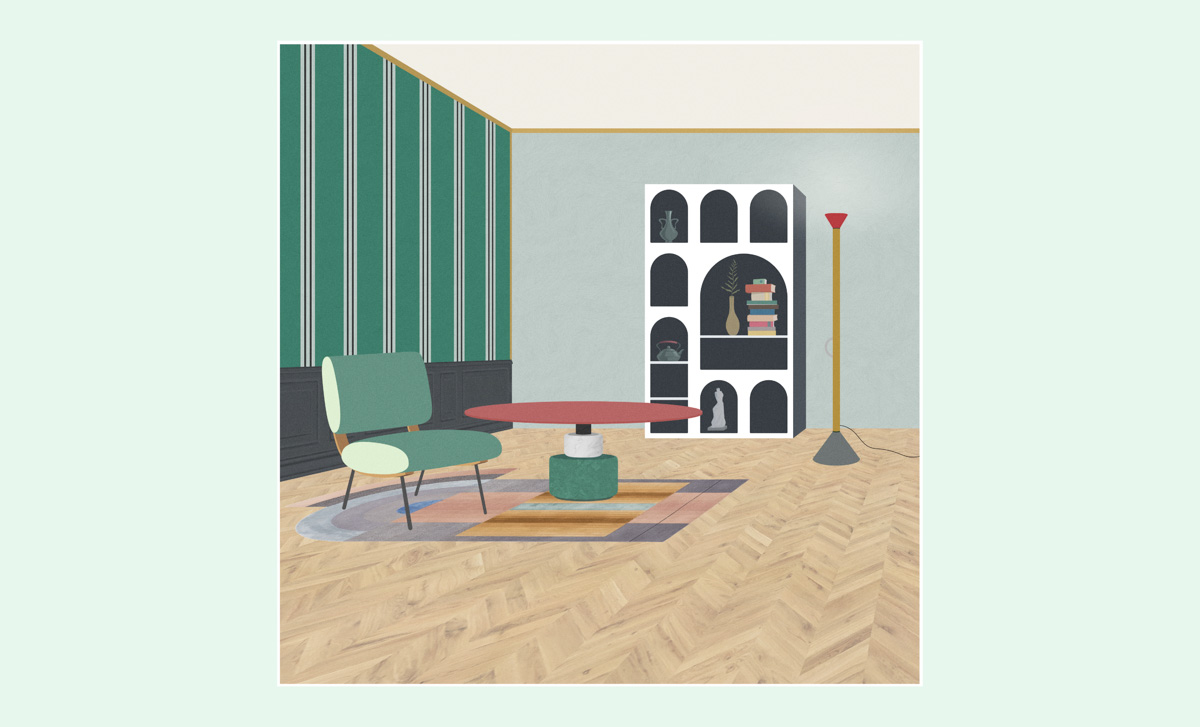 GLOVE-UP Molteni armchair
Glove-Up armchair represents the evolution of a rigorous design theme, characterized by lines sinuously and softly connected. A balance of forms that, from the fluid line of the backrest, flows into the lightness of the legs. The Glove-Up armchair with its versatile comfort, upholstered in fabric or leather, is able to adapt with an attractive spirit to any classic or contemporary environment. 
Designed by the Italian-Spanish designer Patricia Urquiola, Glove-Up Molteni armchair, in a fabric with light blue tones, reaches a total price of 1,760 euros.
The fresh, contemporary note of this armchair is echoed by the Infinity coffee table designed by Claesson Koivisto Rune for Arflex. With the intent of adding an iconic and precious image to this composition we have combined the Parliament lamp by the great master Le Corbusier designed for the Chandigarh Parliament in India and produced by Nemo and the Loico bookcase by the Milanese master Angelo Mangiarotti designed for Agapecasa.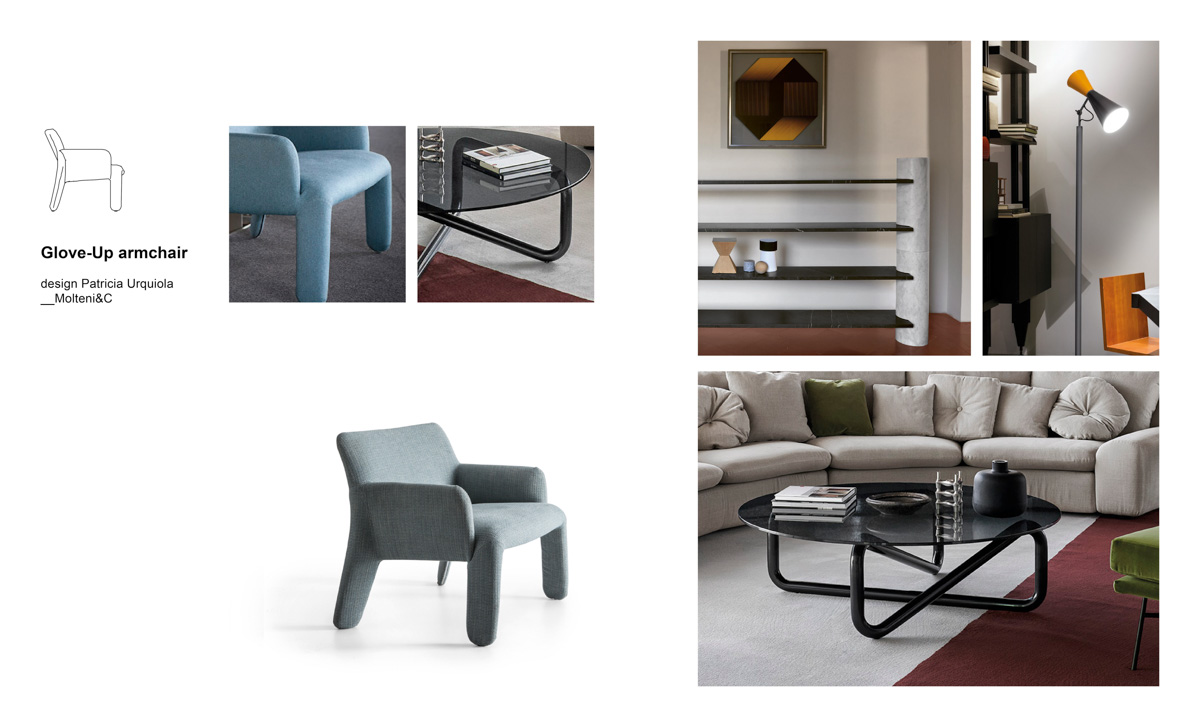 This second room, bright and timeless in style, features surfaces in precious materials such as travertine for the floor and marble-resin terrazzo on the wall. Accompanied by a cc-tapis carpet that further emphasizes the use of stones and primary colors, the furnishings are thus inserted in an environment capable of conveying luxury and rigor.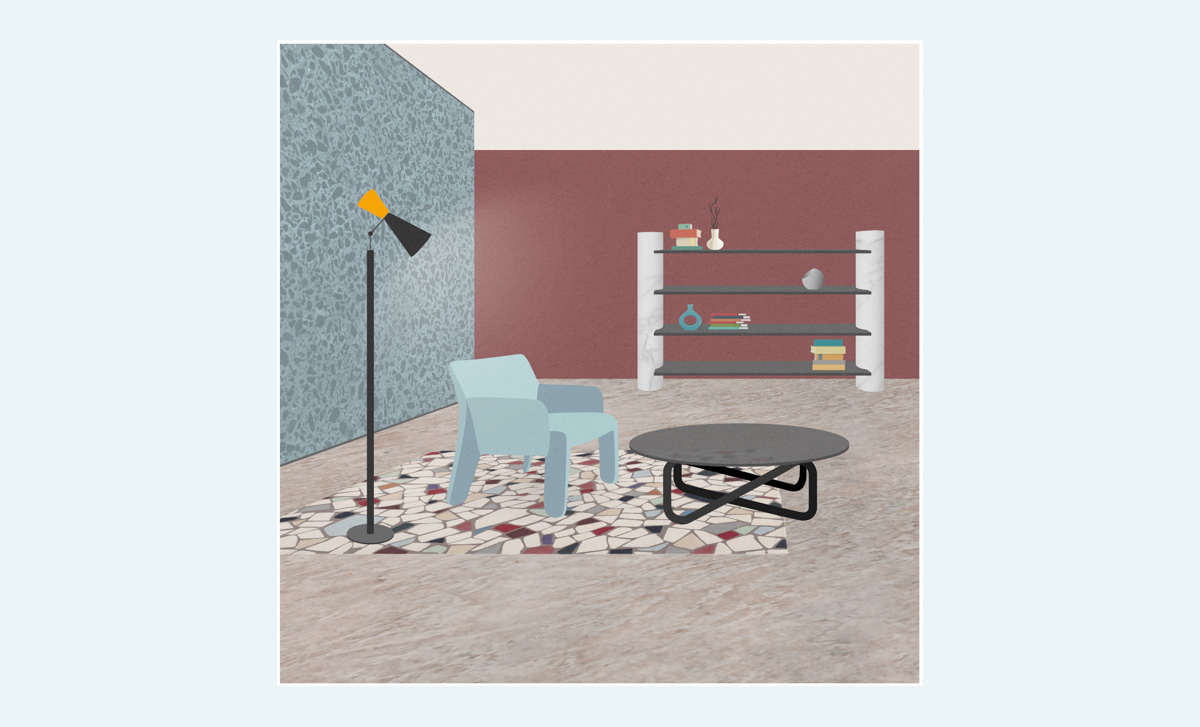 D.151.4 Molteni armchair
The theme of naval furnishings has always been dear to Gio Ponti, who experimented it firsthand on four transatlantic liners and two cruise ships that he renovated. Among the furnishings designed for the nautical world, we find this armchair that differs with small variations depending on the ship on which it was installed.
The D.151.4 armchair, which is part of the Heritage Collection made up of re-editions taken from the historical archives of the Molteni&C company, has a shape that was well suited to the values and preciousness of these transatlantic liners. Thanks to Ponti's design they became "ships laden with art, a travelling annunciation of Italy". 
Characterized by an enveloping seat with comfortable armrests, solid walnut legs with brass ferrule and fabric or leather upholstery, the D.151.4 armchair reaches a total price of 3,900 euros.
These sophisticated details with references to nautical culture have been embellished by a selection of furnishings that also enhance craftsmanship. First of all, the Rio coffee table created by design icon Charlotte Perriand for Cassina, followed by two design products that use metal with skillful mastery: the Uffizio bookcase designed by Vittorio Paradiso for Paolo Castelli and the Aracea floor lamp designed by Gupica for Visionnaire.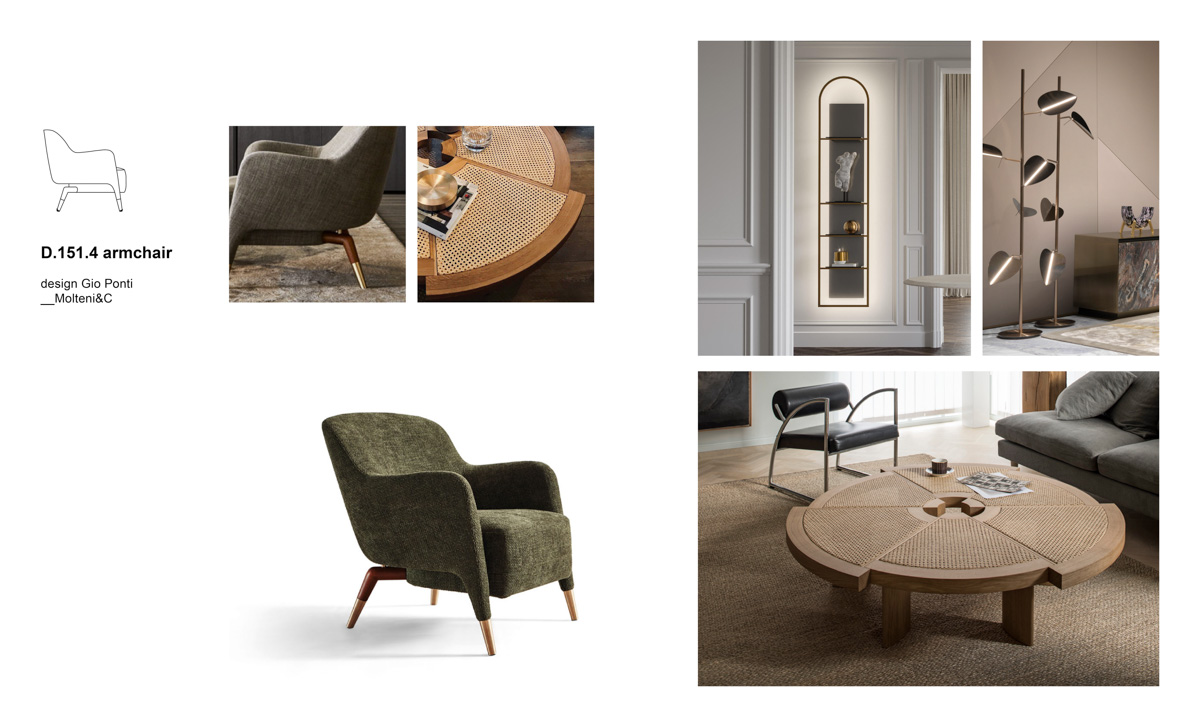 In the last composition, an earthy color palette dominates: walls and floor use natural stones that enhance these nuances among wood essences and coppery metals. Plants play a fundamental role in adding color to the environment but also in the psychophysical well-being of those who live in this space. This harmony of the parts contributes to creating a welcoming environment that offers feelings of peace and serenity.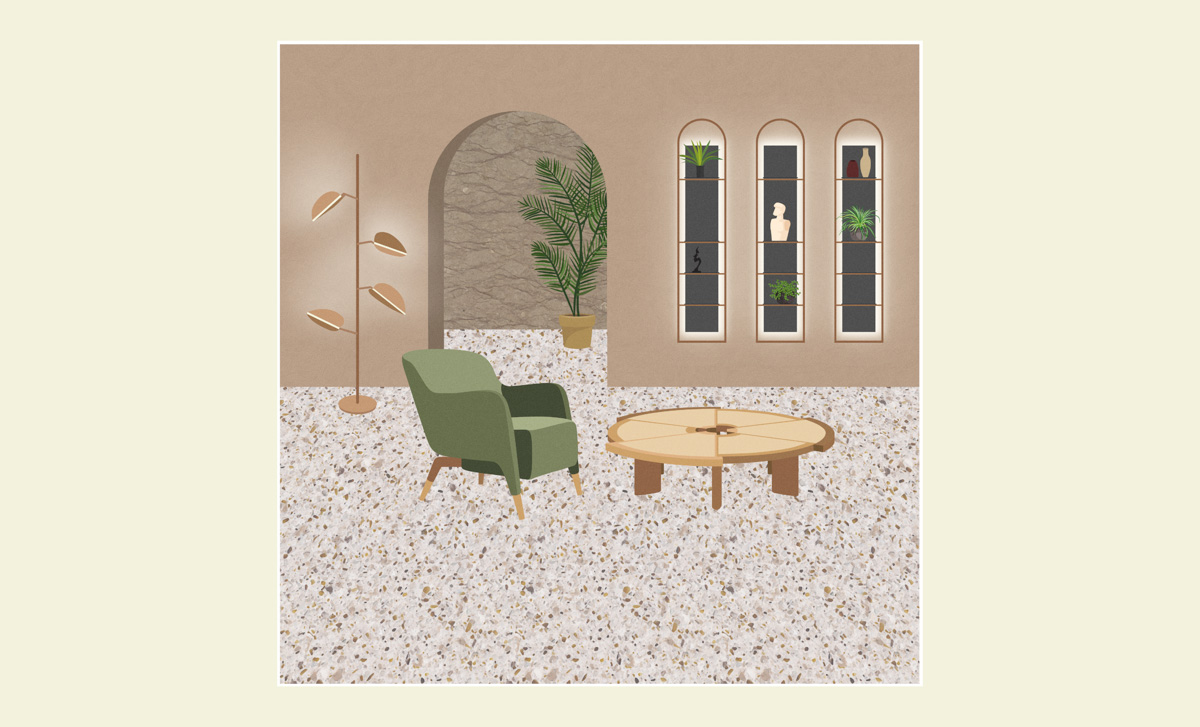 Discover Molteni Armchairs
If you are looking for new ideas for your home, consult our catalog of Italian designer furniture and our careful selection of Italian designer armchairs to find the right inspiration and furniture that best suit your needs.
Immerse yourself in the world of interior design and discover our proposals of Italian living room style: elements of unique design and authentically Italian, precious textures and high quality materials are just some of the features that you will find in the solutions that our interior designers have created to help you furnish the rooms of your home in a unique way. 
With us your interior design project will have no limits! Rely on our services of Italian Interior Design, Italian Furniture Supply and Online Interior Design to create the home of your dreams.
Your unique Interior Design Project developed by Italian Professionals.
Discover and shop Made in Italy while living the Italian lifestyle in Milano.