Molteni Wardrobes And Walk-In Closets
Posted on 09 November in Italian Furniture Online
Italian wardrobe design, Designer italian wardrobes, Italian fitted wardrobes, Italian wardrobe, Wardrobe design, Fitted wardrobes, Italian Furniture, Luxury wardrobe design, Wardrobe accessories, luxury wardrobes accessories, walk-in closets accessories
Discover the beauty of built-In Molteni wardrobes and walk-in Molteni closets with the ecosystem designed by Belgian architect Vincent Van Duysen for Molteni&C.
Molteni wardrobes and walk-in Molteni closets
A well-designed clothes storage is an essential part of every bedroom. As well as adding a striking feature to your interior, the correct solution creates a dedicated space that not only makes your clothes more accessible but also easier to maintain.
Whether adding a wardrobe as part of a renovation or including one in your new home, there are many elements to consider when choosing the best option for you. Think about the broader layout of your room, how much space you require and what type of things you want to house inside, and of course, if you desire a built-in wardrobe or a walk-in closet.
Molteni&C satisfies these various wants and needs with its modular system the Gliss Master. Designed by the brand's creative director Vincent Van Duysen, the Gliss Master is a combination of new technology and sophisticated systems that together offer countless possibilities. From the Gliss Master two main types are born, both with their own characteristics: the built-in Gliss Master and the innovative Italian Walk-In system.
Choosing between Built-In or Walk-In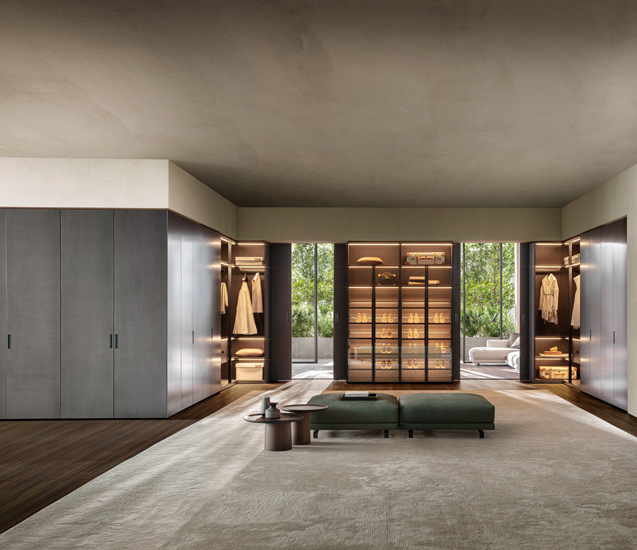 In both corner and linear solutions, the Gliss Master built-in wardrobe combines basic elements in infinite configurations thanks to invisible self-locking brackets patented by Molteni&C. This is the basic structure and design logic across all Gliss Master styles. Built-in Molteni closets are perfect if you want to maximise on space. Built-in styles can also make a room seem visually taller or larger if you're going for a full-height or wall-to-wall wardrobe.
A worthy alternative to a built-in closet is the Gliss Molteni Walk-In Closet, a complete system of wardrobes that become their own self-standing room. With various parts that mirror those used for Gliss Master cabinets, suspended drawer units, pull-out trays and shirt holders, shoe shelves, storage compartments and dividers, can all be freely arranged in varying heights.
The first variation of this design is the Gliss Master Island, a free-standing central island ideal for complementing the wardrobe area. The second is the Molteni Master Dressing, a system of walk-in wardrobes coordinated with a vanity compartment, complete with a large illuminated LED mirror. Finally, to close the compartments of the Gliss Walk-In wardrobe, it is possible to use Dwell, a system of designer sliding doors with anodised aluminium or brown finish, extra-clear transparent glass, smoked glass or stopsol glass.
Built-in doors to compose Molteni wardrobes
At the heart of Gliss Master is Molteni&C's patented Sistema 7 folding mechanism, which allows you to effortlessly and silently move the doors from their initial position to the side of the compartment.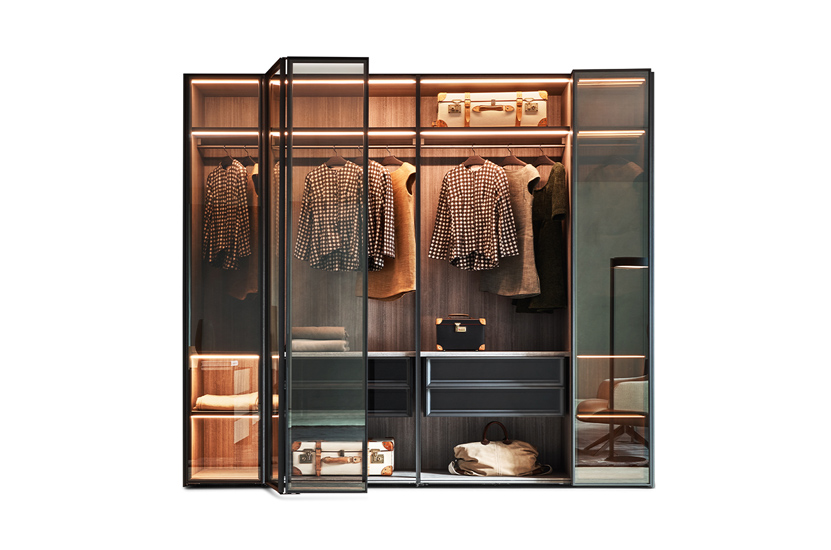 Across built-in styles multiple customisation possibilities are combined in a family comprising a wide selection of door types, ranging from simpler twin-hinged options to horizontally folding panels, large sliding doors and window-styles.
Another point of difference between styles is the handle, built into the thickness of the door in several models like Niche and Deep, affixed to the front in more traditional compositions like Start, or applied directly to the side of the door in either compact or full-height designs including A Filo and Twin.
For something completely different, the Gliss Master-Skin is perfect. Covered completely in eco skin, this design features a particular aluminium frame that gives the surface characterizing square patterns.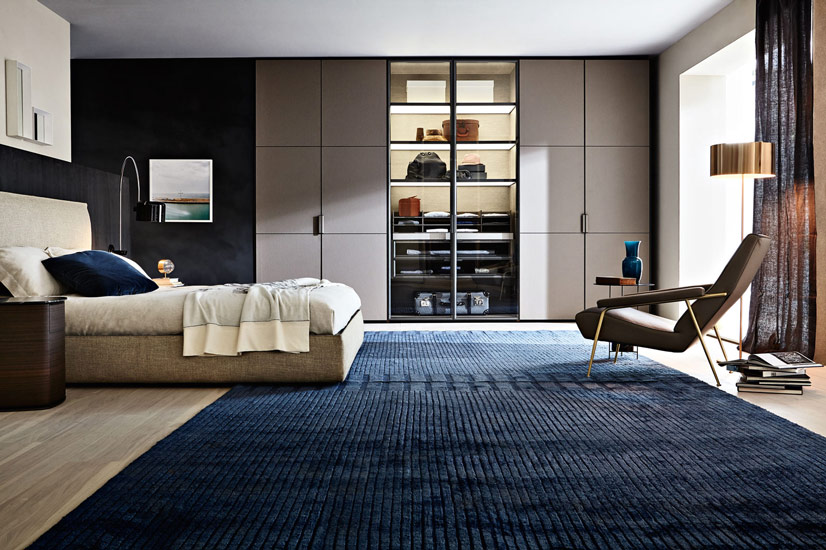 Molteni Closets: Interior customization
Broadening the ecosystem's design potential, just this year Molteni&C introduced additional external and internal finishes across all Gliss Master models: dark chestnut, light chestnut, ivory Tatami and grey Tatami.

It also debuted doors with different handles and fittings to improve the Gliss Master's functionality. As well as new designs for the Cave handle in the melamine drawer fronts, customers can choose from pewter colour and bronze finishes, with the option to cover elements in Eco Skin. Meanwhile, additional internal accessories including supplementary partition grids, a sloping glass shoe rack shelf with inside LED, and a pullout in natural cotton in the colour ecru laundry basket make for an ecosystem with infinite compatibility.
The Gliss Walk-In's high degree of customization includes many different finishes including 'Cartapaglia', an easy-to-maintain melamine. Meanwhile, structure profiles and baseboards are offered in black or natural anodized aluminum. As for other components including bases, back panels, shelves and drawer unit, it is possible to choose from melamine, matt lacquered in different colours or different shades of wood.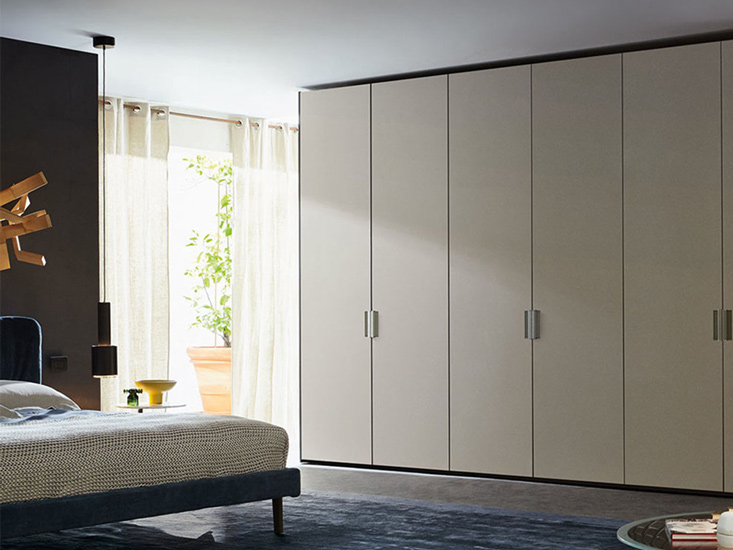 Transparent or acid-etched glass, available in various colours, can also be used for the back panels or for the tops of the drawer units. Finally, the hanger rods have a black chrome finish as the only option.
In addition to aesthetic customization, since 2018 the Internet of Things has joined Molteni&C nighttime systems Gliss Master and Master Dressing. AIRCUB, an air purification and fragrance system takes care of clothing and accessories by acting with an ionization and ozonation process eliminating up to 95% of harmful agents while diffusing a delicate scent across the interior of Molteni closets.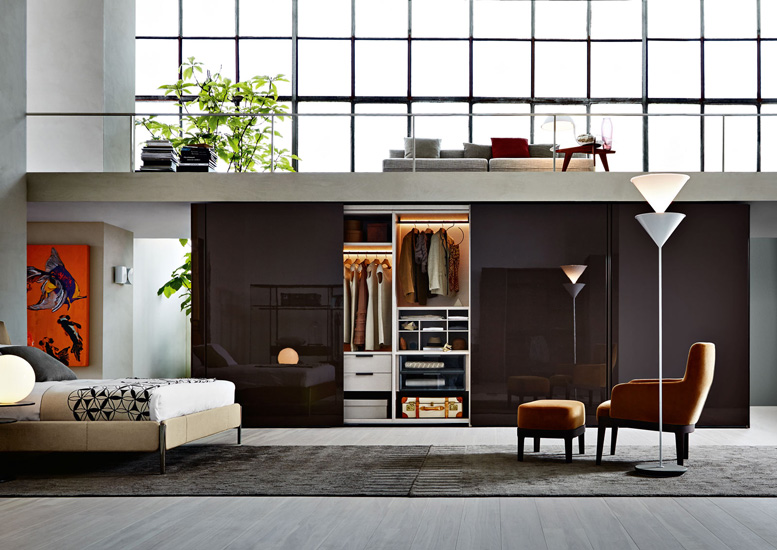 In every luxury wardrobe the accessories are freely configurable and expert support is invaluable in this regard. You can discover the infinite compositional possibilities of the Gliss Master as well as other avant-garde solutions and innovations by making use of our interior design services.
Our interior designers can help create and configure your wardrobe or your new Italian walk-in closet. Or, if you wish to come to Italy and discover with your own eyes the collections of the best designer Italian wardrobes, we can organize an exclusive Italian furniture shopping tour. For more inspiration check out our team designs for both modern and luxury bedroom concepts.
Our experts are also available to assist you by simplifying the sourcing of multi-brand mix and match projects. Refer to our Furniture Selection & Supply service for the supply of furniture from all over the world with dozens of brands to select from.
Your unique Interior Design Project developed by Italian Professionals.
Discover and shop Made in Italy while living the Italian lifestyle in Milano.