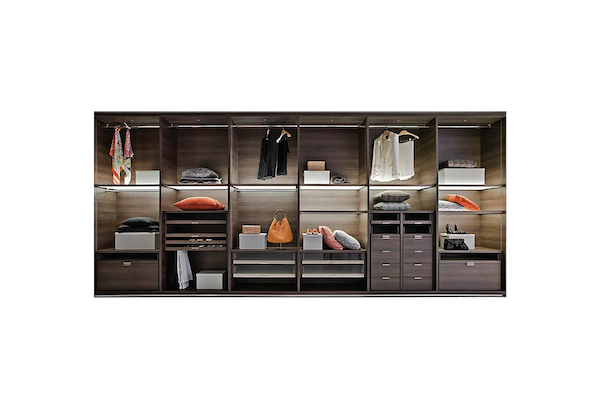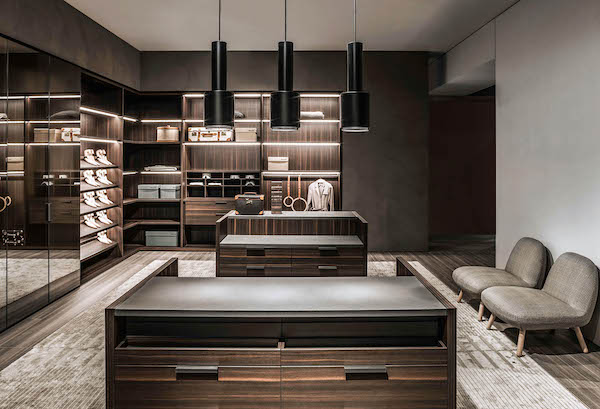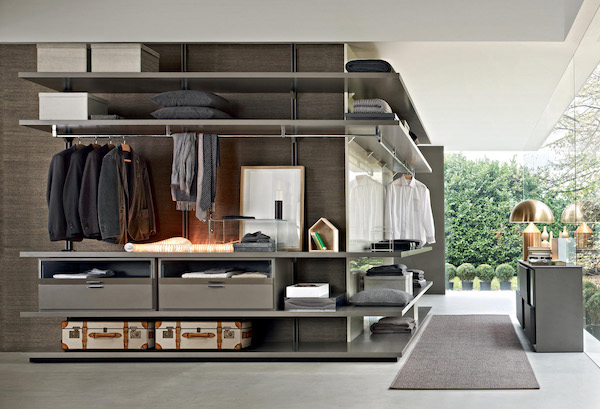 Molteni Walk In Closet
Designer: Vincent Van Duysen
Manufacturer: Molteni&C
Starting from: € 15.000,00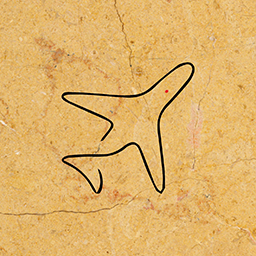 Worldwide Delivery and Installation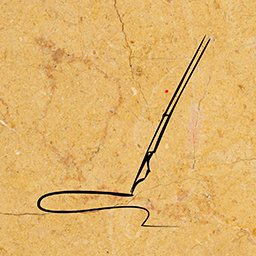 Customizable with our Professional Advice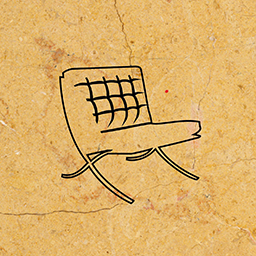 100% Made in Italy Certified
Contact us
Molteni Gliss Walk In Description
Van Duysen, the designer of this dressing room system, has always created innovative objects for Molteni and his research continues with the ambitious Molteni Gliss Walk-in project.
Molteni has always had the goal of offering solutions that can meet the most heterogeneous needs of daily life. In the Gliss collection there are many different models with different characteristics. Among them, the main protagonist is Molteni Walk-In Closet, the innovative Italian walk-in system with an elegant and rational design.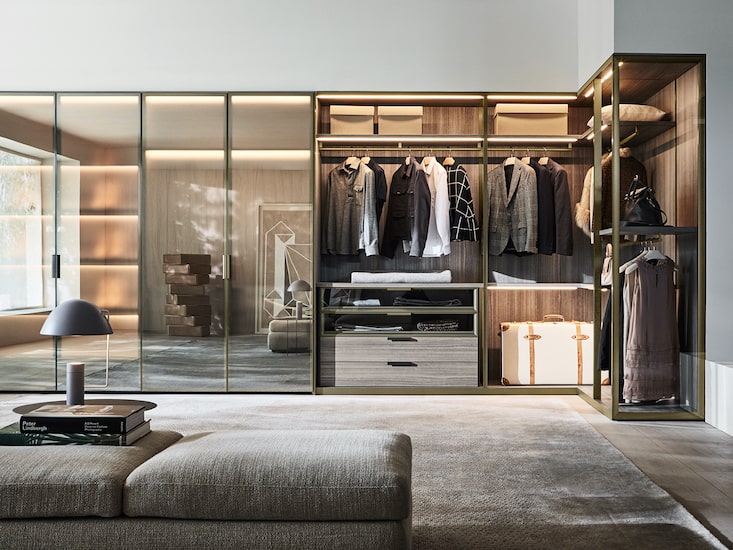 Molteni Walk In Closet Features
Molteni Gliss Walk-In is a dressing room system that offers the possibility of isolating one's own wardrobe, creating a room of its own, enclosed and protected, where the perception of the interior space increases.
It is a project of great purity and simplicity, but with a lively character and a high degree of customization. In fact, the main feature of this Molteni Walk-In Closet is its ability to create infinite solutions. With Gliss Walk-In everything is possible and once again the mastery of architectural and design work of Molteni&C is confirmed.
It is possible to close the walk-in wardrobes thanks to Dwell, an optional element that can be combined with the Gliss collection. Dwell is a system of sliding doors and designer partitions that can be used in the ceiling, wall side and recessed false ceiling. It is available in different versions, door frame or partition, rail or with cover profiles, and depending on the selected components Dwell can have frames in aluminium or brown colour and doors in extra-clear glass, smoked glass or stopsol glass.
There are also technological innovations in Molteni Gliss Walk-In, thanks to the possibility of adding LED lighting with light bars that follow the profiles of the walk-in closets.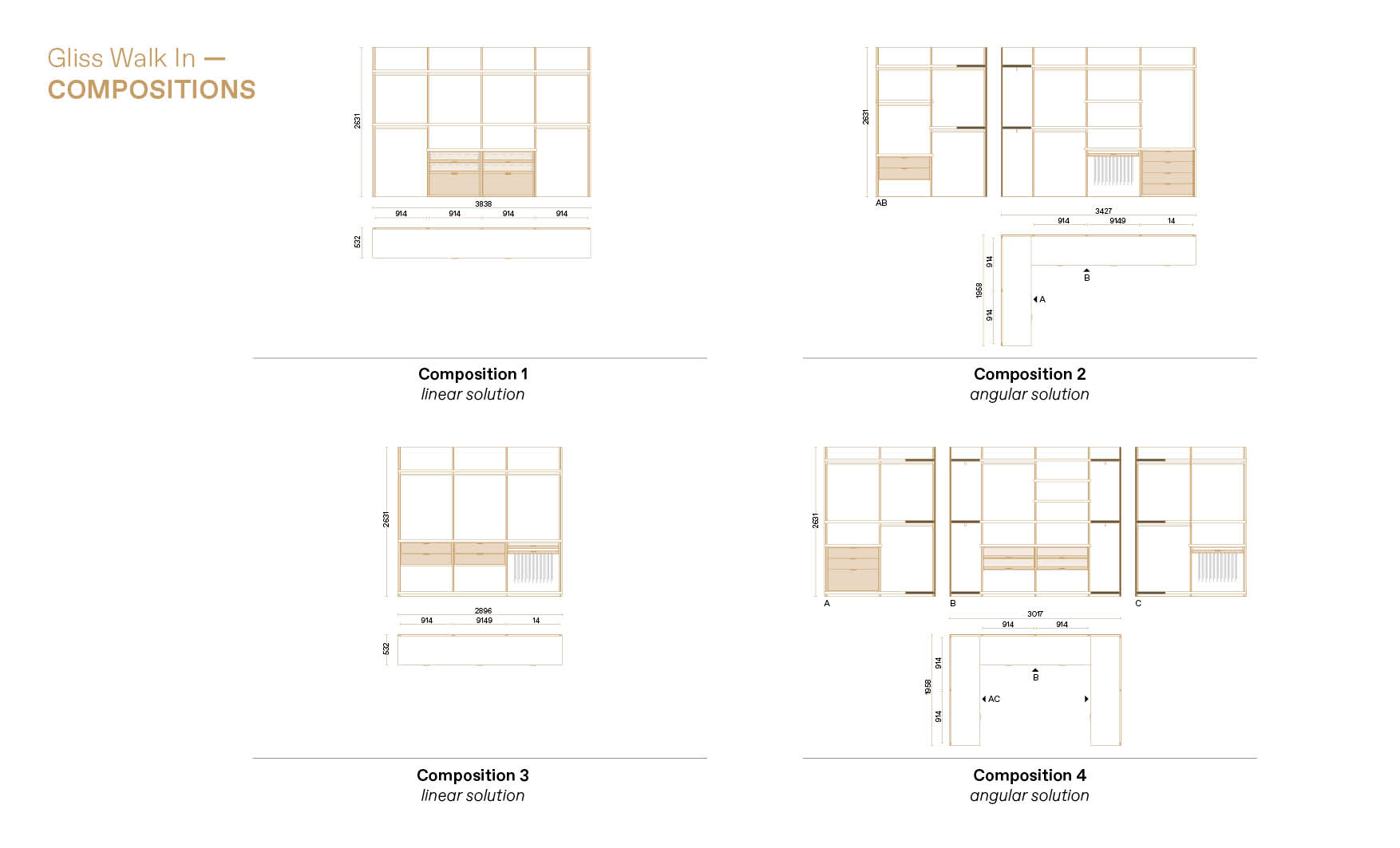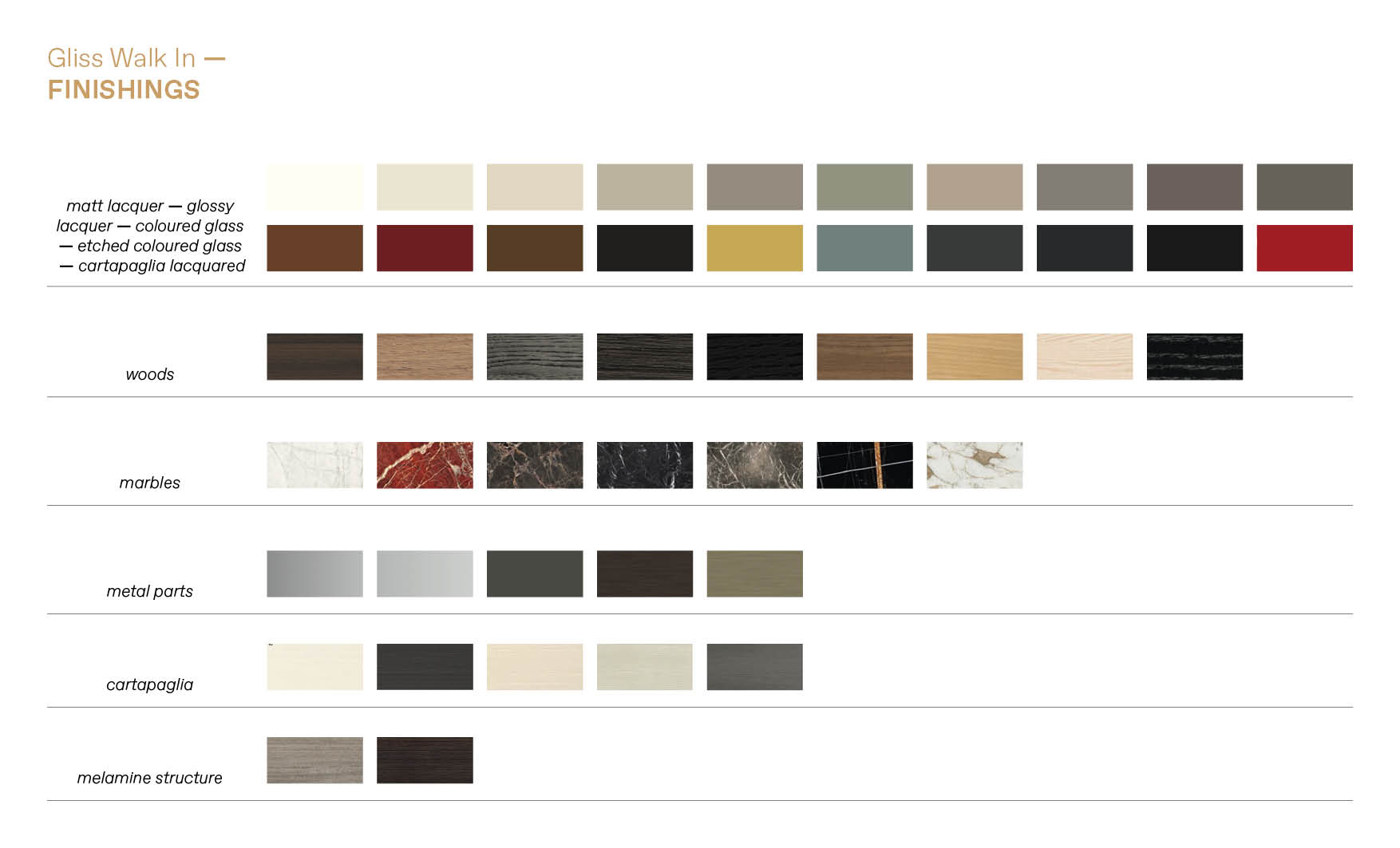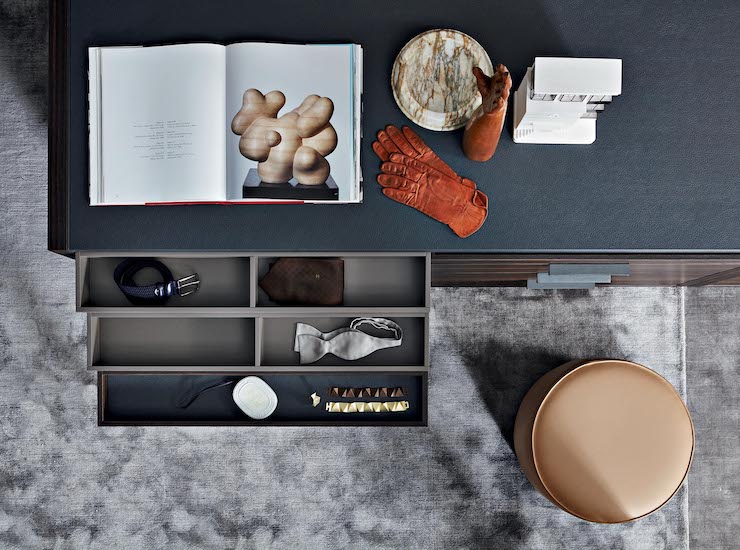 Gliss Walk-In Walk-In Closet Materials
Molteni Walk-In Closet is available in many finishes. Cartapaglia is the latest new material included in the Molteni catalogue only available for the Gliss series and it offers simple and reduced maintenance.
The structure profiles and baseboards can be in black or natural anodized aluminium. As for the other components of the walk-in closet, such as the bases, back panels, shelves or drawer units, it is possible to choose between different types of materials: melamine, matt lacquered in different colours or different shades of wood. Transparent or acid-etched glass, available in various colours, can be used only for the back panels or for the tops of the drawer units. Finally, the hanger rods have a black chrome finish as the only option.
Molteni Walk In Closet Compositions
What really distinguishes Molteni Gliss Walk-In is the high level of customization and the possibility of obtaining infinite compositions. Gliss Walk-In can be adapted to linear and angular solutions, so it's suitable for any type of space, thanks to a bespoke design method. Van Duysen has created the right proportions to give shape to a comfortable environment, where a careful perception of interiors and a sophisticated search for objects of great purity prevail.
The equipment that reflects the same design used for Gliss cabinets, such as Gliss Master, can be freely arranged in different heights, both hanging and on the floor, thanks to an innovative system of invisible self-locking brackets patented by Molteni&C. There are different types of internal equipment, such as suspended drawer units, pull-out trays, shoe shelves, storage compartments, drawers equipped with dividers and pull-out shirt holders.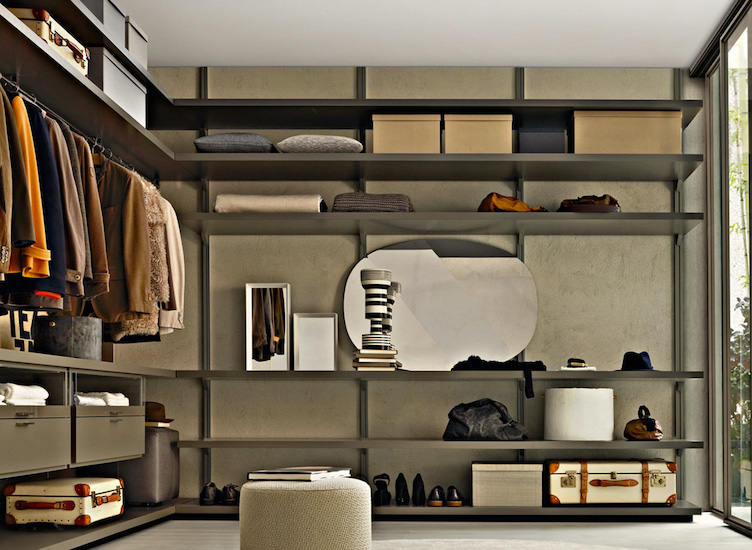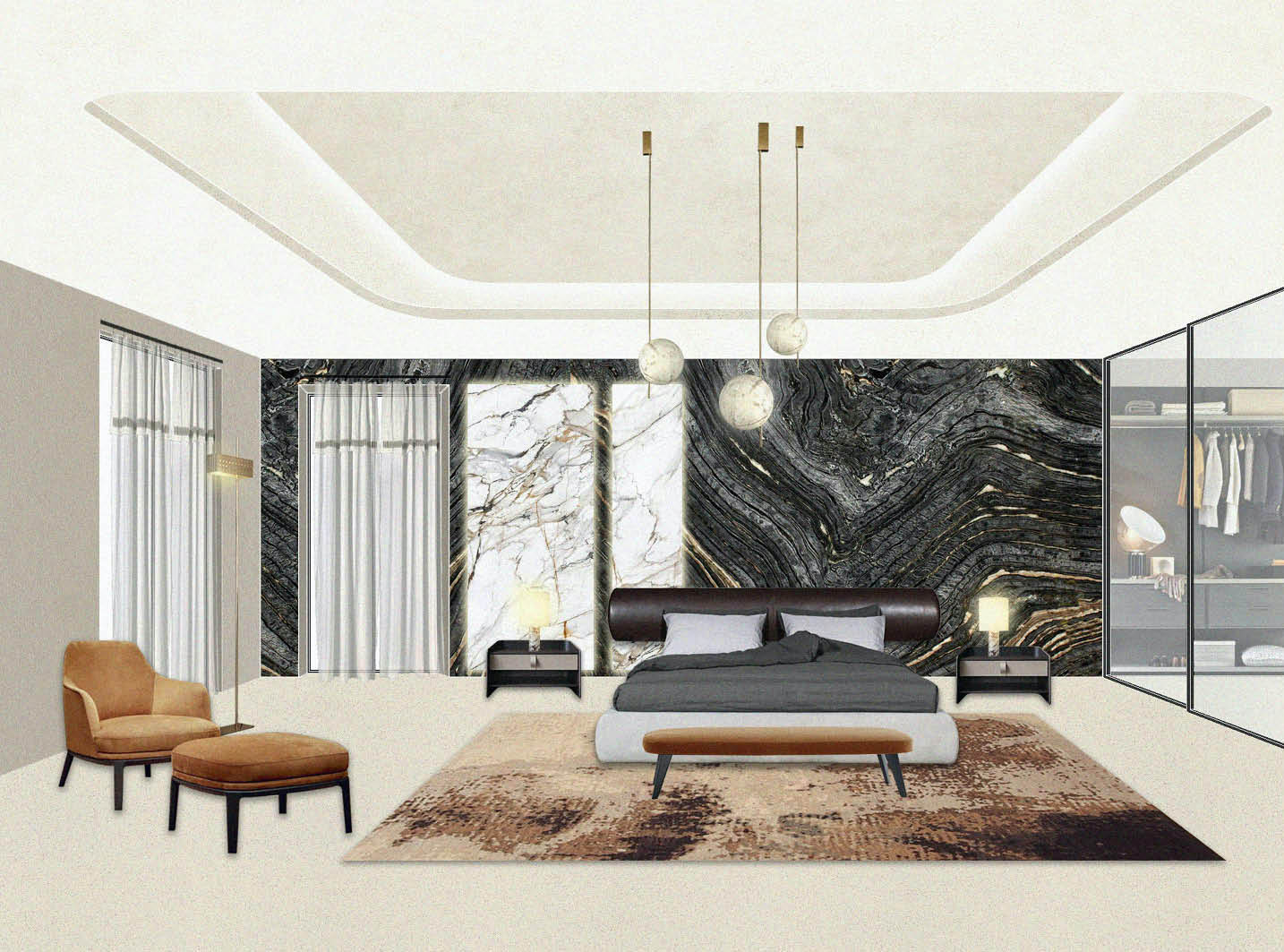 Italian Bedroom Designs from our Team
A room where you can relax, an environment where you can experience a constant feeling of comfort and well-being. This is why it is important to create an Italian bedroom design that allows you to express your way of being through the right choice of furniture, colors and accessories. Minimal, modern, classic, luxurious, eclectic, this is the room that can and must represent to the maximum ourselves and our style.
Esperiri Milano For Molteni&C
You can discover the infinite compositional possibilities of Gliss Walk-In and design your own personal Molteni&C walk-in closet with our interior design team. Contact us to start your experience in the world of Italian wardrobe design and to see live all the products made in Italy. We are eager to make you experience something unique with our Italian Furniture Shopping Tour.
Should you prefer to stay at home, you can either use our convenient Italian Interior Design Online or Italian Furniture Supply services: our experts will guide you in the design of high-end Italian walk-in closets best suited to your needs.
Our end-to-end service offer also guarantees the shipping and assembly of the furniture items by our Italian craftsmen.