Best of Milan Design Week 2019 – Part 2 Euroluce
Posted on 22 April in Milan Design Guide
Milan Design Week, MDW19, Euroluce
Have you already read Best of Milan Design Week – Part 1? There's a wide variety to cover from the annual Milan furniture fair. Salone del Mobile, Euroluce, and Fuorisalone events set record numbers of both exhibitors as well as visitors this year. This article dives into the Italian brands at Euroluce 2019, the international lighting exhibition. The biannual event began in 1976 and has continued to showcase the top technology and trends in the lighting industry for interiors and exteriors.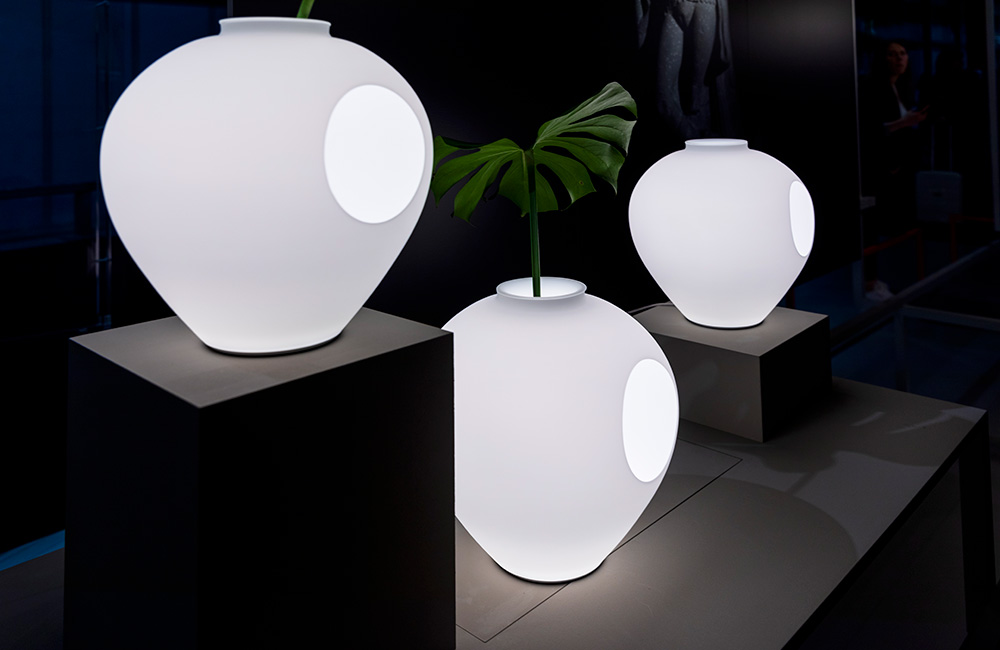 Euroluce 2019: the best of Italian Lighting Brands
Euroluce 2019 hosted 421 exhibitors from Italy and worldwide. Everything from outdoor and indoor, to industrial lighting were presented this year. While there were many international brands, this article will focus on Italian brands for the Best of Milan Design Week – Part 2.
It would have been hard to miss Foscarini at Euroluce this year. The Italian brand was prominently placed near one of the main entrances to the lighting exhibition. The booth was designed by architect Ferruccio Laviani and was set up to welcome visitors from any angle in an open concept plan.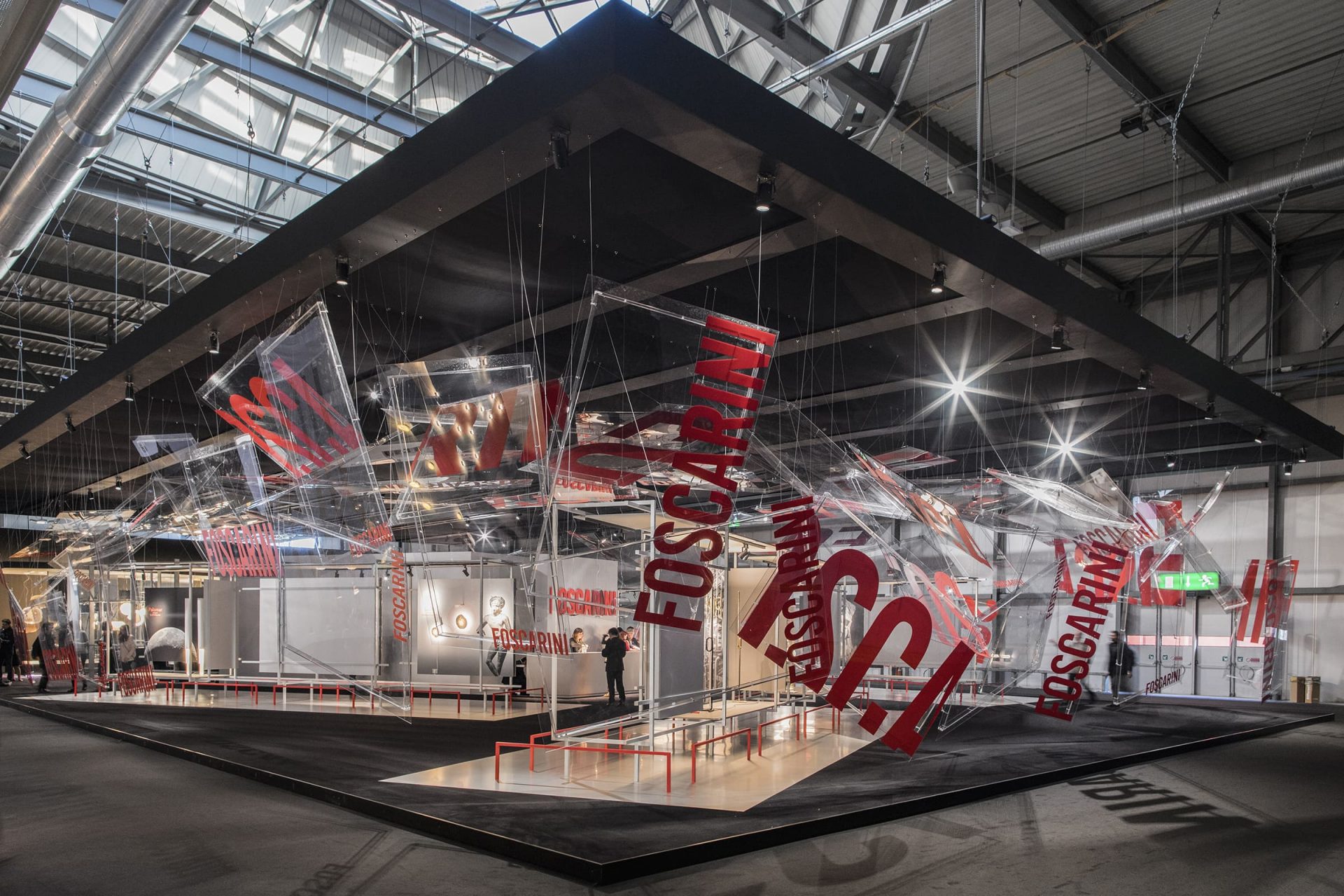 The brand blended their defined design style with technology to produce an intelligent light system entitled MyLight. Foscarini lamps with this system will be able to control and personalize their home habitat to meet their ideal atmosphere. Through an app on a smartphone or tablet, you can control the function as well as personalize the brightness and temperature.
Other new lamps and light systems by Foscarini at Euroluce 2019 include:
Solar by Jean-Marie Massaud
Uptown by Ferruccio Laviani
Madre by Andrea Anastasio
Nuee by Marc Sadler
Sun-Light of Love by Tord Boontje
Palomar by L+R Palomba
This Italian lighting designer brand displayed new products alongside classics in a labyrinth-style approach to the booth space. The theme was inspired by the poetic idea that the labyrinth is a path that leads us to unexpected, authentic destinations. From a chain-chandelier to minimal linear light systems, Davide Groppi has continued to evolve as a designer through this exhibition at Euroluce 2019.

"It wasn't easy choosing which new lamps to make because there is so much I like and so much variety in what thrills me. I let myself be guided by sensations inside, letting go of who I was, forgetting my status as a designer.

I had a huge list of ideas and put some to the test, abandoned others, found new ones. Slowly but surely, my list diminished naturally by itself. What remained were the lamps that in one way or another have always belonged to me."


Davide Groppi
In 1881, Luigi Fontana launched the brand that would engage Italian design masters such as Gio Ponti in 1931 and Gae Aulenti in 1979 to act as art directors. They both designed their own lamps in their time with FontanaArte. Today, the brand continues to pursue the top archi-designers by showcasing a new table lamp by Stefano Boeri Architetti. Lasospesa tells a simple story with both its form and function.
Stefano Boeri

'Lasospesa' table lamp
"A non-lamp with multiple uses and changing luminosity, simple and classic, lasospesa seems to have always been there, where you put it."

Stefano Boeri
In an star-studded booth designed by Calvi Brambilla, Flos shared tribute to their most iconic collaborative architects and designers alongside B&B Italia and Louis Poulsen. The interactive walls contained graphic pinball games introducing iconic pieces from the brands as well as great masters of Italian design and contemporary designers. The cast included Achille Castiglioni, Nendo, Patricia Urquiola, Ronan and Erwan Bouroullec, andGaetano Pesce. Designs by Formafantasma, Michael Anastassiades, and Philippe Starck were also included in the interior exhibition of lighting.
'Coordinates' by Michael Anastassiades

Nendo

Piero Lissoni's 'Atom'
As a partner of Miart Milano 2019 and a huge presence at Salone del Mobile 2019, Flos continues to be an important force in lighting. Both events showcased WireLine by Formafantasma, a mix of contemporary art and industrial design.
'Wireline' by Formafantasma

'Flauta' by Patricia Urquiola

'Belt' lighting system by Ronan and Erwan Bouroullec
Their booth at Salone included a presentation of the Chiara lamp's (designed by Mario Bellini) 50th anniversary. Outdoor lighting was presented in the elements, providing a great sense of how it would look in your own garden landscape.
Oluce was founded in 1945 and is the oldest Italian lighting design company. Collaborations with Italian designers such asJoe Colombo, Marco Zanuso, and Vico Magistretti helped the brand to establish its identity within Made in Italy production and contract design. The brand celebrates 70+ years of Italian design with their lighting systems and lamps. On the occasion of Euroluce 2019, Oluce launched their new bespoke collection entitled 'in, out, in'. It includes reissues of iconic pieces by design masters as well as contemporary lamps by young, emerging designers. The booth was designed by Ferruccio Laviani.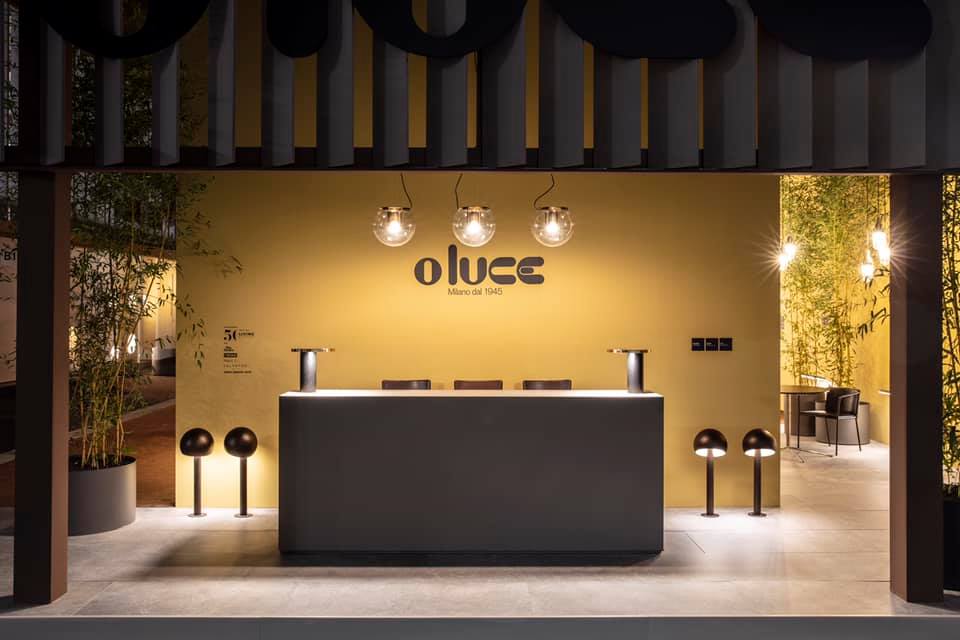 What's old is new, once more with Oluce's '1953-243' table lamp by Ostuni & Forti and Vico Magistretti's 'Pascal'. The 'Siro' table lamp is a new design by Marta Perla is a LED light. It creating a 2D facade, concealing its spherical shape. Other contemporary pieces include Mariana Pellegrino Soto's 'Alba' wall lamp and 'Amanita' floor lamp, 'Berlin' ceiling lamp by Christophe Pillet, 'Otto' by Federica Farina, and 'ILO' by David Lopex Quincoces.
Stay tuned for Best of Milan Design Week 2019 – Part 3, where we will follow new furniture, products, and collections by Italian brands.
Esperiri Inspires

There's never been a better time to invest in your interiors than now. Whether you're inspired by Made in Italy interiors and furniture, or an industry professional seeking connections in the Italian furniture scene in Milano, Esperiri has a service for you. Contact us today to get started with Online Interior Design, turning your home interiors into your personal heaven. Join us for an Italian Furniture Shopping Tour in Milano – Italy's design capital.
Your unique Interior Design Project developed by Italian Professionals.
Discover and shop Made in Italy while living the Italian lifestyle in Milano.