Best of Milan Design Week 2019 – Part 3 Italian Brands
Posted on 29 April in Milan Design Guide
Milan Design Week, Fuorisalone Milano, MDW19
Learn more about Italian brands at Milan Design Week, whether you visited Fuorisalone 2019 or have been staying in the loop from home. Did you already check out the Best of Milan Design Week 2019 – Part 1 & Part 2? Follow along with more news from Salone del Mobile 2019.

Italian Furniture Brands at Salone del Mobile 2019
Design is evolving. Kartell showcased this statement at Salone del Mobile 2019. This Italian brand celebrates its 70th anniversary with the introduction of the A.I. chair, a design created in collaboration with Philippe Starck and Autodesk software.
"Philippe Starck, Autodesk and Kartell asked Artificial Intelligence a question:
'A.I. could you carry our body with the least amount of material possible ?'.
A.I., without culture, without memory, without influence, replied simply with intelligence, it's "artificial" intelligence.
"A.I. is the first chair designed outside of our brain, outside of our habits of thought.
From elsewhere, a new world opens up to us. Unlimited."


Philippe Starck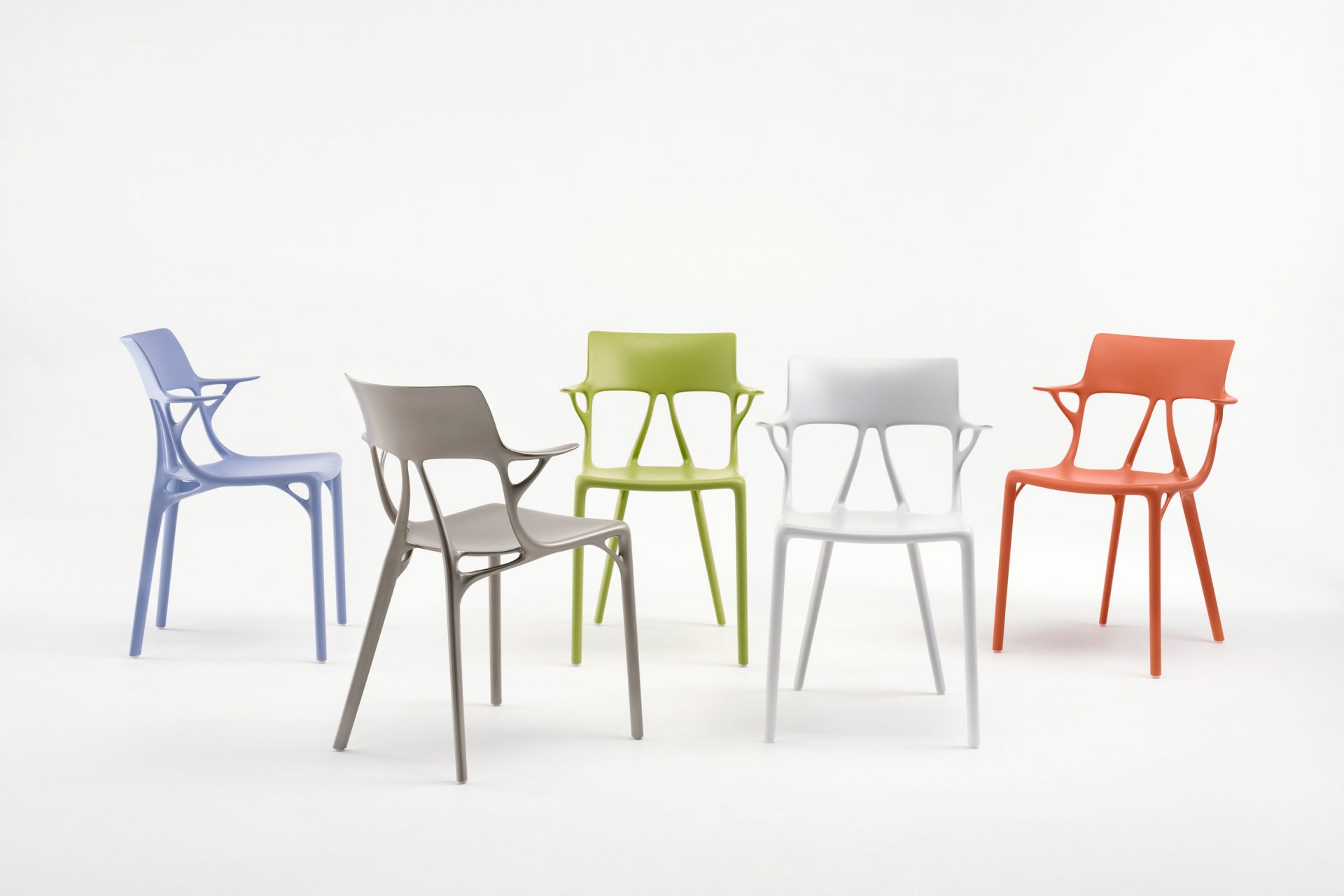 This is an important addition to the design scene from Kartell, Philippe Starck, and Autodesk. The French designer received the lifetime achievement award 2019 at The Design Prize by designboom.
The Italian brand also presented a gallery of their catalogue via "Kartell Windows". They included new and old products, including: S/Matrik chair and stool, Be Bop armchair, Trullo table container, Big Battery lamp, Betty sofa in new faux leather, and more.
At this year's Salone del Mobile, Boffi and DePadova introduced their collections and products in the new S. Project pavilion.
"A multidimensional and multisector exhibition exploring both domestic and office environments where design, technology and interior architecture perfectly blends in."

On S. Project Pavilion at Salone del Mobile 2019
A collection by ADL and MA/U Studio joins Boffi | DePadova's booth designed by creative director Piero Lissoni. His aquatic theme of "When Water Meets" was explored through the organic substance's interaction with space and architecture, with nods to the game of chess.
DePadova introduced an outdoor Yaki armchair by Ludici Pevere and GamFratesi's Etiquette Bed. There were other new products through design collaborations with Paul McCobb, Jens Risom, Gunther Pelgrims, LucidiPevere, neunzig° design, Elisa Ossino, Omi Tahara, Paolo Tilche, Studiocharlie, and Tono Morganti. This Made in Italy duo brand continues to expand fromSoho to Singapore, stay tuned for more.

Zanotta and Studio Salaris teamed up to imagine Made in Italy in a new way. Under the theme 'Urban Passion.' Zanotta furniture was highlighted at their booth for Salone del Mobile 2019. Strong personalities and lifestyles were superbly translated into urban interiors, with backdrops of major cities from Paris and New York to Shanghai and Rome. The cosmopolitan look was really fresh in contrast to many brands that stagnate.

Agape and Wall & Decò shared a booth under the theme of 'Havens' at Salone del Mobile 2019.
'Spoon' is the best-selling freestanding bathtub by Agape, which celebrates its 20th anniversary with a new material as well as a new upgrade. The contemporary statement tub is now available in Cristalplant, a natural, biobased material, making the product more environmentally-friendly. Agape also introduced 'Spoon M', based on the bestseller with added value such as "sophisticated geometries, thinner edges" and "a more frugal use of materials, fully exploiting the latest advances in manufacturing technologies."
Agape's wares are also ready to move outdoors. Petra collection by Merendi and Diego Vencato makes use of Cementoskin, an ecological and sustainable cement.
Wall & Decò enhanced the atmosphere of Agape's contemporary products with their bespoke wallpaper. Their latest collection is hard to pass by with your eyes as well as hands. The tactile materials create micro-patterns with "3D textures, inlays, carvings, and metal light details" creating a touchable effect on the walls. Essential Wallpaper Collection 2019 debuted at their showroom for MDW 2019. 'Not a Stroke' Wallpaper from Out System collection by Bertero Projects for Wall & Deco also won the Wallpaper Design Award 2019 as part of the Best Pipe Dream category.
Chic, minimalist luxury by Antoniolupi continued to shine at this year's Salone. The Made in Italy designer brand featured new colors and new sizes of various products, such as the Marco di Paolo Eclipse small bathtub and Wallpaper Design Award winner Albume washbasin by Carlo Colombo. They released Atelier Colore, a range of clean design furniture and accessories. Cristalmood is a new material made from colored resin that proves versatile and resistant. Its spot on with the trend of transparency within design. The classic Introverso washbasin by Paolo Ulian was present amid new releases.
Poltrona Frau
Architect Michele de Lucchi designed the booth for Poltrona Frau at Salone as well as the Made in Italy brand's showroom under the same name."Connecting Experiences" as the dual theme was inspired to bring people together in a comfortable public space.

"The true wonder of the space can be seen when the proportions and perspectives create an image that takes us beyond the realm of everyday, standardised and conventional items and into a world of dreams where even the most unlikely things are somehow possible"

Michele de Lucchi
Poltrona Frau also expanded their catalogue with new products such as Archibald dining chair by Jean-Marie Massaud, a clean design with sartorial details and the Bolero Ravel table by Roberto Lazzeroni, which was produced from a single slab of barrel-shaped marble, providing a sleek ambience. Another addition from Ludovica and Roberto Palomba, following suit with Beatles nods with 2017 sofa 'Let It Be' and 2018 sofa 'Come Together', present 'Get Back'. The latest sofa is a return to comfort, offering a spacious design and convivial vibes.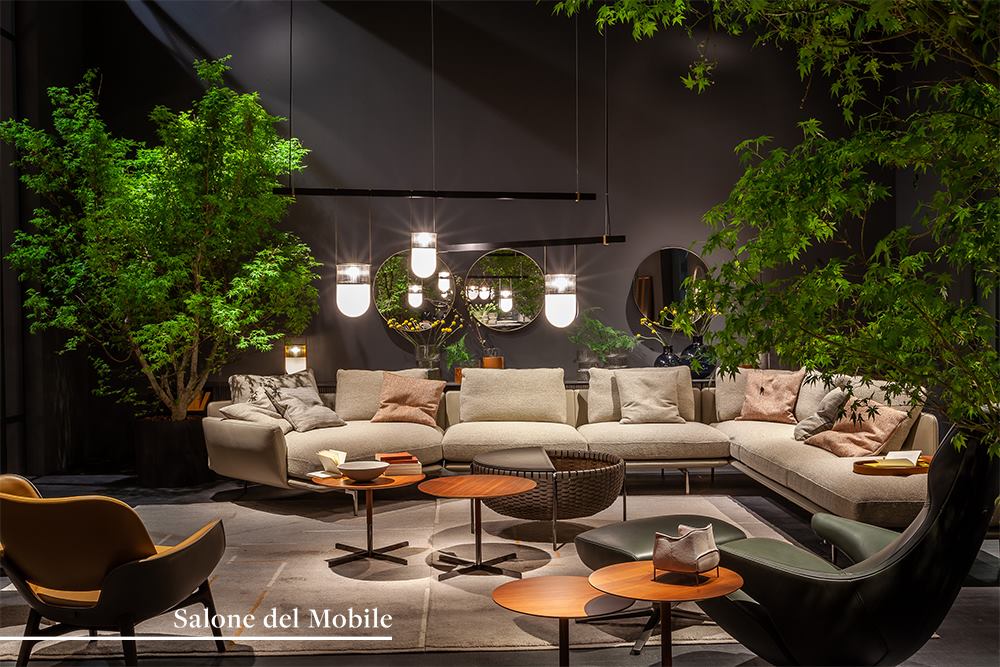 Esperiri Inspires
Bring Made in Italy to your home, wherever that may be, with Online Interior Design services. Our Italian professionals will bring your dreams to life with Italian furniture brands. Our team is updated on the latest design news and trends, including the recently debuted collections and products featured in this article. Contact us today to get started!
Your unique Interior Design Project developed by Italian Professionals.
Discover and shop Made in Italy while living the Italian lifestyle in Milano.