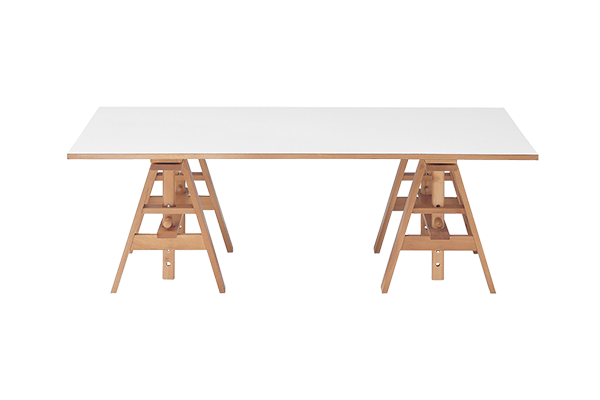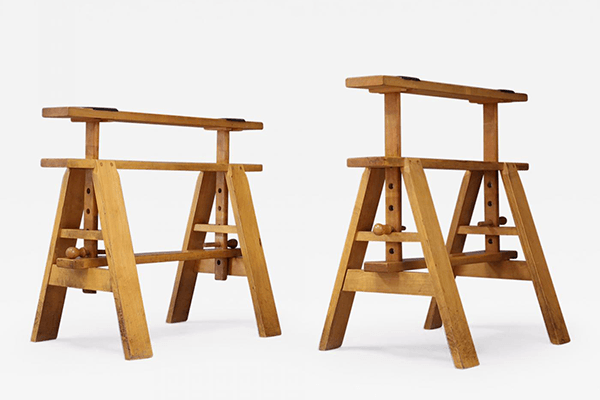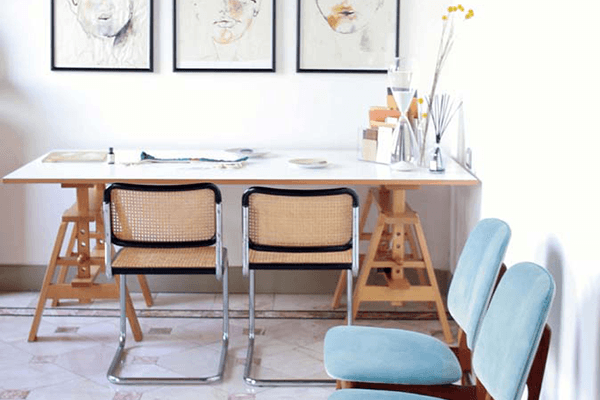 Leonardo Table Zanotta
Designer: Achille Castiglioni
Manufacturer: Zanotta
Starting from: € 1.922,00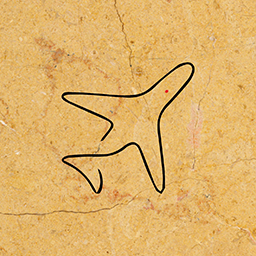 Worldwide Delivery and Installation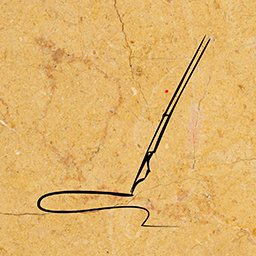 Customizable with our Professional Advice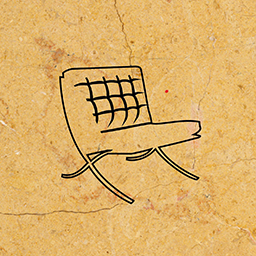 100% Made in Italy Certified
Contact us
Leonardo Zanotta Description
The Leonardo Table is an item with its base serving as the cornerstone for the entire piece of furniture. This table displays old-world technology that remains relevant up to this day. The simple mechanisms of the Zanotta Leonardo Table work efficiently, allowing you to use them in any way that you have in mind. You can use the table's base in other ways aside from its base functions. This helps the Leonardo serve its user in several ways, and with simple materials used in its construct, you are guaranteed to find more uses for this excellent product.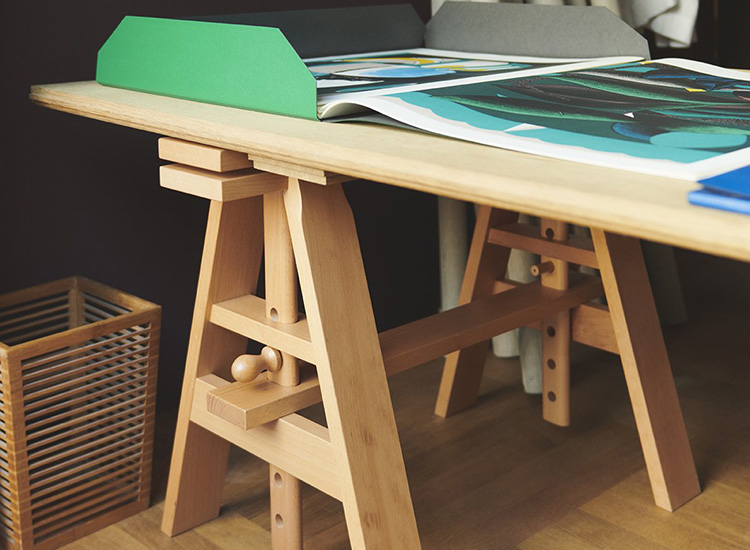 Leonardo Table Zanotta Features
The Leonardo is a table "of the memory," being the archetype of worktables on trestles. Its design mirrors the design philosophy that states: "Design has always existed and the best objects are those not signed by the architects." With its base consisting of treated beechwood, and its tabletop consisting of either a plastic laminated wooden material or tempered plate glass, this table will suit any setting that needs this kind of furniture piece. This product exemplifies the foundations of Zanotta's production philosophy: essentiality, simplicity, high-quality materials, excellent craftsmanship, and attention to detail.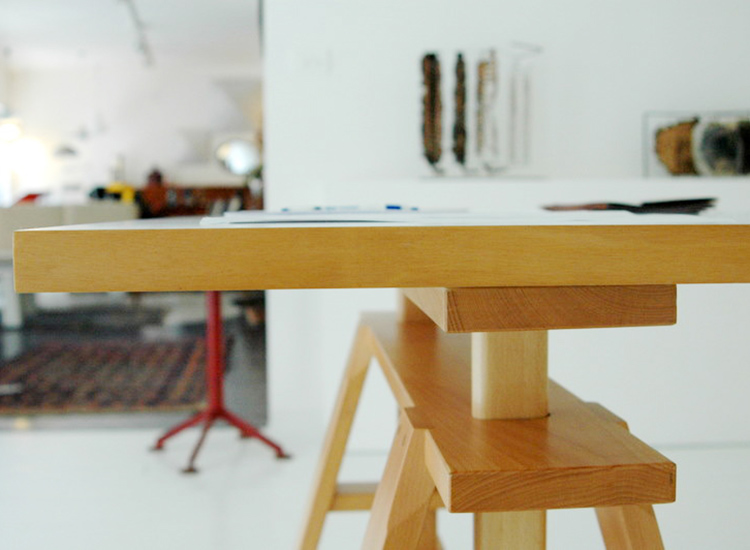 Leonardo Table Materials
Products such as the Zanotta Leonardo do not require many decorative elements to make it an appealing piece of furniture. Its framework needs only a natural-varnished finish to give its necessary demeanour. The tabletop shares this minimalist trait as well; the worktop material comes in either a white plastic laminated finish or in tempered glass. This aspect depends solely on your choice of material. Regardless of this fact, the Zanotta Leonardo will still be a viable option should you require a piece of furniture of this calibre.
Leonardo Table Zanotta Compositions
Measuring 100x200x65/91 cm in total, with the actual support system coming in at 51x86x63/89 cm, The Zanotta Leonardo Table can occupy any location that requires an excellent table system with an adjustable height. Its aesthetic appeal can be found in any location, from your dining table to your workshop at home. Its dimensions can also vary with your chosen worktop, as this component is not fixed in place. You have the option of supplying a specific surface for this table, allowing you to increase or decrease the size of your working area with ease.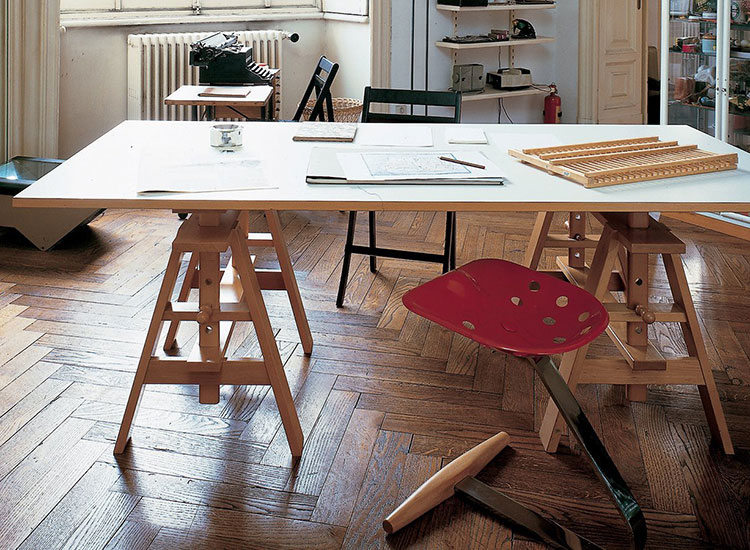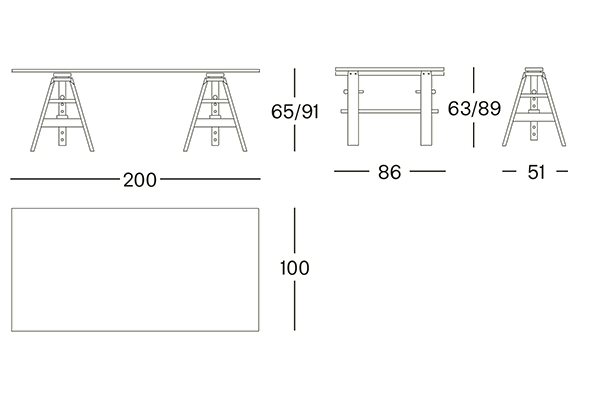 Esperiri Milano For Zanotta
The Leonardo is a designer table that pushes the boundaries of what design can achieve, which is what we at Esperiri constantly aim for. Our curated collection highlights our extensive Italian design heritage which we imbue in every project. Our team of interior designers and architects are prepared to help you select the right elements for your interiors or layout entire design projects. Simply visit us in our Milan office or contact us remotely through our Italian Interior Design Online service. Our worldwide Italian Furniture Supply service will grant you access to superior Italian industrial or bespoke furnishings, anywhere you are. And for an even more in-depth experience, you can join our Italian Furniture Shopping Tour to see Italian design while enjoying the real Italian lifestyle and understand what Made in Italy is truly about.