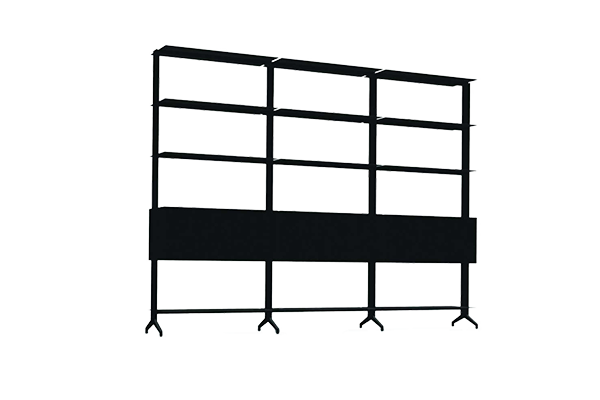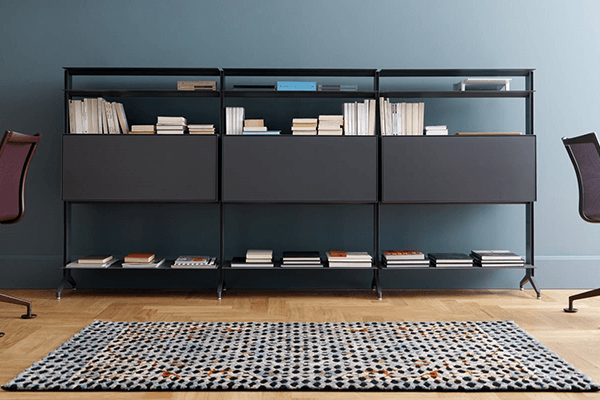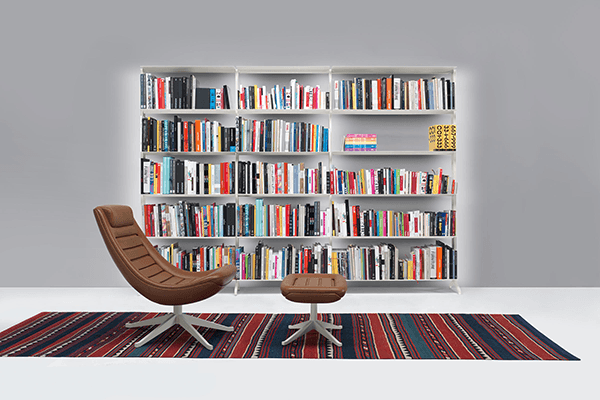 Aline Storage Unit Alias
Designer: Dante Bonuccelli
Manufacturer: Alias
Starting from: € 1.590,00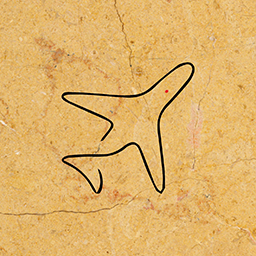 Worldwide Delivery and Installation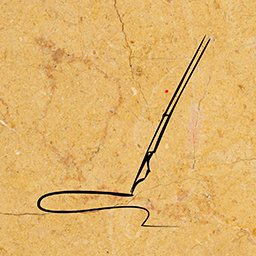 Customizable with our Professional Advice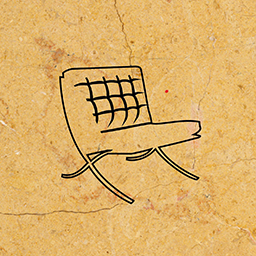 100% Made in Italy Certified
Contact us
Aline Alias Description
The Aline of Alias is a rigorously stylish storage element that displays a streamlined construct that can serve several purposes. Designed by Dante Bonuccelli, these storage systems exude a stylish demeanour that can heighten the aura of a space by simply being in the immediate vicinity. This beautiful storage system can store items as well as divide spaces if necessary due to its size. This item can also use the stored items within its form as a kind of decor for your area. Qualities such as this bolster the Alias Aline Storage Unit's already stellar reputation.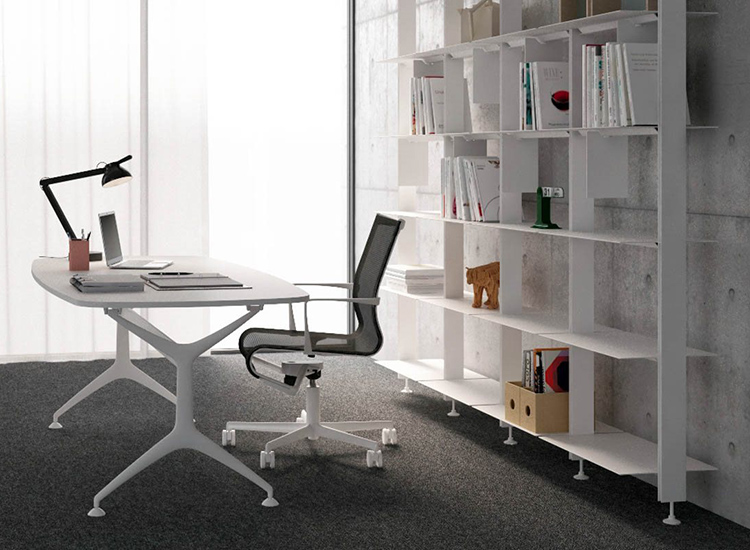 Aline Storage Unit Alias Features
The Aline of Alias is a rigid storage unit that efficiently serves its purpose, but is, in fact, capable of so much more. Its structure is made with extruded aluminium, giving it a slim profile while still being structurally sound. This aluminium structure also shows its worth by being an item that can be assembled and disassembled when needed. It's qualities like these that give the Aline Storage Unit the advantage over other items of this kind. Its a simple and effective product that provides elegance to any chosen area.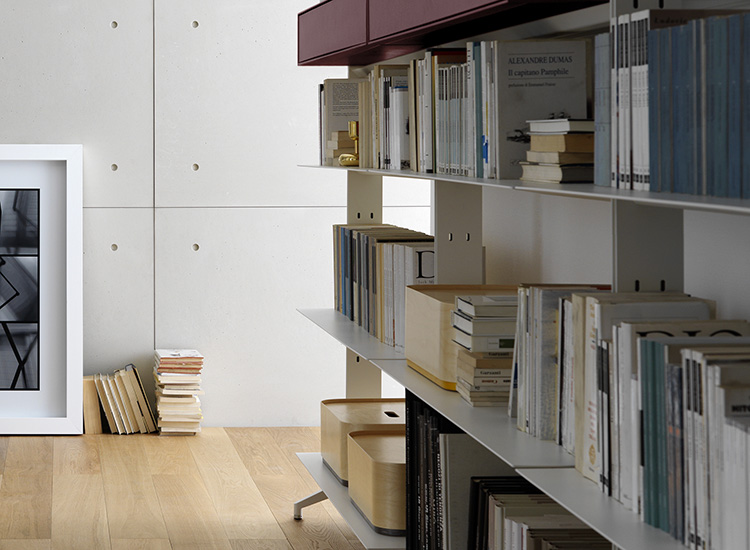 Aline Storage Unit Materials
The standard model fo the Alias Aline comes in four shades for the aluminium and steel variant and the stove-enamelled MDF version. You may also select from three available finishes form Caimi, giving your storage unit the looks that can match its versatility. Additional decorations to this product can come in the form of the actual items you may store in the Aline. Their colours can give the storage unit the added touch of colour that can add more beauty to its already exquisite form.
Aline Storage Unit Alias Compositions
The Alias Aline J01 Storage Unit measures 242.2x300x30x cm. This size allows the unit to be an effective divider for any room, as well as a decorative element. There are also other versions of the Aline storage system that serve the same purpose with a different appearance and set of components. Some variants have lower heights and drawers; others are tall and come in a single tower-like construction. Whatever the case, there will be a variation of the Alias Aline that will cater to your requirements without fail.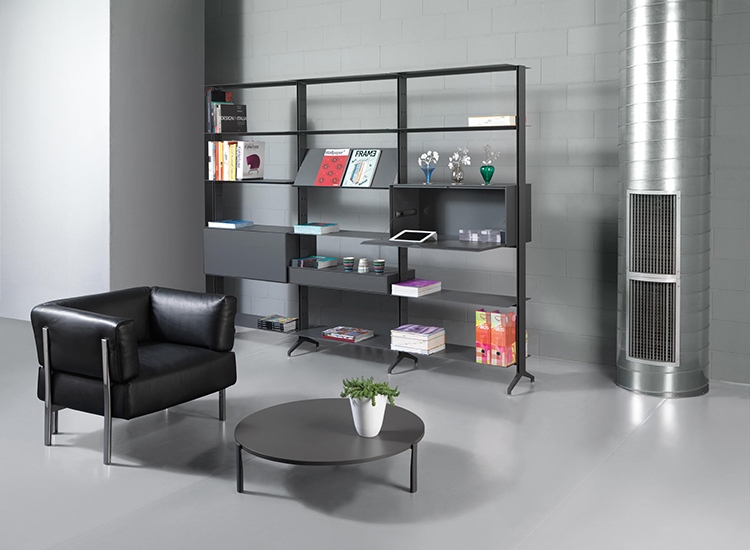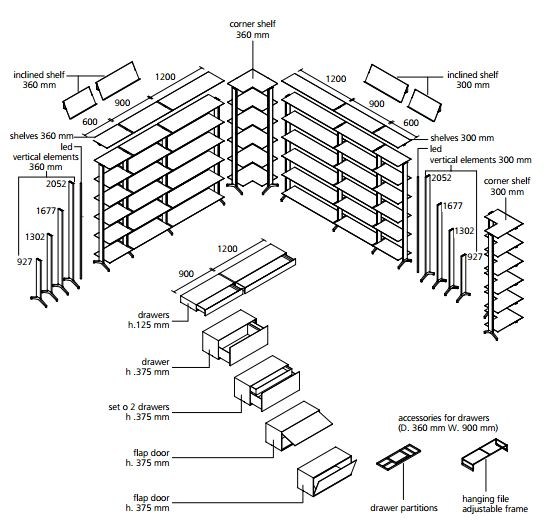 Esperiri Milano For Alias
We at Esperiri continuously advocate the progression of furniture design, and we help this process by curating the best Italian-made furnishings like the Aline designer storage solution. Our team of interior designers and architects are prepared to help you select the right elements for your interiors or layout entire design projects. Simply visit us in our Milan office or contact us remotely through our Italian Interior Design Online service. Our worldwide Italian Furniture Supply service will grant you access to superior Italian industrial or bespoke furnishings, anywhere you are. And for an even more in-depth experience, you can join our Italian Furniture Shopping Tour to see Italian design while enjoying the real Italian lifestyle and understand what Made in Italy is truly about.