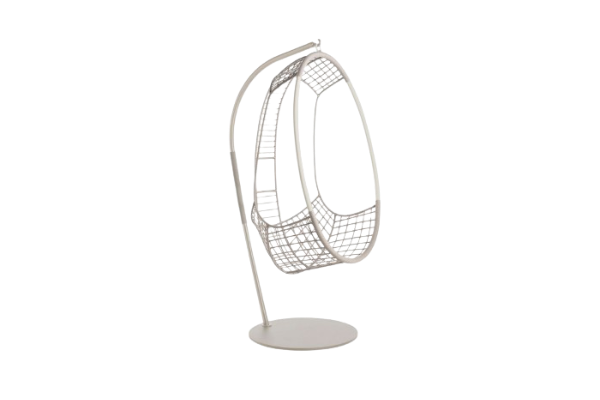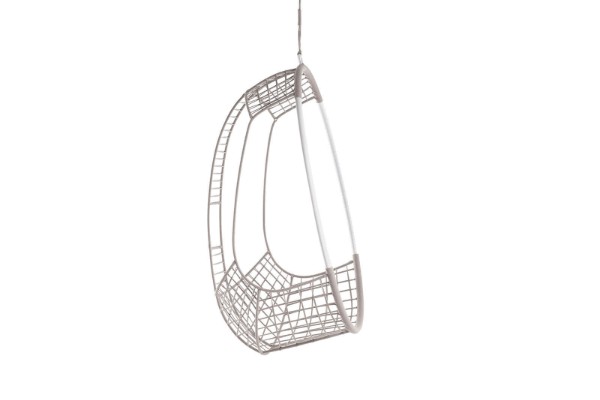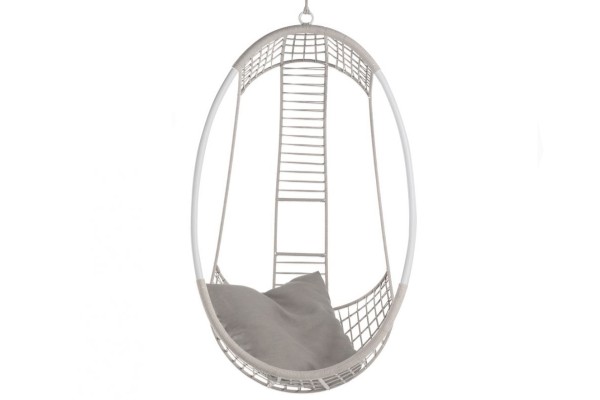 Swing Outdoor Ivano Redaelli
Designer: Umberto Asnago, Ivano Redaelli
Manufacturer: Ivano Redaelli
Starting from: € 2.682,00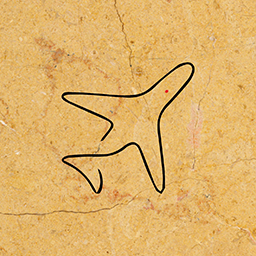 Worldwide Delivery and Installation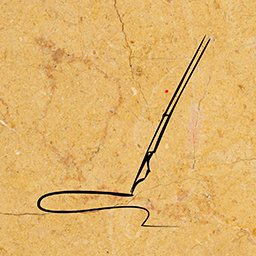 Customizable with our Professional Advice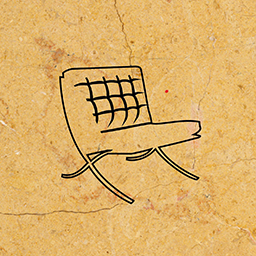 100% Made in Italy Certified
Contact us
Swing Ivano Redaelli Description
The Swing Outdoor of Ivano Redaelli is an elegant example of artisanal craftsmanship coupled with precision assembly. This beautiful outdoor chair evokes feelings of comfort and security as you unwind inside its airy framework. The Ivano Redaelli Swing's structural composition will envelop anyone resting in its embrace. The sinuous lines owned by this stylish product provides tranquillity and relaxation to its user without any delay. Truly an industrial masterpiece, the Swing Outdoor chair is indeed a worthy investment. Its elegance alone merits praise, enabling it to be an artistic element anywhere.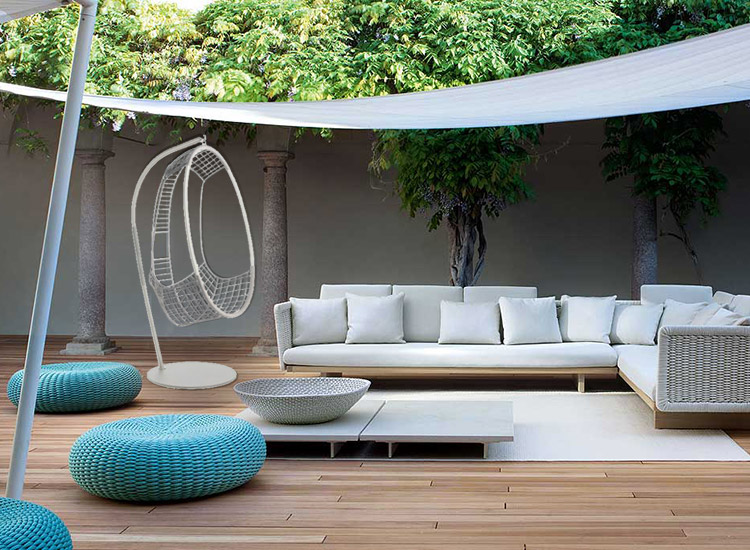 Swing Outdoor Ivano Redaelli Features
The Swing Outdoor of Ivano Redaelli is an eye-catching seating implement that attracts attention anywhere it is placed. Whether hung from a tree or on its own base, the Swing can hold its audience captive with its unique visage. The Ivano Redaelli Swing's frame alone can be a topic for conversation. Its finish is an ideal model for hand-braided upholstery. The entirety of this product exudes a high standard of excellence in production. With all these qualities in hand, The Swing will meet all of your requirements for stylish furniture pieces that can withstand the elements.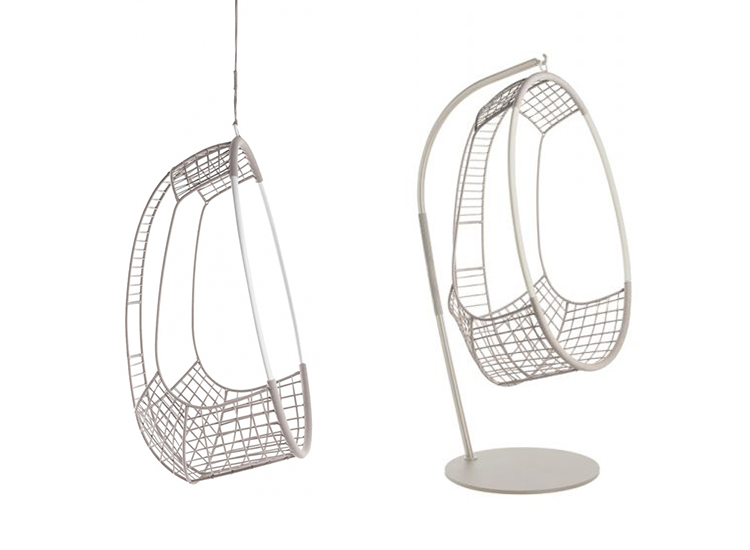 Swing Outdoor Materials
Umberto Asnago and Ivano Redaelli's Swing is a distinguished item that elevates the level of comfort that similar pieces provide. The finishes available for this article are also treated to endure heat and moisture. With four colours available for the frame's braiding, five weather-proof coatings for the frame, and three weather-proof fabrics for the cushioning, the Swing is customized according to your stringent tastes. Ivano Redaelli has manufactured an item that boasts aesthetic qualities that captures the imagination. Simply put, the Swing will be the centre of attention inside or outside of your home.
Swing Outdoor Ivano Redaelli Compositions
The Swing's base is dependent on your preference. The floor-based metal support structure is the correct option for a more stable version of this item. The total measurement for the floor version is at 173x75x95 cm. In case you opt to place the Swing in a natural setting such as a tree, you may select the long polypropylene cord with a hook. In this option, the actual seat measures 120x75x60 cm. The standard braided polypropylene cord's length for this option is 200 cm but can be customized according to your needed measurements.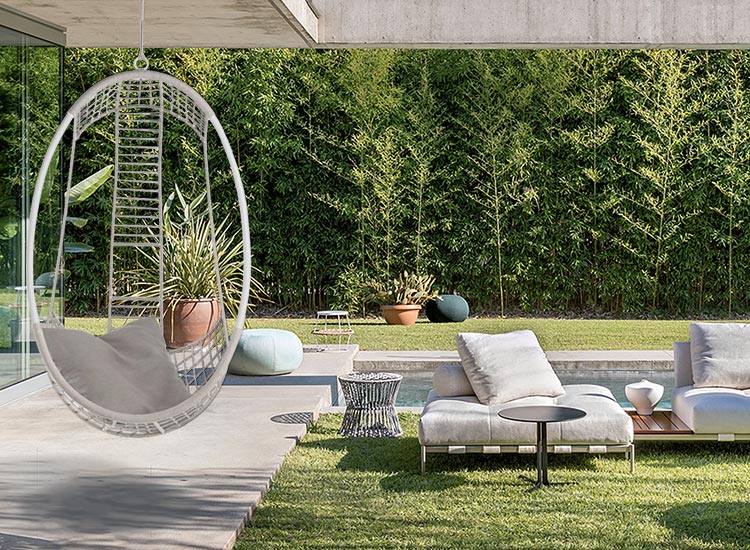 Esperiri Milano For Ivano Redaelli
Designer outdoor chairs like the Swing can heighten the air of an area with ease. We at Esperiri can lead you towards the design path that you desire. Our team of interior designers and architects are prepared to help you select the right elements for your interiors or layout entire design projects. Simply visit us in our Milan office or contact us remotely through our Italian Interior Design Online service. Our worldwide Italian Furniture Supply service will grant you access to superior Italian industrial or bespoke furnishings, anywhere you are. And for an even more in-depth experience, you can join our Italian Furniture Shopping Tour to see Italian design while enjoying the real Italian lifestyle and understand what Made in Italy is truly about.