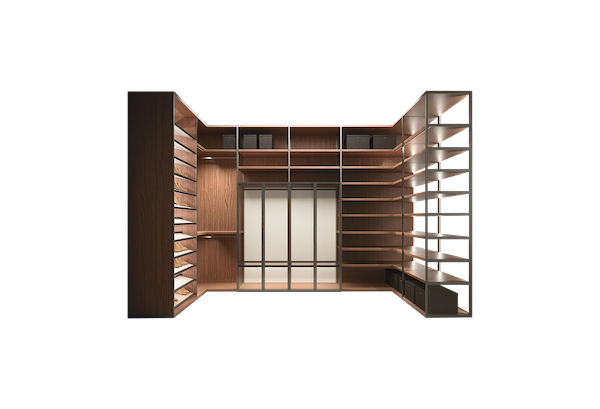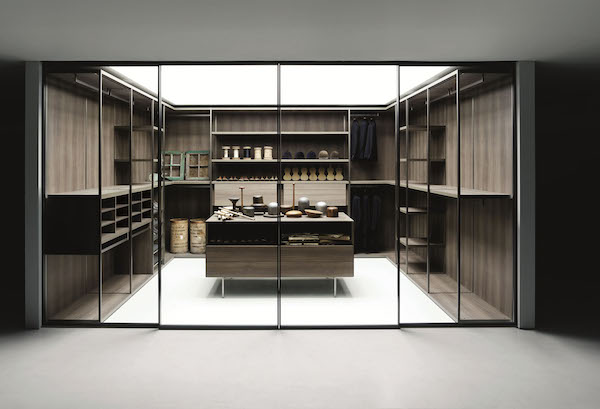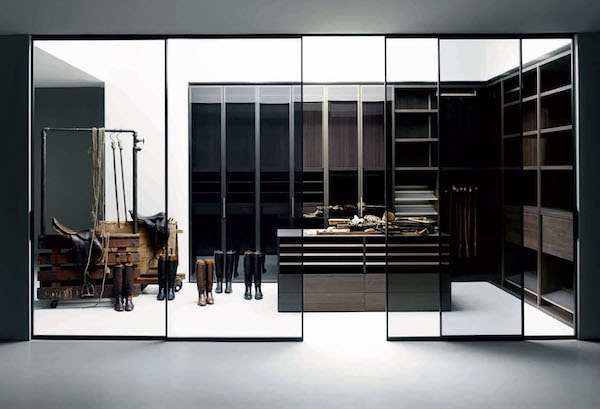 Boffi Walk In Closet
Designer: Piero Lissoni
Manufacturer: Boffi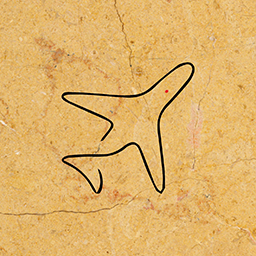 Worldwide Delivery and Installation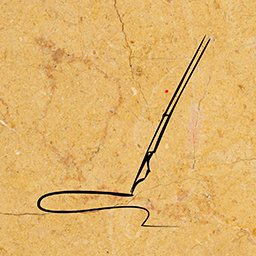 Customizable with our Professional Advice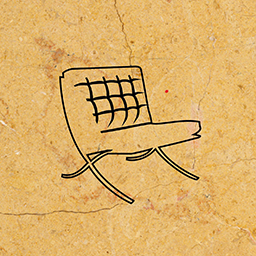 100% Made in Italy Certified
Contact us
Boffi Antibes Cabina Description
In a continuous design evolution, walk-in closets have now become another room in the house. A private space that must be able to guarantee functionality and flexibility at the same time. And Piero Lissoni responds to these new needs by designing Boffi Antibes Cabina.
Antibes, the new Boffi walk in closet system has been designed with particular attention to the study of environments. A sartorial and meticulous approach that shows impeccably the craftsmanship and advanced engineering skills of this great Italian company.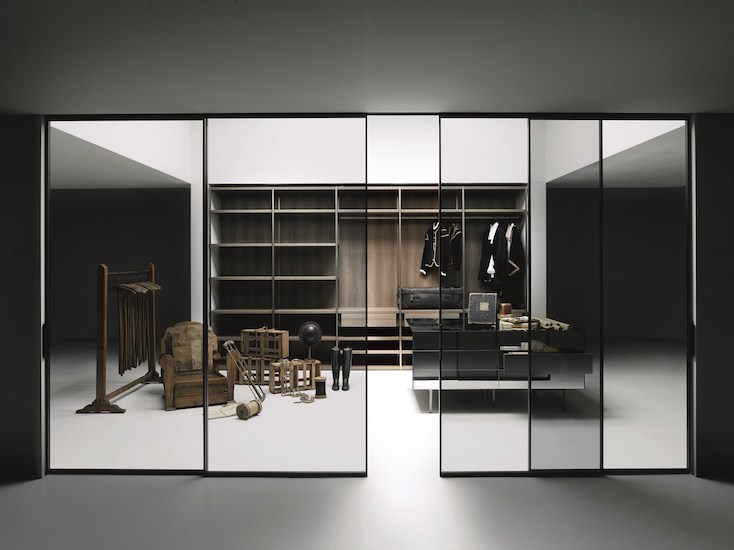 Boffi Walk In Closet Features
Boffi Antibes cabina was born with the aim of being highly practical and comfortable. The main feature of Antibes in fact is the possibility to create endless combinations, thanks to a wide range of components that are part of the Boffi walk in closet family. From the subdivision into modules to the choice of different internal components, such as shelves, drawer units and trays, the primary objective is to be able to fulfill every desire. Everything enhanced by the quality of finishes and materials.
Boffi Antibes Cabina is much more than a simple room, it is a place where you can find every kind of comfort. For this reason Antibes is completed with the island drawer units that, for structure and finish, appear as architectural and material modules of the Boffi walk-in closet system.
The success of Antibes is reinforced and completed by a series of solutions that allow for even greater design to be integrated with the door or partition wall system. To divide the walk-in closet space from the other spaces connected to it, a system of Shades doors has been designed, a sliding door (opaque, transparent or with linear patterns) that guarantees a visual relationship between the different environments.
The lighting system for the backrests and shelves has also been revised, inserting luminous led bands. This makes  possible to create a type of walk-in closet which stands as an "island" inside the spaces of the house, entirely panelled in transparent glass with various finishes and with a metal frame structure in new colours, such as bronze.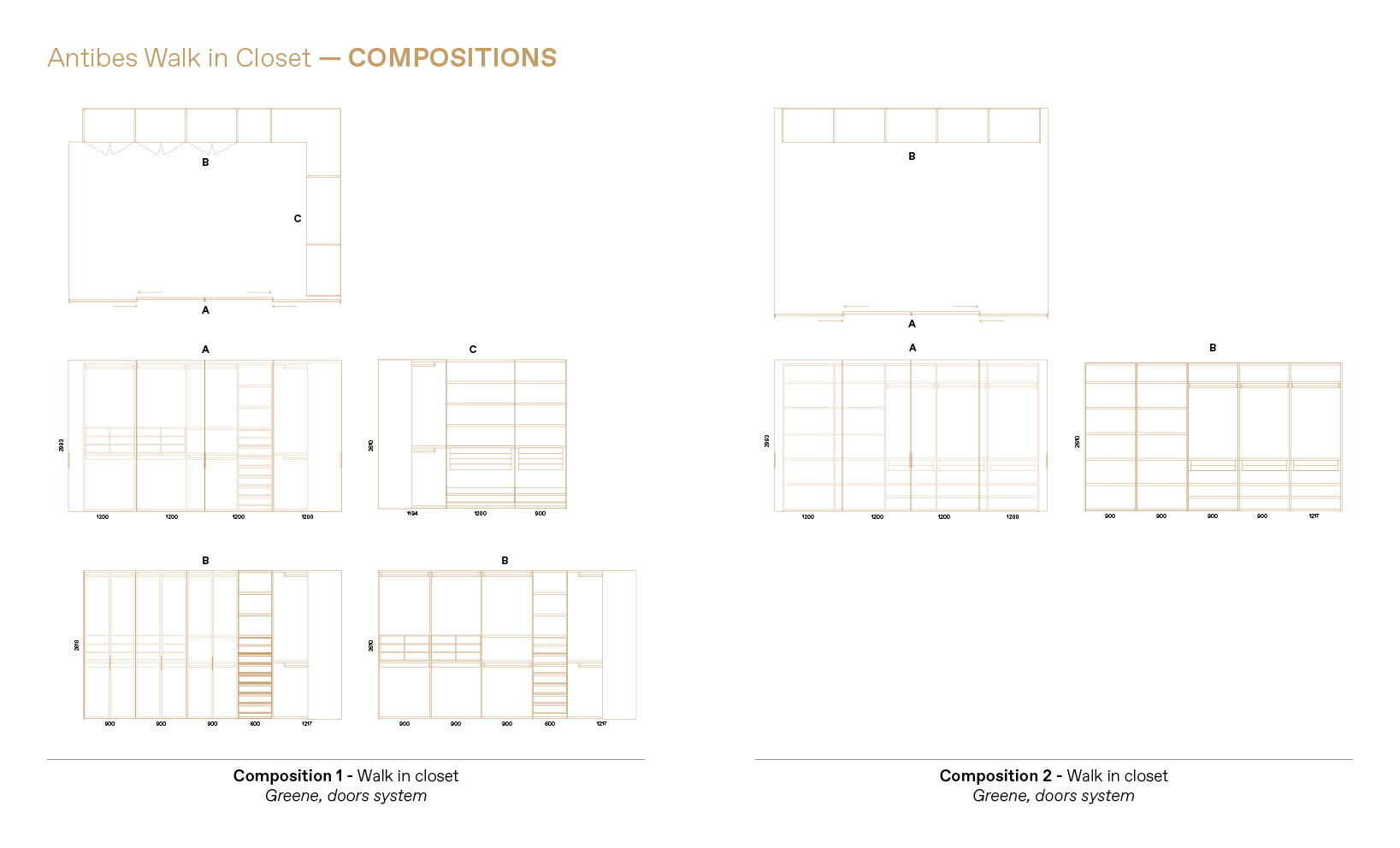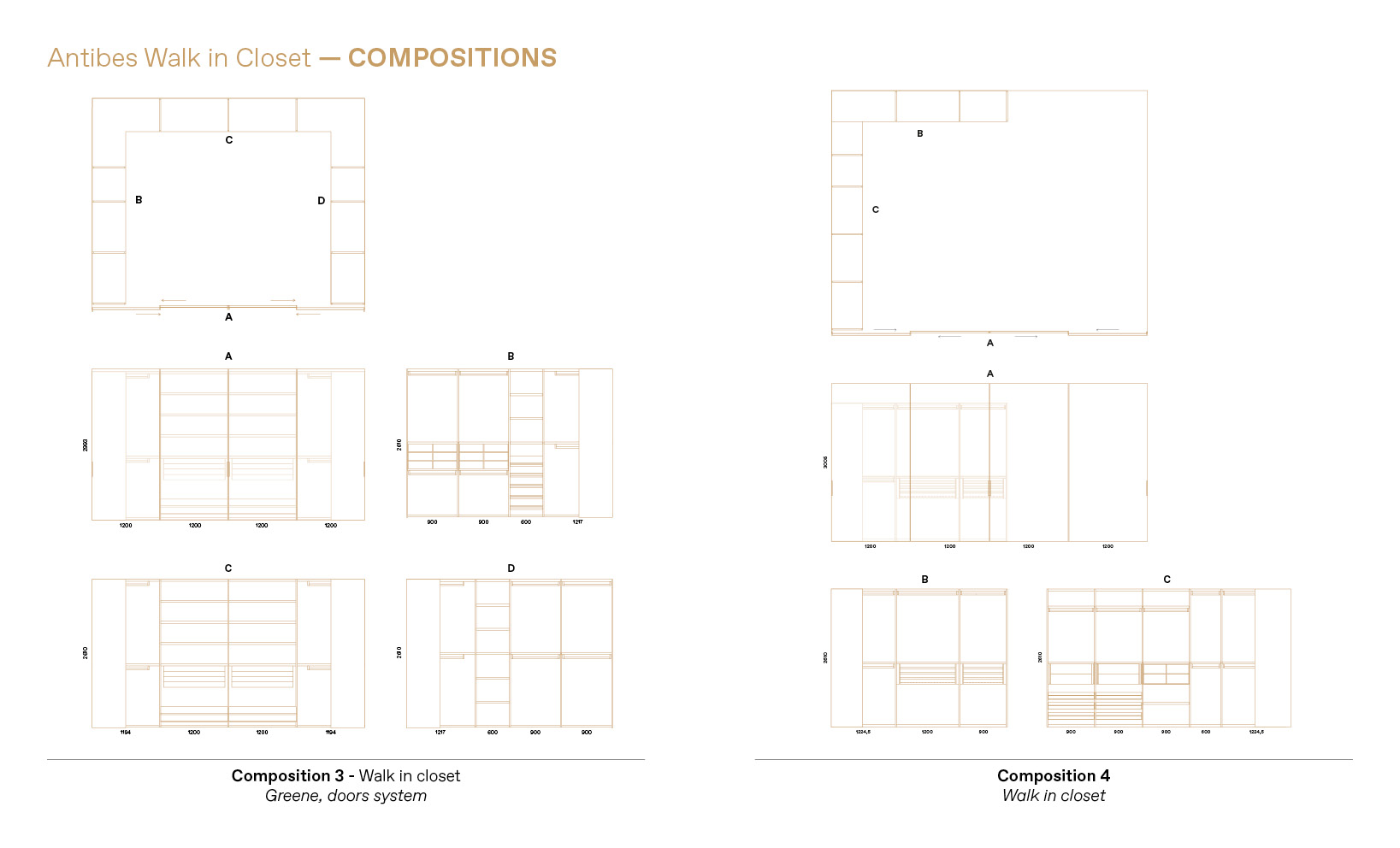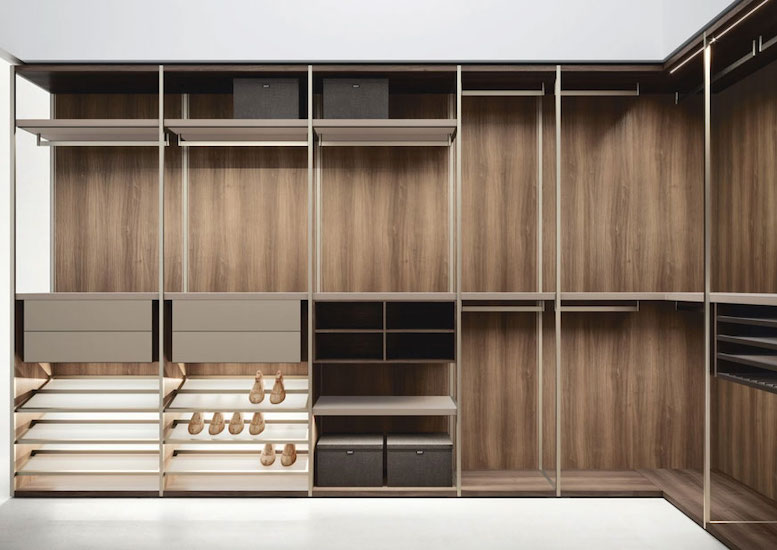 Antibes Walk-In Closet Materials
The wide choice of alternatives for Boffi Antibes cabina is also given by the numerous materials available. As for the upholstery of the internal shelves, backdrops and drawers, you can choose from a wide range of leathers or microfibre fabrics in various colours.
The interior accessories, in addition to the finishes just listed, can be covered with a new black Sablè melamine finish, which can be easily combined with any other material.
Boffi walk-in closet frames and linear structures are all designed with metal finishes in various colours, to achieve greater efficiency and guarantee long durability.
Finally, the desire to display and keep garments, shoes and accessories on view finds a refined level of gratification in the use of glass, both for tops and cabina doors.
Boffi Walk In Closet Compositions
Boffi Antibes Cabina's compositions are endless. In fact, the modularity and the possibility to combine all different accessories allows you to create your personal Boffi walk-in closet.
The width of the modules for the structure varies depending on the type of closure, wing, coplanar or sliding, or the type of function of the module and internal components. The height is also adjustable according to the space of the walk-in closet.
Inside this structure you can play with the composition of the internal accessories: chest of drawers, clothes hanger tubes, shirt trays, shoe shelves, shelves and storage trays are all elements that you can insert in your walk-in closet to customize it according to your needs.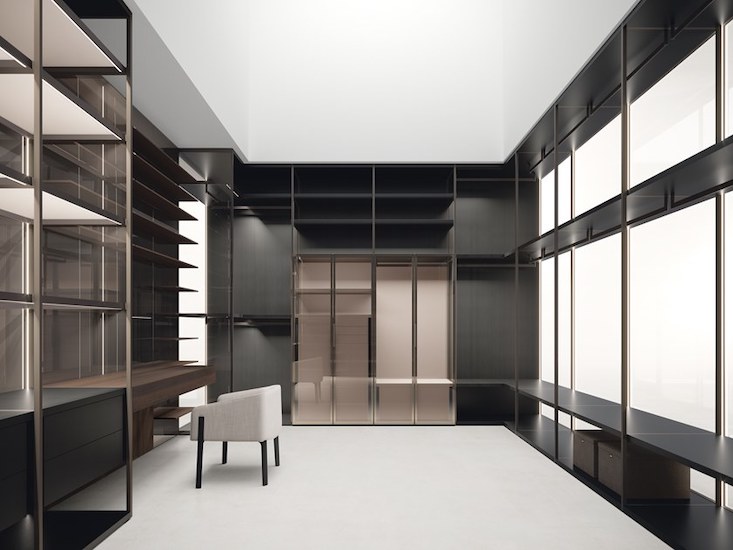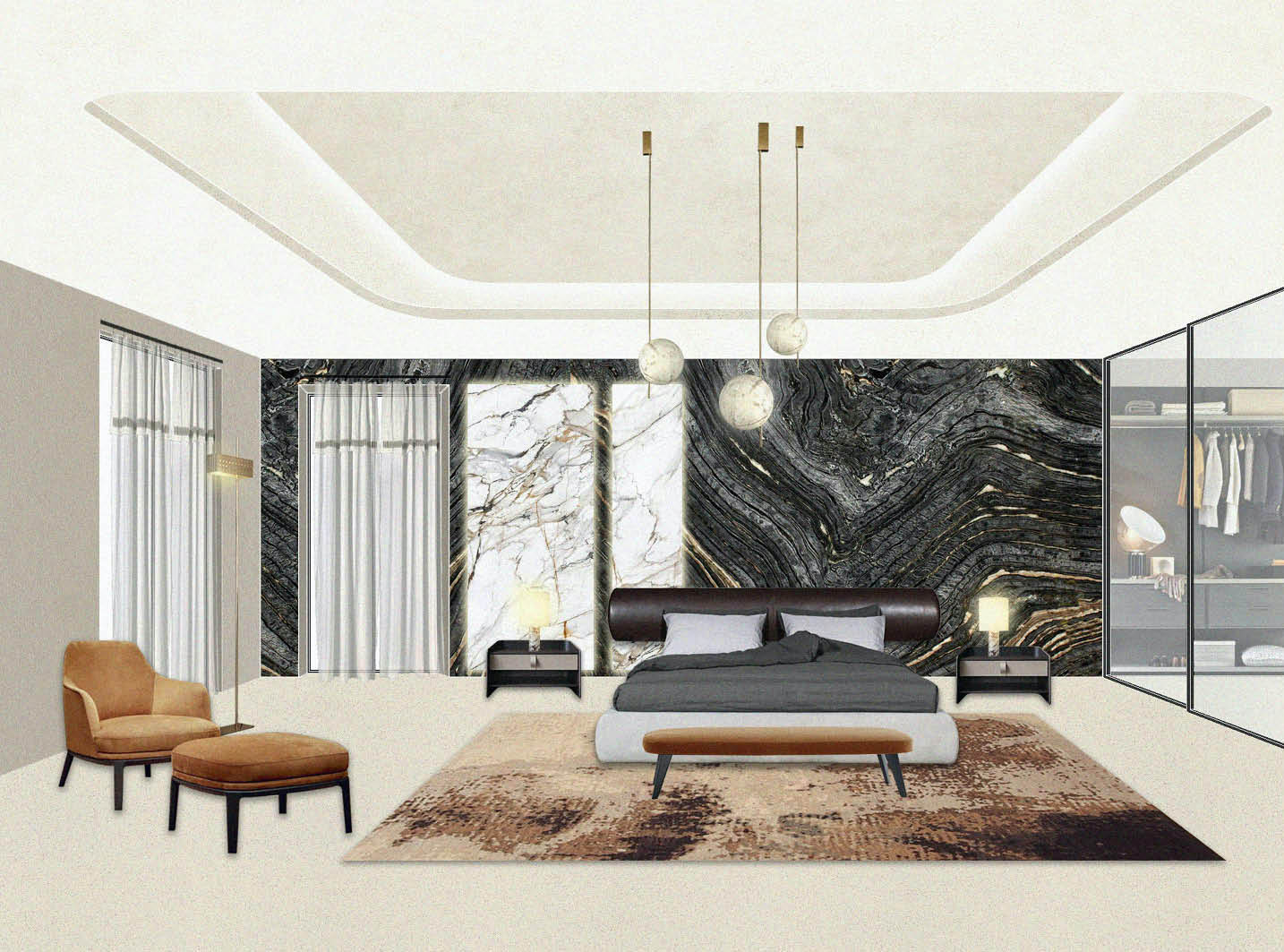 Italian Bedroom Designs from our Team
A room where you can relax, an environment where you can experience a constant feeling of comfort and well-being. This is why it is important to create an Italian bedroom design that allows you to express your way of being through the right choice of furniture, colors and accessories. Minimal, modern, classic, luxurious, eclectic, this is the room that can and must represent to the maximum ourselves and our style.
Esperiri Milano For Boffi
Start with us an interior design project to create your personal Boffi walk-in closet. Our experts will guide you through the selection of materials and accessories from the Antibes family in line with your preferences, to create the Italian walk-in closet you imagine. Rely on our Italian Interior Design service for a made in Italy project designed especially for you. Our interior designers and experts in the field will accompany you in every phase of design, from the first consultation to the selection of furniture and finishes, up to the shipment and assembly of products directly on site.
If you prefer the comfort of your home, we have created a convenient Italian Interior Design Online service: our strong passion for the world of design combined with new technologies has generated a system that can reach you anywhere in the world. We want to offer you our support and our extensive knowledge of the world of design and we want to do it without limits.
If you are curious to discover the beauty of Italian design live with us, you can live a unique experience: through an organized and personalized Furniture Shopping Tour, our interior designers will take you to see and touch all the best Italian furniture products and experience the real Italian lifestyle. Start your Esperiri adventure.