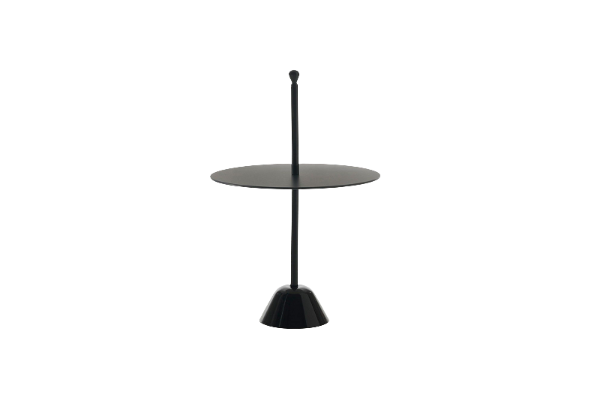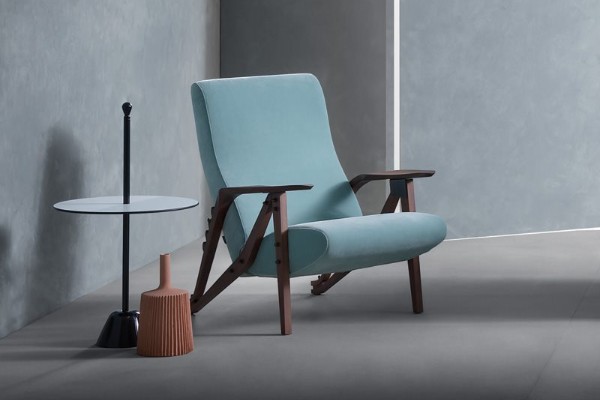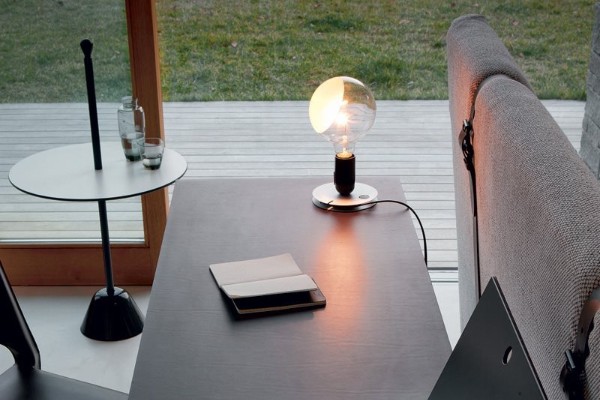 Servomuto Coffee Table Zanotta
Designer: Achille Castiglioni
Manufacturer: Zanotta
Starting from: € 347,00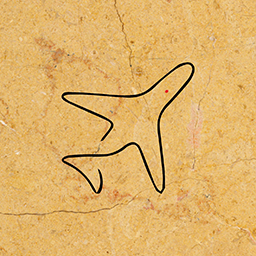 Worldwide Delivery and Installation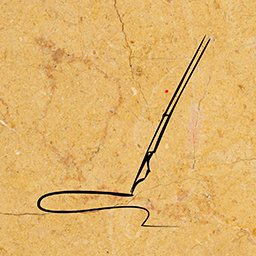 Customizable with our Professional Advice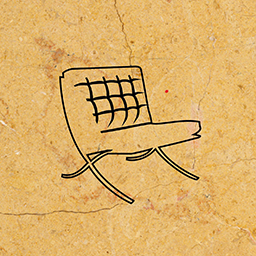 100% Made in Italy Certified
Contact us
Servomuto Zanotta Description
The Zanotta Servomuto Coffee Table is an exemplary piece of industrial design. Its basic shape gives it mobility, allowing the user to bring the table to any location in any space. Devoid of unnecessary embellishments, the Zanotta Servomuto looks and functions just the way it should. The Servomuto is a coffee table that can exist in any setting; It's a simple product that serves a modest purpose. Designer Achille Castiglioni once again brings us an item that elegantly does what it's made for without any difficulty. The Servomuto is simply a little table that could.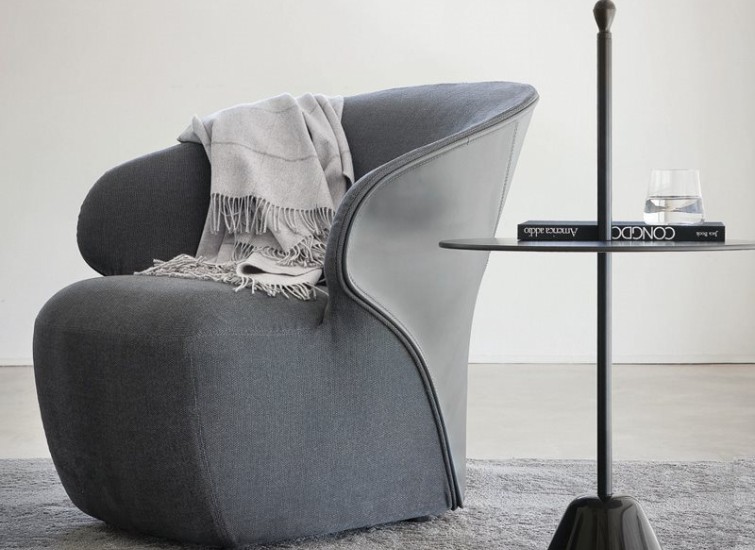 Servomuto Coffee Table Zanotta Features
The Zanotta Servomuto's most prominent feature is its frame. It's a simple metal rod that extends from the base and through the actual tabletop. This design characteristic gives the table its lightweight properties and functions as a handle that allows you to carry it. The base itself, although small in stature, is the component that instils stability in the Servomuto Coffee Table of Zanotta. The tabletop also provides the necessary lightness that the table needs. This component, made with solid plastic laminate, is light enough to be seamlessly attached to the rod and rigid enough to hold weight.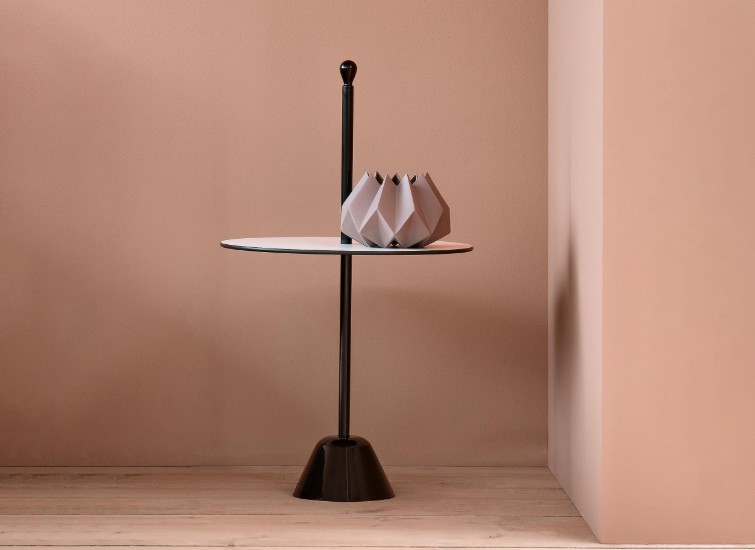 Servomuto Coffee Table Materials
The simple materials that comprise the Zanotta Servomuto need little decoration to be elegant components for this table. Simple decorative touches enhance the table's features. Its base and frame are lacquered in black, white, or amaranth. The tabletop has several combinations for its finish, namely white and black, amaranth and grey, or terracotta and grey-blue plastic laminate. These colour choices are the most viable selections for this item, and opting for any one of those colourways will add more flair to an already marvellous object.
Servomuto Coffee Table Zanotta Compositions
The sizes for Zanotta's Servomuto Coffee Table can vary according to the diameter of the base. There are two heights to choose from: 86 cm and 104 cm, with floor-to-tabletop heights that range from 50 cm and 67 cm, respectively. The diameter of the tabletop also has two sizes: 50 cm and 33 cm. Any combination of these measurements can result in a product that is not only aesthetically pleasing but is also handy and functional. As these are definitive qualities that an item must possess, rest assured, the Servomuto displays these traits with no problems.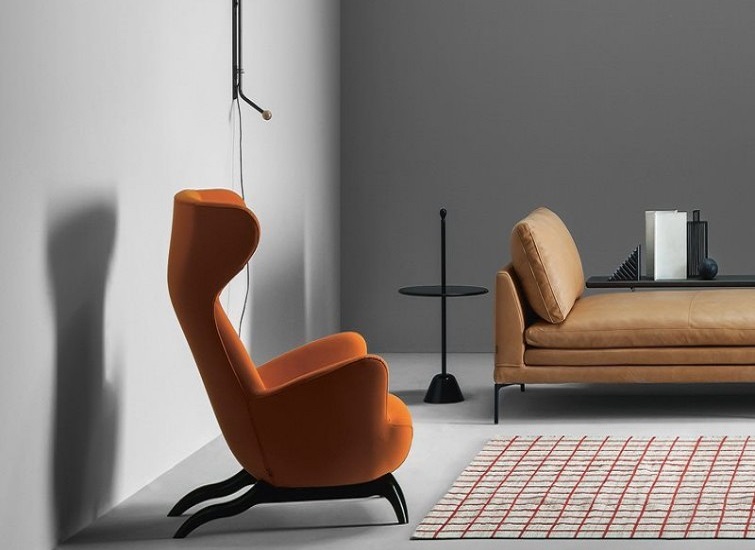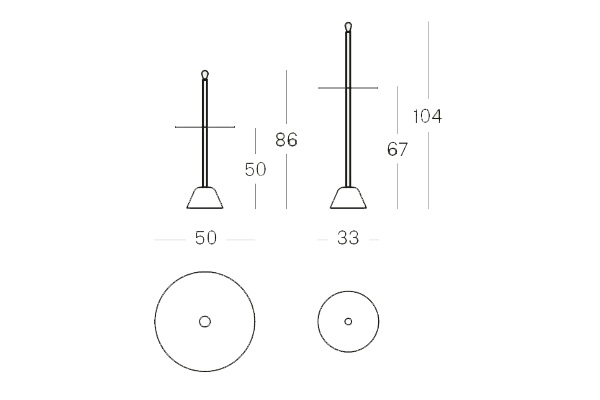 Esperiri Milano For Zanotta
The Servomuto is a designer coffee table that pushes the boundaries of what design can achieve, which is what we at Esperiri constantly aim for. Our curated collection highlights our extensive Italian design heritage which we imbue in every project. Our team of interior designers and architects are prepared to help you select the right elements for your interiors or layout entire design projects. Simply visit us in our Milan office or contact us remotely through our Italian Interior Design Online service. Our worldwide Italian Furniture Supply service will grant you access to superior Italian industrial or bespoke furnishings, anywhere you are. And for an even more in-depth experience, you can join our Italian Furniture Shopping Tour to see Italian design while enjoying the real Italian lifestyle and understand what Made in Italy is truly about.