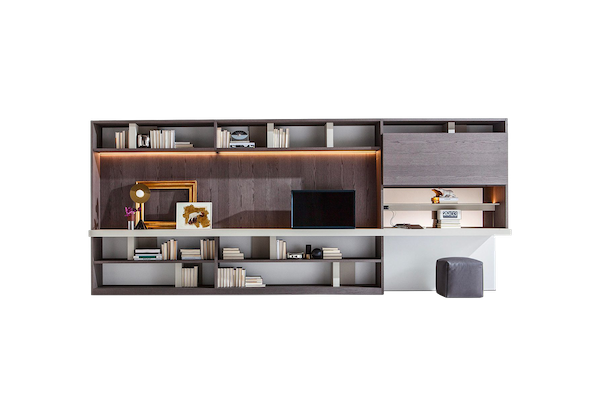 Molteni 505
Designer: Nicola Gallizia
Manufacturer: Molteni&C
Starting from: € 5.000,00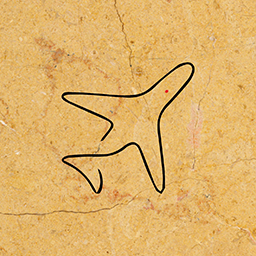 Worldwide Delivery and Installation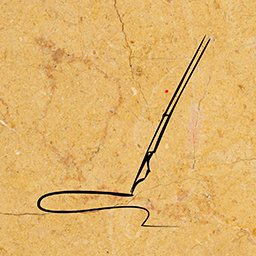 Customizable with our Professional Advice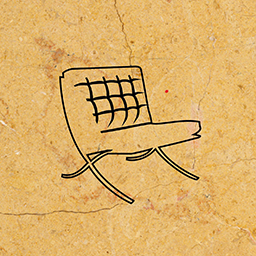 100% Made in Italy Certified
Contact us
Molteni Bookshelves Description
The Molteni 505 is a modular storage system that was developed in 2016 by Nicola Gallizia. He was once the artistic director of Molteni&C before Vincent Van Duysen took the reigns. The Molteni 505 functions as storage for your dishware, a bookshelf for your library, and can even be customized to service as a desk with a variety of drawers and shelves, catering to your every need. The system does not disappear in the backdrop, unless you want it to, offering the contemporary style as a long or short partition. Molteni bookshelves and storage systems will provide the very best in Italian interior design.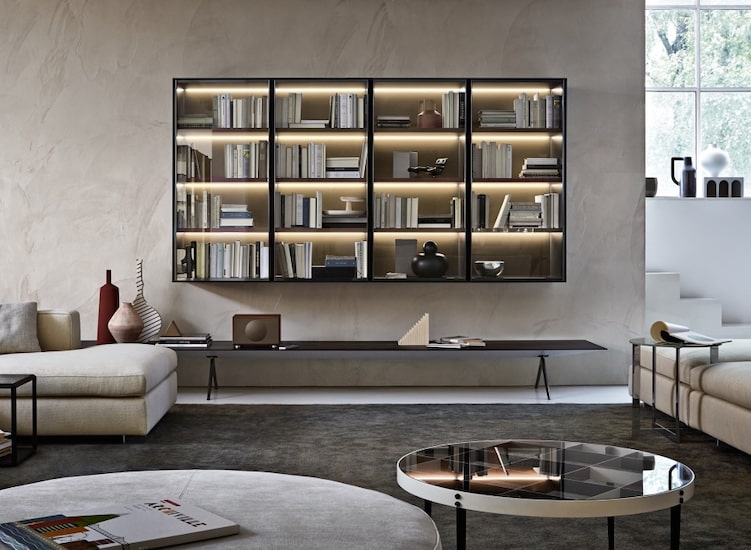 Molteni 505 Features
The core features of this dynamic Molteni 505 storage system include flexibility and functionality. It will prove flexible around your living space with numerous options for widths, heights, and depths for storing and displaying your objects. The functionality of Molteni bookshelves will live up to your ideal expectations, whether as a bookshelf, desk and workspace, or simple cabinetry.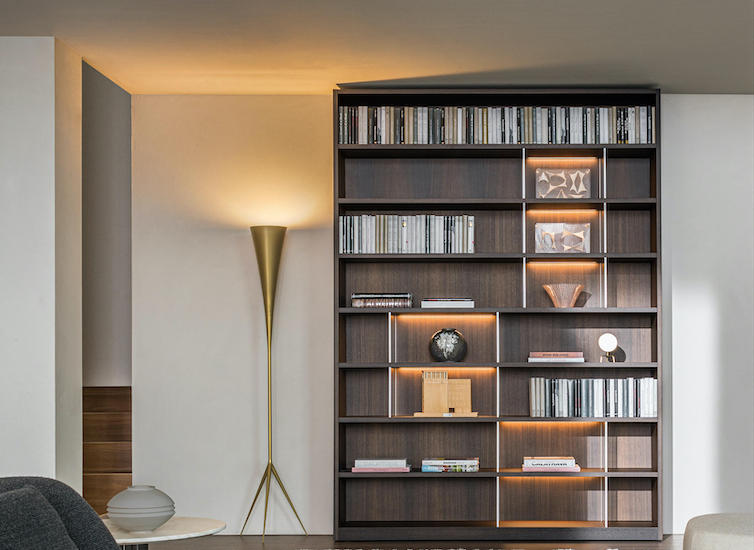 505 Wall Unit Materials
All of the finishing options for the Molteni 505 have been created with a contemporary lifestyle in mind. The look, feel, and function will be up to date with technological and material innovations. Modular finishings will accommodate books, television, and an assortment of media. Objects can be displayed with LED lighting, customizable around your preferences.
The material of the system can be mixed in any variety of matt or glossy lacquer from pearl to cadmium, as well as eucalyptus, grey oak, and graphite oak woods, colored or etched glasses, white Carrara marble, metal, eco skins from mink to hemp, and even a 3D texturized polymer material by Molteni&C called Fine Grain. Your options for handles include a general hinge opening or drawers with pressure opening.

Molteni 505 Compositions
If you are looking for something particular, Molteni Bookshelves will provide you with endless combinations for composition to store your books, television, assorted media, and various objects. Whether its main function is as a partition, cabinet, or workspace, you can customize the compartments for whatever you may need. The compartment doors can be flap doors, open, or vertical sliding. It can fit internal or external corners, tall or low ceilings, and unique spaces, even acting as a partition for a large room. The sample compositions of the structure are only the beginning. Choosing the Molteni 505 will offer you exactly what you need.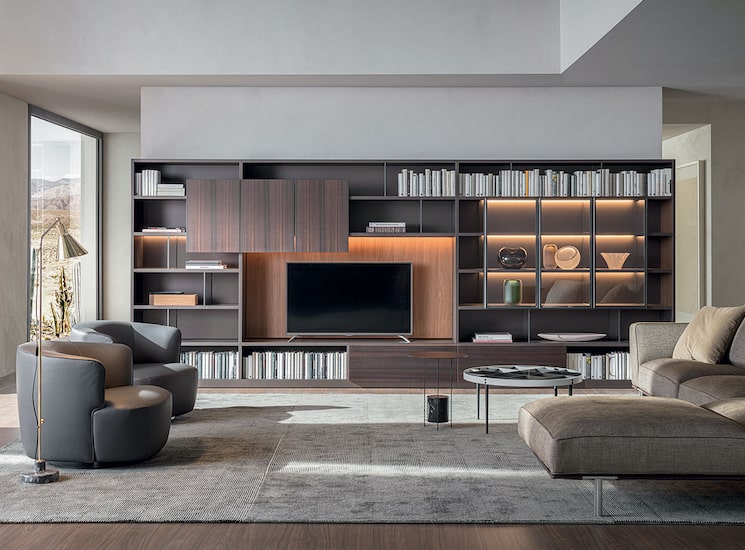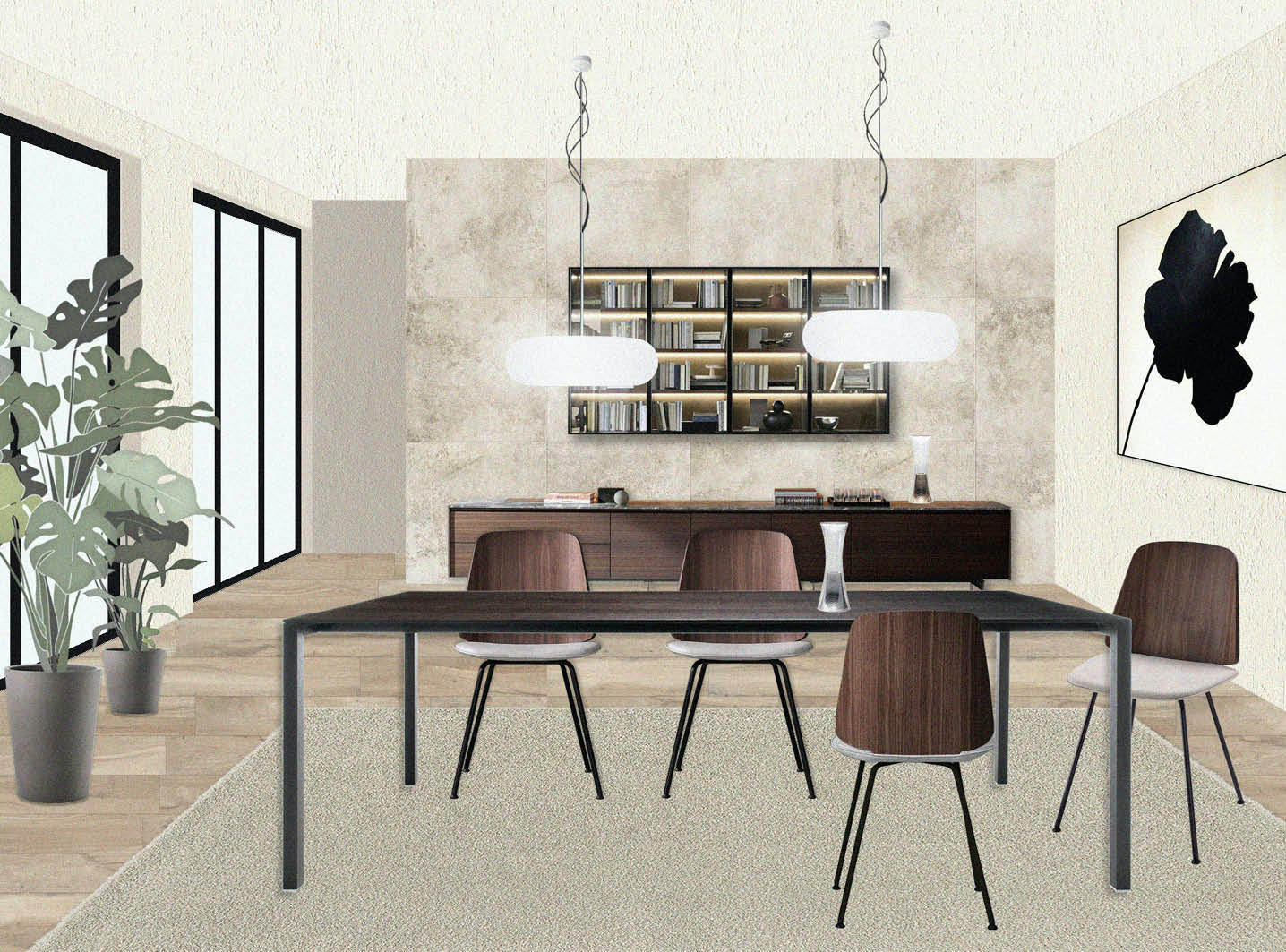 Dining Room Designs from our Team
A space where the main activities of conviviality and meeting take place must be designed in the right style. A welcoming atmosphere and a design that best reveals one's personality are an excellent starting point to create your own Italian style dining room. The set of furniture, materials and colors are then the main protagonists and must be able to best represent the most varied types of settings, from those with neutral nuances and minimal shapes to those with precious materials and refined and unique elements. We introduce a series of Italian dining room design inspirations, to help you imagine a new look for your home and to show you innovative solutions with products 100% made in Italy.
Esperiri Milano For Molteni&C
Consult Esperiri's design experts for custom design advice concerning design solutions such as how to bring the Molteni 505 into your living room. Our professionals ensure the ambience of your home interiors will be enhanced with Made in Italy products. Bring the best out of your home interiors with Italian furniture and design as curated by Esperiri. Whether you prefer to stay at home with our Interior Design Online option or are eager to visit Milano on our Furniture Shopping Tour, we remain at your service.