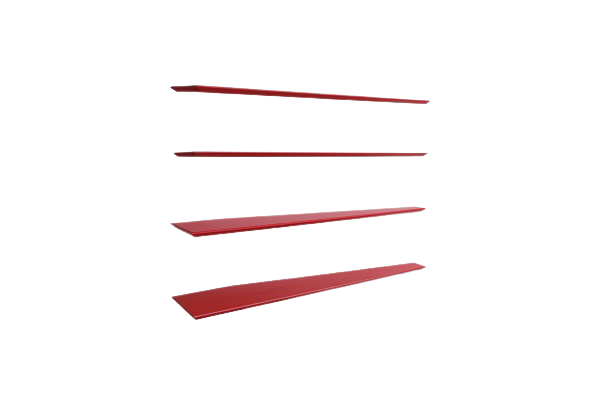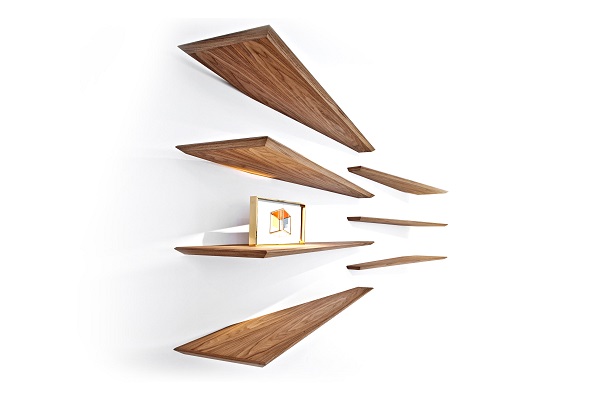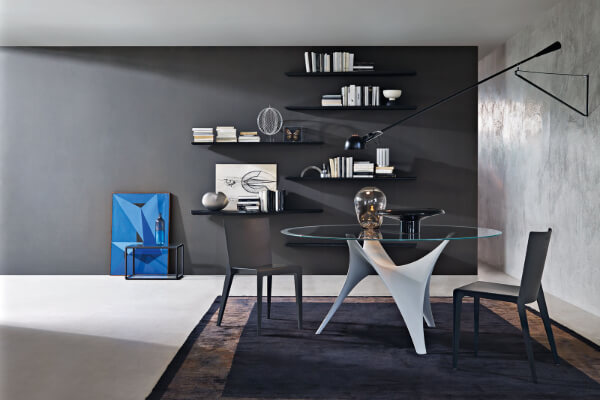 Mensola Shelf Molteni&C
Designer: Ron Gilad
Manufacturer: Molteni&C
Starting from: € 273,00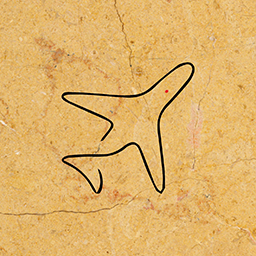 Worldwide Delivery and Installation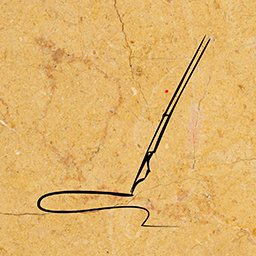 Customizable with our Professional Advice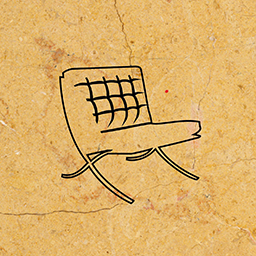 100% Made in Italy Certified
Contact us
Mensola Molteni&C Description
The Mensola Shelf of Molteni&C creates an intriguing image when installed in any area. It presents a somewhat playful appearance thanks to its angled profile. Designed by Ron Gilad, this shelving system is another fine example of creativity in tune with simple concepts. Molteni&C's Mensola reimagines the simple open shelf and gives us a product that not only looks stunning but also performs its task quite well. These shelves that "penetrate" the wall makes us question our perception of space and the objects within it, making the Mensola Shelf an item worthy of your home's interiors.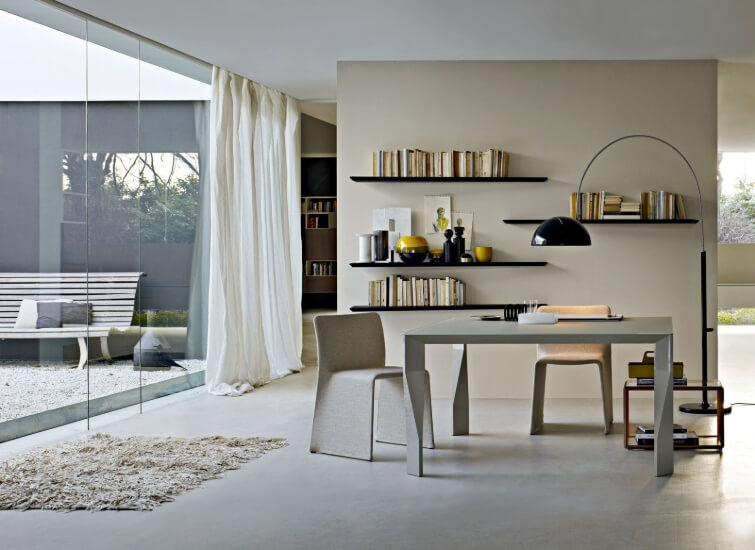 Mensola Shelf Molteni&C Features
The simple construct of the Molteni&C Mensola belies the technology that went into the assembly of this product. This item is not a mere open shelf system that you install in the walls. Composed of MDF panels covered with wood veneers or lacquered with paint, the Molteni&C Mensola Shelf is a capable system that stores and displays any item fitting on its surface. It holds itself in place with invisible shelf supports in zinc-coated metal. Capable of bearing a 20kg maximum load, this shelf system guarantees that it will perform beyond your expectations.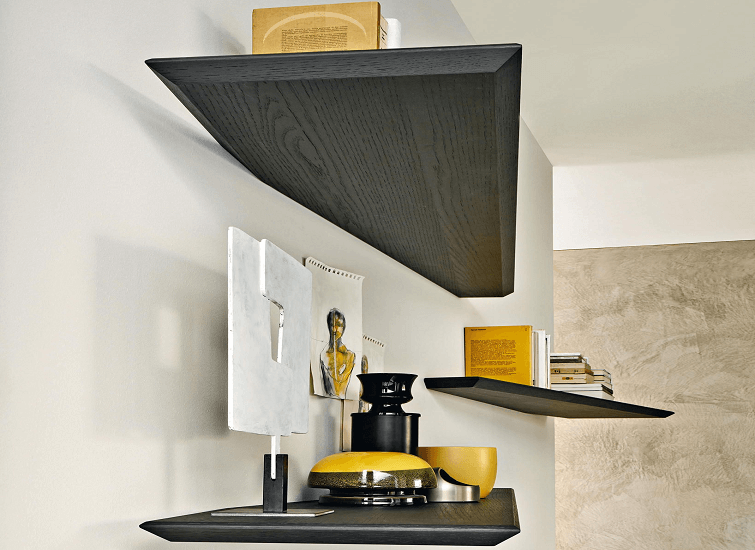 Mensola Shelf Materials
Finishing options for the Molteni&C Mensola Shelf give the product several ways of adapting to your interior design scheme. You may opt for wooden veneer finishes in oak, American walnut, or eucalyptus. These selections give the shelves an elegant and dignified demeanour that looks splendid in formal settings. Lacquered options in a matte finish allow the item to present a more casual or off-beat feel, should you choose a more modern design scheme. The shades available for the lacquered version come in all the colours present in the Molteni range.
Mensola Shelf Molteni&C Compositions
Measuring 36.5x153x3 cm, the Molteni&C Mensola comes optimally sized for any interior setting you want to place it in. With its load-bearing capacity, you may store or display almost any decorative item, gaming console, or audio and video equipment that you may want to present inside your home. You may place one or several units of this product in any area that requires a storage solution and decorative element. In any situation, the Mensola will perform its duties without any difficulty, making it a decorative component that functions above and beyond your expectations.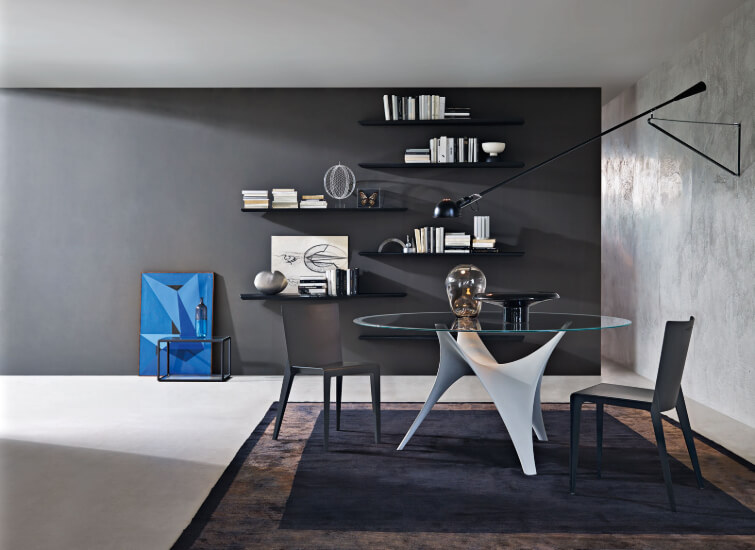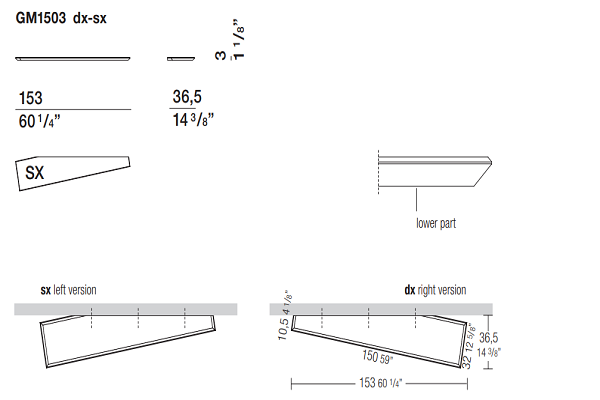 Esperiri Milano For Molteni&C
The Mensola is a designer shelving system that pushes the boundaries of what design can achieve, which is what we at Esperiri constantly aim for. Our curated collection highlights our extensive Italian design heritage which we imbue in every project. Our team of interior designers and architects are prepared to help you select the right elements for your interiors or layout entire design projects. Simply visit us in our Milan office or contact us remotely through our Italian Interior Design Online service. Our worldwide Italian Furniture Supply service will grant you access to superior Italian industrial or bespoke furnishings, anywhere you are. And for an even more in-depth experience, you can join our Italian Furniture Shopping Tour to see Italian design while enjoying the real Italian lifestyle and understand what Made in Italy is truly about.